PFF previews the 16 NFL games ahead of Week 16, highlighting players to watch while also taking a fantasy football and betting approach to offer insight for every NFL fan.
[Editor's Note: ELITE subscribers have access to all of PFF's fantasy football projections, rankings and lineup tools in addition to PFF NFL and College Greenline, an online dashboard with predictions for the spread, total and moneyline for every FBS and NFL game every week. Subscribe today to gain access!]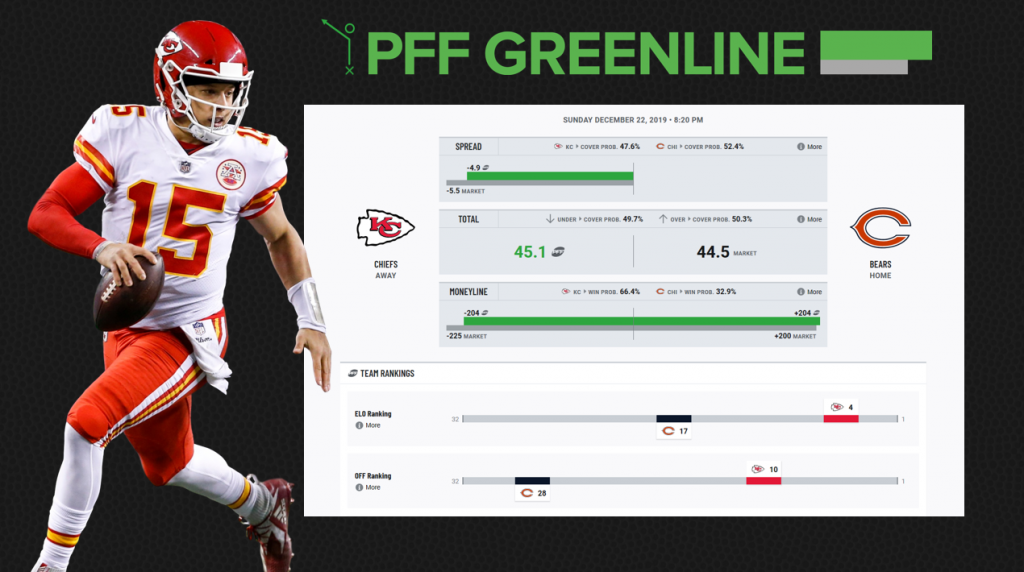 Headline of the Game: Rising cornerback duo in Tampa Bay will be tested by Deandre Hopkins
Jamel Dean and Carlton Davis have experience in sharing the same defensive backfield from their Auburn days, and the two are sharing the field once again,  this time as members of the Buccaneers. As was pointed out in the Senior Analyst Takeaways from this past weekend, Dean and Davis have been excellent since Week 10. Over that stretch, Dean ranks second among qualifying cornerbacks in PFF grade behind only Stephon Gilmore, and Davis ranks fifth. They've combined to allow a completion percentage of only 45.8% and a passer rating of 69.3, all while forcing 20 incompletions.
There are few players in the league better equipped to test that duo than Hopkins, the highest-graded wide receiver in the NFL since the start of the 2017 season. The connection between Hopkins and his quarterback, Deshaun Watson, has been clicking all year, and it has the Texans in the driver's seat for the AFC South with two weeks remaining. Hopkins against Dean and Davis with playoff implications on the line for the Texans will certainly be something to watch for this week.
Fantasy Football Preview
Even despite a league-high 24 interceptions, Jameis Winston still leads all quarterbacks in passing fantasy points per game (19.9). Winston could be without both Mike Evans and Chris Godwin (who combine to comprise 54% of his passing yards this year) but his Week 16 matchup is near-ideal – Houston is giving up the sixth-most passing fantasy points per game to opposing quarterbacks, and, perhaps more importantly, also ranks bottom-six in interception percentage and opposing passer rating.
Betting Preview
Bettors expect an offensive showcase in the kickoff to Week 16. An opening line of 53 was hammered down by early action, but with the current 50.5 print, Greenline finds value on a certain side of the total. Our 14th-ranked Texans are coming off a big division win but still have some work to do to secure their spot in the playoffs. They have found some early-week backing, with this spread pushing from a pick-em out to a field goal spread for the road favorites. Is this an overcorrection? Only Greenline holds the answers to your Week 16 action. 
Headline of the Game: Are the Bills ready to dethrone the Patriots in the AFC East?
The Bills and the Patriots are teams heading in different directions. The Bills are coming off a big win against the Steelers, with their only loss in the past five weeks coming in a one-score game against the red-hot Ravens. The Patriots, on the other hand, have gone 3-3 over their last six games with several performances that raise questions as to whether their offense will be able to right the ship in time for the playoffs. 
PFF analyst Kevin Cole recently went into detail on the New England offense's struggles and inefficiencies this season, particularly when it comes to Tom Brady playing against pressure. The Patriots receivers have not been able to gain separation and provide open targets for Brady, who is throwing into tight windows over 15% higher than the league average when he is faced with pressure.
Those offensive woes open the door for the Bills and their third-ranked PFF coverage unit to match records with the Patriots at 11-4 with one game to go. The Bills would need some help from the Dolphins in Week 17 to claim the AFC East title, but even forcing the issue in the last week of the season would be something hardly anyone expected from them coming into this year.
Fantasy Football Preview
Since Week 9, Tom Brady ranks worst of 28 qualifying quarterbacks in passer rating (73.5) and yards per pass attempt (5.59). Don't expect much from him this week either. Buffalo's defense ranks second-best in fantasy points per game allowed to opposing quarterbacks (16.2) and second-best in passer rating allowed (76.7).
Betting Preview
This is the lowest total on the slate for Week 16, as the No. 1-ranked Patriots defense squares off against the 27th-ranked Bills offense. The Bills have a top-10 defense in their own right, but they sit eight spots lower than the Patriots in our overall ELO rankings, at 11th. Buffalo received some early-week backing from bettors, with Greenline identifying some value on both the spread and total in this matchup. The Bills need a signature win and some help in Week 17 if they want to wrestle away the AFC East crown from the Patriots. Greenline gives them just a 25.6% chance at accomplishing that task this Saturday.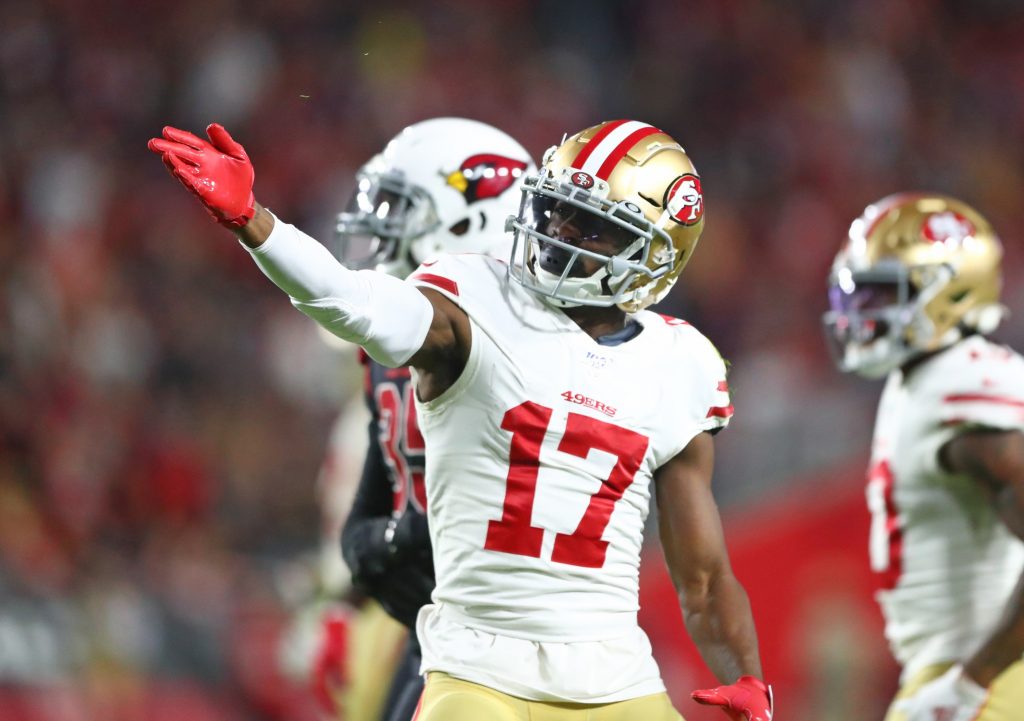 © Mark J. Rebilas-USA TODAY Sports
Headline of the Game: 49ers' offense and defense moving in opposite directions
The 2019 season began with the 49ers' defense at center stage. Across the first eight weeks of the season, they ranked second in EPA allowed per play behind only the well-oiled machine that was the New England defense. Nick Bosa was quickly developing into a fully-fledged star on the defensive line, leading not only all rookies in pressure rate at 21.5% but the entire league. The 49ers were capitalizing on that pressure by allowing just a 24.3 passer rating with the opposing quarterback under pressure, significantly lower than the passer rating associated with simply spiking the football (39.6). In recent weeks, that defensive dominance has trended closer to mediocrity. Since Week 9, the 49ers rank just 17th in expected points allowed per pass play. 
The offense, on the other hand, has trended in the opposite direction since the acquisition of Emmanuel Sanders. Over the first seven weeks of the season, they ranked 15th in expected points added per play, but as we wrote last week, Kyle Shanahan has this offense on the rise; they've jumped eight spots to seventh in EPA per play since Week 8. If they're able to get the offense clicking at a top-five level alongside the defense playing like it was earlier in the season, the 49ers will be nearly unstoppable down the stretch.
Fantasy Football Preview
As outlined in this week's stats to know, George Kittle is putting together one of, if not the most, impressive seasons by any tight end in PFF history. As absurd as his numbers are, look for all of those numbers to improve this week, against a Los Angeles defense he typically dominates. Across Kittle's last four games against the Rams – dating back to his rookie season – Kittle averages 20.8 fantasy points per game with a low of 98 receiving yards.
Betting Preview
This NFC West showdown consists of two teams that sit in the top 10 of our overall PFFELO rankings despite dissimilar seasons based on preseason expectations. The Rams have underachieved throughout 2019 and now have less than a 5% chance of squeezing into the playoff picture. Greenline gives them a 33.6% win probability, which is slightly better than current betting markets if you are interested in playing the first leg of the longshot game. 
Headline of the Game: In a down season for the Falcons, Julio Jones continues to show that he's one of the top wide receivers in the NFL
There is a case to be made that Julio Jones has been the best wide receiver of the past decade. Stretching back to when he entered the league in 2011, Jones ranks second among all wide receivers in PFF receiving grade (94.4) behind only Antonio Brown; he's first in receptions that have gone for a first down or touchdown (557) and he's first in receptions of 15 or more yards (335). He has dominated PFF's yards per route run statistic, leading all qualifying receivers in 2015, 2016, 2017 and 2018. 
The Falcons haven't had the season they were hoping for this year, but even in a down year, Jones has proven to be one of the game's elite wide receivers. His overall grade of 90.1 this season ranks second at the position behind only Chris Godwin, and while his 2.40 yards per route run aren't in his (absurd) usual 3.00-plus territory, it's still good enough to rank fifth among qualifying wide receivers. As he showed in Week 15 against the 49ers, Jones can absolutely dominate a game in a way few other wide receivers can.
Fantasy Football Preview
Last week, Julio Jones saw a career-high 20 targets, catching 13 for 134 yards and two touchdowns. After losing Calvin Ridley to IR, Matt Ryan had little choice but to lean heavily on Jones during Sunday's shootout. However, this week's matchup seems more like a Devonta Freeman game. Atlanta is favored by 6.5 points and Jacksonville is giving up the second-most fantasy points per game to opposing running backs.
Betting Preview
The suddenly hot Falcons have reeled off two straight wins and improved their against-the-spread record to 5-9 on the season. Bettors are once again boarding the hype train, with the Falcons adding the hook to the touchdown spread in spots. Thankfully, Greenline sees little value in the current spread but has a small lean on the total that has held to 45.5 since the open. 
Headline of the Game: The Browns' offense is too talented to be this incompetent
The thought of Baker Mayfield passing the ball to Odell Beckham Jr. and Jarvis Landry and handing the ball off to Nick Chubb was awfully good heading into the 2019 season. It's a big reason the Browns were preseason AFC North favorites despite not making the playoffs a season ago. Something hasn't clicked, though. Mayfield regressed from a PFF grade of 83.7 as a rookie last season (10th among qualifying quarterbacks) to 73.3 this season (16th), and his traditional numbers have taken an even bigger hit. Meanwhile, 12 of the incompletions Mayfield has thrown towards Beckham have been charted as being the receiver's fault — the most Beckham ever had in a season — and seven of those 12 have been dropped passes, one fewer than his previous career-high (2016).
The offense isn't in sync, and with reports swirling that players told the Cardinals' sideline to "come get them" following last week's game, things don't appear to be getting any better. The Browns' offense will be one of the biggest what-ifs to come out of this season, and it's perhaps the best example this year of talent not matching production.
Fantasy Football Preview
If Lamar Jackson scores 13.9 or more fantasy points on Sunday, his 2019 season will rank as the best fantasy season by any quarterback in NFL history. Considering he's exceeded that number in every game this season, and has exceeded 20.0 fantasy points in 13 of 14 games, the odds are good Jackson does indeed walk away with that record.
Betting Preview
These two squads are headed in completely opposite directions, with the over/under set at 15 Browns players asking the Ravens' staff to "come get me." Not a lot of betting value exists elsewhere, with the Ravens gaining two points since the open as they settle into a 10-point spread as road favorites. Is there a play on the total after seeing it drop two full points? Only Greenline holds the answer to this ever-elusive question. 
Headline of the Game: Can Will Grier show enough in the final two games to earn consideration for the job next season?
There was a point this season when we were questioning whether Kyle Allen was the long-term solution in Carolina. The answer, as it turns out, is a definitive no. Now, it is the rookie Will Grier's opportunity to show Carolina what they have in him as they enter a quarterback decision this offseason. 
Will Grier wasn't at the top of the list of quarterbacks drafted this year, but PFF considered him to be a potential steal coming out of West Virginia. One of the big reasons why was that no one was better on downfield passes. In 2018, Grier had the lowest rate of uncatchable passes thrown 20 or more yards downfield; he more big-time throws than any other quarterback and he earned the nation's highest passing grade on over-the-shoulder passes. 
There were concerns with his ability to produce when faced with pressure, though, and those struggles reared their head in the preseason.  Grier earned just a 29.3 passing grade in the preseason, the lowest mark of any qualifying quarterback. On 28 pressured dropbacks, Grier took eight sacks and went just 6-of-18 for 79 yards and an interception. He'll need to show more poise in the Panthers' final two games against the Colts and the Saints.
Fantasy Football Preview
Christian McCaffrey has scored 416.1 fantasy points this season, which is already the fourth-best fantasy season by any player at any position in NFL history. If he scores 9.4 fantasy points or more on Sunday, he'll break into the top three. If he scores 24.7 fantasy points or more, his 2019 season will rank second-best all-time, behind only LaDainian Tomlinson's 2006 mark (471.1).
Betting Preview
Will Grier draws his first regular-season start as a 6.5-point dog to a reeling Colts team. The question becomes, "How much should Grier's preseason performance weigh into your decision on what side to bet in this game?" With PFF Greenline's unique ability to evaluate quarterback play coupled with college grades, this could be a spot to find an edge on this mispriced spread.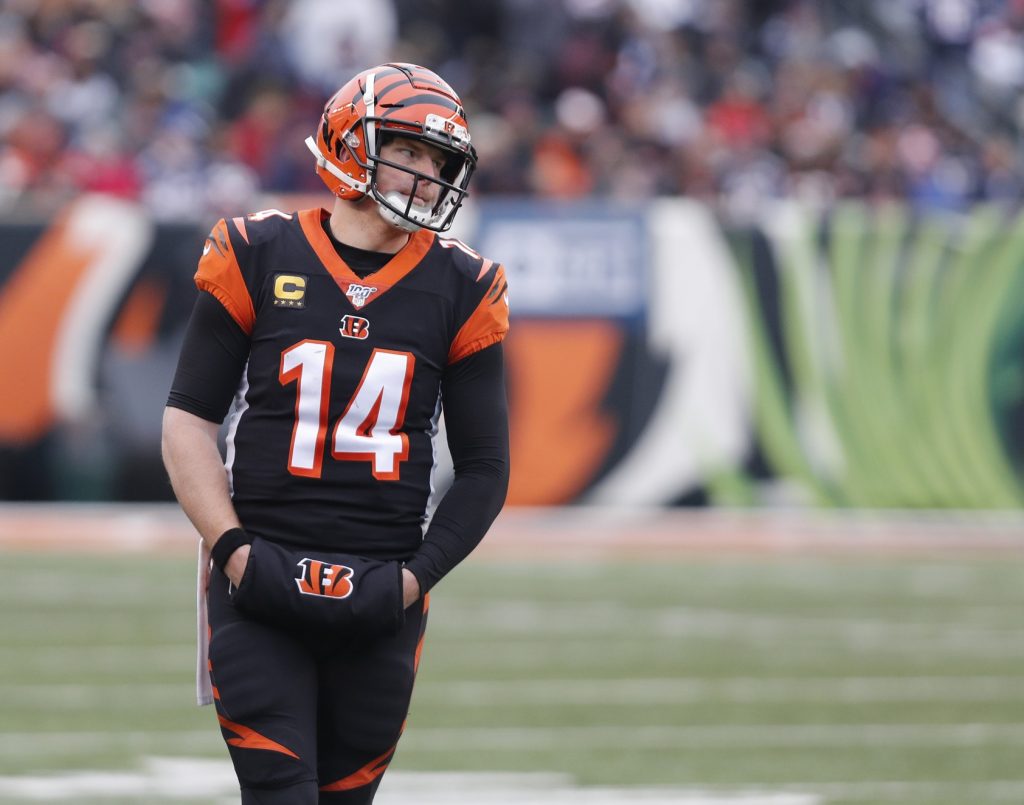 © David Kohl-USA TODAY Sports
Headline of the Game: Two veteran quarterbacks audition for jobs elsewhere next season
It seems unlikely that Andy Dalton and Ryan Fitzpatrick will be the starters for the Cincinnati Bengals and Miami Dolphins, respectively, next season, so this game — one that also involves two of the more vulnerable defenses in the NFL — is a perfect opportunity for both to show that they can still add value to another team.
Dalton isn't far removed from being, at worst, a serviceable quarterback. From 2015 to 2018, his overall grade of 82.3 ranked 14th among 32 qualifying quarterbacks, sandwiched between Kirk Cousins and Dak Prescott. The difference between that trio is that Cousins (currently fifth in overall grade) and Prescott (seventh) have elevated their play in 2019 while Dalton (27th) has fallen off significantly in a poor situation. 
Meanwhile, Fitzpatrick has rambled his way through the league, taking with him a Jameis-esque level of volatility. Stretching back to his time with the Jets starting in 2015, Fitzpatrick has an average depth of target of 9.9 yards, trailing only Jameis Winston and Carson Palmer among qualifying quarterbacks. He's not afraid to throw it deep, and he's certainly not afraid to throw it into tight windows, and that results in a lot of big plays on both ends of the spectrum. Fitzpatrick certainly doesn't fall into the same cluster as Dalton, but both guys can turn in quality performances and will be part of the quarterback carousel this offseason.
Fantasy Football Preview
In Week 14, Joe Mixon totaled 186 yards against the Browns, which is the most they've allowed all year. In Week 15, against a New England defense that ranks best in fantasy points per game allowed to opposing running backs, Mixon totaled 156 yards, which is the most they've allowed all year. Mixon now goes from a worst-possible matchup to one that's near-ideal, against a Dolphins defense that is giving up the most rushing yards per game to opposing running backs (126.1).
Betting Preview
The Bengals and Dolphins match up in battle of ineptitude as the two teams ranked in our last two spots, according to PFFELO. Bettors have pushed the total out from an opening print of 46 despite neither team having an offensive unit average a positive EPA per attempt. The question is not only if should you bet a side on this game — but also,  do you really want to be forced to care about this game? 
Headline of the Game: The Steelers' defense can only take them so far, and that limit is approaching
Given the injuries that the Steelers have been hit with this season, it's amazing that they control their own postseason destiny heading into Week 16. That ability to make the playoffs with wins in their final two weeks against the Jets and Ravens has been provided to them by their defense, which is playing among the best in the NFL right now. Since acquiring Minkah Fitzpatrick in a trade with the Dolphins prior to Week 3, the Steelers' defense has allowed the second-fewest expected points per play in the NFL (behind only the Patriots), and they've forced a league-high 34 offensive turnovers in all this season. Their pass-rush, led by PFF's highest-graded edge defender T.J. Watt, has dominated offensive lines all season with a 41% pressure rate (best in the NFL).
That dominance on the defensive side of the ball has allowed the Steelers to buoy a somewhat lifeless offense, but as we saw last weekend, that can only take them so far. Devlin "Duck" Hodges posted a 35.0 passing grade behind five turnover-worthy plays, resulting in a loss to the Bills on Sunday Night Football. The Steelers have shown that they can get by on their defense in the regular season as long as the offense isn't disastrous, but if they're able to make the postseason, the offense is going to have to start to pull its own weight.
Fantasy Football Preview
Le'Veon Bell hit a new season-high in rushing yards last week (87), and still only scored 10.8 fantasy points. Obviously, it's been a brutal year for Bell and his fantasy owners, and, though he may be extra motivated this week against his former team, it is a difficult matchup on paper. Pittsburgh ranks best in fantasy points per game allowed to opposing RB1s, and only one running back all year has reached even 14.0 fantasy points against them (Kareem Hunt's 17.5 in Week 13).
Betting Preview
The Steelers' third-ranked defense continues to make plays to put their 31st-ranked offense in a winning position. Pittsburgh badly needs a win in a complicated playoff race with the Ravens on deck for Week 17. Greenline gives the Steelers a 58.7% win probability along with a play on the total being identified as value. 
Headline of the Game: The playoffs start two weeks early for the Titans against the Saints
The Titans' loss to the Texans last week was a crushing blow in their quest to win the AFC South, but there is no time to wallow in that defeat because they have one of the top teams in the league heading their way, and another loss would all but destroy their playoff hopes.
Even in the loss last week, Ryan Tannehill was one of the top passers of the week, posting a passing grade of 83.5 that ranked fourth among qualifying quarterbacks. Since he took over as the starter in Week 7, Tannehill boasts a league-best 9.5 passing yards per attempt and a passer rating of 117.0 that trails only Lamar Jackson and Drew Brees. Derrick Henry's 734 rushing yards after contact over that span are more than every other running back not named Nick Chubb has total. An offense operating at that level is not something that any defense wants to see come postseason time, but the path to making the playoffs a reality starts with carrying over that offensive success against the Saints this week. 
Fantasy Football Preview
If Michael Thomas scores 24.2 fantasy points or more, his 2019 fantasy season will be the third-best by any wide receiver in NFL history. His 335.3 fantasy points this year (and with one week left to go in the fantasy season) is not far off the current record holders: Marvin Harrison in 2002 (375.2), Jerry Rice in 1995 (375.1) and Randy Moss in 2003 (359.4). He's also just 10 receptions shy of Marvin Harrison's single-season record (143) with two weeks left to go in the NFL season.
Betting Preview
The Saints opened up as one-point road favorites but look to be on the move after an impressive Monday night performance in Week 15. Both offenses rank in the top 10 of our opponent-adjusted offensive rankings, as this total is the highest on the Week 16 slate. Both defenses also rank in the top half of the league, according to our Massey defensive rankings, so the question becomes what strength wins out in this interleague matchup? Greenline offers a strong lean on both the current spread and total, but both numbers are on the move, so act quickly if you want action on this enticing matchup. 
Headline of the Game: Will either of these rookie quarterbacks become a long-term solution?
Any time that you're drafted in the first round of the NFL draft as a quarterback, the expectation is that you'll become a franchise quarterback. But as history has shown us, there aren't any guarantees. Both Daniel Jones and Dwayne Haskins started the season on the bench before being thrust into the starting lineup thanks to poor play from the quarterbacks ahead of them on the depth chart, and both of them have looked like, at times, quarterbacks who weren't particularly ready for the NFL level. On the season, their PFF grades are nearly identical: Jones sits at 25th out of 32 qualifying quarterbacks in overall grade and Haskins is 26th.
Assuming that Jones is able to return from the ankle injury that has sidelined him the past two weeks, each quarterback will get another opportunity to improve and show their respective teams that they are the clear-cut starter heading into next season. One area to watch for improvement from Jones is limiting turnover-worthy plays. His turnover-worthy play rate of 5.8% on the season is the second-worst mark behind Kyle Allen. On the other side of the field, Haskins could stand to improve the rate at which he takes sacks, as he is taking a sack once every eight dropbacks, the worst rate in the NFL.
Fantasy Football Preview
Terry McLaurin is putting together one of the most impressive rookie seasons in recent memory – he's accounted for 33% of his team's passing yardage, which would be the most by any rookie wide receiver this past decade. Unfortunately, on a team that's averaging a league-low 192.6 passing yards per game, that doesn't translate as well to fantasy. However, I'd bet on a big game this week. After feasting in a top-six matchup last week (24.0 fantasy points), McLaurin gets another top-six matchup this week, against the Janoris Jenkins-less Giants, who rank fifth-worst in fantasy points allowed to opposing wide receivers.
Betting Preview
This matchup features two teams battling it out for the right to select Chase Young in the 2020 NFL Draft. The spread has held steady at 2.5, with Greenline finding no discernible value at that current number. The total offers more intrigue but looks to be on the move after opening at 43.5. Both offenses rank in the 20s, according to our offensive Massey rankings. At what point this total number becomes playable is a question that Greenline holds the answer to.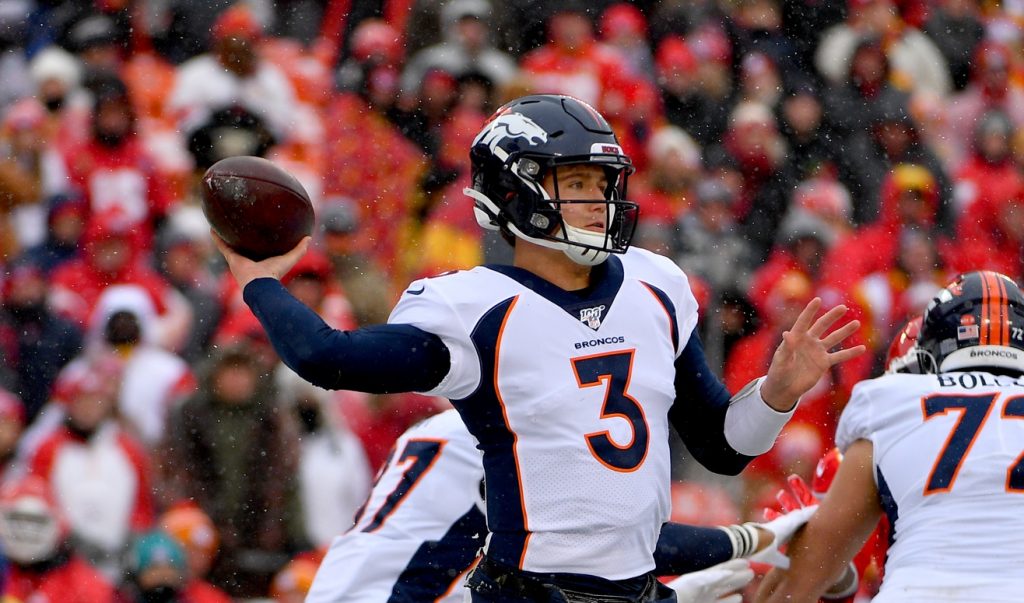 © Denny Medley-USA TODAY Sports
Headline of the Game: There will be plenty of clean pockets to work from for David Blough and Drew Lock
Both the Lions and the Broncos have fielded underwhelming pass-rushes this season. The Lions' pressure rate of 30.8% ranks 29th leaguewide and the Broncos' rate of 32.0% ranks 27th. Those aren't the kind of results one would have expected from either team coming into the season. The Lions added one of the top pass-rushers in the NFL from a season ago (Trey Flowers) to a group that was already stocked with talent, and the Broncos returned what figured to be one of the top edge duos in the NFL with Von Miller and Bradley Chubb. That Broncos duo was broken up with an injury to Chubb, but Miller has produced a very uncharacteristic season as a pass-rusher, as his 67.6 pass-rushing grade marks the first time in his career he's graded lower than 85.0.
That should equal plenty of clean pockets for Lock and Blough to work from in Week 16. Both quarterbacks have been significantly better from a clean pocket this season: Lock's passer rating this season drops from 103.1 in a clean pocket to 55.0 under pressure, while Blough drops from 83.6 in a clean pocket to 15.7 under pressure.
Fantasy Football Preview
Phillip Lindsay has sort of fallen off of the map after putting together one of the best fantasy seasons by any undrafted rookie ever. However, he has seen a jump in volume in recent weeks – since Denver's Week 10 bye, he's averaging 16.0 opportunities per game, which is nearly double Royce Freeman's 8.2. This could be a get-right matchup for him, against a Lions defense that is giving up the fourth-most fantasy points per game to opposing running backs.
Betting Preview
The Lions have been dumped by most bettors after a 1-9 record against the spread over their past 10 games. After opening as six-point dogs, Detroit now sits right at a touchdown spread, but this line could continue to move throughout the week. The total offers little value, but Greenline identifies some value on the spread if you have an inclination to buy low. 
Headline of the Game: Philip Rivers continues to cough up turnover opportunities at a high rate
We liked the Chargers coming into this season and thought that they had a strong chance to come out of the AFC. That certainly isn't how events have played out. The offense and defense have both underperformed relative to expectations, and that extends to Rivers, who ranks second in the NFL in interceptions to only Jameis Winston.
That interception total isn't fluky, either. Rivers has given the defense 29 total turnover opportunities this season via a turnover-worthy play. The only two quarterbacks with more are Winston and Kyle Allen, and Rivers' turnover-worthy play rate of 5.0% is fourth-highest in the NFL behind Allen, Winston and Daniel Jones. If you're giving the defense a chance at turnovers at that rate, it's going to be hard to win games in the NFL.
Fantasy Football Preview
Over the last three weeks, Darren Waller averages 8.3 targets and 98.0 yards per game. Perhaps uncoincidentally, these games all came with Hunter Renfrow out of the lineup (due to injury). Across all other games, Waller averages 7.1 targets and 64.3 yards per game. With Renfrow expected to return this week, perhaps Waller is more of a mid-range rather than high-end TE1.
Betting Preview
Two offenses that rank in our top 10, according to offensive Massey rankings, have seen this total drop almost two full points since the open. Derek Carr actually brings forth the better PFF passing grade, but question marks remain due to injuries at offensive skill positions. Check Greenline to see if any value exists on this matchup between teams from California one final time. 
Headline of the Game: The winner of this game is talented enough to make noise in the postseason
The NFC East has been the butt of a fair number of jokes this season, and for good reason. The Eagles and Cowboys have both underachieved while the Giants and Redskins have been among the worst teams in the league. One team is going to come out of that division, though, and this Week 16 contest is crucial to both Dallas and Philadelphia to ensure that they are that team.  
The interesting part about the Cowboys and Eagles is that, record aside, both of these teams are talented enough to win one or more games in the postseason. The Cowboys' offense ranks second on the season in expected points added per play; they're led by Dak Prescott, whose 82.7 overall grade is his highest since his rookie season, and they're bolstered by Amari Cooper, whose 87.1 overall grade ranks fifth among wide receivers. Meanwhile, the Eagles have a quarterback who has played at MVP-caliber levels at points in his career in Carson Wentz and an offensive line and defensive line that both rank in the top five leaguewide in PFF grade. Neither team has lived up to expectation, but if they can put everything together, they both have the potential to cause a stir in January.
Fantasy Football Preview
Amari Cooper is the prototypical boom-or-bust wide receiver. Over the past three seasons, Cooper has as many games (10) with 100-plus receiving yards as he does games of 10 or fewer receiving yards. Bet on a "boom" game this week, against an Eagles defense that, for the third consecutive season, ranks worst in fantasy points allowed to opposing outside wide receivers. Over the last three weeks the Eagles have given up 34.9 fantasy points to DeVante Parker, 32.4 fantasy points to Darius Slayton, and 24.0 fantasy points to Terry McLaurin.
Betting Preview
A win-and-get-in situation is on tap for the Cowboys, who hold the tiebreaker over the Eagles in the intriguing NFC East race. Bookmakers have sided with the Cowboys early, as Greenline gives them a 54.6% win probability. The total has dropped a full two points, with little value identified by Greenline on either line in this matchup.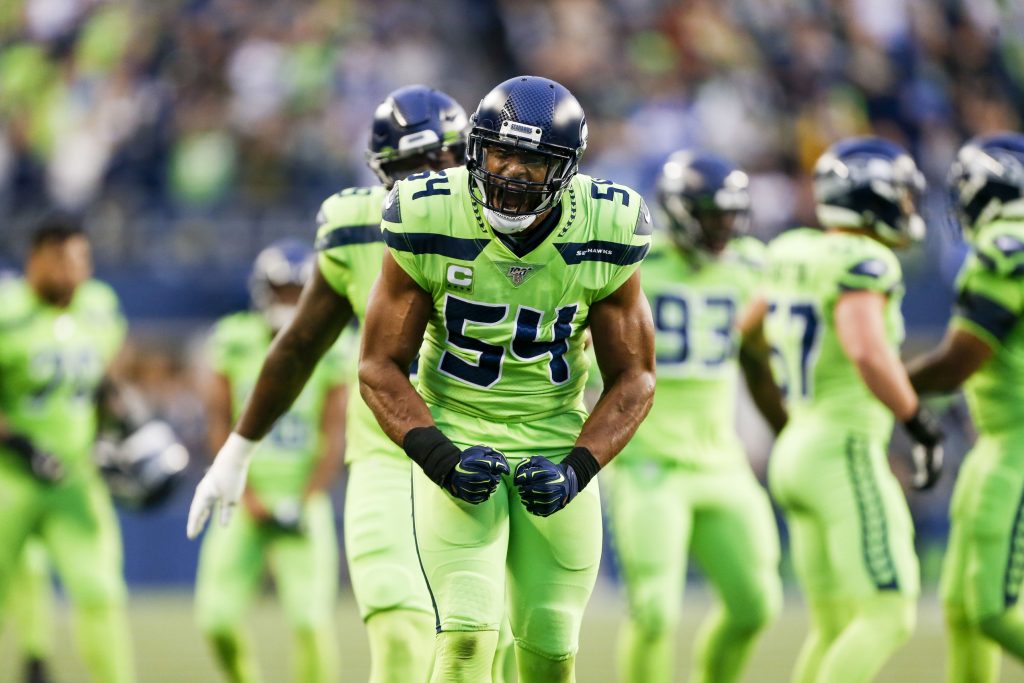 © Joe Nicholson-USA TODAY Sports
Headline of the Game: The Seahawks need Bobby Wagner to return to his 2017-18 form
The Seattle Seahawks are the No. 1 seed in the NFC heading into Week 16, and they've managed to achieve that without the top-level play that we've come to expect from their star linebacker, Bobby Wagner. Wagner graded above 90.0 in both 2017 and 2018, which is impressive in its own right, but even more impressive is the fact that he graded above 85.0 in run defense, in the pass-rush and in coverage — in both seasons. This year, Wagner ranks just 23rd out of 88 qualifying linebackers in overall grade at 68.5. His run-defense (85.1) and pass-rush grades (80.6) both still sit over 80.0, but his coverage grade of 49.8 ranks 68th among qualifying off-ball linebackers.
Wagner has allowed 767 passing yards into his coverage, more than any other linebacker in the NFL. His drop in coverage came to a head against Jared Goff and the Rams in Week 14 when Wagner allowed 158 passing yards alone (seventh-highest single-game mark of any defender this season). The fact that the Seahawks are sitting atop the NFC with that level of play from their star on defense in coverage is a testament to how well they're playing, but they're going to need the old Wagner back if they want to make a run in the postseason.
Fantasy Football Preview
In his first game as a Cardinal, in Week 9, Kenyan Drake scored 28.2 fantasy points. Across his next four games, he averaged just 10.2 fantasy points per game before scoring 39.6 fantasy points last week. Congratulations to those of you who stuck with him — you were right to do so and he likely catapulted you to the championship round of your fantasy league. Since joining Arizona, he's played on 76% of the team's snaps while averaging 14.5 carries and 4.5 targets per game. In a mostly neutral matchup this week, he should be started again as a mid-range RB2.
Betting Preview
Seattle draws a warm-up game before their Week 17 matchup against the 49ers, which should decide the NFC West division. Bettors have bought into the Seahawks early in the week, pushing this spread out from a nine-point opening print up to the key number 10 in spots. Both the spread and total have fluctuated significantly in this matchup, so monitor Greenline to get up-to-the-second advice on current betting lines for this matchup. 
Headline of the Game: The Chiefs' offense makes them the biggest threat to the Ravens in the AFC
For much of this season, the Chiefs' offense was operating at less than 100%. Patrick Mahomes dealt with lower-body injuries that caused him to miss some time and limited him when he was on the field, Tyreek Hill and Sammy Watkins both missed time with injury and the offensive line has shuffled pieces. Despite all that, the Chiefs rank third on the season in expected points added per play behind only the Ravens and the Cowboys. 
Now, they're healthy for the most part, and that means trouble for the rest of the AFC. If you let Mahomes operate on his terms, you're done for as a defense. Since the start of 2018, Mahomes ranks first in passer rating from a clean pocket (124.0) and when throwing in 2.5 seconds or less (120.7). Even if you're able to force him out of rhythm, no quarterback is better at creating big plays outside of structure than Mahomes. Dating back to last season, Mahomes leads the NFL in gains of 20 or more yards when pressured (46) and outside the pocket (35). That pick-your-poison situation for opposing defenses is what makes the Chiefs' offense so difficult to defend.
Fantasy Football Preview
Since Week 11, Anthony Miller ranks fifth in targets per game (10.4) and 13th in fantasy points per game (17.6). On paper, Miller has what seems to be a difficult matchup, against a Chiefs defense that is surrendering the second-fewest fantasy points per game to opposing wide receivers. However, in actuality, it's a very attractive matchup. Miller runs 78% of his routes from the slot, and though Kansas City ranks best overall against outside wide receivers, they rank bottom-10 versus slot wide receivers (in terms of fantasy points allowed).
Betting Preview
Our fourth-ranked Chiefs travel to Soldier Field to take on the Bears, who have seen both their offense and defense regress in 2019. The Bears now sport a middle-of-the-pack defense, according to our Massey defensive ranking. Does this open up the door for a play on the over? Only Greenline holds the answer in this featured Sunday night matchup. 
Headline of the Game: Should we be worried about Aaron Rodgers?
Rodgers was an MVP candidate for much of the early season, putting up gaudy numbers in a strong start for the Packers. Recently, that narrative has shifted. Since an embarrassing effort by Rodgers and the Packers against the 49ers on Sunday Night Football, Rodgers has averaged just 5.9 yards per pass attempt (29th) and a completion percentage of 59.1% (24th). His passer rating of 94.1 still ranks 10th over that four-week sample, but that can largely be attributed to turnover luck. Rodgers has recorded three turnover-worthy passes since Week 12 without an interception. His passing grade exhibits those struggles, as it ranks just 27th out of 32 qualifying quarterbacks (59.3) over that span.
The question becomes: which version of Rodgers will we see heading into the postseason? Over the first 11 weeks of the season, Rodgers ranked third among all quarterbacks in PFF passing grade and he had top-10 marks in yards per attempt and passer rating. That is the version of Rodgers that will have to show up to play in the postseason. Otherwise, the Packers could be facing an early exit. 
Fantasy Football Preview
Adam Thielen was unspectacular in his first game back last week, getting eased back into playing time, drawing three targets on 51% of the snaps. Stefon Diggs, very quietly, leads all wide receivers in yards per target (12.5) and ranks second in yards per route run (2.73). On paper their matchup is neutral at best, but Diggs and Thielen have quite the history against Green Bay. Diggs averages 21.8 fantasy points per game across his last eight games against Green Bay, scoring a touchdown in each of these games. Thielen averages 23.0 fantasy points per game across his last six games against Green Bay, reaching at least 75 yards in five of these games.
Betting Preview
This Monday night matchup has lost some intrigue, with Green Bay still holding the tiebreaker over the Vikings for the division with a loss. It's a situation where the Vikings need help and must win out if they want to take home the division crown. Bettors appear to be torn on who to back in this matchup, with the 4.5-point opening spread holding steady — with juice applied to certain sides at some locations. The total has dropped slightly but still needs some additional movement to become playable, according to Greenline projections.