The New England Patriots have gone from clear Super Bowl favorites a few weeks ago to a distant fourth in current betting odds — and this is despite owning a 10-3 record and having the best chance of acquiring a first-round bye in our most recent simulations (51.8%). The Patriots' defense is still playing at a near-historic level, combining the best pass and total defense efficiency by expected points added per play in our data going back to 2007.

The issues reside on the other side of the ball, which is strange to say for a team led by the G.O.A.T, albeit an aging one. It seems like a lifetime ago that the Patriots' offense looked almost as potent as its defense to start the season, firing on all cylinders and dominating the Steelers' and Dolphins' defenses. 
There's little about the current Patriots offense that resembles what we saw then. There have been personnel changes — notably, losses at wide receiver with the releases of a troubled Antonio Brown and an unreliable Josh Gordon — and the Patriots are undoubtedly feeling the absence of star tight end Rob Gronkowski. 
With doom and gloom all around, it's a good time to dig into the numbers for the Patriots' offense to assess where it currently stands and determine if this is another false alarm of decline or the real thing.
Looking back for comparison
There seems to be a battle each season between Patriots fans and "doubters," with the former quick to point out that the team's downfall has been prematurely declared many times. Looking at the trailing offense efficiency (EPA/play) for the Patriots over the past 10 years shows that those fans may have a point.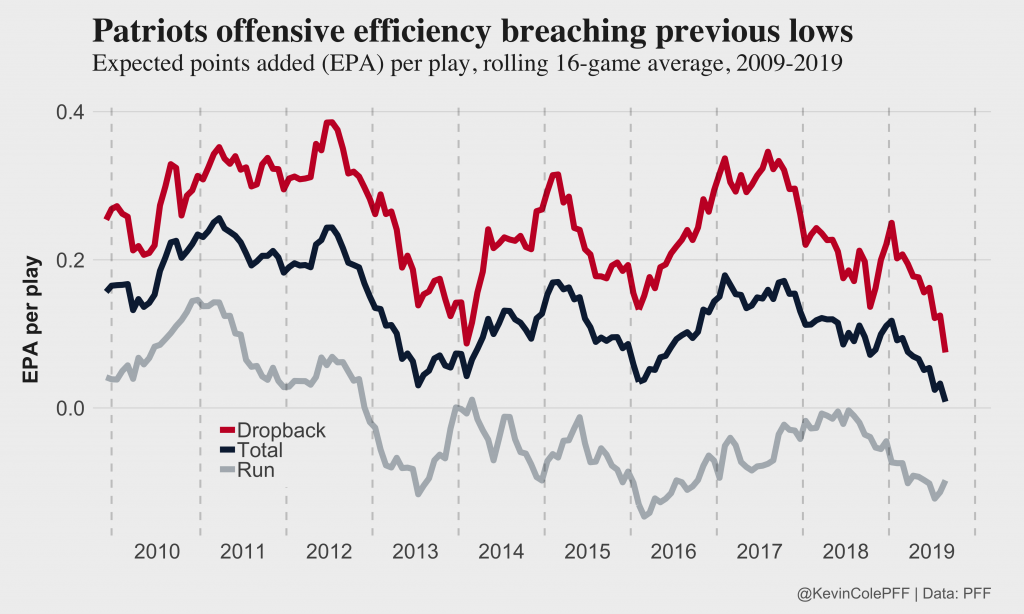 The swift and severe drop the Patriots are currently experiencing on offense isn't unprecedented, with similar declines in 2013 and 2016 eventually leading to a conference championship loss and a Super Bowl win, respectively. The Patriots have turned things around in the past, but this is the latest in a season that the trend has been this negative. The 2013 season is the closest comparison to this year, and equaling the single playoff win from that campaign would be viewed as a major disappointment.
Subscribe to PFF Edge to continue reading
Already have a subscription? Sign In