PFF Senior Analysts Sam Monson and Steve Palazzolo reviewed the film, advanced stats and grades to offer their key takeaways from Week 15 of the 2019 NFL season.
[Editor's Note: All ELITE subscribers have access to PFF's advanced statistics and grades referenced below. Subscribe today to gain access!]

Sam Monson
Vikings edge rusher Danielle Hunter is getting all the ink this year because of the sack total, but I'm not sure he's even the strongest candidate on his own defense. Linebacker Kendricks has been putting together a career year and has a sneaky strong case for defensive player of the year. Kendricks added to his already-absurd pass breakup tally against the Chargers, and though he doesn't have the interceptions, he has been one of the best coverage linebackers in football this season. Kenricks has always been known as a quality coverage player, but this season he has had a significant jump in PFF grade and is putting together some rare numbers.
Kenyan Drake is a perfect fit for the Kliff O in Arizona
Drake is a running back built to excel with a little more space to work in than some others. An offense that likes to spread defenses out horizontally will help him more than a lot of other backs because he is unusually qualified to take advantage of that extra space with his speed and moves. He was always underused in Miami, but the second he arrived in Arizona he looked like he could make a difference in that offense, and we saw that in no uncertain terms this weekend, where he wrecked the Browns defense for a career day that included four rushing scores.
OBJ is a significant part of the problem in Cleveland
For all the rumors swirling about how Odell Beckham Jr. wants to extricate himself from Cleveland, he owns a pretty significant portion of the responsibility for this offense looking like a mess. Beckham already has more drops this year than all but one other season in his career, and there are many more plays in which he has been at fault for the incompletion even if it won't be counted as a drop (think double-catching a pass last week along the sideline instead of catching it cleanly the first time with his feet in). Almost nothing beyond Nick Chubb is functioning well on this Browns offense this year, but unlike times in New York, OBJ can't simply think of himself as a victim of circumstance — he is a significant part of the problem.
Maybe next year for Jameis
There is no more mercurial quarterback in the NFL than Jameis Winston. He routinely leads the league in percentage of plays that are positively graded, but he is also routinely making more turnover-worthy plays than anyone. This year, the volatility seems to have been even more pronounced than usual given Bruce Arians coming on board with his deep passing attack. Arians has a history of coaxing career years out of quarterbacks, and though that hasn't happened for Winston in 2019, it has typically not been year one of Arians' connection with quarterbacks that has produced it in the past. It is an interesting offseason decision for the Bucs, but the highs from Winston this season suggest that maybe next year will be his year. Of course, given his style of play, it's entirely possible that every season we'll be saying "maybe next year" again.
Steve Palazzolo
Aided in part by going up against Andy Dalton and the Bengals, the Patriots' secondary reminded the league that they're still capable of dominating on the back end. Cornerbacks Gilmore and Jackson combined to allow just six catches for 51 yards on 13 attempts to go with four interceptions (including a pick-6) and two other pass breakups. Gilmore has been the league's best corner over the last two years, while Jackson has been nearly impossible to attack down the field, and New England may need more dominant performances if the Patriots are going to make another playoff run.
Do the Bucs have a cornerback duo of their own?
Coming into the season, we lauded the Bucs for attacking their cornerback issues with a number of different options, a two-year process that just now be starting to pay off. Former Auburn teammates Carlton Davis and Jamel Dean have emerged as one of the best tandems in the league since Week 10. Dean has the No. 2 coverage grade during that time (91.0), allowing just 33.3% of targets to be completed into his coverage, while Davis ranks eighth with a coverage grade of 81.1 and his 11 forced incompletions lead the league during that time period. Dean and Davis bring two physical corners to the outside of the Bucs' secondary, and they may be another piece or two away from having a breakout coverage unit for 2020.
Falcons flash their potential every few weeks
The Atlanta Falcons have defeated arguably the two top teams in the NFC, the New Orleans Saints and the San Francisco 49ers. The 5-9 Falcons have largely disappointed this season, but they flash their high-end potential every few weeks, and they did so once again with a road win against the 49ers. The Matt Ryan/Julio Jones connection remains one of the league's best, and Grady Jarrett has been a monster on the interior of the defensive line once again this year, on his way to a top-10 performance at the position. The Falcons have enough talent to bounce back next season, and if head coach Dan Quinn is relieved of his duties this offseason, it'll be the most coveted job on the market.
The Bills have built a fantastic defense over the last three years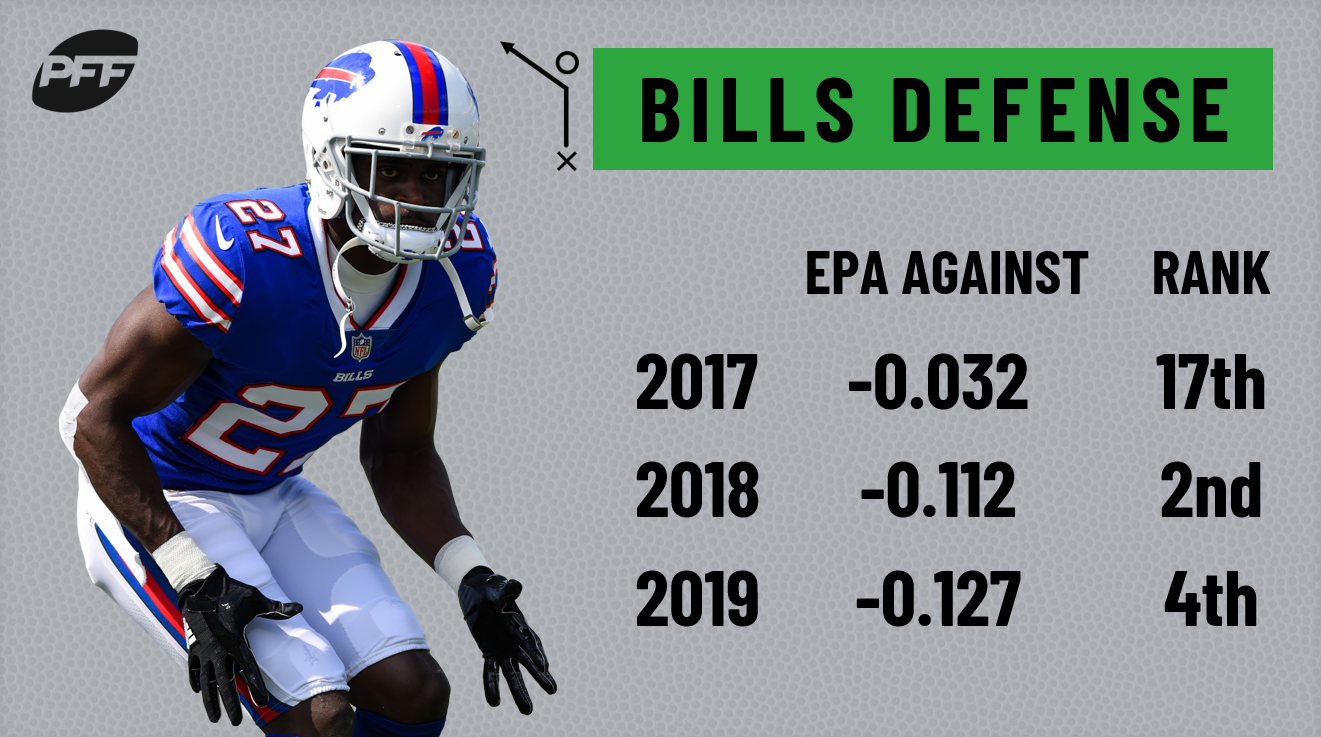 When head coach Sean McDermott took over in 2017, the Bills had one of the worst defenses in the league, but they've been one of the best units in the league since that point and they're off to the playoffs for the second time in three years. The Bills' defense has the No. 5 coverage grade during McDermott's stint in Buffalo, and they've also allowed the sixth-lowest EPA/play during that time. They've added new talent to the mix every year, from 2017 first-rounder Tre'Davious White (No. 1 in passer rating against since 2017 at 60.3) to 2018 first-rounder Tremaine Edmunds (No. 3 among linebackers with 48 stops this season), to 2017 fifth-round linebacker Matt Milano whose 83.1 coverage grade currently ranks sixth at the position. The Bills have built one of the best coverage units in the league while improving their pass-rush every season of McDermott's regime, and that's why they're headed back to the playoffs.