Kyle Shanahan is widely respected as one of the best offensive play-callers in the NFL, and he has earned that respect. At various points in his coaching career, Shanahan has orchestrated some of the best offenses in the league, such as his 2012 season with the Washington Redskins and his 2016 season with the Atlanta Falcons, in which he won the title of NFL Assistant Coach of the Year.
The San Francisco 49ers didn't have an electric talent at quarterback like pre-injury Robert Griffin III, though. Nor did they have an elite, established connection like Matt Ryan to Julio Jones to work with. After Jimmy Garoppolo went down to injury in Week 3 of last season, the 49ers had a combination of C.J. Beathard and Nick Mullens throwing the football, and their leading wide receiver was Kendrick Bourne, with 42 receptions for 487 receiving yards. Those 487 yards ranked just 71st among all wide receivers on the season. Yes, they had George Kittle, who was tremendous, but it's safe to say that the cupboard was largely bare for Shanahan.
The 49ers ended their 2018 campaign ranked 23rd in expected points added per play, and that underwhelming offensive performance paired with their inability to cover anyone — their PFF team coverage grade of 37.5 in 2018 was nearly 20 points lower than the second-worst team in the NFL — had expectations tempered coming into 2019. There weren't a whole lot of preseason power rankings that had the 49ers as a team residing in the top half of the NFL. Our own preseason power rankings had them 23rd heading into 2019, but the last sentence of their write-up says it all: "If everything clicks, they can rise up these ranks in a heartbeat."
Everything is clicking right now for San Francisco, especially for Shanahan's offense after dropping 48 points on the New Orleans Saints in Week 14.
The tenets of a Kyle Shanahan offense
All the pre-snap movement
There are play-callers who like to use motion and shifts, and then there is Shanahan. Dating back to when PFF began tracking motion in 2014, Shanahan's offenses in Cleveland, Atlanta, and San Francisco have never been outside the top-five in the percentage of plays that utilize motion or shifts. His 49ers offenses have ranked first in the league in motion/shift rate each season since 2017, and their 2019 rate of 78% is over 30% higher than the league average and 7% clear of the next-closest team (Baltimore Ravens – 71%).
Motion/shift rate of Kyle Shanahan offenses since 2014 (@PFF):

2014 CLE: 56% (3rd)
2015 ATL: 56% (2nd)
2016 ATL: 59% (1st)
2017 SF: 66% (1st)
2018 SF: 71% (1st)
2019 SF: 78% (1st)

The NFL average jumped 4% to 47% this season, and SF is 30% clear of that. Crazy usage levels. pic.twitter.com/gXb9MtDR5N

— Ben Linsey (@PFF_Linsey) December 11, 2019
The volume isn't the only impressive thing, though. There are few coaches who use motion to manipulate defenses better than Shanahan. I tweeted out a play earlier this week that provides a good view of the intended purpose of pre-snap motion working to perfection against the Saints. The two linebackers in the middle of the field moved with the backs that got sent in motion, which left a runway for Deebo Samuel to burn Eli Apple in man coverage on a slant. 49ers tape is full of simple pre-snap movements like this that confuse defenses and give their playmakers opportunities to make plays in open space.
Why use one back when you can use two?
Just like motion rate, Shanahan's offenses with the Browns in 2014, the Falcons in 2015 and 2016 and the Niners each of the past three seasons all have used two or more backs — whether running backs or fullbacks — at a top-five rate leaguewide. Obviously with San Francisco, a big part of that is Kyle Juszczyk, one of the last high-usage fullbacks left in the NFL. It is notable that the trend stretches back to his previous offenses, though, as well.
They haven't only run two-back formations (37% of their offensive plays) more than any other team this season by a wide margin, but they've been the most successful team in the league from those formations on a per-play basis too. Out of the 17 teams with 100 or more offensive snaps out of formations with two or more backs, the 6.2 average yards per play posted by San Francisco is the best mark in the NFL.
Shanahan's willingness to go heavier with multiple backs and/or tight ends introduces another common theme across his offenses – a high rate of base defenses across the line of scrimmage. Sticking to looking at his offenses since 2014, as the offensive coordinator for the Browns, Shanahan faced base defense on 61% of his plays (highest rate in the NFL). In his time with the Falcons from 2015 to 2016, they faced the second-highest rate of base defense in the league at 47%, and since joining San Francisco, his offenses have faced the highest percentage of base defenses by far at 48%.
When you have dynamic athletes at the running back and tight end positions, there are mismatches to be had against linebackers, particularly in the passing game. Shanahan seeks those mismatches out and takes advantage of them.
Heavy dose of outside zone to seek out big plays in the run game
The Shanahan name is synonymous with a zone-blocking scheme, so it comes as no surprise that Kyle Shanahan's offense is perennially one of the leaders in zone-rushing concepts. Outside zone is his bread and butter. His offense ran outside zone at a top-five rate in his stops in Cleveland and Atlanta, and he is doing the same now with San Francisco.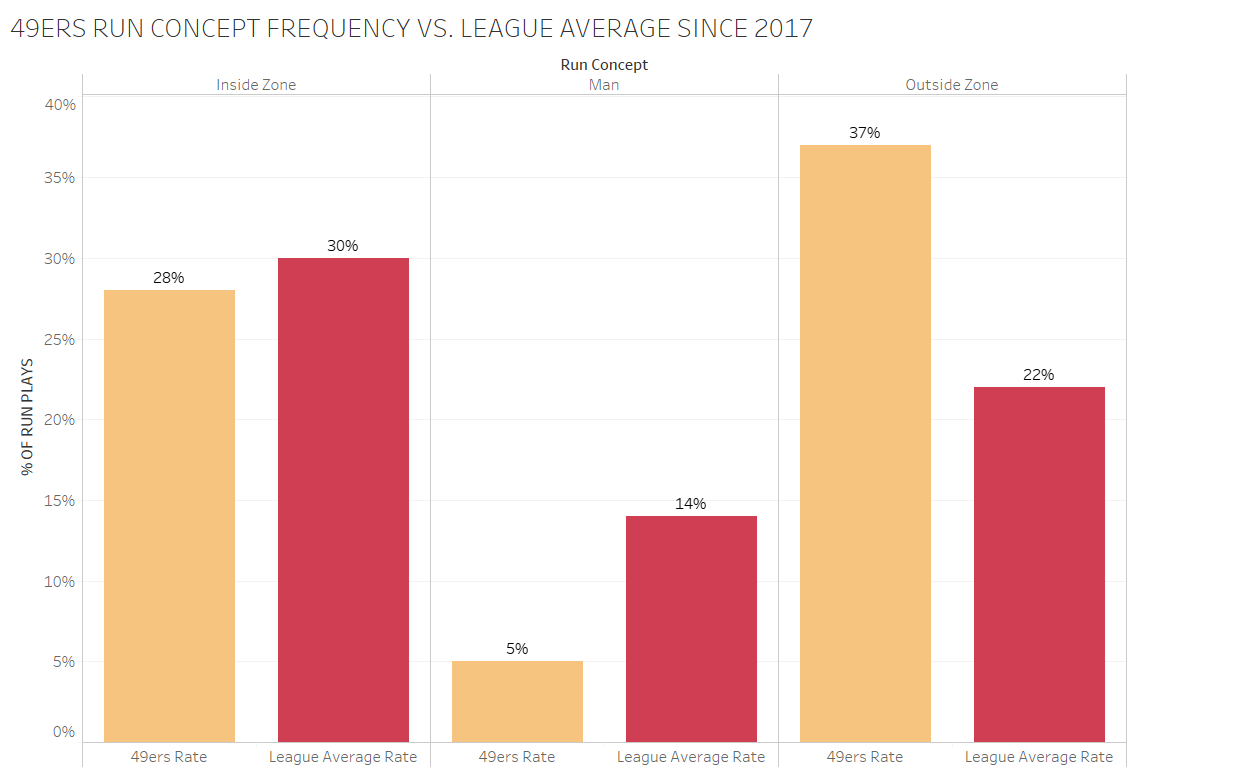 The interesting part of this is that the 49ers lean into high variance in their run game, going against the traditional norms of what the run game is supposed to do – pick up yardage to "set up" more manageable down and distances. Since Shanahan became head coach in 2017, the 49ers have the sixth-highest percentage of their rushing attempts gaining a net of 20 yards, but they also have the third-highest rate of their rushes going for zero or fewer, behind only the New York Jets and the Miami Dolphins.
A big part of that is their scheme and the outside zone run. League-wide since 2017, three run concepts account for 10% or more of a team's run game on average: outside zone, inside zone and man/gap schemes. Among those concepts, outside zone yields the highest rate of 20-plus yards gains (2.6% vs. 2.0% for inside zone and 1.6% for man respectively) while also holding the highest probability of busting for zero or fewer yards by a wide margin (28.1% vs. 19.0% for inside zone and 19.9% for man respectively). As you try to turn the corner and stretch the defense horizontally, your chance to rip off a big chunk of yardage goes up, but so does the chance of the play getting strung out or a holding penalty getting called on a lineman attempting to stop the defense flowing laterally.
The 49ers take that volatility on outside zone runs and bump it up even further, hitting them for 20-plus (3.2%) and getting stuffed for 0 or less (28.7%) above the league-average rate over the last three seasons. That approach to the running game from Shanahan is another feather to his unique offensive scheme.
Shanahan has a full deck of playmakers now, and that's a dangerous thing for the rest of the league
Over the first seven weeks of the season, San Francisco quickly made it clear that this wasn't the same team that we saw last season, but even then, it was the defense that was the impressive side. They were the unit that ranked second in the league in expected points allowed per play behind only the New England Patriots, while the offense hovered in mediocrity despite the return of Garoppolo from injury. The offense was still lacking offensive playmakers on the perimeter, and sensing that, they traded a third- and fourth-round draft pick in next year's draft for Emmanuel Sanders and a fifth-round selection. That acquisition has made a massive difference in their offense.
The trade for Sanders and the emergence of Samuel gives the 49ers two legitimate threats at wide receiver
Bourne leading the wide receiver group in production with less-than-stellar results last season carried over into the start of the 2019 campaign. Samuel led the group with 15 receptions over the first seven weeks, and Marquise Goodwin led the way in receiving yards with 181. Neither of those marks were among the top-70 players at the position. Since then, Sanders has caught 28 passes for 407 yards in his first taste of 49ers' action, and Samuel has broken out to catch 32 balls for 472 receiving yards.
Sanders has been one of the more underappreciated wide receivers in the league for some time now. He gives the 49ers a legitimate No. 1 option outside, something they were sorely missing. Since joining the Denver Broncos in 2014, Sanders ranks 10th out of 54 wide receivers with 3,000 or more offensive snaps in overall PFF grade. His sure hands may be the most welcome sight for Garoppolo, whose 27 dropped passes this season are the fourth-most of any quarterback in the NFL. Sanders has dropped just one pass on 82 targets in 2019, and stretching back to 2014, he is one of only five wide receivers with 500 or more targets and 20 or fewer drops. (The other four in that group are Larry Fitzgerald, Michael Thomas, Antonio Brown and Stefon Diggs.)
Meanwhile, it took Samuel a little while to get going this season, but he's been on fire in recent weeks. His after-the-catch ability was a definite strength coming out of South Carolina, and it has shined early in his NFL career. Samuel's 7.7 yards after the catch per reception are more than any other wide receiver with 40 or more receptions this season. Which leads us to a certain tight end hailing from Iowa…
George Kittle is doing Gronk-like things
As my colleague Sam Monson pointed out in a recent article, Kittle is currently earning a higher PFF grade than Rob Gronkowski ever earned in a single season in his dominant NFL career. Gronkowski graded at 90.0 or higher in seven consecutive seasons, but he never recorded a season that matched where Kittle sits now, at an overall grade of 93.8. That alone is a remarkable feat, given that Gronkowski was the unquestioned pinnacle of the tight end landscape over the last decade.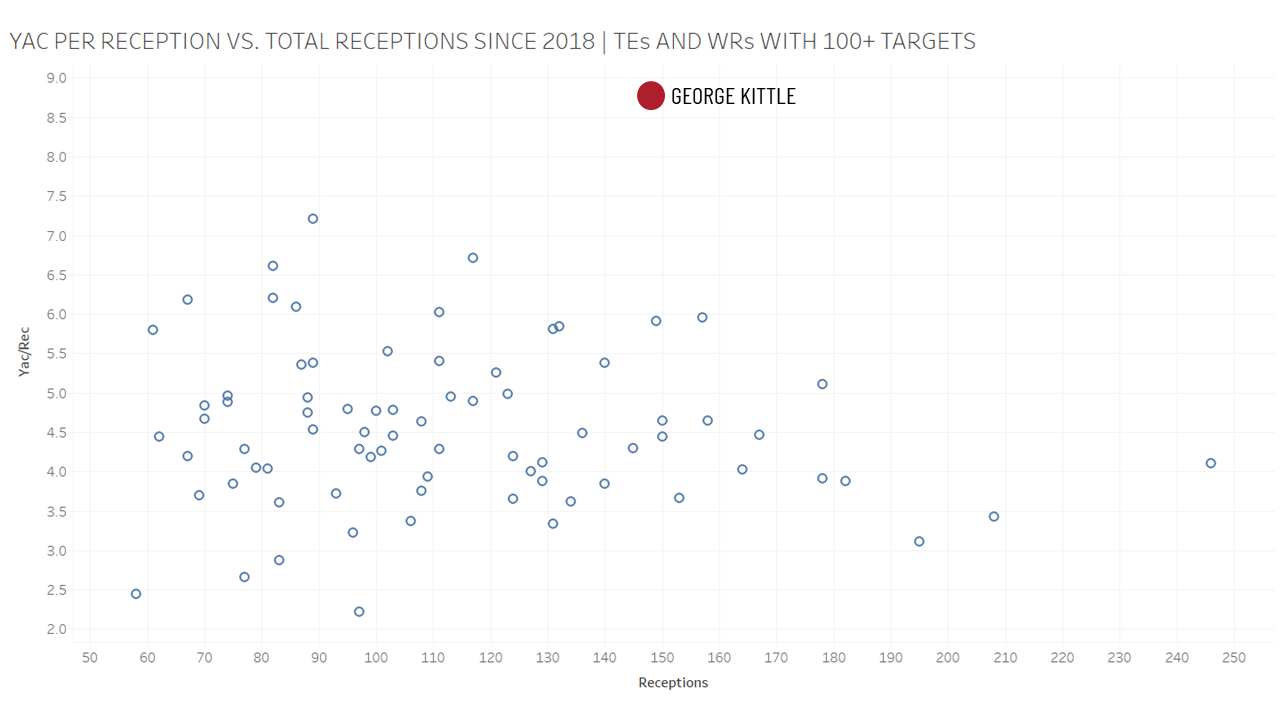 Like his teammate Samuel, Kittle is a yards-after-the-catch machine. His 873 yards after the catch last season are the most ever recorded by a wide receiver or tight end since the start of the PFF era back in 2006. If you combine last season and this year and look at all wide receivers and tight ends with 100 or more targets, Kittle's 8.8 yards after the catch per reception clearly pace the field — Evan Engram is in second place with 7.2. Shanahan's ability to get players in space and Kittle's natural ability to make defenders miss and run through tackles is an unsavory problem for opposing defenses to deal with.
Need for speed in the backfield meshes perfectly with scheme
I talked earlier about how the 49ers outside zone scheme hunts the home run. Now, may I interest you in the 40-yard dash times of their running backs? Matt Breida (4.38 seconds), Raheem Mostert (4.34) and Tevin Coleman (4.39) can all scoot with sub-4.40 speed. That plays into what the 49ers want to do to a tee, and it shows when looking at PFF's breakaway percentage metric, or the percentage of a player's rushing yards that come from runs of 15 or more yards. Breida (44%) ranks first among all running backs with 100 or more carries, Mostert (43%) ranks second and Coleman (35%) eighth.
If you're going to lean into volatility in the run game in the search for big plays, it makes sense to do it with fast running backs capable of separating and running away from defensive backs in the open field. That's what the 49ers have in all three of those guys, and it's a big part of the reason they produce as many home runs as they do on the ground.
Can the 49ers offense be a strength come playoff time with Garoppolo at quarterback?
One player who hasn't really been touched on in all of this is the most important player on the offense –Garoppolo. Garoppolo has been middle-of-the-pack this season in overall PFF grade, ranking 15th among qualifying signal-callers with a 75.5 overall grade. With the weapons and offensive play-caller he has at his disposal, though, Garoppolo doesn't need to be a whole lot better than average.
The 49ers have done a good job all season of putting him in positions to succeed. Garoppolo's average time to throw of 2.57 seconds is fourth-lowest among qualifiers, and his average depth of target of 6.8 yards downfield is ahead of only the one-two punch in New Orleans – Drew Brees and Teddy Bridgewater. The 49ers are using the short, quick passing game to give Garoppolo more of the clean pockets that he thrives from. His 8.7 yards per attempt and 115.5 passer rating from a clean pocket both rank fifth in the NFL.
Garoppolo is not in the elite tier of quarterbacks who can carry a team single-handedly, but he doesn't have to be. The 49ers have arguably the best receiver in football regardless of position in Kittle, two difficult covers on the perimeter in Sanders and Samuel, a stable of some of the fastest running backs in the NFL, and one of the brightest offensive minds in football scheming plays to get those playmakers in space.
As the 49ers showed Sunday, their offense can put up points with anyone in the league, and that has Miami in their sights. As fans, we can only hope that we get an encore of Saints-49ers worthy of the original performance this past weekend prior to that.