With a 21-13 loss at Lambeau Field to the Green Bay Packers on Sunday, the Chicago Bears fell to 7-7 on the season, missing the playoffs for the eighth time in their past nine campaigns.
While the Bears did not meet their fanbase's lofty goals, the expectations didn't have to be that high. There were a number of issues this Chicago outfit had, despite coming off a 12-4 season, that were not addressed in the offseason. Many of these things were the reason why the Bears failed to repeat as division champs and will be watching other teams play come January:
Quarterback
The Bears' offense was pretty strong in 2018, ranking as a top-10 unit in terms of expected points added (EPA) as a group. But Mitchell Trubisky was more so riding in that car than driving it, as the second-year signal-caller from North Carolina ranked dead last in ability to avoid negatively graded throws — the most-stable measure when evaluating quarterback play. No quarterback ranking in the bottom five in avoiding negatively graded plays followed that season up by guiding a top-10 offense the following year.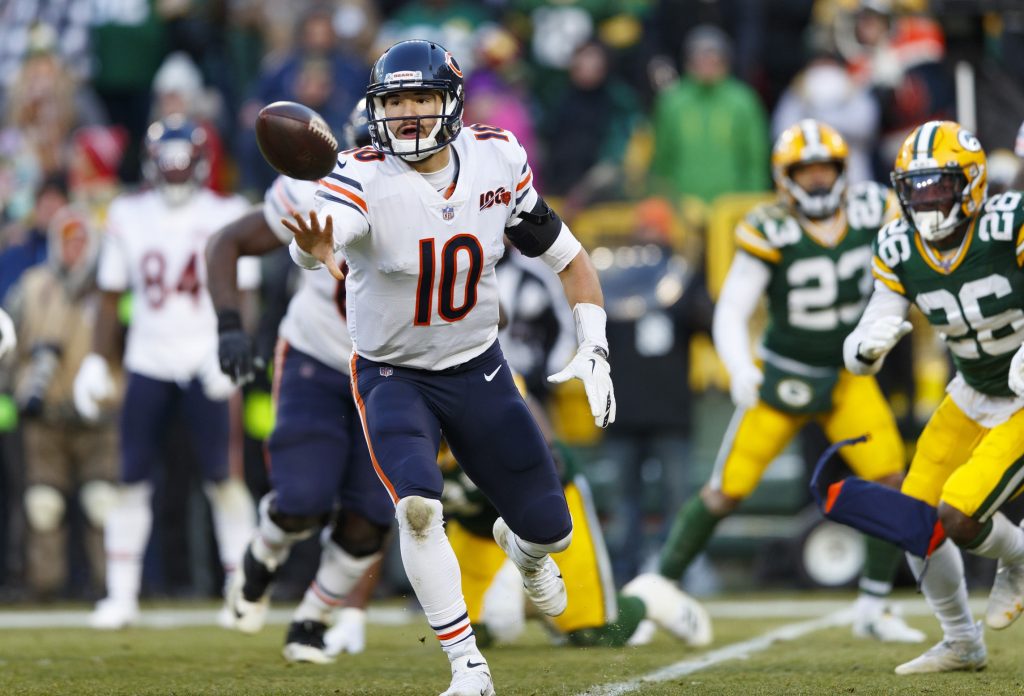 Jeff Hanisch/IMAGN
The Trubisky skepticism was warranted; although his PFF grade rose a bit from 63.6 to 66.3 (due in large part to an improvement in limiting negatively graded throws), the compensatory rise in production was not, due to the forecasted regression in other areas. The Bears' offensive EPA per play was just 25th entering Week 15, with their passing offense slotting in at 21st. Trubisky's completion percentage fell from 66.6% in 2018 to 63.4% this year (17th). His yards per attempt fell from 7.4 to 6.2 (second-worst among qualifying quarterbacks). His share of team success (as measured by PFF WAR) actually increased from 2018 to 2019 — but not nearly enough to offset all of the other variables that were going to hamstring the Bears throughout the 2019 season.
Defense
Regression isn't about going from "good" to "bad," it's about going from one of the extremes to what one could reasonably expect based on player- and league-level fundamentals (more or less). One could reasonably expect the Bears to be a top-five defense, given players such as Khalil Mack, Akiem Hicks, Eddie Jackson, Prince Amukamara and company. It's not reasonable to expect the Bears to repeat generating a turnover on 19.5% of all drives (more than 2.5 percentage points higher than the next-best defense).
And that has played out exactly as expected. After surrendering just 4.8 yards per play last year (tied for first with the Baltimore Ravens), the Bears have given up only 5.0 yards per play this season (tied with the Los Angeles Rams for fifth best in the league). This is despite cornerstone players such as Hicks, Danny Trevathan and Roquan Smith missing time with injury, and Adrian Amos and Bryce Callahan leaving this offseason via free agency along with their defensive coordinator, Vic Fangio.
What didn't happen this year were the turnovers that once gave the offense the leads necessary to put the young quarterback in a better position to succeed. The Bears have forced a takeaway on just 9.8% of their opponents' drives this year (21st in the league), a rate less than half that of a season ago. Six defensive touchdowns turned into one, and 50 sacks into 31. The instability in defensive outcomes remains one of the great axioms in understanding football.
Competition
The Bears played a last-place schedule in 2018, and their opponents' average PFF ELO after the season was the league's worst. They played a first-place schedule in 2019, and we projected their schedule to be the second-toughest going into the year.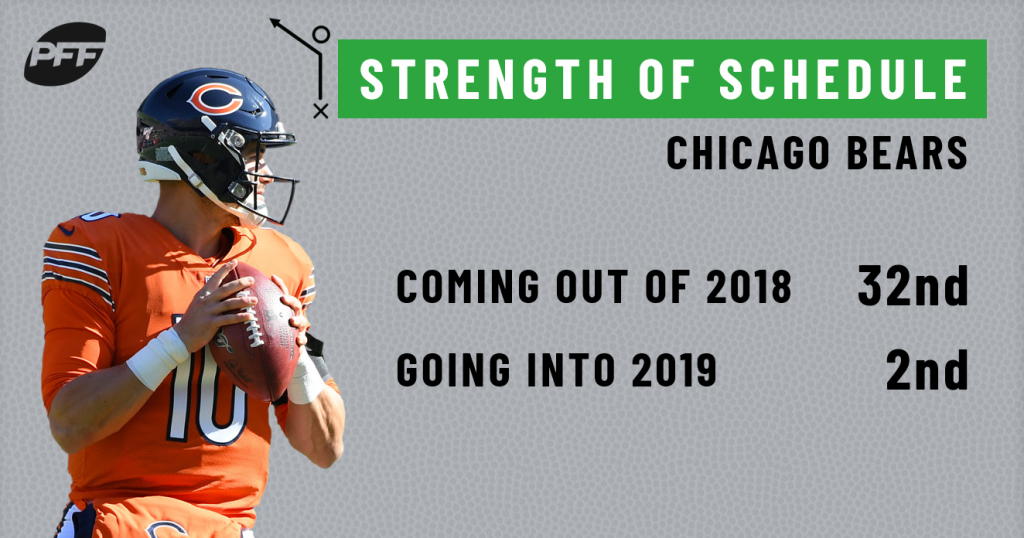 To make matters worse, the Minnesota Vikings and the Green Bay Packers have emerged as top-10 teams in the NFL this season, only a year after they combined for a 14-16-2 record. The NFC North race was always closer than it was being handicapped. And while the Detroit Lions didn't live up to our early-season expectations, Green Bay and Minnesota were ultimately able to leverage decent quarterback play, new offensive play callers and easier roads to keep the Bears more than an arm's length away from playoff contention throughout the 2019 season.
What Can We Learn From This?
This is the song that never ends. There is always a team or two that leverages positive defensive variance and an easy schedule to overperform in the standings despite poor quarterback play. The 2016 New York Giants went from 11-5 with an ineffective Eli Manning to the second-overall pick. The 2017 Jacksonville Jaguars Blake Bortles-ed their way to the AFC Championship Game, only to install Cody Kessler as their starter by mid-2018.
In a season where multiple quarterbacks have missed time with injuries, teams that aren't exactly brilliant at the quarterback position have emerged as contenders. The question for 2020 is, "Will they stay there?"