Now that the NFL's new rookies have found a home with their respective franchises, it's time to handicap the Rookie of the Year races. After considering our pre-draft evaluations along with our college-to-pro-projections and the situation each was put in, here are PFF's top candidates for NFL Offensive Rookie of the Year honors. 
[Editor's note: Subscribe to PFF ELITE today to gain access to PFF's Premium Stats and new Player Grades experience in addition to the 2020 NFL Draft Guide, 2020 Fantasy Rookie Scouting Report, PFF Greenline, all of PFF's premium article content and more.]
Yes, the team that picks No. 1 does so for a reason, but the situation Burrow finds himself in is nowhere near as bad as people make it out to be. In fact, assuming veteran wide receiver A.J. Green has a clean bill of health, he, Tyler Boyd and Tee Higgins could form one of the most dangerous wide receiver trios in the entire league.
From 2012 to 2018, Green never ranked lower than 11th in single-season PFF grade, and Boyd has been the ninth-highest-graded slot receiver in the NFL since 2018. The Bengals also made a fantastic move to kick off Round 2 of the 2020 NFL Draft by snagging Higgins, who has the size and ball skills that would have made him in the WR1 conversation in past draft classes. At 6-foot-4, Higgins has an enormous catch radius and would routinely overpower defensive backs in tight coverage — he was the only wide receiver in the class to put up an elite two-year grade on such instances.
Pair all that with the kind of NFL-ready accuracy that saw Burrow shatter PFF College records in 2019, and you have the potential for a truly dynamic passing attack in Cincinnati.
The situation Tagovailoa finds himself in is nowhere near as good as Burrow's, and there are still some question marks surrounding his health and whether or not he will even play early on, but Tagovailoa has the traits to succeed in the NFL — even when playing in an offense like Miami's.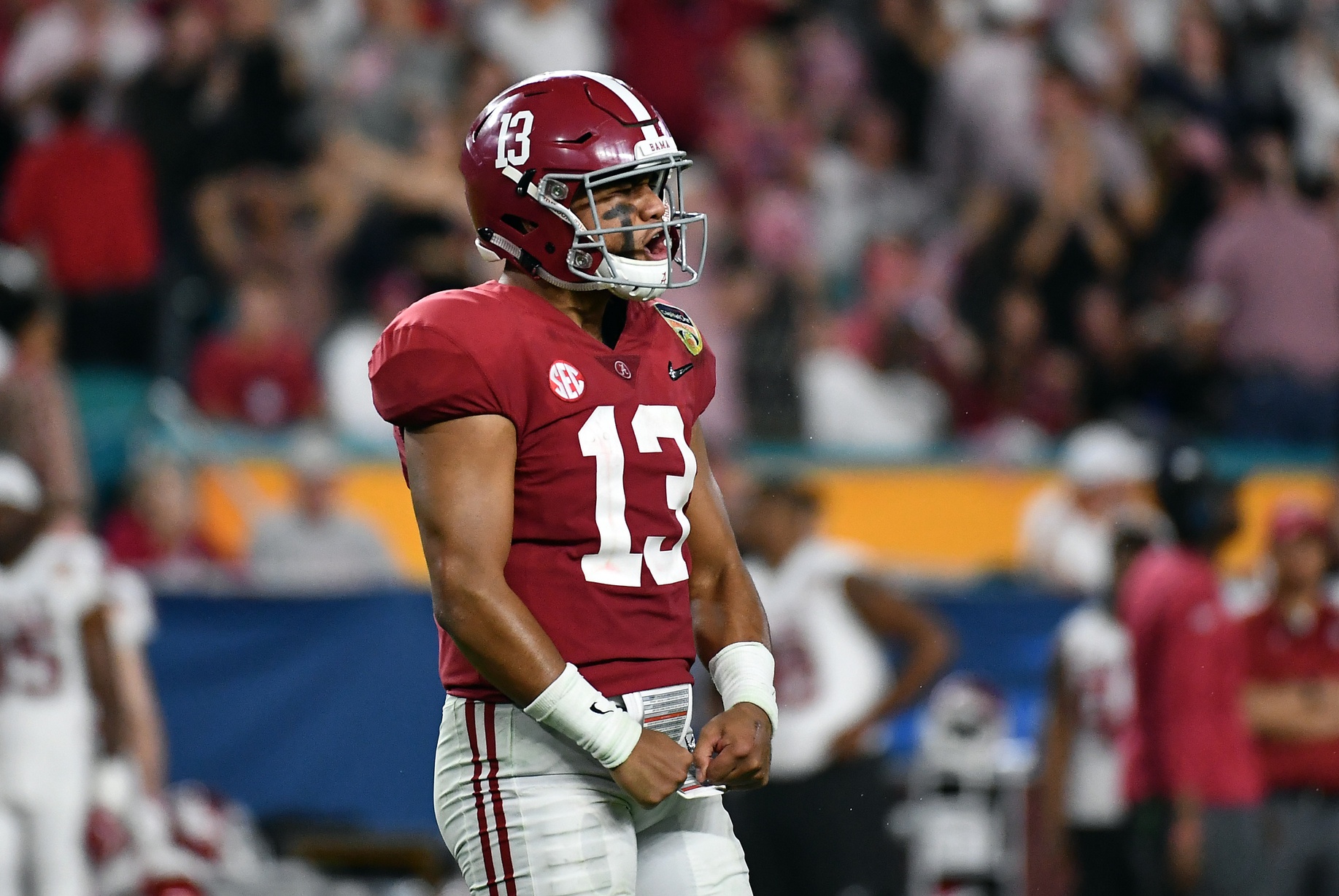 DeVante Parker is coming off a career year in terms of PFF grade and will arguably have the best quarterback he's ever had throwing him the ball in 2020, assuming Tagovailoa plays. The former Crimson Tide star was the only college quarterback to produce elite passing grades in each of the last two years. He and Joe Burrow were the only quarterbacks who produced top-15 negatively and positively graded play rates in that same span.
Indy might have signed Philip Rivers in free agency, but they made it clear when they traded up to select Jonathan Taylor 41st overall in the draft that they're still going to "run the damn ball." And given that he'll be running behind the second-highest-graded run-blocking unit of the 2019 season, Taylor should put up numbers right away as a Colt.
Taylor produced the second-highest PFF grade in the FBS over his three years at Wisconsin, and he averaged an absurd 4.2 yards after contact per attempt over his career. His combination of size, speed and cutting ability is precisely what you want in a running back, and Taylor couldn't be in a better situation than behind that strong Colts offensive line.
The Chiefs' first-round pick was one of the more complete running backs we saw in 2019 — he tied for the most receptions that resulted in at least a 10-yard gain (23), and he broke a whopping 71 tackles on 214 carries with another 14 broken tackles coming on his 55 receptions.
A lot of Edwards-Helaire's success came in LSU's RPO attack, where he ranked first in PFF rushing grade and averaged an impressive 8.1 yards per carry. With his experience and success in that type of offense, as well as the value he brings to the table as a receiver, Edwards-Helaire ought to make an immediate impact in Andy Reid's offense.
Vegas went all-in on Ruggs with their 12th overall pick, and he'll provide an immediate boost to a wide receiver corps that ranked 31st in team receiving grade last year.
With his ability to both make plays in traffic and produce after the catch, Ruggs is going to fit like a glove in his team's West Coast offense. Almost half of Derek Carr's passes last year were horizontal-lead passes — throws that lead the receiver across the field, a staple of the West Coast offense — and Ruggs did his best work on such plays at Alabama. On his horizontal lead targets, Ruggs burnt off a 20-yard gain on 34.5% of his opportunities; he also averaged an FBS-best 12.1 yards after the catch per reception and generated a near-perfect 154.1 passer rating when targeted.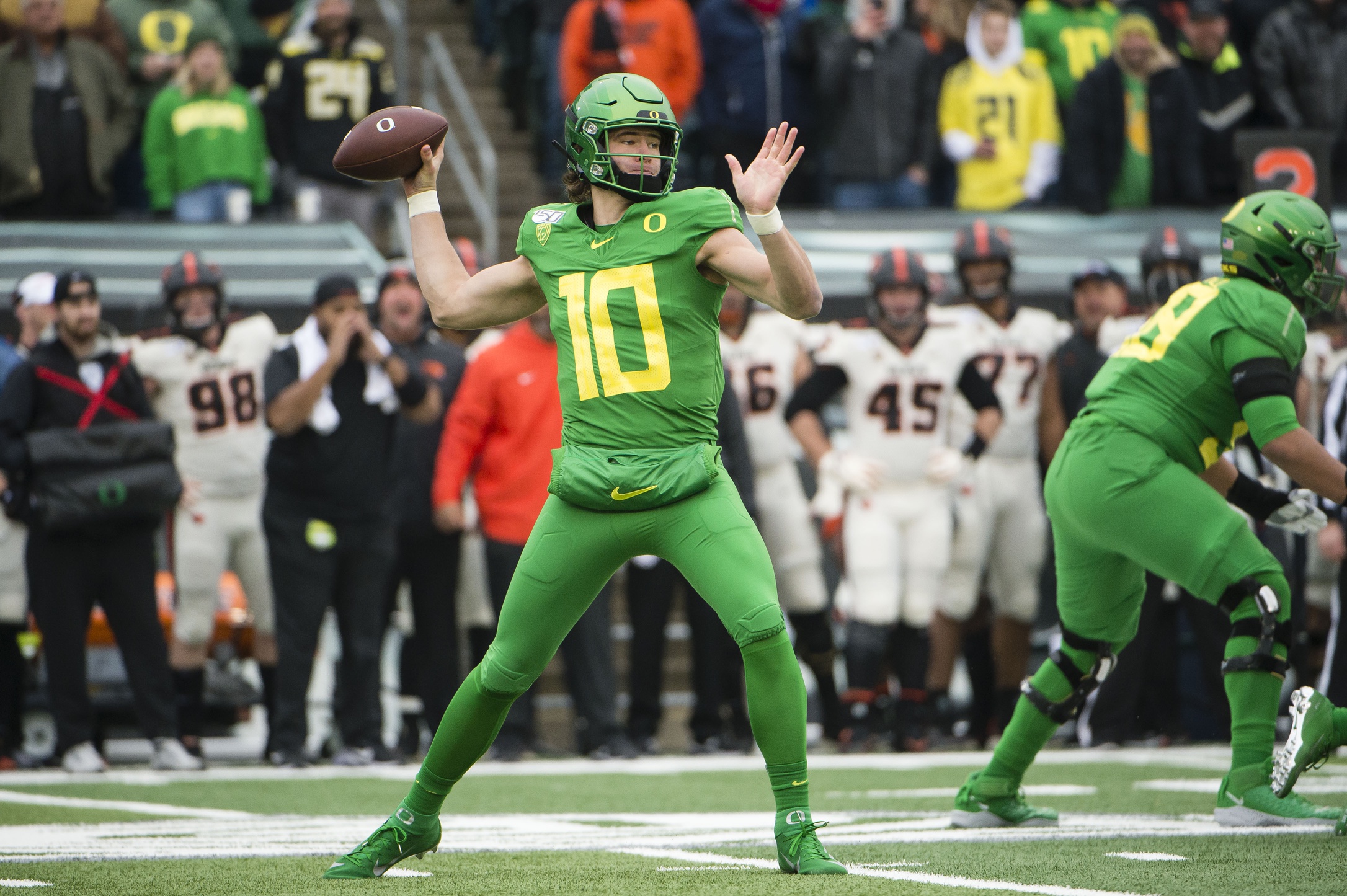 Given Herbert's accuracy issues and "panicky" performance under pressure, we aren't quite as confident as others are in Herbert's ability to effectively lead the Chargers to success in his rookie campaign, but he sits at sixth on this list because of the great situation he finds himself in.
If Herbert manages to win the starting job, he'll have one of the top pass-catching tight ends in the NFL to throw to in Hunter Henry as well as one of the best pass-catching running backs in the league in Austin Ekeler. From 2016 to 2017, Henry posted a two-year receiving grade that trailed only Rob Gronkowski and Travis Kelce, and Ekeler has recorded the highest receiving grade at his position since coming into the league in 2017. Throw Keenan Allen — the 10th most valuable wide receiver since 2013 — into the mix along with Mike Williams — the 22nd-highest-graded wide receiver since 2018 — and there are almost too many options for Herbert to throw to. Assuming his supporting cast stays healthy, they very much could help Herbert put up substantial numbers in his rookie campaign.
Shenault's draft stock torpedoed due to his past injuries, but the Colorado product could very well have a big role right out the gate, considering the only reliable wide receiver Gardner Minshew had last year was D.J. Chark Jr.
Shenault — our WR4 heading into the draft — looks more like a running back than a wide receiver with the ball in his hands — he is a tackle-breaking machine. Over the last two years, Shenault's 44 missed tackles forced are more than anyone in the class. He was particularly lethal on screens and sweeps, as he broke nine more tackles than any other FBS receiver on such plays the last two years while averaging 10.8 yards after the catch per reception.
Lamb is a spot below Shenault because of the fact he has to share targets with Amari Cooper and Michael Gallup, but the damage he does after the catch can make up for that fact. He broke 38 tackles after the catch and averaged 9.2 yards after the catch per reception in his last two seasons, and his 25 30-plus yard gains were more than any college receiver in that span.
Jeudy falls behind Shenault and Lamb not only because he has to share targets with Courtland Sutton and K.J. Hamler, but also because Drew Lock still has a lot to prove after he produced just a 56.9 passing grade in his rookie campaign.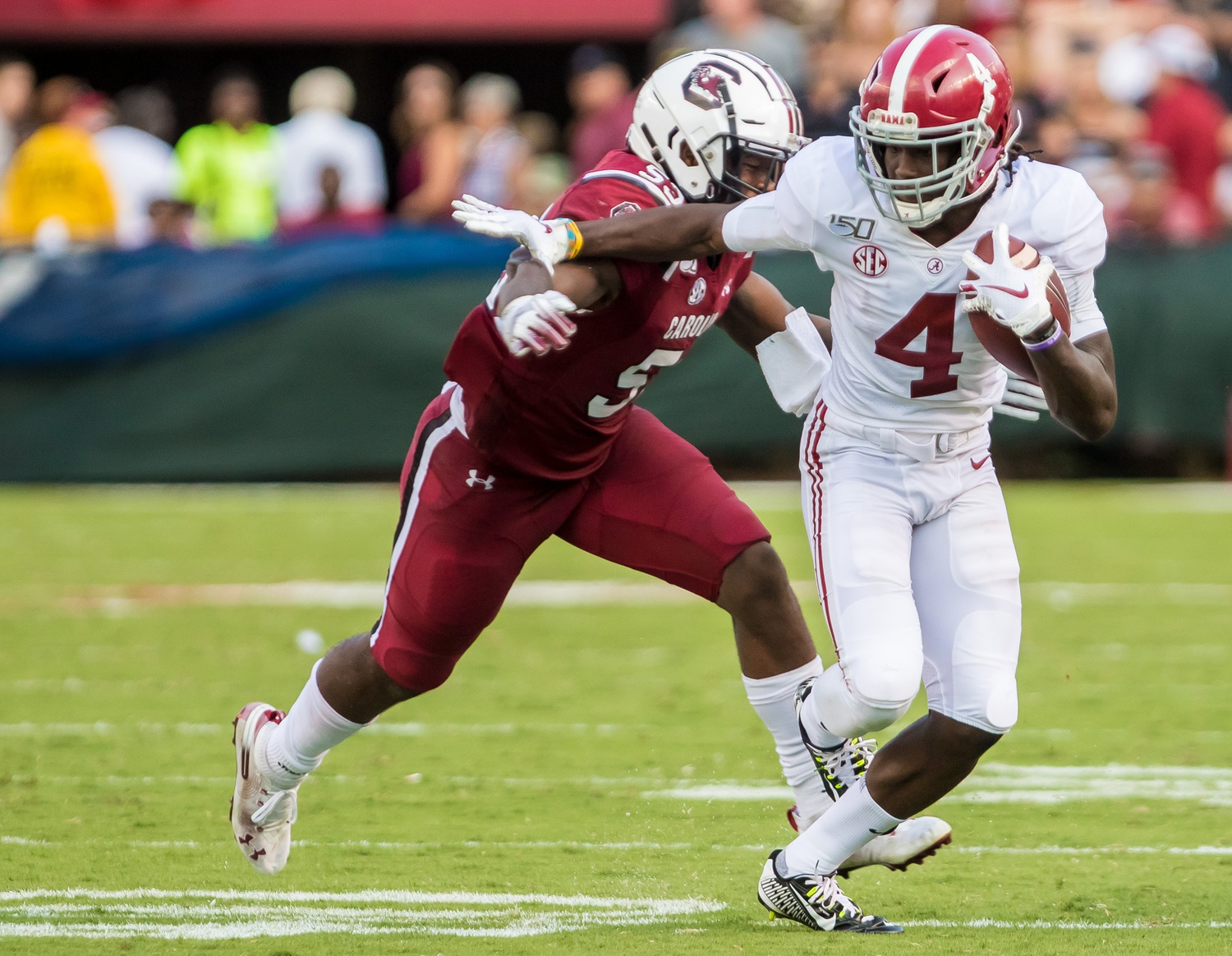 Jeudy was our WR1 entering the draft, so it goes without saying that we believe he has the ability to overcome both the potential lack of targets and the possible quarterback issues. As it says in PFF's 2020 NFL Draft Guide, he's a threat to house it from anywhere on the field — he's been responsible for 29 20-plus-yard plays since 2018, the most in the FBS over that period. And with his refined route running and ability to separate, Jeudy has the potential to put up similar numbers for the Broncos.
Kyle Shanahan was vocal about how much the Niners wanted Brandon Aiyuk — he even called him his top receiver prospect in the class.
Aiyuk is about as explosive as they get, and that is apparent in his route-running and after-the-catch ability. And that's precisely the type of weapon Shanahan loves to feature in his offense. Aiyuk averaged 10.9 yards after the catch per reception in 2019, and he broke a solid 14 tackles on 65 catches — he's certainly going to see his fair share of opportunities in his rookie campaign.