If you were a team looking for tight end help to start the league year, the pickings were slim. On the PFF 2020 Draft Big Board, there was just one tight end listed among the top 75 players in the class (Hunter Bryant, 65th), and the free agency market wasn't a whole lot better. There was Hunter Henry at the top of the list, but the Los Angeles Chargers' decision to place the franchise tag on him quickly removed that option from contention for interested suitors. Then, there was Eric Ebron and Austin Hooper along with several veterans who were recently released (Delanie Walker, Jimmy Graham, etc.) before getting to fringe options. All of that created a perfect storm in which Hooper was going to get paid this offseason.
The Cleveland Browns obliged, making Hooper the highest-paid tight end in the NFL with a four-year, $44 million deal with $23 million guaranteed.
Austin Hooper has agreed to terms on a 4-year deal with the Cleveland Browns that will re-set the TE market in guaranteed money and APY. Hooper will make $23 million, all guaranteed, over the first 2 seasons, and $10.5M per year over 4. https://t.co/nUMAjnGuZx

— Ian Rapoport (@RapSheet) March 16, 2020
On the surface, the interest in Hooper and the ensuing deal is understandable. Last season, he was a top-10 tight end in both PFF grade and PFF WAR. He will not turn 26 years old until midway through next season, and he has shown himself to be durable, playing over 700 offensive snaps in each of the past three seasons. Hooper looks the part of a complete tight end. A deeper dive into the numbers, however, shows that his production has some caveats.
Hooper took advantage of an offense that put him in advantageous situations
Hooper has caught 146 passes for 1,447 receiving yards and 10 touchdowns over the past two seasons. That is strong production for a tight end, but as we know here at PFF, not all production is created equally. Hooper, more than any other tight end, has bolstered his production by finding soft spots in the defense. As mentioned in his write up on the PFF Free Agent Rankings page, Hooper has gained a league-high 75.5% of his receiving output on targets defined as holes in zone or underneath the defense since 2016.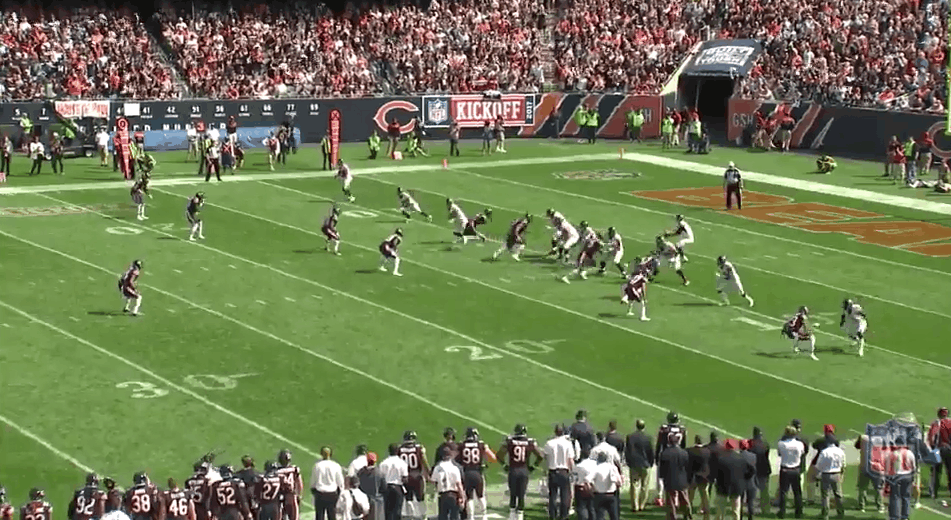 Then, of course, there are just plays where the opposing team simply forgets to cover him — like this play above against the Chicago Bears in 2017. Hooper finishes off the play with a nasty stiff-arm en route to an 88-yard touchdown, but you are not going to find a player that wide open over 30 yards downfield very often.
Being able to take advantage of zone coverage and underneath routes is not a negative, but when you pair it with Hooper's struggles to separate and get open against man coverage over the course of his career, some red flags are raised. Going back to 2016, Hooper has just a 56.8 receiving grade against man coverage, ranking dead last among the 10 tight ends with 500 or more routes run vs. man over that stretch. If you extend that out to tight ends with 250 or more routes, he ranks 30th among 41 qualifiers, sandwiched between Lance Kendricks and Darren Fells.
10 tight ends have run 500 or more routes against man coverage since 2016. Their receiving grade on those routes:
1. Kelce – 93.0
2. Ertz – 85.1
3. Cook – 82.5
4. Olsen – 76.6
5. Ebron – 74.8
6. Doyle – 68.7
7. Rudolph – 65.7
8. Graham – 65.6
9. Witten – 57.9
10. Hooper – 56.8

— Ben Linsey (@PFF_Linsey) March 17, 2020
Being able to win those routes in man coverage is the more difficult thing to do, and subsequently, it's a more valuable skill for a tight end like Hooper to bring to the table. The fact that he has struggled to do that to this point in his career is concerning when you're looking at a player who was just made the highest-paid tight end in the NFL.
Travis Kelce, the league's highest-paid tight end prior to this offseason, is at the other end of the spectrum on the list above, capable of routinely beating man coverage to produce positive plays for the offense. Those are the kind of difference-makers that you want to be paying top dollar for, not players such as Hooper who are scheme-dependent for much of their production.
Kevin Stefanski is well-versed in using the tight end
It may have been an act of necessity with the Vikings' thin depth at wide receiver behind Stefon Diggs and the injured Adam Thielen, but the Vikings were at the front of the pack when it came to using two or more tight ends in their formations last season.
| | |
| --- | --- |
| Team | % of snaps with 2+ TEs in 2019 |
| 1. Philadelphia Eagles | 56.5% |
| 2. Minnesota Vikings | 54.8% |
| 3. Tennessee Titans | 44.5% |
| 4. Baltimore Ravens | 42.5% |
| 5. Las Vegas Raiders | 38.7% |
The only other team in the same ballpark as the Vikings when it came to tight end usage was the Philadelphia Eagles, who relied heavily on the duo of Zach Ertz and Dallas Goedert after their wide receiving corps rapidly grew decimated by injury. Residing Browns tight end, David Njoku, has a future that remains in the balance with the team, but Hooper's addition means that Stefanski has two quality tight ends to work with if he wants to continue running two tight-end sets with his new team.
And if you look at Hooper and Vikings tight end Kyle Rudolph over the past four seasons, they project as relatively similar players. Both guys have performed better against zone coverage, able to find the soft spots and pick up chunks underneath, while putting up lesser numbers against man. That statement is more true for Hooper, who is averaging nearly a full yard per route run more against zone coverage (1.76) than zone coverage (0.82), but both players have seen a bump against zone looks.
One area where Browns' fans should expect to see Stefanski use Hooper in 2020 based on how he used his tight ends in Minnesota last season is in the play-action game and on designed rollouts. Vikings tight ends combined to put up top-five marks in receptions and receiving yards in both categories last season. Minnesota tight ends combined to catch 39 of 44 targets for 364 yards and four touchdowns off play-action fakes during the 2019 regular season. That's also an area that Hooper excelled in last season, bringing in 20 of 21 play-action targets for 233 yards and three touchdowns.
Stefanski won't necessarily run the same offense as in Minnesota, but the Hooper signing gives him the opportunity to repeat several of the things that made his scheme unique last season.
Hooper: not a bad player but not worth a top-end contract
Hooper was listed as the 38th-ranked free agent available heading into this week for a reason. He is a solid, dependable, complementary piece to a team that already has other options in the passing game. That is the case with the Browns, who have Odell Beckham Jr. and Jarvis Landry to draw attention at the wide receiver position. However, Hooper is not a difference-maker in the passing game himself. He will take what the defense gives him, but that is true for a number of tight ends in the NFL.
When you ask the question, 'What makes Hooper special?' there isn't an answer that readily comes to mind. Route-running ability? Athleticism? Catch radius? Hands? Blocking? It's hard to definitively say that Hooper really excels in any of those areas, and for a guy who just received the most lucrative tight end contract in the NFL, you would like to point to at least one area where he is elite. The fact that it is difficult to do that makes this deal a tough one to swallow from the Browns' perspective.