With only one player in the top 50 on PFF's latest draft board, this year's tight end class doesn't have a ton of high-level talent, though it makes up for that with a number of solid receiving options who will likely be available late Day 2 and early Day 3. If you're looking for run blockers, though, this class might not be for you.
[Editor's Note: PFF's 2020 NFL Draft Guide is LIVE and available to all EDGE and ELITE subscribers. Download your copy today!]
1. Hunter Bryant, Washington
At 6-foot-2, 240 pounds, Bryant is a tight end in name only at this point. I wouldn't write off the true junior from becoming a complete tight end just yet, though, as Delanie Walker came into the NFL a shade over 6-foot-1 and 240 pounds before eventually becoming one of the best blockers at the position among starters. Bryant has movement skills that you simply can't teach for a man that big; he looks like a wide receiver out there and has produced like one, as well.
Most yards per route run in the PFF College era (tight ends, 2014-19, min. 250 receiving snaps)
| | | | | | | | |
| --- | --- | --- | --- | --- | --- | --- | --- |
| Rk | Name | Team | Rec. snaps | Tgts. | Rec. | Yds. | YPRR |
| 1 | Hunter Bryant | Washington | 481 | 120 | 85 | 1,394 | 2.90 |
| 2 | Dallas Goedert | South Dakota State | 466 | 119 | 82 | 1,295 | 2.78 |
| 3 | Adam Trautman | Dayton | 338 | 95 | 70 | 916 | 2.71 |
| 4 | Mark Andrews | Oklahoma | 365 | 88 | 62 | 959 | 2.63 |
| 5 | Harrison Bryant | FAU | 827 | 207 | 148 | 2,139 | 2.59 |
| 6 | Caleb Wilson | UCLA | 671 | 163 | 114 | 1,675 | 2.50 |
| 7 | Brant Kuithe | Utah | 335 | 76 | 55 | 829 | 2.47 |
| 8 | Dimitri Flowers | Oklahoma | 271 | 41 | 36 | 649 | 2.39 |
| 9 | Gerald Everett | South Alabama | 668 | 162 | 107 | 1,587 | 2.38 |
| 10 | Kaden Smith | Stanford | 475 | 105 | 70 | 1,049 | 2.21 |
2. Cole Kmet, Notre Dame
Kmet broke out in a big way in his first game of 2019, with nine catches for 108 yards and a score against Georgia. He didn't quite continue that dominance throughout the season, but you saw a very complete tight end when you viewed his tape from this past year. I'm not sure he "wows" in any one regard, but he can run a full route tree, and he's a competent inline run-blocker. He's dropped only two of his 60 catchable targets over the past two seasons.
3. Adam Trautman, Dayton
We got our first exposure to Trautman at the Senior Bowl and are now in the process of grading his Dayton tape. One thing is for certain; he ticks a lot of boxes for a modern tight end. Whether it's his size at 6-foot-5, 251 pounds or the route-running ability that saw him win the majority of his reps in the one-on-ones in Mobile, Trautman very much looked like he belonged among future NFL players. We — and I'm sure a lot of NFL evaluators — also love that he said that he'd rather throw a key block for a score on the ground than catch a touchdown pass himself.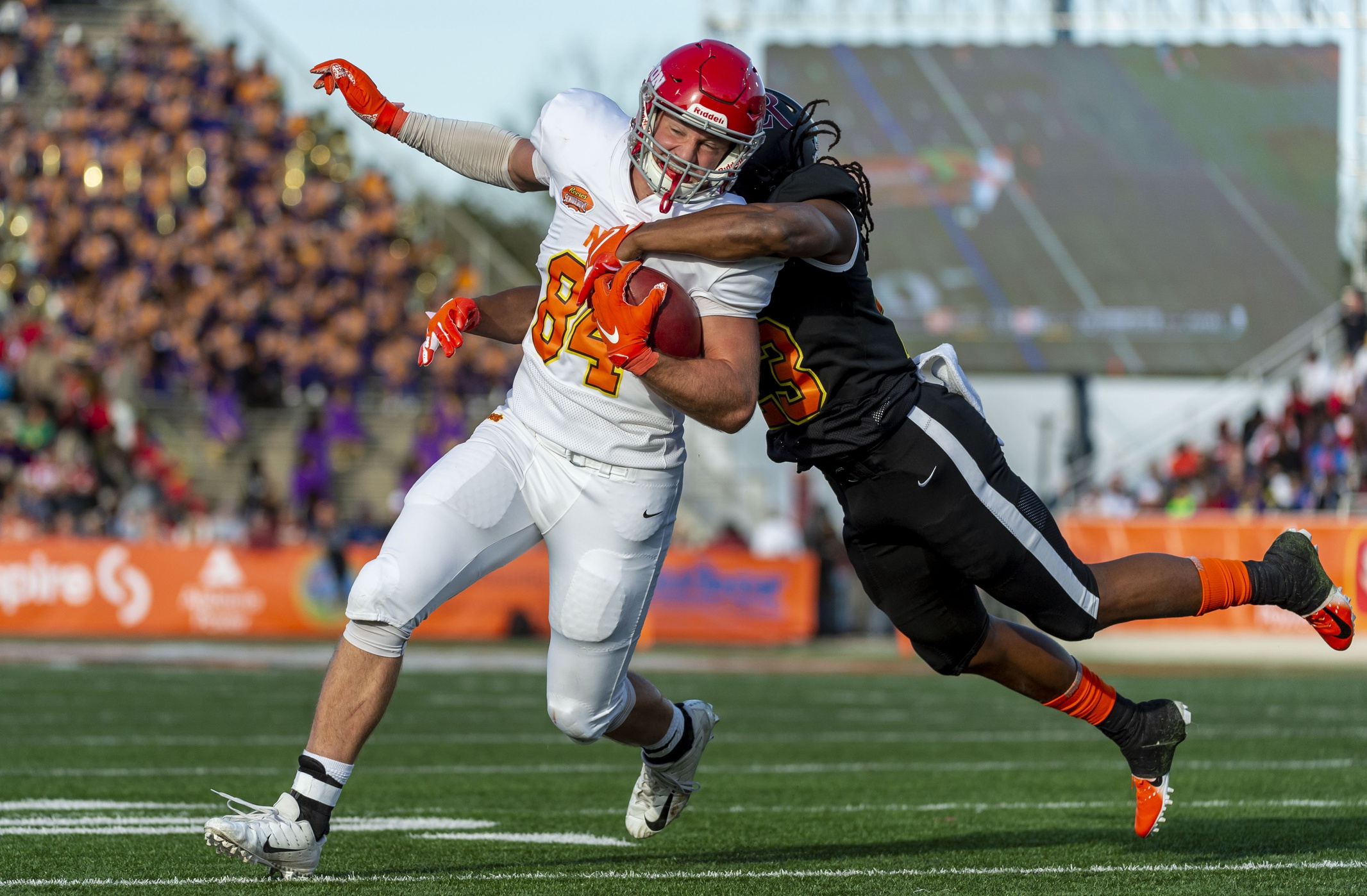 4. Brycen Hopkins, Purdue
Getting vertical is the name of the game at the tight end position, and Hopkins can glide downfield as well as any tight end in this class, as 36 of Hopkins' 96 catches over the past two seasons have gone for at least 15 yards. While his athleticism pops off the tape, his hands and YAC ability are questionable — he's dropped 22 of 152 catchable passes in his career, and he's only broken 10 tackles on 130 catches.
5. Stephen Sullivan, LSU
Sullivan is one of the most intriguing tight end prospects in the entire class. A former wide receiver, Sullivan bulked up considerably to fill the tight end role for LSU. However, he was lapped on the depth chart by Thaddeus Moss and ended up playing all of 299 snaps this past season. His physical tools are absolutely off the charts, though. His 85 ⅛" wingspan was over five inches wider than the next closest tight end at the Senior Bowl, his straight-line speed jumps off the tape, and he could legitimately run in the 4.5 range at 254 pounds. But with only 14 targets last season, it's nearly impossible to evaluate him as a receiver.
6. Harrison Bryant, FAU
There hasn't been a more productive tight end in the country over the past three seasons than Bryant. He's earned a receiving grade over 90.0 each of those seasons and capped it off with a 65-catch, 1,004-yard effort in 2019. While he was more receiver than tight end early in his career, he was all the way up to 242 pounds by the Senior Bowl weigh-ins and had the highest grade of any tight end there in the one-on-ones.
7. Cheyenne O'Grady, Arkansas
If it weren't for a litany of off-field issues, O'Grady could legitimately be in contention for the top tight end in the class. However, O'Grady was suspended from Arkansas' football team on multiple occasions by multiple different coaching staffs before eventually leaving the team altogether this past fall. That's about as bright a red flag as you can get. It should also serve as a wakeup call for him to turn things around. O'Grady has broken 17 tackles on 87 catches in his career, and he has shown solid hands over that span as well with only four drops.
8. Devin Asiasi, UCLA
Asiasi has one of the more interesting builds of any tight end in this class. He checked in at the Combine at 6-foot-3, 257 pounds, and he carries most of it in his thighs. It's a big reason why defenders bounced off him six times on 44 receptions last season. He's a bit of a one-year wonder with only 148 career receiving yards before 641 this past season. Asiasi can move around the formation and still be a value add as a run-blocker. While not particularly dynamic, he's got enough speed to win down the field.
9. Jared Pinkney, Vanderbilt
We were high on Pinkney heading into the 2019 season, but his senior year couldn't have gone much worse. He saw fewer targets in 2019 (43) than he had receptions in 2018 (50). At the Senior Bowl, he looked noticeably slower than the top group of tight ends and struggled to create separation in the one-on-ones. He's one of the few tight ends in the class with legit inline size at 254 pounds, but that lack of athleticism is a stock-killer.
10. Dalton Keene, Virginia Tech
Keene is a very intriguing Day 3-type prospect for a couple of reasons. The first is that he's one of the few tight ends in this class with legit size and athleticism. Standing 6-foot-4, 253 pounds, Keene ran a 4.71 40, jumped 34 inches in the vertical and had a 7.07 three-cone at the Combine. The other reason is that he was completely ignored in Virginia Tech's offense. His 33 targets in 2018 were the most of any season in his career, and the vast majority came on flats or hitches underneath. His career average depth of target was an absurd 4.4 yards downfield. That's not ideal, but we simply don't know what he'll look like when asked to run more diverse routes.