In case you haven't heard, it's not a banner year for the tight end position. The first one doesn't come off the PFF draft board until 79th overall (Hunter Bryant). However, that doesn't mean teams won't be able to find some talent in this draft class.
[Editor's note: Check out all of PFF's 2020 NFL Mock Drafts and NFL Draft Big Board. PFF Elite subscribers can also download the 1,100-page 2020 NFL Draft Guide.]
This is quite easily Moss' calling card. He was as reliable as they come this past season at LSU. In fact, he didn't have a single drop on 47 catchable passes. It's difficult to get much better than perfection.
This one was hotly contested as Dayton's Adam Trautman, Washington's Hunter Bryant and Vanderbilt's Jared Pinkney are all crafty in their own right. But there's a reason the FAU tight end was the most productive at the position in the FBS. Bryant's ability to create separation underneath on option-type in/out breakers is top-notch. Bryant's 2,139 career receiving yards are 190 more than any other tight end in this class.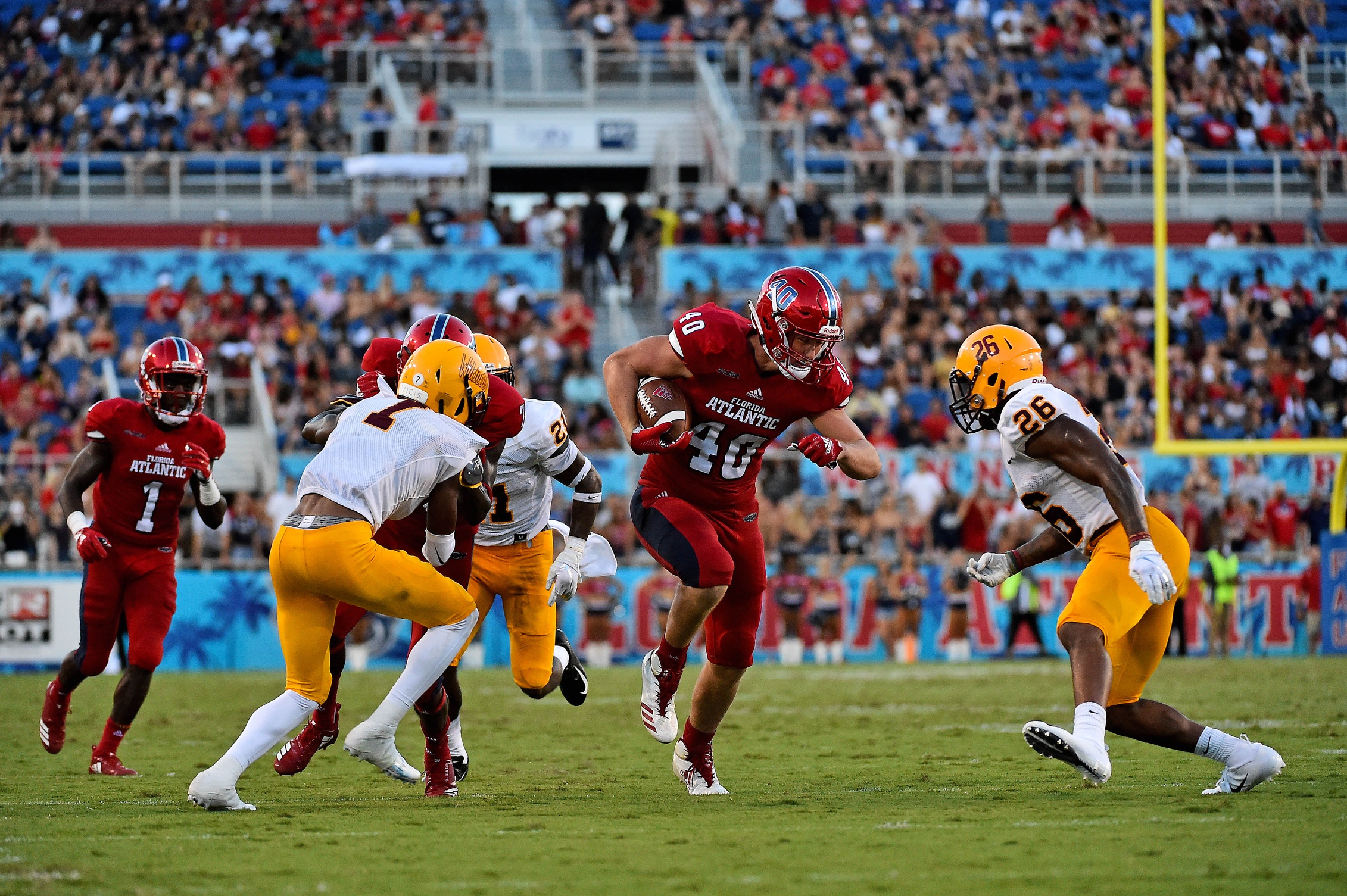 While we're not big proponents of the end zone fade, Parkinson made a living in similar contested situations over the course of his career. The 6-foot-7 Parkinson hauled in 23 contested catches over the course of his career, three more than any other tight end in the draft class.
Best After Catch: Hunter Bryant, Washington
This is where the Washington tight end is head-and-shoulders above the rest. He broke 18 tackles on only 85 career catches and turned into a hulked-up wide receiver with the ball in his hands. He can not only pinball off would-be tacklers, but also shake defenders in the open field.
Grading Doesn't Match Hype: Cole Kmet, Notre Dame
Kmet has immense physical tools, but he flat out didn't have to do much to rack up yardage in Notre Dame's offense. He ran a lot of straight-line routes that didn't ask him to do too much, and his middling 73.4 receiving grade this past season reflects that. He'll still be drafted early for his potential as only a junior coming out of with far better size than the rest of the top of the tight end class.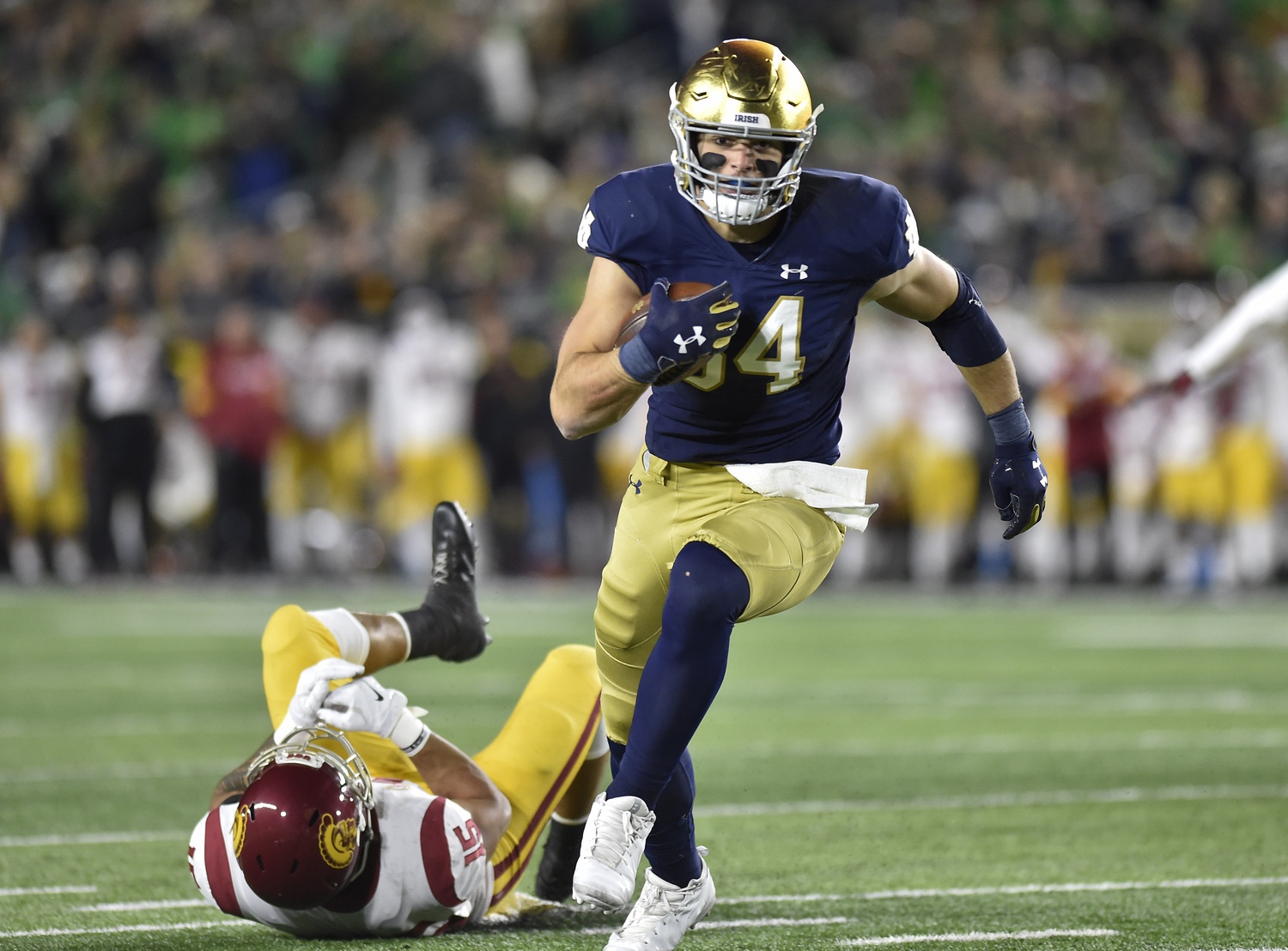 Multiple suspensions at Arkansas and ultimately his dismissal from the program will drop O'Grady in the draft and possibly out of it altogether, but the talent is there to make an impact from day one. O'Grady consistently got open in the Arkansas offense and dragged defenders with him after the catch. He broke eight tackles on only 33 catches this past season.
I debated not including this category at all because it's not a particularly fun tight end group to watch. However, Hopkins is fun to watch because he's a wild card. He'll alternate spectacular catches and downfield grabs with shockingly easy drops. If drops weren't an issue, he'd likely be at the top of the PFF board, but who wants a tight end they can't rely on? His 22 drops on 152 career catchable are massively concerning.