Career trajectories will be altered over the next month, from quarterbacks in competition for a starting job to depth pieces battling for a place on the 53-man roster. Training camp, which begins on July 27 for 29 of 32 NFL teams, will kick off those competitions.
Here is a brief look at three training camp battles for every AFC team, ranging from whether Mac Jones will be able to beat out Cam Newton at quarterback to who will emerge on top of the wide receiver depth chart for the Baltimore Ravens and Pittsburgh Steelers in the AFC North.
Subscribe to
Jump to a team:
BLT | BUF | CIN | CLE | DEN | HOU | IND | JAX
KC | LVR | LAC | MIA | NE | NYJ | PIT | TEN
AFC East
There was talk this offseason about Buffalo potentially adding another running back early in the 2021 NFL Draft. General manager Brandon Beane and Bills brass made the right decision by holding off. Moss and Singletary are both elusive runners and capable of being quality starters.
Moss played over 300 fewer snaps than Singletary as a rookie last season, but his 73.0 PFF grade was seven points higher than Singletary's 66.0 mark. PFF's fantasy projections currently have Singletary slated for 876 combined rushing and receiving yards in 2021, while Moss sits just behind at 800.
Youth is competing against experience on the edge in Buffalo. Hughes and Addison return as the incumbent defensive end starters, but both have been mentioned as players that the Bills could look to move on from this offseason, particularly Addison. Still, it wouldn't be surprising to see them start in Week 1. Hughes ranked in the 96th percentile of all qualifying edge rushers in pass-rush win rate in 2020, and Addison wasn't all that far behind (72nd percentile). Buffalo might opt to stick with those two while gradually bringing along Epenesa, Rousseau and Basham by rotating all three situationally to take advantage of their strengths.
Wallace is consistently mentioned as a candidate to be replaced at cornerback, yet he continues to play well enough to hold onto the starting job. He's earned PFF grades of 68.6 and 68.3 in the past two seasons as a starter for Buffalo, ranking in the 62nd percentile of qualifying outside cornerbacks in coverage grade. But the Bills seem to like their 2020 seventh-round pick Jackson, who recorded an interception and four pass breakups on just 17 targets as a rookie. He has a shot to beat out Wallace this offseason.
Per Vic Carucci of The Buffalo News, general manager Brandon Beane said of the competition, "Right now those two guys will compete it out."
Ereck Flowers started nearly every game at left guard for Miami in 2020, but his trade to Washington will lead to some shuffling along the offensive line. Two players who saw extensive playing time at different positions will now compete for the left guard job.
Kindley did start three games at left guard late in the 2020 season, but the majority of his snaps came on the right side. He earned a 51.3 overall grade on the year behind an up-and-down season in pass protection. Davis, in addition to competing for the right tackle job, will reportedly have a shot at left guard too, according to Adam Beasley of the Miami Herald. Davis played over 500 snaps at tackle and guard last season.
Eichenberg, Fluker and Eluemenor were all brought in this offseason to add competition at tackle due to potential moves to guard for both Davis and Robert Hunt. Ideally, Eichenberg shows that he's ready to step in and start immediately following three seasons as Notre Dame's starting left tackle. The PFF Draft Guide noted that Eichenberg's technique gives him one of the higher floors of any tackle in the 2021 draft class. He's coming off back-to-back 80.0-plus overall grades during the 2019 and 2020 seasons.
Coleman and McCourty are the newcomers to this group, but both players crossed paths with head coach Brian Flores in stints with the New England Patriots. Those two and Igbinoghene, who earned a 37.1 PFF grade as primarily an outside cornerback last season, will push the incumbent Needham for the starting job.
Flores said of Needham earlier this offseason, "He's worked hard. He's tough, he's competitive, he's a team-first guy. He's made improvements really since he's got here, and he's continuing to get better." Miami will need to see improvements out of Needham after the 24-year-old earned just a 45.3 coverage grade in 2020.
Newton's passing stats last season, particularly his touchdown-to-interception ratio, paint an ugly picture. Newton certainly wasn't great, but his 70.9 PFF grade (22nd among qualifying quarterbacks) shows his performance wasn't quite as disastrous as an 82.9 passer rating would suggest. There is a chance that New England's improvements to the receiving corps can bring out better play from a healthy Newton, who should at least start the season at quarterback.
Jones clearly doesn't bring the same rushing element, but his advantage over Newton in the accuracy department could lead to him seeing the field sooner rather than later. Jones was the most accurate quarterback in college football within 10 yards of the line of scrimmage.
Many focused on New England's free-agent spending at wide receiver and tight end, but Judon and Van Noy represent two significant additions on the edge. Van Noy has a chance to get back on track in 2021 after things didn't work out in Miami. A career year with the Patriots in 2019 (84.2 PFF grade) led to the four-year, $51 million contract he signed with the Dolphins.
Chase Winovich, Josh Uche, Anfernee Jennings and rookie Ronnie Perkins, in addition to those two, suddenly give New England a deep rotation at the position.
2020 was both Dugger's and Phillips' first season with the Patriots. It wasn't a surprise to see Phillips take control of the starting strong safety job given the experience he brought with him from the Los Angeles Chargers, and he played relatively well in that role. Phillips earned a 66.2 overall grade on 747 defensive snaps on the season.
However, Dugger also impressed given the leap he was making from Lenoir-Rhyne to the NFL. He finished the year with a 64.1 PFF grade, fourth among rookie safeties to play at least 250 defensive snaps. He'll look to earn a larger role in Year 2.
The Jets have one of the most wide-open backfields in the NFL entering the 2021 season. Coleman is the most experienced of the group and has familiarity with new offensive coordinator Mike LaFleur from his time in both Atlanta and San Francisco. Injuries derailed his 2020 season, but Coleman graded above 65.0 as a runner in four straight seasons before last year.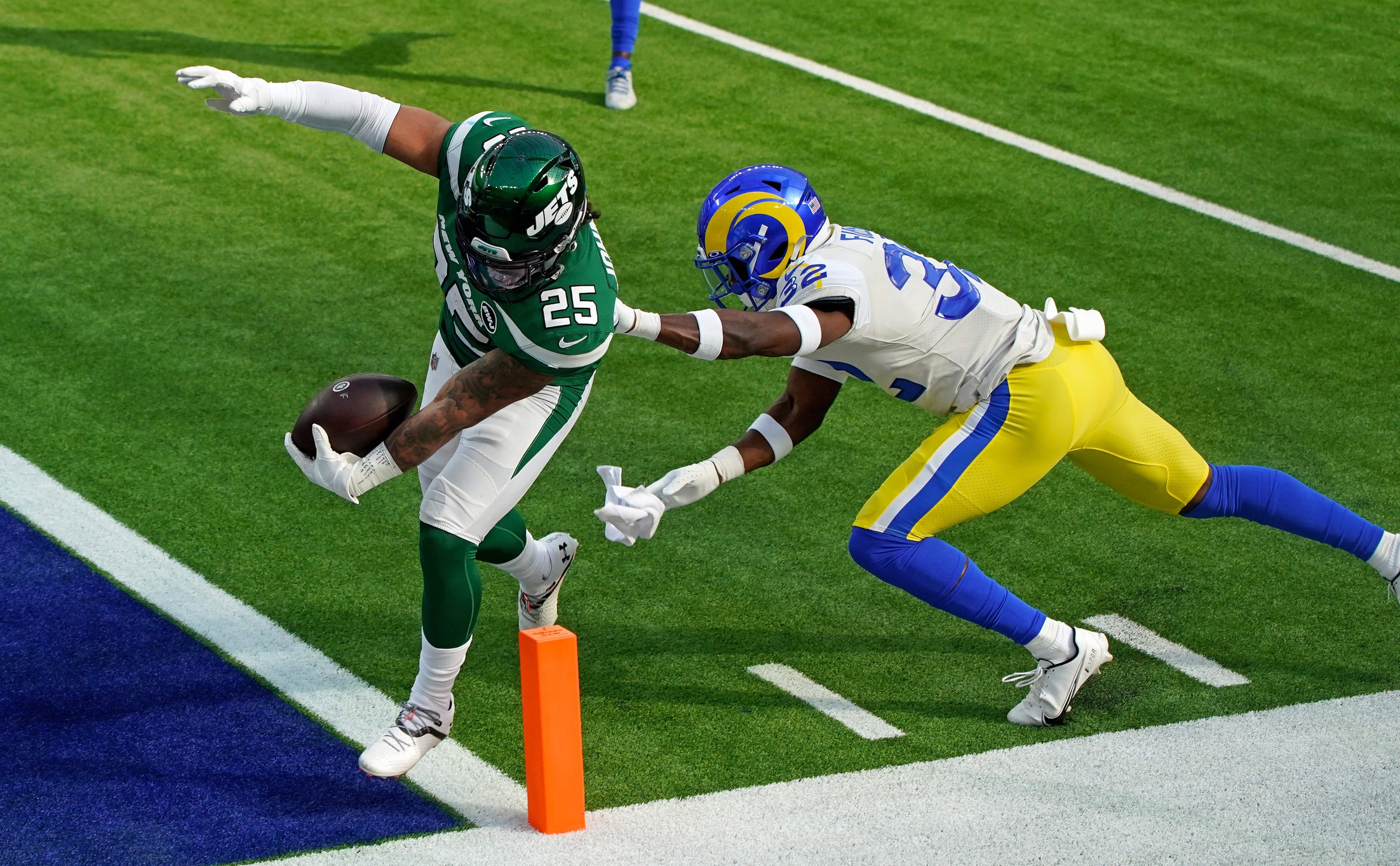 Carter's receiving ability could be his ticket to early playing time. He finished his final season at North Carolina with an 88.6 receiving grade, averaging nearly two yards per route run in the process.
Corey Davis' role as the Jets' top outside wide receiver seems relatively safe entering next season, but there will be competition at the two other spots.
The Athletic's Connor Hughes wrote last month, "Stop sleeping on Cole. The Jets genuinely love the 28-year-old." It would seem Cole has a leg up over Mims and other competitors early on in the competition for that second starting spot outside.
Meanwhile, Crowder's decision to come back on a restructured contract creates an intriguing battle in the slot. It may be difficult to keep Moore off the field after his monstrous 2020 season at Ole Miss. He earned a 92.4 receiving grade last year.
Cornerback: Everyone
There are no sure things at the cornerback position in New York. There's hope that Bryce Hall and Blessuan Austin emerge as quality starters in Robert Saleh's new defense. Hall's ball skills (20 combined pass breakups and interceptions with Virginia in 2018) certainly provide a reason for optimism, and he flashed in several late-season performances for the Jets last season. 
But a lot has to break right for this not to be one of the worst cornerback groups in the NFL next season. None of Austin, Hall, Javelin Guidry, Michael Carter, Lamar Jackson, Jason Pinnock, Brandin Echols or Isaiah Dunn were drafted higher than the fifth round in the past three drafts. They are among the primary competitors for playing time, though.
AFC South
Taylor had a successful three-year stint as the starting quarterback of the Buffalo Bills from 2015 to 2017. During those seasons, he ranked eighth at the quarterback position in PFF grade (81.7) and helped lead the Bills to their first postseason appearance in nearly two decades. Taylor has started just four games since that 2017 campaign, losing his starting job to a rookie quarterback in both Cleveland and Los Angeles. There's a good chance it happens again at some point next season in Houston.
The Texans will need to see if Mills shows any promise as the future starter as another quarterback decision looms in the 2022 NFL Draft.
This is one of the strangest collections of veteran running backs in the NFL, and there won't be enough touches to go around for all four players. Lindsay has been one of the more underrated pure runners in the league over the past several seasons, ranking in the 87th percentile in rushing grade since 2018. Ingram is next on the list (78th percentile) and has familiarity with new head coach David Culley from Baltimore. Yet, Johnson and Burkhead offer more as receiving threats out of the backfield, leaving little clarity at the position entering training camp.
Per The Athletic's Aaron Reiss, Texans offensive line coach James Campen said earlier this offseason that he didn't see Cannon kicking inside from tackle to guard. That leaves Cannon in a competition with the incumbent at right tackle, unless Houston plans to move Howard inside to right guard. The 25-year-old Howard improved his overall grade from 59.4 as a rookie to 62.1 in 2020.
Cannon will put some pressure on the former first-round selection to continue improving. He earned PFF grades of at least 70.0 every season from 2016 to 2019 in New England before opting out of the 2020 season.  
Alie-Cox was the 16th-most valuable tight end in the NFL last season, according to PFF's Wins Above Replacement metric, despite splitting time with both Doyle and Trey Burton in Indianapolis. His play both as a receiver and a blocker warrants a larger role within the offense in 2021. Alie-Cox will once again be competing with Doyle for snaps as Granson replaces Burton in the rotation. Granson might struggle to hold up as an inline tight end in the NFL at his size, but he has intriguing after-the-catch ability that the Colts could look to utilize in the passing game.
The Colts didn't retain either of their starting defensive ends from last season — Justin Houston and Denico Autry — in free agency. That leaves an open competition between returners Lewis, Turay and Muhammad and Indianapolis' first two selections in the 2021 NFL Draft, Paye and Dayo Odeyingbo. The latter won't be ready for the start of the season after tearing his Achilles while training for the Senior Bowl in January.
Paye, however, is a favorite to win a starting role. He was one of the best athletes in this draft, regardless of position, and improved his PFF grade every season at Michigan to 86.3 overall in 2020.
The Colts should feel comfortable with both Xavier Rhodes and Kenny Moore entering the 2021 season. The other outside cornerback spot carries less certainty, though. Ya-Sin has allowed a passer rating over 100.0 into his coverage in each of his first two NFL seasons, and he's coming off just a 48.2 coverage grade in 2020. Tell, who could push for a starting job next season, earned a 67.6 PFF grade on his 254 defensive snaps as a rookie in 2019 before opting out of the 2020 campaign.
Jacksonville is expected to move to a base 3-4 defense in 2021 under new defensive coordinator Joe Cullen. Offseason acquisitions Roy Robertson-Harris and Malcom Brown are the two most likely defensive linemen to earn starting jobs in the new defense, but the third starting spot is up in the air.
Bryan may be the most interesting name in the group. Per Gary Smits of the Florida Times-Union, Jaguars defensive line coach Tosh Lupoi said of Bryan earlier this offseason, "Taven is a dangerous combination of speed and power. He has an elite skill set … we just have to channel that and focus that where we need to help us the most."
The 2018 first-round pick has yet to put it together. Tupoi and the Jaguars will be hoping 2021 is the year he finally does.
Campbell played just 65 snaps in the slot during his college career, but he's expected to compete for the starting nickel job in Jacksonville as a rookie.
New head coach Urban Meyer said of Campbell on The Cris Collinsworth Podcast, "He played safety in high school and he was a state champion in Florida in the 100 (meters), and we're going to dual-teach him right out of the gate corner and nickel."
Herndon will be Campbell's primary competition for the starting nickel job. He earned a 55.8 coverage grade across 531 wide snaps in 2020 compared to a 58.9 mark on 306 slot snaps.
Cisco is still working his way back from an ACL injury that prematurely ended his 2020 season at Syracuse, but his range and playmaking ability could make him a surprise starter at free safety if he's cleared. Cisco tallied 26 combined interceptions and pass breakups in 24 career college games.
Wilson is the favorite to start as things stand, though. He has been one of the steadier presences on the Jaguars' defense over the past two seasons, earning a 72.3 overall grade across nearly 2,000 defensive snaps since 2019.
Dennis Kelly wasn't the ideal long-term answer at right tackle. That was supposed to be Isaiah Wilson. Alas, here we are in 2021 with another rookie competing for the starting job.
Radunz impressed at the Senior Bowl in Mobile, Alabama, showing he can hold his own against non-FCS competition. However, he'll have to get stronger if he's looking to have early success as a starting tackle. His primary competition, Lamm and Sambrailo, have combined for just one season of 500-plus snaps in the 12 years of experience between them. They're both better suited as reserves.
There has been a lot of talk about the pieces Tennessee added to its defensive front in Bud Dupree and Denico Autry, but DaQuan Jones isn't an insignificant loss at nose tackle. Abry Jones, who spent the first eight years of his career in Jacksonville, is the most experienced candidate to take some of DaQuan Jones' snaps, but Tart could challenge for that starting job.
Titans defensive line coach Terrell Williams said of Tart recently, "He's another guy that I am really excited about to see what he does in training camp. He's had really a good off-season program."
Tart was one of PFF's top undrafted free agent signings last offseason and went on to earn a 48.7 overall grade on 155 defensive snaps.
With the exception of Fulton returning for his second season out of LSU, this is a completely new-look cornerback group in Tennessee. Janoris Jenkins figures to be one of the team's starting outside cornerbacks, leaving one outside cornerback slot and the starting nickel role open for competition.
Farley should be the favorite to start outside if his health checks out after allowing just a 26.8 passer rating on throws into his coverage in his last season with Virginia Tech. His health checking out isn't a certainty, though. Titans team reporter Jim Wyatt noted that he doesn't expect Farley to be ready by the start of training camp. Any extended absence could lead to a higher chance of Fulton starting the year outside with Molden in the slot.
AFC West
The quarterback position has a good chance of derailing what is otherwise a fairly strong roster in Denver next season. Bridgewater and Lock ranked 26th and 29th, respectively, out of 32 qualifying quarterbacks in PFF grade last year. The fact that all the Broncos did to address the quarterback position this offseason was trade for Bridgewater signals they still want Lock to work out.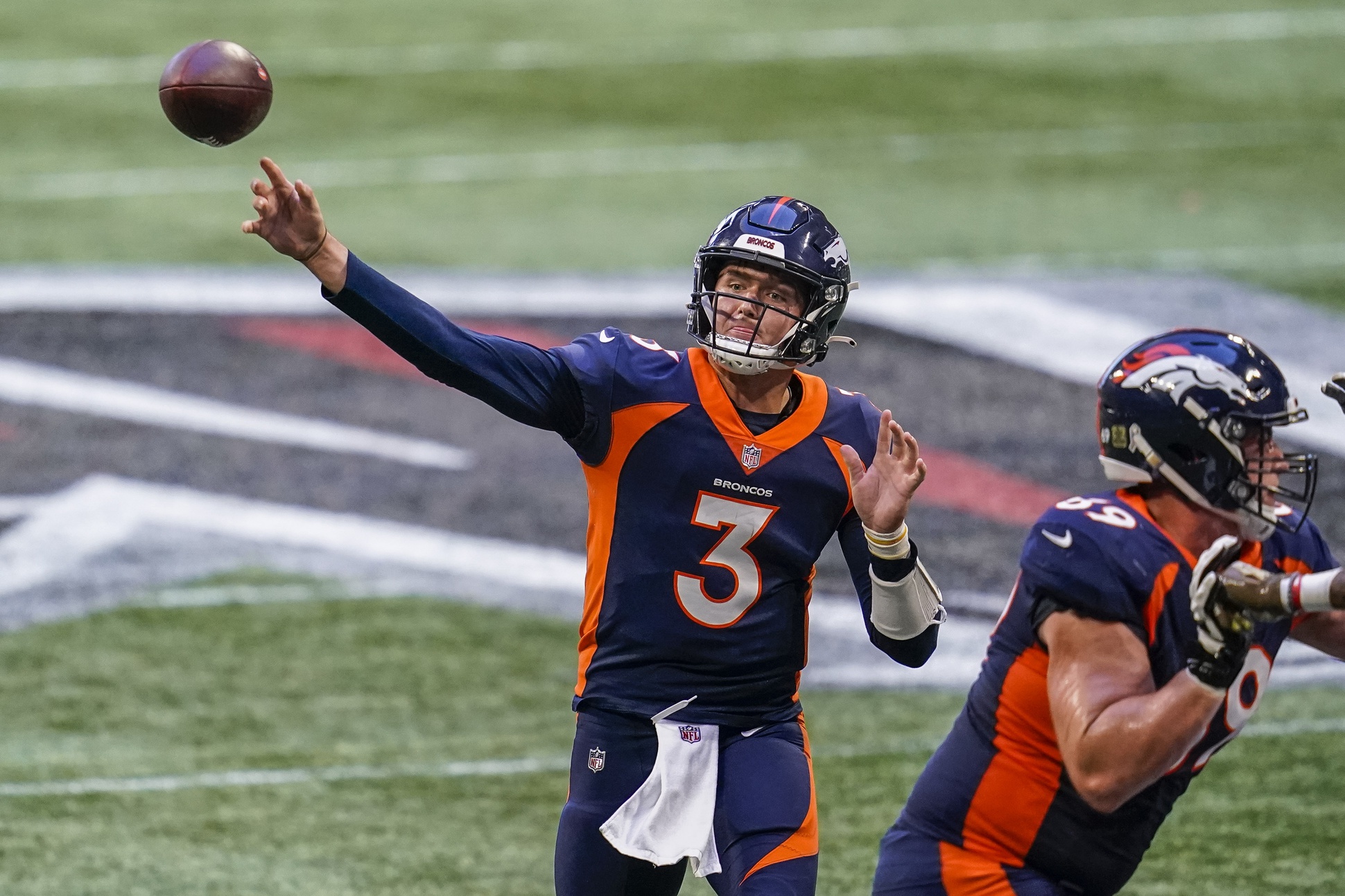 Lock needs to improve his decision-making (23 turnover-worthy plays were tied for second-most in the NFL in 2020) and accuracy (third-lowest accurate pass rate in NFL last season) for things to pan out in Denver.
There isn't much of an on-field argument for Cushenberry remaining the starting center in 2021 based solely on his 2020 tape. His 40.5 PFF grade last season ranked last among 37 qualifying centers by nearly eight points. To state the obvious, young players do get better. Cushenberry could come out in training camp much improved with an NFL season under his belt. He'll have to be much improved to hold off the rookie Meinerz. The Wisconsin-Whitewater product plays with ideal leverage and explosiveness on the interior and impressed at the Senior Bowl in Mobile, Alabama.
Denver's top options outside in 2020 consisted of Bryce Callahan playing out of his natural position in the slot, an injured A.J. Bouye and third-round rookie Michael Ojemudia. It's safe to say the position is in a better spot entering the 2021 season.
Fuller and Darby are likely the favorites to start the year given what the Broncos invested in them in free agency this offseason, but Surtain is fully capable of starting himself. He was arguably the best technician at cornerback in this draft class, seeing more coverage snaps than any cornerback in college football over the past three years.
The Chiefs are one Tyreek Hill injury away from having very questionable depth at wide receiver. The Athletic's Nate Taylor wrote in early July that Hardman is expected to take on the WR2 role previously held by Sammy Watkins. Hardman's targets have led to success (132.2 passer rating when targeted since 2019) to this point, but it remains to be seen how that translates in a different role.
Robinson and Pringle are the favorites to pick up snaps behind Hill and Hardman. However, Powell also has a chance to carve out a role as a rookie. One of his pros coming out of Clemson was that he was NFL-ready as a complementary piece, and that's exactly what the Chiefs need.
Remmers had a rough go at left tackle in Kansas City's Super Bowl loss to the Tampa Bay Buccaneers, but he was solid throughout the year at right tackle in relief of Mitchell Schwartz. His 75.9 PFF grade at right tackle in 2020 ranked 13th at the position among qualifiers. Remmers isn't a bad option as the fourth- or fifth-best offensive lineman in the starting lineup. And he's the safer bet to start the year at right tackle than Niang, the Chiefs' third-round selection in the 2020 NFL Draft who will be returning from opting out.
Hitchens has the benefit of experience and seniority in the competition for snaps at linebacker. His performance over the past three seasons signals that his starting spot is far from secure, though. Hitchens has failed to record a single-season PFF grade higher than 50.0 since joining the Chiefs in 2018.
Gay and Bolton are (hopefully) the future of the position in Kansas City, bringing different skill sets to the table. Gay is a rare athlete at his size who has shown good feel in coverage in limited playing time, while Bolton has the instincts and physicality to quickly become an impact player in the middle of the Chiefs' defense.
Henry Ruggs III did not have the kind of rookie season the Raiders envisioned when they made him the first wide receiver selected in the 2020 NFL Draft, but he's still a safe bet to be the team's top outside wideout in 2021. Edwards, Brown and Jones (to a lesser extent) will compete for the other starting outside role.
The Athletic's Tashan Reed and Vic Tafur wrote of the starting wide receiver competition earlier this month, "Brown will compete with Ruggs and Edwards for a starting role, but the Raiders likely hope their young duo emerges and takes control of the starting jobs."
Edwards struggled to stay healthy as a rookie, but his 14 targets on the year generated a passer rating of 142.6.
Simpson was a fourth-round selection by the Raiders in the 2020 NFL Draft. He got off to a rough start in his first three appearances in Weeks 2, 3 and 7. Simpson allowed 12 pressures in 83 pass-blocking snaps across those three contests (14.5%) before rebounding to allow just one pressure in 60 pass-blocking snaps in his final two appearances.
The Raiders likely wouldn't be opposed to Simpson showing enough this offseason to beat out Good, allowing him to move back to a reserve role where they could feel confident in his ability to step in at either tackle or guard.
Lawson is expected to be the front-runner for the starting slot job after starting out wide for Las Vegas in over half of the team's games last season. However, he'll begin the season by serving a two-game suspension, opening the door for Hobbs or Robertson to impress early.
It's worth monitoring what Robertson does with that opportunity for playing time. He flashed in nearly every coverage metric while at Louisiana Tech, earning a 93.0 overall grade across his final two college seasons.
Jackson graded out at 70.0 or higher as a receiver and runner in each of his first three NFL seasons — solid marks. The problem has been him being healthy enough to see the field and earn a larger role. Jackson has played fewer than 500 offensive snaps across the first three years of his career.
Kelley could have an edge in this competition simply based on the fact that Los Angeles spent a fourth-round pick on him just last season, but Jackson is likely the Chargers' best option behind Austin Ekeler if healthy.
The Athletic's Daniel Popper noted that he doesn't believe there will be a defined No. 3 wide receiver, with offensive coordinator Joe Lombardi rotating players in based on matchups. Guyton and Johnson are the speed candidates — a role that Johnson was successful in on a limited sample. He put up nearly 400 receiving yards on 163 routes run in 2020. Palmer gives the team a more well-rounded option who could potentially be a more productive pro than college wide receiver with improved quarterback play.
After three seasons stuck behind Joey Bosa and Melvin Ingram III on the depth chart, Nwosu has his opportunity to earn a starting role in 2021. He's played between 300 and 400 offensive snaps every year since 2018, putting together a solid grading profile and a 14.2% pressure rate. Nwosu is the favorite to start the season opposite Bosa because of that.
It will be interesting to see if Rumph, a fourth-round rookie out of Duke, is able to earn a role in Brandon Staley's defense, either on the edge or at off-ball linebacker. He's undersized but showcased one of the more advanced pass-rushing skill sets in the 2021 class.
AFC North
All three of these wide receivers would see plenty of snaps on most teams, but Baltimore is going to give ample playing time to Mark Andrews, Nick Boyle and Patrick Ricard alongside J.K. Dobbins and Gus Edwards at running back. The Ravens are one of six offenses to run more than 1,000 snaps with two or fewer wide receivers on the field since 2019.
As the rookie in the competition, Bateman might start training camp third on the depth chart, but it's not difficult to see him being the most productive of the bunch in 2021. He earned 80.0-plus overall grades each of the past two seasons at Minnesota, working both in the slot and outside.
Powers started the Ravens' final nine games of the 2020 season at right guard and finished the year with an underwhelming 57.2 PFF grade. Free agent acquisition Kevin Zeitler is expected to take over that right guard position, leaving Powers to compete with Cleveland — a third-round rookie out of Georgia — at left guard.
Cleveland enters the NFL with a strong track record in pass protection, particularly for someone his size. He earned pass-blocking grades of at least 78.5 in each of his final three seasons for the Bulldogs.
Then-rookie Patrick Queen played over twice the number of defensive snaps of any other off-ball linebacker on Baltimore's roster last season. There's no reason he won't be the top player on the depth chart again in 2021. Behind Queen, Fort both played more snaps than Harrison in 2020 and was significantly more effective. Fort recorded a 71.5 PFF grade compared to Harrison's 52.7 mark.
The Ravens will eventually want Harrison to win the job alongside Queen, but Fort may be the better candidate to draw the majority of snaps in that role again in 2021.
Uzomah's Week 2 Achilles injury cut short a 2020 season that looked as if it may lead to career-high receiving totals for the six-year veteran. It also opened the door for Sample — a 2019 second-round pick — to show what he could do in a larger role. Sample's 72.1 run-blocking grade ranked fifth among qualifying tight ends, but he didn't make much of an impact in the passing game, recording just 0.85 receiving yards per route run.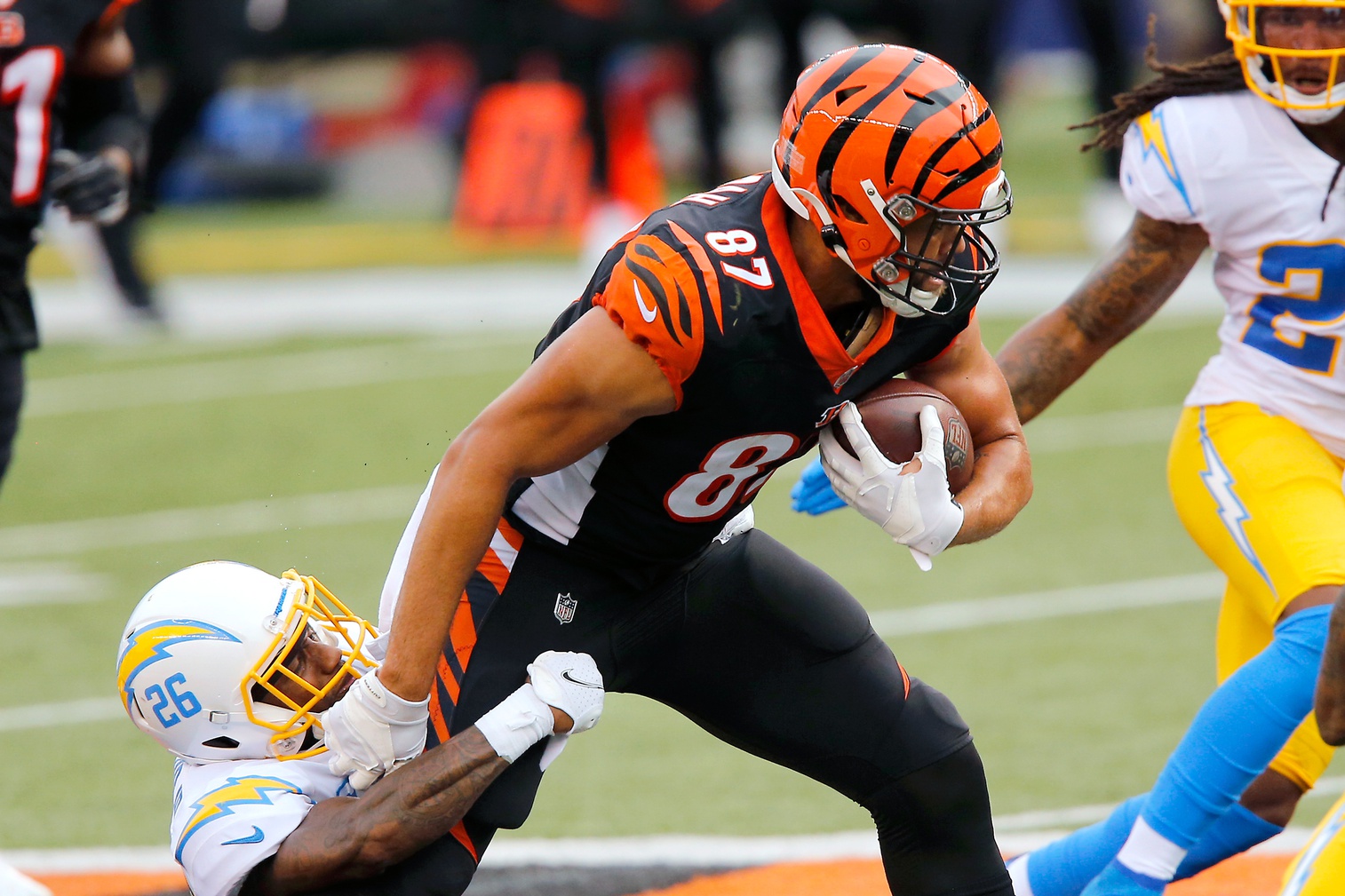 The Athletic's Paul Dehner Jr. wrote last month of the competition, "[Sample] will be used and I think you will see more 12 personnel because of their presence, but [the Bengals] are just far more dynamic in 11 personnel and the passing game with Uzomah on the field, so he should see the vast majority of snaps."
Spain is the favorite to start the season at left guard, with Carman leading the list of potential candidates on the right side as things stand. Both players will have a lot to prove this offseason. Spain recorded overall grades below 60.0 in each of the past two seasons after several strong years as a starter in Tennessee. Meanwhile, Carman will be transitioning from college left tackle to NFL right guard at a position group where players typically take some lumps early in their careers.
There is optimism this offseason about Wilson entering the 2021 season after a rookie campaign that saw him earn a 54.7 PFF grade (highest among Cincinnati's linebackers) on 343 defensive snaps. He projects as one starter in Cincinnati's nickel defense alongside Pratt, who has earned overall grades of just 51.0 and 41.5 in his first two seasons out of N.C. State. Davis-Gaither, Evans and Bailey will all be competing to earn additional snaps in the rotation in the coming weeks, as well.
No team ran more offensive plays with at least two tight ends in the 2020 regular season than Cleveland (550). There will be opportunities for playing time for all three of these players.
Hooper should be the de facto No. 1 tight end after signing a contract in Cleveland that made him the highest-paid tight end in the NFL at the time of signing. He saw his PFF grade fall from 78.3 in his final season with the Falcons to 69.8 last season with the Browns. It's a big season for Njoku behind him. The former first-round pick's career-high receiving grade (71.1) came as a rookie in 2017.
The Browns didn't select an off-ball linebacker in the first round like many mock drafts speculated, but they still got a first-round talent in Owusu-Koramoah. JOK earned an 88.7 coverage grade across his two seasons of action at Notre Dame in a coverage role that most off-ball linebackers can't execute.
Alongside Owusu-Koramoah, Cleveland brought in Walker from Indianapolis to compete with Phillips, Takitaki, Wilson and Smith. Walker is coming off a down 2020 season (45.5 PFF grade), but he has played over 700 defensive snaps in each of the past three seasons for Indianapolis.
The addition of John Johnson III and the return of Grant Delpit from injury makes for an intriguing competition at safety in Cleveland. There's a similar dynamic at cornerback, as well.
Williams missed the entirety of the 2020 season with injury after earning a 54.6 overall grade in 12 starts as a rookie in 2019. He'll be challenged by Cleveland's first-round selection in the 2021 NFL Draft (Newsome) to reclaim his starting job opposite Denzel Ward. Newsome is coming off an excellent final season at Northwestern, allowing just a 35.3% completion percentage on throws into his coverage.
Fewer than 100 receiving yards separated Johnson (923), Claypool (873) and Smith-Schuster (831) during the 2020 regular season. There's a chance that the production could be similarly evenly distributed in 2021, but an emphasis on the run game this offseason and the additions of Najee Harris and Pat Freiermuth could mean fewer looks to go around.
From a yards-per-route-run perspective, Claypool led the way (2.00) during his rookie season, followed by Johnson (1.76) and Smith-Schuster (1.29). The Steelers moving away from the short, quick passing game that defined their 2020 offense could push more targets toward Claypool next season.
The Steelers released Williams earlier this offseason to save some salary cap space, only to bring him back in on a new deal shortly afterward.
However, Spillane's play last season as the next man up at inside linebacker makes him the favorite to start the year alongside Devin Bush next season. A collision at the goal line with Derrick Henry and a pick-six against Lamar Jackson in his first two starts made a good first impression. In total, Spillane earned a 56.1 overall grade in 438 defensive snaps (36th among 83 qualifying linebackers).
Pittsburgh has had one of the best slot cornerbacks in the NFL (Mike Hilton) manning the nickel over the past four seasons. Sutton stands out as a quality replacement, but the Steelers have higher aspirations for Sutton. They likely need him to move outside after releasing Steven Nelson earlier this offseason. 
The Athletic's Mark Kaboly mentioned in June that Brooks will "head into training camp next month as the odds-on favorite to be the starting slot corner," also noting that Brown, an undrafted free agent, will be one of the top challengers. Brooks played 29 defensive snaps last season, 20 of which came in the slot.
---
Dive into PFF's guides to get the most out of the 2021 season, from the 2022 NFL Draft to college football to fantasy football! Get 40% off a PFF subscription with promo code SAVE40