Improvement. It is what every single NFL team strives for in the offseason.
NFL franchises improve each year. Teams that once found themselves at the bottom of the league will rise up the ranks to average, average teams receive the necessary reinforcement to push for the playoffs, and there are even the rare cases of organizations going from worst to first. The opposite side of that coin is that there will also be teams that take steps back.
A lot goes into where each team falls in what category, but the decisions made in free agency and the NFL draft are major contributing factors. Today, I'm going to focus on the positive and dive into the teams that are best primed to take one of those big steps forward.
Whether it's because of salary cap space, abundant draft capital, players returning from injury, unluckiness in 2020 or a combination of all of those things, these are the teams most likely to improve in 2021.
Note: WAR [Wins Above Replacement] implied win total is calculated by calculating the total WAR generated by a team in a given season and adding three to it since we can assume a team full of 0 WAR players would win three games.
2020 win total: 4
2020 WAR implied win total: 6.6
2021 offseason to-do list
The Bengals are in prime position to take a massive leap in 2021 so long as 2020 No. 1 overall pick Joe Burrow returns to full strength from the knee injury that ended his rookie campaign.
Burrow may have missed nearly half the year, but he still finished as the 16th most valuable quarterback in the NFL, according to PFF WAR. Sure, the deep ball wasn't up to the standard he set at LSU back in 2019. Yes, he took a few too many sacks. But the former first overall pick was money in the important areas. He avoided negatively graded throws at a top-10 rate and ranked sixth in the league in passing grade on passes thrown between 1 and 19 yards downfield. 
Fans have been pushing for the Bengals to draft offensive tackle Penei Sewell ever since that Week 5 outing against the Baltimore Ravens when Burrow took seven sacks. They brought pro-Sewell signs to Paul Brown Stadium and even draped big banners across the stands that expressed the wish for the Oregon tackle.
A team with a bad offensive line that could be in a position to take one of the best tackle prospects of the PFF College era seems like a slam dunk, right? 
Nope. 
There is a more effective path to team success than taking Sewell with the No. 5 overall pick. First and foremost, the Bengals have the cap space to sign a blue-chip offensive lineman in free agency to pair with left tackle Jonah Williams and center Trey Hopkins, assuming both players return to full strength in time.
Joe Thuney, who hails from the Cincinnati area, stands out as a top priority after blossoming into one of the NFL's best players at the position. Over the last four years, Thuney has been the third-most-valuable guard in the league, behind only Quenton Nelson and Zack Martin. Bringing him in to play left guard along with a low-cost veteran at right tackle like Matt Feiler or Kelvin Beachum, who respectively ranked fifth and ninth among right tackles in pass-block grade in 2020, would do wonders for Cincy's offensive line.
This would then open the door for the Bengals to take wide receiver Ja'Marr Chase, one of the best WR prospects we have ever graded, with the fifth overall pick. Then, thanks to the loaded offensive tackle class, the Bengals would likely find themselves in a position to take a first-round caliber tackle with their second-round pick. 
Chase is just as rare a prospect as Sewell, and he has a far higher ceiling when it comes to value generated, as wide receiver is an inherently more valuable position than offensive tackle.
There are few, if any, negatives on Chase's scouting report. He does everything at a high level, and his physicality will be a hassle for NFL corners right away. Chase put up an elite 91.3 receiving grade as a 19-year-old back in 2019, putting up more 15-plus-yard receptions than any other Power 5 wide receiver in the PFF College era (46). And let's not forget that he teamed up with Burrow to form arguably the best QB-WR partnership in college football history, as the duo connected for more deep completions (24), yards (860) and touchdowns (14) in 2019 than any other Power 5 connection in a single season since 2014.
Even with the ~$20 million allocated to Thuney and either Feiler or Beachum in this scenario, Cincy would still have the money to retain cornerback William Jackson III and edge rusher Carl Lawson while also pursuing one of the many slot corners on the market to replace Mackensie Alexander. Jackson has finished as one of the 25 most valuable corners in three of his four seasons in the NFL, and Lawson is coming off a career year in which he ranked ninth at the position in pass-rush grade.
There's a lot to unpack here with what the Bengals can do for the Queen City, so let's put it simply: Attack the offensive line in free agency, draft Ja'Marr Chase and watch Burrow cook in the years to come.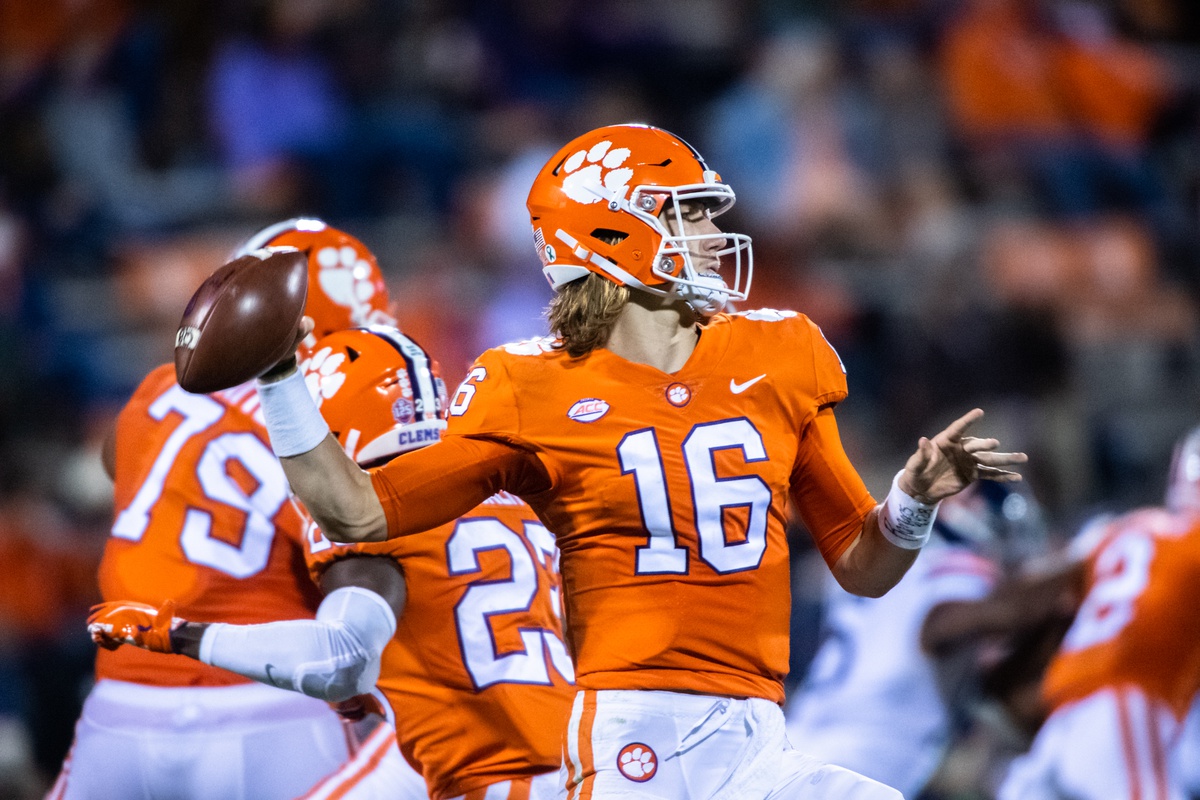 2020 win total: 1
2020 WAR implied win total: 4.5
2021 offseason to-do list
Expecting Trevor Lawrence to step in and immediately take the Jags to the postseason might be a little bit too bold, but he is still going to make this team significantly better than they were in 2020. He recorded a 90.0-plus PFF grade as a true freshman, sophomore and junior, the only quarterback to do so in the PFF College era. He really is one of the most complete QB prospects the league has seen this century.
In addition to that No. 1 overall pick, Jacksonville has more cap space available than any other team in the NFL by nearly $15 million. They sit at around $82 million available as of now, and they also possess the 25th and 33rd overall picks.
It wouldn't be a bad idea to use one of those draft picks and a chunk of that cash to acquire and extend Baltimore Ravens tackle Orlando Brown Jr., assuming the price tag on the extension is reasonable. Brown plugged in at left tackle for Baltimore when Ronnie Stanley went down with a season-ending injury this past year and couldn't have been much better. His negatively graded run-block rate for the season led all tackles, and his true pass set grade sat in the 72nd percentile among the same group.
In free agency, Jacksonville should prioritize getting Trevor Lawrence another receiving weapon to pair with D.J. Chark Jr. and Laviska Shenault Jr., as well as bolstering the secondary. 
T.Y. Hilton may have lost a step, but some of his lackluster production can be attributed to Indianapolis' dire quarterback situation. He couldn't be effectively utilized as a vertical threat with Jacoby Brissett and Philip Rivers' declining arm, but he still won at the intermediate level and managed to produce a top-30 receiving grade. Perhaps Lawrence could squeeze out the juice Hilton has left and get back to doing what he did best with Andrew Luck: going deep.
Safety John Johnson III would be a significant upgrade over what the Jags had going on at safety in 2020, as he has proven to be capable of playing any role in any scheme. Johnson has recorded PFF grades above 80.0 in three of his four seasons — all of which ranked 11th or higher at the position — and the one season he didn't was in 2019 when he was limited to only six games due to injury.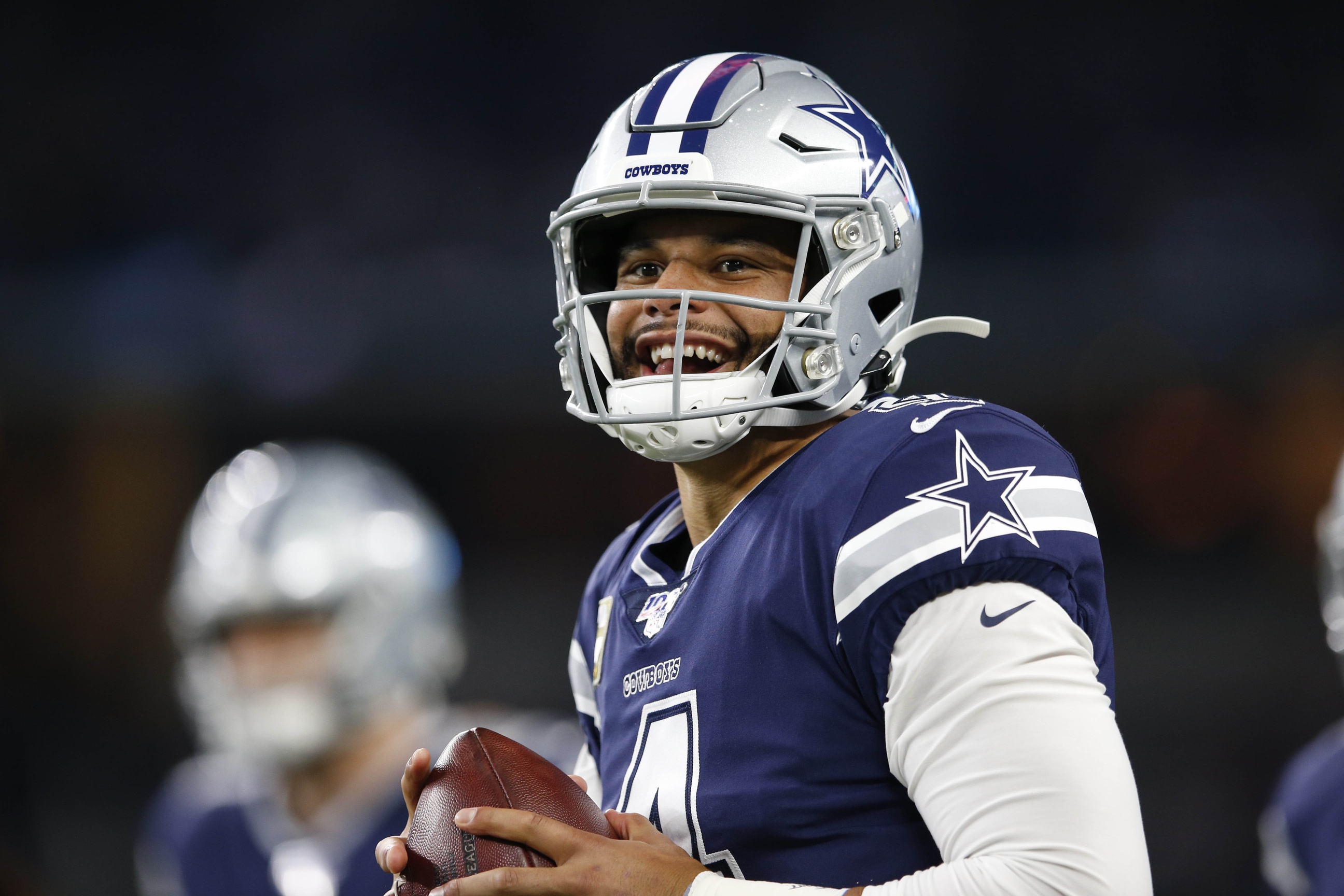 2020 win total: 6
2020 WAR implied win total: 6
2021 offseason to-do list
Dallas is on here solely because of the impact of Dak Prescott. Despite playing in only five games in 2020, Prescott generated more WAR than the rest of the Cowboys quarterbacks combined. And he was the third-most valuable quarterback in the league in 2019, according to PFF WAR. Prescott's deep passing has been rolling with offensive coordinator Kellen Moore the last couple of years. He ranks sixth in passing grade and first in adjusted completion percentage on 20-plus yard throws since 2019. Prescott deserves to be paid, and his return makes the Cowboys the clear-cut favorites to win the 2021 NFC East title.
After the dust settles on Prescott's contract, there's not going to be much Dallas can do in free agency. It would be wise to bring back edge rusher Aldon Smith. After a four-year hiatus, Smith returned to the NFL field and played extremely well given the circumstances with a 70.0 pass-rush grade (34th at the position) and 16% win rate (24th).
As for the draft, Dallas is in a great spot to secure PFF's CB1, Caleb Farley. He has all the physical tools one could want in an outside corner — with his trump card arguably being his blazing speed — and displayed a true lockdown season in his final year at the collegiate level. Before opting out of the 2020 season, Farley allowed one or fewer catches in seven of his 11 starts in 2019 while intercepting four passes and breaking up nine, leading to a 26.8 passer rating allowed and 90.5 coverage grade. 
2020 win total: 2
2020 WAR implied win total: 4.6
2021 offseason to-do list
There have been murmurs of the Jets possibly retaining Sam Darnold and passing on a quarterback with their second-overall pick, but that'd be a franchise-altering move for the worst. Darnold has flashed a troubling combination of inconsistency, inaccuracy and poor decision-making throughout his NFL career. Since entering the league, he ranks second-to-last in passing grade, last in big-time throw rate, third-to-last in turnover-worthy play rate and third-to-last in accurate pass rate on throws beyond the line of scrimmage. As PFF's Timo Riske has shown, if we haven't seen a glimmer of at least average play from Darnold after Year 3, then the chances of a breakout are slim to none. 
The Jets are the only franchise in the NFL that has yet to have a quarterback finish a season in the PFF era (since 2006) with a passing grade above 80.0. BYU quarterback Zach Wilson has all the tools to end that streak. His combination of accuracy, arm talent and ability to make off-platform throws is truly special. Just 13.6% of Wilson's throws beyond the line of scrimmage were deemed uncatchable this past season, the lowest rate in the FBS. His passing grade on tight-window passes also led all quarterbacks, and it wasn't particularly close.
When it comes to free agency, the Jets' focus should be all about their secondary. The unit has struggled over the last couple of years, but safety Marcus Maye and slot corner Brian Poole are far from the reason why. Maye ranks fourth among safeties in coverage grade since 2019. Poole ranks seventh in coverage grade among all slot defenders over that same span. 
The outside cornerback room has specifically been the key reason why the Jets have struggled in coverage as of late. As a team, they rank in the bottom five in outside coverage grade over the last two years. New head coach Robert Saleh should try to pry away either Jason Verrett or Richard Sherman from San Francisco as they hit the open market in a couple of weeks. Those two are tailor-made for this defense. Verrett is perhaps the most likely candidate and would drastically improve the group if he could sustain the success he had in his 2020 comeback year when he ranked eighth at the position in PFF grade.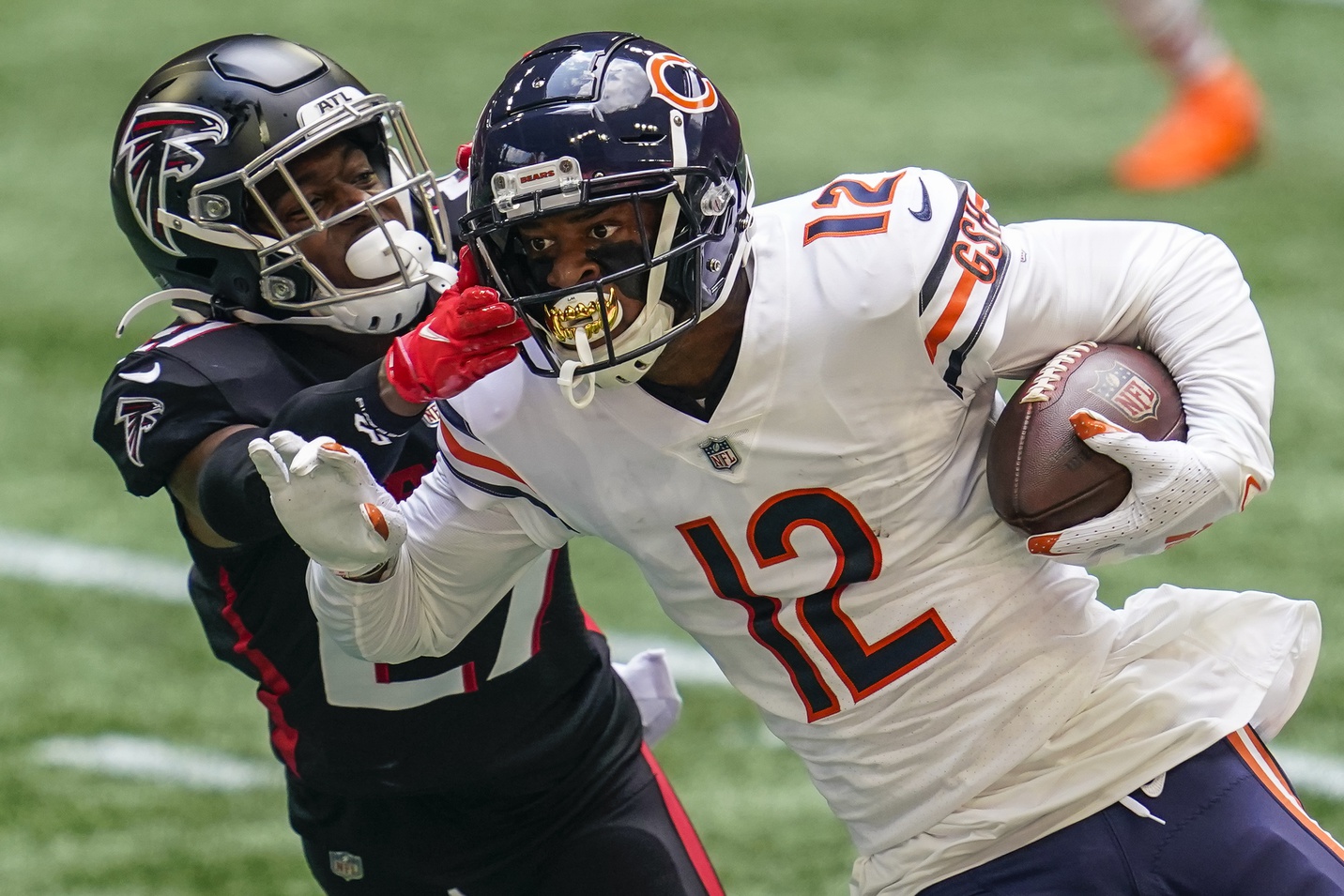 2020 win total: 10
2020 WAR implied win total: 7
2021 offseason to-do list
Miami is on here for different reasons than the other teams. The Dolphins managed a winning record in 2020 but won three more games than their cumulative team WAR suggests. In other words, they were the beneficiaries of luck, and that record isn't indicative of their actual talent. The good news is that the Dolphins can make some positive moves this offseason to sustain that winning record and go from good to great. 
For starters, they should absolutely look to secure Allen Robinson II's services if he ends up hitting the open market or if he gets franchise-tagged with the purpose of being traded away. Robinson is fresh off a season in which he was the third-most valuable receiver in the NFL, and he did that despite a quarterback room that ranked 27th in team passing grade. DeVante Parker, meanwhile, has ranked 18th in PFF WAR over the past two seasons. They would form a formidable wide receiver tandem for quarterback Tua Tagovailoa.
Miami also needs to stay away from running back Aaron Jones, whom we projected the team to sign, in free agency. This is no slight to Jones as an athlete or his ability to effectively play the position; running back value simply pales in comparison to other positions, and his projected four-year, $46 million (with $25 million guaranteed) contract wouldn't make sense for this team. Instead, Miami should allocate those funds to replacing center Ted Karras with Corey Linsley, the highest-graded player at the position in 2020.
In the draft, the Dolphins should trade out of the No. 3 slot, as they almost certainly won't entertain a quarterback with the pick. There is a bevy of quarterback-needy teams that would love to take Justin Fields at that spot, and Miami could get a major haul for it. Regardless of the outcome, it's a best-player-available scenario for the Dolphins. Sewell, the proud owner of the highest single-season PFF grade by a Power Five tackle in the PFF College era at just 19 years old in 2019, is a great selection if Miami trades out of the top five and he is still on the board (with Chase off the board, of course).
Getting a playmaker for the defense, such as off-ball linebacker Jeremiah Owusu-Koramoah, with their second first-round selection would be an added bonus. I mocked the Notre Dame product to the Dolphins in my latest mock draft, saying:
"Owusu-Koramoah has been a game-changer for Notre Dame over the past couple of seasons, serving as the "rover" in the Fighting Irish defense. He has shined in every single facet of play, but especially so in coverage. In that role, Owusu-Koramoah predominantly manned the slot, where he earned the third-highest coverage grade in the FBS. He allowed only five first downs across 200 slot coverage snaps with an interception, four forced incompletions and four passing stops in 2020. He's an explosive and versatile weapon that I'm sure Brian Flores wouldn't mind having in his defense."
Following this plan above, along with leaning on Tagovailoa's expected development, Miami just might put itself over the hump to take the AFC East crown.
---
2020 win total: 4
2020 WAR implied win total: 9
2021 offseason to-do list
The Falcons are in "salary cap hell" this offseason, but they were also one of the unluckiest teams of the 2020 season when analyzing their actual win total compared to their WAR-implied total. Seven games of their games were decided by five points or fewer, none of which resulted in an Atlanta win. Their early-season collapses to the Dallas Cowboys and Chicago Bears stand out. One can expect the Falcons to improve by default, as their roster isn't missing many vital cogs.
Matt Ryan has some gas left in the tank. The soon-to-be 36-year-old is coming off a season in which he ranked ninth in passing grade (82.1) and second in completions over 10 yards downfield (128). The only problems are that his window of quality quarterbacking is extremely small and there are glaring holes at every position on the roster outside of wide receiver. And the Falcons' cap situation makes it so they can't do much to field a contending roster around Ryan in the short-term.
Atlanta should strongly consider parting ways with the quarterback before it's too late, even with his headache of a contract. It's fine if the team opts not to do so, but what wouldn't be fine is if it decides to not pursue Ohio State quarterback Justin Fields in the 2021 NFL Draft. That's true even if it requires trading up from the fourth pick to the third to ensure no team leapfrogs them. Otherwise, Atlanta could trend toward quarterback purgatory — an ugly state for any franchise to be in.
In most draft classes, Fields would be viewed as the best quarterback on the board. That's how good the 2021 group is and how good he is. In his two years starting for the Buckeyes, Fields earned PFF grades of 91.5 and 93.5, both of which ranked in the top five in the FBS. Fields is exceptionally accurate, takes great care of the football and has unparalleled wheels for the position. It doesn't matter if he rides the bench for a season; Atlanta should think about the long-term and make the move for him.
Atlanta's secondary performed poorly in 2020, but again, there's not much to do to rapidly improve the unit this offseason. One move that could help prevent them from ranking near the bottom in every statistical measure again in 2021 is re-signing Darqueze Dennard to play on the outside. He's played at slot corner throughout his NFL career, but he plugged in on the outside out of necessity at times in 2020 and was held up admirably with a 71.3 coverage grade. W
With Dennard on the outside, Atlanta should pursue Washington's Elijah Molden with the No. 35 overall pick, a player who can man the slot full-time. Contrary to public and front office opinions, slot defenders are among the most valuable players on the field. And Molden is bound to be good in that role given what he showcased in college.
Of all the Power Five defensive backs to log at least 500 snaps in the slot in the PFF College era (since 2014), no one recorded a higher slot coverage grade, more forced incompletions or more passing stops than Molden. At 5-foot-10, 190-pounds, he is one of the most physical tacklers in the class. And he pairs that with short-area quickness and fantastic eyes in coverage.