NFL franchises improve each year. Bottom-tier teams will rise up the ranks to average, average teams receive the necessary reinforcement to push for the playoffs, and there are even the rare cases where organizations go from worst to first, such as the Cincinnati Bengals in 2021. Having said that, the opposite is also true, as some teams will take steps back. 
---
Click here for more PFF tools:
Draft Guide & Big Board | Mock Draft Simulator
Dynasty Rankings & Projections | Free Agent Rankings | 2022 QB Annual
Player Grades
---
Today, we are going to focus on the positive and dive into the teams that are most likely to take a step forward in 2022.
Whether it's because of salary cap space, abundant draft capital, players returning from injury, unluckiness in 2021 or a combination of all of those things, these are the teams most likely to improve in 2022.
Note: WAR (Wins Above Replacement) implied win total is calculated by calculating the total WAR generated by a team in a given season and adding three to it since we can assume a team full of 0 WAR players would win three games.
2021 Win Total: 3
2021 WAR Implied Win Total: 5.3
The Jaguars have one of the most promising quarterback prospects in the last decade, the second-most available cap space and the No. 1 overall pick in the 2022 NFL Draft. The Jaguars needs a lot to go in their favor, but if any team is going to follow in the Bengals' path, it's Jacksonville. Last week, I outlined why 2021 No. 1 overall pick Trevor Lawrence is primed for a breakout in Year 2 and laid out a detailed plan of how the Jags can effectively build around him this offseason.
2021 Win Total: 8
2021 WAR Implied Win Total: 8.1
Injuries decimated the Ravens in 2021. Lamar Jackson, Marlon Humphrey and Marcus Peters were the three most valuable Ravens in 2019 and 2020 collectively, and all three missed crucial time in 2021. To no surprise, Baltimore led the NFL in WAR lost this past season due to injury. The good news is that Jackson, Humphrey and Peters will be ready to go for the 2022 season. 
Baltimore doesn't really have many opportunities to make major roster additions this offseason but landing either cornerback Derek Stingley Jr. or Trent McDuffie with its No. 14 overall pick would be a home run, as both rank top eight on PFF's big board.
2021 Win Total: 7
2021 WAR Implied Win Total: 8.8
Seattle makes the list solely because of quarterback Russell Wilson's health. The long-time Seahawks endured a finger injury in Week 5 of 2021 and subsequently rushed back to the field. Before the injury, Wilson was producing at his normal elite level, owning a 90.3 PFF grade that ranked second among all quarterbacks while producing 13 big-time throws and zero turnover-worthy plays. After his Week 10 return, Wilson posted a 61.4 PFF grade with 13 big-time throws to 12 turnover-worthy plays. The 2021 season was the lowest-graded of his 10-year NFL career. And even with his decline in performance, the team still finished with nearly two fewer wins than its implied win total via PFF WAR. With a clean bill of health, one can reasonably assume Wilson will bounce back to some extent in 2022.
It also helps to have the eighth-most cap space available in free agency to retain key impending free agents — such as safety Quandre Diggs, tackle Duane Brown, tight end Gerald Everett, et al. — and also bring in a few new bodies. Seattle needs to upgrade the edge, as the team generated negative WAR at the position in 2021.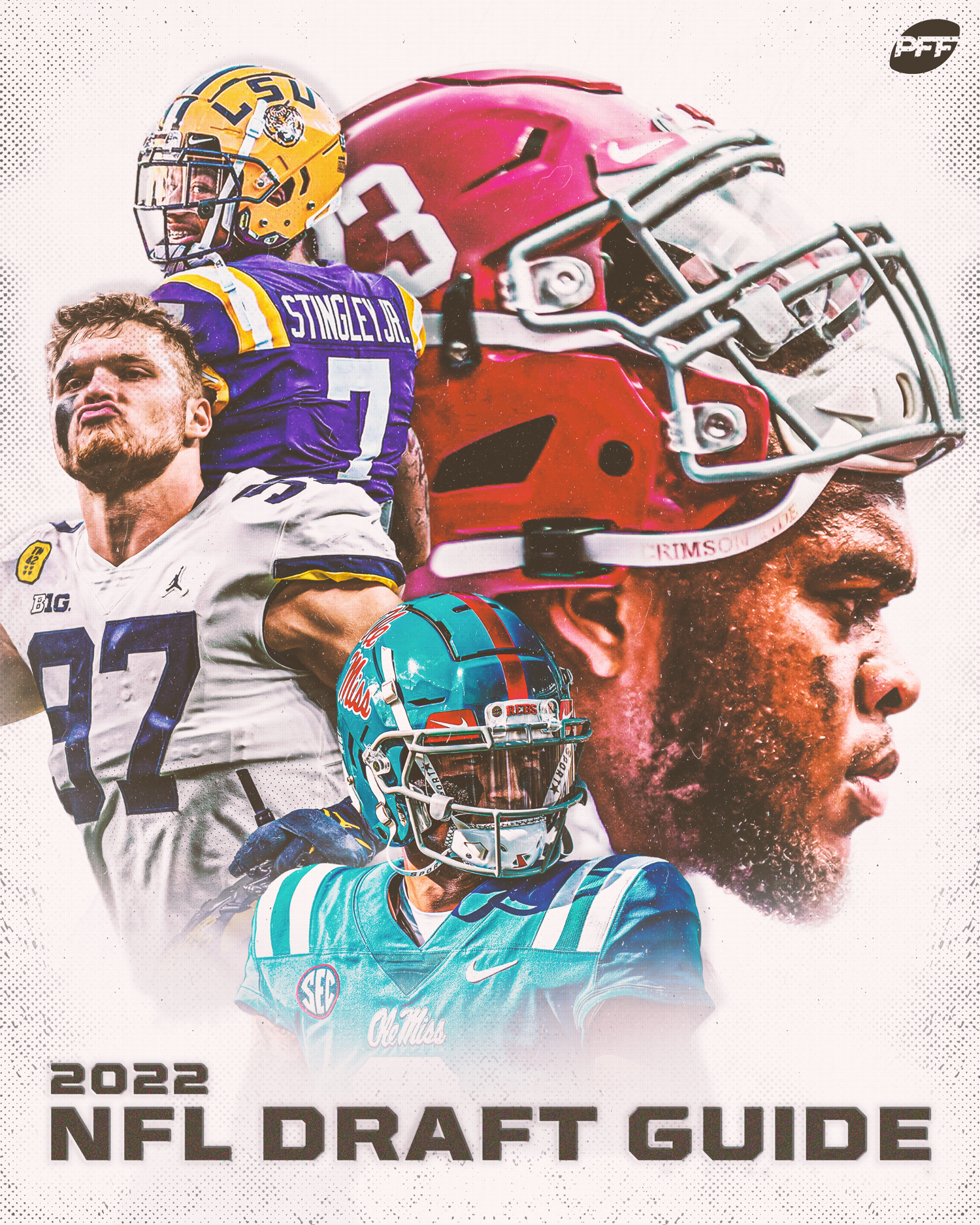 2021 Win Total: 9
2021 WAR Implied Win Total: 10.8
The Chargers were one of 2021's unluckiest teams, recording a -1.8 differential in the team's actual win and WAR-implied win totals. Only the Detroit Lions and Jaguars had a larger difference, and they were the bottom two teams in the league and not a playoff contender like Los Anegles. Positive regression is already in the cards given their current roster, but their cause is helped even more by having the fourth-most cap space available in free agency and only one impending big-money free agent to re-sign (wide receiver Mike Williams).
Justin Herbert — who was one of four elite-graded quarterbacks in 2021 — could use another wide receiver even with Williams likely coming back, but the defense will be the offseason focal point.
Asante Samuel Jr. is a promising young cornerback, but the starting spot opposite him, along with the slot, needs improvement. Michael Davis earned a 54.4 coverage grade starting on the outside for the Chargers in 2021 while veteran Chris Harris Jr. — who is slated to hit free agency — looked far from his prime form in the slot with a 60.4 coverage grade.
Head coach Brandon Staley could try to poach cornerback Darious Williams from the cap-strung Los Angeles Rams. Williams thrived in Staley's final year as the Rams' defensive coordinator in 2020, as he was a top-five graded cornerback in the NFL. The Chargers also could look to add Bryce Callahan, who has enjoyed notable success in the Vic Fangio defense that Staley has built on. He owns a 90.2 coverage grade since 2017. 
The interior defensive line also was the sixth-lowest graded unit in the NFL this past season and is in need of a new face with Linval Joseph hitting free agency. Jordan Davis — the 6-foot-6, 340-pound defensive tackle from Georgia — could be a player the team targets in the 2022 NFL Draft to help stuff the run in its two-high defense.
---
2022 NFL Draft position rankings:
Top 10 players at every position
QB | RB | WR | TE | iOL | OT | DI | EDGE | LB | CB | S
---
2021 Win Total: 8
2021 WAR Implied Win Total: 9.6
One year ago, quarterback Baker Mayfield was coming off a red hot year. He was a top-10 graded quarterback and also finished as one of the 10 most valuable players at the position. After Week 7 in 2020, Mayfield was the second-highest-graded passer in the NFL, and he led Cleveland to its first winning record and postseason berth in over a decade.
Fast forward to now and Mayfield is getting criticized all across the NFL landscape. He failed to lead his team to the postseason and posted a career-low 63.6 PFF grade — more than 20 grading points lower than his 2020 campaign. It's important to note that Mayfield did tear the labrum in his non-throwing shoulder in Week 2, which subsequently worsened as the season progressed. Mayfield owned a respectable 76.0 passing grade through Week 9, but from Week 10 through the remainder of the year, it fell to 47.1. Listing the Browns here is a bet that Mayfield is able to reclaim his old form. 
The Browns also rank top 12 in cap space available and own the 13th overall pick, which also help matters. Whether it be in free agency with someone such as Will Fuller V or in the draft with Ohio State's Garrett Wilson or USC's Drake London, Cleveland has to make a notable move at wide receiver. The unit ranked 27th in PFF grade a season ago. With a healthy Mayfield and a bolstered receiving room, Cleveland should be much improved in 2022.
2021 Win Total: 6
2021 WAR Implied Win Total: 6.2
Chicago is rich in offseason assets, but it does have a promising breakout candidate at the most important position on the field with quarterback Justin Fields. As bad as Fields' situation was in Year 1, he still showed a lot of promise in the Windy City due to his arm talent and 4.4 speed. Fields recorded a 6.1% big-time throw rate and 14 explosive runs (10 or more yards) — both of which were fifth among quarterbacks in 2021. Fields rarely put the ball in harm's way from a clean pocket, as evidenced by his fifth-ranked 1.4% turnover-worthy play rate on clean-pocket dropbacks. It wasn't a banner rookie campaign, but he still showcased the traits to be a star quarterback. Fields is a big breakout candidate and the Bears can build around him this offseason.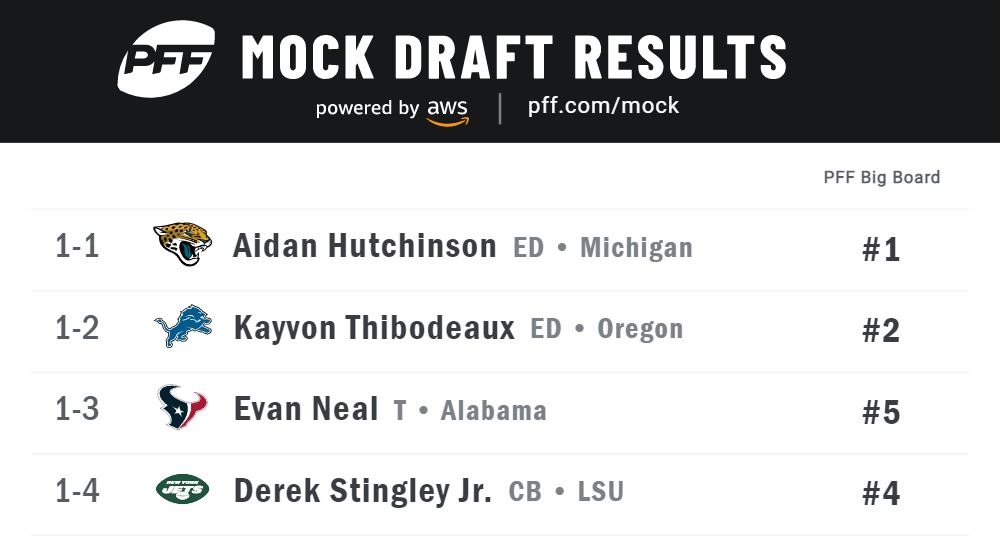 2021 Win Total: 4
2021 WAR Implied Win Total: 5.1
New York can improve its roster outside of the quarterback position more than any other team in the NFL this offseason. The Jets have the fifth-most available cap space in free agency, two top-10 draft picks and two of the first six picks in Round 2. The only problem is 2021 second-overall pick Zach Wilson had a real concerning rookie campaign that makes a 2022 breakout less likely than the other quarterbacks in the 2021 class. The Jets quarterback finished his rookie year with a 54.8 passing grade — the lowest among rookies and third-lowest in the NFL, ahead of only Sam Darnold and Ben Roethlisberger. Wilson simply wasn't as impressive as Lawrence and Fields.
The Jets can be the most improved team in the NFL because of their slew of assets and the slim chance Wilson has an impressive sophomore campaign, but the latter doesn't look promising.