Not every player has been accounted for to this point, but there have been a flurry of moves since the official tampering period opened on Monday. Those moves have already significantly changed the NFL landscape. Some teams and player situations improved while others got worse, so with that in mind, here are some early winners and losers of the offseason.
According to a report from Ian Rapoport, the Chargers will not be addressing the quarterback position through free agency as many people had hoped for, but going into 2020 with Tyrod Taylor as the starter is not the worst thing that Los Angeles can do. When you look at all the other transactions they've made this offseason, it's hard to categorize them as anything but a winner.
The deals for Bryan Bulaga and Chris Harris Jr. — both valued at $10 million per year on average — are two of the three "elite" deals that we've handed out here at PFF since the start of free agency on the PFF LIVE Deal Grader. Bulaga provides veteran stability and high-level pass protection at the tackle position on an offensive line that sorely needs it. Over the past six years, he trails only Mitchell Schwartz at the right tackle position in pass-blocking grade among qualifiers. Paired with trade acquisition Trai Turner at right guard, the Chargers now have an improved, new-look right side to their offensive line.
The Harris signing gives an already talented secondary one of the best cornerbacks of the past decade, creating a starting group that looks something like this.
| | | |
| --- | --- | --- |
| Player | Three-Year PFF Grade | Position Rank |
| Casey Hayward | 91.4 | 2 |
| Chris Harris Jr. | 85.7 | 9 |
| Desmond King | 90.4 | 3 |
| Derwin James | 89.9* | 4 |
| Nasir Adderley | 90.4** | N/A |
*Grade and rank are at safety position since James entered NFL in 2018
**Grade is from senior season at Delaware in 2018
That is some major talent being put together, and the positional versatility that some of those players have will put them in a good position no matter the situation. Throw in the reasonable Linval Joseph deal to add a run-stuffing presence to the interior of that defensive line and the franchise tag that keeps Hunter Henry in the fold, and this has been a very strong start to the new year for Tom Telesco and company.
Loser: AFC South teams in trades
It's hard to tell why the AFC South collectively decided to give up very good football players for pennies on the dollar over the past several days, but here we are. First, it was the Jacksonville Jaguars trading Calais Campbell to the Baltimore Ravens for a fifth-round pick. This is a guy who had graded out as one of the league's best defensive linemen since landing with the Jaguars in 2017. He turned in three-straight 90.0 overall grades, and his 92.5 three-year grade ranked third among all interior and edge defenders — behind just Aaron Donald and Fletcher Cox. The Jaguars were looking to unload his contract as they head toward a rebuild, but you can't be happy with getting just a Day 3 pick for that level of player.
It was a similar story with the Tennessee Titans and interior defender Jurrell Casey. By his standards, Casey had a down year in 2019, but that still produced a 74.3 overall grade. He has never graded below 70.0 in his nine-year career, and he has graded at 80.0 or higher in three of the past five years. At his best, he is a force in both the run and pass game, capable of wrecking opposing interior offensive lines. The Titans were another team looking to shed salary, but to part with Casey for merely a seventh-round pick seems criminal. It's hard to believe that is the best they could do on the trade market.
Those two returns pale in comparison to the deal that the Houston Texans made involving one of the best wide receivers in the NFL, DeAndre Hopkins. In a world of exaggeration, it's not exaggerating to say that this was one of the worst moves in NFL history. Hopkins has been the second-most valuable wide receiver in the NFL over the past five seasons, trailing only Julio Jones, and the Texans gave him up for a second-round pick. On top of that, they had to take on the bloated David Johnson contract, a player who was being discussed as a cut candidate earlier this offseason.
When you compare it to recent deals for Odell Beckham Jr. or Stefon Diggs — great players but not on the same level as Hopkins — or even what the Texans gave up for left tackle Laremy Tunsil, this makes absolutely no sense on their part. Frankly, it's damning for Bill O'Brien. However, it brings us to our next winner…
Regardless of what they do the rest of the offseason (barring something like trading Kyler Murray for a pack of gum), the Cardinals will be a better team next season simply due to the Hopkins trade. If you want the full picture of what Hopkins brings to the table, my colleague Anthony Treash wrote a piece following the deal that can be found here, but it's safe to say that he completely changes that offense.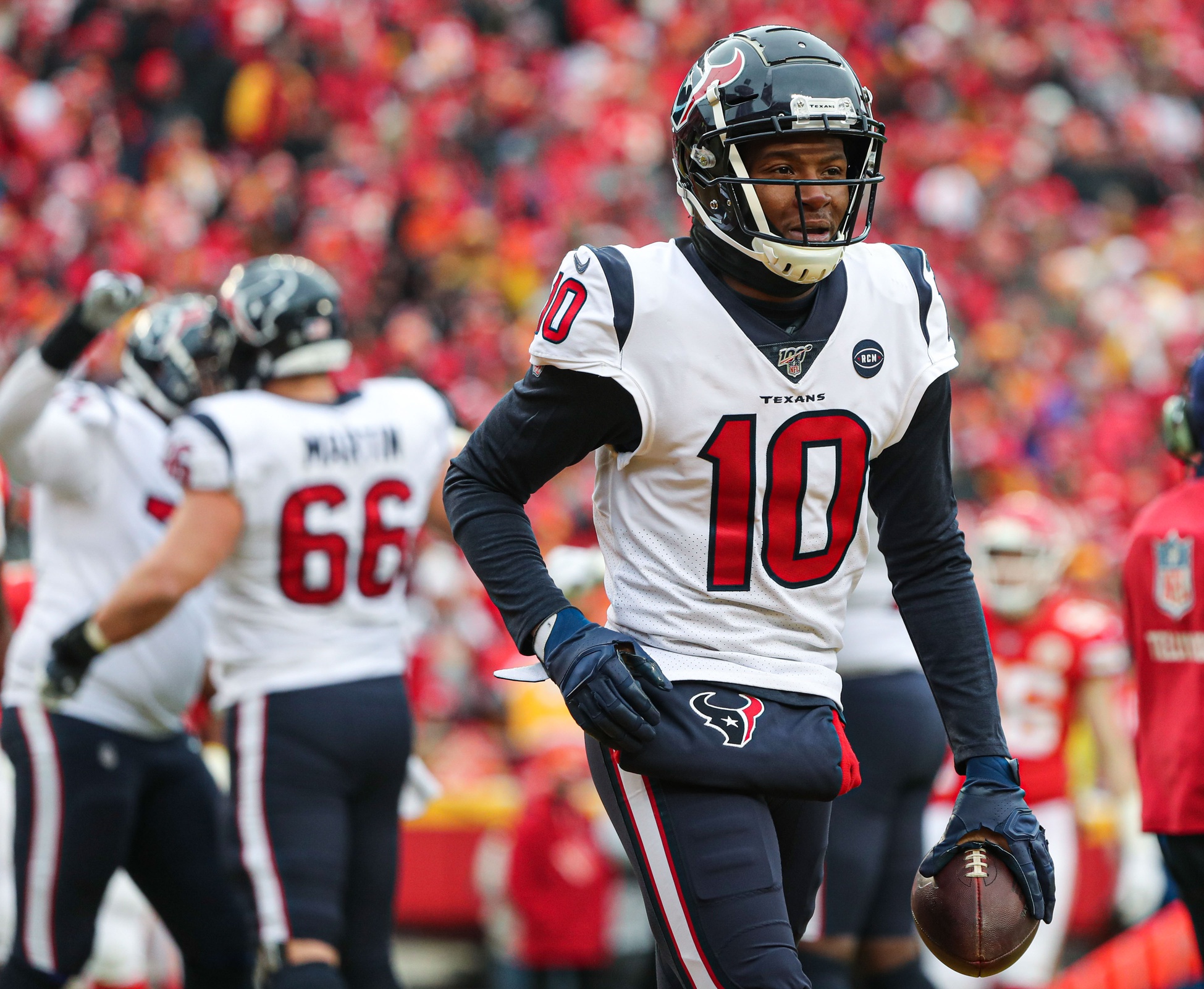 The Cardinals went from dead last in expected points added per play on offense in 2018 (by a wide margin) to 13th in the same measure last season under new head coach Kliff Kingsbury and Murray. The most impressive part of that is that there is plenty of room for improvement from Murray, and the Cardinals still fielded numerous question marks on their offensive line while lacking a dynamic primary option at wide receiver with Larry Fitzgerald not having the same kind of athleticism that he did early in his career.
Hopkins changes that. He can beat press man; he can win against the top cornerbacks in the NFL; he can bring down contested catches that make you question whether or not he is human; and he can dominate in all areas of the field. To get that kind of player for essentially a second-round pick while peddling Johnson's contract to the Texans is robbery.
If you had said that the Bears addressed the quarterback position this offseason, my instinct would be to say that they would be a winner. The move that they ultimately made at quarterback, though, was one of the more uninspiring ones on the table.
The Nick Foles deal isn't terrible for Chicago. It gives them a shot to get better production than what they saw from Mitchell Trubisky, and they only gave up a fourth-round pick to complete the deal. Foles has shown glimpses of high-level play at various points in his career with the Philadelphia Eagles, but he has also shown the other end of the spectrum with some poor performances. He has finished just two seasons with PFF grades of 75.0 or higher (2013 and 2018). There isn't a whole lot of risk for the Bears, though, as they should be able to get out of the deal without too much dead money following the 2020 season if things go south. But it also seems unlikely that Foles will be the savior that finally becomes a consistent, above-average NFL starter.
It's the other moves that they have made that put them into the "loser" category. The Bears signed a tight end to a contract that makes him a top-10 paid player at the position despite grading below 60.0 in each of the past two seasons (Jimmy Graham), and they gave a five-year, $70 million deal to an edge rusher who hasn't produced play warranting that kind of money since 2013 (Robert Quinn).
For Quinn (68.5 overall grade in 2019), that puts him roughly in line with what players such as Danielle Hunter (89.0), Carlos Dunlap (89.7) and Brandon Graham (84.2) are making on average each year. It's a poor use of salary cap resources for a team that didn't have the luxury of excess cap space.
Winner: Young offensive linemen with starting experience
It is a good time to be a young offensive lineman in the NFL. If you have starting experience and teams can sniff a whiff of "potential," you are going to get paid, regardless of how well you played with that starting experience.
Things kicked off with the Miami Dolphins signing the much-maligned Ereck Flowers to a three-year, $30 million deal with nearly $20 million guaranteed. This is a guy who allowed 207 pressures from 2015 to 2018, more than any other offensive lineman in the NFL. Sure, he saw improvement after kicking inside to guard for the Washington Redskins last season, but even that resulted in a grade that ranked only 19th out of 39 qualifiers at the position. On a one-year, prove-it deal, it would be plausible for a team to take a chance on Flowers continuing to improve at his new position, but this kind of money makes little sense for someone with Flowers' track record.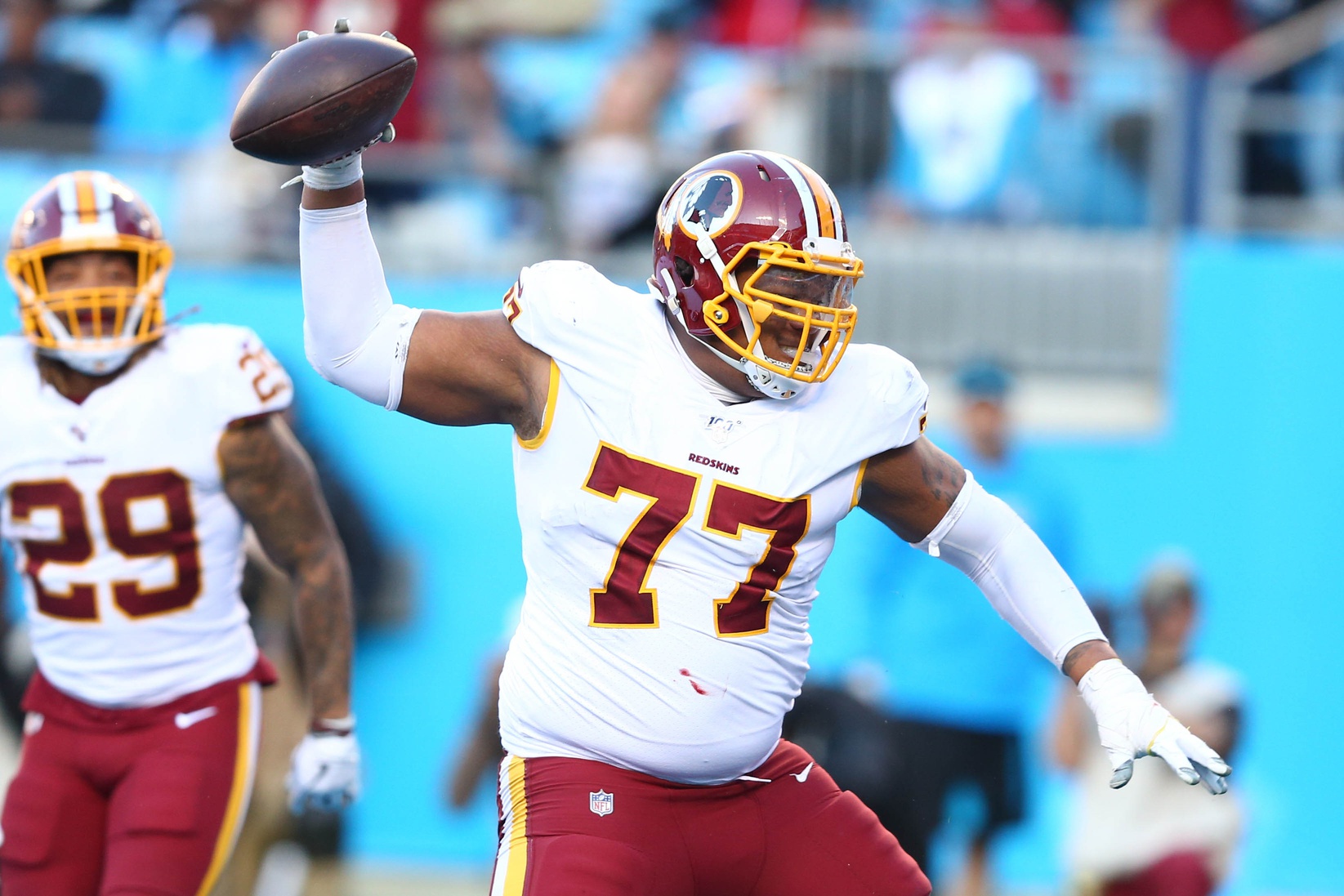 It's a similar story with the New York Jets and George Fant. Since 2017, Fant has played 454 snaps at tight end as a sixth offensive lineman compared to only 477 snaps at tackle. If you look at the entirety of his career, he has picked up a 47.6 grade when lined up at tackle. I joked earlier this week that he was re-setting the tackle eligible market, but there is a ring of truth to that. If the Jets are expecting him to be one of their starting tackles in 2020 (as the contract worth $10 million per year would suggest), they are going to be in for a rude awakening.
I can keep going with other players who "earned" themselves deals at over $10 million per year on average, such as the Detroit Lions' Halapoulivaati Vaitai, but the point has already been made. Don't overpay for young offensive linemen with a history of poor play simply because they are young and have drawn starting experience when you can get quality veteran starters such as Bulaga for the same deal.
Loser: Running backs
I'm going to keep this one short and sweet since I know running back talk is everyone's favorite topic, but there is enough data at this point to comfortably suggest that paying big money for a running back is never a good idea, as broken down in several recent pieces from PFF that can be found here and here.
In the free agency landscape this offseason, Derrick Henry did not get a long-term deal, instead receiving the franchise tag — which only increases the chances of him losing value next offseason. Melvin Gordon III still is waiting for a deal, as is Devonta Freeman after getting released by the Atlanta Falcons. The Los Angeles Rams are actively shopping Todd Gurley II, and unfortunately for them, the Texans are likely done providing running back charity for the offseason. The only back to receive a multi-year deal of substance is Jordan Howard, who signed a two-year, $10 million deal with the Dolphins. That's the same Howard whose 3,895 regular-season rushing yards over the past four seasons rank third in the NFL.
It is a brave new world for running backs. It's unfortunate because they provide some of the most exciting plays in football, and players such as Henry are truly fun to watch, but it appears that NFL teams are starting to catch on that the value isn't there following their rookie deals.
The spotlight is on Darius Slay, particularly after he publicly acknowledged last night that he wants out of Detroit, and as of Thursday morning, a deal has been put in place to send Slay to the Eagles. That is not ideal for the Lions. Despite the down year from a grading standpoint in 2019 (56.4 PFF grade), Slay remains one of the top cornerbacks in the NFL. During the five-year stretch from 2014 to 2018, he ranked eighth among qualifying cornerbacks in overall grade, and he routinely draws shadow assignments against the opposing team's best wide receiver, making those results all-the-more impressive.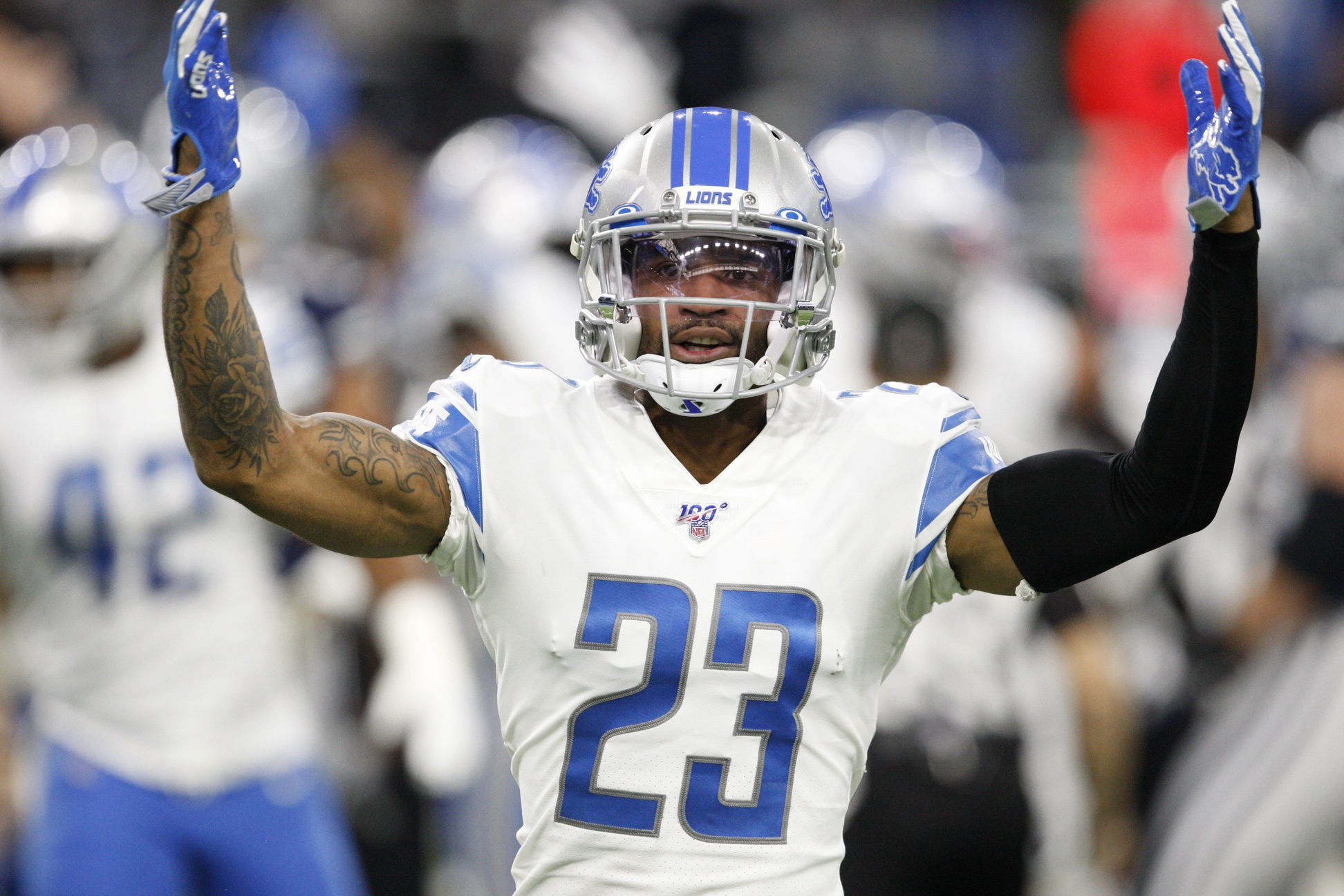 As all that trade speculation took place, the Lions went about improving their coverage to soften the blow of his inevitable loss. They signed former New England Patriots linebacker Jamie Collins, a player who has been outstanding in coverage and as a blitzer for New England over his career but struggled when traded to the Cleveland Browns. He's an intriguing option for a Lions team that needed an injection of talent into their linebacking corps. The hope is that the transition to Matt Patricia's defense is smoother than the one Collins made four seasons ago in Cleveland.
Detroit then addressed the secondary with two more moves, trading for Patriots safety Duron Harmon (shocker, I know) and signing former Atlanta Falcons cornerback Desmond Trufant. Both players were drafted in 2013, and neither has recorded an overall grade of 65.0 or lower over the course of their NFL careers, rarely dipping below 70.0.
Harmon has been a rangy playmaker on the back end of the Patriots' defense at free safety. He is one of just eight safeties with 10 or more regular-season interceptions over the past three seasons. Trufant is a 6-foot cornerback who came into the NFL with sub-4.4 speed, and he figures to fit well into a Lions defense that plays a lot of press-man coverage. He's not quite the same player as Slay, but he has shown in Atlanta that he is fully capable of being the No. 1 guy on the outside. Both players, along with Collins, should improve the Lions coverage in 2020 despite the loss of their top player.
It is all over. The long and illustrious career of Tom Brady with the Patriots has ended. There has been talk about him leaving for months, but it always seemed like the leader in the clubhouse was a return to New England to finish out his career. Instead, Tom Brady will reportedly join a talented offense as the quarterback for the Tampa Bay Buccaneers, creating one of those weird never-thought-I'd-see-this-player-in-that-jersey moments.
For New England, this leaves them with no reasonable quarterback solution on their roster. If the season were to start today, the starter would likely be last year's fourth-round selection, Jarrett Stidham. His only regular-season action last season resulted in this stat line — 2-of-4 for 14 yards and an interception. In other words, we know next to nothing about him at the NFL level, and there is not a whole lot of reason to be optimistic that he will be anything but a below-average starter given his performance at Auburn.
That leaves the Patriots searching for a quarterback in either free agency (Jameis Winston) or via trade (Cam Newton or Andy Dalton), but there is no situation where they are better off without Brady. Now, this could of course result in a tank that lands them Trevor Lawrence, a situation that seems like some sort of cruel joke.
If the Patriots let Brady leave after like 20 years of this, tank for a season, and then resume the dynasty for another 20 with Trevor Lawrence because they're the first team with the intelligence to tank properly not half-assed, I may just cry.

— Sam Monson (@PFF_Sam) March 18, 2020
As of now, though, it appears to just be a tough loss to swallow. Factoring in all the other trades and losses on their defense (Collins, Harmon, Danny Shelton, Kyle Van Noy, etc.), this hasn't been the best start to the 2020 season for New England.
Bonus Winners: Tampa Bay media and NFL fans
On the other side of the aisle, this is truly a great time to be a Tampa Bay Buccaneers fan or someone who covers the team. All eyes will be on Tampa Bay as they look to build a Super Bowl contender with the greatest quarterback of all time at the helm. They have the top wide receiver duo in the NFL for him to work with (Mike Evans and Chris Godwin) and a solid offensive line to protect him, but there are still a lot of things to unfold.
How does he fit into Bruce Arians' downfield passing scheme? Is he on the decline, or was last year more of a function of what he had around him? Will the Buccaneers defense continue the play they showed late in the season? How do Brady and Belichick fare apart from each other for the first time in Brady's career? Regardless of what the answer is to those questions, one thing is certain — this suddenly became one of the most interesting teams in the NFL. Everyone loves a little chaos.