Tom Brady announced today that he won't play for the New England Patriots in 2020 and that his football journey will continue elsewhere. While teams like the Miami Dolphins and Chicago Bears are still included in speculation, the two most likely scenarios as of today seem to be the Los Angeles Chargers and Tampa Bay Buccaneers.
We at PFF have already written about his potential landing spots, listing advantages and disadvantages. Other than not really being an illustrious franchise, the Bucs seem to come with one major disadvantage: Bruce Arians likes a downfield attack like no other coach in the NFL and Tom Brady averaged only 8.4 yards per target over the last two years. As a comparison, Jameis Winston never had a season with an average depth of target less than 10.8 yards down the field. Naturally, Brady isn't quite a natural fit for Arians' offense compared to Winston.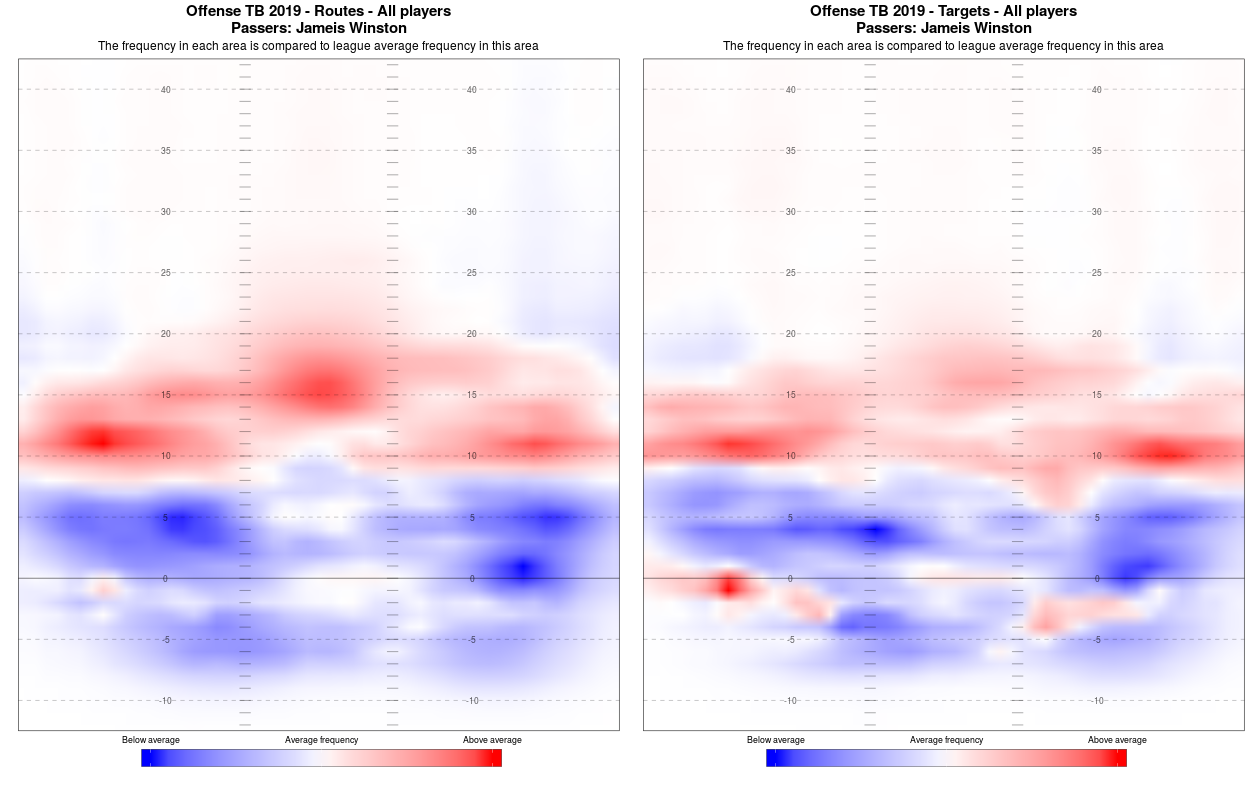 However, looking around the league, there might not be a natural fit for Arians' offense other than Winston, let alone among available quarterbacks. Given the Bucs are apparently not willing to pair with Winston for another season, it would make sense to consider the quarterback who might be the best at adjusting to a new offense.
This opens the door for Brady, who has proven multiple times during his career he will adjust his style to the weapons at his disposal, going from a downfield attack with Randy Moss in 2007 to a more possession-centric passing game with Wes Welker and Julian Edelman. In 2017, the Patriots traded for Brandin Cooks and Brady adjusted again, attacking downfield at a high rate with an average depth of target of 10.2 yards.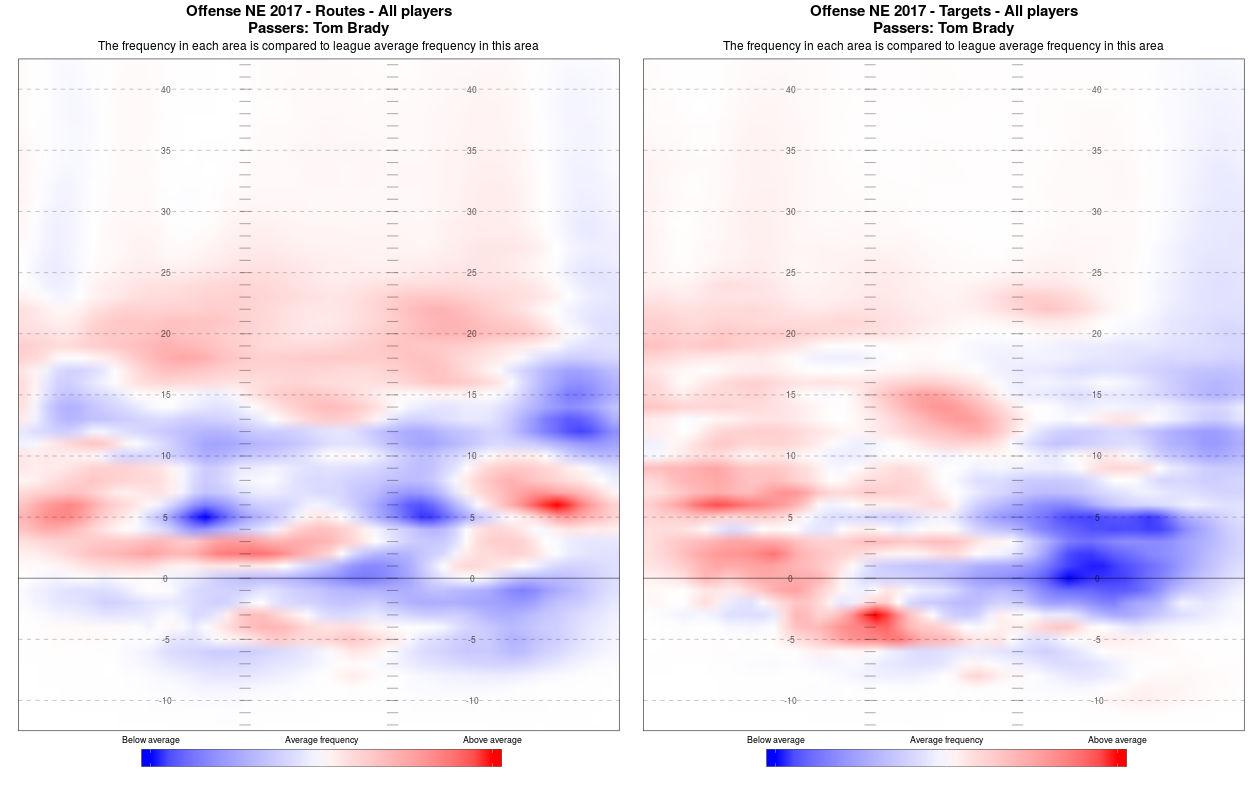 The heat maps suggest: Brady targeted the area 10 or more yards downfield even more often than expected based on the routes, and we confirm this with our target probability model. Brady was supposed to throw 278 passes 10 or more yards downfield (including the playoffs) yet he did it 292 times.
With Cooks gone in 2018, his aDoT went down, but this was entirely explained by New England running fewer routes down the field. They simply didn't have the fitting receivers anymore with Rob Gronkowski being a shell of himself in 2018 and retired in 2019. In both years, Brady still targeted receivers 10 or more yards deep more often than the Patriots' route runs would suggest. This is precisely the area Bruce Arians likes to attack, and based on everything we know about Brady from his Hall of Fame career, there is zero doubt he would find ways to get the ball to a receiver like Mike Evans downfield.
Arians' offense contains underneath options
Nevertheless, it's undeniable that Brady would not attack downfield quite as often as Winston did in 2019, but this isn't necessarily a problem. Even an aggressive downfield passing attack like the one Arians prefers contains underneath options.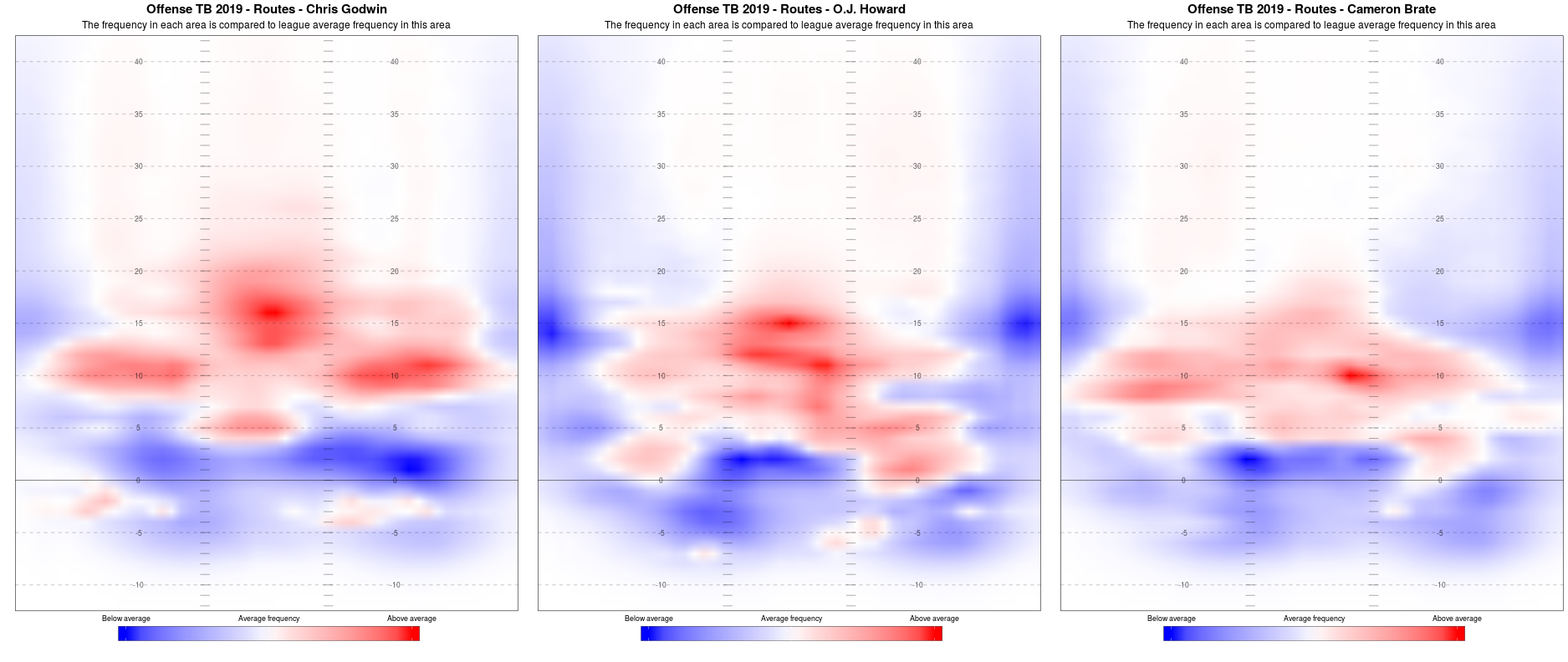 Chris Godwin doesn't quite run his routes as deep as Evans and was also a valuable contributor on screen passes in 2019. Additionally, Evans and Godwin draw a lot of attention down the field, which will open holes underneath for O.J. Howard, Cameron Brate or the running backs. Brady is, of course, interested in finding these players on shorter routes. And maybe no other quarterback has proven to be better at knowing when to opt for the checkdown as compared to being aggressive.
Another area of concern are hits. Winston found himself on the ground in 2019 very often, and taking this many hits wouldn't bode well for a 43-year-old quarterback. However, we've found that sacks and hits (and even pressures) are more of a function of the quarterback than many people believe. Historically, there are only a few quarterbacks who avoided contact from the pass rush better than Brady. Proper changes to the protection and reading the correct routes first based on pre- and post-snap reads are all things that Brady can do better than most signal-callers.
While Brady and Arians' offense is surely not a match made in heaven, what Brady needs most to unleash his full potential one last time is to have weapons who can get open and make plays. The Tampa Bay Buccaneers provide exactly this, as their pass-catchers led the league in total WAR as a unit in 2019. Tom Brady will find a way to get the ball to them. He has proven this numerous times.