Most NFL teams offer both good and bad fantasy football value in relation to the players on their rosters. It's crucial to nail early-round draft picks in fantasy football, as they play a big role in a team's yearly performance. However, whiffing on those players can derail a roster just as easily. Let's examine each NFL roster and select the worst-valued player at their current average draft positions (ADP).
All ADP info is sourced from BestBall10s drafts dating back to the beginning of July.
Subscribe to PFF's EDGE or ELITE subscriptions to get access to the following tools, charts, etc. 
– All Premium Article Content
– Fantasy Football Rankings & Projections
– Fantasy Football Draft Guide, Cheat Sheets & Advanced Stats
– Fantasy Football Mock Draft Tool (DraftMaster)
– Fantasy Football Strength of Schedule Matrix
– NFL Player Grades
– NFL Premium Stats
It's tough to knock a player as exciting as Murray, which is why we won't be doing that here. That said, his current ADP as the QB4 is quite rich for a player with so little NFL experience, particularly at a position as deep as quarterback. Murray ranked seventh in total points (294) and 12th in points per dropback (0.48) among quarterbacks in 2019. Once the Cardinals added running back Kenyan Drake to the roster and began featuring him, Murray's totals decreased but his efficiency increased — he ranked 12th in total points (151.5) and fifth in points per dropback (0.53) among quarterbacks during Weeks 9-17. Expect the Cardinals to continue featuring Drake moving forward. While the addition of DeAndre Hopkins is sure to help Murray, the depth at the quarterback position allows you to find better value in the later rounds.
PFF's fantasy projections currently rank Murray as the QB17 — far lower than his current QB4 ADP. PFF's strength of schedule metric (SoS) anticipates quite a friendly schedule for Murray and the Cardinals' quarterback group, as their slate ranks as the fourth-easiest in 2020.
Ridley is among the favorites to have a massive breakout season in 2020, yet the players he's currently surrounded by in ADP are far more accomplished thus far in their careers. Ridley's 195 full-point PPR points ranked 27th in the NFL in 2019, compared to A.J. Brown's 21st-ranked 217.1 points, Cooper Kupp's fourth-ranked 270.5 points and Robert Woods' 14th-ranked 232.9 points. Ridley did compete in only 13 games, but he still ranked lower than Kupp (sixth) and Brown (fifth) in points per snap (Ridley ranked 14th).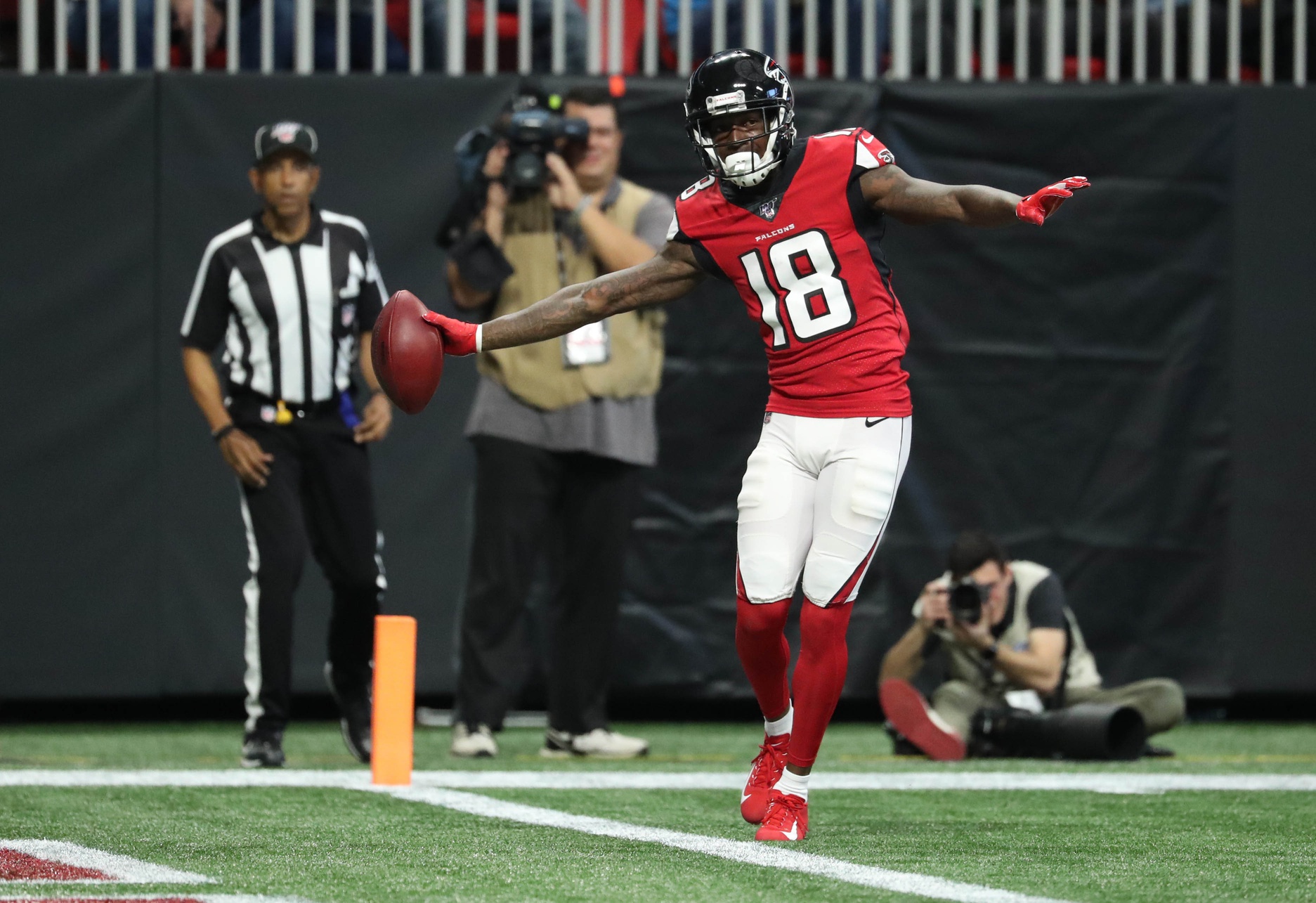 In addition, the Falcons struggled mightily as a team — they ranked fifth in plays run (run and pass plays) while trailing and fourth in pass attempts while trailing in 2019. Expect to see positive regression in that regard, with the potential for scaling back some of the pass attempts and deploying a more well-balanced offense.
PFF's fantasy projections rank Ridley as the current WR15, placing him in the exact same spot as his current ADP.
Slotting Dobbins in at this spot was tough, mostly because of how dominant the Ravens' ground game is and the draft capital they invested in the rookie. The second-round pick used to acquire Dobbins will likely result in a decent market share among their running back group, though we shouldn't forget how great of a season teammate Mark Ingram II had in 2019 — he ranked 11th in total points, fourth in points per snap and 18th in points per touch. While Dobbins likely won't surpass Ingram in 2020, he could very well seize the backup running back job. That role supplied enough work for Gus Edwards to accumulate 711 rushing yards and 94.6 total points (49th) in 2019.
PFF's fantasy projections rank Dobbins as the RB34, which comes in only slightly behind his current ADP of RB31. One of the major positives for Dobbins and his positional group is their sixth-ranked schedule, according to PFF's SoS metric.
Singletary is a very good football player, and he might even pay off at his current ADP — the main issue is whether he is even the best running back on his own team. While Singletary ranked well in missed tackles forced per rushing attempt (third among running backs with 100-plus attempts in 2019), he offered virtually no receiving upside. He ranked 53rd in yards per target, 46th in yards per reception, 49th in yards after the catch (YAC) per reception and outside of the top 50 in yards per route run among all running backs in 2019. Meanwhile, teammate Zack Moss dominated his competition in the college ranks, finishing third in missed tackles forced and sixth in yards after contact per attempt among all running backs with 100-plus rushing attempts in 2019. And as a receiver, he ranked in the top 10 in receiving YAC, receiving yards after contact, missed tackles forced on receptions and receiving yards per reception. Moss also ranked first in YAC per reception and fifth in yards per route run among all college running backs with 25-plus targets. Moss is clearly the superior player in the receiving department, and he may very well be just as good as Singletary in the rushing department, too.
PFF's fantasy projections peg Singletary as the current RB21, with his placement being far greater than Moss's RB54 ranking. Both players receive a boost, as their schedule ranks ninth among all running back slates in 2020.
Veteran Greg Olsen's departure presents a big opportunity for Thomas in 2020, particularly with Olsen's 81 vacated targets ranking ninth among all tight ends in 2019. However, Thomas has never really been able to produce, as his 51.8 PFF grade (ranked 59th out of all qualifying tight ends) in 2019 left much to be desired. Thomas' 0.74 average depth of target (aDOT) ranked 70th among tight ends with 10-plus targets last season. In addition, Thomas is currently being drafted over far more established and superior talents, such as Chris Herndon, Eric Ebron, Irv Smith Jr. and even his former teammate in Olsen. There are far better values to be had after Thomas — steer clear of his TE20 price tag.
PFF's fantasy projections expect Thomas to finish as the TE28 (99.4 points). PFF's SoS metric backs up that ranking as the Panthers' tight end group will oppose the second-hardest tight end schedule in 2020.
The Bears don't really have any players who are egregiously bad values, so we'll slot Trubisky in at this spot as the de facto option to avoid. General manager Ryan Pace acquired Nick Foles in a trade with the Jacksonville Jaguars, presumably to take over the starting quarterback job. It shouldn't come as a surprise that Trubisky's 64.3 overall PFF grade didn't suffice (ranked 27th among all qualifying quarterbacks), though the competition between the two legitimately seems to be open. Trubisky's 2019 didn't go as planned, as the former top-five overall draft pick landed 26th among quarterbacks in total scoring and 32nd in points per dropback. At this point, Trubisky should be treated as a backup quarterback option. He has the potential to rise to a starting quarterback position and is maybe worth streaming occasionally.
PFF's fantasy projections expect Trubisky to slot in as the QB33. That would surpass his QB35 ADP.
It's incredibly tough to list the once-elite Green here — his placement on this list is mainly due to injuries he's suffered over the past few seasons. Even though he's been dominant when on the field, Green has only one 16-game season under his belt dating back to 2016, playing only 35 games out of a possible 64 over the same time frame. Selecting Green at his current ADP over other options at receiver — such as Jarvis Landry — seems like an incredibly risky proposition, even if Green manages to stay healthy for the majority of the season.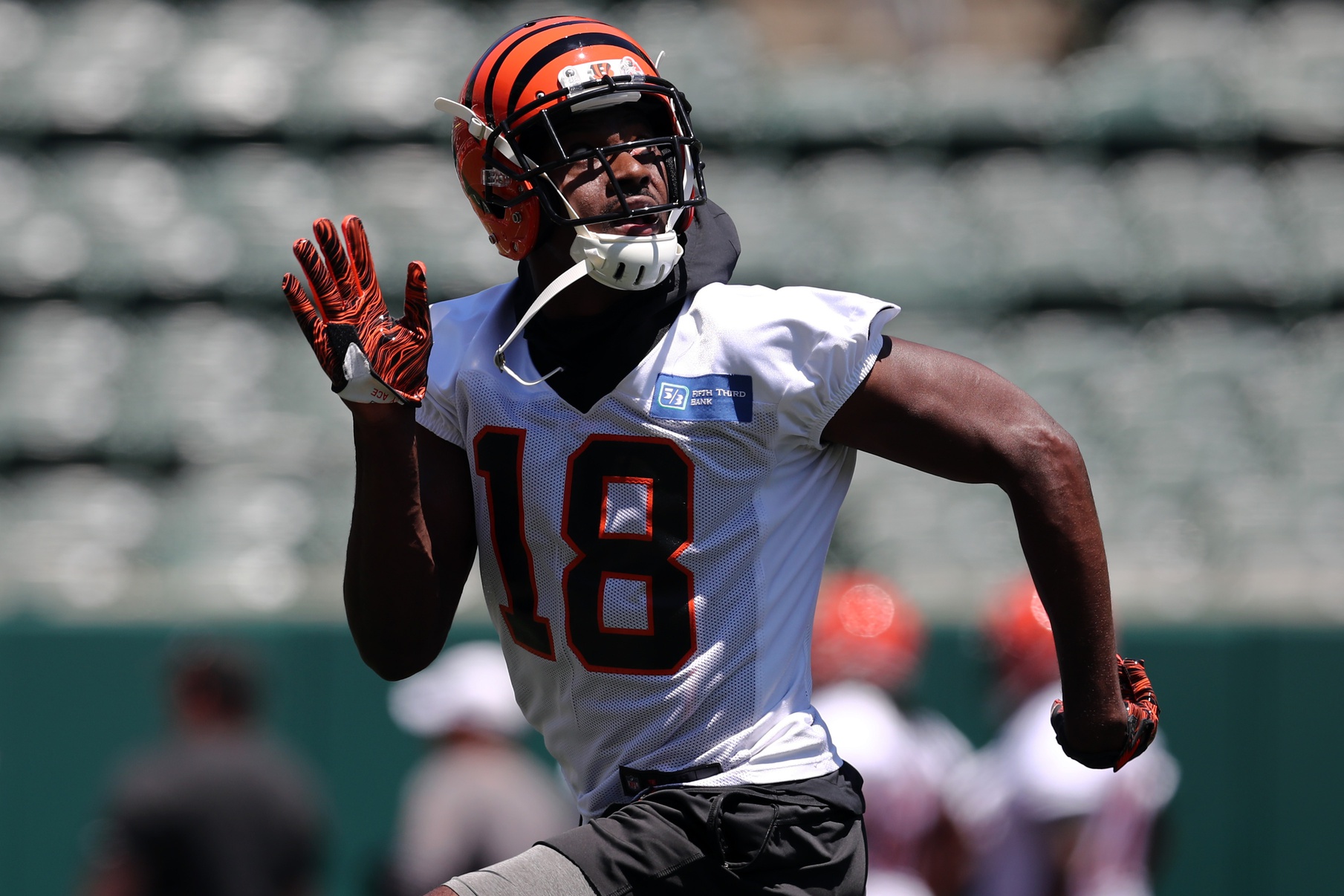 PFF's fantasy projections rank Green as the WR26, with that projection expecting Green to suit up for a full 16-game season.
The potential for Hooper to see a smaller target share than he received in 2019 is legit, even if his contract would suggest otherwise. Hooper's 93 targets ranked sixth among all tight ends in 2019, and he accrued that workload in only 13 games with the Atlanta Falcons. Hooper now joins an interesting situation with the Browns — in addition to their already intriguing roster that houses receivers Odell Beckham Jr. and Jarvis Landry, running backs Nick Chubb and Kareem Hunt, and former first-round tight end David Njoku. Quarterback Baker Mayfield attempted only 68 passes to his tight ends in 2019, which ranked 21st among all quarterbacks. With so many weapons readily available, expect a smaller workload for a player like Hooper.
PFF's fantasy projections slots in Hooper as the TE16 in 2020, a figure that ranks a handful of spots lower than his current TE11 ADP.
Prescott is likely to have a tremendous season, which probably brings forth some confusion as to why he's the selection for the Cowboys. The main factor here is that the Cowboys have fairly good value across the board (Prescott included), though the quarterback position is deeper than any other — that presents the opportunity to find similarly productive quarterbacks at cheaper values. Prescott ranked second in total fantasy points and sixth in points per dropback among quarterbacks last season. The addition of CeeDee Lamb and the move from Jason Witten to Blake Jarwin are both likely to substantially impact the offense.
PFF's fantasy projections also expect a strong season out of Prescott, ranking him as the QB5 with a total of 310.2 points. PFF's SoS metric ranks the Cowboys' quarterback schedule as the 12th-easiest in the league.
The former Los Angeles Chargers running back joins an already decent backfield in Denver with new teammates Phillip Lindsay and Royce Freeman. While Gordon has been a great fantasy football option over the past few seasons, Lindsay actually outproduced his new teammate in total fantasy points, though it was Gordon who was more efficient on a per-touch basis (ranked 29th in points per touch versus Lindsay's 46th ranking). Last season, the Broncos ranked 10th in run play percentage (40.5%), suggesting there may be enough work for both backs. However, Gordon's current RB16 ADP would require a far more one-sided approach as opposed to a two-back system. Quarterbacks Joe Flacco and Drew Lock targeted their backfield a total of 91 times in 2019, a figure that would have ranked 13th in the league among all quarterbacks (Brandon Allen chipped in another 11 targets). While those numbers look positive for both backs, the additions of multiple weapons on the offensive side of the ball could lessen their pass-game market share.
Even with an expected time share, Gordon ranks 22nd in running back scoring for 2020, according to PFF's fantasy projections. That ranks higher than Lindsay's expected projection of RB37, but it does come in a few spots behind his RB16 ADP.
The Lions don't have any players with egregiously bad value, but Johnson will have a tough time carving out a fruitful role for himself in the Lions' offense in 2020. The Lions invested a second-round pick in D'Andre Swift, who is likely to lead the team in usage among the running back group. Johnson would get the leftover work, but it may not be enough to justify his cost. During Weeks 1-8 when Matthew Stafford was healthy, he targeted his running backs only 39 times, which ranked 18th among all quarterbacks. It doesn't get much better for the Lions' rushing attack, as their offensive line ranked 21st in the NFL in rushing yards before contact per attempt last season.
The positive for Johnson and Swift is their 12th-ranked schedule, according to PFF's SoS metric. In addition, Johnson's RB39 rank — per PFF's fantasy projections — falls right in line with his current ADP of RB39.
The Packers invested a lot into Dillon, which may suggest a larger workload than anticipated, though the second-round pick will need to climb his way up the depth chart to secure any sort of meaningful role in his rookie season. Aaron Jones is the unquestioned starter in this backfield, but Jamaal Williams shouldn't be forgotten — he ranked 35th in total fantasy points, 17th in points per snap and 20th in points per touch among all running backs in 2019. Williams proved to be a productive RB2, and he will surely act as a roadblock to Dillon's path to RB2 duties.
PFF's fantasy projections agree on Dillon's ADP of RB53 being slightly rich, with him slated for an RB65 finish.
Fuller is one of the more explosive and dangerous receivers in the NFL — it's his injury history that causes issues at his current ADP. Fuller hasn't registered more than 11 games in a season since his rookie campaign in 2016. Looking at the Weeks in which he played in 2019 (1-7, 12, 13, 15, 16), Fuller ranked 27th in total points, 32nd in points per snap and 58th in points per touch among receivers. DeAndre Hopkins' departure opens up 146 extra targets, but the additions of Brandin Cooks and David Johnson are likely to consume nearly all of that vacated work.
Health is going to be the first hurdle for Fuller to clear. If he can get past that, he'll also need to find a way to produce against the 31st-ranked receiver schedule, according to PFF's SoS metric. With all of these factors stacked against him, PFF's fantasy projections expect Fuller to rank 28th in receiver scoring, which would provide good value at his current WR33 ADP.
Even though Mack put together a successful 2019 campaign, he lands on this list due to the Colts' acquisition of rookie Jonathan Taylor. They invested heavily into the latter back, likely expecting him to immediately take over the RB1 duties. While Taylor should have a stranglehold on the first-team job at running back, Mack could ultimately find himself included in a different role. The main issue for Mack is that the Colts also have one of the better receiving backs in football in Nyheim Hines, who was targeted 57 times (ranked 16th among running backs) in 2019. With a lack of any pass-game upside and no clear path to rushing work, Mack's RB35 ADP may be hard to justify.
PFF's fantasy projections anticipate Mack ranking 48th in running back scoring in 2020. The positive for this backfield is its fifth-ranked schedule, according to PFF's SoS metric.
Fournette's absurd 2019 workload is going to prove too tough to replicate, as his 95 targets ranked fourth and his 265 rushing attempts ranked seventh among all running backs. Sure, Fournette was productive — ranking seventh in running back scoring — but he ranked only 43rd in points per snap and 45th in points per touch. In addition to his lack of efficiency, expect far less involvement in the receiving department, as offensive coordinator Jay Gruden is a noted fan of receiving back Chris Thompson:
Jaguars are slated to be #baaaad. Negative game scripts incoming. Jay Gruden lusts for Chris Thompson, got him added to the roster.

Thompson's targets by year under Gruden ('14-'19):

14: 7
15: 48
16: 62
17: 54
18: 55
19: 58

I'll let you connect the dots. https://t.co/NNiSmgEQ9R

— Sosa K (@QBsMVP) June 22, 2020
Lastly, the Jaguars are once again likely to struggle this season. They ranked 26th in goal-line plays in 2019 and could finish even lower in 2020. The lack of productivity in the red zone and opportunities near the goal line clearly hampered Fournette's scoring totals in 2019, and there's a good chance of that repeating in 2020.
PFF's fantasy projections are in agreement with Fournette's RB15 ADP being rich, as he's currently pegged for an RB24 finish.
No receiver was more efficient than Hardman in 2019. Even though he finished 61st among all receivers in total points, he ranked 24th in points per snap and third in points per touch at the position. In addition to those impressive numbers, no receiver ranked higher than Hardman in yards after the catch per reception (11.5) or in receiving yards per reception (20.7). An increase in volume will surely decrease these numbers, but more opportunities for points in an explosive Chiefs offense is ultimately a positive. The main issue for Hardman is buying himself more market share on a team that's stacked with weapons. It could be a situation that may not come to fruition this season. Hardman's WR42 ADP ranks higher than proven players like Mike Williams and Golden Tate.
PFF's fantasy projections anticipate more of a workload for Hardman, handing him a WR58 finish, but not enough to justify his WR42 price tag. Another positive for the Chiefs' receiving corps is its 10th-ranked schedule, per PFF's SoS metric.
During Weeks 13-17, Higbee led all tight ends with his 54 targets, 43 receptions, 522 receiving yards, 270 yards after the catch, 13 explosive pass plays and 107.2 total points. His 0.31 points per snap ranked third among all tight ends, too. The issue with this random increase in market share and usage was that it was somewhat fluky, as the Rams saw multiple skill position players suffer major injuries. During Weeks 1-12, fellow tight end Gerald Everett had 53 targets to Higbee's 32, outproduced him in receiving yards (408 to 212) and had better ranks in aDOT and receiving yards per reception. And this doesn't even mention the other multitude of injuries and decreased market shares of the Rams' receivers:
Higbee went off weeks 13-17. Look at the target share among the weapons:

Woods: 59 targets
Higbee: 56 targets
Kupp: 30 targets
Cooks: 23 targets
Gurley: 17.3 rushes per game, 14 targets
Everett: 3 targets

Higbee's usage/production doesn't seem very sustainable at all to me.

— Sosa K (@QBsMVP) February 20, 2020
PFF's fantasy projections strongly disagree with this assessment, as the expectation is for Higbee to rank sixth in tight end scoring (compared to his TE7 ADP).
The amount of capital invested in Herbert would surely suggest he's likely to see the field at some point in his rookie season, but the competition will be fierce with Tyrod Taylor receiving first-crack at the starting quarterback job. Taylor has proven to be a high-floor, safe option at the position, ranking well in the past as a starting quarterback. At this point, Herbert is best-served as a waiver-wire player with some potential, barring any playing time.
PFF's fantasy projections expect Herbert to outproduce Taylor, with their rankings landing at QB31 and QB34, respectively. PFF's SoS metric ranks the Chargers' quarterback schedule as the 10th-easiest in the league in 2020.
Even though Ruggs isn't the most pro-ready option, there may not be a player with more game-breaking ability from the 2020 draft class. The issue with Ruggs' current ADP is that it's slotted ahead of proven and productive veterans such as Golden Tate, Robby Anderson and Sammy Watkins. Ruggs' 2.46 yards per route run ranked fourth among the receivers at Alabama last season, and the Raiders ranked 21st in pass attempts, 29th in deep pass attempts (20-plus yards downfield) and 27th in deep pass attempt percentage. While those numbers are likely to increase with a talent like Ruggs now on the team, the Raiders are far from a dangerous passing attack.
Ruggs' current ADP of WR50 lands him nearly in the exact same spot as PFF's fantasy projections, which rank him as WR51. Expect some hiccups for the rookie, which could ultimately lead to a slow start in the fantasy football world.
Like Higbee, Parker's season was a tale of two halves — Parker ranked 36th among receivers in total points during Weeks 1-10 but ranked second during Weeks 11-17. During that first half of the season, fellow receiver Preston Williams out-targeted Parker 59 to 57, with the two nearly producing the same stat lines across the board. Ironically, Williams' season-ending injury allowed Parker to receive a far greater market share in the remaining weeks, though his play also improved significantly. The Dolphins are likely to have a quarterback battle on their hands, which could certainly dampen the chemistry between Parker and former starter Ryan Fitzpatrick. Lastly, Miami spent a ton of resources in an attempt to re-shape its roster over the offseason — this is important because the Dolphins ranked sixth in the league in snaps (run and pass plays) while trailing and sixth in pass attempts while trailing in 2019. Positive regression could lead to fewer pass attempts, leaving all Miami receivers with fewer opportunities to score points.
PFF's fantasy projections rank Parker 27th in receiver scoring, which falls right in the same range as his current WR25 ADP.
The potential holdout of starting running back Dalvin Cook has surely raised Mattison's stock, but it shouldn't — Cook was clearly one of the best backs in football in 2019, and he received a workload worthy of an RB1. Mattison's 100 rushing attempts ranked second on the team, doubling up on Mike Boone's 49 attempts. The main issue for Mattison is the lack of receiving upside, as he registered only 11 targets in 2019 and actually saw eight fewer targets than Ameer Abdullah. Barring any injury, Mattison's value likely won't increase by much in 2020, though he does offer a very nice option as a handcuff to Cook.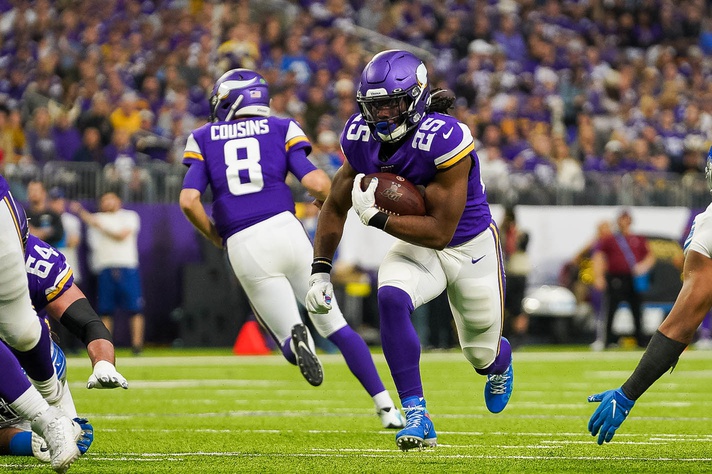 According to PFF's fantasy projections, Mattison is not likely to prove worthy of his RB44 price tag, as he's projected to rank 55th among running back scoring in 2020.
Sanu's ADP is nearly free, which makes him a tough target to knock. His value isn't really terrible, but he offers much less upside than the remaining receivers who surround him in ADP. From Week 8 onward (when he joined the Patriots), Sanu ranked 71st in total fantasy points, 82nd in points per snap and 100th in points per touch among receivers. Over that same time frame, Sanu collected the second-most targets among the Patriots' wide receivers (45), but it wouldn't be a surprise if youngsters N'Keal Harry and Jakobi Meyers surpassed him in usage in 2020. Sanu's 58.5 PFF grade in 2019 ranked last among the team's receivers and 100th among all qualifying receivers.
PFF's fantasy projections strongly disagree, ranking Sanu as the WR63 in 2020 (compared to his WR84 ADP). The positive for Sanu — and his teammates — is their seventh-ranked schedule, according to PFF's SoS metric.
The Saints don't have a clear-cut bad value option, though Murray could ultimately see his workload scaled back with starter Alvin Kamara fully healthy and the addition of receiver Emmanuel Sanders. Murray played 410 snaps in 2019, with Kamara registering 591. Kamara's presence could lead to reduced receiving upside for Murray and his 42 targets from 2019, especially if Sanders is also used as a short-game passing option. Even with the new additions, Murray is an option absolutely worth rostering, as the Saints have shown a willingness to operate in a two-back system. Treat Murray as a great handcuff option, just like the names that surround him in ADP.
PFF's fantasy projections expect an RB46 ranking from Murray in 2020, nearly falling exactly in line with his RB45 ADP.
All three of the Giants' primary receivers are intriguing options, but it's Slayton's price tag that is the most expensive, even though their workloads were incredibly similar in 2019. Slayton's WR41 ADP is higher than both Sterling Shepard's WR48 ADP and Golden Tate's WR52 ADP, yet all three players collected between 80-83 targets in 2019, with Slayton coming in third (80 targets). Slayton's usage involved more of a downfield presence, with his team-leading 14.3 aDOT. Still, Tate and Shepard fell only 25 total points short of Slayton, and both players played in three fewer games. All of these guys represent decent options, though the cheaper two options in Shepard and Tate make more sense at their values.
One hurdle for this entire receiving corps to clear is its 30th-ranked schedule, per PFF's SoS metric. In addition, Slayton's WR45 ranking is right in range with Tate's WR43 ranking and Shepard's WR48 ranking, according to PFF's fantasy projections.
Mims is the selection for worst value on the Jets, but only because they don't really possess any players with egregiously bad values. With Jamison Crowder and Breshad Perriman in the fold, it's hard to envision a strong market share for Mims in his rookie season. Mims is best served as a deep threat (14.8 aDOT in 2019), which is an issue, as Perriman was one of the most productive deep threats in the league last season (sixth in points per touch, 18.8 aDOT). In addition to a potential lack of usage, the Jets ranked 20th in pass-play percentage (61.3%) and 22nd in passing attempts (521) in 2019.
PFF's fantasy projections agree with Mims' assessment, ranking him 87th in wide receiver scoring (WR72 ADP). The Jets' 25th-ranked wide receiver schedule won't make things any easier, either.
Although Goedert put together a really solid 2019 campaign, it would come as no shock to see his target share dip after all of the additions the Eagles made to their receiving corps this offseason. The team is loaded with weapons, in addition to having Zach Ertz slot in as the TE1 on the depth chart. Goedert ranked 10th in total points, 17th in points per snap and 25th in points per touch among all tight ends in 2019. Goedert's 78 targets ranked second on the team — much of which had to do with the insane number of injuries suffered by the Eagles' skill position players. Expect that workload to decrease in 2020 after the additions of Jalen Reagor and the return of two potentially healthy players in DeSean Jackson and Alshon Jeffery.
PFF's fantasy projections anticipate a step back for Goedert in 2020, ranking him 26th in tight end scoring, which is far less than his TE17 ADP suggests.
Samuels comes with a nearly-free ADP — and even still, he probably isn't worth rostering at this point in time. Samuels' 54.4 overall PFF grade in 2019 is a concern (ranked 55th out of all qualifying running backs). He struggles to break tackles, to create after contact and to produce as a receiving option out of the backfield (ranked fifth among running backs on the team in receiving yards per reception). The Steelers invested in running back Anthony McFarland Jr. in the 2020 NFL Draft and finally have starter James Conner nursed back to health, potentially lessening Samuels' workload even further.
PFF's fantasy projections believe Samuels offers good value, as his RB63 ranking far supersedes his RB72 ADP.
Even at 35 years old, Olsen put together a really solid performance in 2019, as he ranked 13th in total points, 23rd in points per snap and 43rd in points per touch among all tight ends. Don't expect Olsen to receive the same target share with his new team after his 81 targets with the Panthers in 2019 ranked ninth among tight ends. Olsen will now have to fight for playing time with promising and efficient youngster Will Dissly, in addition to sharing targets with receivers Tyler Lockett and D.K. Metcalf. The Seahawks are one of the least pass-happy offenses in the NFL, as they ranked 26th in pass-play percentage in 2019.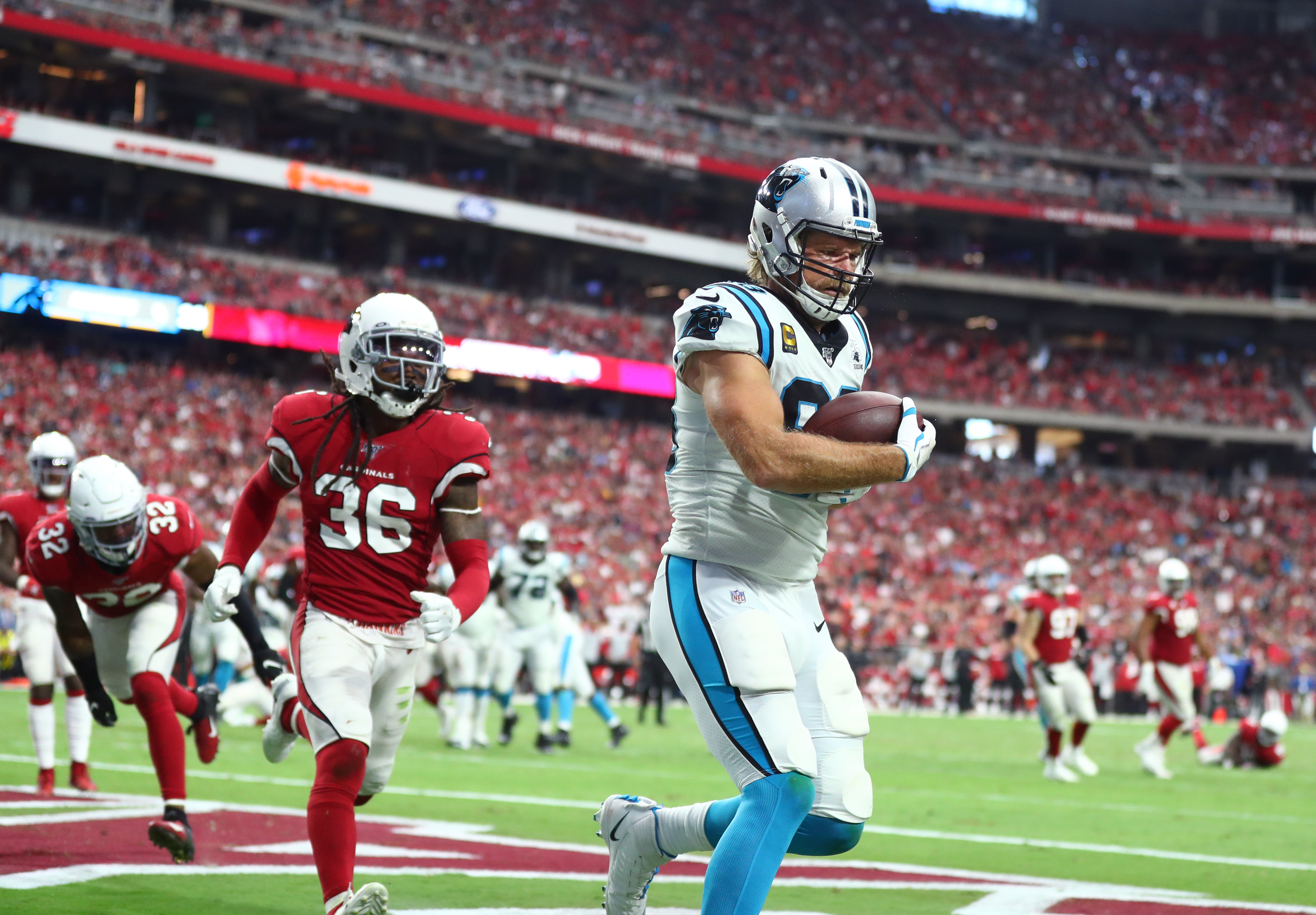 Olsen is projected to have another decent season according to PFF's fantasy projections, which rank him 29th among tight ends in scoring.
Unfortunately for Samuel, his listing here has nothing to do with his ability and everything to do with his recent injury. The potential for Samuel to miss multiple games is real, and it could ultimately turn into missing a major chunk of the season:
#49ers GM John Lynch says on @KNBR that he won't put a timeline on Deebo Samuel's return from a broken foot. But he said, "It's fair to say he might miss some games at the beginning of the year."

— Matt Barrows (@mattbarrows) July 28, 2020
PFF's fantasy projections have Samuel ranked as the WR32 (based on a full 16-game schedule).
Howard is one of the more intriguing young talents at tight end leaguewide, but the addition of Rob Gronkowski will surely put a cap on whatever ceiling he possesses. With finishes of TE28, TE15 and TE20 over the past three seasons, Howard has yet to reach his peak capability as a fantasy option. Dating back to 2013, only two quarterbacks have attempted more passes to tight ends than Tom Brady and his 753 pass attempts. While that number may provide hope for Howard truthers, it's Gronk who will most likely reap the rewards.
PFF's fantasy projections expect Howard to rank 27th among tight end scoring, which falls in the same range as his ADP (TE25). The Buccaneers' tight end schedule ranks as the 29th-easiest in 2020, according to PFF's SoS metric.
While Humphries isn't actually a bad value pick at this spot, it probably pays more to take a shot on a riskier play at this position as opposed to settling for a player of his caliber. Humphries' 47 targets ranked third among the receivers on the Titans' roster, but it's his low aDOT of 7.3 yards that severely handicaps his ability to create chunk plays or high-scoring plays.
PFF's fantasy projections rank Humphries as the WR75. That outcome would provide fantastic value compared to his WR111 ADP.
Washington is a roster littered with weapons at the running back spot, from promising players like Derrius Guice to veterans like Adrian Peterson. The tricky part of the equation is figuring out what role Gibson may be equipped to handle, as he registered only 77 touches throughout his college career, both as a rusher and receiver. Figuring out a role for Gibson — or even a position — makes it tough to project what kind of output the rookie may be able to provide.
PFF's fantasy projections project Gibson at WR and provide him with a ranking of WR84, which comes in far behind his ADP of WR66. The schedule will do Gibson nor his teammates any favors, as PFF's SoS metric ranks their schedule as the 26th-easiest in 2020.