Touchdowns can be a fickle beast. Jacksonville Jaguars running back Leonard Fournette scored three touchdowns on 341 touches last season — fewer TDs than Brandon Bolden, Qadree Ollison and Darrel Williams scored on 103 touches combined. 
Sometimes players with big workloads — the ones we expect to score touchdowns — fail to live up to expectations. Because of how volatile touchdown scoring can be year to year, chasing volume and touches is a better method for predicting player outlooks for the 2020 NFL season.
Subscribe to PFF's EDGE or ELITE subscriptions to get access to the following tools, charts, etc. 
– All Premium Article Content
– Fantasy Football Rankings & Projections
– Fantasy Football Draft Guide, Cheat Sheets & Advanced Stats
– Fantasy Football Mock Draft Tool (DraftMaster)
– Fantasy Football Strength of Schedule Matrix
– NFL Player Grades
– NFL Premium Stats
For that reason, I removed all touchdown production from the skill positions in 2019 to look at which players posted the best numbers without scoring buoyancy — and which ones earned the touchdown-or-bust scarlet letter.
Running Backs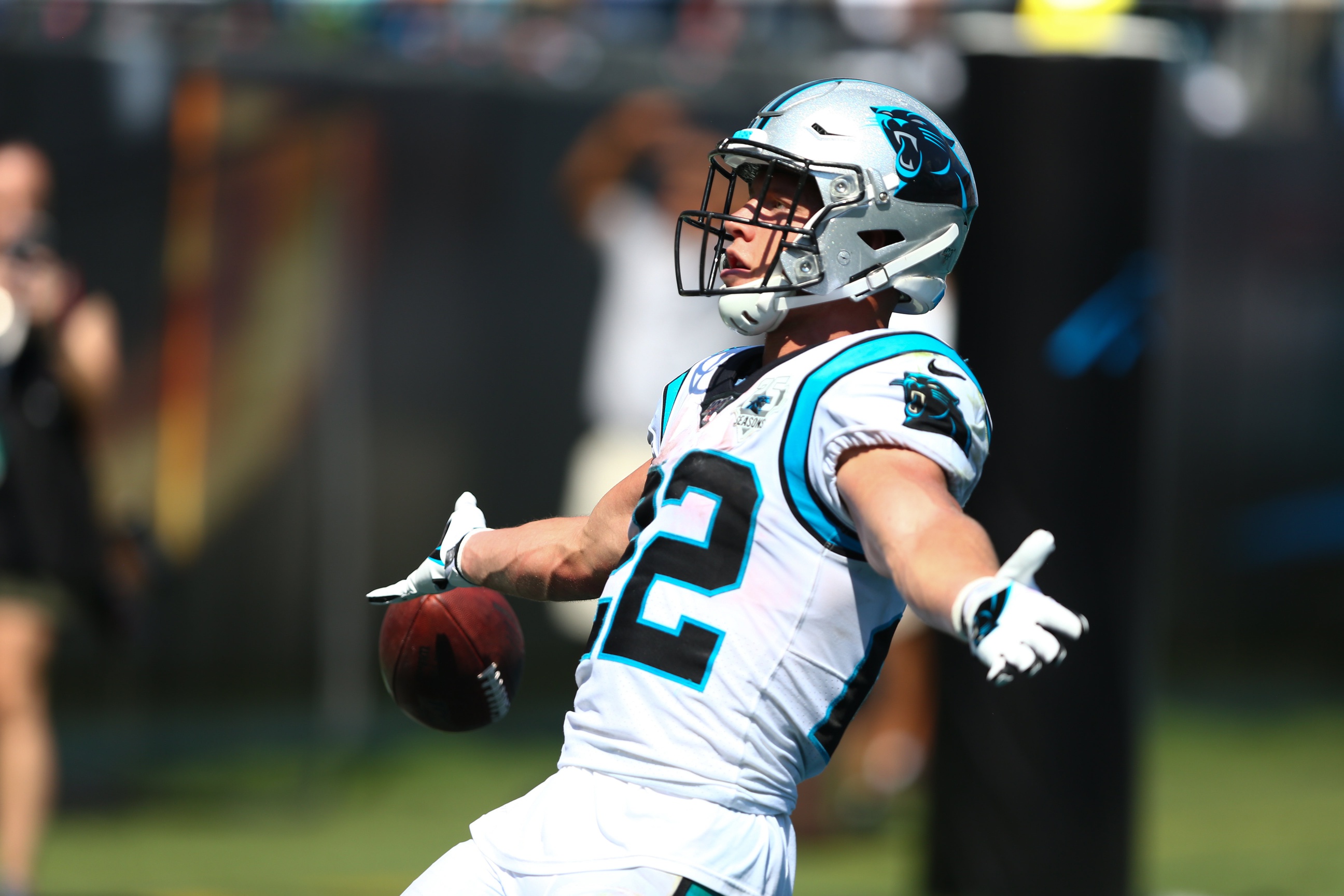 If you remove Christian McCaffrey's 19 touchdowns from 2019, he would still have finished as the RB1 with 355.2 PPR fantasy points. Safe to stay, CMC does not even need to repeat his 2019 efforts to be deserving of the 1.01 overall pick across all fantasy formats.
Total PPR points without TDs in 2019 (RBs)
| | |
| --- | --- |
| Christian McCaffrey | 355.2 |
| Austin Ekeler | 247.0 |
| Leonard Fournette | 243.4 |
| Ezekiel Elliott | 231.6 |
| Dalvin Cook | 218.4 |
| Alvin Kamara | 214.0 |
| Nick Chubb | 213.2 |
McCaffrey's 19 combined TDs tied Aaron Jones for the league lead, but McCaffrey's touchdown scores accounted for 24% of his total fantasy points whereas Jones' accounted for 36% — the fifth-highest rate among qualifiers. 
Highest Percentage of PPR points from TDs in 2019 (RBs)
| | |
| --- | --- |
| Todd Gurley II | 38% |
| Jordan Howard | 38% |
| Mark Ingram II | 37% |
| Derrick Henry | 36% |
| Aaron Jones | 36% |
| Raheem Mostert | 35% |
| Tevin Coleman | 31% |
The addition of second-round pick A.J. Dillon to the Packers' backfield poses a severe threat to Jones' touchdown upside in 2019. The 250-pound bruising back will surely see his fair share of carries near the end zone. This entire list, in fact, should be approached cautiously in fantasy drafts.
In 2018, among the 14 running backs who finished with over 30% of their fantasy production from touchdowns, only five — Todd Gurley, Derrick Henry, Aaron Jones and Jordan Howard — duplicated their efforts in 2019. 
Henry has been super touchdown reliant over the past two seasons. With no inclination of an increase in his workload as a receiver, he looks like a tough bet to pay off his ADP as RB7 in 2020. 
If a TD-dependent running back is going to see limited opportunities at the goal line, he probably should be faded. The Miami Dolphins will not be a prolific offense in 2020 (hot take), so you will want to stay as far away from Howard as possible.
Lowest percentage of PPR points from TDs in 2019 (RBs)
| | |
| --- | --- |
| Miles Sanders | 17% |
| Devin Singletary | 16% |
| Alvin Kamara | 14% |
| Gus Edwards | 13% |
| Frank Gore | 13% |
| Matt Breida | 11% |
| Le'Veon Bell | 11% |
| Leonard Fournette | 7% |
The other Dolphins' running back, Matt Breida, could potentially be a sneaky target later in drafts. His 2019 production was barely tied to touchdowns, which significantly differed from every other San Francisco running back — Jeff Wilson Jr. (64%), Raheem Mostert (35%) and Tevin Coleman (31%) were all above the 30% clip in 2019.
Alvin Kamara's touchdown totals from his first two seasons nosedived, but that did not stop his overall fantasy production. He finished sixth in total fantasy points without touchdowns. With Kamara fully healthy in 2020 and his touchdowns likely to regress positively toward his totals in his first two seasons, you should feel stoked to get Kamara at the top of the first round.
The other running backs to call attention to are Miles Sanders, Le'Veon Bell and, of course, Leonard Fournette, who helped us kick off this article. Sanders was already producing fantasy points without the aid of touchdowns. With Howard gone, he should continue to rack up even more fantasy points with additional chances to score. 
Bell and Fournette are a bit trickier to decipher because their offenses don't project well for the 2020 season. Even though Fournette finished as the No. 3 running back in fantasy football without touchdowns, I am not confident in him delivering on third-round draft capital. It's highly unlikely we see the same workload based on his inefficiency in 2019. Plus, I see Fournette and Bell in a similar vein — bell-cow backs on bad offenses — but Bell goes one round later, so I lean toward the value.
Another noteworthy point is that the lead running back in Kansas City over the past two seasons has had a high percentage of fantasy points from touchdowns: Kareem Hunt in 2018 (36%) and Damien Williams in 2018 (36%) and 2019 (29%). In an offense led by the best quarterback on the planet, you can be confident this trend continues for Clyde Edwards-Helaire in 2020.
Wide Receivers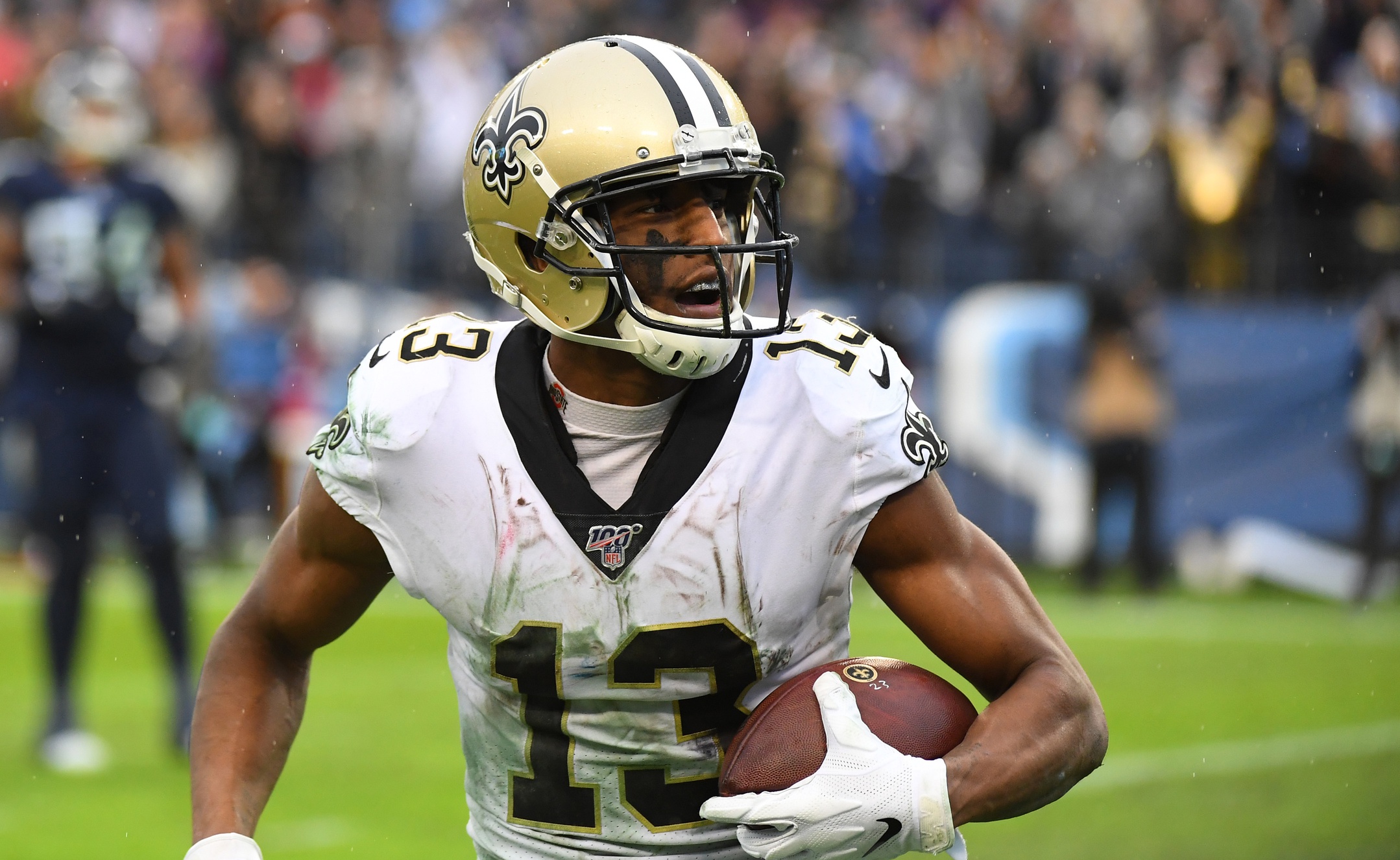 Like CMC, Michael Thomas' season was indeed one for the ages. Remove all his touchdowns and he still would have finished No. 1 overall. Wide receivers score so many points from receptions that touchdowns are not as integral to their overall performance. Robert Woods scored just two touchdowns last season and still finished as the WR14.
Total PPR points without TDs in 2019 (WRs)
| | |
| --- | --- |
| Michael Thomas | 320.6 |
| Julio Jones | 238.1 |
| Keenan Allen | 225.5 |
| DeAndre Hopkins | 222.3 |
| Chris Godwin | 220.1 |
| Robert Woods | 214.9 |
| Julian Edelman | 214.4 |
I've been advocating for Woods all draft season because of the security he offers. His rank as the sixth-highest receiver when you remove touchdowns just further solidifies that argument. He does not need to score to be a productive fantasy asset — he's house money if he ever starts to see the end zone regularly. 
Highest percentage of PPR points from TDs in 2019 (WRs)
| | |
| --- | --- |
| Adam Thielen | 37% |
| Willie Snead IV | 32% |
| Kendrick Bourne | 31% |
| Mecole Hardman | 31% |
| Phillip Dorsett | 30% |
| Tajae Sharpe | 29% |
| Steven Sims | 29% |
| Marquise Brown | 29% |
| Darius Slayton | 28% |
| Marvin Jones Jr. | 28% |
In terms of raw fantasy points, Kenny Golladay saw the most significant drop off in overall rank after leading all wide receivers with 11 scores, but he still put up WR2 numbers outside of his touchdowns. His percentage of fantasy points from touchdowns (26%) ranked 12th. Without them, he would have finished as the WR17.
His teammate, Marvin Jones Jr., was slightly more touchdown-dependent, ranking 10th (28%) out of wide receivers with at least 25 receptions. He also saw the third-highest difference in fantasy points among wide receivers from touchdowns. 
The list above features plenty of typical boom-or-bust receivers who should not be the core build of any rosters. If these players don't see an uptick in volume in 2020, there are going to be some tough start/sit decisions come September.
In 2018, 11 wide receivers finished with over 28% of their fantasy production stemming from touchdowns — none of duplicated their efforts in 2019. Jones was closest at 26% in 2018.
Adam Thielen is the clear-cut No. 1 wide receiver for the Minnesota Vikings — given that he is healthy in 2020, he should again see a high touchdown percentage. Marquise Brown looks ready to break out as Baltimore's No. 1 receiver, so he is another player we can confidently project a big workload. 
The guys who are more worrisome are Marvin Jones, Darius Slayton, Steven Sims and Mecole Hardman. Matthew Stafford is not going to keep the same pace as last season, so I'm hesitant to buy into him supporting Jones, Golladay and the emerging T.J. Hockenson.
Daniel Jones is already a volatile quarterback, so mixing him with Slayton could scream disaster. Sims' narrative is that he is a sleeper with upside, but he scored all four of his touchdowns in the last three weeks of the season.
Hardman is the most difficult to evaluate because his upside in the Chiefs offense is rocket-high, but until we see him command targets in the offense, he is going to be tough to start weekly. It may sound surprising, but Hardman did not even have that many "boom" weeks in 2019 — he posted just one top-20 wide receiver performance.
Lowest percentage of PPR points from TDs in 2019 (WRs)
| | |
| --- | --- |
| Odell Beckham Jr. | 12% |
| Christian Kirk | 11% |
| D.J. Moore | 10% |
| Brandin Cooks | 10% |
| Mohamed Sanu | 10% |
| Anthony Miller | 9% |
| Robert Woods | 8% |
| Mike Williams | 7% |
Instead of taking a late-round flier on players who produced solely on the backs of touchdowns, consider players with sneaky upside and more stability. Mike Williams is vastly undervalued, and the same goes for most players on this list. Christian Kirk is on the consensus breakout team of 2020, and he is behind Deebo Samuel and his broken foot in ADP (WR39).   
Fantasy drafters aren't clamoring for these guys, but they've all shown the ability to stay involved in an offense and to put up fantasy points. The ones going late could easily see some positive TD regression — or luck — and spike. For the more high-profile players (Odell Beckham Jr., D.J. Moore), even with ADPs inside the top-11 receivers, they're a strong bet to outproduce their draft cost.
Tight Ends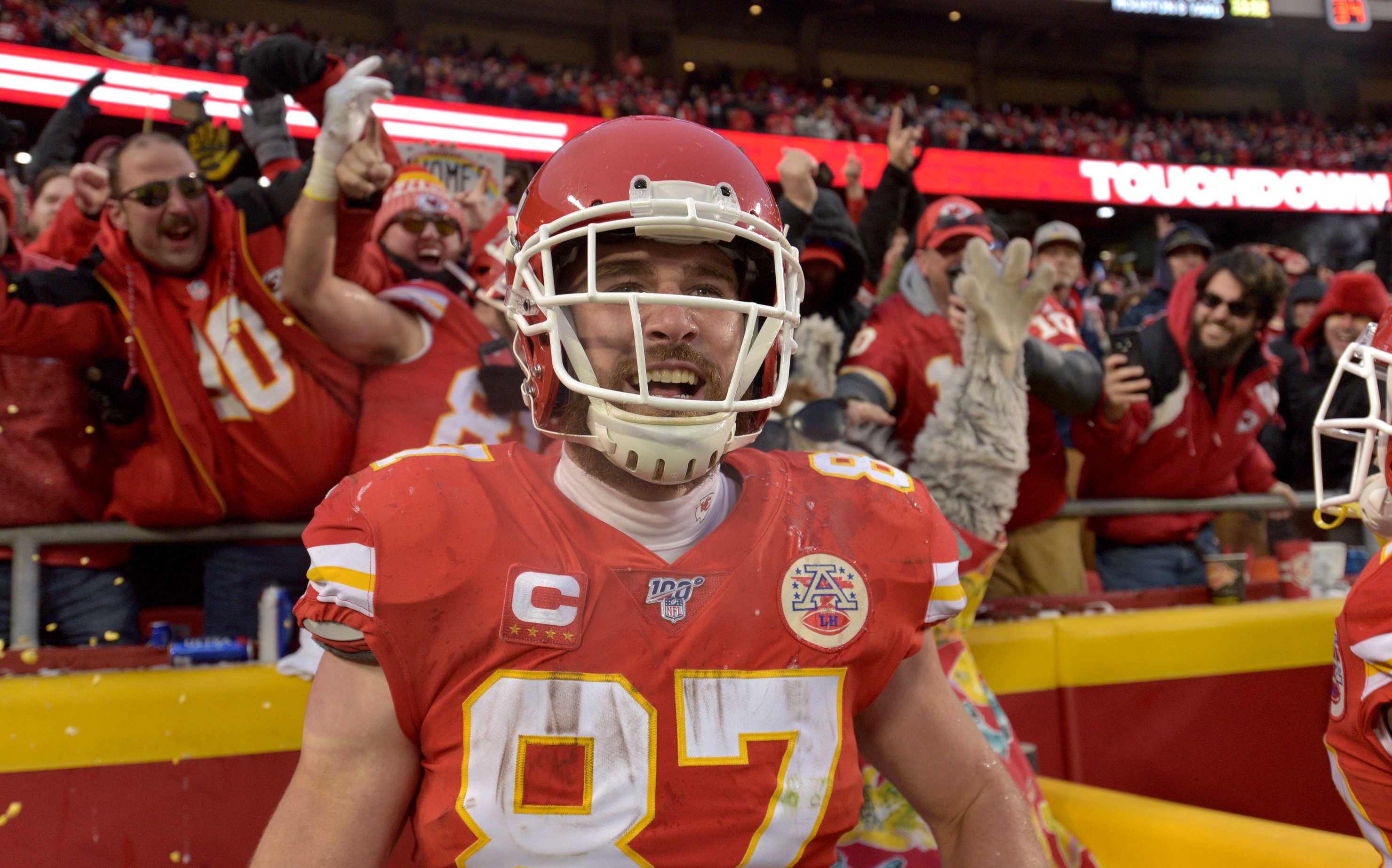 Total PPR points without TDs in 2019 (TEs)
| | |
| --- | --- |
| Travis Kelce | 220.3 |
| Darren Waller | 205.1 |
| George Kittle | 192.5 |
| Zach Ertz | 179.6 |
| Austin Hooper | 153.7 |
| Mark Andrews | 149.2 |
| Tyler Higbee | 142.4 |
| Hunter Henry | 120.2 |
| Dallas Goedert | 118.7 |
| Jason Witten | 115.9 |
Darren Waller got sniped in the end-zone by Foster Moreau in 2019. Had those touchdowns gone Waller's way, he could have beaten out Travis Kelce as the TE1. Though his scores should increase in 2020, my biggest concern for Waller is that he will not see the same type of target volume with all the new pieces added to the Las Vegas Raiders' offense.
This table also tells me that Dallas Cowboys' Blake Jarwin is still such a great value. Jason Witten was a solid producer last season and was not touchdown dependent. Jarwin's floor in the Dallas offense might be safer than you think, and we know Jarwin can deliver more big plays.
Highest percentage of PPR points from TDs in 2019 (TEs)
| | |
| --- | --- |
| Foster Moreau | 44% |
| Taysom Hill | 42% |
| Ross Dwelley | 33% |
| Will Dissly | 32% |
| Jared Cook | 32% |
| Kyle Rudolph | 32% |
| Ryan Griffin | 31% |
| Mark Andrews | 29% |
| Josh Hill | 27% |
| Cameron Brate | 26% |
Unless head coach Jon Gruden has an affinity for Moreau, the percentage of fantasy points (44%) from touchdowns cannot continue into 2020.
Eight tight ends in 2018 had over 25% of their fantasy production from touchdowns — only Cameron Brate was above 25% both seasons, but even his fell drastically (38% vs. 26%).
These are real big flags for guys like Jared Cook and Kyle Rudolph, as they are the definition of touchdown-or-bust at the tight end position. Rudolph, specifically, saw most of his touchdowns during the second half of the season when the Vikings were without Thielen.
I would not be concerned with Mark Andrews, as his situation is similar to Marquise Brown. He is still going to see plenty of volume in 2020, and with the Baltimore Ravens a candidate to throw more in 2020, he should be good to go.
The table also spotlights Brate as potentially arbitrage play on Rob Gronkowski — if and when Gronk suffers an injury, Brate would be a heavy favorite for looks in the end-zone.
Lowest percentage of PPR points from TDs in 2019 (TEs)
| | |
| --- | --- |
| T.J. Hockenson | 15% |
| Travis Kelce | 14% |
| George Kittle | 13% |
| Gerald Everett | 13% |
| Jordan Akins | 13% |
| Tyler Higbee | 11% |
| Jeremy Sprinkle | 11% |
| Greg Olsen | 10% |
| Darren Waller | 8% |
| O.J. Howard | 7% |
O.J. Howard is another Tampa Bay tight end who could benefit from a Gronkowski injury. He destroyed fantasy teams (including mine) as a fourth-round pick who was total dust all season. But all the efficiency metrics are still great for Howard — over the past two seasons, he ranks first in yards per reception (15.5) and sixth in receiving plays over 15 yards (33) among tight ends with at least 70 targets.
Considering he was the tight end least-reliant on touchdowns, you just can't ignore him as the TE25 in drafts, especially considering the Buccaneers will run a substantial amount of 12 personnel in 2020.
Final Thoughts
If you hadn't noticed by now, Todd Gurley has been an absolute touchdown hog for the Los Angeles Rams. Almost all the other Rams wide receivers and tight ends have scored fantasy points through receptions and yardage because Gurley has gobbled those extra six points.
Gurley's departure could potentially open those touchdowns to other players. I favor Robert Woods and Gerald Everett, but it would be wise to leave drafts with at least one L.A. player — any of them could be the one who cashes in big time in the touchdown department.