Obviously, a lot happens each week in the NFL. Less obviously, some of it means a lot for fantasy football and some doesn't. Each week in this space, I'm running through the key lessons from each game.
This is what we learned in the Week 3 games.
Unleashing the Chark-nado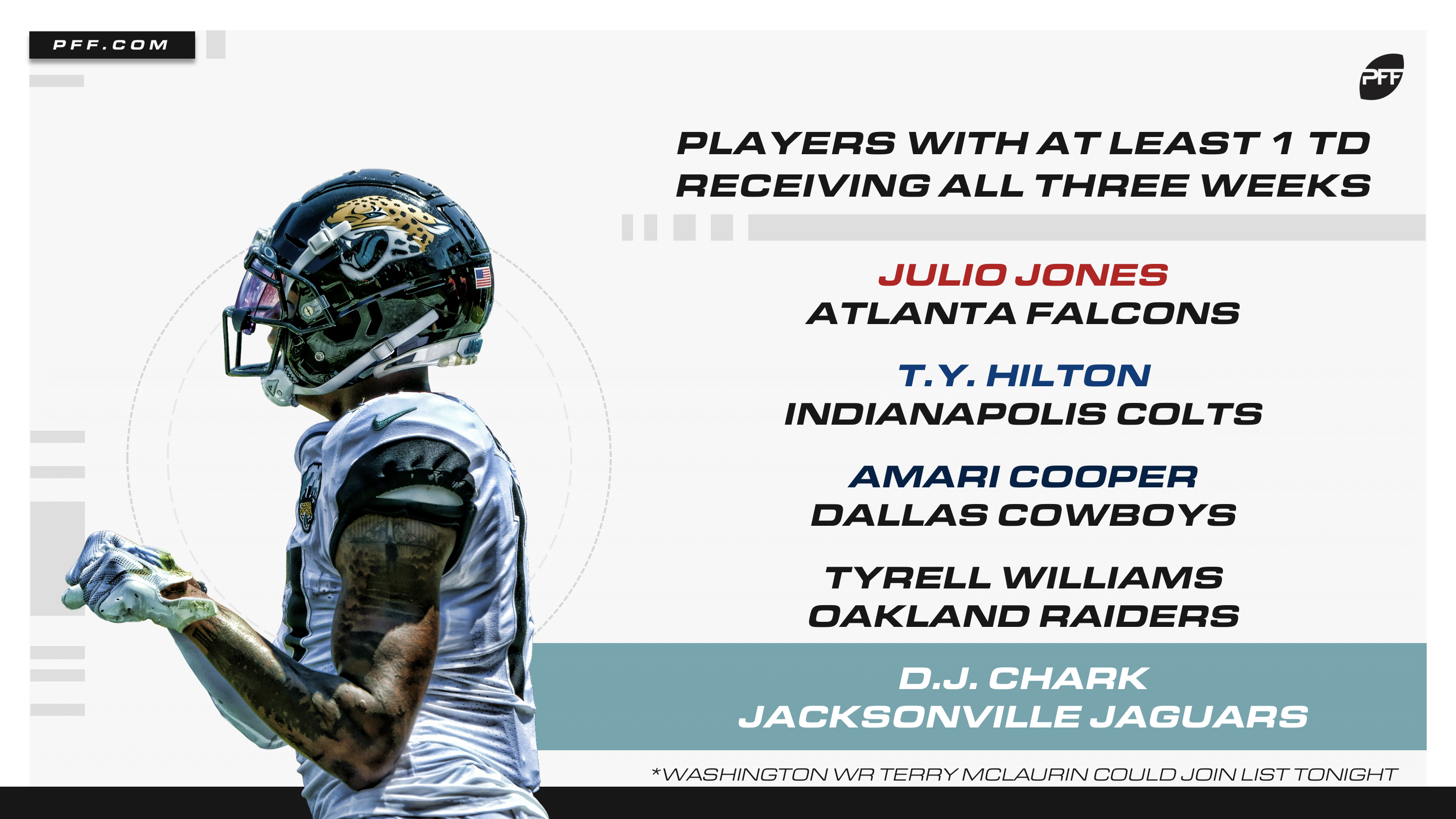 (I chose Chark-nado because everybody uses "Baby Chark" and I want to be different.) D.J. Chark is three games into his 2019 season, and he's three touchdowns into his season as well, scoring in each week so far. Dede Westbrook (19) and Leonard Fournette (20, believe it or not) still have more targets than Chark's 18, so he's not the runaway No. 1 target in this offense yet, but he's played himself into strong flex territory.
Tannehill time?
I was the high man on Marcus Mariota entering the season, based far more on his revamped collection of targets than on any great belief in his own talent. Through three weeks, though, Mariota has not made good on his weaponry. After a wholly competent Week 1 that included three touchdown passes (helped by the Browns falling flat), Mariota has one touchdown pass in two weeks since and hasn't had a PFF passing grade of even 60.0. If it isn't Ryan Tannehill time in that offense now, it's got to be soon. And for that reason, I'm still holding on Corey Davis, and I probably will until it kills me (so, like three more weeks).
The old man's still got it
It feels dirty to invest in Frank Gore in fantasy, but there's no real reason not to in the right matchup. Sunday, he took advantage of a porous Bengals defense to the tune of 89 scrimmage yards and a score, averaging 5.4 yards per carry. Negative gamescript will keep Gore in check in games the Bills are trailing, because T.J. Yeldon and/or when-healthy Devin Singletary will catch passes, but with the Bills off to a 3-0 start and looking better than expected, Gore might have decent gamescripts. He's a fine flex play most weeks.
Auden Tate? Auden Tate
Okay, no one saw this coming. We don't have a set number of receivers each person ranks on our PFF Fantasy staff rankings page, but our Jeff Ratcliffe went 121 wide receivers deep and didn't mention Tate, and no one else did either. The seventh-rounder from a year ago had 15 career targets entering Sunday and was a healthy scratch in Week 1, but then had an out-of-nowhere 9 targets, 7 receptions, and 88 yards against the Bills. And that's all well and good, but no, you are not picking up Auden Tate. Not unless we see this at least one more time, and probably more than that.
Without Gallup, it's a one-man passing attack
Especially given the appealing matchup, we thought Michael Gallup's absence might open the door for Randall Cobb or Devin Smith to put up numbers. But those two combined for 62 yards on four receptions, while Amari Cooper was still the man, scoring twice and going for 88 yards. Until Gallup is back, Cooper is the only Dallas pass-catcher you want unless it's a really deep league.
Preston Williams, if you want
The party line so far this season has been that you don't want any Dolphins, at all, no matter what, under any circumstances. That's still far more true than not, but Williams has reached at least 10 PPR points in each of his first three career games (11.4, 10.3, 10.8), and cracked double-digit targets Sunday. As a bye week fill-in type, Williams is perfectly fine to own and use in a pinch.
The Packers are winning, but Aaron Rodgers isn't doing you any favors
Green Bay is 3-0. Superstar, drafted-in-the-top-three-at-the-position quarterback Rodgers has 647 passing yards, 4 touchdowns, and 7 rushing yards in that run. This is a team that has been carried by its defense so far (35 points allowed in three games) and just asking Rodgers to do enough to win the game. He's doing that, to be sure, but it's very much not what people who drafted him were hoping for. He's at best a borderline QB1 right now.
Speaking of teams carried by their defense, the Broncos aren't
Denver isn't a sieve on defense by any means. Allowing 67 points in three games isn't great, but it's not awful. But between the cachet Denver had by still being Denver and the arrival of Vic Fangio as head coach, there was hope this could still be an above-average fantasy defense. Instead, there are those aforementioned 67 points allowed, along with zero takeaways and zero sacks. That's abysmal production from any defense, let alone you are theoretically starting. Bail.
Jacoby Brissett isn't Andrew Luck, but …
Brissett didn't total a lot of yards his first two weeks, with 336 across two games, but he did have 5 touchdowns against a single interception. Sunday, he added two more touchdowns to that total without an interception and nearly set a career-high in passing yards (310, career-high is 314). Until Brissett shows he can total that sort of yardage regularly (and that could be difficult depending on T.Y. Hilton's health), he's not on the radar in single-QB leagues, but he's firmly in two-QB and superflex range.
Julio Jones, WR1
Midway through draft season, I took the plunge and moved Jones to the No. 2 slot in my wide receiver rankings, between DeAndre Hopkins at No. 1 and Davante Adams at No. 3. So far, I'm regretting that … because I wasn't high enough. He's up to 30 targets in three weeks, has 265 yards, and most crucially for former Julio haters, he has four touchdowns in three games. Just like it wasn't realistic to think that Jones had some insane aversion to the end zone, it would be insane to think that he's going to keep this scoring pace up, but with the head start he already has, I'm saying Jones is going to end the year as the WR1, and I'm saying it confidently.
It doesn't really matter who you play … except Darwin Thompson
Mecole Hardman has back-to-back big games. So does Demarcus Robinson. Travis Kelce is a known quantity, and Sammy Watkins is getting enough targets that he'll produce. Tyreek Hill will be fine whenever he gets back. Damien Williams went down, and LeSean McCoy produced, and then McCoy went down and Darrel Williams topped 100 yards from scrimmage. Basically, if you have a share of the Chiefs offense, you're enjoying it … unless it's Thompson, who now has six touches for 10 yards in his three games. He's fully droppable in any redraft league.
Mark Ingram, quality over quantity
Heading into Monday, there have been 35 player-games this season with 17 or more carries. Ingram possesses exactly zero of those games. Despite that, he's now leading the league with five rushing scores. The combined presences of Lamar Jackson and Gus Edwards will likely keep Ingram from reaching massive carries in a single game, but the overall efficacy of the Baltimore offense should keep Ingram firmly in starting territory, with him averaging 6.0 yards per carry in those three games.
No longer a 1-2 receiver punch
Adam Thielen is still putting up his numbers, even if they're below his ridiculous pace from last year. He's got at least 12.5 PPR points in all three games this year and scored twice on Sunday. But his running mate, Stefon Diggs, hasn't been able to get going. Diggs scored on his lone reception in Week 2, but in Weeks 1 and 3 combined, Diggs has only managed 5 receptions for 52 scoreless yards. He's caught all of his targets in those games but again … that's five. Thielen is still a mid-to-low WR2, but Diggs is falling off the starting radar.
In case you were wondering, Waller's a baller
It's not so much that Darren Waller had 134 yards Sunday. That's great, don't get me wrong, but big yardage is always on the table. It's more that Waller has now led the team in targets (or tied) in all three games this season, peaking with Sunday's 14-target outing that trailed only Keenan Allen around the entire league (entering Monday). The top tight ends are still the top tight ends, but Waller and Mark Andrews are firmly in the TE4-6 range now.
Dorsett might be worth some attention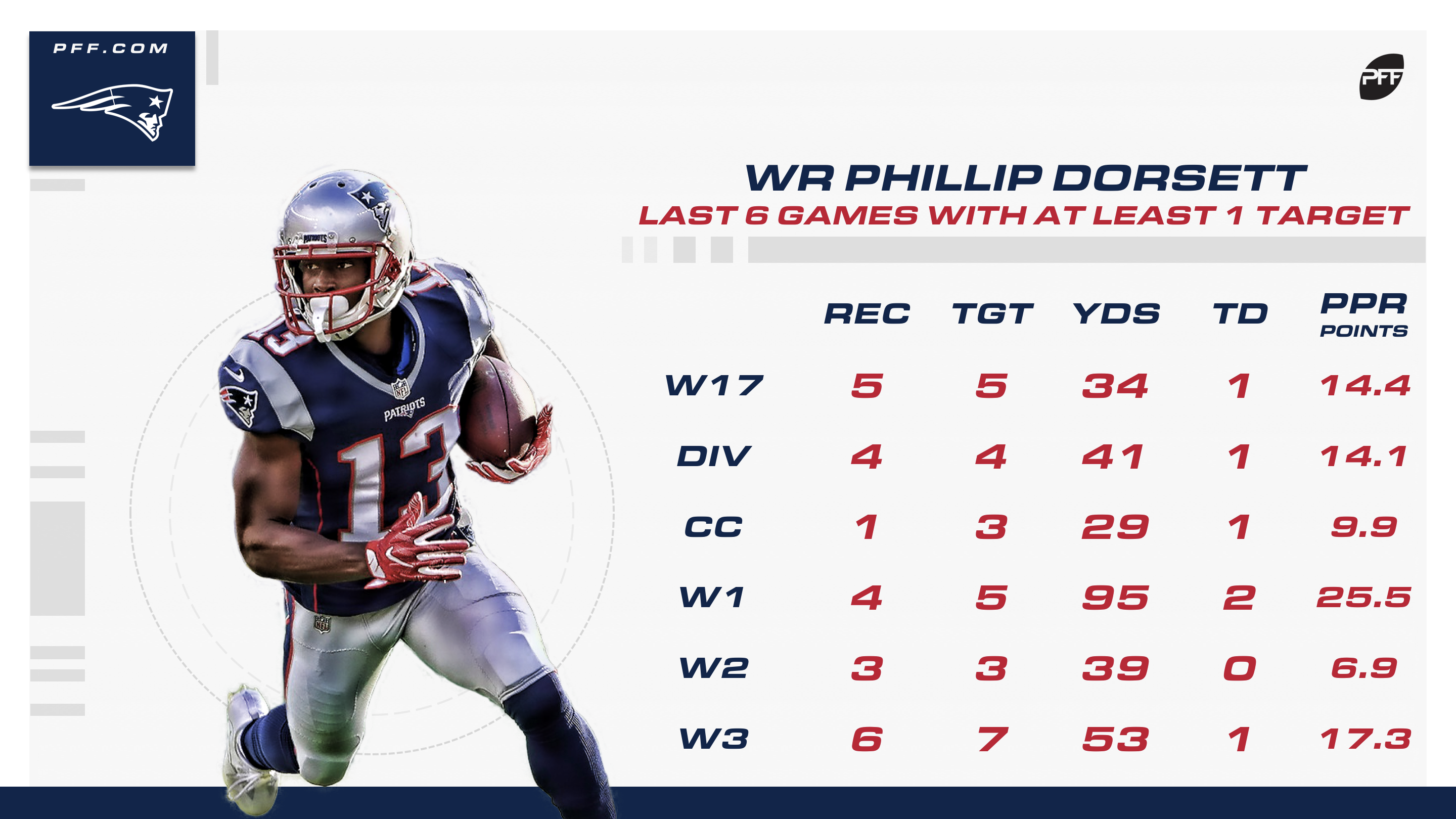 Phillip Dorsett hasn't always had a big role in this offense, but in the last six games in which he's received a target (counting last year's postseason), he's got 23 receptions on 27 targets for 291 yards and 6 touchdowns. Antonio Brown is gone now, while Julian Edelman was forced from this game due to injury and Josh Gordon got banged up as well (though he returned). At a bare minimum, Dorsett needs to be owned in all leagues after the way he's performed, and if Edelman misses time, Dorsett will be start-worthy.
The Jets are the Dolphins-north
If you just looked at the score, you might conclude that the Jets' offense was at least competent Sunday — 14 points is nothing to sneeze at against a stout Patriots defense. Except that the Jets' points came on a muffed Patriots punt and an interception thrown by Jarrett Stidham; the Jets' offense managed all of 105 yards as a team Sunday. Literally, Mike Evans had more yards in the first half than the Jets' entire team had all game. If you have Le'Veon Bell, you're stuck using him no matter what, but other than him, this team is a complete do-not-touch at least until Sam Darnold is back.
Kerryon Johnson getting saved by touchdowns
The Lions' starting running back has acceptable fantasy numbers through three games, averaging 12.1 PPR points per game, but on the ground he's been brutal, with 126 rushing yards on 48 carries (2.6 YPC) through the three games. All 36 of Johnson's rushing yards Sunday came after contact, which means 84.1% of his yardage for the year has come after contact. Until this line gives him a little more help, Johnson's ceiling is going to be very low.
We might not get backfield clarity in Philadelphia
Miles Sanders got the most backfield carries for the Eagles Sunday, but barely, 13-11 over Jordan Howard. Add in Darren Sproles' two carries, and Sanders got half of the team's running back carries and just over half the team's RB rushing yards. Sanders did lead the team in receiving, going for 73 yards on two receptions, but then Howard got a touchdown. Through three games, Sanders has 34 carries, Howard and Sproles combine for 36. Sanders has the highest ceiling here, but unless he really gets the role, it's going to be hard to buy in.
As long as Kyle Allen is starting …
Cam Newton's going to get his job back. This isn't Wally Pipp. But as long as Allen is starting, he's an interesting fantasy option, and he makes Curtis Samuel interesting as well. Samuel only had one more yard than D.J. Moore (53-52) and they each scored a touchdown, but it's noteworthy that Samuel had 7 targets compared to only 2 for Moore. If Allen is starting again next week, there's a good chance I'll rank Samuel over Moore.
Kyler on the ground
Kyler Murray's was perfectly fine his first two weeks. He topped 300 yards in both games and led furious comebacks. The problem for fantasy was that Murray was supposed to be electric on the ground as well, giving him a massive fantasy floor, but he was at 17 yards across the two weeks. Well, on Sunday he showed that electricity, rushing for 69 yards, including a 20-yarder. His passing yardage fell to 173 and he was picked off twice, so he's still a work in progress as for his full fantasy potential, but he's showing bits and pieces each week.
Daniel Jones might be for real, and he'll have to be
So we can't expect Danny Dimes to put up four touchdowns (two passing, two rushing) every time, but he still blew past every reasonable expectation for his first NFL start. The problem now, though, is that the Giants still have one more game with Golden Tate suspended, and now Saquon Barkley is out for who knows how long with what was reported Sunday night as a high ankle sprain. We'll see if the sixth overall pick can continue, because it's the only way the Giants are likely to be competitive.
Is there actually enough to go around in Tampa?
Mike Evans is fixed! After two disappointing games to start the season, Evans scored 3 touchdowns and topped 100 yards … just in the first half, en route to 190 yards on the game. And O.J. Howard is fixed! He caught three balls Sunday for 66 yards — not great, but reassuring after his catchless Week 2. The problem, though, was that Chris Godwin only had three receptions for 40 yards Sunday. Evans had 15 targets; Howard and Godwin had 4 each. This was supposed to be an offense that could support three productive pass-catchers, but it hasn't been that so far.
Fuller house in Houston
Kenny Stills hasn't offered that much fantasy value for himself since joining Houston; he had that touchdown in Week 1 and managed 89 yards Sunday, but overall, he's at 9 receptions for 164 yards and a score through three weeks, hardly start-worthy. What he is doing, though, is keeping Will Fuller in check. Fuller has more receptions than Stills so far (11), but he's only at 160 scoreless yards through three weeks. For a guy who makes his bones on being explosive, Stills' arrival has coincided with Fuller's explosiveness going away. For now, DeAndre Hopkins is the only Houston receiver you're using in fantasy.
Keenan Allen is going to lead the league in targets
Allen had 10 targets in Week 1. That's a lot! Then he had 15 in Week 2, with Hunter Henry out and Mike Williams at less than 100%. Also a lot! And then Sunday, he had … 16. Allen is on pace for 219 targets this year; for comparison, the NFL record is 208 and only five guys have ever topped 200. Allen might not be able to keep up this pace, but he's got to be the heavy favorite to lead the league this year.
It's coming for George Kittle … no, really
After each game so far, the advice has been that better days are ahead for Kittle, who has yet to have a 60-yard game or find the end zone this year. But it's still true. He's getting the targets (8 more Sunday, averaging 7.0 per game), and he's getting the playing time. The results haven't shown up. They will.
It's big play or bust for Rudolph
In his first career start, Mason Rudolph passed for 174 yards, 2 touchdowns, and an interception. That's not world-beating, but it's respectable. But 115 of those 174 yards came on the two touchdowns. Take out those plays, and James Washington and James Conner tied for the team lead in receiving yards, at 14 each. Relying on big plays isn't a recipe for success, and until Rudolph can put together more consistency, Conner and the non-JuJu Smith-Schuster pass-catchers are going to be fantasy afterthoughts.
No big surprises for New Orleans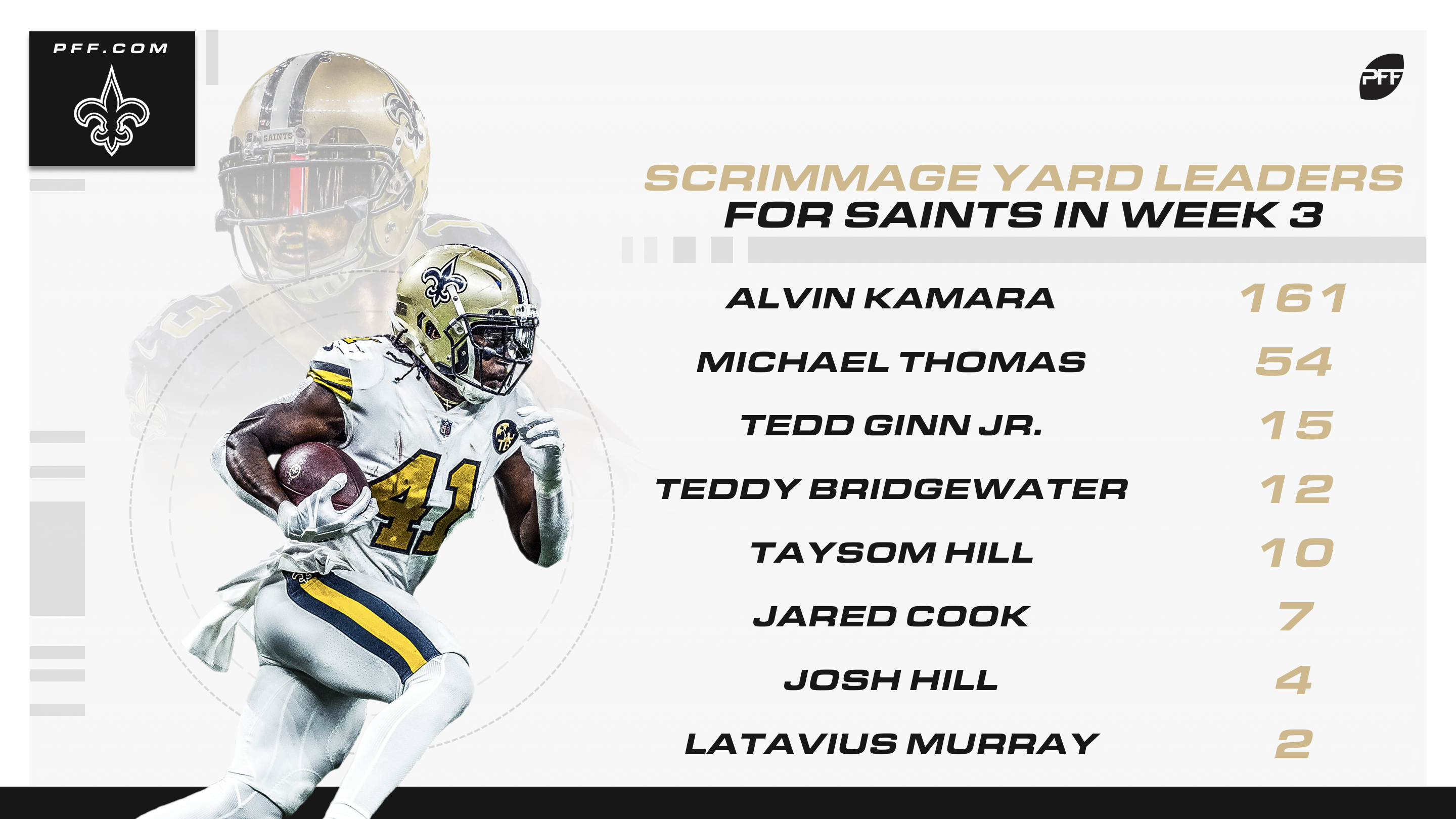 Alvin Kamara had 161 total yards and scored twice. Michael Thomas had 54 yards and a score. Besides them, the leader in scrimmage yards for the Saints was fifteen, for Ted Ginn Jr. We thought Teddy Bridgewater taking over as starter might make the team lean on its stars to the detriment of its secondary options, and that could not have been more clear Sunday. Use Kamara. Use Thomas. And bench or drop everyone else.
Russell Wilson is back
Wilson is in his eighth season, and he's never missed a game. Despite that, Sunday was just his second career game with 400-plus yards passing. Of course, with the Seahawks trailing for most of the game, he attempted 50 passes, so he almost had to get to 400. Still, 406 yards and four total touchdowns (two passing, two rushing) is about as good a game as you can ask for from a quarterback. With the Seahawks struggling on defense so far this year and Chris Carson continuing to struggle with ball security, the Seahawks might have to go against their own desires and be pass-heavier than we expected.
Is it time to worry about Robert Woods?
The Los Angeles receiving corps was supposed to be a three-headed monster of Woods, Cooper Kupp, and Brandin Cooks, just like it was when all three were healthy last year. Instead, through three weeks, it's been more of a two-man attack. Woods is averaging under 50 yards a game and hasn't found the end zone yet. He's the frustrating middle child of the family right now — he has more targets than Cooks, but a lower average depth of target so each reception isn't as valuable, but fewer targets at a deeper aDOT than Kupp. In other words, Woods is the reverse Goldilocks right now, where right in the middle is just wrong. It's okay to bump him down to only maybe-starter status until things change.
Did we overrate the Browns offense?
After a successful rookie season, Baker Mayfield shot up to as high as fourth in QB average draft position for this year, and while the advice around here the entire time was that that was too high, we still had him firmly as a top-10 quarterback. Instead, he sits at 23rd in QB fantasy scoring entering Monday. He's already behind only-played-two-games Case Keenum, and Mitchell Trubisky could pass him with a monster Monday night (I mean, he's shown no signs he's capable of that, but he could). And Mayfield's struggles have pulled the other Browns down as well. Both Odell Beckham Jr. and Nick Chubb are secondary options at their position, and the Browns' other weapons are far lower than that. Better days are ahead for all the Browns, but it starts with Mayfield, and he's hard to start until he turns things around.