Don't be surprised if Chris Olave flirts with an upper-end outcome against a Ravens secondary that has been dreadful against the deep ball this season.
Derrick Henry is on pace to lead the league in rushing yards per game for the fourth straight season.
DeAndre Hopkins has caught 22 of 27 targets for 262 yards and a touchdown in his first two games post-suspension.
Estimated reading time: 25 minutes
---

---
The NFL is a matchup-driven league. Offensive coordinators are always looking to scheme their playmakers into one-on-one situations against a defender, while defensive coordinators will attempt to do anything in their power to upset the timing and rhythm of the opposing QB.
Despite the obvious impact that defenses have on opposing offenses, fantasy players and fans alike are often left with one-way metrics to describe offenses and defenses that they are then forced to compare against each other in an attempt to identify mismatches.
The goal here is to provide easy-to-decipher charts and notes to define each week's key matchups and advantages on both sides of the ball in:
Explosive Plays

Pace

Pressure

Yards before contact

Pass yards per dropback

EPA
The following charts display matchup-specific information meant to highlight the largest mismatches in these ever-important facets of football to ultimately gain actionable betting and fantasy takeaways. And, of course, to have fun.
---
Explosive Plays
Big plays make the football world go round. Matchups between explosive offenses and leaky defenses are exactly what we're looking for when compiling game stacks in DFS, or when betting an over.
Explosive Pass Rate

: The sum of an offense's rate of 20-plus yard completions per pass attempt and the opposing defense's rate of 20-plus yard completions allowed per pass attempt. A higher percentage is better for offenses (blue is good, red is bad).

Explosive Run Rate

: The sum of an offense's rate of 15-plus yard gains per rush attempt and the opposing defense's rate of 15-plus yard runs allowed per rush attempt. A higher percentage is better for offenses (blue is good, red is bad).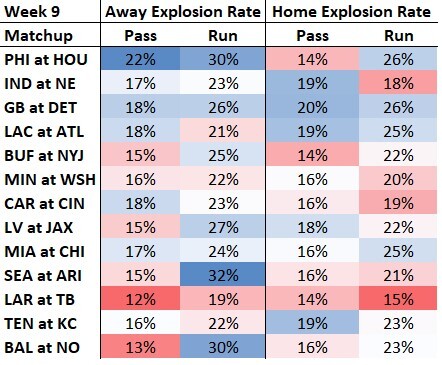 These offenses breed explosive plays: Patriots (11.1%), Chiefs (10.8%), Lions (10.7%), Eagles (10.5%) and Falcons (10.2%) are the only offenses averaging an explosive pass play on at least 10% of their dropbacks:
Jakobi Meyers has been knocking on the WR2 door all season — it's time to let him in: Meyers has peeled off 13, six, nine, eight, eight, eight, 12, eight and 12 targets in his last nine games with Mac Jones under center — good for an average of 9.3 targets per contest. Independent of the quarterback, Meyers has posted PPR WR18, WR8, WR39, WR35 and WR10 finishes in his last five games.
The man is the WR13 in PPR points per game this season; Meyers is a target hog in an offense with fewer places to go with the ball than ever with DeVante Parker (knee) banged up. The overall offensive upside at hand isn't great, yet Meyers has found the end zone three times in his last four games.
Still not sold? Ace Colts CB Stephon Gilmore has made a habit of tracking the opposition's No. 1 receiver all season, although he's only spent three total snaps in the slot. This defense ranks just 27th in contested target rate against slot wide receivers; fire up Meyers as the legit WR2 that he's been for most of 2022.
Good offense beats good defense in today's NFL: Offenses set up to thrive in their quest to create some explosive pass plays: Patriots, Lions, Falcons and Chiefs.
Fantasy managers might hate Arthur Smith, but the man is doing his job: I wish that Kyle Pitts and Drake London were getting force-fed the ball as much as the next desperate fantasy manager, but it's tough to be overly critical of Falcons head coach Arthur Smith when his offense is in the top half of the league in pretty much any metric denoting overall success on that side of the ball:
Points per game:

25 (No. 6)

EPA per play:

+0.025 (No. 7)

Yards per play:

5.5 (No. 14)

Scoring drive rate:

39.5% (No. 9)
This remains the NFL's most run-heavy offense since the Rex Ryan-led 2009 Jets. It's far from a given that the second half of the season replicates this success; just give Smith and company some credit for largely making the most out of an offense led by limited passer Marcus Mariota.
Is it Kadarius Toney WR1 szn?: No. Not yet at least. Coach Andy Reid would only say, "We'll try to work him in. He picks things up fairly easily." Still, Toney's top-12 numbers in yards per route run and yards after the catch per reception as a rookie reflects what the film told us: The man is awfully difficult to handle in space.
#ChiefsKingdom pic.twitter.com/SgrsmKfhpc

— Ian Hartitz (@Ihartitz) October 27, 2022
Of course, it's hardly a guarantee that Toney: 1.) Stays healthy, and 2.) Gets a full-time role. Even with those two variables, it's not a given that Patrick Mahomes suddenly focuses all of his attention on Toney. The all-world signal-caller warned fantasy managers before the season that things would be spread around on a week-to-week basis. This certainly proved to be true (aside from Travis Kelce's typical excellence) for the first six weeks of the season, but the entire wide receiver room really got going in the team's dominant Week 7 win over the 49ers:
Week 1:

34.6 total fantasy PPR points scored from Chiefs wide receivers

Week 2:

27.8

Week 3:

23.9

Week 4:

25.4

Week 5:

38.8

Week 6:

38.9

Week 7:

75.2
It was good to see Week 7's explosion; then again, fantasy managers also have six weeks of evidence that suggests there might not be enough meat on the bone for any one man to consistently post high-end production in this crowded wide-receiver room.
For now, JuJu Smith-Schuster and Marques Valdes-Scantling remain the clear-cut top-two fantasy receivers; Toney's presence is a far bigger obstacle for Mecole Hardman and Skyy Moore. The whole group is set up well on Sunday night football against a Titans defense that has allowed the sixth-most PPR points per game to opposing wide receivers this season.
Offense is easier when the defense sucks: The only four defenses allowing an explosive pass play on at least 10% of their opponent's dropbacks: Texans (11%), Falcons (10.6%), Steelers (10.6%) and Browns (10%).
The Chargers are hurt, dog: This is truly one banged-up group of pass-catchers:
That said: Austin Ekeler is on pace to catch 129 passes this season. This is great for Ekeler's fantasy managers, not so much for real-life Chargers fans. It doesn't really make sense for someone with Herbert's sort of arm talent to boast a bottom-five average target depth after seven weeks. His passing numbers are far closer to Daniel Jones than most Chargers fans would prefer.
For now, Palmer is the only recommended start with Allen and Williams both tentatively expected to be sidelined this week. Even then: Don't get carried away; he's benefited from Allen being sidelined virtually all season already and has traded three solid finishes as the PPR WR31, WR25 and WR22 with three complete duds as the WR87, WR79 and WR74. Still, the Falcons' banged-up secondary has allowed more PPR points per game to the position than anybody; Palmer is a volume-based upside WR3 with the sort of matchup that Herbert *should* be able to exploit.
Not every passing attack is meant to fly: The clear-cut bottom-four offenses in terms of expected failure in creating big plays through the air: Rams, Ravens, Buccaneers and Jets.
No more parties in L.A.: Matthew Stafford threw 41 touchdowns last season against a league-high 17 interceptions. This year he is on pace to throw just 17 touchdowns … and 19 interceptions. The reigning Super Bowl champion has thrown for more than 275 yards exactly once this season, while Week 2's three-touchdown performance marks the only time that he's thrown more than one touchdown.
The complete utter lack of a run game hasn't helped; just realize this version of the Rams is suddenly the worst group that head coach Sean McVay has ever led:
2017:

No. 1 in points, No. 10 in yards

2018:

No. 2 in points, No. 2 in yards

2019:

No. 11 in points, No. 7 in yards

2020:

No. 22 in points, No. 11 in yards

2021:

No. 7 in points, No. 9 in yards

2022:

No. 28 in points, No. 30 in yards
PFF's 30th-ranked offensive line hasn't helped matters, while Cooper Kupp continues to be the only consistent pass-catcher involved.
Up next is a road date against the similarly struggling Buccaneers. While Kupp (ankle) is expected to play through the pain, somebody needs to step up in an offense that has scored more than 24 points exactly one time all season.
Sometimes bad quarterbacks can still be fun to watch play football: From last week:
"Zach Wilson makes a few plays every week that demonstrate his impressive improvisation skills and generally porous decision-making at the same time."
There were already plenty of "highlights" demonstrating this entertaining (for non-Jets fans) combination, and Wilson's three interceptions against the Patriots didn't do much to stop whispers that maybe the 2021 NFL Draft's No. 2 overall pick just isn't that guy, pal. I mean, c'mon man.
The main issue with Wilson has been his inability to complement his ever-erratic decision-making with the sort of big plays that make the lows worth it. Overall, Wilson's 2% big-time throw rate ranks just 29th among 36 qualified quarterbacks, while nobody has been more prone to turnover-worthy plays (5.9%). The Jets' banged-up offensive line certainly hasn't helped matters, but the below graph is still pretty damning.
The government is apparently OK with sanctioning Wilson to face the Bills' juggernaut of a defense this Sunday. Only the Texans, Titans and Colts are implied to score fewer points this week.
Don't let these run games get hot: The Mount Rushmore of rushing attacks expected to find all sorts of success in creating chunk plays: Seahawks, Ravens, Raiders and Lions.
Everyone loves a three-down running back: Too bad the Lions' best option to do just that apparently still isn't healthy. Head coach Dan Campbell said, "We probably gave Swift one too many carries. He's not back so maybe give another one of those carries to Jamaal." Reminder: Swift practiced in full last week and didn't carry an injury designation.
Ideally, Swift's health will improve and he gets even more targets than usual without T.J. Hockenson in the picture. However, that won't change the biggest problem for Swift: goal-line carries. Overall, Jamaal Williams has 10 carries inside the 5-yard line … and Swift has zero. This didn't matter to start the season with Swift averaging *checks notes* 8.6 yards per carry; just realize a big part of his fantasy allure is combining high-end efficiency with a fantasy-friendly workload, two assumptions that aren't quite as elite as expected due to both injury and Williams.
Ultimately, Swift should see more pass-game usage moving forward, which makes him tough to rank outside the position's top-24 options in full-PPR scoring; unfortunately his iffy health and usage doesn't make him a must-start for the time being. The Packers-Lions' 49.5-point game total is tied for the second-highest mark in Week 9; don't be surprised if Williams (again) flirts with multiple trips to the end zone.
America loves a comeback: And Josh Jacobs sure looks to have a good chance at achieving one against a Jaguars defense that hasn't exactly slowed down many opposing backs this season:
Continue to fire up Jacobs as the upside RB1 that he's been for most of 2022. RB-needy squads shouldn't feel terrible about stashing Zamir White; just realize he'd face similar issues in gaining a proper full-time pass-down role should Jacobs be forced to miss any time. 
These offenses might just want to pass the ball: Offenses that look pretty screwed in creating big plays on the ground this week: Buccaneers, Patriots, Bengals and Rams.
Takeover time in Tampa Bay?: Last week's usage didn't suggest so; that doesn't mean White isn't the single-most valuable handcuff in all of fantasy football. This is thanks to the reality that you don't need two full hands to count the number of running backs with a more fantasy-friendly role than Leonard Fournette:
White has looked more explosive from the eye test; just don't completely throw the artist known as Lombardi Lenny under the bus behind one of just five offensive lines averaging less than one yard before contact per carry. Fournete has been the superior rusher over White in terms of yards per carry (3.5 vs. 3) and yards after contact per carry (2.3 vs. 2.1); don't expect a full takeover without injury.
The Buccaneers have scored more than 22 points in a game exactly one time this season, yet Fournette has worked as the RB10 on a per-game basis thanks to that sweet, sweet volume. Continue to fire up Fournette as a volume-based RB1 and primary touchdown scorer of a Buccaneers offense that theoretically has room to improve down the stretch.
---
Pace
Fast-paced games lead to more plays, which lead to more points. Every week usually consists of at least a few games that could resemble a track meet based on their combined situation-neutral pace (Football Outsiders).
Combined Situation-Neutral Pace

: Represents the combined situation-neutral pace between each matchup's two offenses. A lower number indicates fewer average seconds per play (blue = fast-paced game), while a higher number indicates more average seconds per play (red = slow-paced game).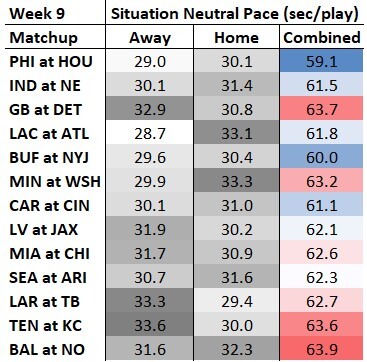 Get ready to see a track meet: This week's sponsored Ricky Bobby "I want to go fast" highest-projected matchup features the Bills (No. 5 in situation neutral pace) at the Jets (No. 12). Honorable mention goes to the Panthers (No. 8) at the Bengals (No. 17).
We'll be moving plenty fast elsewhere too: More matchups expected to feature plenty of total plays include Colts-Patriots and Chargers-Falcons.
Unfortunately some offenses are slow and lame: The single-slowest matchup of the week pits the Ravens (No. 19) at the Saints (No. 26). 
Seriously, what are you waiting for: More matchups that might not supply the sort of volume fantasy managers are hoping for include Packers-Lions, Titans-Chiefs and Vikings-Commanders.
---
Pressure
An overmatched offensive line can result in poor fantasy days for all skill-position players involved. Meanwhile, QBs with all day to throw can help generate points in bunches. We can determine which offensive lines might be especially better (or worse) this week with help from PFF's offensive and defensive pressure statistics.
Combined Pressure Rate

: The sum of the offensive line's rate of pressures allowed per dropback and the opposing defense's total pressures generated per dropback. A higher percentage (red) is better for defenses and indicates that quarterback could be under fire, while a lower percentage (blue) indicates that matchup's quarterback could face reduced pressure.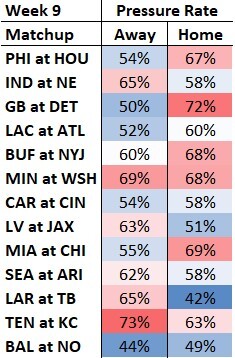 Under pressure: good song, bad for fantasy football: Quarterbacks that could feel the heat this week include: Jared Goff, Kirk Cousins, Justin Fields and whoever winds up under center for the Titans.
Don't call it a comeback: Bears QB Justin Fields is doing that thing again where he rips off one fantasy QB1 finish after another despite looking rather terrible to start the season. Overall, Fields failed to post a fantasy finish better than the QB23 in Weeks 1-4, but has posted QB12, QB9, QB5 and QB5 finishes over the past four weeks of action.
This passing game hasn't suddenly become one of the league's more-efficient units; just don't put all the blame on Fields' shoulders. The Bears are tied with the Broncos with PFF's worst team receiving grade (61.4), while PFF's 22nd-highest graded offensive line in pass-blocking grade (61.4) also hasn't exactly helped matters.
The real key to this offense's success has been Fields' rushing ability, particularly on designed looks. No quarterback has more designed rushes than Fields (17) over the last two weeks, and he has converted those opportunities into a solid enough 77 yards (4.5 YPC) with a pair of touchdowns. 
Fields has at least seven rush attempts in every game this season and hasn't been held under 45 yards on the ground since Week 2; he has cemented himself in the weekly low-end QB1 conversation with rushing production that isn't all that dissimilar to Lamar Jackson. Seriously: Here are the league's top quarterbacks in fantasy points per game from purely rushing production this season:
Don't be surprised if Fields again enables the Bears offense to surprisingly solid heights despite the organization's complete disinterest in competing for anything this season. Only the Steelers, Falcons, Lions, Raiders and Chiefs have allowed more fantasy points per game to opposing quarterbacks than the Dolphins this season.
Which quarterbacks have suffered the largest dropoff in efficiency when under pressure?: The top-five dropoffs in yards per attempt when under pressure vs. when kept clean this season among all quarterbacks with at least 100 dropbacks:
Some offensive lines and quarterbacks are just more prone to pressure: The Titans (42%), Bears (38%), Rams (35%) and Commanders (35%) are the league's only five offenses that have been pressured on at least 35% of their dropbacks this season.
Who cares about a quarterback when you have Terry McLaurin: McLaurin has caught passes from the following quarterbacks since entering the league in 2019: Carson Wentz, Taylor Heinicke, Alex Smith, Dwayne Haskins, Colt McCoy, Case Keenum, Kyle Allen and Garrett Gilbert. Not great, yet McLaurin continues to make the most out of the situation and has essentially snatched victory out of the jaws of defeat in back-to-back weeks by winning difficult one-on-one matchups against Jaire Alexander (5-73-1) and Stephon Gilmore (6-113-0) in the clutch.
Give Heinicke some credit for existing in the few seconds between the snap and throwing the ball in McLaurin's general direction, although he is the primary culprit for the high contested-target rate at hand. Ultimately, the Commanders' 27th-ranked scoring offense rides a fine line between being okay and terrible more weeks than not; at least the artist known as Scary Terry is so damn good that he's capable of swinging the balance even in weeks that feature shadow dates against the very best corners the league has to offer.
Sundial joke about having a ton of time to throw: Tom Brady, Lamar Jackson, Aaron Rodgers and Andy Dalton are set up the best to work from consistently clean pockets this week.
Rookie of the Year in New Orleans: Maybe. The following leaderboard denotes the most yards per route run among rookie wide receivers with at least 50 targets since 2015:
Olave's PPR WR42 fish in Week 8 marked the first time that he finished outside the position's top-18 highest scorers since Week 2. Michael Thomas (foot, IR) is done for the season, while Jarvis Landry (ankle) isn't exactly guaranteed to return to action this week; continue to fire up Olave as an upside WR2 in the meantime.
Don't be surprised if Olave flirts with an upper-end outcome against a Ravens secondary that has been dreadful against the deep ball this season:
Ravens defense vs. passes thrown at least 20 yards downfield
Completions allowed:

17 (No. 32)

Yards allowed:

569 (No. 31)

Touchdowns allowed:

3 (tied for No. 18)

Pass yards allowed per attempt:

21.1 (No. 31)

Explosive pass-play rate allowed:

59.3% (No. 31)

Passer rating allowed:

128.2 (No. 26)
Pass rushes that haunt the dreams of your favorite quarterback: The league's best pass rushes feature the Packers (41% pressure rate), Cowboys (40%), Commanders (37%), Broncos (36%), Jets (35%) and Patriots (35%) above all else.
---
Trench Battles
RBs receive most of the praise for an offense's rushing output, but an overmatched offensive line can thwart a team's run game before it even has a chance to get started. We can determine the offensive lines that might be especially better (or worse) off this week by looking at yards before contact.
Combined Yards Before Contact Per Rush

: The sum of an offensive line's adjusted line yards per rush and the opposing defense's adjusted line yards allowed per rush. A higher number (blue) is good for running backs, while a lower number (red) indicates that matchup's offense could have some trouble consistently running the ball.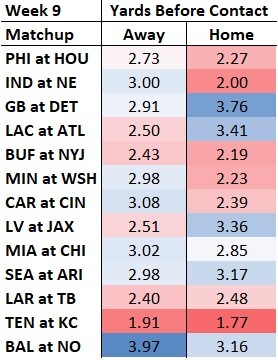 Great day to be a great running back: The Mount Rushmore of backfields set up well to run the ball this week: Ravens, Lions, Falcons and Jaguars.
Running back, THE running back, ya'll: The Jaguars have fed their electric "second-year" back 19 and 27 combined carries and targets on robust 80% and 77% snap rates over the last two weeks, and Travis Etienne has responded with 281 total yards and a pair of touchdowns.
While Etienne doesn't have the same flashy YAC style as some of the league's other productive young backs, he was seemingly born with a full-time golden mushroom power-up that offers him freaky acceleration on an every-play basis. Few running backs have been able to match his per-carry effectiveness through eight weeks:
PFF rushing grade:

90.3 (No. 5 among 46 running backs with at least 50 carries)

Yards per carry:

6.2 (No. 2)

Yards after contact per carry:

3.3 (No. 13)

Missed tackles forced per carry:

0.25 (No. 7)
The Jaguars' floundering passing game has prevented Etienne from fully rounding out his game; don't be surprised if even bigger weeks are on the horizon. Fire up the explosive playmaker as a legit top-five option at the position ahead of this week's matchup against the Raiders' bottom-10 defense in PPR points per game allowed to opposing backfields..
Sure would be a lot cooler if Roger Goodell would turn injuries off: Consistent touches have already been hard enough to come by in the Ravens' three-pronged committee; now fantasy managers need to handle the delicate balance between Gus Edwards (knee) being healthy enough to suit up and the Ravens playing on Monday Night Football.
Head coach John Harbaugh said the injury is minor and dubbed Edwards as questionable; it's plenty possible that fantasy managers don't know who is available until Monday evening. I would rank Edwards in low-end RB2 territory with the assurance of full health; he's this low to dissuade fantasy managers from risking that over similar options playing on Thursday or Sunday.
Kenyan Drake would receive a nice 10-plus spot bump if Gus is ultimately ruled out; even then he wouldn't be a must-start commodity inside an offense always willing to keep multiple backfield parties plenty involved.
More running backs expected to have a little thing called success: The Cardinals, Saints and Panthers also stand out as groups that should see more open lanes than usual this week.
The Red Rocket has unlocked the best version of Alvin Kamara: Kamara caught just five total passes in two games with Jameis Winston under center; he's caught six, six, seven and nine passes in three games with Andy Dalton starting at quarterback. The presence of Taysom Hill will always be annoying around the goal line, but that hasn't stopped Kamara from racking up the position's most expected PPR points per game this season.
Somehow, the ceiling might even be higher in the short term with Mark Ingram (knee) likely sidelined for three to four weeks. It'd be fair to rank Kamara as the overall RB1 this week; fire him up with all the confidence in the world ahead of Monday night's potential shootout against the Ravens.
Panthers have a bit of a "Ewing Theory" situation going on : Chuba Hubbard (ankle) actually out-snapped D'Onta Foreman 22 to 14 during the first 45 minutes of action of Week 7 before being sidelined. Clearly, the issue was bigger than initially thought; ESPN's Adam Schefter had reported the injury was considered a "minor sprain" and he "could have come back in if needed." This led to Foreman racking up carries last week, even if someone named Spencer Brown quietly took plenty of pass-down work.
Credit to Foreman for being the best example of a running back recovering from an Achilles injury in a meaningful way; just realize last week's 34-point explosion marked the first time all year that this offense eclipsed even 24 points in a game. A more negative game script certainly seems to be on the way given the Panthers' status as 7.5-point underdogs to the Bengals. 
Foreman deserves low-end RB2 consideration alongside guys like Jamaal Williams and David Montgomery, fellow early-down backs reliant on touchdowns or big plays to make up for their lack of a true three-down role. I would still give Foreman the slight edge over Hubbard if the Panthers' second-year talent is healthy enough to suit up, but he'd slip down to the RB2 borderline and not be someone who needs to be in fantasy lineups.
Gotta love a good run game scheme: Only five offenses are averaging at least 1.8 yards before contact per carry: Jaguars (2.4), Ravens (2.3), Lions (2.1), Saints (1.9) and Falcons (1.8). Call me crazy, but having a mobile quarterback might just help matters.
Best Steven Tyler voice: Run away, run away from the pain yeah, yeah, yeah, yeah, yeah: The Patriots, Chiefs, Titans and Jets look like the most screwed offenses in terms of expected success on the ground before contact.
George Washington didn't invent electricity just so America would use full-PPR scoring, but it's the game we play: While Damien Harris is certainly still a part of this backfield after being used as little more than a pure backup in Week 7, Rhamondre Stevenson is still managing to lead the way in total carries and (far more importantly) pass-game usage.
And why shouldn't he? Stevenson has been one of the league's better pure receiving backs all season:
PFF receiving grade:

87.7 (No. 3 among 38 running backs with at least 15 targets)

Yards per route run:

1.5 (No. 9)

Targets per route run:

24.8% (No. 11)

Percentage of catchable passes caught:

97% (No. 3)
The potential return of Ty Montgomery (knee, IR) most likely won't impact this arrangement, although it's at least a small possibility considering Ty Mont did quite literally work ahead of Stevenson as the pass-down back in Week 1. For now, continue to squeeze Stevenson into fantasy lineups of most shapes and sizes, especially vs. a Colts defense that has allowed bottom-seven marks in receptions and receiving yards to the position this season.
Harris is a touchdown-dependent RB3 in an offense that hasn't made a habit of racking up fantasy-friendly scoring opportunities all season long.
Is Derrick Henry all the way back to prime Big Dog status?: One might argue that he never left. While Henry was limited to eight games and "just" 219 carries last season, he's on pace to lead the league in rushing yards per game for the fourth straight season:
2019: Henry (102.7 rushing yards per game)

2020: Henry (126.7)

2021: Henry (117.1)

2022: Henry (107.9)
Unfortunately, Henry can't play against the Texans every week, but the Chiefs have allowed 100 total yards and/or a touchdown to him in each of their past four meetings. The biggest issue Sunday night could be the Chiefs building a big lead and game scripting Henry off the field; just realize even then Henry has a higher floor than past years thanks to his enhanced pass-game usage. Continue to fire up Henry as a weekly top-five option at the position regardless of the matchup.
---
Passing Game
Some pass offenses are obviously more efficient than others, while certain secondaries are seemingly capable of shutting down any aerial attack. We can determine the week's biggest mismatches in the passing game using each offense and defense's pass yards per dropback.
Combined Passing Yards Per Dropback

:The sum of an offense's passing yards per dropback and the opposing defense's passing yards allowed per dropback. A higher number (blue) is good for quarterbacks and receivers, while a lower number (red) indicates that matchup's pass offense could be in trouble.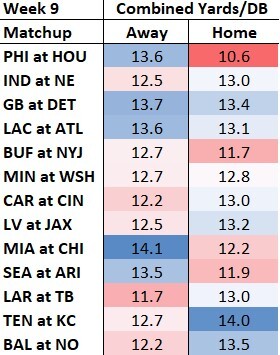 Sometimes it just looks so easy: Tua Tagovailoa, Patrick Mahomes and Aaron Rodgers stand out as the week's top-three quarterbacks in expected success through the air.
Arm strength is overrated: At least when Tyreek Hill is so far behind the defense anyway that he has time to come back and make the catch. I agree with the general sentiment that Tua Tagovailoa has left a lot of meat on the bone when it comes to getting the ball to his speedy playmaker deep downfield; just realize it hasn't stopped the third-year signal-caller from working as one of the game's most-efficient deep-ball passers.
Tua on passes thrown 20-plus yards downfield
PFF passing grade:

92.7 (No. 6 among 30 quarterbacks with at least 15-such attempts)

Passer rating:

111.1 (No. 6)

Yards per attempt:

20.3 (No. 2)

Adjusted completion rate:

70.8% (No. 1)
Hill has nearly 100 additional receiving yards (389) over second-place receiver Stefon Diggs (290) in terms of total yardage picked up on passes thrown at least 20 yards downfield. Hell, Tua slanderers have to admit that Hill didn't fully help his own cause last week when he dropped what would have been a 60-yard deep strike.
The government calls it a passing league for a reason: The Chargers, Saints and Seahawks also stand out as passing attacks that should have plenty of success through the air.
Sometimes all you can do is just say sheesh: Seahawks QB Geno Smith nearly had a far bigger Week 8. Yes, Tyler Lockett caught five of eight targets for 63 yards and a touchdown in the Seahawks' Week 8 win over the Giants. Also yes, the veteran left quite a bit of meat on the bone throughout the afternoon:
Smith threw a b-e-a-utiful pearl into the left corner of the end zone from 21 yards out. Lockett made the catch in the end zone, but could only get one foot inbounds.

Smith again displayed his pinpoint downfield accuracy from 33 yards out to an even more wide-open Lockett; this time the veteran receiver

straight up dropped the perfectly thrown pass

and immediately felt the sheesh of the moment.

Lockett caught a ho-hum pass in the flat inside his own five-yard line, only to lose his fantasy managers two points by coughing up the football and giving the Giants an extra goal-line possession.
Lockett wasn't the only man to drop a well-thrown touchdown last week, as speedster Marquise Goodwin couldn't maintain possession of what should have been an 18-yard touchdown. Credit to Goodwin for snagging two scores in Week 7, but this was a sheeshful drop.
The Week 8 Sheesh Report breaks down all the near misses from the previous week of action. I break down every instance when:
Pass-catchers could have scored or picked up big yardage with a more accurate pass

Pass-catchers did receive an accurate pass that should have resulted in a score or big gain, but the ball was dropped

Ball carriers managed to get all the way to the one-yard line, but didn't score

Players scored or picked up big yardage, but the play was nullified by penalty

Other random shit happened that tilted fantasy football managers of all shapes and sizes
These passing games might be a bit rough n' rowdy: The Jets, Rams and Cardinals look like the bottom-three offenses this week in terms of expected aerial success. The Bears, Ravens and Titans don't look to be in especially great spots, either.
Are both DeAndre Hopkins and Rondale Moore must-start options this week?: The former sure is. The artist known as Nuk has caught 22 of 27 targets for 262 yards and a touchdown in his first two games post-suspension, making the sort of ridiculous plays that have helped him be one of the game's most productive receivers of the last decade.
In Weeks 1-6, the Cardinals averaged a pedestrian 19 points per game; they have ripped off 42 and 26 points over their last eight quarters of action. Kyler Murray set season-high marks in passing yards (326) and touchdowns (3) last week against the Vikings; this is suddenly a fairly lethal offense with Hopkins and a healthy version of Moore in the fold.
While Seahawks CB Tariq Woolen has the size (6-foot-4) to potentially give Hopkins some problems at the catch point, Woolen has spent 92% of his snaps as the defense's right cornerback this season and isn't expected to follow one particular receiver this Sunday. Continue to fire up the WR1 in PPR points per game as a top-six option at the position until told otherwise.
The Cardinals' pint-sized second-year playmaker got back to spending the majority of his time in the slot last week after working mostly on the outside during his Week 7 one-catch dud. It's not a coincidence Moore's slot usage was back to normal with both Robbie Anderson and A.J. Green able to suit up. Moore has now played a full game's worth of snaps on five separate occasions, feasting in the three contests that featured a majority of his reps on the inside:
Week 4 (26% slot rate):

3-11-0 (5 targets)

Week 5 (83%):

7-68-0 (8)

Week 6 (80%):

6-49-0 (10)

Week 7 (14%):

1-31-0 (2)

Week 8 (58%):

7-92-1 (8)
The Week 6 stat line came against this very defense; I'm firing up Moore as a volume-based upside WR3 against a Seahawks defense that has allowed the league's seventh-highest explosive pass-play rate to slot receivers this season.
Are the Titans still the league's only offense without a single top-24 PPR fish from a wide receiver, and because of this you should avoid all parties involved at all costs despite a winnable enough matchup against the Chiefs?: Yes.
Not so fast my friend: Offenses that haven't averaged even 6.0 pass yards per dropback this season: Giants (5), Bears (5.3), Steelers (5.3), Cardinals (5.4), Commanders (5.8) and Texans (5.9).
If Chase Claypool is the answer, I don't want to know the question: Nothing against Claypool; it's just an edgy start to this paragraph. Most of his detractors are usually either still pissed off that he celebrated the first down at an awfully bad time last season, or because he called himself a top-three receiver in the NFL back in the offseason. In reality, Claypool is still just 24 years old and managed to score 13 touchdowns in 17 games as a rookie all the way back in 2020.
The bigger problem with expecting any sort of fantasy-relevant upside is simple: This offense doesn't want to throw the ball. Credit to Justin Fields for ripping off four consecutive top-12 fantasy finishes; he still hasn't reached even 210 passing yards in a game this season. Darnell Mooney is easily the Bears' No. 1 pass-game option with 44 targets, a mark that would rank fourth on the Steelers this season and nearly tied for fifth with George Pickens.
Only Titans wide receivers have collectively had fewer expected PPR points than the Bears. Mooney and Claypool are good real-life wide receivers with horrific fantasy football volume, making both non-recommended starts even in a winnable matchup against Xavien Howard and company.
Dope secondaries always have the best nicknames: The Broncos (4.7), Eagles (4.8) and Cowboys (5.3) are the only three defenses to allow fewer than 5.5 pass yards per dropback.
---
EPA
Points are ultimately what wins football games. We can measure the expected points of every play on offense and defense by considering the down, distance and field position before factoring in the result. Estimated points added (EPA) is thus the value of a play that takes context into account and thereby better measures efficiency at the play level.
Combined EPA

: The sum of an offense's EPA/play and their opposing defense's EPA/play allowed. A higher number (blue) is good for offenses, while a lower number (red) indicates that offense could be in trouble.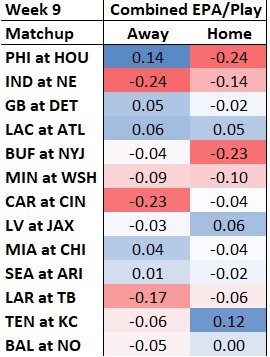 Blowout alert: The clear top-four matchups in terms of one offense likely having a huge relative advantage over their opponent: Chiefs over the Titans, Bills over the Jets, Bengals over the Panthers and the Patriots over the Colts.
Over alert: The highest combined matchups in expected offensive success: Chargers-Falcons, Titans-Chiefs, Packers-Lions and Raiders-Jaguars.
Under alert: Colts-Patriots, Bills-Jets, Panthers-Bengals and Rams-Buccaneers stand out as the week's four matchups that could feature the most overall offensive futility. 
Upset alert: Teams expected to have a relative offensive advantage, yet are underdogs, feature the Jaguars (+1.5), Seahawks (+2) and Saints (+2.5). Did somebody say moneyline parlay?