• Get your popcorn ready: The Chiefs, Dolphins and Raiders are best set up to create explosive pass plays this week.
• Feeling the heat: The Vikings and Titans profile as the two offenses expected to face the most pressure in Week 16.
• Open lanes all day: The Ravens, Bills and Eagles stand out as the top three offenses in combined rushing yards before contact per carry.
Estimated reading time: 23 minutes
---
The NFL is a matchup-driven league. Offensive coordinators are always looking to scheme their playmakers into one-on-one situations against a defender, while defensive coordinators will attempt to do anything in their power to upset the timing and rhythm of the opposing signal-caller.
Despite the obvious impact that defenses have on opposing offenses, fantasy players and fans alike are often left with one-way metrics to describe offenses and defenses that they are then forced to compare against each other in an attempt to identify mismatches.
The goal here is to provide easy-to-decipher charts and notes to define each week's key matchups and advantages on both sides of the ball in:
Explosive Plays

Pace

Pressure

Yards Before Contact

Pass yards per dropback

EPA
The following charts display matchup-specific information meant to highlight the largest mismatches in these ever-important facets of football to ultimately gain actionable betting and fantasy takeaways. And, of course, to have fun.

Explosive Plays
Big plays make the football world go 'round. Matchups between explosive offenses and leaky defenses are exactly what we're looking for when compiling game stacks in DFS or when betting an over.
• Explosive pass rate: The sum of an offense's rate of 20-plus-yard completions per pass attempt and the opposing defense's rate of 20-plus-yard completions allowed per pass attempt. A higher percentage is better for offenses (blue is good, red is bad).
• Explosive run rate: The sum of an offense's rate of 15-plus-yard gains per rush attempt and the opposing defense's rate of 15-plus-yard runs allowed per rush attempt. A higher percentage is better for offenses (blue is good, red is bad).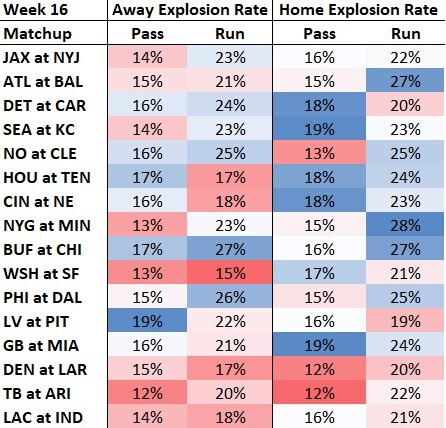 These offenses breed explosive plays: Four offenses are averaging an explosive pass play on at least 9.5% of their dropbacks: Eagles (10.1%), Chiefs (10%), Dolphins (9.9%) and Patriots (9.7%).
Minshew Mania: Eagles QB Gardner Minshew will officially start in place of Jalen Hurts (shoulder) in Saturday's contest against the Cowboys. Minshew is one of the NFL's few backup quarterbacks with a decent track record of fantasy success. The 26-year-old signal-caller managed to throw for multiple touchdowns in both of his starts for the Eagles last season, returning QB10 and QB18 fantasy finishes for his efforts.
Don't get it twisted: Minshew has been anyone's idea of an average quarterback since entering the league in 2019. His career marks in PFF passing grade (69.3, No. 33), yards per attempt (7, No. 33), adjusted completion rate (73.5%, No. 40) and passer rating (93.9, No. 20) among 57 qualified quarterbacks reflect this reality.
And yet, have you seen the weather forecast for roughly half of the NFL this week? Minshew deserves to be considered one of the week's top waiver wire additions by potentially stepping into the single-most complete offense in the NFL. Overall, nobody has a higher combined PFF grade than the Eagles (80.4) when looking at rushing, receiving, pass- and run-blocking grades independent of passing grade.
Here's to hoping Hurts heals up quickly, but if not, the Eagles are still in pretty good hands for the short term.
Good offense beats good defense in today's NFL: Offenses set up to thrive in their quest to create some explosive pass plays: Raiders, Chiefs, Dolphins, Panthers, Titans and Patriots.
Malik time in Tennessee? NFL Network's Tom Pelissero reported that Ryan Tannehill (ankles) is facing an "uphill battle" to suit up Sunday against the Texans. His absence would lead to rookie Malik Willis getting the start against the Texans' (surprisingly) top-five defense in fantasy points per game allowed to opposing quarterbacks. Willis started against the Texans back in Week 8 and was asked to pass the ball only 10 total times. His 5-12-0 and 8-40-0 rushing lines in two starts weren't nearly enough to make up for his status as a complete zero in the passing game; nobody other than Derrick Henry is a recommended start in the fantasy semis.
Offense is easier when the defense sucks: The only four defenses allowing an explosive pass play on at least 9.5% of their opponent's dropbacks: Steelers (9.8%), Falcons (9.8%), Texans (9.6%) and Lions (9.5%).
Meat on the bone: The following nine players had more than 70 unrealized air yards in Week 15, meaning they had a ton of downfield opportunities but failed to capitalize on them for one reason or another:
Not every passing attack is meant to fly: The clear-cut bottom six offenses in terms of expected failure in creating big plays through the air: Cardinals, Buccaneers, Commanders, Giants, Browns and Rams.