• Science: High wind speeds tend to negatively impact passing-game fantasy production more than cold weather or heavy rain.
• Chill out, Mother Nature: Saints-Browns is easily the worst weather matchup of the week due to wind gusts potentially eclipsing 40 m.p.h.
• Good thing we'll be watching from the couch: Jets-Jaguars and Bills-Bears have a bad enough combination of weather problems to warrant downgrading involved pass-catchers.
Estimated reading time: 8 minutes

Happy weather week! Seemingly one week per year, Mother Nature decides to rear her head and force fantasy managers to focus more on the forecast than the actual players expected to, you know, play football.
This is that week.
A whopping 10 games have at least some weather concerns ahead of Sunday. That means 62.5% of the NFL is facing some adversity in the form of a bad playing environment.
Of course, adverse weather isn't always a reason to overly downgrade someone in fantasy land, but due consideration must be given. The levels of temperature, precipitation and wind involved all contribute to potentially causing the sort of setting in which it is borderline impossible to throw the football.
RotoGrinders Chief Meteorologist Kevin Roth always does an excellent job breaking down the upcoming forecast. His premium WeatherEdge data is an excellent resource for diehards, but Kevin has also been kind enough to share some free research demonstrating that wind speeds north of 20 m.p.h. truly begin to cause problems in the points and passing yards departments.
Wind Speed vs. Passing Yards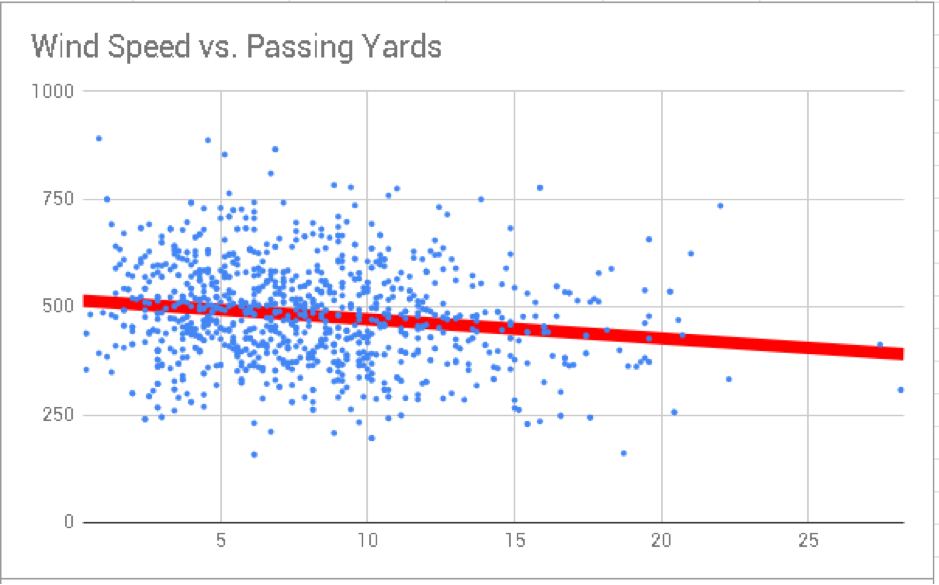 Wind Speed vs. Points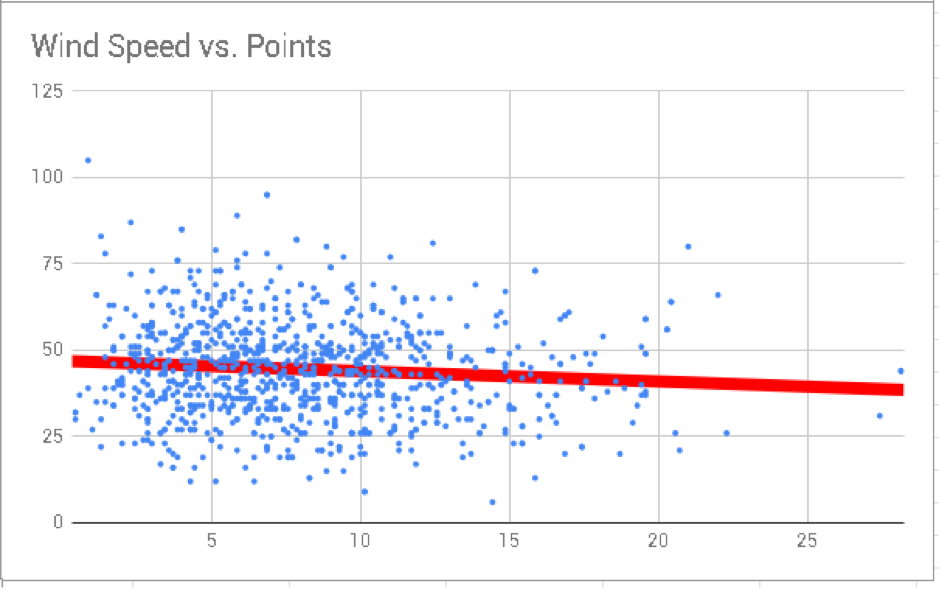 A similar slope can be found when looking at games dealing with near-zero-degree temperatures, while an overwhelming abundance of precipitation obviously isn't ideal either.
Still, it's usually overwhelming wind — particularly if there are major gusts — that can quickly turn a high-octane passing attack into a group that looks incapable of completing a forward pass. Fantasy Points analyst Scott Barrett found that wind speeds of over 20 m.p.h. have historically been detrimental to the fantasy value of quarterbacks and pass-catchers.
The goal of today's article is to outline the teams that do and don't deserve to be downgraded due to this weekend's weather slate. Keep in mind that forecasts become clearer as the week goes on — be sure to shoot Kevin a follow on Twitter to stay updated with any weather changes as we get closer to kickoff.
Passing games that deserve downgrades due to extreme weather