This is our weekly look at fantasy adjustments you should make based on venue and/or weather. Entering the weekend action for Week 15 of the NFL season, knowing which players should see an improvement or decline in their projection can be a key to victory.
Midway through December, one would expect cold temperatures to be the predominant weather concern. But this weekend, it's actually rain. Five different games on Saturday and Sunday — Texans at Jets, Bucs at Ravens, Lions at Bills, Titans at Giants, and Seahawks at 49ers — have a decent chance of light-to-moderate rain, which could wreak havoc on your fantasy playoffs if you don't properly prepare. I project venue and weather adjustments for every fantasy-relevant player, which I recommend Elite subscribers consult before they set their weekly lineups. I'll touch on the most important ones here. Bring your umbrellas.
Saturday, 4:30 p.m. ET
Deshaun Watson (-0.9) hasn't been the same fantasy force this year that he was last year. After averaging four passing touchdowns per game over his final four starts of 2017, he's thrown for more than two touchdowns just one time this season. However, his 410 yards and two scores on the ground have helped him cling to a spot in the back of the top-10 at the position. He's a reasonable quarterback to start in your fantasy playoffs, or he would be if he wasn't playing on the road likely in the rain.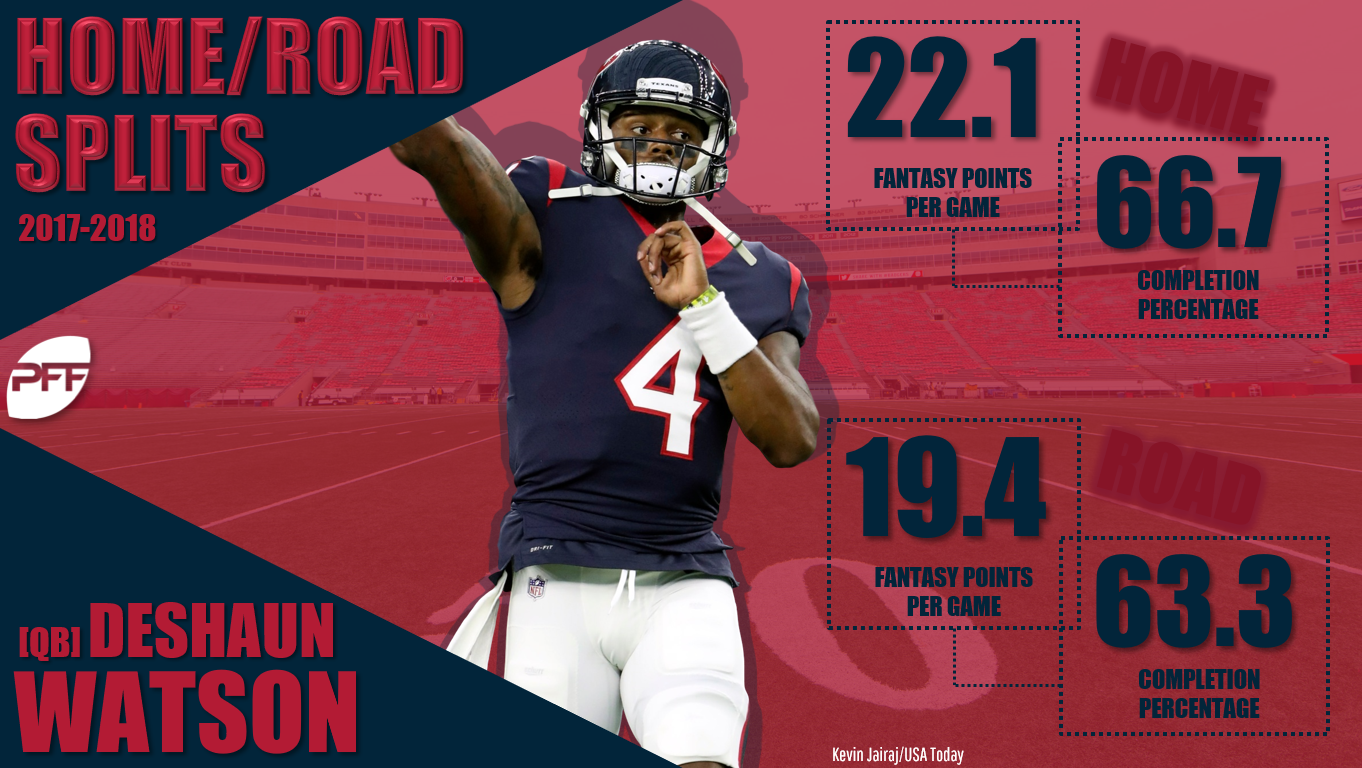 Watson shows fairly typical home/road splits for quarterbacks who play their home games in a dome. When he ventures away from Houston, he typically trades half a touchdown for half an interception, which costs him close to three fantasy points per game. The possible rain would just exacerbate that problem. My research shows that rain decreases' teams pass/run ratios by up to five% and reduces passers' completion percentage and yards per attempt.
DeAndre Hopkins (-0.8) will likely take the brunt of the fantasy loss as Watson's far-and-away leading target, but he's too productive to sit in any conditions in non-daily formats. But this may not be the week to rely on Demaryius Thomas (-0.4), especially with Keke Coutee possibly returning from his hamstring injury.
The only Texans player I'm excited to start this week is Lamar Miller (-0.2), who could see a workload bump because of the bad weather and is relatively immune to changing venues because of his pass catching. Miller has played much better this year — he has added 55 yards as a runner — than last year — when he cost the team 35. But this could still be his last hurrah as a workhorse back with impact sophomore runner D'Onta Foreman — who had 21 Yards Added in 2017 — set to return. Hopefully that sendoff can be a victory for your fantasy playoff teams.
Sunday, 1 p.m. ET
If there was ever a team to embrace playing in rainy conditions, it is the Lamar Jackson-led Baltimore Ravens. Since Jackson (+1.0) took the helm of the Ravens' offense in Week 11, they have run the ball on two thirds of their offensive plays. Only six other teams are north of a 50% run ratio over that same stretch, and only the Seahawks are within 10% of them.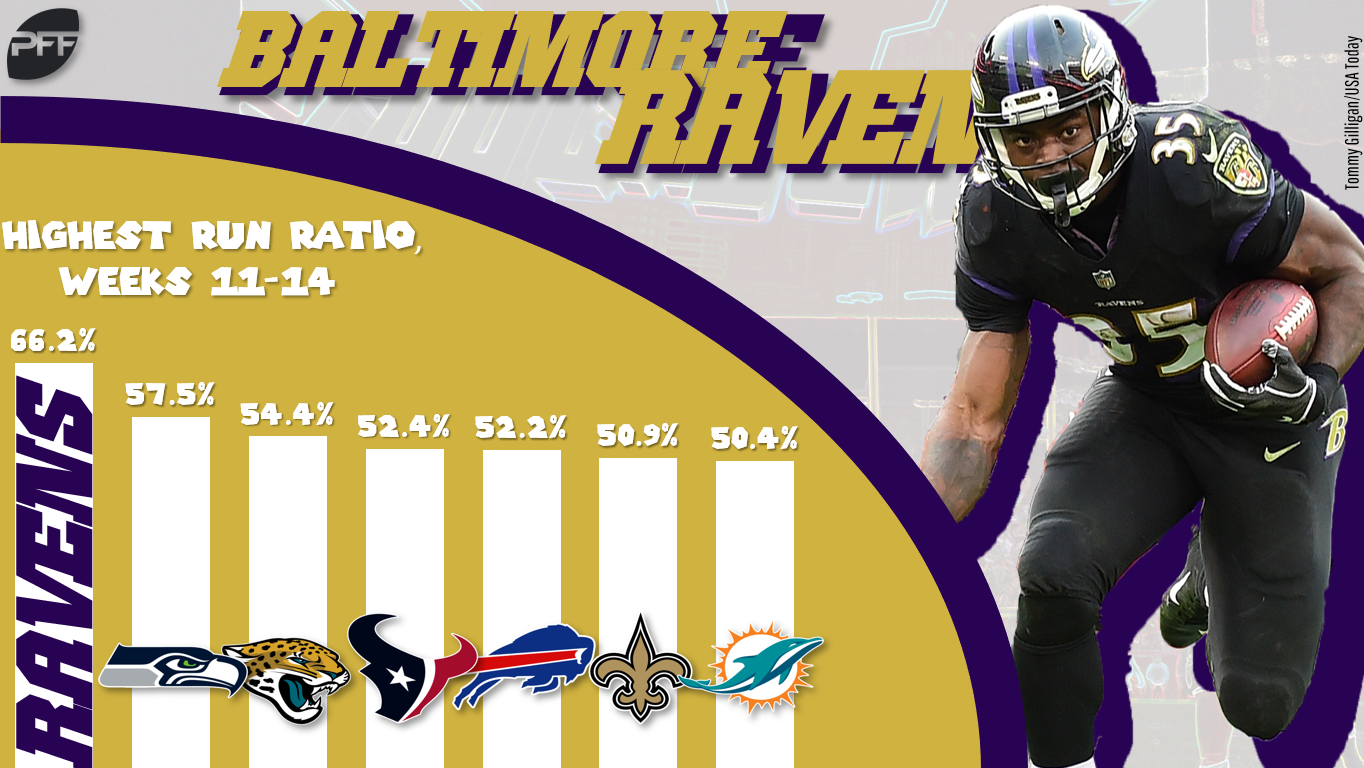 Look for the Ravens' offense to skew even more extreme this week with the rain and against a Bucs team that promotes rushing yards per attempt by 7% and rushing touchdowns per attempt by 19% more than an average team. Jackson, himself, may be the primary beneficiary, but both Gus Edwards (+0.8) and Kenneth Dixon (+0.1) could be in for big fantasy days, as well.
Jameis Winston (-1.2) doesn't run as much as Jackson, but he's found his own path to being a better quarterback in fantasy than in reality. He's even turned into a consistent producer since he re-took the job from Ryan Fitzpatrick in Week 11. He's thrown two touchdowns in four straight games and only thrown two total picks over that stretch. Don't be deceived. His Week 11 production came in extended garbage time in relief, and all three of his solid games since then have been at home. Winston is throwing more than two picks per game on the road this season, and he didn't even play entire games in two of his four road efforts. He could be a turnover machine on the road in the rain against the fearsome Ravens' pass defense.
A handful of Winston interceptions won't on their own sabotage the fantasy days of Mike Evans (-0.9), Chris Godwin (-0.8), and Adam Humphries (-1.0). But the rain and a Ravens defense that cuts passing yards and touchdowns per attempt by about 10% each just might. The one Buccaneer with a plus matchup is passing back Jacquizz Rodgers (+0.9). He's been a marginal contributor this season such that he doesn't make sense to use in shallow or medium formats. But he isn't the worst Hail Mary choice in a deeper PPR format this week. If the Bucs fall behind early, Rodgers could see a lot of dump-off passes.
The Bills haven't been quite as extreme of a run team as the Ravens, but they may choose to be this week in the cold and rain at home against the Lions. Josh Allen (1.0) is the sneaky-best running quarterback in the NFL. Thanks to his 335 rushing yards over the last three weeks, he has lapped his competition for most Rushing Yards Added at the position this year.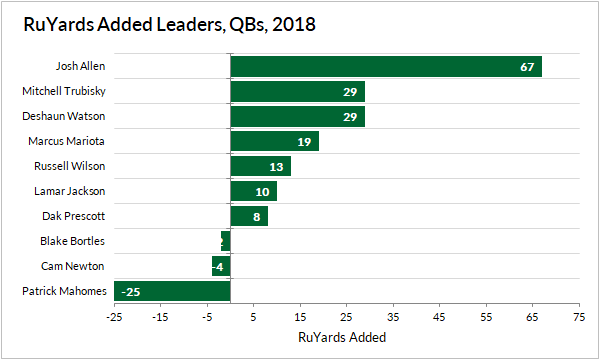 You may be reluctant to rely on the rookie in your fantasy playoffs, but I think he is very usable this week. The Lions have been below average defensively pretty much across the board, and they allow close to 20% more passing and rushing touchdowns per attempt than a typical team.
The rainy Lions game should be a plus matchup for one of the Bills backs, but LeSean McCoy's (-0.1) hamstring injury makes either difficult to recommend before actives and inactives are declared on Sunday morning. In a perfect world, McCoy would sit, which would catapult Chris Ivory (0.0) into RB2 territory thanks to a likely run-focused game plan, a lack of competition, and no worry that a nagging injury might knock him out of the game early. I'd pick up Ivory just in case, and he could become a daily steal on Sunday at just $3,600 on DraftKings.
With Kerryon Johnson still sidelined, the Lions don't seem to have the personnel to mirror the Bills' likely game plan. I still expect them to try. I project LeGarrette Blount (-0.2) to lose a bit more for the road matchup than he gains with the rain and for Theo Riddick (-0.2) to lose a bit more for the rain than he gains with the road matchup. That leaves them with the same small loss of projected fantasy points for the week, but Blount has the greater upside. The Bills have an excellent defense, but they are stronger against the pass than the run. They've actually allowed the third-highest increase in rushing touchdowns per attempt of any team in football.
Like Hopkins, Kenny Golladay (-0.6) is something of a one-man show in the Lions' receiving game with Marvin Jones now done for the year. However, that spotlight hasn't been as profitable for Golladay's fantasy production as it has for Hopkins'. Since Jones went down in Week 10, Golladay has seen his receiving totals decline from 113 to 90 to 50 to just 5 last week in Arizona. And the Bills are well-equipped to limit Golladay to a below-average fantasy day thanks to Tre'Davious White, who has not allowed a receiver to top 68 yards against him this season. Golladay should see enough volume to use him as a flex option, but don't expect a borderline WR1/WR2 line like he producing earlier this season.