Most of the time, when a fantasy football asset's value goes through wild swings, there's a reason why. He has a big year, his value takes a leap. If he struggles, it falls. Most of this is predictable.
But that doesn't always mean it's rational. Sometimes value rises or falls for no good reason, or it rises or falls at a level not commensurate with what would be warranted.
Today, we're looking at players whose ADPs have climbed the most from 2018 to 2019, looking for ones whose rises might not make as much sense. Sunday, we'll look at the fallers.
(All ADP information comes from Fantasy Football Calculator.)
Quarterback
(2018 ADP: QB15; 2019 ADP: QB1)
This one obviously makes sense, as Mahomes went from 2018 draft afterthought (drafterthought?) to record-setter. Whether he can repeat his massive season is fair to debate, but taking him first among quarterbacks is going to be the overwhelmingly common choice this year.
(2018 ADP: QB20; 2019 ADP: QB13)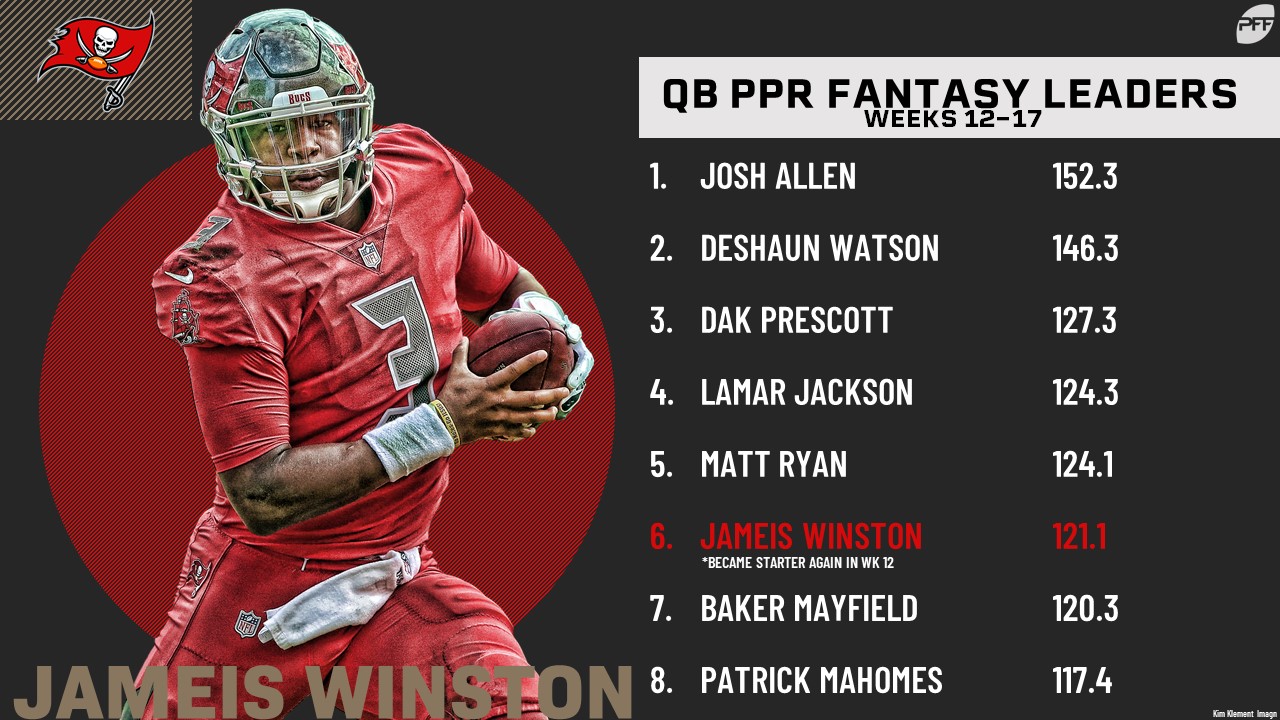 Winston's ADP a year ago was obviously depressed by his suspension to start the year, but even with that his stock was low. His 2018 was up and down, but he closed hot, QB6 over his six starts in Weeks 12-17. Now, with Bruce Arians as his coach — a move that should by all rights mean excellent things for that offense — Winston is being drafted closer to his floor than his ceiling. This is one situation where I would argue the climb in ADP hasn't even been big enough.
Running back
The biggest ADP climbers from 2018 to 2019 were James Conner and Nick Chubb, for obvious reasons that we don't need to get into here. We'll look beyond them.
(2018 ADP: RB40; 2019 ADP: RB17)
Drafters had no idea how to handle the Colts backfield entering last year. Mack wasn't healthy to start things off, and the team had rookies Nyheim Hines and Jordan Wilkins in the mix as well (and Christine Michael, for what it's worth). Through Week 6, Mack had only two games played and 129 scoreless yards. Wilkins hadn't been any great shakes, but Hines had been very productive. From Week 7 to the end of the season, Mack was RB9, second behind only Derrick Henry in rushing touchdowns. Is that for real? Mack's production was tied tightly to the Colts' success as a team, so really, it comes down to whether you think the Colts will be an elite team in 2019. If yes, Mack's ADP is great. If no? This rise might be too big.
(2018 ADP: RB59; 2019 ADP: RB41)
I was hard on the Ekeler train a season ago, going so far as to call him a poor man's Alvin Kamara. And while his 2018 production backed that up (he finished as RB25 on the year), the more he worked, the worse he did; his grade in four games where he topped 30 offensive snaps was 61.9, compared to 90.5 in all the games with fewer than that. And that makes Ekeler a very dicey fantasy proposition. You want a guy with bell cow potential without having to rely on exceptional efficiency, and Ekeler just doesn't offer that. His ADP hasn't skyrocketed, but it's probably at or near its absolute ceiling.
(2018 ADP: RB46; 2019 ADP: RB34)
Color me perplexed by this one. Yes, Murray is joining a Saints offense that has been a running back goldmine for a generation now and made great use of both Alvin Kamara and Mark Ingram in recent years. But we more or less know that he'll be the definite backup to Kamara in New Orleans, and a year ago he was in the same position behind a back in Dalvin Cook who was coming off a torn ACL and was no health guarantee. If you want to give credit to Murray's new role on the new team, fine, but taking him this high seems like an overbid.
Wide receiver
(2018 ADP: WR65; 2019 ADP: WR31)
The Kirk hype is out of control this offseason, with buzz around the new Cardinals offense and his own offseason program performance buoying him not only to a high point in ADP, but eight receivers earlier than his own teammate, Larry Fitzgerald. This despite a rookie year in which he never topped 90 yards, scored only three times, and missed the last month to injury, and whose team added two big-name receivers in the draft. Kirk could be excellent in 2019! He's got enough ability! But the hype has risen too far.
(2018 ADP: WR48; 2019 ADP: WR23)
Ridley had a plenty productive rookie season, considering he was his team's No. 3 receiver for most of the year. Most of it came early (he was WR10 in Weeks 1-4; WR32 afterward), and he had a lot of touchdown luck, but there is still plenty to like about Ridley's rookie year. Is it "WR23" like, though? Our PFF Fantasy staff rankings have him as WR30 right now, and he's my personal WR36. I'm skeptical.
(2018 ADP: WR57; 2019 ADP: WR36)
Allison played only five games in 2018 — only one after Week 4 — put up a 61.4 overall PFF grade that would have been 90th among receiver if he had qualified, and hasn't topped 303 yards in a season in his three-year career, and is being drafted as a strong WR4? I don't understand this one, not with all the offseason buzz centering on drafted-11-receivers-later Marquez Valdes-Scantling. Allison might well prove to be the most valuable Packers receiver after Davante Adams, but that isn't sure enough for him to be drafted as well as he is.
(2018 ADP: WR32; 2019 ADP: WR20)
Kupp has an enormous ceiling, obviously, but this is also a receiver recovering from an ACL tear that happened in Week 10. I must be the crazy one here, but we're all too trusting that he will not only return for Week 1, but will be at close to full strength. Kupp's stock should be strong, but this might be too strong.
Tight end
Only four tight ends who had draftable ADPs each of the last two years have climbed more than a single spot in the rankings.
(2018 ADP: TE15; 2019 ADP: TE4)
As the card-carrying president of the Howard third-year breakout club, I'm biased here. But even I will stop and note that taking Howard fourth at the position (which is where I have him ranked) presents problems; he has very little chance of jumping into the top three at the position barring injury to one of those guys, which means he's going at his ceiling. Howard should be the fourth tight end drafted, and you should probably let someone else do the drafting.
(2018 ADP: TE18; 2019 ADP: TE7)
Short and sweet here, because I've discussed Ebron in about 147 different pieces this offseason: His chances of repeating his monster season are low, and his role isn't secure with Jack Doyle returning from injury, but there's such a dearth of productivity at tight end that this ADP is still just about right or close.
(2018 ADP: TE13; 2019 ADP: TE3)
Kittle was one of the big breakouts of 2018, but even with that his ADP climb wasn't that high, because he was already considered a popular breakout candidate and tight end was weak even before 2018's collapse. He's the back end of the elite tier at the position, and you would have a better time arguing for him to climb to second that him deserving to fall to fourth.
(2018 ADP: TE16; 2019 ADP: TE11)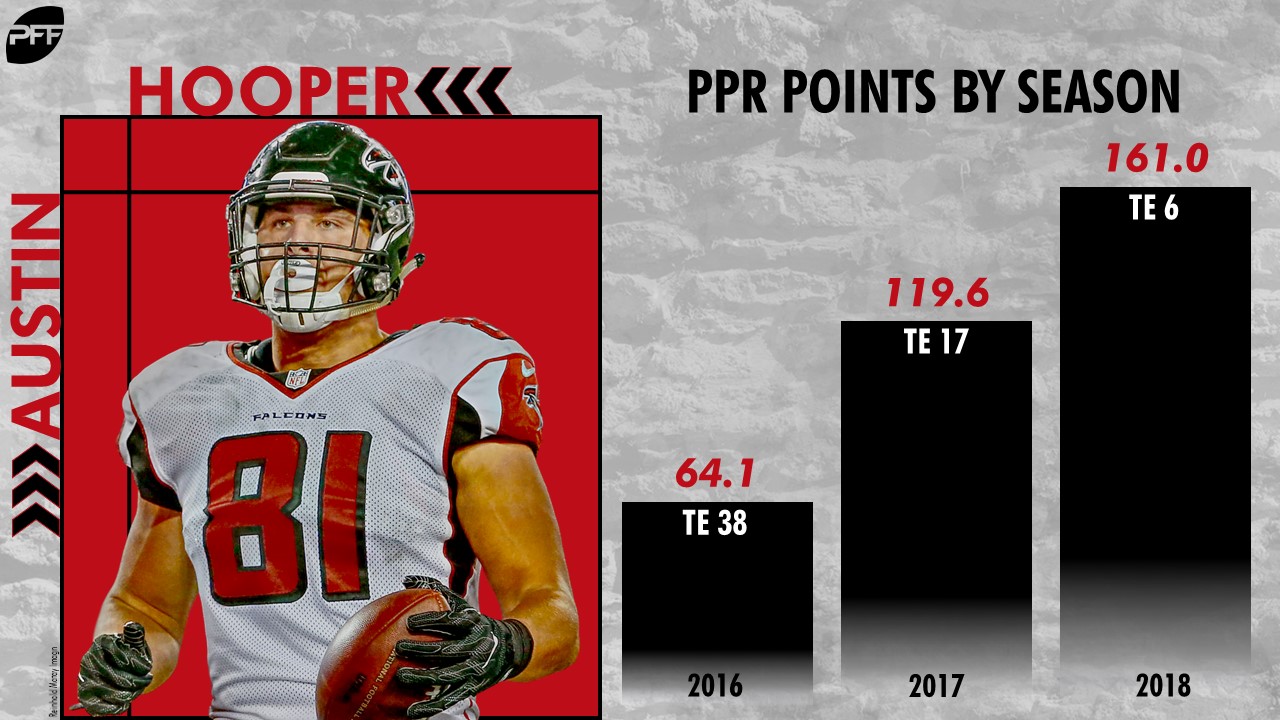 Hooper finished sixth among fantasy tight ends a year ago, excellent on the surface but underwhelming on the raw point total (his 161 points were the lowest for a sixth-place finisher in at least a decade). He's proven to be reliable if not exciting, which is … just about right for a guy going at the back end of the starters at the position.