With fantasy football draft season fast approaching, one of the biggest questions fantasy managers need to answer for themselves is who will win the top position battles around the league. Obviously, in an ideal situation, you'd be able to draft only guys who are their teams' clear-cut No. 1 options, but that's not always practical.
Below, we'll be looking at some of the top position battles to monitor for fantasy at the tight end position, hopefully handicapping how to prioritize the candidates in fantasy drafts. We looked at position battles at running back and position battles at wide receiver earlier this week.
(Keep an eye on preseason and training camp reports on all of these situations, of course, as these are the places most ripe for quick changes in status.)
(The contenders: Eric Ebron, Jack Doyle)
There might be no area in fantasy in 2019 where the fantasy analysts and drafting community are further apart than in analysis of Doyle for 2019. In our PFF Fantasy staff rankings, Doyle is currently the No. 12 tight end, with individual rankings between 10th and 15th. In Fantasy Football Calculator ADP? Doyle doesn't even have a ranked ADP. He's essentially free in drafts. Considering how well Ebron did in 2018, his high standing makes sense. But with even a second of attention to how the two were deployed when they were both active in 2018 (as seen in a recent Decider piece that evaluated Ebron's fantasy stock), it might be worth a pause.
How to approach them in drafts: There's such a paucity of quality tight ends that Ebron going off the board seventh is close to accurate (he's eighth in my rankings) even if you give Doyle more credit. It's Doyle's stock, though, that is miles off. He might not be a No. 1 TE in 2019 (though he might be!), but him going undrafted is practically comical.
(The contenders: Noah Fant, Jeff Heuerman, Jake Butt)
Obviously, Fant is the future in Denver after the Broncos took him in the first round if this year's draft. But tight ends struggling as rookies is common enough to be a full cliché. So Fant is going to get every shot to be the No. 1 tight end to start, but if he struggles in training camp, Heuerman or Butt could take the job back. Both had flashes in 2018 before injuries knocked them out for the rest of the year (Butt had 11 targets in Weeks 1-3, Heuerman was TE4 in Weeks 8-9).
How to approach them in drafts: For all intents and purposes, you aren't. Fant is the last tight end with a draftable ADP right now (22nd), while Heuerman and Butt are of course going undrafted. For now, that's about right. But if there is any change in training camp, there could be some deep-league value to grab.
(The contenders: Darren Waller, Luke Willson, Derek Carrier, Erik Swoope, Foster Moreau)
This isn't so much a "position battle" as a "see if anyone can develop" fight. With Jared Cook now in New Orleans, there's an opening for a tight end to potentially seize fantasy value, but it's far from a sure thing. Waller is going to get the first crack at the job, but he's also entering his fifth season and has 18 career receptions.
How to approach them in drafts: Waller's also a favorite of our own Scott Barrett, for what it's worth. If Waller can reach the ceiling being discussed around him, there's fantasy value there. If he struggles in camp, though, this is a situation just to avoid.
(The contenders: Benjamin Watson, Matt LaCosse)
Remember those five minutes when we thought Austin Seferian-Jenkins would be the new Rob Gronkowski? Then the Patriots signed Watson, released Seferian-Jenkins, and here we are. Watson has had flashes of big fantasy production in the past, with a decent 2017 in Baltimore and a genuinely good 2015 in New Orleans, but those have been interspersed with a lot of less productive fantasy seasons for the 38-year-old who debuted in 2004 and is now facing a four-game suspension to start the year. LaCosse is just about the opposite situation, with 27 receptions and one touchdown in four career seasons. But he was the first tight end the Patriots brought in this offseason, on a two-year deal, and if there's any stock in that, LaCosse has some upside.
How to approach them in drafts: Don't. We can waste all sorts of energy wondering if the Patriots can continue to value a tight end anything like they did Gronkowski, but the truth is it will be a surprise if we get any fantasy value at the position on the team this year.
(The contenders: Ricky Seals-Jones, Charles Clay)
Seals-Jones was a popular sleeper entering 2018 after a surprising-in-a-small-sample 2017. He responded with a total disappointment, notching only 343 yards and one touchdown despite playing 15 games. How much of that is because of Seals-Jones and how much is because the Cardinals offense was a tire fire is fair to debate. Clay, meanwhile, has danced on the fringes of fantasy relevance since 2013, when he was TE8 with the Dolphins. It fell apart in 2018 though, as Clay managed a meager 184 scoreless yards with the Bills before an offseason release.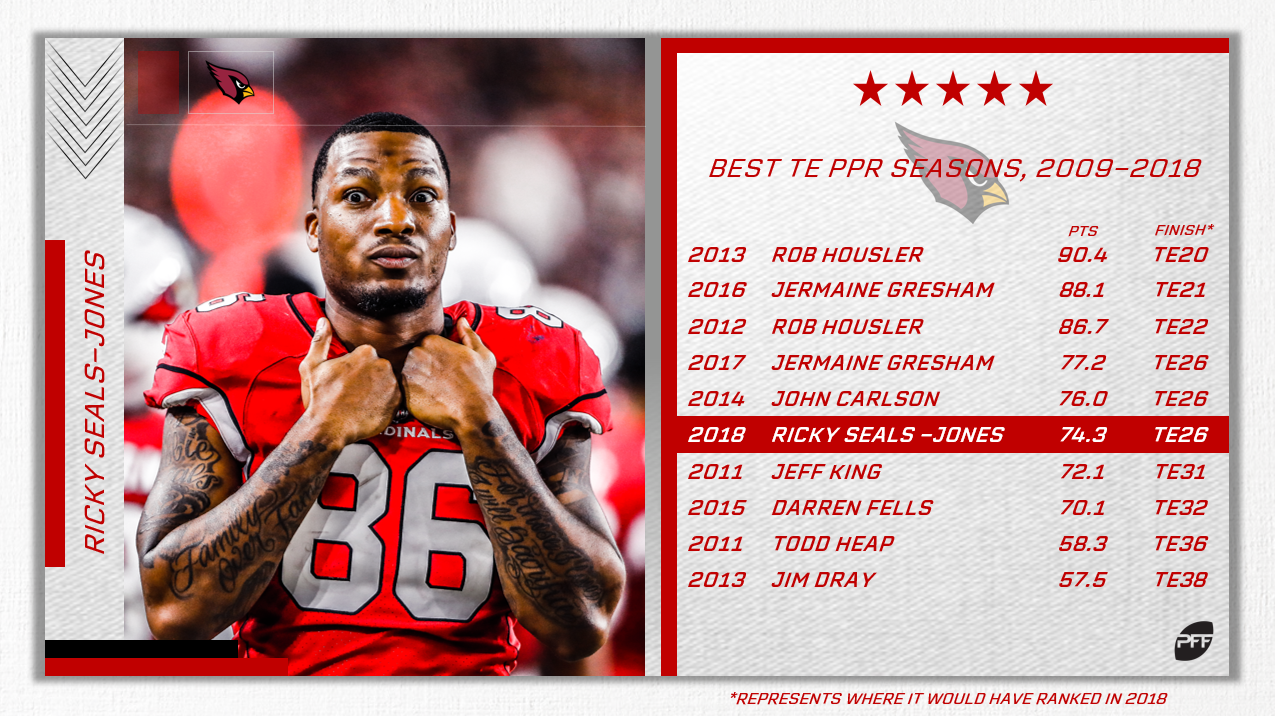 How to approach them in drafts: Let's be real here: You aren't drafting a Cardinals tight end. But if the Kliff Kingsbury/Kyler Murray duo can be the rising tide, the tight end boat should go up along with it. In the last decade, the Cardinals haven't had a tight end crack even 100 PPR points in a season. If training camp reports have one of Seals-Jones or Clay (or even Maxx Williams) can seize the job in training camp, maybe there is super-late value to be found.