(All offseason long, PFF Fantasy editor Daniel Kelley will attempt to figure out the solution to some of the biggest fantasy football draft conundrums for the 2019 season. This is The Decider.)
Travis Kelce, Zach Ertz, and George Kittle were the headlines of 2018 in tight ends. All three finished among the top-25 PPR scorers at the flex positions and were anchors on successful fantasy teams. In a miserable year for the position, they were three of only five tight ends who finished better than worst in the last 10 years for their ranking spot (firsts compared to firsts, ninths to ninths, and so on).
The other two? Fourth- and fifth-place finishers Eric Ebron and Jared Cook. Every tight end behind Cook, from sixth-place Austin Hooper on down, put up the worst fantasy finish over the last decade for that slot.
Things could easily improve in 2019, even with Rob Gronkowski's retirement. Injury returns from Hunter Henry, Delanie Walker, O.J. Howard, and others could help a flagging position in a big way. But what of Cook and Ebron? After both put up career years in 2018, they're currently going off the board back-to-back at seventh (Ebron) and eighth (Cook) at the position in average draft position (per Fantasy Football Calculator). But which one should you go for in 2019?
The contenders
Ebron was a career disappointment before 2018, never finishing better than 13th at the position in fantasy scoring. The one-time 10th overall draft pick had 12 career touchdowns in his four seasons with the Lions before getting cut last offseason and landing with the Colts. Remember that number 12? In 2018 alone, Ebron had 14 touchdowns. His 742 scrimmage yards measured comparably to his previous career high (712 in 2016), but he scored only two touchdowns that year. In other words, from the perspective of the numbers we care about for fantasy, Ebron knocked his 2018 out of the park.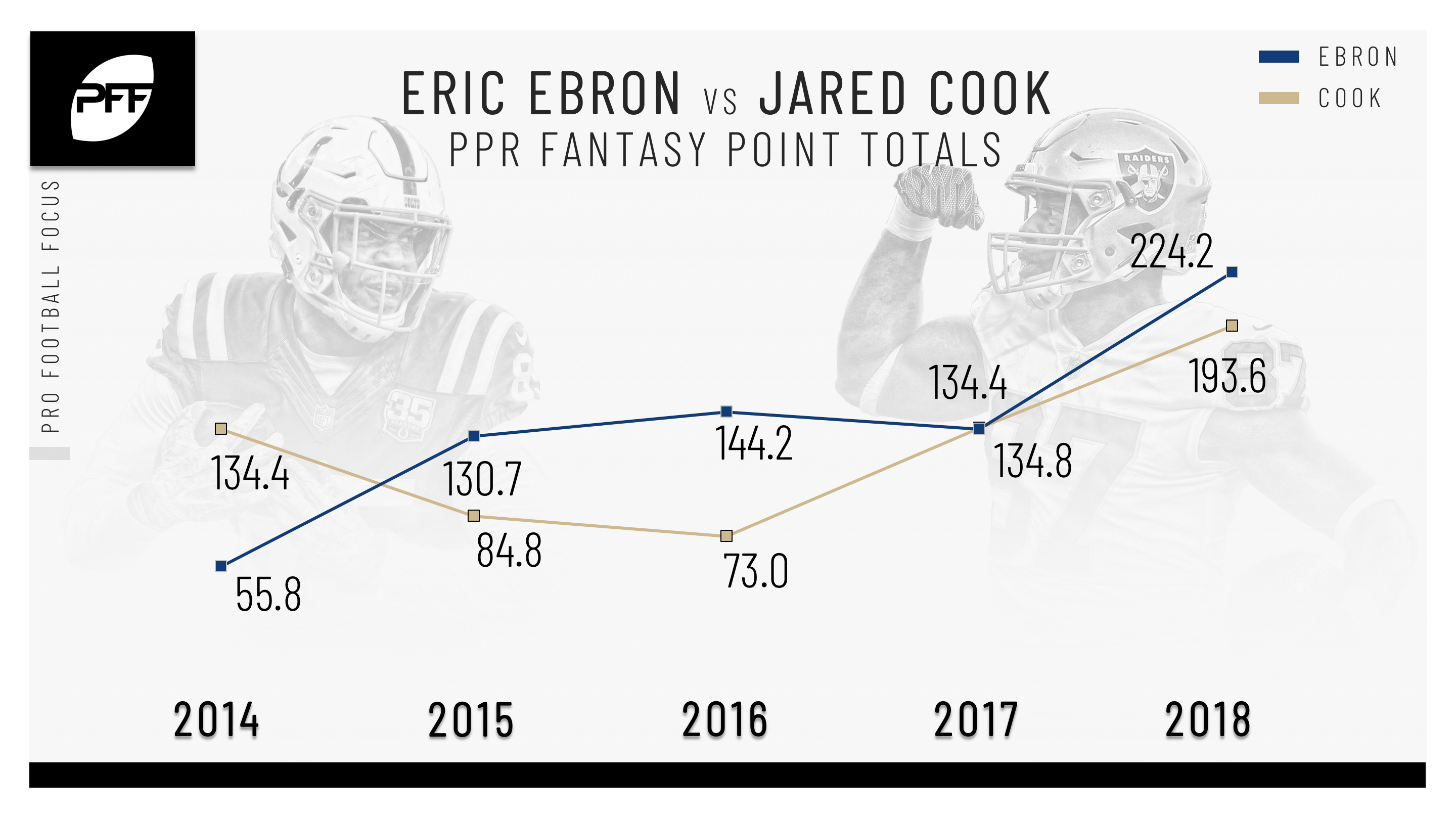 From an on-the-field perspective? Well, that's murkier. Ebron's overall PFF grade in 2018 (68.1) was lower than his 69.7 in 2017. His receiving grade (72.4) was lower than his 73.5 in 2016. Ebron has shown to be a competent receiver in his career but a woeful run-blocker, and that has dragged his overall value down. His massive production in 2018 came from two sources: Jack Doyle's injury (he played only 331 snaps after 910 in 2017) and massive, tough-to-replicate touchdown luck (Ebron scored on 12.0% of his targets, fifth in the league and easily the highest among tight ends).