Free agency and the 2022 NFL Draft have come and gone. Now, it's time to fully embrace the 2022 offseason by breaking down each team's fantasy football aspirations before fantasy draft season truly gets underway in August.
What follows is a Kansas City Chiefs fantasy-focused breakdown, touching on key questions such as:
Will

Patrick Mahomes

continue to work as one of the most productive quarterbacks the NFL has ever seen?

Is

Clyde Edwards-Helaire

finally going to see an incredibly fantasy-friendly target share?

Does

Travis Kelce

have a higher ceiling than ever without

Tyreek Hill

in the fold?
Every fantasy-relevant Chiefs player will be covered in the following paragraphs. Make sure to check out the PFF Team Preview Landing Page through early July for more all-encompassing fantasy football coverage.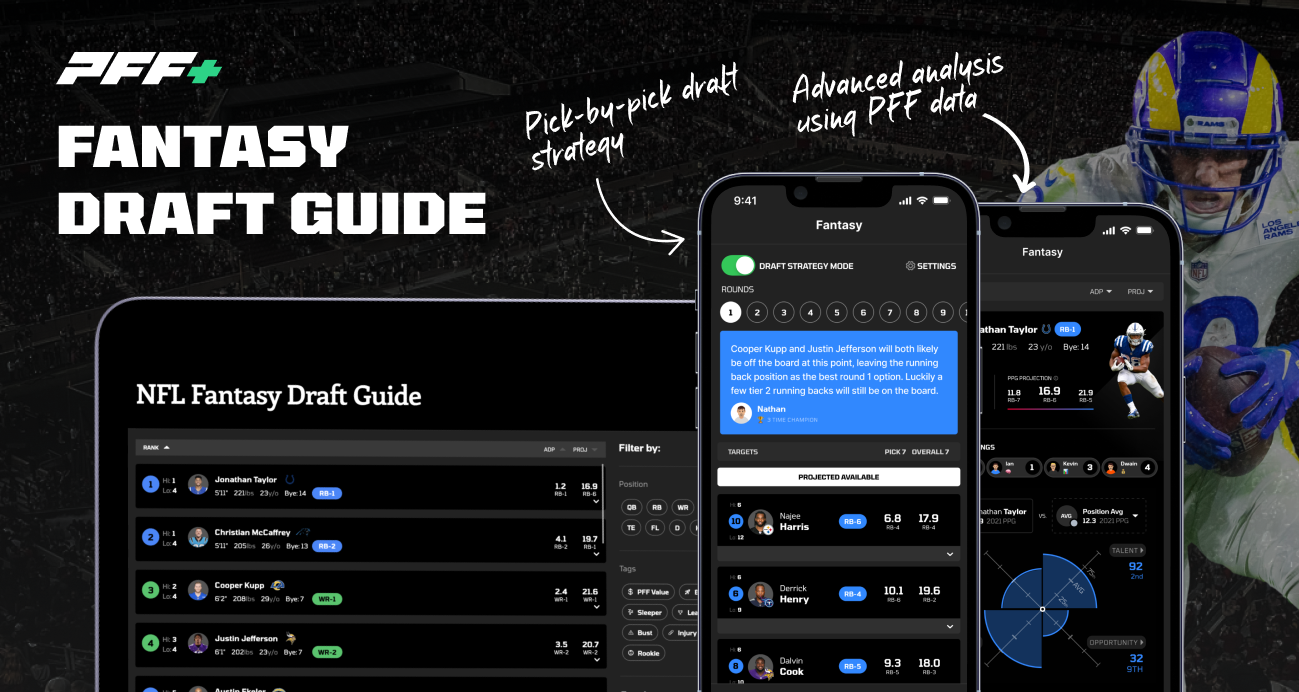 Notable offseason moves
Once again, head coach Andy Reid is joined by offensive coordinator Eric Bieniemy and defensive coordinator Steve Spagnuolo. 2022 will mark Reid's 10th year leading the Chiefs, while this will be Bieniemy's fifth and Spagnuolo's fourth years in their respective positions.
There's been a pretty common theme during Bieniemy's time as offensive coordinator: Throw the ball, and do so with a sense of urgency. Thanks to Football Outsiders for the following neutral situation pace information:
2018

: 66% pass-play rate in non-garbage time situations (No. 6); 29.92 seconds per play (No. 6)

2019

: 65.5% (No. 7); 29.1 (No. 6)

2020

: 66.9% (No. 3); 29.37 (No. 7)

2021

: 66.7% (No. 2); 29.2 (No. 3)
Don't expect much to change for the Chiefs in 2022 despite the absence of their field-stretching extraordinaire. As long as Patrick Mahomes continues to call Kansas City home, It'll likely be quite some time before throwing the hell out of the ball is anything other than Kansas City's best option for success.
Additionally, the Chiefs have made plenty of roster changes. The following quarterbacks, running backs, wide receivers and tight ends have either joined or left Kansas City in some way, shape or form this offseason:
RB Darrel Williams:

Signed with the Cardinals. Williams quietly racked up 1,010 total yards of offense and eight touchdowns last season inside of this banged-up backfield. Williams has demonstrated the ability to play across all three downs despite starting only seven of his 51 games with the Chiefs.
RB Jerick McKinnon:

Remains an unrestricted free agent. The 30-year-old veteran worked as the Chiefs' lead back during the 2021 playoffs, posting 34-150-0 rushing and 14-165-1 receiving lines while playing at least 70% of the offense's snaps in all three postseason contests. Losing McKinnon's pass-game presence would be good news for

Clyde Edwards-Helaire

's

overall fantasy upside

.
RB Ronald Jones:

Signed a one-year, $1.5 million deal with the Chiefs. Note that the contract includes just $750,000 guaranteed, but $3.5 million in incentives. The Bucs' 2018 second-round pick never quite lived up to expectations and worked behind

Leonard Fournette

for the majority of 2021. Still, RoJo deserves credit for surpassing 1,000 total yards in both 2019 and 2020.
WR Tyreek Hill:

Traded to the Dolphins in return for a whopping five draft picks, including Miami's 2022 first- and second-round picks. Hill was one of the league's top playmakers during his time in Kansas City, posting 479-6,630-56 and 93-719-6 receiving and rushing lines, respectively, during his six years with the Chiefs.
WR Byron Pringle:

Signed with the Bears. Pringle caught 67 of 93 targets for 898 yards and seven touchdowns in 46 games with the Chiefs over the past three seasons, although he rarely worked as anything other than a pure complementary piece behind

Travis Kelce

and Hill.
WR Demarcus Robinson:

Signed with the Raiders. Robinson started 42 of his 97 games with the Chiefs since joining the squad in 2016, although his career-high marks in receptions (45), receiving yards (466) and receiving touchdowns (4) show he was never exactly a featured target.
WR Marcus Kemp:

Remains an unrestricted free agent. Kemp caught just four passes for 42 yards in 43 games with the Chiefs from 2017 to 2021, although two of those receptions did go for touchdowns.
WR JuJu Smith-Schuster:

Signed a one-year, $3.25 million deal with the Chiefs, although the contract could be worth as much as $10.75 million through incentives. The 25-year-old started his NFL career off on a tear with 58-917-7 and 111-1,426-7 receiving lines in 2017 and 2018, respectively, but a myriad of injuries have prevented Smith-Schuster from touching that ceiling since. 
WR Marquez Valdes-Scantling:

Signed a three-year, $30 million deal with the Chiefs that includes $15 million guaranteed. While Valdes-Scantling's career-high marks in receptions (38), receiving yards (690) and receiving touchdowns (6) don't exactly scream No. 1 receiver, the 6-foot-4, 206-pound field-stretching extraordinaire has the sort of deep speed (4.37-second 40-yard dash) to demand attention from opposing secondaries. 
WR Justin Watson:

Signed a one-year, $1,035,000 deal with the Chiefs that doesn't exactly guarantee much of a role in 2022 or (especially) beyond. Watson posted a pedestrian 23-258-2 receiving line in 40 games with the Buccaneers from 2018 to 2021.
The Chiefs added wide receiver Skyy Moore with the 54th overall pick. PFF graded the Western Michigan product as a legit first-round prospect after he demonstrated some of the best hands in the class, dropping just three of his 125 targets in 2021 while catching eight of his 13 contested opportunities. Having the largest hands (10.25 inches) at the NFL combine certainly helps matters. Expect Moore to factor into the starting three-receiver conversation from day one.
Kansas City also drafted running back Isaih Pacheco in Round 6. Pacheco has a solid combination of size (5-foot-10, 216 pounds) and speed (4.37-second 40-yard dash), but the fantasy track record of players not selected inside of the draft's top-three rounds isn't pretty.
Finally, Kansas City added enticing undrafted free agent Justyn Ross to the fold. He went undrafted because of a congenital fusion in his spine along with a foot injury that prevented the Clemson product from reaching his full ceiling after a breathtaking freshman season. Nothing is guaranteed for rookies — even more so for undrafted players — but Ross might just be an exception if his 2018 performance was any indication of his professional future.
Mahomes looked more mortal than ever before in 2021 … and he engineered the league's fourth-highest scoring offense while leading the Chiefs to a 12-5 record. The floor is basically the roof when Mahomes is under center, but his dropoff in efficiency was notable:
| | | | | | | | |
| --- | --- | --- | --- | --- | --- | --- | --- |
| Year | PFF Pass Grade | BTT% | TWP% | PASS YPA | aComp% | RTG | ADOT |
| 2018 | 92.8 | 7.8% | 3.2% | 8.79 | 78.8% | 113.8 | 9.46 |
| 2019 | 81.9 | 5.7% | 2.5% | 8.33 | 76.4% | 105.3 | 8.67 |
| 2020 | 90.4 | 7.4% | 3.2% | 8.06 | 76.7% | 108.2 | 8.86 |
| 2021 | 73.5 | 3.3% | 2.8% | 7.35 | 78.3% | 98.5 | 7.63 |
Of course, Mahomes largely looked better than ever in the playoffs, throwing for 404 yards and five touchdowns in the Chiefs' wild card demolition of the Steelers before posting 378-3-0 passing and 7-69-1 rushing lines against the Bills in the divisional round. Things didn't go as well against the Bengals, but 275 yards and a trio of scores are still plenty fine as far as counting numbers are concerned.
Don't confuse Mahomes' "down" campaign with any sort of relegation in terms of the league's hierarchy at the position. There remains no quarterback scarier for opposing defenses to defend.
Patrick Mahomes pic.twitter.com/0HDs8eS6kv

— Ian Hartitz (@Ihartitz) June 9, 2022
There's also the reality that 2021's reduced efficiency didn't lead to much of a dropoff in fantasy goodness for Mahomes. The best version of him is one of the highest-scoring fantasy quarterbacks the game has ever seen, but the worst is still pretty damn good, too.
2018

: 26.1 fantasy points per game (QB1 on a per-game basis)

2019

: 20.5 (QB6)

2020

: 25 (QB3)

2021

: 21.3 (QB5)
Obviously, all 32 NFL offenses would prefer to have Tyreek Hill, but Mahomes did manage just fine without him for a four-game stretch in 2019. Overall, Mahomes posted 443-4-0, 374-3-0, 315-0-0 and 321-1-0 passing lines in four games without his No. 1 wide receiver since 2018, finishing as the QB1, QB3, QB11 and QB12 in fantasy land.
This fantasy floor truly is special: Only Jalen Hurts (72%) and Aaron Rodgers (72%) have finished as a top-12 fantasy quarterback in a higher percentage of their starts than Mahomes (69%) over the past two seasons. The rushing ability sure helps, with Mahomes being a safe bet for 20-plus rushing yards per game with a few scores on the ground per season.
Ultimately, Mahomes comes in as my QB4, behind only Josh Allen, Kyler Murray and Justin Herbert, but ahead of Lamar Jackson. This is basically one big tier since each of these signal-callers presents realistic overall QB1 upside. The only reason Mahomes isn't higher is that his surrounding cast isn't as strong without Hill, although betting against arguably the most talented quarterback the game has ever seen doesn't seem wise.
Don't overthink this one: Nobody in the history of professional football has averaged more fantasy points per game than Mahomes (23).
CEH has, unfortunately, dealt with a myriad of injuries since the Chiefs selected him with the 32nd overall pick in the 2020 NFL Draft:
December 20, 2020

: Grade 3 ankle strain, hip strain

August 20, 2021

: Grade 2 ankle sprain

October 10, 2021

: Grade 2 knee sprain

December 26, 2021

: Bruised shoulder
Edwards-Helaire also had gall bladder surgery in March 2021 following the Chiefs' Super Bowl loss to the Buccaneers. He noted that he "was down to about 160 pounds and then before I knew it, it was my first time of getting a rep with the football from the Super Bowl was the first OTA practice."
These various issues make it possible that the world hasn't seen the best version of Edwards-Helaire yet. This would be good news for the Chiefs, as CEH has been an average rusher after two seasons of action by just about any relevant metric:
PFF rushing grade

: 76.0 (tied for No. 38 among 85 backs with 100-plus carries 2020-21)

Yards per carry

: 4.4 (No. 34)

Yards after contact per carry

: 2.8 (tied No. 49)

Missed tackles forced per carry

: 0.17 (tied for No. 36)
These numbers aren't great, but they also don't exactly place CEH alongside the league's worst running backs. Overall, Edwards-Helaire has the same PFF rushing grade as Javonte Williams and Elijah Mitchell, more yards per carry than Alvin Kamara, more yards after contact per rush than Antonio Gibson and more missed tackles forced per carry than James Robinson over the past two seasons.
The truly disappointing part has been Edwards-Helaire's receiving production. Lauded for his ability to dominate in the passing game out of LSU, he has finished with three or fewer receptions in all but three of his 27 career games (including playoffs). High-end efficiency hasn't exactly been a given, as the former first-round pick has posted middling marks in PFF receiving grade (67.7, No. 27), yards per route run (0.92, No. 60) and targets per route run (15.5%, No. 61).
And yet, there are more opportunities than ever for CEH the receiver entering 2022 thanks to both Darrel Williams and Jerick McKinnon being out of the picture. Only the Ravens have more available backfield targets than the Chiefs based on roster turnover, and they don't really count due to their top two running backs missing all of 2021 because of injuries.
Don't let an underwhelming three-year stretch distract from the fact that Andy Reid has enabled some of the NFL's most fantasy-friendly running backs for the better part of the past two decades.
| | | |
| --- | --- | --- |
| Year | Running back | PPR/game rank |
| 1999 | Duce Staley | RB11 |
| 2000 | Duce Staley | RB15 |
| 2001 | Duce Staley | RB11 |
| 2002 | Duce Staley | RB15 |
| 2003 | Brian Westbrook | RB19 |
| 2004 | Brian Westbrook | RB5 |
| 2005 | Brian Westbrook | RB7 |
| 2006 | Brian Westbrook | RB4 |
| 2007 | Brian Westbrook | RB1 |
| 2008 | Brian Westbrook | RB1 |
| 2009 | Brian Westbrook | RB36 |
| 2010 | LeSean McCoy | RB3 |
| 2011 | LeSean McCoy | RB3 |
| 2012 | LeSean McCoy | RB8 |
| 2013 | Jamaal Charles | RB1 |
| 2014 | Jamaal Charles | RB7 |
| 2015 | Jamaal Charles | RB2 |
| 2016 | Spencer Ware | RB17 |
| 2017 | Kareem Hunt | RB5 |
| 2018 | Kareem Hunt | RB8 |
| 2019 | Damien Williams | RB25 |
| 2020 | Clyde Edwards-Helaire | RB21 |
| 2021 | Clyde Edwards-Helaire | RB30 |
Edwards-Helaire hasn't been good as a rusher or a receiver, but he also hasn't received anything close to an elite workload, ranking as the RB15 and RB39 in expected PPR points per game over the past two seasons. All the while, Chiefs running backs rank first and 12th in routes and targets, respectively, since 2020. CEH's ceiling is higher than ever ahead of 2022 with a potential high-end target share for the first time in his career.
I'm drinking the Kool-Aid on a healthier version of Edwards-Helaire experiencing a Year 3 breakout of sorts. He comes in as my RB23 ahead of higher-ADP players Josh Jacobs, Antonio Gibson and Elijah Mitchell, who simply don't have the same sort of pass-game ceiling. Don't let an unfortunate string of injuries distract from the fact that CEH remains the lead back inside of a projected top-five, worst-case top-10, scoring offense.
And then there's RoJo, who is also firmly on the fantasy grid thanks to his affordable RB40 ADP at Underdog Fantasy. Don't expect Jones to factor into the passing game even a little bit. He once caught a touchdown but was convinced by the ref that it was actually a drop. This is not a joke: Even RoJo doesn't trust RoJo in the receiving game.
Can't think of Ronald Jones without remembering the time he caught a touchdown but then just assumed the refs were right when they said he dropped it pic.twitter.com/l05jXVnLpM

— Ian Hartitz (@Ihartitz) March 26, 2022
Unlike CEH, Jones has posted top-20 marks in PFF rushing grade (79.9), yards per carry (4.8) and yards after contact per carry (3.3) over the past two seasons. There's potential here for him to work as the lead early-down back, just ask Andy Reid:
"He's (Jones) a tough runner with good vision. … I'll take that, and he needs that opportunity to feel like he's a major part of this thing. We'll give him that. I've got Clyde in there, too, so it'll just help take some pressure off and they'll work together and be a pretty good combo."
Jones looks a lot like this year's version of James Conner, a perceived-washed veteran who profiles as the goal-line back inside of one of the league's top-scoring offenses. While Jones doesn't present the same theoretical three-down upside as Conner in the event of a CEH injury, don't discount the potential for him to flirt with double-digit touchdowns in a best-case scenario. I'm perfectly fine buying Jones in Round 10 or later when loading up at other positions in the earlier rounds in drafts of all shapes and sizes.
Moore profiles as a potential day-one starter after the Chiefs drafted him with the 54th overall pick of the 2022 NFL Draft. PFF had the following to say about the Western Michigan product in our 2022 NFL Draft Guide:
"Where he wins: Elusiveness. In a class with some seriously shifty wideouts, Moore would be my bet to win if they all played tag. He's not only shifty, but he's also so strong he's unaffected by an outstretched arm. That alleviates some level of competition concerns.
What's his role: YAC weapon. He's not a guy you want primarily on the outside, but I don't think he's slot-only, either. He can win in a number of ways, but he makes his money when featured in the underneath portion of the field.
Where he can improve: Deep route tree. Moore needs some seasoning on the intermediate and deep routes. He can already get free underneath but doesn't bring the same refinement down the field."
Moore's performance in terms of yards per route run and targets per route run was superior to that of Jameson Williams. While competition level is a concern, the Chiefs' willingness to make Moore a second-round pick aligns with the profile of past high-end performing rookie receivers.
More intriguingly, Moore posted the class' highest yards per route run mark on staple routes (per PFF's Dwain McFarland). While his choice to wear No. 24 isn't ideal, Moore comes in as my third-ranked rookie receiver in re-draft, behind only Drake London and Treylon Burks
And then there's Marquez Valdes-Scantling, who never quite boomed in Green Bay but was sought after enough on the free agency market to earn $30 million. While the grass typically isn't greener on the other side for free agents, regardless of position, Valdes-Scantling deserves some slack for not demanding more targets because he was sharing an offense with Davante Adams.
It's easy to fall in love with Valdes-Scantling's field-stretching ability. At worst, he'll demand safety help over the top on a near every-play basis.
Marquez Valdes-Scantling pic.twitter.com/ke9Bebogen

— Ian Hartitz (@Ihartitz) June 11, 2022
MVS is (wait for it) better in best-ball and is cemented in three-receiver sets thanks to his unique skill set relative to the rest of the Chiefs' wide receivers.
Finally, the JuJu question. It's been a while since we've seen Smith-Schuster operate as anything resembling a "good" receiver. His efficiency numbers over the past three seasons are objectively poor.
PFF receiving grade

: 66.4 (No. 84 among 102 wide receivers with 100-plus targets 2019-2021)

Yards per route run

: 1.3 (tied for No. 86)

Yards per reception

: 9.8 (No. 96)

Yards after the catch per reception

: 4.6 (No. 40)

Average target depth

: 7.3 (No. 93)

Targets per route run

: 18.8% (No. 62)
Smith-Schuster has dealt with concussion, knee, foot, rib and shoulder problems over the past three seasons, but even in his healthy games meaningful production has been hard to come by. He simply doesn't resemble the same sort of after-the-catch beast that was on display during the early parts of his career.
Perhaps Hardman (24 years old) shouldn't be written off following a season in which he set career highs in targets (83), receptions (59) and receiving yards (693). The Chiefs' 2019 second-round pick hasn't lived up to overall expectations but has still started 21 of 49 games and could feasibly work ahead of Moore to start the season.
Ultimately, it wouldn't be surprising if nobody involved demands an extreme target share since Travis Kelce is fully expected to work as the offense's No. 1 pass-game option. There's obviously plenty of available opportunity without Hill in the fold, but there's also essentially zero history of Mahomes enabling anybody else as a fantasy-relevant wide receiver. Sammy Watkins (WR38 in 2018) is the only non-Hill Chiefs wide receiver to post a top-50 finish in PPR points per game over the past four seasons. Hell, Watkins is the only receiver to finish higher than 70th. The list is truly awful.
Note that Robinson (6-172-2, 3-43-1), Hardman (4-61-1, 2-97-1) and Pringle (6-103-1) did put together some big performances while Hill was sidelined, so it's possible that those small samples extrapolate into something much more for the new parties involved with a full offseason to prepare.
Moore's prospect profile and draft capital have me leaning toward him as the wide receiver to target out of Kansas City. MVS is my next best bet for the most production thanks to his deep-ball ability, but he'll likely lose out in total targets to Smith-Schuster, who would be ranked far higher if we'd seen him play even a little good football over the past three seasons. Hardman is a decent enough later-round dart because he's the only incumbent wide receiver involved. Neither Ross nor Gordon are worthy of late-round darts at the moment due to the potential that neither are on the roster come Week 1, albeit the former receiver is worth chasing in the later round of dynasty drafts.
Kelce finished as the overall TE1 in every season from 2016 to 2020. Last season, Mark Andrews took the overall honor, but Kelce hardly disappointed with a second-place finish. His average of 16.6 PPR points per game and 15.7 expected PPR points per game were a downgrade from his marks in 2020 (20.8 and 17.8), so it's fair to wonder if the best years of his career are in the rear-view mirror:
| | | | | | |
| --- | --- | --- | --- | --- | --- |
| Year | PFF receiving grade | YPRR | YPR | YAC/REC | THREAT |
| 2018 | 90.8 | 2.31 | 12.97 | 5.57 | 24.0% |
| 2019 | 90.5 | 2.23 | 12.67 | 4.15 | 23.6% |
| 2020 | 93.5 | 2.5 | 13.49 | 5.62 | 24.6% |
| 2021 | 86.4 | 1.84 | 12.23 | 6.15 | 21.4% |
Sure, Kelce has a chance to smash his previous career-high mark in targets (150), but it's not like the volume has ever been an issue here. He's finished No. 2, No. 1, No. 2 and No. 2 in total targets since 2018.
While Andrews and George Kittle are arguably better real-life options at this point in their careers, Kelce's potential volume and still-solid efficiency give him as good a shot as anyone at posting another TE1 overall finish.
Younger is usually better in fantasy football land, but the age dropoff at tight end has been far kinder to veterans than at running back or wide receiver.
% of top-12 fantasy producers (PPR) by age over the last 10 years pic.twitter.com/PTySzVXBq5

— Ian Hartitz (@Ihartitz) February 8, 2022
Kelce (143 targets) and Andrews (137) are the only tight ends PFF projects to clear even 115 targets. The reality that these two ballers are their offense's No. 1 pass-game options puts their fantasy ceilings at a different level than everyone else at the position.
Kelce continues to warrant exposure at the first-round turn, and he should be scooped up in fantasy drafts of all shapes and sizes if available at any point in the second round.