Free agency and the 2022 NFL Draft have come and gone. Now, it's time to fully embrace the 2022 offseason by breaking down each team's fantasy football aspirations before fantasy draft season truly gets underway in August.
What follows is a fantasy-focused breakdown of the Cleveland Browns, focusing on key questions like:
What does the upside of this passing game look like with

Deshaun Watson

vs.

Jacoby Brissett

under center?

Could 2022 be the most productive campaign of

Nick Chubb

's career?

How high are the ceilings of

Amari Cooper

and

David Njoku

inside this run-first offense?
Every fantasy-relevant player from the Browns will be covered in the following paragraphs. Make sure to check out the PFF Team Preview Landing Page through early July for more all-encompassing fantasy football coverage.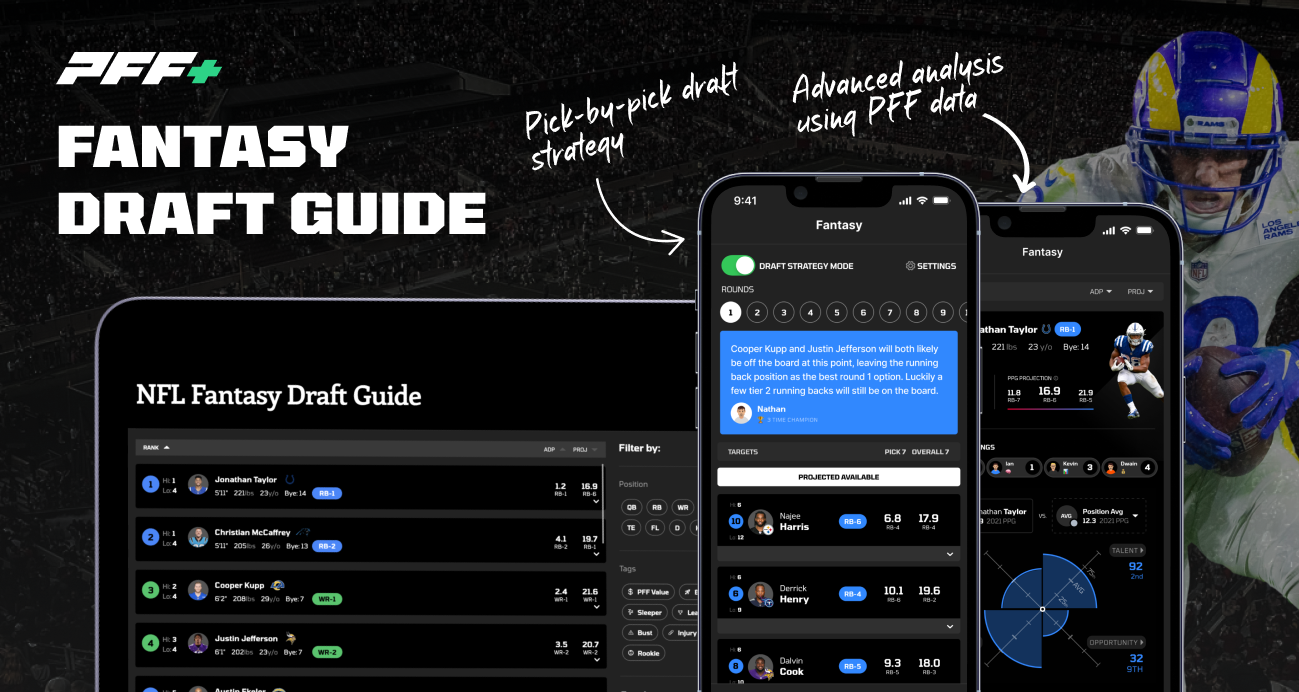 Notable offseason moves
From the front office to the coaching staff to the roster, every 2022 NFL team will be different than its 2021 version.
The Browns are betting on continuity to elevate them to newfound heights. Head coach Kevin Stefanski, offensive coordinator Alex Van Pelt and defensive coordinator Joe Woods are all back for their third season in Cleveland.
The first two seasons of the Stefanski-Van Pelt partnership produced some of the league's most run-heavy and slow-paced offenses (per Football Outsiders):
• 2021: 57.4% pass-play rate in non-garbage time situations (No. 26); 32.26 seconds per play in neutral situations (No.24)
• 2020: 54.8% (No. 28); 30.61 (No. 21)
The good news is that the Browns have utilized play-action (27.7%, No. 13) and shift/motions (59.1%, No. 5) at high rates — two things we know make for good offense.
Perhaps Stefanski will look to open up the passing game once he's more at peace with the quarterback under center, but for now, it's tough to project this offense being anything other than a fairly slow-paced run-first unit — not the sort of situation fantasy investors should be actively targeting.
Additionally, the Browns have made plenty of changes to their roster. The following quarterbacks, running backs, wide receivers and tight ends have either joined or left Cleveland in some way, shape or form this offseason:
QB Deshaun Watson: The Texans traded Watson to the Browns for first-round picks in 2022, 2023 and 2024, along with a 2023 third-rounder, a 2022 fourth-rounder and a 2024 fourth-rounder. Watson was anyone's idea of a top-10 real-life and fantasy quarterback during his time in Houston, but his tenure with the Texans and Browns will always be attached to the results of his ongoing legal investigation.
QB Case Keenum: Traded to the Bills in return for a 2022 seventh-round pick. The journeyman won both of his spot starts with the Browns last season, throwing for 508 yards and a trio of touchdowns in his nine games of action over the past two seasons.
QB Nick Mullens: Signed a one-year, $2 million contract to battle it out with Jarrett Stidham as

Derek Carr

's backup. Mullens averaged a solid 7.9 yards per attempt in 16 starts with the 49ers from 2018 to 2020 but faltered with a meh 147-1-0 line in his only start with the Browns last season, which coincidentally came against the Raiders.
QB Jacoby Brissett: Signed a one-year, $4.65 million deal with the Browns. Over the years, Brissett has started 30 games between the Patriots, Colts and most recently the Dolphins. He has posted rather mediocre marks in yards per attempt (6.4, No. 60), adjusted completion rate (73.6%, No. 36), and PFF passing grade (63.3, No. 51)

among 75 quarterbacks with at least 300 dropbacks since 2016.
FB Andy Janovich:

Signed a one-year, $3.3 million deal with the Texans that included a rather steep $2.5 million guaranteed. Leave it to the Texans to invest nearly more guaranteed dollars in a 29-year-old fullback than the rest of their running backs combined.
WR Jarvis Landry: Signed a one-year, $6 million deal with the Saints to presumably work as the offense's starting slot receiver. The homecoming comes after four solid years in Cleveland that featured receiving lines of 81-976-4, 83-1,174-6, 72-840-3 and most recently 52-570-2.
WR Rashard Higgins: Signed a one-year, $1.1 million deal with the Panthers, although just $152,500 is guaranteed. Higgins spent 2016 through 2021 serving as a complementary receiver with the Browns, ultimately posting a 137-1,890-12 receiving line in 82 games.
WR Amari Cooper: Acquired from the Cowboys in exchange for a fifth-round pick. Cooper posted top-10 marks in receptions (292, No. 7), receiving yards (3,893, No. 9) and receiving touchdowns (27, No. 9) among all wide receivers during his time with the Cowboys.
WR Jakeem Grant: Signed a three-year, $10 million deal with the Browns, although just $3.035 million of the deal is guaranteed. The pint-sized speedster has flashed as a complementary receiver with the Dolphins and most recently the Bears over the years, but he figures to mostly factor in as the team's primary kick and punt returner.
TE Austin Hooper: Signed a one-year, $6 million deal with the Titans after being released by the Browns. While Hooper didn't quite live up to his gaudy contract in Cleveland, he doesn't turn 28 years old until October and offers the most all-around ability of any tight end on the Titans' roster.
The Browns snagged Purdue WR David Bell in the third round with the 99th overall pick. It was considered a value of sorts, as the Biletnikoff Award finalist seemingly only fell down draft boards because of his 4.65-second 40-yard dash. The 6-foot-1, 212-pound receiver has a chance to start in three-WR sets immediately alongside Amari Cooper and one of Donovan Peoples-Jones or Anthony Schwartz.
Cleveland also added Cincinnati RB Jerome Ford in the fifth round and Oklahoma WR Michael Woods in the sixth. Ford deserves credit for earning a solid 89.4 PFF rushing grade in 2021, and Woods at least has a chance to catch on inside of a fairly shallow overall wide receiver room. Still, the fantasy track record of players selected outside the draft's top three rounds isn't pretty.
Looming suspension and off-the-field issues aside: Watson deserves to be in the top-five fantasy and real-life quarterback conversation. And the former point isn't really up for debate:
2017: 24.1 fantasy points per game (No. 1 among qualified quarterbacks)
2018: 20.7 (tied for No. 4)
2019: 22 (No. 3)
2020: 23.8 (No. 6)
Overall, Watson's average of 22 fantasy points per game is the third-highest mark in NFL history behind only Patrick Mahomes (23) and Justin Herbert (22.3). Madness.
His "real-life" football stats are every bit as impressive. The ex-Texans signal-caller has posted elite marks in PFF passing grade (90.6, No. 8), passer rating (104.5, No. 4) and yards per attempt (8.3, No. 2) among 68 quarterbacks with 300-plus dropbacks since 2017.
The Texans might have finished 4-12 the last time Watson was under center, but the blame hardly fell on his shoulders.
Deshaun Watson is so fooking goodpic.twitter.com/zsYgfCJr9j

— Ian Hartitz (@Ihartitz) February 25, 2021
Of course, the latest report on Watson in regard to his looming suspension indicates the potential for him not to play a single snap in 2022:
"Meanwhile, the Browns are awaiting a lengthy suspension for Watson. There is concern from the NFL Players Association that the league will look to suspend the former Clemson standout for the entire 2022 season, if not indefinitely, according to sources. Should that happen, the Browns are expected to go forward with Jacoby Brissett rather than try to reconcile with Mayfield."
At a minimum, it sure seems like it's a matter of "when" not "if" Watson will be suspended. He's my QB18 at the moment, right behind every single quarterback someone could realistically get behind as their starter in a traditional one-QB re-draft league.
At the time of this writing, I would still gamble and take him ahead of late-round darts such as Zach Wilson, Trevor Lawrence and Tua Tagovailoa in case the suspension winds up being more of than six games.
Dropping off from Watson to Brissett instead of to Mayfield would truly be detrimental to the fantasy value of everyone involved in this offense. Obviously, Mayfield hasn't fully lived up to the expectations that come with being a former No. 1 overall pick, but he's still objectively been a far better quarterback than Brissett over the years.
| | | | | | | | |
| --- | --- | --- | --- | --- | --- | --- | --- |
| NAME | PASS | BTT% | TWP% | PASS YPA | COMP% | RTG | ADOT |
| Deshaun Watson | 88.7 | 5.9% | 3.0% | 8.32 | 67.9% | 104.5 | 9.5 |
| Baker Mayfield | 80 | 5.8% | 3.4% | 7.34 | 61.6% | 87.8 | 9.3 |
| Jacoby Brissett | 63.3 | 2.8% | 3.1% | 6.41 | 60.2% | 83.1 | 8.0 |
As much as Watson (10th in PFF passing grade among 77 qualified quarterbacks) has been better than Mayfield (18th), there's arguably an even bigger dropoff to Brissett (49th), who hasn't exactly made up for the lack of efficiency with counting numbers — as evidenced by his 36 touchdowns in 37 career starts.
Brissett led the league's 30th- and 16th-ranked scoring offenses in his two seasons as the Colts' starting quarterback. Mayfield and the Browns have finished 20th, 22nd, 14th and most recently 20th. Perhaps the overall offensive drop-off won't be quite as steep if Stefanski simply leans on PFF's second-ranked offensive line and top-ranked backfield more than ever.
Most recently, Brissett cleared 250 passing yards once in five starts with the Dolphins. He threw just five touchdowns during the span and totaled just a 12-56-1 rushing line. While the latter metrics were somewhat influenced by two games that featured him hobbled with a hamstring injury, his 64-260-4 and 56-228-4 season-long rushing performances in 2017 and 2019 still weren't enough to elevate the 29-year-old quarterback to anything more than QB27 heights on a per-game basis in both years. Don't expect older quarterbacks to reinvent themselves as rushing threats.
Brissett doesn't figure to have enough fantasy-friendly volume to emerge as anything other than a desperate streamer even if one wants to take a leap of faith and assume he'll put up better efficiency numbers than ever.
Neither he nor Mayfield figures to be drafted in the overwhelming majority of traditional home leagues; I'd throw a dart at the latter quarterback in best-ball and two-QB formats do the potential that Mayfield winds up in Seattle or Carolina.
---
Each of Chubb, Hunt and even Johnson worked as some of the league's most efficient rushers in 2021. This was true in terms of their overall production and individualized stats such as yards after contact and missed tackles forced per carry, which attempt to measure running back performance independent of the quarterback and offensive line.
The following statistics and ranks are among 58 running backs with 75-plus carries in 2021.
• Yards per carry: Chubb (5.5, No. 3), Johnson (5.3, No. 6), Hunt (5, No. 8)
• Yards after contact per carry: Chubb (4.2, No. 2), Johnson (3.5, tied for No. 6), Hunt (3.5, tied for No. 6)
• Missed tackles forced per carry: Chubb (0.25, No. 6), Johnson (0.26, No. 4), Hunt (0.27, tied for No. 2)
The presence of *three* legit great running backs has led to trade rumors surrounding Hunt and Johnson. While Hunt's desire for a long-term contract could change the situation, it's tough to see the Browns moving on from his passing-game ability too easily. Since 2019, he (79.7 PFF receiving grade) has been superior to Chubb (64.8) and Johnson (45.7), while his average of 1.38 yards per route run was a full 0.3 yards ahead of second-place.
Either way, Chubb figures to continue to work as the clear-cut lead "running-down back." Arguably the single best player at the position with the ball in his hands, he has averaged 1,392 total yards and 9.8 touchdowns per season since entering the league in 2018 despite missing six games over the past two seasons with knee and calf injuries.
However, his average of 23 receptions, 187.8 and 0.75 receiving touchdowns per season has caused one of the NFL's undisputed best real-life running backs to work as more of a borderline top-10 option in fantasy land:
2018:

12.2 PPR points per game (RB24)

2019:

16 (RB11)

2020:

17.3 (RB7)

2021:

15.4 (RB11)
It's honestly been impressive that Chubb has managed to produce so much with his underwhelming workload. In 2021, he was just the RB21 in expected PPR points per game. In 2020, he ranked 27th.
A similar sentiment is true for Hunt, who has turned in RB23 and RB22 finishes over the past two seasons while working as the RB25 and RB31 in expected PPR points per game. His disparity isn't quite as wide as Chubb's, due to the enhanced target share at hand, but both players have clearly been operating at a high enough level to overshadow their less-than-ideal workloads.
It's accordingly tough to rank either player at this time. Either Chubb or Hunt, hell even to a lesser extent Johnson, would warrant top-five treatment if gifted this backfield to themself, but each looks to be potentially *two* injuries away from that coming to fruition.
The following table denotes Chubb's per-game splits with Hunt in the lineup compared to when he was sidelined in 2021. The without Hunt splits don't include Week 17 or Week 18 when Chubb was used less than usual due to a rib injury and a meaningless season finale with the Browns eliminated from playoff contention.
• With Hunt (6 games): Chubb (51% snaps, 16 carries, 1.5 targets); Hunt (44% snaps, 10.3 carries, 3.3 targets)
• Without Hunt (7 games): Chubb (60% snaps, 15.6 carries, 2 targets); Johnson (31% snaps, 3.7 carries, 1.3 targets)
Chubb is good enough to post another top-12 performance, even without a larger workload, but it's going to seemingly take a change in coaching philosophy and/or an even more superhuman performance from him in order to post the sort of league-winning top-five season for which he's being drafted at the Round 2 turn. This point will be especially true if Brissett winds up starting the majority of the season under center.
I'd draft Chubb (my RB15, ADP RB13) ahead of running backs unlikely to see his level of rushing usage — players such as Travis Etienne, Breece Hall and Ezekiel Elliott — but lean toward guys like James Conner and Cam Akers ahead of him thanks to their heightened potential for a three-down role.
I'm less down on Hunt (my RB31, ADP RB31) compared to consensus, but his handcuff potential isn't as high as guys like A.J. Dillon or Tony Pollard due to the presence of Johnson, who is my RB62 and two injuries away from being anything more than a desperation flex.
Cooper has played at least 14 games in every season of his career. He averaged a steady 79.7 receptions for 1,056 yards and seven touchdowns in his last three seasons with the Cowboys, although there is an argument that the 28-year-old veteran has lost a step:
2019: 84.2 PFF receiving grade, 2.29 yards per route run, 22.4% targets per route run
2020: 77.6, 1.81, 20.8%
2021: 73.9, 1.65, 18.9%
Of course, Cooper has dealt with a myriad of injury issues during this stretch, suffering foot, ankle, quad, knee, chest and hamstring issues over the last three seasons. He certainly looked fine during his final four games of 2021 with 7-85-1, 3-18-1, 5-79-0 and 6-64-1 receiving lines.
The problem for Cooper is the same issue looming over the entire offense: Is it going to be Watson or Brissett?
It's easy to envision a potential return to WR1 heights with a full year of Watson, but that seems awfully unlikely at this point. Even a half-year could perhaps yield season-long WR2 results, although the downside is simply glaring. T.Y. Hilton (57-966-4, 45-501-5 in 10 games) and Zach Pascal (41-607-5) were the most-productive receivers with Brissett under center in Indy, ultimately posting mediocre PPR WR34, WR36 and WR64 finishes on a per-game basis.
The good news for Cooper is that his ADP has dipped all the way to the WR30 spot over at Underdog Fantasy. I have him one spot higher, ahead of fellow No. 1 pass-game options in bad offenses like Drake London and Darnell Mooney but behind guys like Amon-Ra St. Brown and Jerry Jeudy, who both possess a quarterback with a far more prolific history of enabling fantasy-relevant wide receivers.
PFF's 2022 NFL Draft Guide had the following to say about Bell:
"Where he wins: Natural Receiving Ability. Bell wins with an outstanding natural receiver feel. He knows how to gain leverage and exploit that with his size. He may not be particularly dynamic, but he can still turn 6 yards into 10 after the catch.

What's his role: Physical Z. Bell is a nice complementary piece in an offense. He can line up anywhere and not be out of place — that's a No. 2 or high-end No. 3 type of receiver.

Where he can improve: Suddenness. I'm not sure there's much room for improvement in the areas Bell is lacking. His modest physical tools are what's keeping him from being higher on draft boards."
Bell should be considered the favorite for No. 2 duties, but a rotation alongside Peoples-Jones and Schwartz is possible if not likely. Failure to fully lock down the No. 2 spot could result in a non-viable role based on volume alone.
Only the Dolphins have run more total plays with at least two tight ends on the field than the Browns over the last two seasons, and that's honestly not fair considering Mike Gesicki is a wide receiver we call a tight end.
Even Grant could get involved in this run-first (potentially very low-scoring) offense. I'm just a bit lower on Bell (my WR79, ADP WR77) than consensus. Either way, he's nothing more than a late-round dart who doesn't deserve to be reached on in drafts of all shapes and sizes.
There certainly does seem to be an untapped ceiling here for Njoku. Not many men walk the planet with his combination of size (6-foot-4, 246-pounds) and athleticism (83rd-percentile SPARQ-x score). This overwhelming skill was on display at least a few times in 2021.
6'4" 246-pounds pic.twitter.com/NaFYxRETV0

— Ian Hartitz (@Ihartitz) June 24, 2022
Of course, it's the Browns' decisions since the end of 2021 that make Njoku one of the position's most popular sleepers ahead of 2022. His four-year, $54.75 million deal includes $28 million guaranteed, making more total money than everyone not named George Kittle, Travis Kelce, Dallas Goedert and Mark Andrews.
Njoku turns 26 on July 10, and the history of the tight end position shows that mid-to-late career fantasy success is far easier to come by than at wide receiver or running back. Still, his career-high marks in receptions (56), receiving yards (639) and touchdowns (4) leave a lot to be desired, and his underlying efficiency numbers haven't exactly been at a superstar level since entering the league in 2017.
PFF receiving grade:

68.9 (No. 26 among 60 tight ends with 100-plus targets since 2017)

Yards per route run:

1.34 (tied for No. 27)

Yards per reception:

11.8 (No. 14)

Targets per route run:

17.8% (No. 25)
As is the case with every player on this roster: The drop-off in projection for Njkou is severe depending on whether Watson or Brissett is under center.
The Browns' decision to not add any meaningful tight end in place of Hooper is good news for his chance to work as the position's leader, but Bryant shouldn't be expected to completely step aside.
While he has been a worse pass-catcher than Njoku in just about any metric, he's only been out-targeted 82 vs. 65 over the past two seasons. They posted the following usage in four games without Hooper over the past two seasons:
Week 7, 2020:

Njkou (60% snaps, 2-20-1 on 3 targets); Bryant (77% snaps, 4-56-2 on 5 targets)

Week 8, 2020:

Njoku (59% snaps, 1-19-0 on 3 targets); Bryant (80% snaps, 3-25-0 on 3 targets)

Week 14, 2020:

Njoku (61% snaps, 3-45-0 on 4 targets); Bryant (65% snaps, 3-18-0 on 6 targets)

Week 15, 2021:

Njoku (100% snaps, 3-29-0 on 5 targets); Bryant (39% snaps, 2-11-1 on 2 targets)
Yes, Njoku was the undisputed lead tight end during our most recent and actionable 60-minute sample without Hooper in the picture. Also yes, Bryant maintained solid involvement himself and has managed to out-target Njoku 16 to 15 across the five games.
Stefanski has always made a habit of keeping multiple tight ends involved, even going back to his days with the Vikings. Even if Njoku does work as a more clear 1a option than past editions of the offense, his lack of proven high-end efficiency and potential for something close to career-worst quarterback performance makes him nothing more than a late-round dart. I'm actually higher on Njoku (my TE15, ADP TE18) than the public, but would still prioritize guys like Irv Smith, Tyler Higbee and Robert Tonyan as late-round options at the position. Bryant isn't a realistic fantasy option while Njoku is healthy, but would rise up the ranks in a hurry and flirt with top-15 status should an injury occur.