The NFL draft is quickly approaching, and best ball drafts are in full swing at sites like the FFPC. Historically, I am a late-season (August and September) drafter based on the edges you gain against less experienced drafters and up-to-date information. However, there are some strong reasons to consider adding to your draft portfolio before May — which is the last month for many significant ADP swings.
This exercise aims to identify players who likely have optimal ADPs right now versus later in the fantasy draft season and vice versa.
Based on the most recent FFPC Best Ball Slim ADP supplied by fantasymojo.com, I have grouped relevant players into three buckets:
Target:

Players to be overweight on in early drafts because they have a strong chance of ADP rising after the NFL draft

Straddle:

Players to target but in a balanced manner because their ADP could move significantly up or down after the NFL draft

Fade:

Players to avoid because their best-case scenario is baked into their ADP already — meaning we will likely be able to acquire them at equal or lesser cost after the NFL draft
TARGET
Quarterback
Justin Fields' (QB17) ADP is drifting — he is typically available in the 10th and 11th rounds. The second-year quarterback is a victim of no news, but he still profiles similarly to Jalen Hurts and belongs in the same tier as Trey Lance. 
The Bears have two second-round selections plus a third, and this class has significant receiver depth. Per walterfootball.com, the Bears have visited with Treylon Burks, Khalil Shakir and Christian Watson (two visits).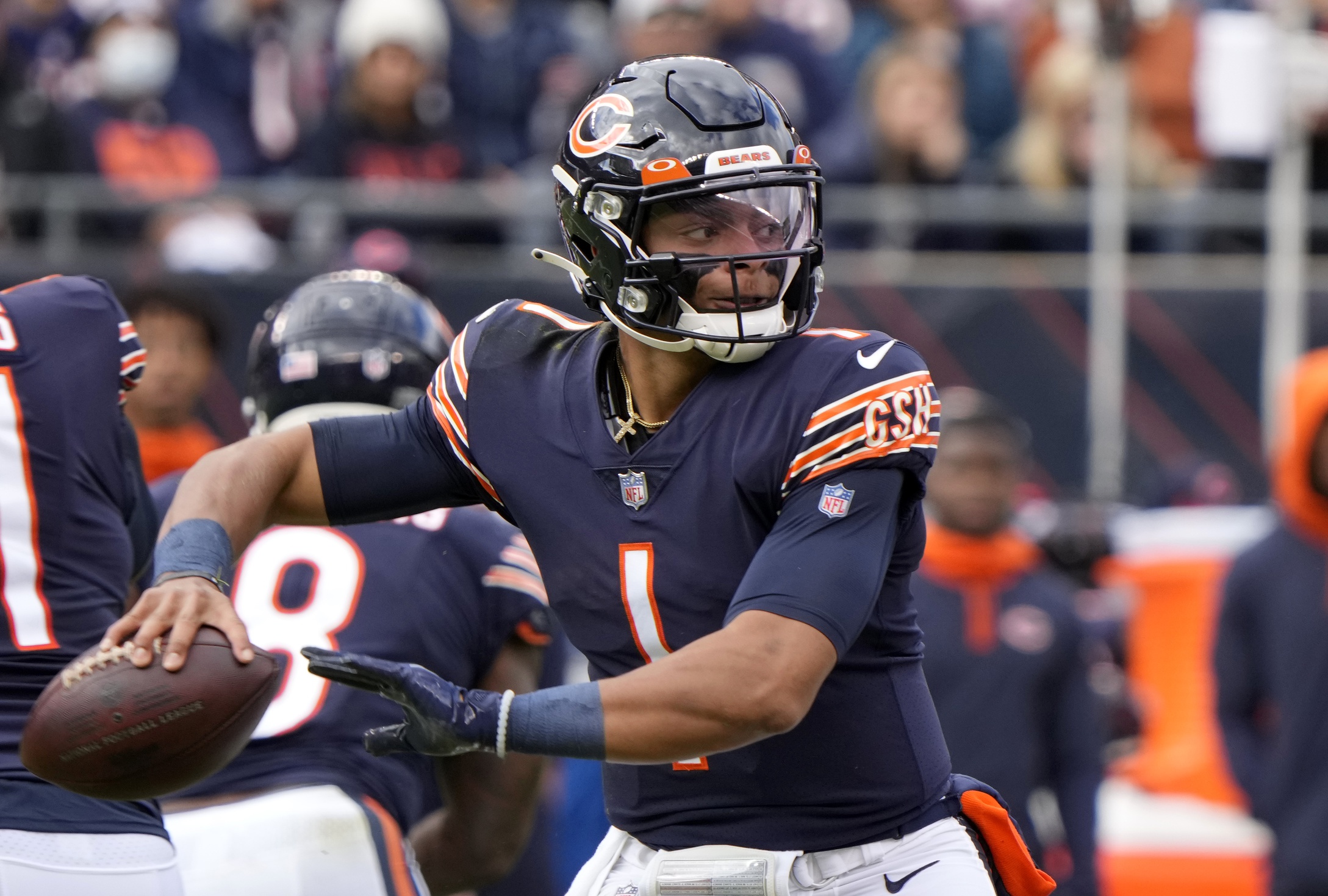 Ryan Tannehill (QB20) already has one upgrade at receiver in Robert Woods, and the Titans have shown significant interest in the rookie receivers and tight ends.
The Titans don't have a second-round pick, but they could use their No. 26 overall selection on a receiver. Otherwise, they could trade down and stay in the race for Moore, Dotson or McBride.
Tannehill becomes a Russell Wilson arbitrage play with retooled weapons and could climb 12 to 24 spots in ADP (11.8).
Running Back
Leonard Fournette (RB17) projects as a top-10 back in the Buccaneers' offense, but his ADP (3.12) continues to lag. On the other hand, Tampa brought back Giovani Bernard and has shown some interest in other backs in the pre-draft process, which could dent the forecast. However, the former first-round pick took passing work away from Bernard last season, and a rookie challenger may not be ready for passing-down duties. Lastly, Fournette posted seven top-24 finishes in 10 games where he saw less than 80% of snaps, which provides some insulation against any new competition for touches.
James Conner (RB21) also projects as a top-10 back in the Cardinals backfield and, given the lack of top-notch options in the class, is likely safe from a hefty competition for touches. Of course, if the Cardinals add a passing-down back it will limit upside, but Conner could still return value on current ADP (4.10) even if that happens.
Kenneth Walker (RB26) is mocking as the second back off the board 16 spots behind Breece Hall, according to Grinding the Mocks. Yet, there is a three-plus round difference in ADP, which is too large.
Chase Edmonds (RB36) is lagging too far behind his contract with a ninth-round ADP. He is likely in line for up to 50% of the Dolphins' snaps and has shown explosive-play ability and receiving skills. Raheem Mostert will get some touches in a committee approach, but the money and age point to Edmonds as a value at ADP.
Brian Robinson Jr., James Cook and Zamir White all project as borderline Day-2 picks but are going in the 15th round or later — making them great late-round options.
Wide Receiver
Garrett Wilson (WR39) and Drake London (WR43) both have the potential to go inside the top-10 picks in the NFL draft and are already inside my top-36 receiver rankings. Yet, they are going in the ninth round of FFPC drafts.
Treylon Burks (WR40) could slip some down draft boards, but the receiver-hungry Packers and Chiefs hold two picks at the end of the first round. You could easily argue any first-round receiver that slips to Aaron Rodgers or Patrick Mahomes are ultimately the winner of Day 1 for fantasy purposes. That means Chris Olave (WR50) and Jameson Williams (WR56) also have tremendous backstops should they slide.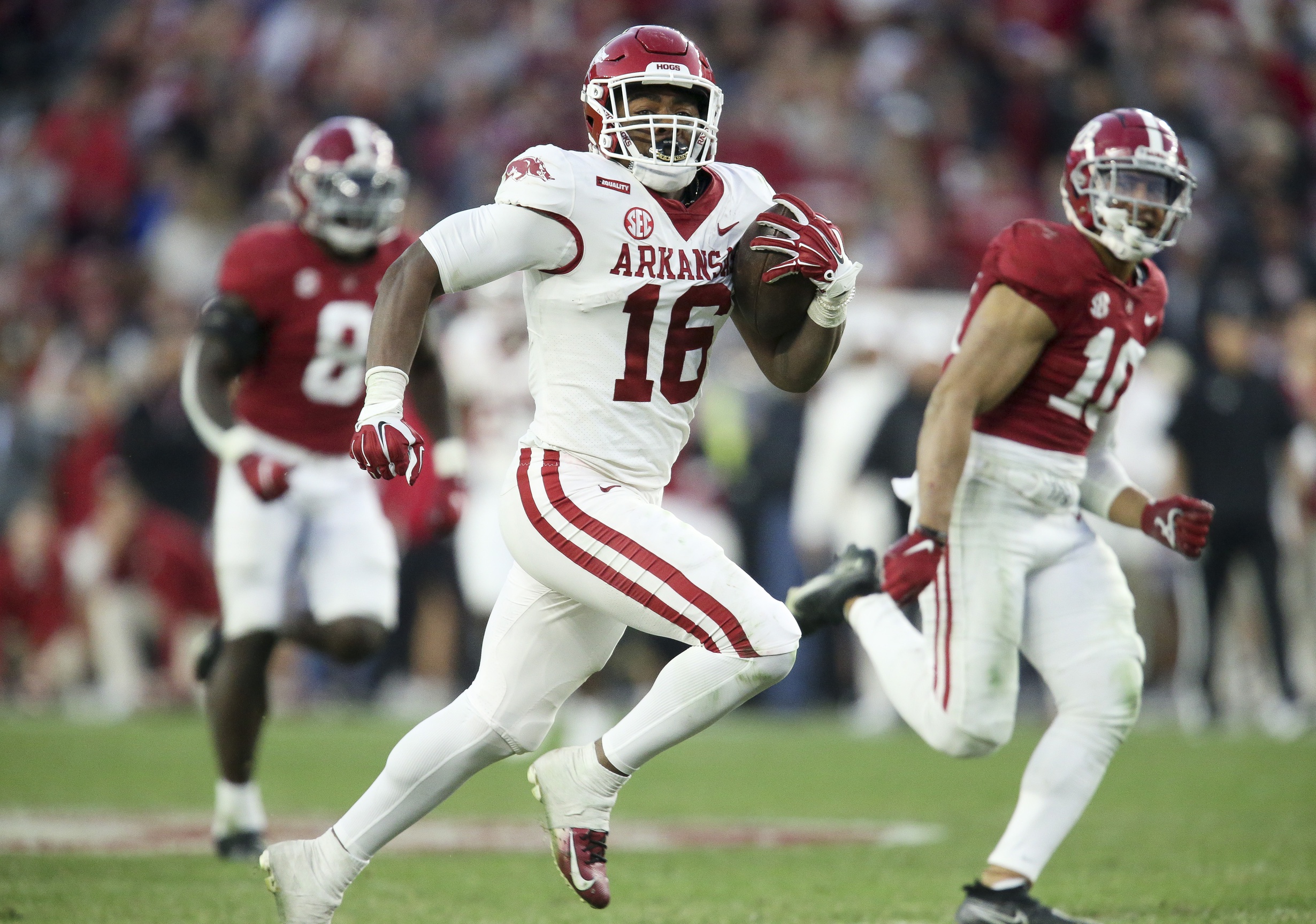 Rondale Moore (WR46) will expand his role, according to Kliff Kingsbury, which may or may not be accurate. Regardless of the truth, what we do know is second-year receivers tend to pick up steam over the offseason, and coaching nuggets like this can light the fire. If that isn't enough, projection season will likely give Moore another bump, given the departures of Christian Kirk and A.J. Green. It is hard to see a scenario where the second-year receiver doesn't climb in ADP (10.7)
Tight End
Rob Gronkowski (TE13) will become a top-eight option if/when he re-ups with the Buccaneers, and he falls into the ninth and 10th round of tight-end premium drafts. This one is pretty straightforward.
STRADDLE
Quarterback
Trey Lance (QB14) would have been a player to avoid one month ago with an ADP in the seventh and eighth rounds. However, he is now going 9.7 and frequently slips into the 10th round. Nevertheless, the draft brings an opportunity for new clarity regarding Jimmy Garoppolo's status. A trade would re-energize the dual-threat's ADP, while a Garoppolo return could create a better buying window after the draft.
Deshaun Watson is a top-six fantasy quarterback on the field, but he currently carries a wide range of outcomes depending on his legal situation. His situation almost demands a three-quarterback build unless paired with another elite option, negating some of his allure.
Running Back
Breece Hall (RB15) stands atop my rookie pre-draft rankings and is my No. 15 back overall, but his 3.9 ADP is already reaching the range where Jonathan Taylor settled in as a rookie. Given the league's depth at the position, the most likely draft scenario is Hall landing in a backfield with competition for playing time, which — over the last two seasons with better prospects — has been enough to keep ADP out of the second round.
Michael Carter (RB25) doesn't have much draft capital (fourth-round pick) behind his name, and the Jets have four selections inside the top 40 in the NFL draft. The Jets don't have much besides Carter and want to play a more run-centric game like the 49ers, so an addition at running back would not be a surprise. Carter's ADP could move two rounds in either direction post-draft, depending on the Jets' decision.
Wide Receiver
Elijah Moore (WR21) is a player we want exposure to in 2022, but his ADP (5.5) has the potential to dip after the NFL draft significantly. The Jets have two picks inside the top-10, and receivers are in play. So, target Moore when he goes below ADP but don't reach — his ADP isn't likely to move up much even if the Jets fade receivers.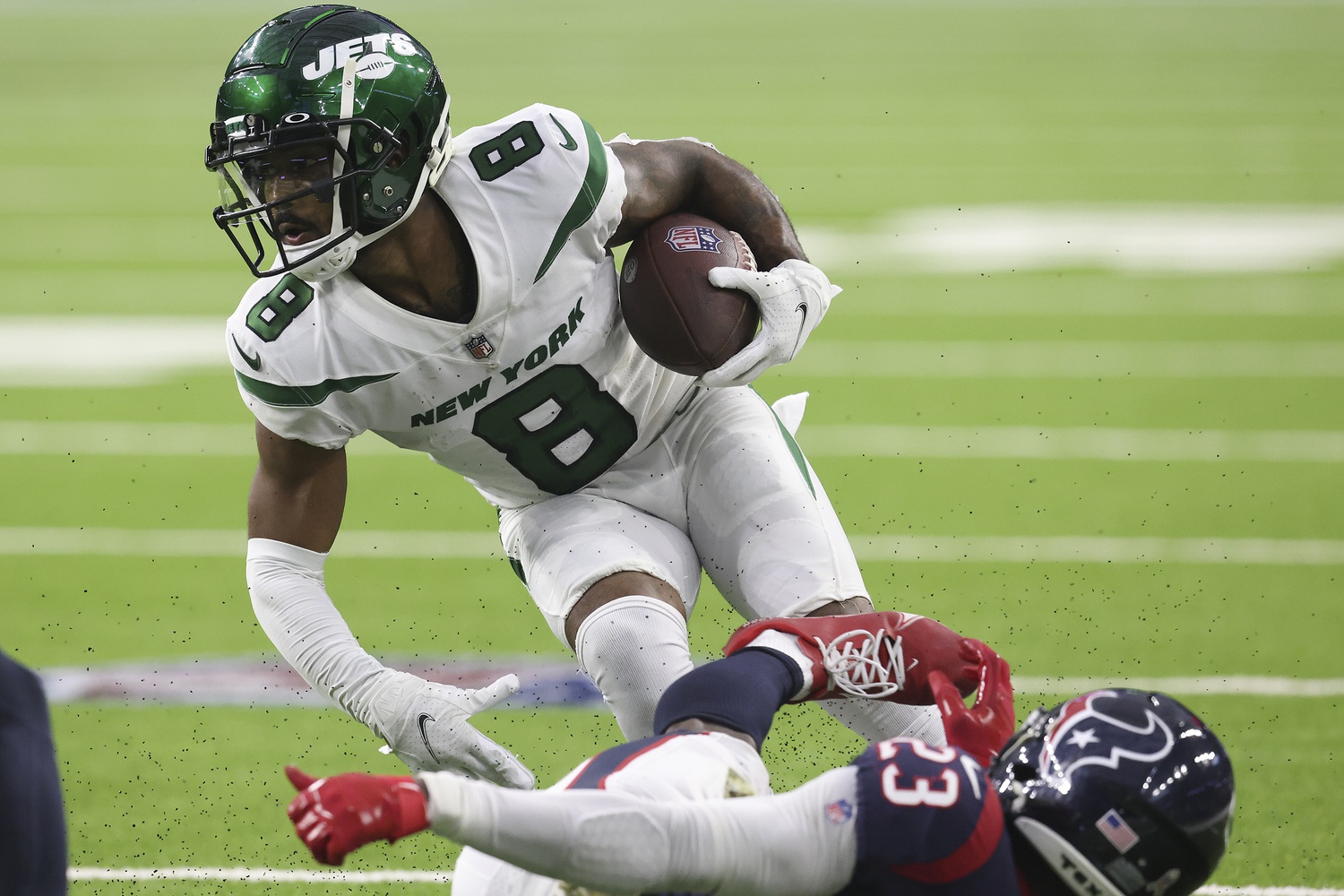 Amon-Ra St. Brown (WR27) resides on a team with three selections in the top-35, making adding a new teammate at receiver a possibility. Like Moore, he is a Year-2 receiver to target past ADP, but realize he isn't likely to move up even if the Lions forgo selecting a receiver early. However, if the Lions take a receiver, we will get an ADP discount post-draft.
FADE
Quarterback
Mitchell Trubisky (QB26) and Marcus Mariota (QB30) could be fine late-round selections, given their ability to provide fantasy points with their legs. Still, I would rather wait until closer to the season to gain exposure for several reasons. 
First, in any scenario, I don't see their ADPs reaching an uncomfortably high price. Second, best ball isn't the format where I want potential zeros as my QB2 (or even QB3). Finally, the Steelers and Falcons are doing plenty of due diligence on the quarterback class. The Steelers are already at two-plus scheduled/completed visits with the most quarterbacks of any team.
Running Back
Javonte Williams (RB6) is a player we want plenty of exposure to, but now isn't the time to force it, given his No. 10 overall ADP. Even if the Broncos don't bring Melvin Gordon back or take a running back in the draft, his ADP doesn't have much headroom. In this situation, knowing he has zero competition and paying slightly more later is the preferable option versus spending a late first today.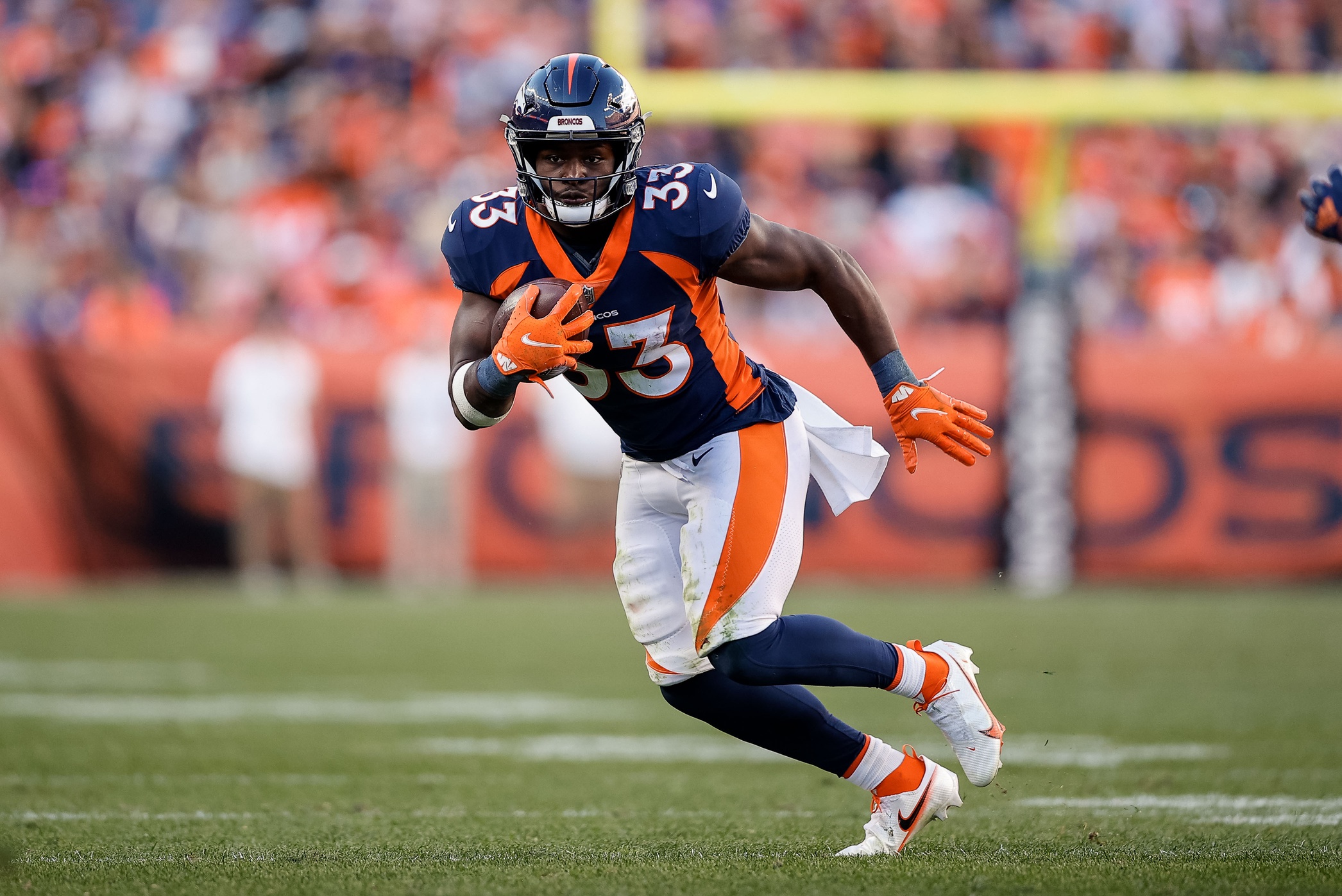 Fading Dalvin Cook (RB7) is less about the NFL draft and more about his pending legal situation. Given his age and repeated shoulder challenges, there are enough red flags to take a wait-and-see approach. Given his current ADP (2.1), he isn't likely to jump more than a few spots even if he avoids suspension.
Wide Receiver
JuJu Smith-Schuster (WR29) has climbed to a sixth-round ADP since joining the Chiefs. Whether you are a Smith-Schuster truther or not doesn't matter. His ADP (6.10) is likely around its ceiling despite the Chiefs having two late-first-round picks they could deploy toward the receiver.
Gabriel Davis is already priced as the WR2 in Buffalo as the WR33 off of the board. Yeah, he could slightly move up in ADP, but the Bills have met with Garrett Wilson, Treylon Burks and Jameson Williams because they are interested in the position. If the Bills take a receiver in the first or second round, it will push Davis dramatically down draft boards. Yet, if they don't, his ADP will probably remain at a similar price.