Over the last few weeks, I have been digging into our PFF College data sets, seeking new ways to help analyze the 2022 rookie class. The data set goes back to 2014, limiting our sample size for correlating complete prospect data sets against NFL fantasy production. Still, there are a few advanced metrics that provide additional player context. I have incorporated these into my rookie rankings along with a few longtime favorites of the dynasty fantasy football community, where we have data going back to 2006.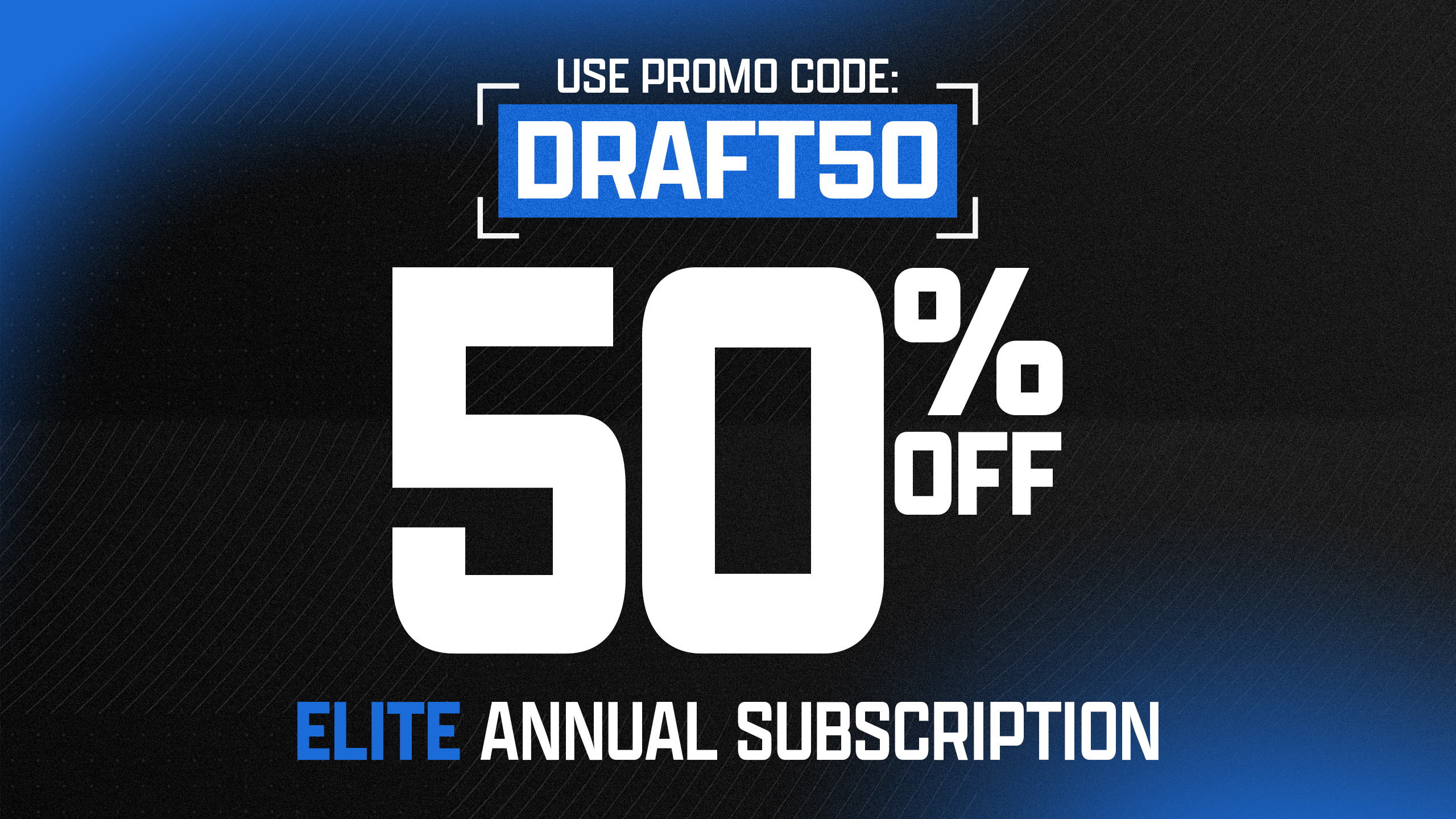 APPROACH
For the new data points, I only focused on FBS receivers with a complete career data set that would allow me to correlate to PPR points per game over the first three seasons. Draft capital is king with running backs, so the projected draft slot is the No. 1 driver in the ranks. Production is the second most important component, with measurables following behind.
Data and metrics utilized:
Projected draft capital (

Grinding the Mocks

)

Career total yards per game (rushing and passing)

Best year share of team yards

Best year share of touchdowns

40-yard dash

Career explosive rate per rush (10-plus yard rush)

Career avoided tackles per attempt (AVT/att)

Weight

Age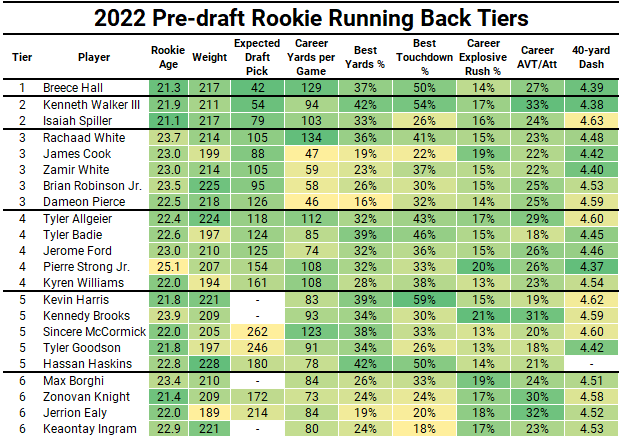 TIER 1: Early Day 2 pick with a great production profile
Breece Hall splashed onto the scene at Iowa State as a freshman with 1,140 yards (28%) and never looked back. He added 1,766 (35%) yards as a sophomore and another 1,743 (37%) as a junior, leading to his No. 1 rank in career yards per game (129) for this class.
His share of the offense in his best year (37%) isn't on the same level as recent elite backs like Jonathan Taylor (46%) and Christian McCaffrey (46%). He is a tier below those guys.
Hall ran faster than expected at the NFL combine (4.39 40-yard dash), but it doesn't appear to be a fluke after notching a 126-inch broad jump and a 40-inch vertical. Of course, the 40-yard dash is overrated, but the NFL loves speed and Hall's draft stock is surging. The second-youngest back in the class (21) has climbed 24 spots in expected draft capital (42) and could sneak into the first round.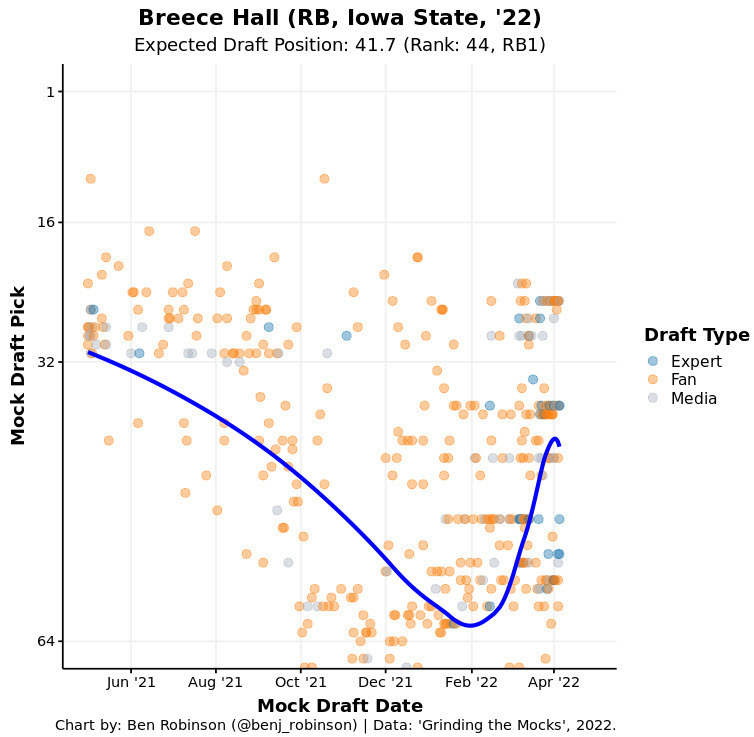 TIER 2: Day 2 pick with a good production profile
Kenneth Walker III wasn't on many NFL radars last season, but after a transfer from Wake Forest to Michigan State, that all changed. The Spartans funneled 42% of their offense through the junior back.
He is currently the second back projected (Pick No. 54) off the board after Hall, and that could improve after his 4.38-second 40-yard dash at the combine. There is some concern that time may not be his "true" number, but even if it is slightly off, it wasn't an issue on the field. Walker clocked in at three percentage points above the NCAA average (14%) in explosive run rate and 10 percentage points above the average (23%) in avoided tackles per attempt over his career.
The Spartan could still be a solid receiver out of the backfield, but we haven't seen it yet. This fact, paired with his quiet first two college seasons, places him in Tier 2 rather than Tier 1.
Isaiah Spiller is sliding down the PFF Big Board after a poor showing at the NFL Scouting Combine and his Texas A&M pro day. His 4.63-second 40-yard dash, 114-inch broad jump and 33-inch vertical aren't indicative of an explosive profile from a measurables perspective. 
Despite those concerns, there are many positives to Spiller's profile. First, he will be only 21 when the 2022 NFL season begins, making him the youngest back in the class. Second, he was above NCAA averages in career avoided tackles (24%) and explosive rushes (16%). 
And from a production standpoint, Spiller is one of the better prospects in the class. He accounted for 24% of the Texas A&M offense as a freshman and averaged 103 yards per game over his career. Only two other backs in the class accomplished those two feats (Hall and Sincere McCormick).
Beyond NFL combine meetings, Spiller has spent time with the Buffalo Bills, Green Bay Packers, Baltimore Ravens and Houston Texans. It takes only one team remaining bullish on the young back to keep his draft-capital hopes alive despite the dramatic tumble since his workouts.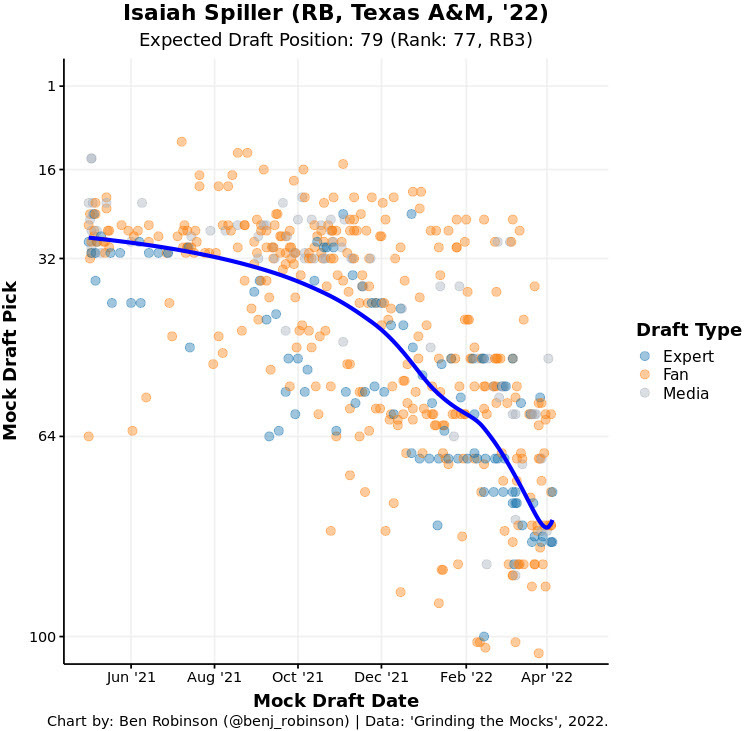 TIER 3: Late Day 2 or early Day 3 pick but limited production
Rachaad White saw limited action as a JUCO transfer in 2020 to Arizona State (COVID) but burst onto the scene in 2021 with 1,456 total yards. He will turn 24 in his rookie season, but he offers the top receiving profile in the class after accounting for 16% of the Sun Devils' targets last season. White could carve out a passing-down role that grows as a third- or fourth-round pick. Alvin Kamara and Ty Montgomery are examples of players to do this at varying degrees of success.
Zamir White and James Cook shared the backfield at Georgia — a trend we have seen in recent years — and both are currently borderline top-100 selections in mock drafts. White exploded at the combine and could see a surge in draft capital expectation. Cook boasts the third-best explosive rush rate in the class (19%), and his expected draft position (EDP) of 88 is up 18 spots since mid-March.
Similarly, Brian Robinson Jr. comes from a crowded Alabama backfield and has seen his EDP surge from 107 to 95 over the past month of NFL mocks.
All three of these backs come with question marks, but the projected draft capital keeps them in this tier. Damien Harris, Kenyan Drake, Michael Carter and Devonta Freeman are recent players from similar situations that made fantasy success. However, low production and draft capital between Rounds 3 and 4 isn't a recipe for success from a macro perspective.
TIER 4: Day 3 pick with solid production profile
Tyler Badie's expected draft capital has climbed from 204 to 124, making him the most significant mover at running back over recent weeks. The former Missouri Tiger's best total yardage season (39%) ranks second in the class, and he helped himself at the combine with a 4.45-second 40-yard dash.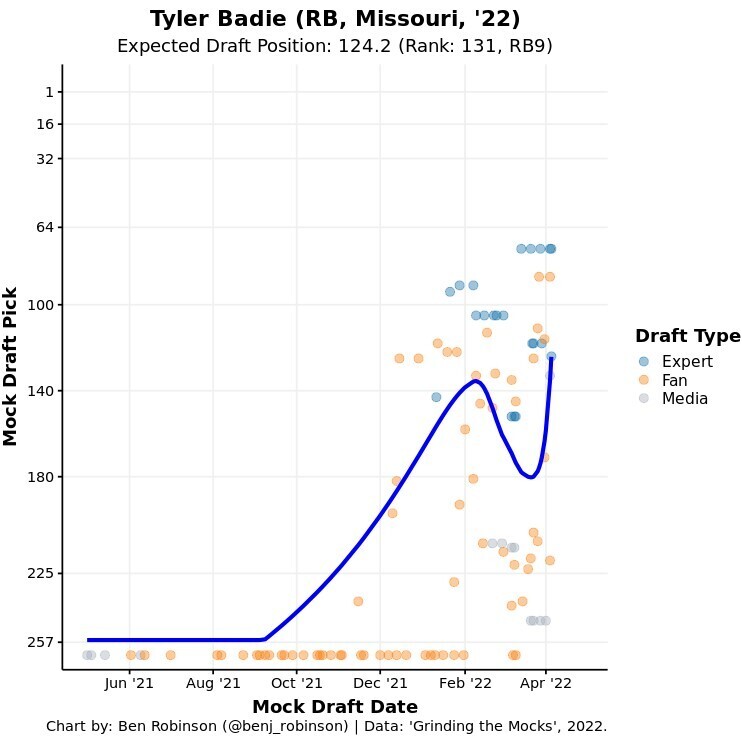 Pierre Strong Jr. will be 25 years old in his rookie season but has a strong production background, ranking fifth in career yards per game. The South Dakota State product ranks second in tackles avoided per attempt (35%) and explosive runs (20%), which he backed up with a strong combine. And if you need another reason to remember his name, how about a career-best 12% target share (second-highest).
TIER 5: Day 3 hopeful with solid production profile
Kevin Harris is the fourth-youngest back in the class and flashed competency in the receiving game as a college player, including a 39% best-season total yardage mark (tied for second-best). The South Carolina back's explosive runs and tackles avoided are average, but his 126-inch broad jump and 38.5-inch vertical jump point to a potentially explosive athletic profile at 221 pounds. His 4.62-second 40-yard dash at his pro day doesn't add up, but he ran only once due to a hamstring issue.
Kennedy Brooks boasts the No. 1 explosive-rush rate (21%) in the class and is fourth in avoided tackles. His career yards per game (93) are solid, along with his best yardage share season (34%). So far, he has been a non-factor in the passing game.
Sincere McCormick's production profile is one of the best in the class, but his explosive-run rate is lacking, and his combine performance didn't help.
TIER 6: Day 3 hopefuls with limited roles that flashed playmaking ability
Max Borghi never demanded a dominant chunk of the work at Washington State. Still, he flashed receiving ability (15% career-high target share) and an ability to break off explosive runs (third-best).
Jerrion Ealy's ability to avoid tackles ranks No. 1 in the class (37%) and is 14 percentage points above the NCAA average for running backs since 2014.