We're now in Week 12 of the NFL season. To help prepare, here's my weekly look at the top starts and sits for fantasy football players in IDP leagues.
The fantasy playoffs (and turkey) are right around the corner, so let's keep this intro short and sweet.
Happy Thanksgiving to all, and here are the start/sit options for Week 12. Keep in mind that this is the final week of byes and the Chiefs and Rams are off.
How's that for short and sweet?
Defensive linemen
Start
Akiem Hicks, Chicago Bears (@ Detroit)
The Lions had one of their better efforts of the year last week in their win over the Panthers, allowing just one sack to a defensive lineman (Julius Peppers). It's hard to see their makeshift offensive line putting up a repeat performance on Thanksgiving. The fact remains that defensive linemen have accounted for 18 of the 30 total sacks Detroit has allowed in 2018. Hicks is coming off one of his better fantasy weeks, putting up six solo tackles and a sack in the Bears Week 11 victory over the Vikings.
Joey Bosa, Los Angeles Chargers (vs. Arizona)
It's time to unleash the beast! It's no secret that I tend to err on the side of caution regarding players returning from lengthy injuries in their first game back. This will be the second game for Bosa, so it's all good. It was a nice surprise to see Bosa log 31 defensive snaps in his return last week; I'd expected 10-15. Even though he failed to sack the quarterback Bosa was credited with a hurry and hit according to our PFF trackers. This week Bosa cashes in against a Cardinals offense that has allowed an average of two sacks per game to defensive linemen in their last three outings.
Sit
Ezekiel Ansah, Detroit Lions (vs. Chicago)
A seemingly healthy Ansah has now recorded a sack in two of the last three games since returning from injury. Unfortunately, even with a bump of 10 more snaps played in Week 11 than the 15 he played in Week 10, Ansah was on the field just 43% of the time. The tackle numbers aren't there for Ansah as he's put up just eight total in the four games he's played. The Bears are stout against the defensive line and shut down Danielle Hunter and Everson Griffen last week to the tune of just five solo tackles (all by Hunter).
Cameron Wake and Robert Quinn, Miami Dolphins (@ Indianapolis)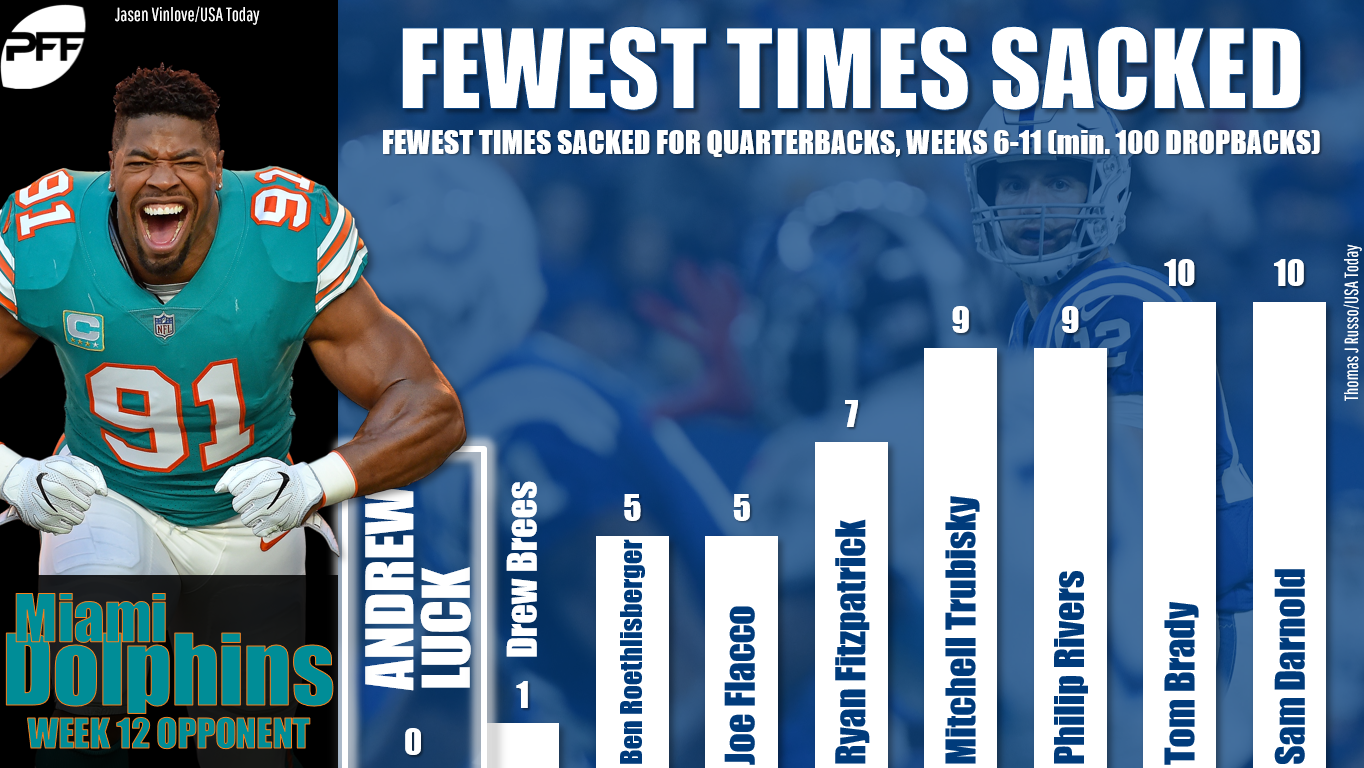 This is the short-and-sweet twofer special of the week. Both Quinn and Wake have had disappointing 2018 seasons and the Colts haven't allowed a sack in the past five games. Feel free to not only bench Wake and Quinn but drop them completely.
Leonard Williams, New York Jets (vs. New England)
After a brief resurgence in Weeks 4 and 5 in which he posted 10 total tackles and three sacks, Williams has once again fallen off the fantasy radar. In the past five games, Williams has just nine total tackles and zero sacks or splash plays at all. The Patriots are a negative matchup for defensive linemen so IDP owners can feel free to drop Williams entirely if they haven't already.
Linebackers
Start
Tremaine Edmunds, Buffalo Bills (vs. Jacksonville)
It's apparent that the Jaguars have turned to a run-heavy offense in an attempt to cut down on the mistakes that Blake Bortles has been committing in 2018. In Week 11 Jacksonville rushed the ball 43 times while attempting just 18 passes. That allowed a huge game for Vince Williams, who finished with 10 total tackles (the sixth straight game that a linebacker has put up double-digit tackles on Jacksonville) along with a sack. This week Edmunds will get his chance to shine. The rookie has put up 70 total tackles this season and also brings splash-play potential, having posted a sack and two forced fumbles.
Fred Warner, San Francisco 49ers, (@ Tampa Bay)
It's good to be a rookie linebacker heading into Week 12 as the matchups are very favorable. Over the past three weeks the Buccaneers have been among the most generous offenses in allowing points to opposing linebackers. In that time linebackers are averaging 23.3 total tackles per game and racking up big plays. Tampa Bay has allowed two sacks, two forced fumbles as well as an interception and fumble recovery to linebackers over that time. Warner is coming off a down Week 10 performance with a 2/2/4 stat line but is poised for a bounceback performance this week.
Sit
Vince Williams, Pittsburgh Steelers (@ Denver)
We loved Williams last week and he paid off for IDP owners to the tun of a 6/4/10 one sack stat line against Jacksonville. Those numbers were good enough for a top-10 Week 11 fantasy finish. Unfortunately, the matchup in Week 12 is a negative one for the veteran linebacker. In the past two games, the Broncos are allowing an average of just 13.5 total tackles per game and have allowed just one linebacker to reach double-digit tackles in 2018. The splash plays haven't been there either as Denver hasn't allowed any in the past two games.
Hardy Nickerson, Cincinnati Bengals (vs. Cleveland)
The linebacker situation in Cincinnati is too murky to chase the 8/3/11 stat line that Nickerson put up last week. Nickerson played all 79 defensive snaps in Week 11 while Vontaze Burfict played 36 and Jordan Evans just 38. In the previous five games Nickerson played a total of 49 defensive snaps. Even with Preston Brown being placed on IR it's too risky to roll out a player after one big week as the Bengals may have been easing Burfict (shoulder) back into the lineup and could increase his snaps in Week 12. There is also the possibility that Cincinnati could get Nick Vigil (knee) back soon. This is a hands-off situation.
Defensive backs
Start
Jeff Heath, Dallas Cowboys (vs. Washington)
This Thanksgiving matchup is too juicy to pass up. Heath has been rotating between free and strong safety for the Cowboys, playing 610 of 635 defensive snaps. More importantly, Heath is lining up in the box or along the defensive line an average of 23.9 snaps per game. That bodes well facing a Redskins offense that will likely run the ball a bit more with Alex Smith done for the season. As it is the Redskins have been allowing an average of 27 tackles per game to defensive backs over their last five games.
Jaquiski Tartt or Antone Exum, San Francisco 49ers (@ Tampa Bay)
Reports out of San Francisco are that Tartt (shoulder) is expected back at practice as San Francisco returns from their Week 11 bye. This is the perfect time for Tartt to return as the struggling Buccaneers offense has been fantasy gold for defensive backs. Over their last five games Tampa Bay is allowing an average of 30 tackles per game to defensive backs. The Buccaneers are also handing out big plays over that time with nine interceptions, two forced fumbles and a fumble recovery given up to defensive backs. Should Tartt be unable to go then starting his backup Exum is also advisable.
Sit
Reshad Jones, Miami Dolphins (@ Indianapolis)
There are a few factors in play that have me advising IDP owners to sit Jones this week. There has been some unrest regarding Jones as he pulled himself from the Dolphins Week 9 game after playing only 10 snaps and it was not injury related. Jones was briefly benched for the start of the Week 10 game finishing with a 3/0/3 stat line on 45 snaps. It's hard to trust a player who is willing to pull themselves from a game and is having an off season. In the eight games he has played Jones has just 37 total tackles and two interceptions. Finally, the Colts have not allowed a splash play to a defensive back in their last four games.
Kenny Vaccaro, Tennessee Titans (@ Houston)
Things have been trending in the wrong direction for Vaccaro since his return from an elbow injury. In the three games since his return Vaccaro has failed to top six total tackles and has posted zero smash plays. The Texans have been a rough matchup for defensive backs lately. In the past four games Houston is allowing just 19.25 total tackles per game to defensive backs. In the Week 2 meeting between the teams Vaccaro put up a modest 5/1/6 stat line.