We're back again for Week 16 of the NFL season to identify some sleeper candidates for fantasy football. This week, we're looking ahead to Week 17 for players who could pop in the season's final week.
The fantasy playoffs are a real test of a player's wits. Not only do they pit you against the other best teams in your leagues, they also are subject to the most uncertainty for player production as teams are eliminated from or lock in their seed in the playoffs and lose their motivation to win. To try to help you solve that puzzle, I've pivoted from my normal player efficiency-based sleepers column to write a playing-time sleepers column. The sleepers I present here are loosely ordered by my preferences for them as waiver adds based on my perception of their chances to play and produce the next two weeks. But many of those opportunities will materialize or not based on the results of the Week 16 games, so pay attention to the scenarios I detail and the league's tiebreaking procedures. With a little planning, you could snag a critical piece to finish off your fantasy season with a championship.
Scenario: Aaron Jones misses time with his knee injury
This season has confirmed the opinion that I and many other analysts had that Jones is a better player than Williams, but Williams has been a productive fantasy player when the Packers have featured him. That's what goal-line size and a relative strength for catching passes can do for you in fantasy. Williams may have the chance to see pretty much all of the Packers' carries in Week 16 and 17 if Jones misses those games with his MCL sprain. That would make Williams a likely RB2.
Scenario: Odell Beckham continues to miss time with quad injury
Sterling Shepard becomes the Giants' best wide receiver when Beckham misses time, but at 5-10 and 201 pounds, he doesn't have the versatility to run the same variety of routes that Beckham does. Shepard has seen a few more targets per game without Beckham in the lineup, but his production has been mostly unchanged. In contrast, tight end Engram has scored 4.2 more fantasy points per game without Beckham in the lineup the last two seasons.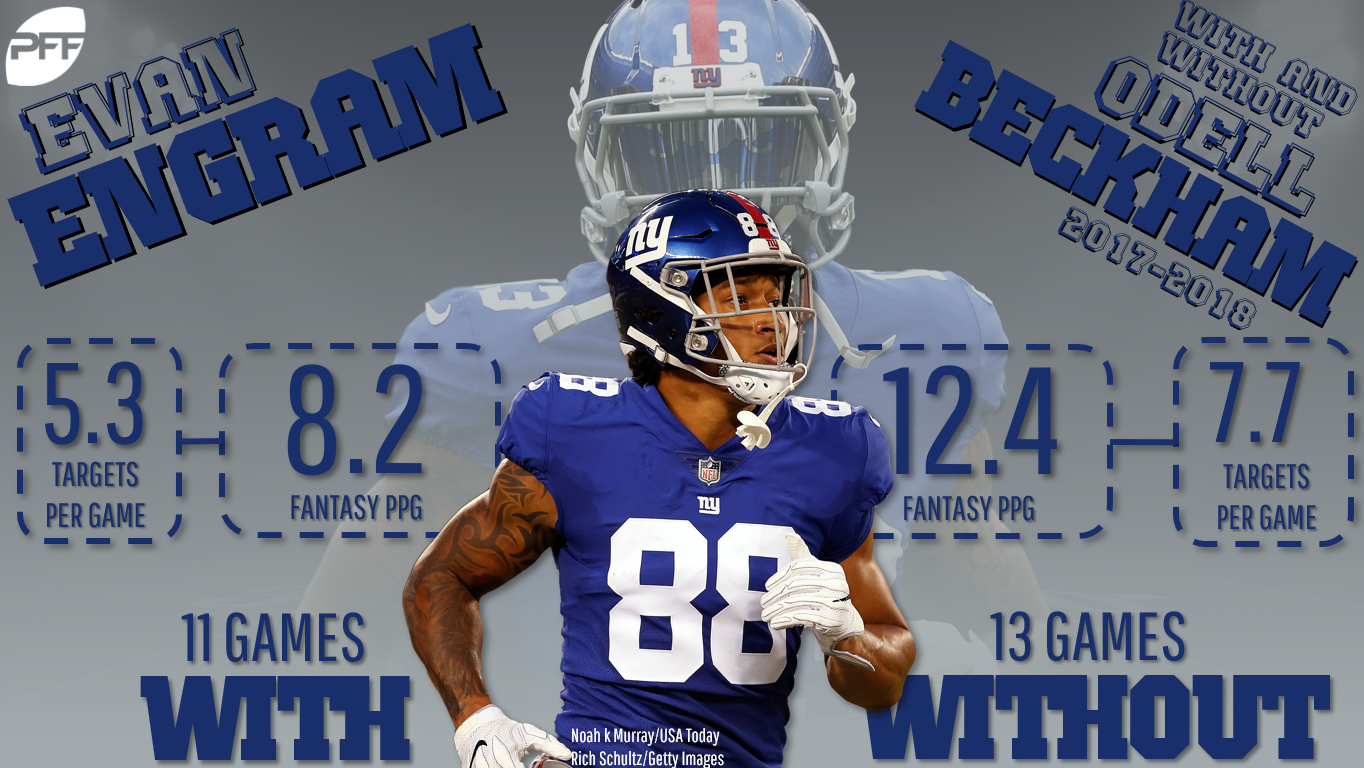 If Beckham misses Week 16 or 17, Engram would become a sneaky top-five fantasy tight end.
Scenario: Cowboys win in Week 16
The 8-6 Cowboys already own tiebreakers over the 7-7 Eagles and 7-7 Redskins, the former because of a 2-0 head-to-head record and the latter because of a much better record in the division. That means the Cowboys can lock up the division with a win this weekend over Tampa Bay. Should that happen and the team decides to rest bell-cow back Ezekiel Elliott, than Smith would have a chance to showcase why he is one of the best handcuff backs in the league. Smith has a Jamaal Williams-like combination of size — he's 6-3 and 235 pounds — and pass-catching ability, but he's actually been efficient in adding 5 and 25 yards as a rusher and receiver over the last two seasons. He'd push RB1 status if he were named the team's starter.
Scenario: Saints win or Rams lose in Week 16
The 12-2 Saints beat the 11-3 Rams head to head back in Week 9, which means the Rams would have to finish with the better record to move ahead in the NFC playoff seeding. That makes the Saints a strong bet to lock up the No. 1 seed in the NFC this weekend, which may lead them to rest some key offensive players in Week 17. Tre'Quan Smith has about doubled Keith Kirkwood's snap count over the last month and would be my sleeper among the team's skill players, but I surprisingly think backup quarterback Bridgewater is the safest fantasy choice if he does indeed play.
Remember that Bridgewater excelled in the preseason, completing 28 of his 38 for 316 yards, 2 touchdowns, and only 1 interception. And he should have an excellent Week 17 matchup playing at home against a Panthers team that has been more effective against the run than the pass this season. With normally excellent fantasy options like Patrick Mahomes, Ben Roethlisberger, and Mitchell Trubisky potentially having nothing to play for, I wouldn't be surprised to see Bridgewater land in the top-10 in my rankings that final weekend.
Scenario: Dolphins lose in Week 16, and maybe regardless
The Dolphins will most likely be eliminated from playoff contention if they lose to the Jaguars on Sunday. That turn of events would presumably nudge the team to see what rookie running back Ballage can do. They may even turn to him regardless since Frank Gore is set to miss the rest of the season with a sprained foot. Ballage produced 75 of his 123 yards on Sunday on a single run, so his excellent rates may not be instructive. But I am bullish on Ballage's chances to become a three-down back because he caught passes on a very high 15.4% of his college touches. He could emerge as an RB2 in Week 17 if this week plays to his favor.
Scenario: Chiefs win, Chargers lose, and Texans lose in Week 16
The Chiefs currently own the tiebreaker over the Chargers because of a one-game lead in divisional record, but that has a chance to change since both teams play in the division in Week 17. However, Week 16 results can still lock those teams into a seeding because of the third tiebreaker, records against common opponents. The Chiefs and Chargers lost to the Rams and have otherwise beaten the teams that they both have played. However, the Chiefs already beat the Chargers' Week 16 opponent, the Ravens, so a Chiefs win plus a Chargers loss to the Ravens this Saturday would prevent the Chargers from passing the Chiefs in the division. Couple that with a Texans loss, and the Chiefs would be locked into the No. 1 seed and the Chargers into the No. 5 seed.
If everything follows that blueprint, both the Chiefs and Chargers could choose to rely on their rookie running backs in Week 16. I made the case that Williams was a compelling long-term sleeper after Kareem Hunt was released, but he has three-down potential in Week 17 if the team is in a position where it can rest Spencer Ware and Damien Williams.
Scenario: Chiefs win and Chargers lose in Week 16 or Melvin Gordon misses more time with knee injury
Jackson already enjoyed a breakout fantasy performance last weekend, but with Gordon seemingly about to return from his knee injury, Jackson will likely need the Chargers to lose their motivation to turn in another RB2 performance. I think Jackson has less of a chance to be an every-down player in his career than Williams because he's only 199 pounds, but since he's already played and excelled this season, he would be the better Week 17 option if both were named starters.
Scenario: Keenan Allen misses time with hip injury
Williams hasn't been an efficient receiver this season, but at 6-4 and 220 pounds, he has been a matchup nightmare in the red zone. He added two more scores to his seasonal total of 9 on just 37 total catches after Allen injured his hip early in Week 15. If Allen misses any time, Williams would be as likely as any receiver in football to score a touchdown. The Chargers are top-five in the NFL in pass percentage on plays within 10 yards of the end zone.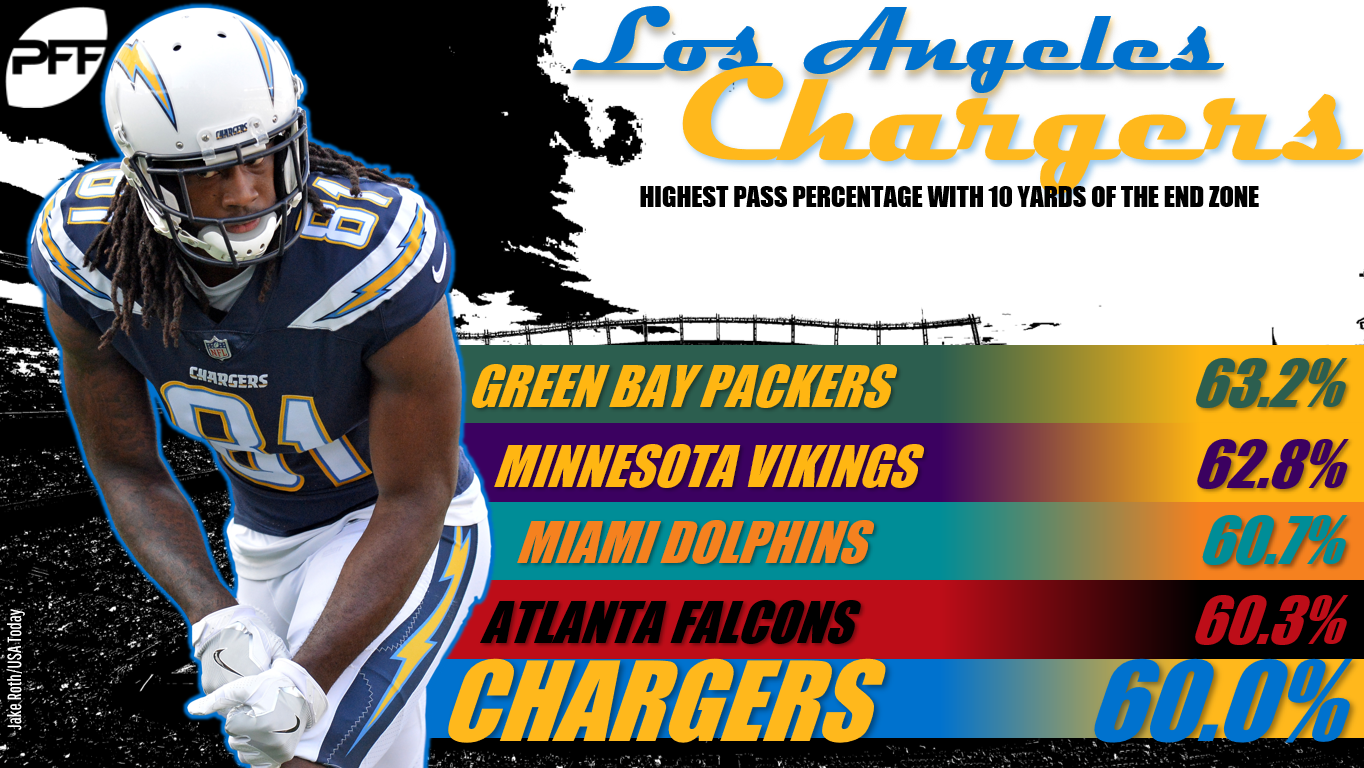 Scenario: LeSean McCoy, Chris Ivory, and Marcus Murphy miss time with their respective hamstring, shoulder, and arm injuries
After Murphy injured his arm late the first half in the Bills win over the Lions on Sunday, Ford became the team's workhorse back out of necessity — they didn't have any other healthy runners. But it would make sense for the Bills to continue to ride Ford over the final two weeks of the season. They've already been eliminated from playoff contention, and the rookie Ford is the only back on the team's roster who could reasonably figure into their long-term plans at the position. McCoy and Ivory are both 30 years old, and Murphy best fits as a specialized player at just 5-9 and 195 pounds. Ford looked bad by Yards Added, costing the team 11 yards on his 14 carries on Sunday. But his volume could push him into flex territory if he again finds himself as the team's only backfield option.
Scenario: Rams win and Bears lose in Week 16 or Rams announce they plan to rest Todd Gurley
Malcolm Brown's clavicle injury didn't clear the decks for rookie Kelly behind Gurley as much as I expected. Justin Davis drew the handful of carries that Gurley didn't take the last few weeks, or he did before Davis suffered his own injury. It's unclear whether Davis will make it back for Week 16 or 17, but either way, I would bet on Kelly to see a heavy workload if the Rams ended up locked into their seed or wanted to rest Gurley. The sixth-round Kelly was prolific in the preseason with 52 touches and three touchdowns, and his lack of size at 5-9 and 205 pounds is less of a workload concern in a single game than it would be over a full season. He could be an excellent fantasy option at home against the 49ers in Week 17.
Scenario: Rams win and Bears lose in Week 16
The Bears don't have the same potential workhorse back on their bench that the Rams do in the event of their clinched seeding. But with Cunningham and Mizzell, they have somewhat lesser versions of their normal starters Jordan Howard and Tarik Cohen. Both Cunningham and Mizzell are 5-10, but the former is nearly 50 pounds heavier. That should earn him the bulk of the team's between-the-tackles carries and goal-line opportunities while Mizzell pulls in more targets.
Scenario: Jaguars limit Leonard Fournette again in Week 16
Fournette seemed poised for his biggest workload of the season, healthy and with Carlos Hyde a healthy inactive in Week 15 against the Redskins. Instead, Fournette ceded the majority of his second-half carries to seventh-round rookie runner Williams. Apparently that was part of the game plan. Hopefully, this weekend will clarify if that plan was to discipline Fournette for some reason or to conserve him for next season. If the team makes it crystal clear that it is the latter, then Williams may become fantasy-relevant for the final week. He has good size at 6-1 and 229 pounds and was an efficient runner and touchdown scorer in his senior season at Arkansas.