We're back again for Week 10 of the NFL season to identify some sleeper candidates who could find themselves more valuable in fantasy football sooner or later.
The Patriots/Packers Sunday night affair featured a lot less scoring than many predicted, but touchdowns and fantasy points aren't always the best predictors of future fantasy production. My rushing and receiving Yards Added metrics compare a skill player's yardage totals on their plays relative to expected totals based on factors like the down and distance, distance from the end zone, quality of run-blocking, and quality of coverage. As such, they are perfect tools to identify which players are efficient and could see a bump in their future workloads because of it. There are several of those players who stand out as sleepers for Week 10 and beyond, including a pair of players from Sunday night.
The Patriots have suffered myriad running back injuries this season, and working without Jeremy Hill, Rex Burkhead, and Sony Michel the last two weeks, they've been forced to get creative. Wide receiver/returner Patterson has actually paced their backfield with 21 carries in Weeks 8 and 9. Conventional wisdom is that Patterson will return to his typical duties when Michel rejoins the lineup either this weekend or at latest following their Week 11 bye. But Patterson has been so exceptional in his opportunities I'm beginning to wonder whether running back could become his permanent position.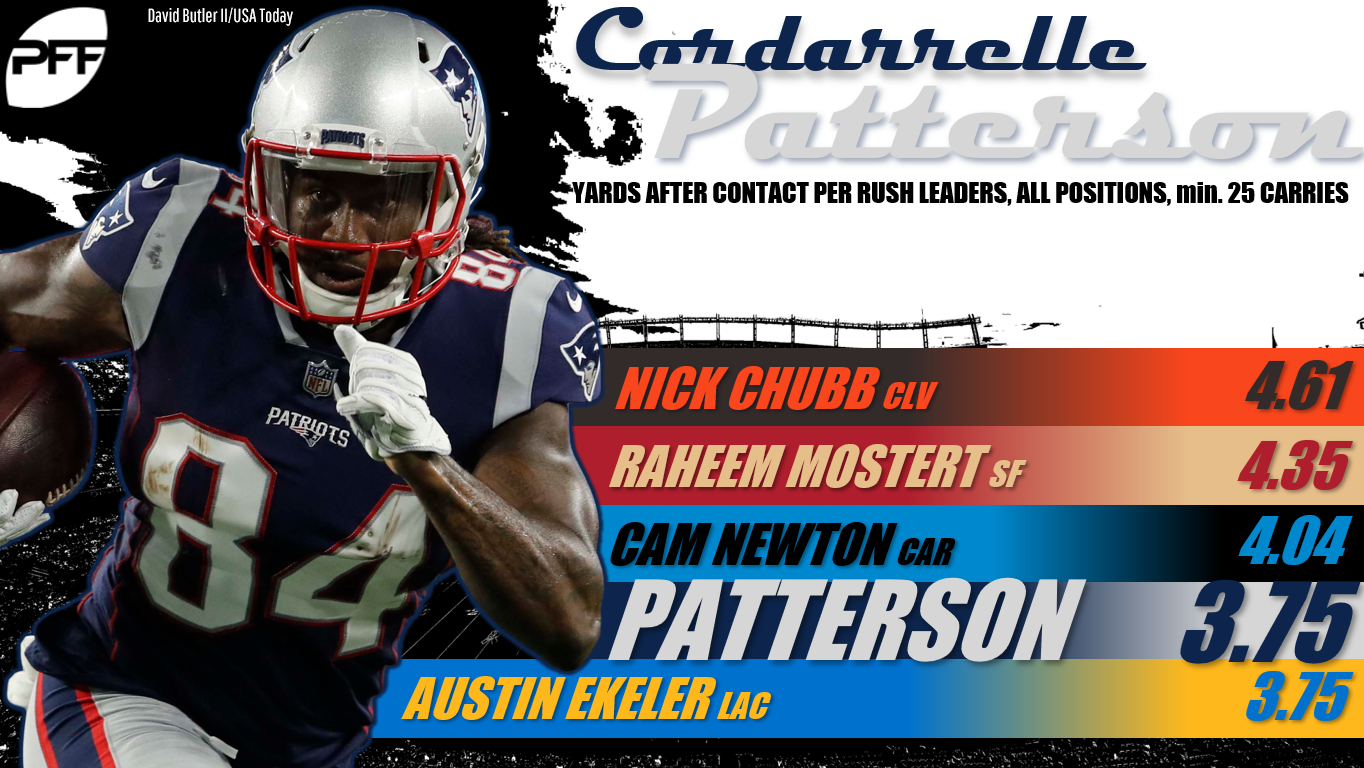 Rushing Yards Added paints an encouraging picture. His total of 13 is in the 75th percentile this season, and by rate, his 0.45 Yards Added per attempt is on par with the positional efficiency leaders like Isaiah Crowell (0.46) and Saquon Barkley (0.40). Patterson clearly has the speed and shiftiness to break big runs, but I've been impressed by his consistent success. He's reached or exceeded his expected yardage total on 54% of his carries this season. That's in the 90th percentile at the position with the best of the negative-play avoiders like Marshawn Lynch (59%), Jay Ajayi (56%), and Derrick Henry (54%).
Patterson's showcase as a rusher has completely transformed my image of him as a player. Previously, I considered him a big-play threat who lacked some of the necessary receiver skills to consistently make it on the field. If he can be a big-play threat as a capable between-the-tackles rusher, he suddenly looks a lot like the power-and-speed unicorns like Jamaal Charles and C.J. Spiller, who carried fantasy teams in their peak seasons. Patterson's 4.42 speed and 3.8 yards after contact per attempt this season puts him on that shortlist.
Patterson's Comparable RBs, 2007-18
Player
Season
Combine 40
YAC / Att
Jamaal Charles
2009
4.41
3.6
Darren McFadden
2010
4.38
3.5
Adrian Peterson
2012
4.41
3.9
C.J. Spiller
2012
4.27
3.6
Kenyan Drake
2017
4.45
4.3
Cordarrelle Patterson
2018
4.42
3.8
Another handful of "backs" like Corey Grant and Tavon Austin have achieved those thresholds over similarly small workloads to what Patterson has this season, but they are universally undersized. At 216 pounds, Patterson is built like a workhorse running back. That provides hope that he can maintain his excellent pace. Once Michel is back, Patterson may temporarily return to the bench, but I wouldn't risk leaving him on the wire in my fantasy leagues, especially in keeper and dynasty formats. It's half a decade later than originally expected, but Patterson has star potential.
I included Valdes-Scantling in this column just two weeks ago, but those two weeks have added a lot of clarity to a formerly murky Green Bay receiver situation. At the time, Valdes-Scantling led the team's receivers with 14 Yards Added, which he produced on just 16 catchable targets that included a 60-yarder in Week 6. But most of the fears I had over small-sample sizes have since been erased with Valdes-Scantling doubling his seasonal total to 28 Yards Added. Now, he and established star Davante Adams are clearly separated from the rest of the team's receiving options.
Yards Added Breakdown, Packers Receivers, 2018
Player
CTgts
Yards Added
Yards Added / CTgt
Marquez Valdes-Scantling
22
28
1.29
Davante Adams
71
21
0.30
Geronimo Allison
24
7
0.31
Randall Cobb
30
1
0.04
Jamaal Williams
10
1
0.11
Jimmy Graham
44
-25
-0.56
min. 10 catchable targets
With Randall Cobb languishing near neutral efficiency and with Ty Montgomery traded to the Ravens, I think it's clear that Valdes-Scantling will see a healthy target volume the rest of this season even when Geronimo Allison returns from his hamstring injury.
Falling behind two touchdowns in the first 20 minutes of a game creates a lot of passing opportunities. The normally conservative Alex Smith threw the ball 46 times in the Redskins' 14-38 drubbing by the Falcons. That's a reason why a receiver like Maurice Harris should enjoy a productive fantasy day. But 10 catches and 124 yards on 12 targets — 5 more than Smith's second-favorite target, Vernon Davis — is more than just productive. And Harris is looking like more than just a fill-in. For the season, Harris is up to 4 Yards Added, the same total as the man he replaced on Sunday, Jamison Crowder. It's unclear when Crowder will make it back from his ankle injury, but between his absence and that of receiving back Chris Thompson, the team is in desperate need of effective short targets. Davis, Paul Richardson, and Josh Doctson all average 13 or more air yards per target. Harris can stay in the fantasy mix in deeper formats so long as either of Crowder or Thompson is out, and he may be proving himself to be impending-free agent Crowder's long-term replacement. Be sure to snag him in your dynasty formats.
In his return from a foot injury that landed him on injured reserve to start the season, McGuire had a modestly productive Week 9 with six carries for 23 yards and three catches for 37 yards. Isaiah Crowell more than doubled his carry total, which suggests that McGuire won't step fully into Bilal Powell's injury-vacated role. For fantasy players, that might be a good thing.
Relative to Crowell, Powell is a decent pass-catcher, but he has been just neutral in Receiving Yards Added since the start of 2017. The Jets seemed to have noticed that moderate efficiency because they cut his receptions per game rate in half from 3.9 in 2015-16 to 1.5 in 2017-18. McGuire took over some of that work last season but will now have the opportunity for more, and he actually looks the part of an impact receiving back. With more than half a Yard Added per catchable target since the start of last season, McGuire has been similarly efficient as Duke Johnson, Tevin Coleman, and the other best receiving backs in football.
Yards Added Per Catchable Target Leaders, RBs, 2017-18
Player
CTgt
Yards Added
Yards Added / CTgt
Austin Ekeler
53
52
0.98
Chris Thompson
72
67
0.93
Corey Clement
28
26
0.92
Todd Gurley
113
99
0.88
Duke Johnson
115
79
0.69
James Conner
42
25
0.60
Tevin Coleman
55
30
0.54
Chris Ivory
39
21
0.53
Elijah McGuire
24
13
0.53
Marlon Mack
38
20
0.53
Giovani Bernard
62
32
0.52
Lamar Miller
52
24
0.47
Doubling down on sleepers from the rookie-led Jets may not be the best short-term fantasy strategy, but rookie tight end Herndon is showing signs that he has the talent to become a core player in an offense that will become fantasy-friendly in future seasons if Sam Darnold develops. Herndon fits the profile of a player who should be more valuable in fantasy than reality. He's a former wide receiver who converted to tight end, which makes him similar in background and in size to the Cardinals' Ricky Seals-Jones. Herndon has failed to log 30 snaps in any of the Jets last three games, but when he is on the field, he is usually running routes. For the season, he has 118 routes against just 21 snaps in pass protection. And despite the limited opportunities, Herndon has produced 176 yards and three touchdowns in his last four games and has 3 Yards Added for the season. Like Harris, he's an attractive dynasty stash.