The exact definition of a fantasy football sleeper or bust is difficult to pin down. For my purposes, I keep it simple: Sleepers are players who I expect to outperform their norm or their expectation, even by a little, and busts are players I expect to fall short. Sometimes, this means a guy is in store for a monster week; sometimes it means a little-used player needs to crack lineups.
Either way, each week in this space I'll use PFF advanced stats to try to identify a handful of the week's key sleepers and busts for fantasy.
Week 7 fantasy football sleepers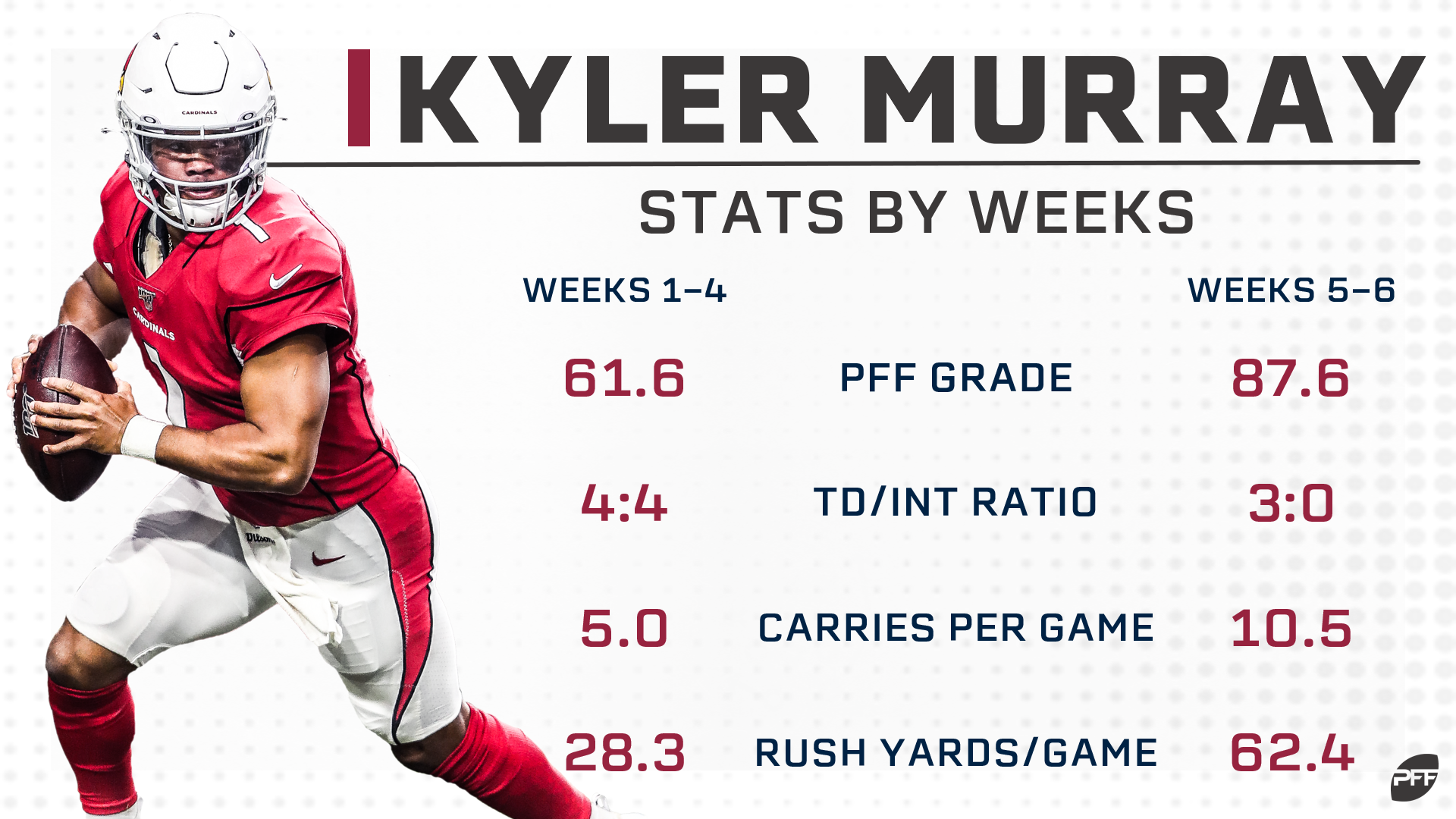 Kyler Murray, QB, Arizona Cardinals: In Weeks 1-4, Murray put together an overall PFF grade of 61.6, 26th of 38 qualifying quarterback, with 4 touchdowns against 4 interceptions and running the ball an average 5.0 times a game for 28.3 yards. In Weeks 56, his grade rose to 87.6 (fourth of 37 qualifiers) with 3 touchdowns against no interceptions and ran the ball 10.5 times a game for 62.4 yards. Insert wavey hands "It's happening" gif here.
Josh Allen, QB, Buffalo Bills: Every quarterback who faces the Dolphins qualifies for this space, but Allen deserves special mention because, in addition to allowing the third-most touchdown passes (despite having their bye) and with only one interception so far, the Dolphins have also allowed the fourth-most rushing yards. This could be the week Allen's legs really get going.
Jacoby Brissett, QB, Indianapolis Colts: Brissett is a top-12 quarterback in both fantasy points per game and per dropback. Take out Week 4 (because including inexperienced Kyle Allen in these numbers feels unfair, and also because it messes up my narrative), and quarterbacks facing the Texans have averaged a ninth-place weekly finish.
Daniel Jones, QB, New York Giants: Jones' opponents have gotten gradually tougher since his starting debut. Tampa Bay's PFF pass-coverage grade is 47.1, and in order, his subsequent opponents have had grades of 60.9, 88.1, and 93.5. So it's really not a shock that his fantasy numbers have dropped? This week, he faces an Arizona defense with a pass-coverage grade of 53.0.
Tevin Coleman, RB, San Francisco 49ers: Per our Scott Barrett's expected fantasy points, Coleman had 2.59 expected touchdowns in Week 6, the product of a lot of work overall and especially a lot of red-zone work (he had all eight of the team's backfield opportunities inside the 20). He only score one touchdown, but that sort of work should lead to good things. Against a Washington team that should allow the 49ers to win easily, Coleman could put up a lot of points this week.
Phillip Lindsay/Royce Freeman, RB, Denver Broncos: The Colts and Texans have beaten the Chiefs in back-to-back games in part because they have been determined to keep the ball out of Patrick Mahomes' hands, dominating time of possession in those games. We'll see if that's a recipe for long-term success, but it seems a pretty safe bet that, at least, the Broncos will try that. That puts both of the Denver running backs firmly in play this week against a Chiefs defense allowing plenty of RB production. Lindsay is a borderline RB1 this week, and Freeman is a high-upside flex.
Malcolm Brown, RB, Los Angeles Rams: Brown was a big disappointment as Todd Gurley's fill-in in Week 6, with only 40 yards on 11 carries and no involvement in the passing game. But for the season, Brown still looks like a tough back to tackle. He has 11 forced missed tackles on 37 carries (0.30 per carry). Among running backs with at least 30 carries, only Duke Johnson (0.35) and Alvin Kamara (0.34) have forced missed tackles more often.
T.Y. Hilton, WR, Indianapolis Colts: Last year, Hilton averaged 133.0 yards and 3.76 yards per route run in three games against the Texans (including the playoffs), compared to 78.2 yards and 2.18 YPRR in all other games. The Texans are allowing the sixth-most PPR points per game to receivers this year. Hilton's matchup, facing Johnathan Joseph, is the single most advantageous matchup of the week, per our WR/CB matchup chart.
Larry Fitzgerald, WR, Arizona Cardinals: The Giants have allowed 45 pass plays of at least 15 yards so far this year, tied with the Buccaneers for the league lead and 11.2 worse than the league average. They have a 38.7 pass-coverage grade. Per our WR/CB matchup chart, Fitzgerald sets up for a matchup predominantly against Grant Haley, the third-best matchup . If you can find some negative, let me know.
Robert Woods/Brandin Cooks, WR, Los Angeles Rams: Even after a bad week last week, no one's off Cooper Kupp. But Woods and Kupp have combined for two touchdowns and two hundred-yard games this year, and they have a combined 95 yards across the last two weeks. But they're facing Atlanta, owners of the second-worst PFF coverage grade and the most points allowed. We could see one or both of these guys finally have their breakouts.
Calvin Ridley/Mohamed Sanu, WR, Atlanta Falcons: Sunday's Rams/Falcons game has the highest over/under of the week at 54 points. Aqib Talib hit IR, and the Rams sent Marcus Peters to Baltimore Tuesday. Jalen Ramsey is in town now, and if he's active, he'll likely spend most of his time marking up Julio Jones, leaving Ridley and Sanu to feast on the team's lesser cornerbacks. If Ramsey's out? All bets are off for the entire Falcons receiving game.
Anthony Miller, WR, Chicago Bears: Miller has seen his playing time and involvement in the passing game gradually increase this season, peaking with Week 5's 7 targets, 52 yards, and 76.8% snaps played. This week, he is likely to spend a lot of time in the slot against a Saints defense that will be replacing the P.J. Williams with someone (likely Patrick Robinson) who is (apparently) (somehow) even worse.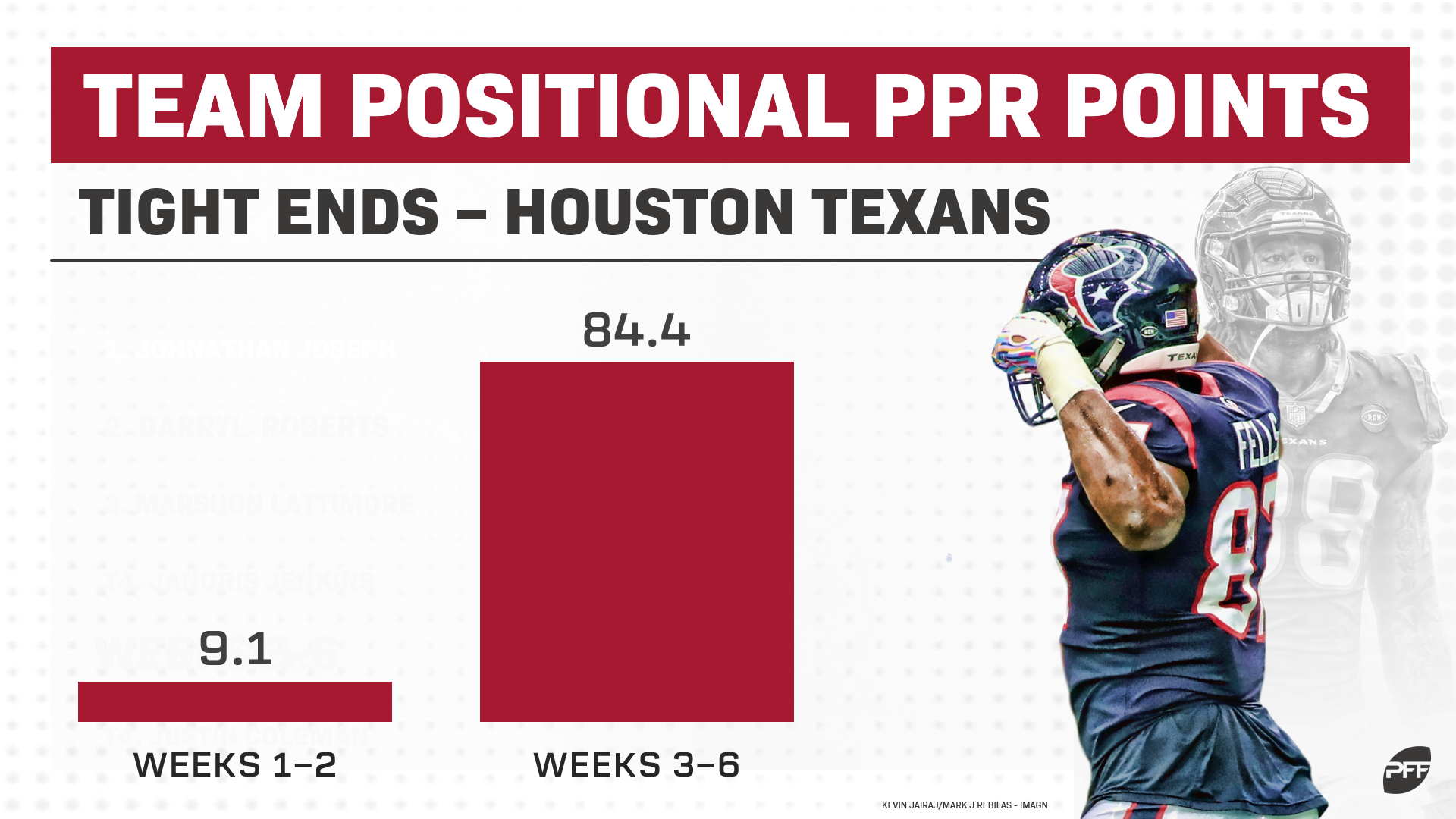 Jordan Akins/Darren Fells, TE, Houston Texans: Akins and Fells totaled 7 targets in Weeks 1 and 2 together. Since then, the two have averaged 7.0 targets per game. They have 84.4 PPR points, a team total that is behind only the Falcons over Weeks 3-6, and each guy ranks in the top-12 individually. The Colts have allowed the third-most PPR points per game to tight ends and offer a top-four matchup for the Texans guys per out TE matchup chart.
Busts
Aaron Rodgers, QB, Green Bay Packers: Before the Packers' Week 7 bye last year, Rodgers had four games of 20-plus fantasy points out of six weeks. Since then, he has four such games … in 16 weeks. Rodgers has only topped 22 fantasy points twice in a calendar year, and it's been more than a full year since he had a game with three passing touchdowns. Add in to that the fact that Rodgers' wide receivers this week include a guy who was in Norway last week, Dave from accounting, and a particularly skillful lacrosse stick, and he might not be able to do much.
Carson Wentz, QB, Philadelphia Eagles: Working in Wentz' favor last week was a Vikings offense that took advantage of Philadelphia's porous secondary to jump out to a big lead and create a shootout, forcing Wentz to throw more. And if the Cowboys were at full strength, you might expect the same this week. But a Cowboys offense without Tyron Smith and Amari Cooper (assuming both are out this week), plus several other important offensive pieces, is not an offense you trust to take advantage of the Eagles. That will lead Wentz to his low passing output he had in Weeks 4-5.
Aaron Jones, RB, Green Bay Packers: You likely drafted Jones as a mid-to-high RB2 with hopes of him being "freed" and becoming an RB1. And in Week 5, that looked like what was happening. A crucial drop, a fumble, and a good Jamaal Williams game later, and Jones is flirting with a drop to flex territory now. He's still the choice over Williams, but this is enough of a split that Jones' upside is much lower now.
Melvin Gordon/Austin Ekeler, RB, Los Angeles Chargers: Combined, Gordon and Ekeler are averaging 0.56 yards per carry before contact this year. Among all backs with at least Gordon's 20 carries, each guy ranks in the bottom 11. The Chargers' destroyed offensive line combined with the workload split since Gordon returned has rendered both guys tough-to-trust disappointments.
Terry McLaurin, WR, Washington: Since the 49ers Week 4 bye, they have allowed a combined 37.2 PPR points to the wide receivers of the Browns and Rams (not exactly two groups of nobodies). They've allowed only a 67.6 passer rating so far this year despite facing a relatively strong group of quarterbacks, and now they face Washington. McLaurin's been a revelation this year, but this week is one to look elsewhere.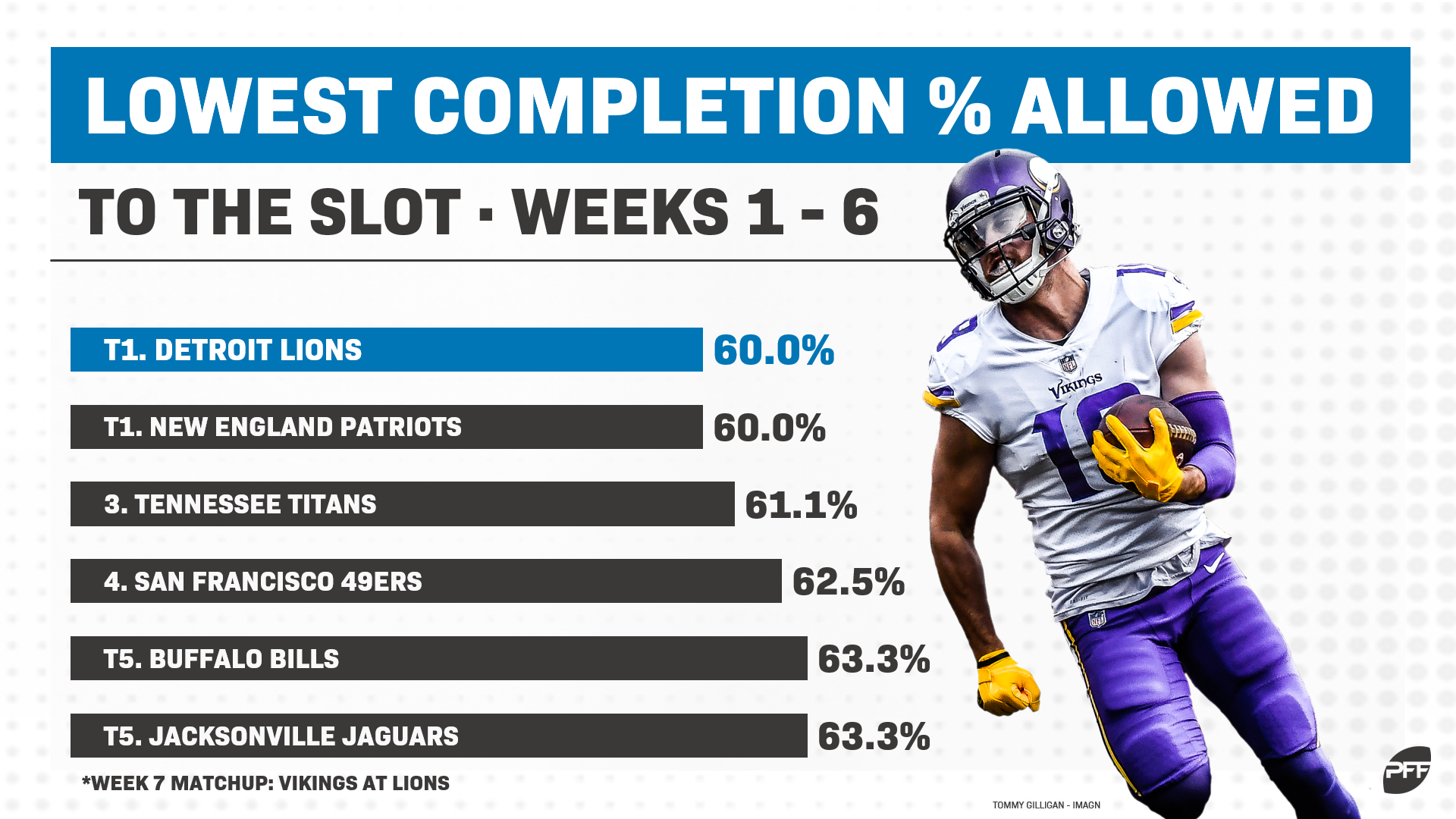 Adam Thielen, WR, Minnesota Vikings: If the Vikings continue their recent (slightly) pass-happier ways, this is likely to be a Stefon Diggs game — Thielen spends more time in the slot, where the Lions (primarily Justin Coleman) have allowed a league-best 60% completion percentage. More likely is the Vikings leaning on Dalvin Cook. Either way, it's a bad week for Thielen.
Darren Waller, TE, Oakland Raiders: Tight ends to reach double-digit PPR points against the Packers: One. Tight ends to score a touchdown against the Packers: One. (And those weren't even the same guy.) Waller still has elite yardage upside, but until the team puts him in more scoring situations (just 3 red-zone targets so far, no end-zone targets), he has a lower upside than you want out of your upper-level tight ends.
Luke Willson, TE, Seattle Seahawks: First off, I seriously doubt many people are going to see Will Dissly's injury and pivot right to Willson. But lest you were considering such a venture … well, don't. Dissly had four touchdowns this year before his injury, which equals the best mark of Willson's seven-year career. Dissly had 262 yards, which would be Willson's highest season total since 2014. The Seahawks are probably glad to have Willson now, but don't expect much of a fantasy contribution.