The exact definition of a fantasy football sleeper or bust is difficult to pin down. For my purposes, I keep it simple: Sleepers are players who I expect to outperform their norm or their expectation, even by a little, and busts are players I expect to fall short. Sometimes, this means a guy is in store for a monster week; sometimes it means a little-used player needs to crack lineups.
Either way, each week in this space I'll use PFF advanced stats to try to identify a handful of the week's key sleepers and busts for fantasy.
Week 5 fantasy football sleepers
Andy Dalton, QB, Cincinnati Bengals: Monday was terrible. No one is arguing that. But Dalton still is top 10 in the league in dropbacks, pass attempts, completions, and yards, should be able to play at a huge pace against the Cardinals, and no longer has to face the Steelers, owners of the league's No. 2 PFF pass-rush grade (87.9).
Jacoby Brissett, QB, Indianapolis Colts: The one thing the Chiefs basically always offer their opponents is a pass-happy gamescript — the team is on a 25-game streak of at least 25 points scored, easily the longest such streak in NFL history. Brissett didn't garner many yards in Weeks 1-2, but has averaged more than 280 passing yards the last two weeks, with 5 touchdowns against a single interception in that time.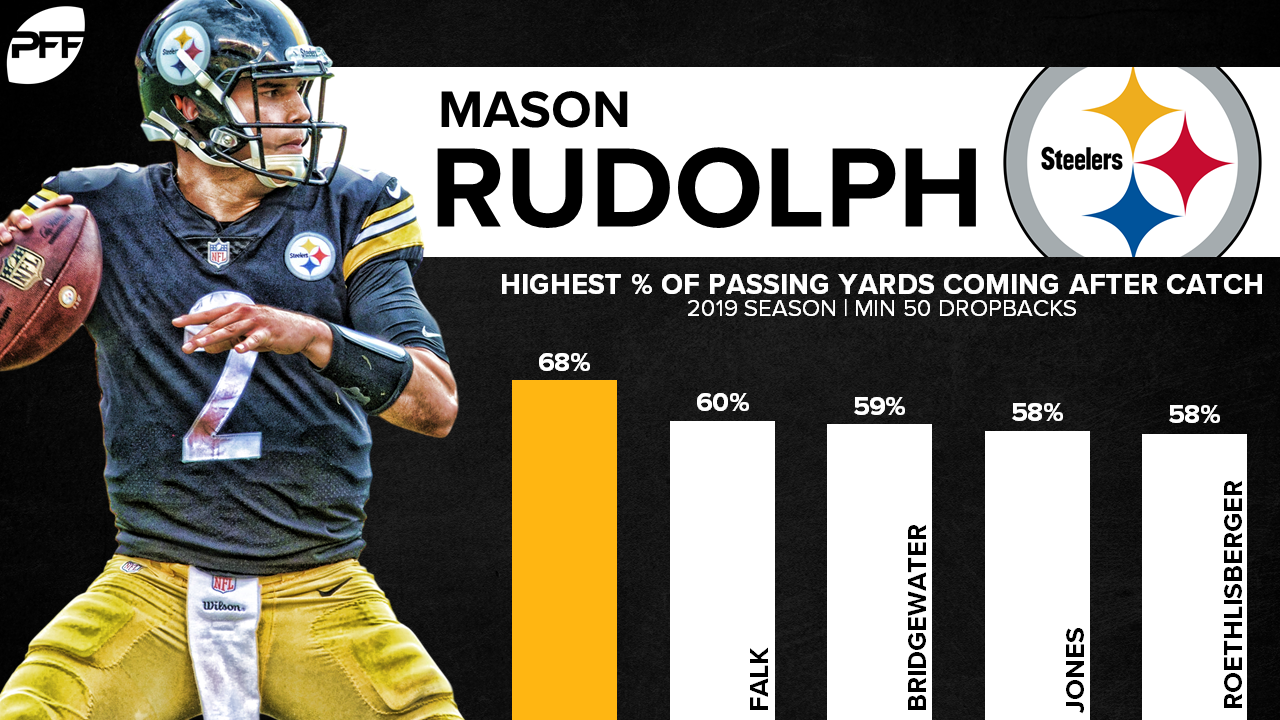 Mason Rudolph, QB, Pittsburgh Steelers: On the one hand, Rudolph's raw passing yardage is artificially inflated by some ridiculous after-the-catch numbers by his receivers — only 31.8% of his passing yards have come in the air so far this year, very easily the lowest number in the league (Luke Falk is second-lowest at 39.9%). On the other, the Ravens have allowed 668 yards after the catch so far this year, most in the league. So while we might like to see Rudolph do more work on his own, this week could work out for him nonetheless.
David Johnson, RB, Arizona Cardinals: Four games into the season, seven different running backs have put up at least 14 PPR points against the Bengals, including four backs with at least 23 points and one game (against the 49ers in Week 2) with three different backs reached 14. This week, all that value should be concentrated just to Johnson.
Devin Singletary, RB, Buffalo Bills: Singletary has 10 carries so far as a rookie. Seven of them have gone for at least 10 yards. Among the 21 backs with at least six carries that long, Singletary is the only one with fewer than 27 carries so far. Assuming he's back, he's a chunk play waiting to happen.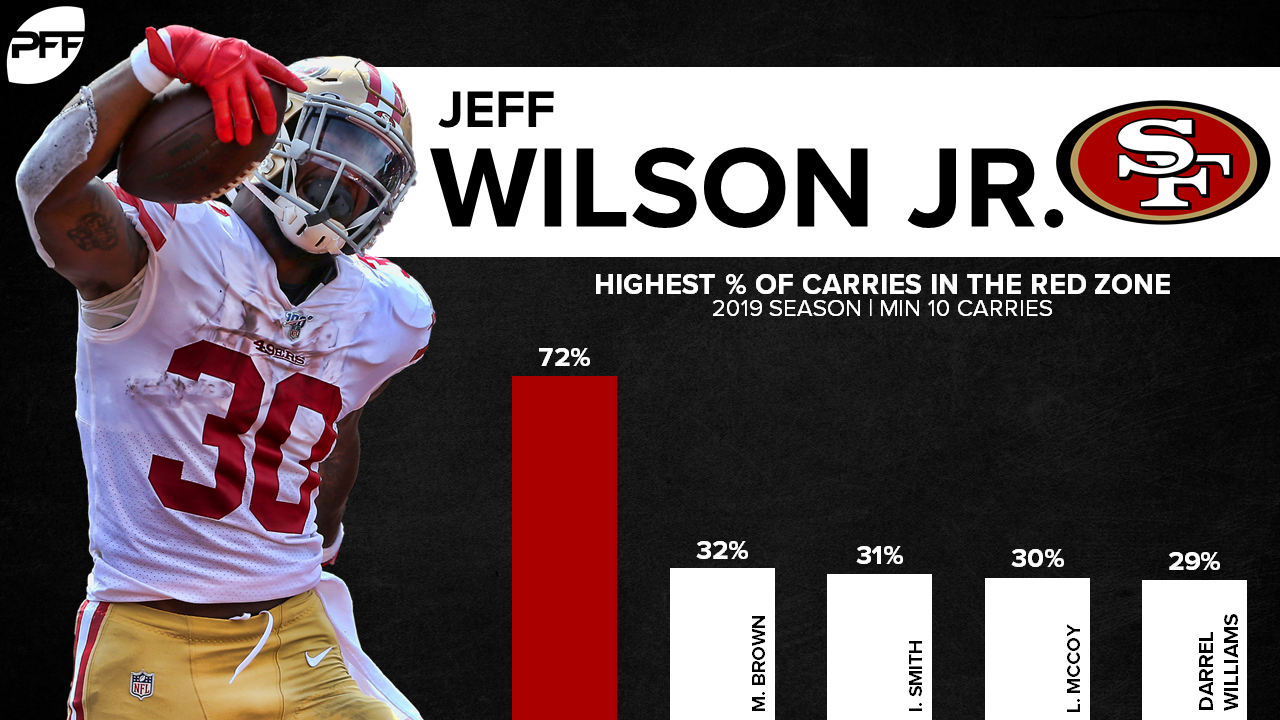 Jeff Wilson Jr., RB, San Francisco 49ers: Tevin Coleman's presumed return could complicate matters, but it looks like Wilson has carved out a clear scoring-opportunity role in this offense. Of Wilson's 18 carries so far, 13 (72.2%) have come in the red zone, scoring on four of them. That's more than twice the percentage of any other back in the league with at least 10 carries.
Michael Thomas, WR, New Orleans Saints: Thomas' perception might be a little down with Teddy Bridgewater at quarterback, but against Tampa Bay that's a mistake. Cooper Kupp's and Robert Woods' predictable breakouts in Week 4 came because the Buccaneers struggle so much against slot receivers, and Thomas has been the most efficient slot receiver in the league the last three years (3.66 yards per route run out of the slot; second-best in that time is 2.85).
Larry Fitzgerald, WR, Arizona Cardinals: The Cardinals signed Pharoh Cooper Tuesday, and while Cooper is definitely not Christian Kirk, that seems as good a sign as any that they don't expect to have Kirk available in Week 5 as he deals with an ankle issue. That should mean good things for Fitzgerald, who has been a big performer so far but actually lags behind Kirk in targets, both overall and in the red zone.
Golden Tate, WR, New York Giants: What better for a rookie quarterback than the most elusive wide receiver in a generation? Tate returns from a four-game suspension Sunday and could immediately become Daniel Jones' safety valve; he's forced more than 50% more missed tackles on receptions than any other receiver in the game since the start of 2012 (142 compared to 94 each for Antonio Brown and Jarvis Landry).
Adam Thielen, WR, Minnesota Vikings: The Vikings should have no problem at all running the ball down the Giants' throats this week, but after Thielen spoke about his concerns with the offense following their Week 4 game, don't be surprised if there is extra effort made to let him produce against the offense allowed the fourth-most PPR points to receivers so far.
Auden Tate, WR, Cincinnati Bengals: A.J. Green is still out, and now John Ross will join him on the sidelines. Meanwhile, Tate has out of nowhere totaled 10 receptions on 14 targets for 138 yards the last two weeks. More than 20% of receptions against the Cardinals (20.6%) so far this year have gone for 20-plus yards, second-highest percentage in the league.
Javon Wims, WR, Chicago Bears: Do we have a backup connection? Preseason hero Wims had 40 career yards in his two seasons before going for 56 Sunday against a good Vikings defense while Chase Daniel was his quarterback. If Taylor Gabriel returns to the field it could push Wims off, but if Gabriel's out again, here's a deep dive with potential.
Tyler Eifert, TE, Cincinnati Bengals: Tight end. Facing Arizona. Done and done.
Jimmy Graham, WR, Green Bay Packers: At this point, it's best to assume Davante Adams will miss Week 5. When Adams left Thursday's game last week, we saw Graham receive the majority of the team's red-zone targets, and he's now at four targets in the end zone so far this year … the same number Adams has. If we assume Adams' absence pushes the red-zone looks Graham's way, he has some high touchdown potential this week.
Week 4 fantasy football busts
Dak Prescott, QB, Dallas Cowboys: Obviously, quarterbacks score more in games their teams win than lose. But that difference is especially dramatic for Prescott, who over the last two years has averaged 23.5 fantasy points in Cowboys wins compared to 12.7 in losses. Dallas is favored by 3.5 points against the Packers in Week 5, but considering the Packers haven't allowed a single quarterback to top 230 passing yards and allowed one passing touchdown total in Weeks 1-3, I'm leaning the other way.
Gardner Minshew, QB, Jacksonville Jaguars: Carolina has allowed the combination of Jared Goff, Jameis Winston, Kyler Murray, and Deshaun Watson to average a league-low (by almost 20 yards) 181.8 passing yards against them, and as fun as Minshew has been, it's hard to imagine he could outproduce that group.
Alvin Kamara, RB, New Orleans Saints: Todd Gurley found the end zone twice on the ground last week, but even then, he ran the ball five times for 19 yards. So far, the Buccaneers have allowed an average of 80.0 scrimmage yards per game to opposing running backs (despite facing Gurley, Christian McCaffrey, Saquon Barkley, and the 49ers backfield). The 49ers (91.3) are the only other team under 100.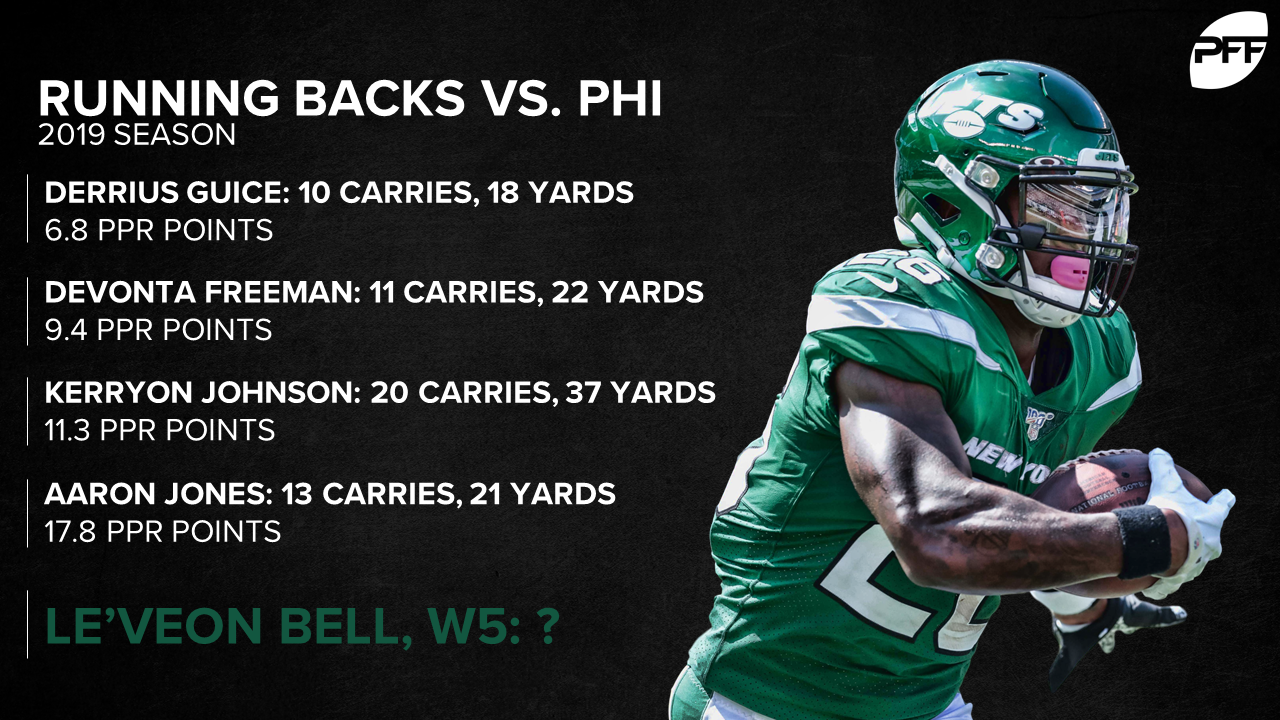 Le'Veon Bell, RB, New York Jets: Odell Lawson was a rookie for the 1970 Boston Patriots. Mostly a kick returner, he got 56 carries that year for 99 yards, 1.77 yards per carry. It was the only year he'd ever have more than 8 carries, and it's the worst yards per carry for any skill player in a season of 50-plus carries since the merger, one of only two seasons under 2.0 (Louis Carter, 1.98 in 1977, is the other). Why do I bring this up? Well, through four weeks, the top backs facing the Eagles (the top backs — Derrius Guice, Devonta Freeman, Kerryon Johnson, and Aaron Jones — not all running backs) are averaging 1.79 yards on 54 carries. This is a complete avoid run defense if you have a choice.
Amari Cooper, WR, Dallas Cowboys: Per our WR/CB matchup chart, you can expect Cooper to be shadowed by Jaire Alexander in Week 5, bad news for the Dallas receiver. The matchup grades out as the third-worst of the week, better only that the two situations faced by Trey Quinn and Kelvin Harmon, two Washington receivers that (I hope) you weren't using anyway. Why? Alexander has the second-highest PFF coverage grade so far this year and has allowed only 0.98 yards per route covered.
Corey Davis, WR, Tennessee Titans: That WR/CB matchup chart I just mentioned? Davis appears there too, also around the space near the bottom occupied by Cooper. For Davis, it's because he's likely to see a lot of coverage from Tre'Davious White, who has allowed a 34.5 passer rating into his coverage this year and only a 64.3 in his full three years in the league.
Marquez Valdes-Scantling, WR, Green Bay Packers: The aforementioned Graham stands to be the beneficiary of most of the score-worthy targets that might go to Davante Adams, assuming Adams is out or very limited Sunday. Valdes-Scantling, meanwhile, will likely take over the team's No. 1 receiver alongside Geronimo Allison and Jake Kumerow, and against Dallas, that means some comination of Jourdan Lewis, Byron Jones, and Chidobe Awuzie.
Darren Waller, TE, Oakland Raiders: As electric as the first four weeks of Waller's season has been, he's still without a touchdown. And that's not just bad luck, as he's gotten only three red-zone targets (none in the end zone). Until that starts happening more, Waller won't carry a very high fantasy ceiling. And against the Bears, this might not be a great time to bet on it.
Austin Hooper, TE, Atlanta Falcons: Despite opponents that include Jared Cook, Greg Olsen, and the somewhat surprising James O'Shaughnessy, the Texans have allowed only 23.75 yards per game to opposing tight ends, third-fewest in the league. Hooper's been off to a great start this year, but this one shapes up to be more of a Julio Jones/Calvin Ridley game.