The exact definition of a fantasy football sleeper or bust is difficult to pin down. For my purposes, I keep it simple: Sleepers are players who I expect to outperform their norm or their expectation, even by a little, and busts are players I expect to fall short. Sometimes, this means a guy is in store for a monster week; sometimes it means a little-used player needs to crack lineups.
Either way, each week in this space I'll use PFF advanced stats to try to identify a handful of the week's key sleepers and busts for fantasy.
Week 12 fantasy football sleepers
Baker Mayfield, QB, Cleveland Browns: Two of Mayfield's best three fantasy days of the season (and the only two games in which he's thrown multiple touchdown passes) have come in his last two weeks. He topped 17 fantasy points zero times in his first five games, and has done it four times in his last five. Now against a very friendly Miami offense, he should keep it rolling.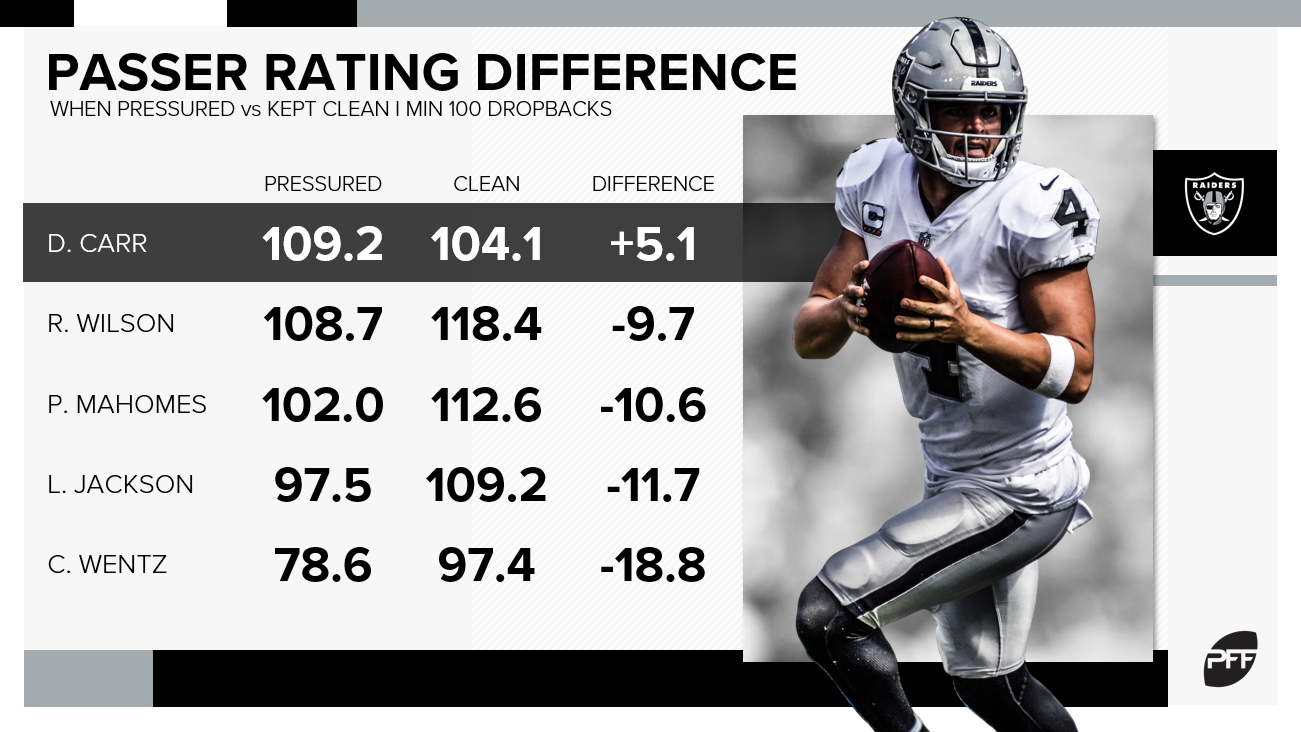 Derek Carr, QB, Oakland Raiders: We know how friendly the Jets are to opposing quarterbacks, allowing big games to Gardner Minshew, Ryan Fitzpatrick, and Daniel Jones in the last four weeks. The Jets struggle in coverage but have actually been adequate in generating pressure, ranking 11th in the league with 166 total pressures. Well … Carr has actually generated a higher passer rating when pressured this year, 109.2 to 104.1, the only quarterback with more than 100 dropbacks who can say that. Everything is set up for him.
Joe Mixon, RB, Cincinnati Bengals: With Andy Dalton as the starting quarterback, the Bengals topped ran the ball more than 40% of the time in a game exactly zero times all season. Losing every game, that made some sense. Well, with Ryan Finley quarterbacking twice, the Bengals have run the ball 57.1% and 41.5% of the time — and it's not like they've started winning, so this is strategic, not gamescript. Meanwhile, Mixon has topped 17 PPR points in each of his last three games after only doing that once over the season's first seven weeks. Pittsburgh's run defense has been among the league's best this year, so this is a quantity-over-quality pick, but the breakout continues.
Jaylen Samuels, RB, Pittsburgh Steelers: The last time Samuels played the Bengals, back in Week 4, he had 10 carries, 8 targets, and 3 pass attempts. Now, with James Conner, JuJu Smith-Schuster, and Diontae Johnson all questionable (at best) to play, and Mason Rudolph struggling, Samuels might be the team's best weapon.
Nyheim Hines, RB, Indianapolis Colts: Jonathan Williams was the big surprise performer of Week 11, while Jordan Wilkins was the heretofore assumed handcuff for Marlon Mack. With Wilkins expected back from injury Thursday, the carries in Indianapolis could get too muddled to rely on in fantasy. But the pass-catching role is Hines'. Williams has pass-catching ability, but Hines is the team's pass-catching back, and with less to rely on from the running game, Hines could be a big piece.
Odell Beckham Jr./Jarvis Landry, WR, Cleveland Browns: Beckham's schedule has famously been miserable this season, but this week's matchup against the Dolphins (and its 29th-best 46.0 PFF coverage grade) signals the start of an improvement down the stretch, and works as optimistic signs for his return to WR1 status. And that's all true for Landry as well, plus he has the added benefit of the #revengegame narrative against his old team.
James Washington/Johnny Holton, WR, Pittsburgh Steelers: I mentioned in the Samuels section about the likely absences of Conner, Smith-Schuster, and Johnson. Rudolph has struggled of late, but the Bengals have been so bad against the pass (43.7 coverage grade) that he might be able to make some headway, and Holton and (especially) Washington will be his top receivers.
Alex Erickson, WR, Cincinnati Bengals: John Ross isn't eligible to return for another couple weeks. A.J. Green looks unlikely to play at all. Auden Tate is likely out after his Week 11 injury. That leaves Tyler Boyd and Erickson. On top of that, Erickson's been unlucky this year, with 12 red-zone targets on the year and nary a red-zone score (tied for the fifth-most such scoreless targets). A little luck goes his way and he could have a big week.
Cameron Brate, TE, Tampa Bay Buccaneers: It's fair to debate just how sleepery Brate is in this one, given he had 13 targets a week ago as O.J. Howard notoriously appeared to get benched. So if this doesn't qualify as a true sleeper … well, oh well, it's here anyway. Brate is one of only six players (Davante Adams, Antonio Brown, Larry Fitzgerald, Tyreek Hill, Kenny Stills), and the only tight end, with 6-plus touchdowns in each of the last three seasons.
Tyler Eifert, TE, Cincinnati Bengals: Eifert's target share has grown by almost 50% since Ryan Finley took over as the starter, from 9.7% to 13.1. His receptions per game have grown by about the same rate, while his yardage has more than doubled. And the Steelers have been a bottom-10 defense against tight ends.
Jaeden Graham, TE, Atlanta Falcons: Sometimes we just have to guess, and when Austin Hooper went down a week ago, the popular guess was that Luke Stocker would be the Falcons' No. 1 tight end. And while Stocker did play more snaps than Graham (43 to 34), it was Stocker who had the position's only two targets. This week, the Falcons get to face a Buccaneers defense that has been a Cardinals-ian sieve to tight ends this year.
Busts
Tom Brady, QB, New England Patriots: In something of an upset, Brady is currently on pace to set a career high in pass attempts per game, at 40.2, his first time over 40. On the other hand, because of a 6.8 yards-per-target mark that is his low point since 2002, Brady is only at his sixth-best yards per game. He has 4 touchdown passes in his last five games and has his lowest PFF passing grade (79.9) since 2006.
Jared Goff, QB, Los Angeles Rams: Lest you were still considering using Goff after his recent slump, pump the brakes hard on that plan, especially for this week. Patrick Mahomes back in Week 3 is the only quarterback all season who has reached even 17 fantasy points against the Ravens, and this defense just held Deshaun Watson to a measly 7.0 fantasy points. In two games since the bye, Goff has 416 yards, 0 touchdowns, and 3 interceptions combined.
Daniel Jones, QB, New York Giants: As I noted in my look at the best and worst fantasy matchups of Week 12, Jones' successes and failures this year have tracked extremely well to his opponents' abilities to generate pressure, and this week's opponent (the Bears) are pressure generators. It might just be that simple.
Aaron Jones, RB, Green Bay Packers: The 49ers have allowed the second-fewest PPR points per game to opposing running backs this year. On the other hand, that run defense has slumped majorly of late, with Kenyan Drake, Christian McCaffrey, and Chris Carson all having big games against them in recent weeks. On the other other hand, Jones' massive season has been supremely lucky, with a ridiculous 14 touchdowns on 170 touches. You've got to expect regression there.
Josh Jacobs, RB, Oakland Raiders: Jacobs has been much more of a Blount-ian ball-carrier this year than we expected, sitting seventh in the league in carries but tied for 37th in targets. The way to attack the Jets is through the air, with the team allowing a league-low 3.0 yards per carry. Unless Jacobs suddenly sees a jump in his receiving work, this doesn't set up well.
Amari Cooper, WR, Dallas Cowboys: Per our WR/CB matchup chart, Cooper is likely to see shadow coverage this week from Stephon Gilmore, maybe the league's best corner. By itself, that's a concern. Add in nagging injuries that are limiting Cooper, and this isn't a week to get cute there if you can help it.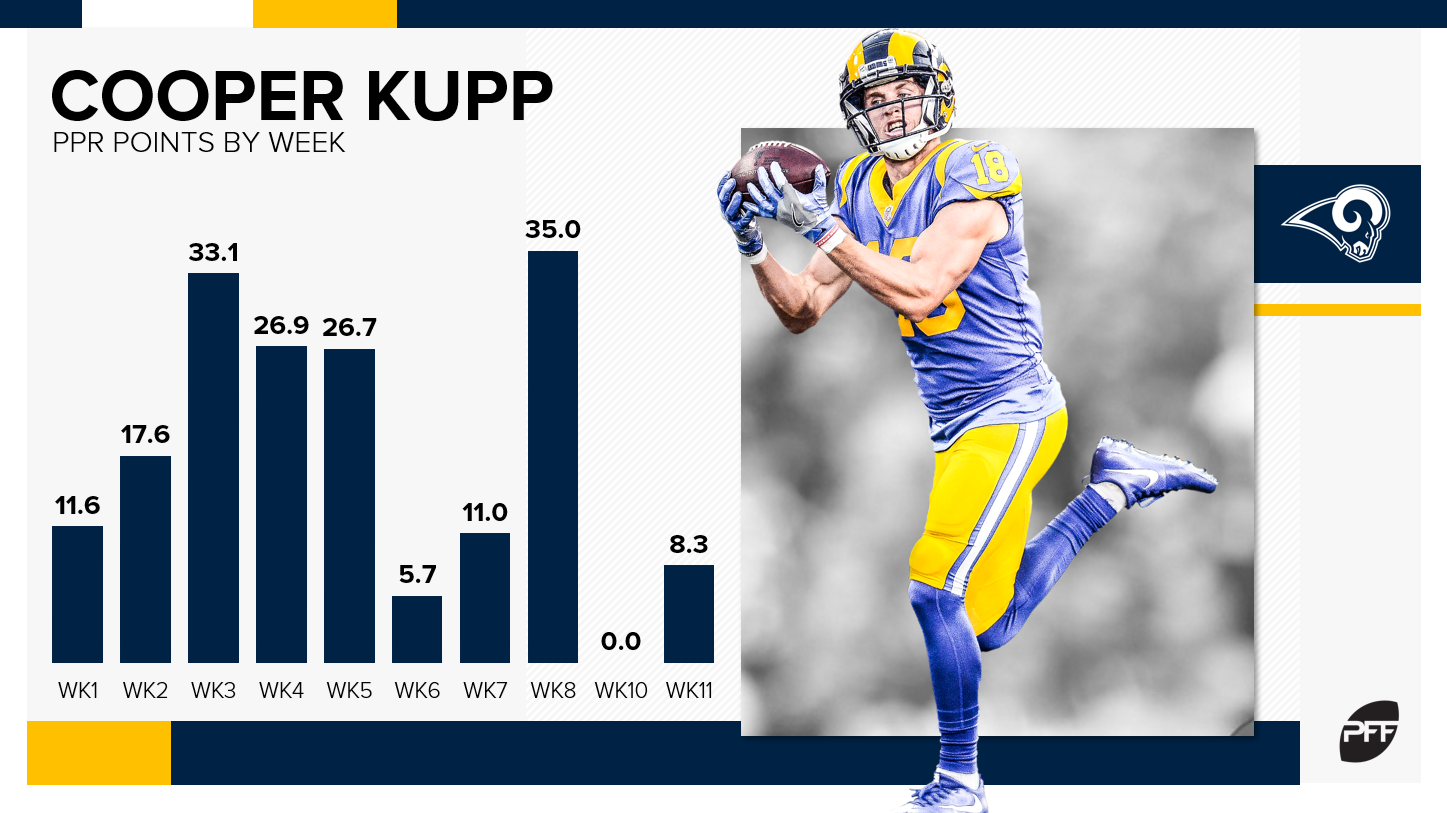 Cooper Kupp, WR, Los Angeles Rams: Kupp could not play another snap this season and it would have been an impressive run with such a fast recovery from last year's torn ACL. But he's cooled off in a huge way lately, with 53 or fewer yards in four of his last five games. And with the aforementioned bad outlook for Goff and tough Baltimore defense, Kupp is hard to count on as well.
John Brown, WR, Buffalo Bills: Stefon Diggs bucks the trend in Week 11 by eating up on the Denver defense. But he did it in his precious few snaps where he escaped shadow coverage from Chris Harris Jr. In Harris' coverage, Diggs saw exactly zero targets. That means in five games shadowing this year, Harris has allowed zero touchdowns total, and more than 2 receptions only once. Downgrade Brown.
Gerald Everett, TE, Los Angeles Rams: Everett will carry Week 12 appeal just because of so many tight ends being on bye or otherwise out. But with the overall downgrading we need to do for the Rams offense, we need to adjust expectations for Everett downward as well.