Opponents matter in fantasy football. Exactly how much they matter is fair to debate, but you know you'd rather an offensive player facing Team X than Team Y. You'd rather a defense facing Miami than Kansas City. We know this.
Each week in this space, I'll be taking a look at some of the key matchups to exploit in a given week, good or bad, at each position. And we'll start things off with my mismatch of the week.
Mismatch of the week
Ezekiel Elliott, RB, Dallas Cowboys (@ NE): The Patriots held the Eagles backfield in check Sunday, but then the Eagles were without lead ball-carrier Jordan Howard. Before that, Nick Chubb and Mark Ingram had lit the Patriots up in back-to-back games for a combined 246 yards on the ground, at least 115 each. The Patriots' strength against running backs this year has largely been getting into run-unfriendly gamescripts, simply keeping teams from being able to run, but when they have run, they've had success, allowing the 10th-most yards per attempt and fourth-most yards after contact per attempt. Per our O-line/D-line matchup chart, this matchup is the fifth-friendliest for the run game of the week, making it an under-the-radar strong setup for Elliott.
Good situations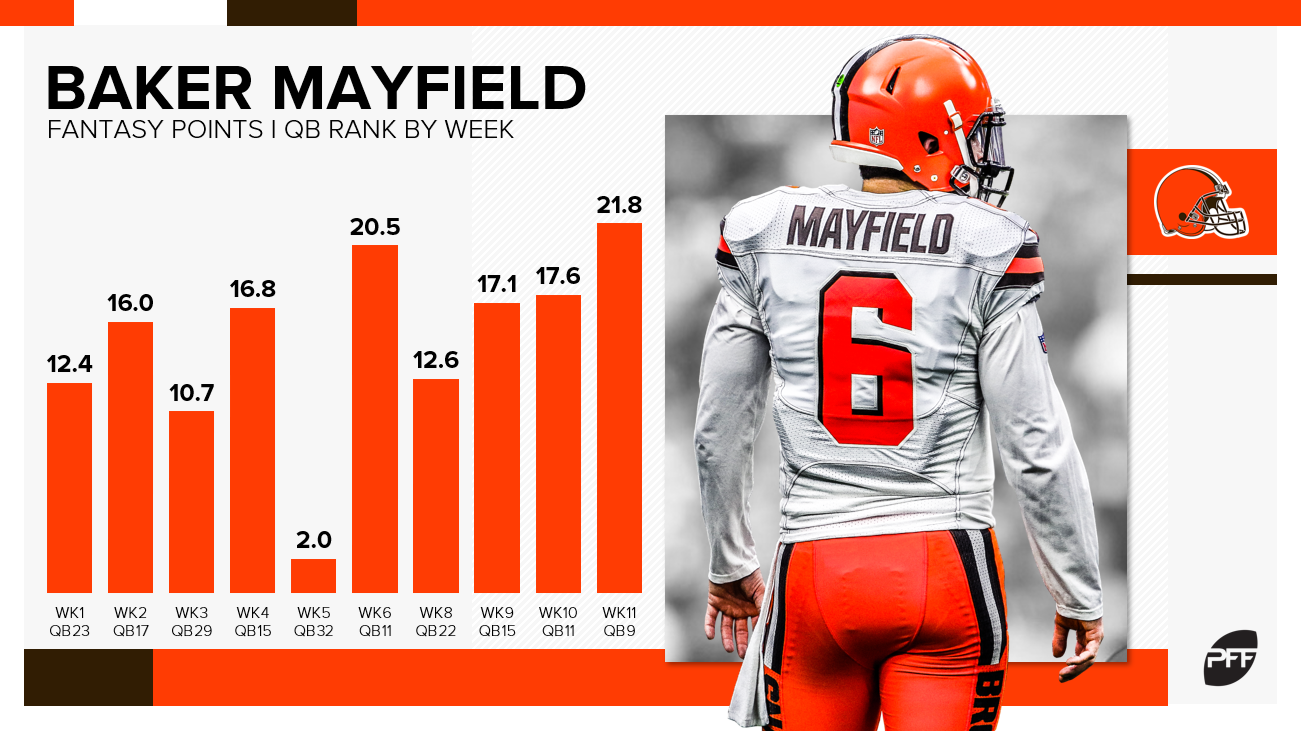 Baker Mayfield, QB, Cleveland Browns (vs. MIA): There's still a ways to go before Mayfield is all the way back in our good graces, but things are looking up. Week 10 was his first time all year passing for multiple touchdowns in a game, and then he did it again in Week 11 … and added a rushing score to boot. And things get about as good as they can this week against Miami. The Dolphins have allowed the sixth-most fantasy points per game to opposing quarterbacks, a number that would be even higher if not for recent games against the Jets mess and Brian Hoyer. Mayfield has been very opponent-sensitive in his career, with three of his four best games so far coming last year against the Bengals (twice) and Falcons. Expect the improvements to continue this week.
Jaylen Samuels, RB, Pittsburgh Steelers (@ CIN): I almost made Samuels the mismatch of the week, but the questions surrounding the rest of his backfield made me lower him. If it turns out James Conner and Benny Snell are out, bump him as high up as you can. Even if one or both of the other backs play, well, this is a Conner who has scarcely made it out of any of his games unscathed this year and a Snell who only has one game with more than 5 carries. The last time Samuels played the Bengals, he only had 26 rushing yards (and a score), but he added 8 receptions for 57 yards and three passes for another 31 yards that way, as the Steelers were innovative in their approach. And given the massive struggles of Mason Rudolph last week against the Browns, odds are good the Steelers will get creative again.
D.K. Metcalf, WR, Seattle Seahawks (@ PHI): Assuming Tyler Lockett is back Sunday, this is a good setup for him as well. But even if we knew Lockett would be good to go, Metcalf is who I'd highlight here. While the Eagles have fared better against opposing receivers lately, it's still one of the unit's weaknesses, and Metcalf's blazing straightline speed is a big asset in that regard. Also working in his favor is that his workload has been on the rise. Metcalf has had 8-plus targets in three of his last four games after not topping 7 in any of his first six. He's a genuine weekly starter.
Tyler Eifert, TE, Cincinnati Bengals (vs. PIT): Under Andy Dalton, Eifert was managing a 9.7% target share. Since Ryan Finley took over as the starter, that number has been 13.1%. Going back even to Dalton's last start, and Eifert's workload has been on the rise. He's averaged 3.7 receptions and 38.3 yards in his last three games after averaging 2.4 and 16.9, respectively, through Week 7. And this week Eifert gets a Pittsburgh defense that has allowed 4 touchdowns to tight ends in its last four games and the seventh-most points per game to the position on the season.
Bad situations
Daniel Jones, QB, New York Giants (@ CHI): It's actually not been hard to figure out when Jones would and would not succeed this year. His four best fantasy days (including his three massive finishes) have all come against teams ranked 20th or worse in PFF pass-rush grade. His four worst games all came against teams ranked 14th or better, and his three relative implosion games (Weeks 5-7, 8.0 fantasy points per game) all came against top-10 units. Pressure him, he struggles. And this week, he faces a Bears team with the No. 10 pass-rush grade.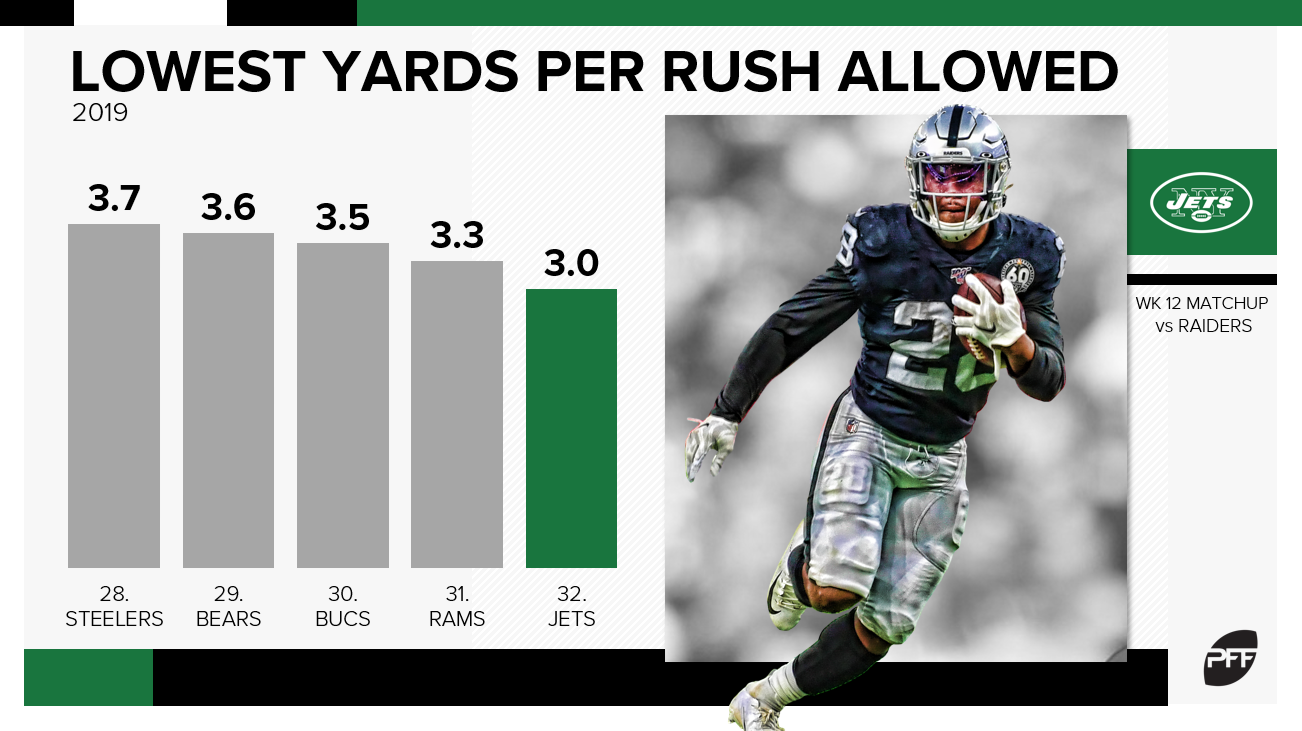 Josh Jacobs, RB, Oakland Raiders (@ NYJ): The Jets are middle of the pack against fantasy running backs this season, but that's largely been because of receiving production. The Jets have allowed the lowest yards per carry (3.0) to opposing backs this season and the fourth-fewest rushing yards per game (65.4), but the sixth-most receiving yards per game to the position. And while Jacobs has gotten slightly more involved in the passing game of late, he still has yet to top 3 receptions or 30 receiving yards in a game or score a receiving touchdown. Bad mix for the rookie.
Deebo Samuel, WR, San Francisco 49ers (vs. GB): Samuel is the No. 6 PPR receiver over the last two weeks, played entirely without George Kittle and largely without Emmanuel Sanders. But this week, we could see Sanders and/or Kittle is back, and at the same time the team draws a Green Bay defense that has only allowed two touchdowns or one 20-point fantasy day to opposing receivers since Week 5.
Gerald Everett, TE, Los Angeles Rams (vs. BAL): Ricky Seals-Jones had 82 yards and a touchdown against the Ravens in Week 4. Since then, the best fantasy day Baltimore has allowed to the position was Tyler Eifert's 2/20/1 line in Week 10, and no tight end has even reached 35 yards against the team. And Everett has been exceptionally boom-or-bust this season, with three games of 5-plus receptions and three of 50-plus yards, but five games of 2 or fewer receptions and six of 21 or fewer yards. Bet on a bust this week.