When drafting in fantasy football, many want to limit downside. But with only one winner for every 10/12 players, you should actually focus more on prioritizing upside.
Here's an example: In best ball leagues, James White had an ADP of RB25. He beat his ADP, finishing 19th in scoring. And yet, he ranked just 31st in win rate (8.6%). Meanwhile, Christian McCaffrey was basically the default No. 2 pick. He only beat his ADP (RB2) by one spot, but over a third of all teams that drafted him (36.9%) won their league.
We see this time and time again, year after year – a few key players single-handedly winning leagues, beating more "complete teams" on their way to a championship victory. In other words, upside wins championships.
So, who were the league-winners of the 2019 fantasy season? Who was the single most valuable player?
In ESPN leagues, 48.1% of all McCaffrey teams advanced to the championship round (most).
Without question, McCaffrey was the MVP of the 2019 fantasy season.
In ESPN leagues, nearly half of the teams to make it to their fantasy championship (48.1%) owned McCaffrey. Essentially, if you drafted McCaffrey, you were about a coin-flip to make it to the finals of your league.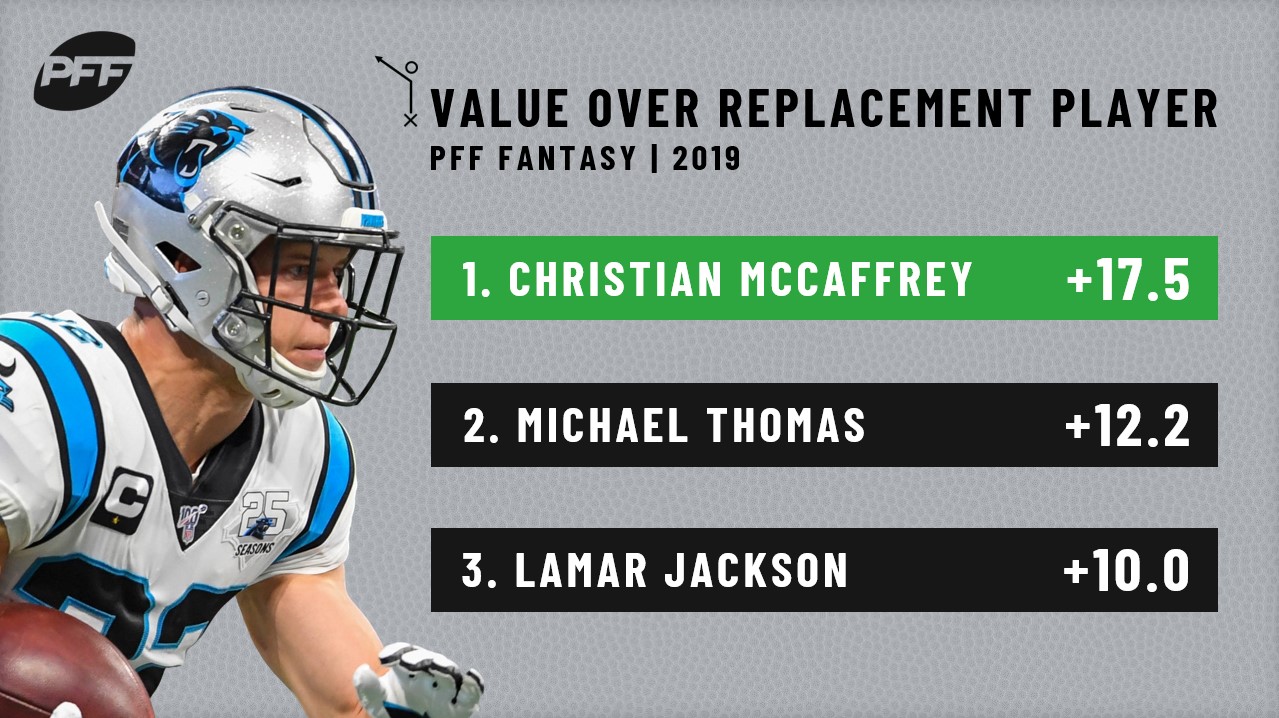 Keep in mind, that's despite his expensive price tag (ADP: 1.02, RB2), while Lamar Jackson owners were getting first round production at a 10th-round cost. And, if you were savvy enough to draft Jackson – the player I called "the single greatest fantasy value at any position" back in August – you were probably savvy enough to draft a competent team around him. Meanwhile, teams who owned McCaffrey did little beyond just lucking into the second or third pick in their draft.
But luck out you did – McCaffrey's 2019 fantasy season was utterly absurd. He scored 448.4 fantasy points across the fantasy season (Weeks 1-16), which is the second-most by any player at any position in any fantasy season all-time. Only LaDainian Tomlinson's famed 2006 season ranked higher (471.1).
He led the league, of course, averaging 29.9 fantasy points per game, which was 9.0 more than the next-closest running back. He also beat out the No. 12 running back by 14.4 points per game. By Value Over Replacement Player, McCaffrey was 5.3 points per game more valuable than Michael Thomas (the next-closest player) and 7.5 points per game more valuable than Jackson (the second-closest player).
He finished among the top-six running backs in 12 of 15 weeks. And, including Week 17, he scored at least 21.5 fantasy points in 14 of 16 games. For perspective, 21.5 fantasy points per game also would have led all running backs.
If his season ended in Week 11, he still would have led all running backs in fantasy points. He led all players in rushing fantasy points. He led all running backs, would have ranked second among tight ends, and would have ranked 13th among all wide receivers in receiving fantasy points. Essentially you were getting RB1 and WR1 production in one roster spot.
And, he was just as valuable in the fantasy playoffs, scoring 94.3 fantasy points across Weeks 14-16, which led the league.
I can go on and on, but I think you get the point.
40.9% of all Jackson teams advanced to the championship round (second-most).
Jackson ranked second in championship round ownership percentage, with a whopping 40.9% of Jackson teams advancing. Like McCaffrey, Jackson also posted a historically great season. Or, rather, the greatest season.
He scored 421.7 fantasy points during the fantasy season, which ranks most by any quarterback in any season all-time. This edged out the previous record-holder (Patrick Mahomes in 2018) by 11.0 fantasy points. Another record is Jackson's 28.1 fantasy points per game, which bests Aaron Rodgers' 2011 season by 1.2 fantasy points per game.
In 2017, Deshaun Watson tied the PFF-era (2007-2019) record for fantasy points per dropback (0.73). In 2018, Jackson shattered that record (0.83). And, in 2019, he demolished it (0.93).
A large part of this historic season was due to the value of the Konami Code – Jackson scored 162.6 fantasy points on the ground (39% of his total fantasy points). This was a new record for all quarterbacks, and, ranked eighth among all running backs this year. However, Jackson was equally impressive through the air, leading all quarterbacks in passing touchdowns (36), while ranking third-best in passer rating (113.3).
Add all of this up and Jackson would have been well worth a first-round pick, though he was routinely drafted in the 10th. I have a feeling 2020 drafters will correct for this, giving him a late first- or early second-round valuation next summer.
37.0% of all Ekeler teams advanced to the championship round (third-most).
Ekeler ended the fantasy season ranking fourth among running backs in fantasy points, behind McCaffrey, Dalvin Cook, and Aaron Jones, and just ahead of Ezekiel Elliott and Leonard Fournette. Unlike those other names, however, Ekeler didn't have an ADP in the top-25 overall. He had a seventh-round ADP (RB28), and clearly well exceeded it.
Ekeler was a tricky draft pick. All indications implied a capped upside in the second half of the season. He might have been the bell cow to start the season, but inevitably, Melvin Gordon would return from his holdout. Of course, that did happen – it just didn't really matter, as Ekeler exceeded expectations on both accounts.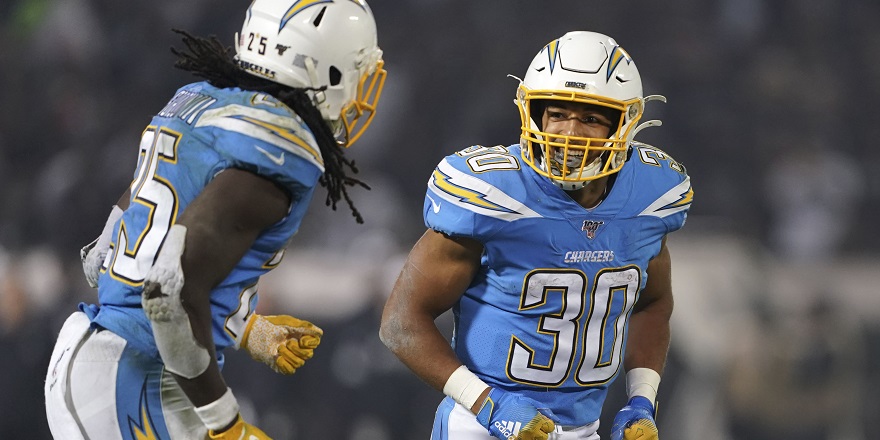 Through the first four weeks, Ekeler averaged 26.8 fantasy points per game, behind only McCaffrey, and not by much (1.2). Then Gordon returned. But, through the remainder of the season, and despite playing on just 53% of the snaps, Ekeler ranked fifth in fantasy points, with 24% more than Gordon.
In hindsight, Ekeler drafters were probably luckier than they were smart. Gordon actually saw better volume than Ekeler from Week 5 on, averaging 15.3 XFP per game (low-end RB1 range) to Ekeler's 13.5 (mid-range RB2).
However, Ekeler has long been one of the league's most efficient players. Over the past two seasons, he ranks third in PFF grade (90.4), behind only Nick Chubb and McCaffrey. Among 80 running backs as a receiver, he ranks first in yards per route run (2.53) and second in yards per target (9.38). Among 42 running backs, on the ground, he ranks fifth in yards after contact per attempt (3.41).
With Gordon due to hit free agency, and after already excelling in a bell cow workload to start the season, there's a chance he could be a first- or second-round pick in 2020.
36.1% of all Thomas teams advanced to the championship round (fourth-most).
Thomas also broke some records this season – fantasy and otherwise. In PPR leagues, he was a borderline cheat code, on the back of a record-setting 145 receptions.
His 366.9 fantasy points during the fantasy season were the third-most by any wide receiver in any fantasy season all-time. Only Marvin Harrison's 2002 season and Jerry Rice's 1995 season rank ahead.
Like McCaffrey, he also excelled during the fantasy playoffs. Across Weeks 14-16, he scored 92.8 fantasy points, which ranked behind only McCaffrey, and just by 1.5 points.
Again, like McCaffrey, he's a lock to be a top-five pick in 2020 fantasy drafts. Thomas has long been one of the league's most-efficient wide receivers, producing like a mid-range WR1 on mid-range WR2 volume. In 2019, it only makes sense that the league's most-efficient wide receiver put together a record-breaking season when he was finally gifted high-end WR1 volume.