With the 27th selection of the 2018 NFL Draft, the Seattle Seahawks have selected Rashaad Penny. The former SDSU running back was selected 27th overall after finishing the 2017 season with an 88.4 overall grade. Seattle selected X at No. 27 after this pick originally belonged to New Orleans, but was traded to Green Bay (for Marcus Davenport) and then traded to Seattle by Green Bay in exchange of their first-round picks.
Seattle sent Round 1 (18) and Round 7 (248) in exchange for Green Bay's Round 1 (27), Round 3 (76) and Round 6 (186).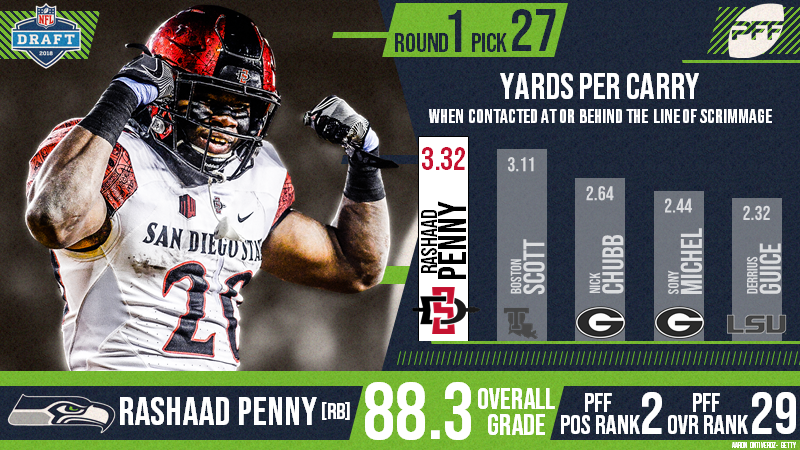 Penny ranked second among draft-eligible running backs in elusive rating in 2017 (128.6).
Penny rushed for 1120 yards between the tackles – most among draft-eligible running backs and also forced the most missed tackles in the draft class (86).
2018 NFL Draft – Round 1: 1 | 2 | 3 | 4 | 5 | 6 | 7 | 8 | 9 | 10 | 11 | 12 | 13 | 14 | 15 | 16 | 17 | 18 | 19 | 20 | 21 | 22 | 23 | 24 | 25 | 26 | 27 | 28 | 29 | 30 | 31 | 32