Nine teams featured a workhorse running back that played at least 70% of the offense's snaps in Week 3.
Falcons RB Cordarrelle Patterson is one of just three players with at least 300 rushing yards after three weeks of action.
Detroit Lions RB Jamaal Wiliams, Minnesota Vikings RB Alexander Mattison and Chicago Bears RB Khalil Herbert are the week's top-three injury-induced waiver wire options.
Estimated reading time: 25 minutes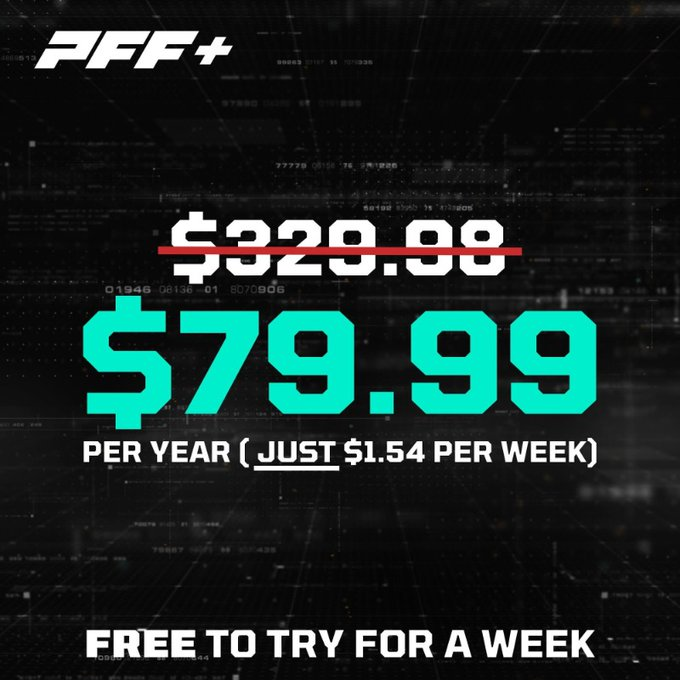 Despite what the overlords at PFF might think: Running backs are people, too, and we care about them very deeply in fantasy football land.
Of course, a player can only do so much without, you know, actually getting to touch the football. The following table denotes the top-three running backs from every offense in Week 3 alongside their snap rate, carries, targets and route rate; this will help fuel the following anecdotes and rankings.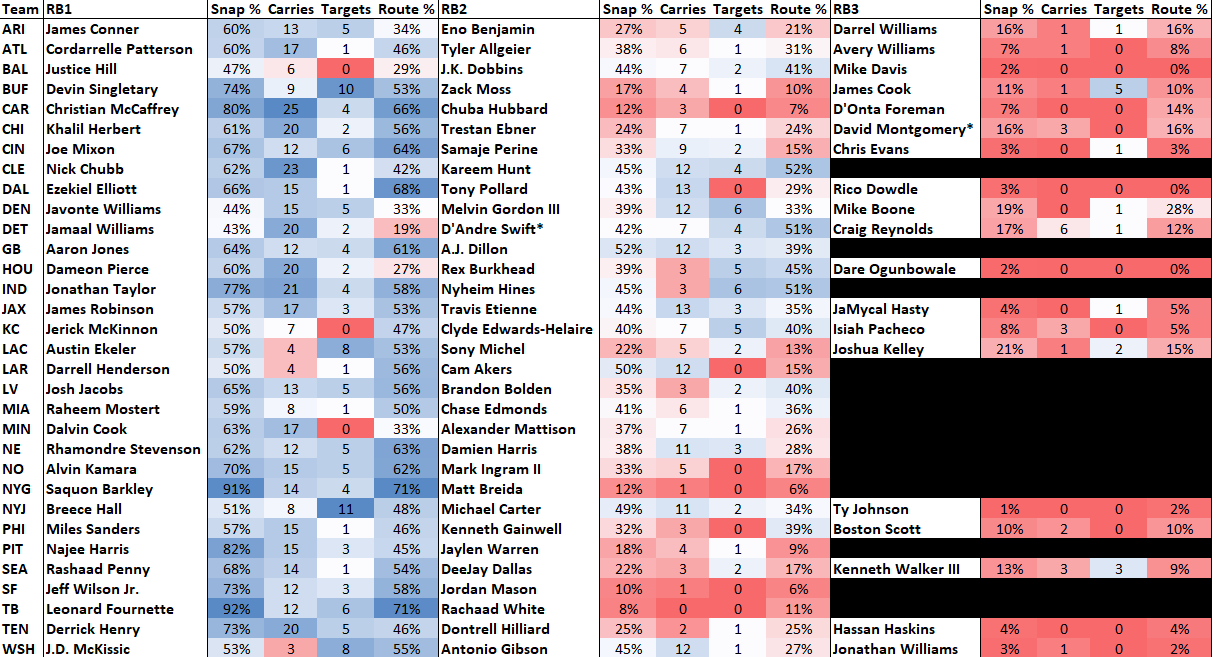 Takeaways
Nine running backs played at least 70% of their offense's snaps: Leonard Fournette (92%), Saquon Barkley (91%), Najee Harris (82%), Christian McCaffrey (80%), Jonathan Taylor (77%), Devin Singletary (74%), Jeff Wilson (73%), Derrick Henry (73%) and Alvin Kamara (70%). It was an especially pleasant surprise to see Henry's typically robust snap rate go alongside five targets and a 46% route rate; he wound up catching five passes for just the second time in 96 career games.
Running backs that played over 60% of their offense's snaps and should work as the leader of their committee more weeks than not:
This leaves 11 backfields that didn't play their lead running back on at least 60% of their snaps in Week 3: J.K. Dobbins (knee) was understandably eased back into action in his first game of the season. Increased usage is expected in Week 4 and beyond; just realize it's still likely that the Ravens continue to feature multiple backs (especially once Gus Edwards (knee, PUP) is back). … Javonte Williams and Melvin Gordon both lost fantasy-friendly route opportunities to Mike Boone. Fantasy managers can live with two-RB committees in the year 2022; three is a crowd. Williams and Gordon will both be downgraded if 1.) Boone's usage winds up being more than a one-week blip on the radar, and/or 2.) Russell Wilson's idea of cooking continues to resemble something that I'd tweet out. … Jamaal Williams could flirt with a truly robust role in Week 4 and beyond if D'Andre Swift (ankle, shoulder) winds up missing time; he deserves to be the top waiver wire addition of the week. … James Robinson continues to work as the Jaguars' fairly undisputed lead back, but it's worth mentioning that he has mightily benefited from continued positive game script. Of course, the new-look Jaguars certainly don't look like a team poised to suddenly start getting blown out on a weekly basis. … Clyde Edwards-Helaire is the most-used back in Kansas City, but he routinely loses pass-down work to Jerick McKinnon and goal line snaps to Isiah Pacheco. Don't be afraid to sell high-ish if possible. … Austin Ekeler continues to eat in the game's final moments on a steady diet of checkdowns. Seriously: He's the RB31 in PPR points during the first 45 minutes of football, but has worked as the RB3 during the game's final 15 minutes. This overall usage truly is a problem, particularly when accounting for the potential for the Chargers to have less late-game negative game script when (if?) they start to turn things around. It's fair to treat him as more of a low-end RB1 without a command of the early-down or goal-line work. … Cam Akers looked to have taken control of the offense's early-down role, but this still looks like a two-back committee of sorts. Still, Akers can at least be re-elevated into the RB3 conversation with 15-combined carries and targets back on the table; regaining legit RB1 consideration is dependent on Darrell Henderson taking a far bigger back seat on passing downs. … Raheem Mostert has the underlying usage of an RB2 should the Dolphins ever find themselves in a somewhat normal football game. Still, don't be surprised if the only consistency in this backfield is the week-to-week inconsistency. At least there are only two parties involved. … That is also mostly the case with the Jets, as Ty Johnson's Week 2 usage spike appears to have been an anomaly. Breece Hall's gaudy target total could take a hit with Zach Wilson (knee) tentatively expected to return this week; just realize he's still in an evenly split backfield with Michael Carter for the time being. … Miles Sanders figures to continue to have good, not great, usage due to the annoying presence of Kenneth Gainwell in pass-first situations and Boston Scott on the occasional early down. Throw in the continued history of mobile quarterbacks not exactly enabling fantasy-friendly running backs, and Sanders will need extreme high-end efficiency to be anything more than a low-end RB2. … Antonio Gibson took a back seat to J.D. McKissic during the Commanders' blowout loss to the Eagles. Such is life in this backfield; things could get messier than ever if Brian Robinson (gunshot, PUP) is ready to return in Week 5.
---
Handcuff index
The following teams would be expected to hand their backup running back something pretty close to a fantasy-friendly three-down role should their team's starter be forced out of action: