The 2021 fantasy football season is over for the vast majority of redraft and dynasty leagues, as the was champion crowned after last night's Cleveland Browns-Pittsburgh Steelers game. That means Tuesday is the first day to prepare for the 2022 season. To help begin that process, I'm here to offer the first draft of my 2022 PPR redraft rankings.
---
Click here for more PFF tools:
Rankings & Projections | WR/CB Matchup Chart | NFL & NCAA Betting Dashboards | NFL Player Props Tool | NFL & NCAA Power Rankings
Best Bets Tool
---
This exercise was done one year ago, and I correctly identified Austin Ekeler as a top-five option, said Jalen Hurts would be a top-10 quarterback and missed plenty as well.
Everything on this list can and will change between now and September as players change teams in free agency and depth charts are affected by the NFL draft. Commentary surrounding the rankings can be found at the bottom of the page.
The 2022 rookie class was not included in this iteration of the rankings. All unrestricted free agents are noted instead of their current team, even if they are likely to re-sign.
Last updated: 5:00 p.m., Monday, Jan. 10

Quarterbacks
The quarterback position is getting more competitive than ever at the top. The majority of quarterbacks that were expected to produce this season were successful whenever healthy. Nine of the top 10 quarterbacks by ADP have scored 21 or more fantasy points per game. All nine should remain solid picks in 2022.
Justin Herbert could be the most interesting option among the top quarterbacks. The Los Angeles Chargers have the second-most cap space in the NFL, giving them plenty of opportunities to upgrade. Both wide receiver Mike Williams and tight end Jared Cook are free agents. There is a chance both could return, but if not, the Chargers could upgrade at each position. There is still room to improve on the offensive line. If Herbert gets more help, there is a case that he should be the first quarterback off the board.
Joe Burrow was not far behind. The former first overall pick had a slow start to the season, but he's been QB2 from Week 6 to Week 17 and is the second-highest graded quarterback this season. He is the most likely quarterback to join the 21 PPG club.
Trey Lance comes in at No. 11 with the assumption he will be the San Francisco 49ers' starting quarterback in 2022. He could be this year's Jalen Hurts but with more uncertainty. He will have less experience than Hurts, but the talent surrounding Lance is much better. Lance ran 16 times in his first start. Lamar Jackson, Hurts, Cam Newton and Tim Tebow are the only other quarterbacks who rushed the ball that many times in the last 45 years. The third overall pick followed that up with a QB10 performance in his second start. He will be the biggest high-risk, high-reward pick at the position next year.
Matthew Stafford and Kirk Cousins round out the top 13. Both have been top-10 quarterbacks in 2021 with All-Pro wide receivers, but they are older, don't have the rushing production and haven't been as consistent throughout their careers as other older quarterbacks that were drafted this highly. These quarterbacks are the worst-case scenario for someone who waits on a quarterback in 2022, making it more attractive than ever to wait on a quarterback in fantasy drafts.
Running Backs
Running backs will dominate the first round as usual. Jonathan Taylor, to no surprise, ranks at the top of the list while rookie Najee Harris comes in at No. 2. Harris currently sits at third in fantasy points despite a below-average 0.31 fantasy points per snap — the lowest among the top-15 backs. His 0.9 yards before contact per carry rank third-worst among running backs, as he hasn't received help from his offensive line. The line can only get better, which should give Harris more room to make big plays.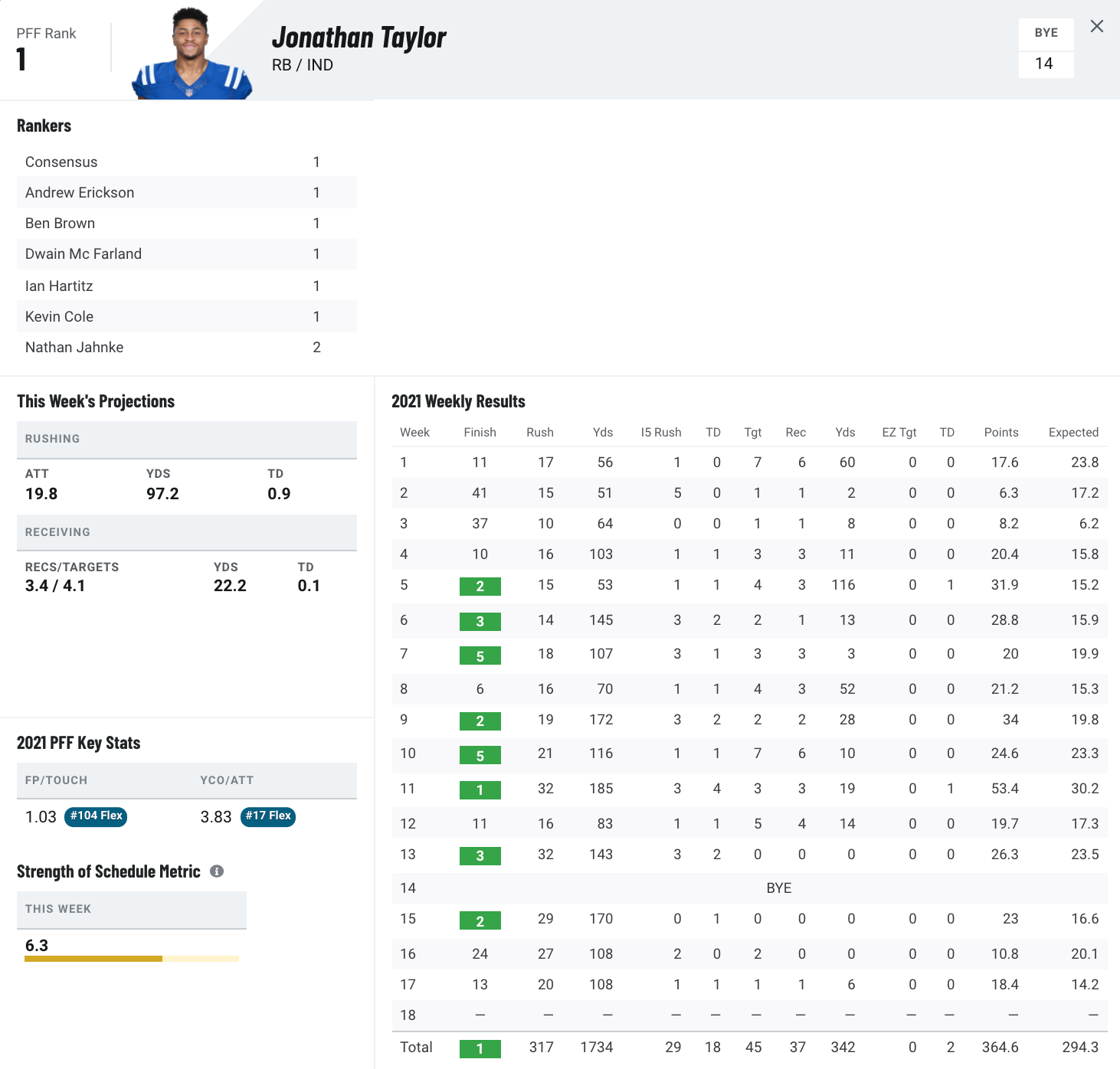 The backend of the top 12 is also filled with young running backs who have performed well on small sample sizes. Cam Akers is expected to be the Los Angeles Rams' lead back in 2022. They made it clear in 2021 that they prefer one back leading the backfield. He ran the ball at least 20 times in three of his last four games in 2020. He comes in at ninth.
Javonte Williams comes in right after Akers to round out the top 10. He's exceeded expectations as a rookie, as his 3.42 yards after contact per carry ranked second-most among all backs, behind only Taylor. He sits at RB14 in 2021 despite splitting time with Melvin Gordon III all season. Gordon is a free agent, and even if he returns, Williams' snaps should increase, which will boost his fantasy value. The former second-round pick could rank even higher depending on his backup.
Williams' college teammate Michael Carter will also see his ADP rise significantly from last offseason. Carter's exceeded 70% of the New York Jets' offensive snaps in recent weeks when healthy while his 76.6 PFF run grade since Week 10 ranks 10th among backs. His main problem is a lack of touchdowns, which comes from a lack of red zone opportunities. His 25 red zone attempts rank 28th among running backs. Ideally, Zach Wilson takes a step forward in 2022, which helps the entire offense and leads to more touchdowns by Carter.
A few running backs who typically rank in the top 10 have fallen to the top 20 due to the other backs in their backfields. Ezekiel Elliott, Aaron Jones and Nick Chubb all started their seasons strong, as each had a top-five finish within the first three weeks. Unfortunately, they've had another three combined over the last 13 weeks. None of them are the highest graded back on their own team, as the younger backs outplayed them on smaller sample sizes. They are all expected to keep their starting jobs, but they could continue to lose snaps over time. There are other backs who are younger, more assured of a full-time role and can be drafted higher.
Wide Receivers
The debate at wide receiver will start at the very top. Justin Jefferson slightly beats out Cooper Kupp and Davante Adams on the list. Adams is a free agent, so the risk of him no longer playing with Aaron Rodgers is too high to leave him at the top this early.  Kupp should have more competition for touches in a crowded Rams offense, as Cam Akers and Robert Woods should be back for the start of next year. Rookies Tutu Atwell and Jacob Harris basically redshirted this season. None of those four players will have a major impact on Kupp, but, collectively, they could chip away at his targets.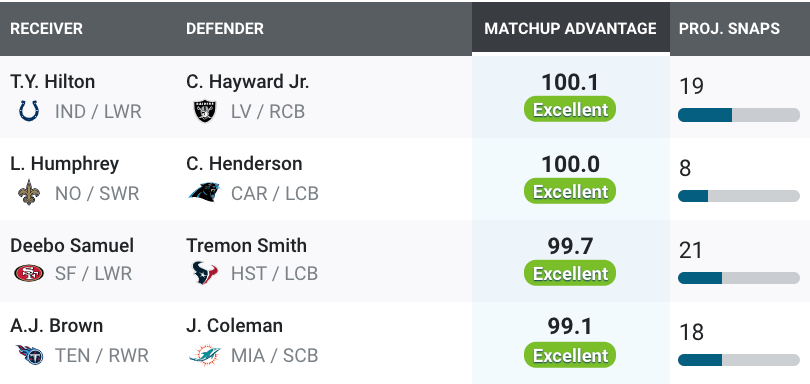 It's also important to factor in where all three players are at in their career. Kupp and Adams will both be 29 years old next season and are at a point where their production is expected to decline each season. Jefferson is a few years away from, what should be, his peak season. His target share also has room to grow, unlike Kupp and Adams. His career 91.6 PFF receiving grade is the best from a wide receiver's first two seasons since PFF started grading players. You can't go wrong with any of the three, but picking the youngest one provides the most upside.
In general, picking wide receivers will become more difficult in 2022. Calvin Ridley was a top-five fantasy wide receiver in 2020, and Michael Thomas was the top receiver in 2019. Both players will hopefully be back to playing this year. 
A number of rookie wide receivers showed enough promise to warrant consideration. Ja'Marr Chase, Jaylen Waddle and DeVonta Smith have already proven themselves to be fantasy starters. Amon-Ra St. Brown and Elijah Moore have multiple top-six finishes over the second half of the season. Rashod Bateman and Rondale Moore were both stuck competing for snaps this season but have teammates who are free agents, which should allow both players to be full-time starters next year. Kadarius Toney's season was hampered by injury, but he showed enough promise early to be excited about him in 2022. Throw in the 2022 NFL Draft class, and it will be easy to find several names to be excited about late in drafts.
The Denver Broncos will be one of the biggest stories of the offseason. They have a lot of talent at wide receiver, but that hasn't translated to fantasy production. None of their wide receivers have ranked among the top-48 since Jerry Jeudy returned from his injury. K.J. Hamler will be returning from injury next season, making the receiving room even more crowded. Trading for Aaron Rodgers, Russell Wilson or Deshaun Watson will be the only opportunities to significantly upgrade at quarterback. Each wide receiver will see a significant boost if one of those quarterbacks is acquired; however, there will be a lot of competition for those quarterbacks, and it's unlikely all three will be available.
Tight Ends
Tight end is a top-heavy position, and there won't be a consensus as to who is ranked No. 1. Mark Andrews beat Travis Kelce for the top fantasy tight end of 2021 after Kelce won the five previous years, but the Kansas City tight end could regain the throne next year despite being 32 years old. Andrews' issue is that he might not retain this season's volume. The Ravens haven't run as much this season as year's past, but both J.K. Dobbins and Gus Edwards should return for 2022. First-round rookie Rashod Bateman is only 22 years old and should see an increase in targets in his second season. Andrews is very talented, but he might not receive the necessary touches to keep the top spot.

Kyle Pitts lived up to his lofty rookie expectations and finished at TE6 this season, which is exactly where I have him for 2022. His biggest problem has been touchdowns, as he's only scored once this season. His 10 red zone catches rank 17th most among tight ends. He's likely stuck with Matt Ryan at quarterback, and he's been average this season, which is a step back from last year. He will be 37 years old by next season, so, if anything, his play will decline rather than improve. Pitts will also face more competition for targets. Any gains he makes in touchdowns should be offset by a lower target share and lower quality of targets.
There won't be a large gap between the top-five fantasy tight ends, which likely means none deserve to be a first-round pick. It will be helpful to have one of the five, but it doesn't need to be the first one of the five.
Pat Freiermuth is another second-year tight end who will be a popular pick in 2022. He's achieved four top-seven finishes in his last eight games. Eric Ebron is a free agent, which should lead to Freiermuth keeping the top tight end role in Pittsburgh. The Steelers will likely have a new quarterback next year. The better the quarterback Pittsburgh has, the higher Baby Gronk's ADP will rise.
Free agency will play a large role in how tight ends get drafted after the top-five. Dalton Schultz, Zach Ertz and Mike Gesicki are three of the top nine fantasy tight ends this season, and all will be unrestricted free agents. Twenty-one NFL teams have one or both of their top-two tight ends as unrestricted free agents this season, so there could be a lot of movement. This will also go a long way in determining who the best late-round dart throws are at the position.