• Atlanta Falcons rookie RB Tyler Allgeier started for the Falcons but remains part of a heavy rotation of backups.
• Chicago Bears RB David Montgomery sees his first preseason action, and the Bears made it clear he remains their every-down back.
• The Thursday and Friday fantasy recaps have you covered for all of the fantasy football takeaways you might have missed.
---
PFF's fantasy football recap focuses on player usage and stats, breaking down all the vital information you need to achieve fantasy success in 2022. This includes only the players who are relevant in fantasy football leagues.
---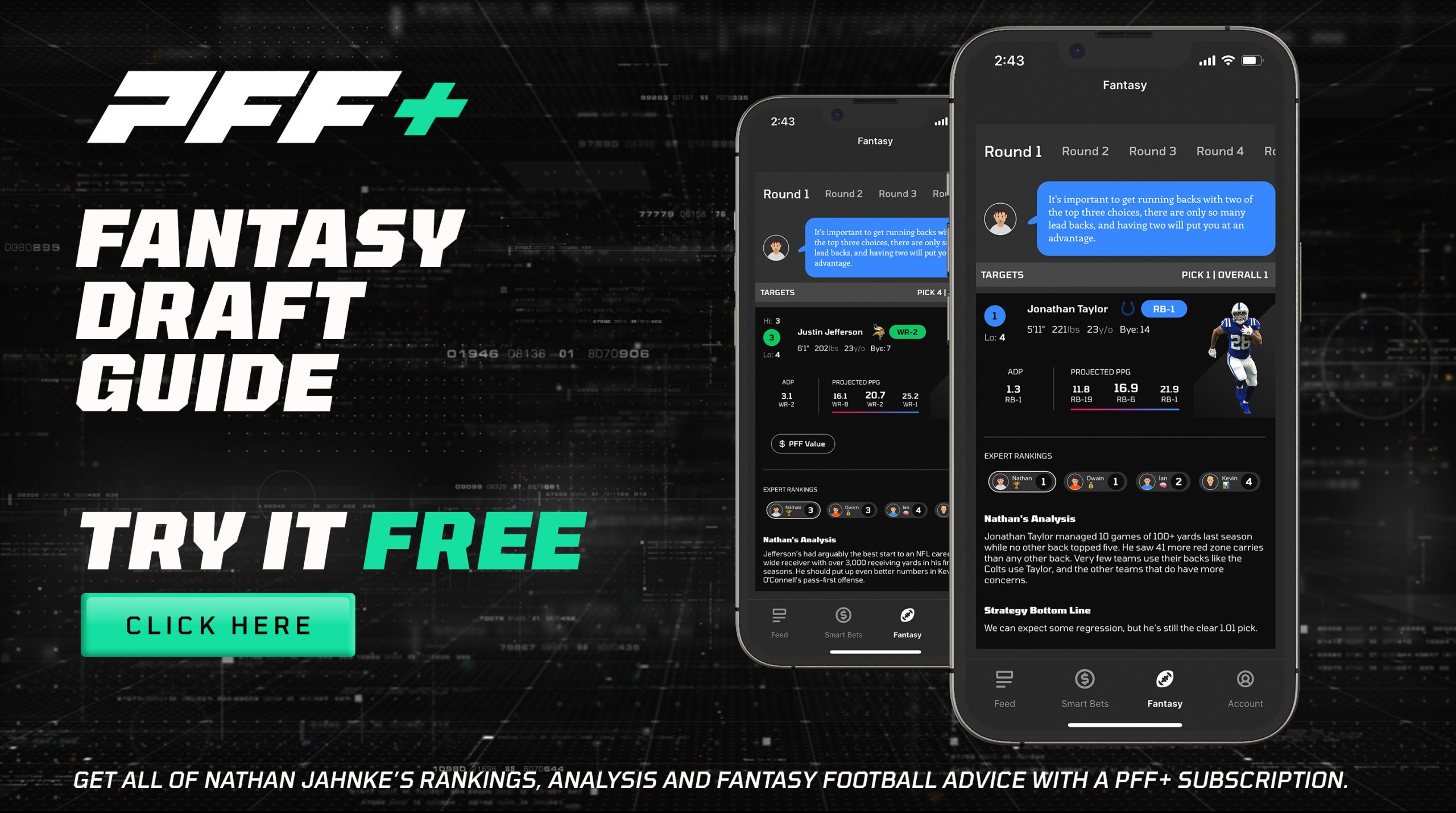 ---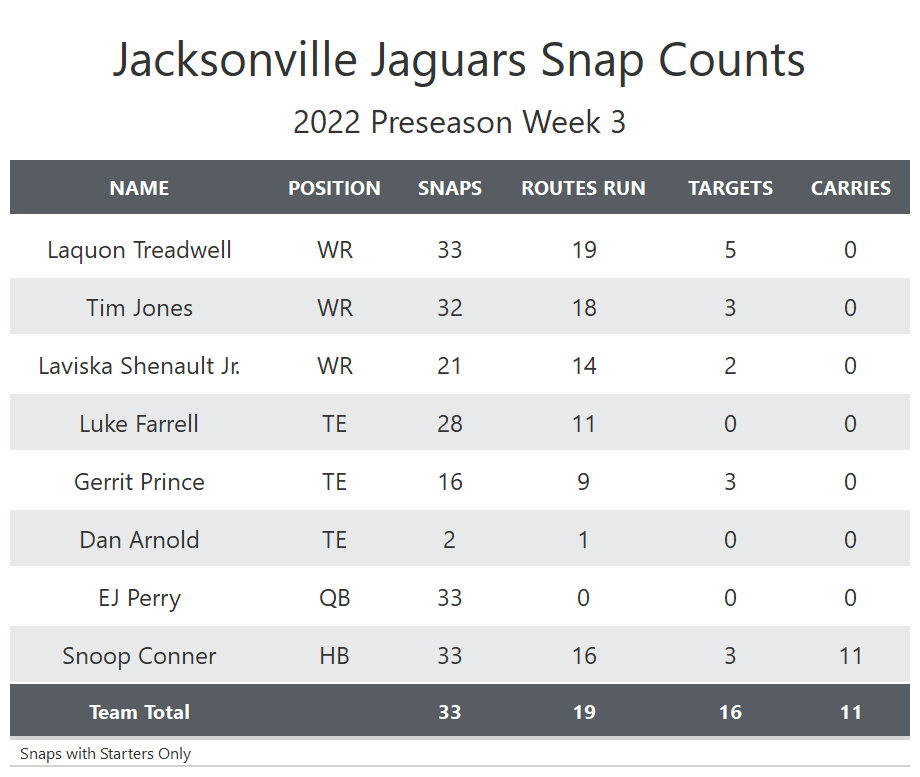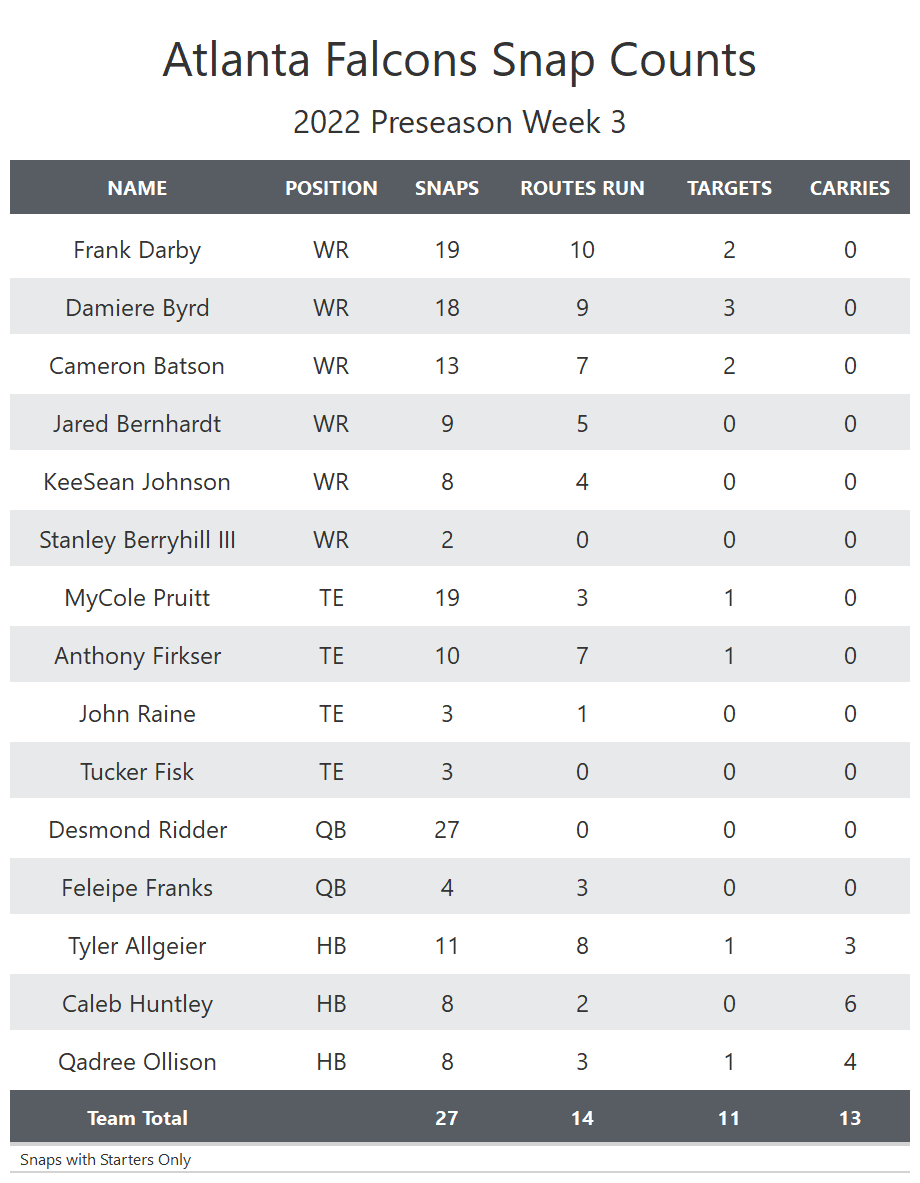 Don't draft the Jaguars who played: Jacksonville listed 27 players who wouldn't play Saturday, including the starters and some key backups. This included two running backs, four wide receivers and two tight ends, meaning anyone who played was buried on the depth chart.
Snoop Conner

is the most fantasy-relevant player who took snaps, as he should see playing time while

James Robinson

isn't 100%. He was the only running back to play for Jacksonville in the first quarter, making it crystal clear he's among the team's top three backs.

Lasviska Shenault

only played in three-receiver sets in this game. He is unlikely to see much playing time this season without an injury, trade or release.

Dan Arnold

was the starting tight end last season but has fallen to fourth on the depth chart. He was restricted to two-tight end sets in the first half. He will make the team only if Jacksonville keeps four tight ends. Like Shenault, the best odds of him being worth a fantasy roster spot would come from ending up with a new team.
Avoid the Falcons' running backs: The Falcons rested both Cordarrelle Patterson and Damien Williams while using a three-man rotation at running back throughout the first half. The situation will likely be unpredictable and ever-changing throughout the season.
Williams appears to be the lead rusher to start the season, but he is 30 years old and not the long-term solution. The Falcons will likely try to involve any younger back they think is worthy of more playing time.

Rookie

Tyler Allgeier

has graded the best among their six backs over the first two preseason games, and he started this game. He's the favorite to take over at some point this season. He shouldn't be in fantasy starting lineups for Week 1, though, and there's also a chance he never takes over this season.

Both

Qadree Ollison

and

Caleb Huntley

were mixed in early in the game, similar to past games, and also have outside shots of starting at some point this season.
Making sense of a crowded Falcons receiving room: The Falcons rested four wide receivers on Saturday, making it clear who is at the top of the depth chart after a confusing rotation early in the preseason.
---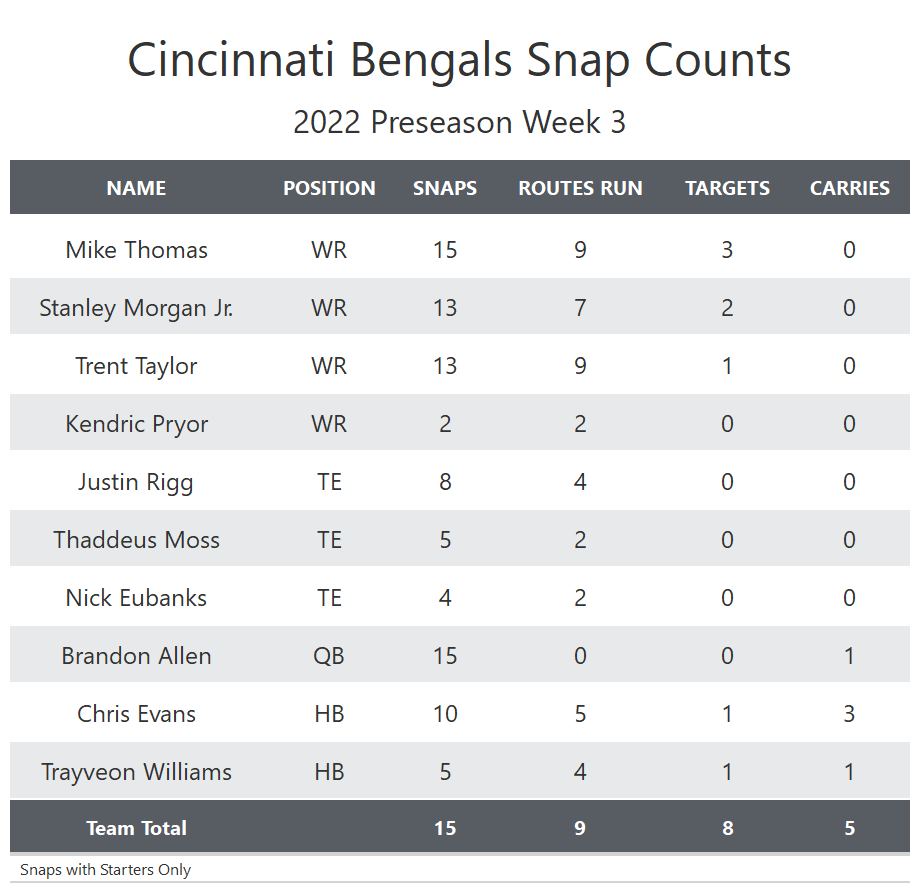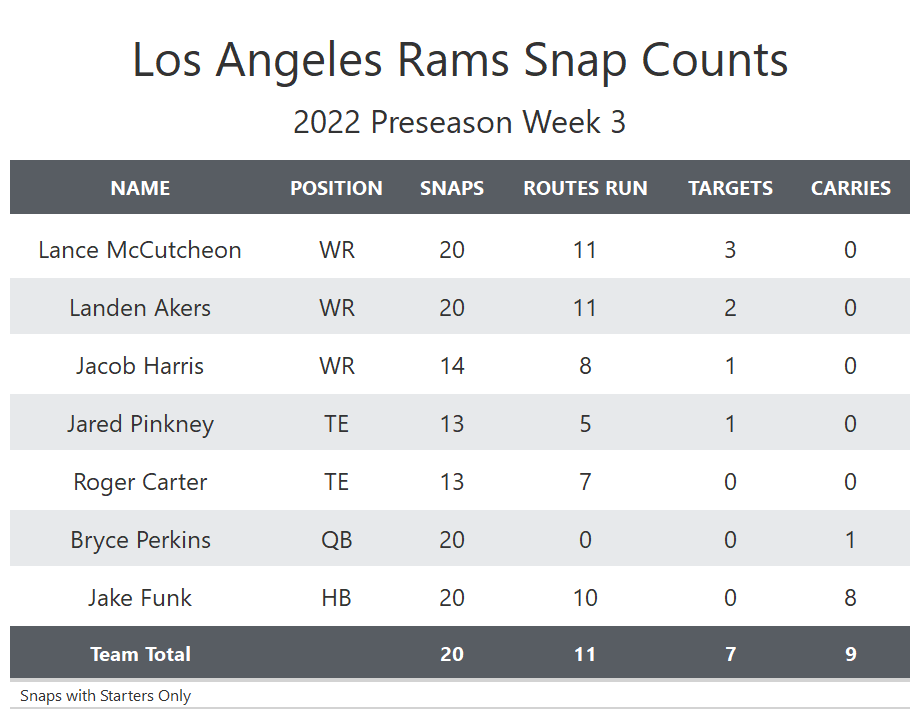 Rams' Jacob Harris remains at wide receiver: The Rams released Kendall Blanton when they reduced their roster to 80 players. Some speculated the 2021 fourth-round pick might move back to tight end, but he remained at wide receiver against the Bengals.
Harris started the game but only played in three-receiver sets with the starters behind

Lance McCutcheon

and

Landen Akers

.

There is no guarantee Harris makes the 53-man roster, as the Rams rested their top five wide receivers.
Ignore the Bengals' snap counts: The Bengals have rested their starters all preseason, and that trend continued Saturday.
Samaje Perine

was again among the Bengals out.

Chris Evans

continued to start at running back. Ideally, he sees more playing time this season, but the Bengals still value Perine.
---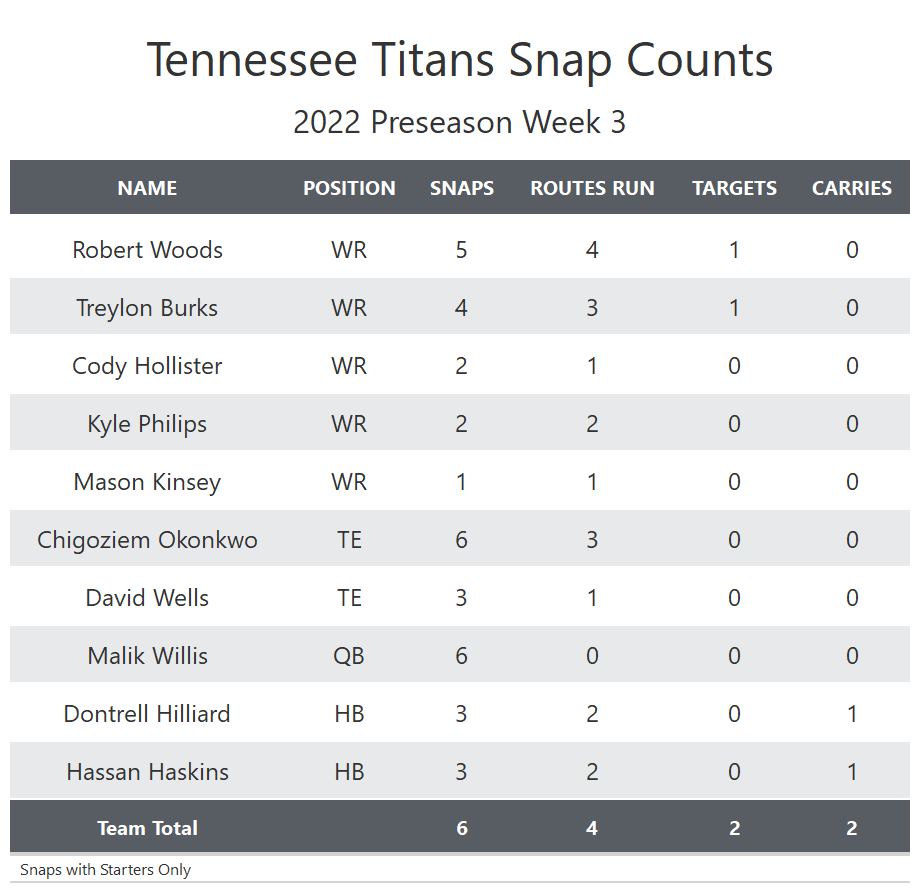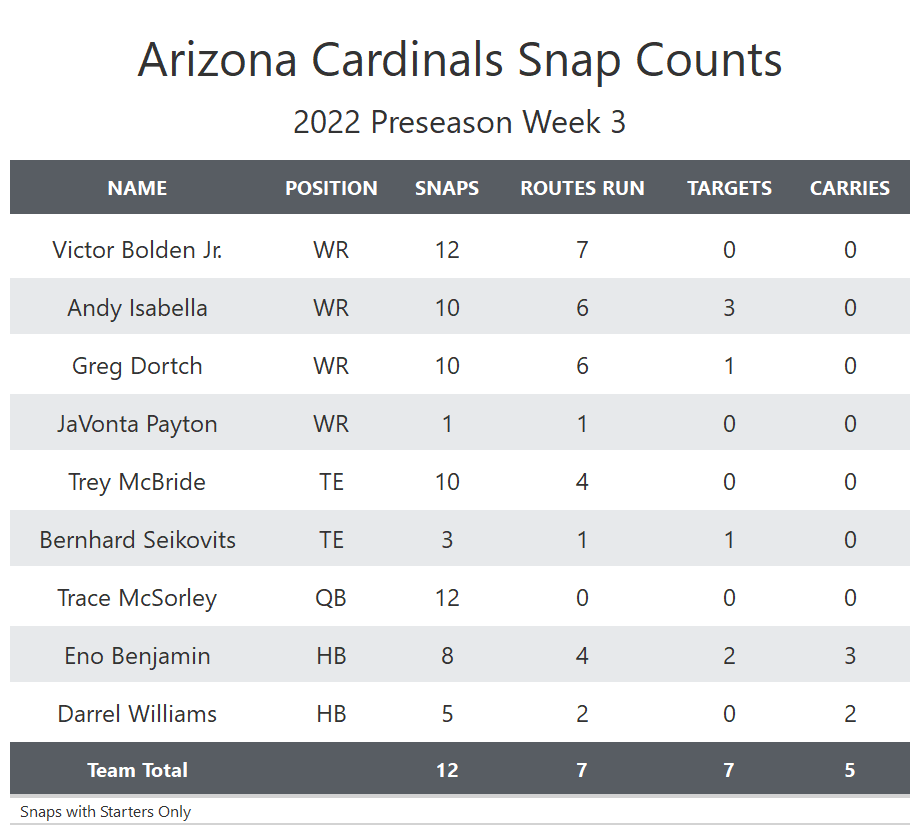 Treylon Burks moves up to top backup for the Titans: Burks started the game for Tennessee and caught two passes before suffering a wrist injury that kept him out for a few drives. It's hard to know exactly what the plan would have been had he not hurt his wrist, but starting the game was a step in the right direction.
Treat Dontrell Hilliard as the Titans second running back: Hilliard started the game and only needed three snaps before his day was done. He remains ahead of the Titans rookies not just as the receiving back but also as the early-down backup.
Hassan Haskins

was the next back on the first drive. He is now clearly third on the depth chart.

Undrafted rookie

Julius Chestnut

started the first preseason game but didn't play until the second quarter today.

Trenton Cannon

also received snaps before Chestnut, which makes it less likely Chestnut makes the roster. 
Eno Benjamin has a slight lead as the Cardinals' backup: The Cardinals running back usage in their first two games, but against the Titans, it was more straightforward. Benjamin started the game and rotated in and out with Darrel Williams for one drive.
Benjamin received the first few snaps, followed by a few by Williams, and that pattern repeated.

The two were used interchangeably. This gives no indication of who might be a third-down back if they decide to use a specific third-down back.

Williams received the goal line snap and touchdown, but that was likely because it was his turn in the rotation.

Both backs are only worth drafting in deep leagues, as these players would likely split

James Conner

's role if he gets hurt this season.

Sixth-round rookie

Keaontay Ingram

has consistently been behind all three players on the depth chart. He saw significant playing time after the first drive. He could also factor in at some point this season.




---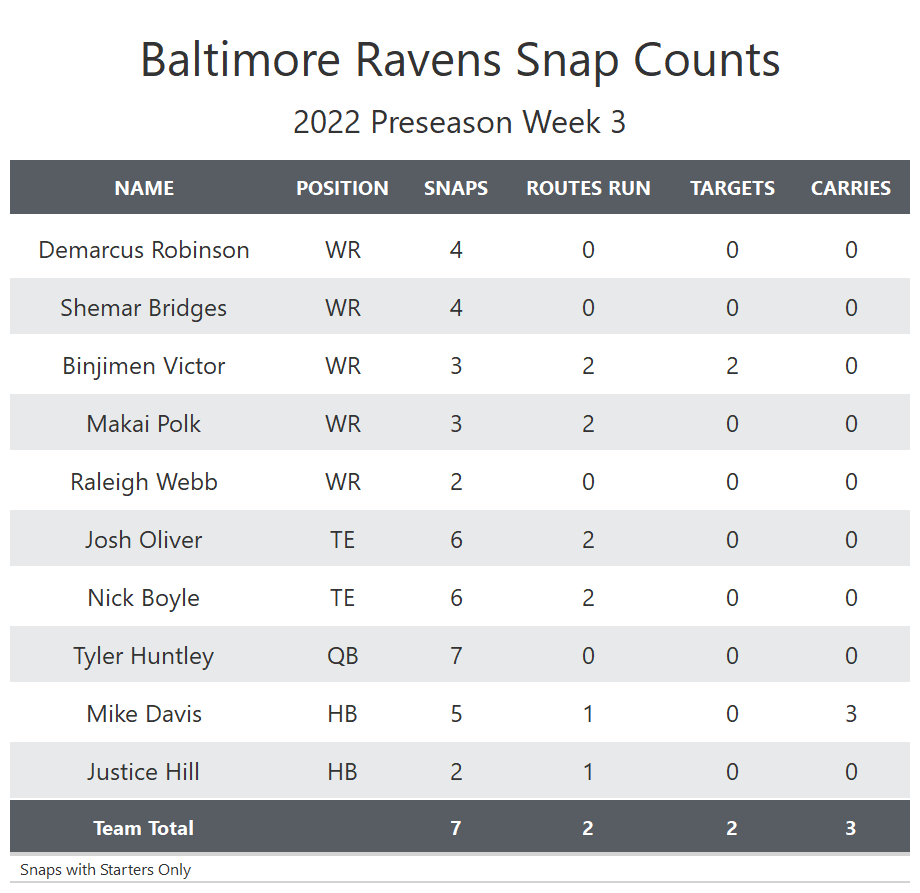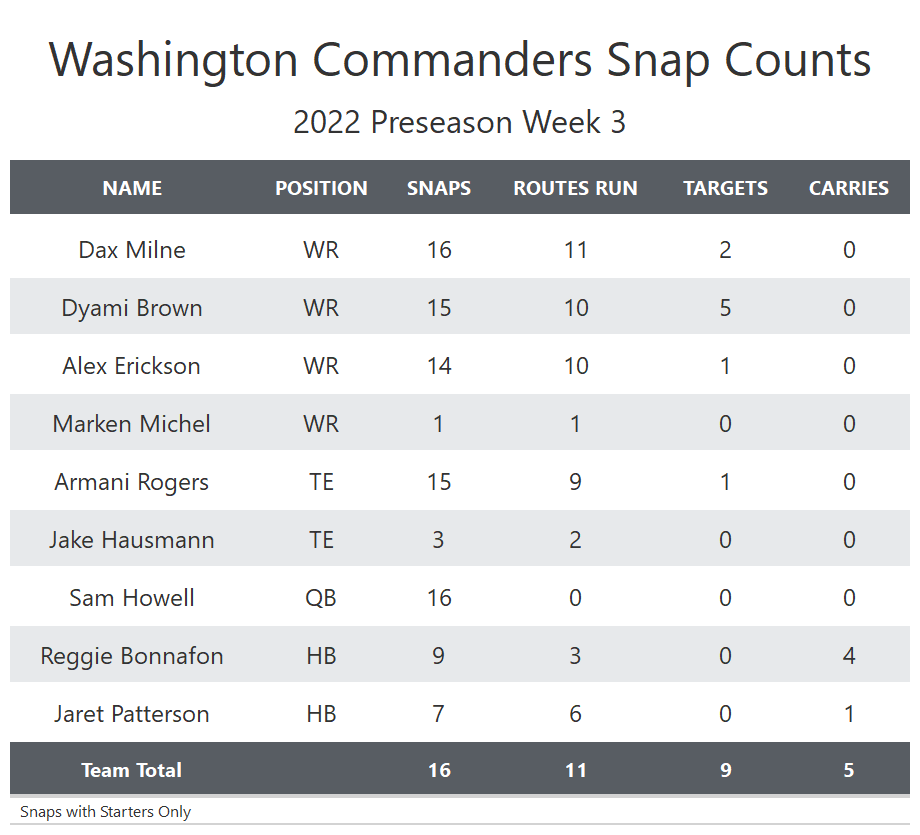 The Ravens told us things we already knew: The Ravens rested their starters and some backups. Other notable backups only played two drives before their day was done.
Mike Davis

played every first- and second-down snap on the first drive. We already knew that he is the backup while

Gus Edwards

is out, and this gave us even more confirmation.

Newly signed wide receiver

Demarcus Robinson

didn't start the game but rotated in at wide receiver. He's no guarantee to make the roster. Even if he does, he's unlikely to factor in for fantasy football purposes.

Tight end

Isaiah Likely

— who has dominated the preseason — was among the Ravens not playing tonight, further supporting the idea he will contribute to the passing game this season.
Armani Rogers could be a Week 1 starter: The Commanders have faced several injuries to their tight ends, which has allowed the undrafted rookie to take the vast majority of snaps for Washington in the first half of their games.
Washington recently signed

Kendall Blanton

, but he didn't receive any playing time until Rogers' day was done.

There is a chance one of their usual tight ends will be ready by Week 1, but Rogers could have an extended role if their other tight ends are eased into action.
---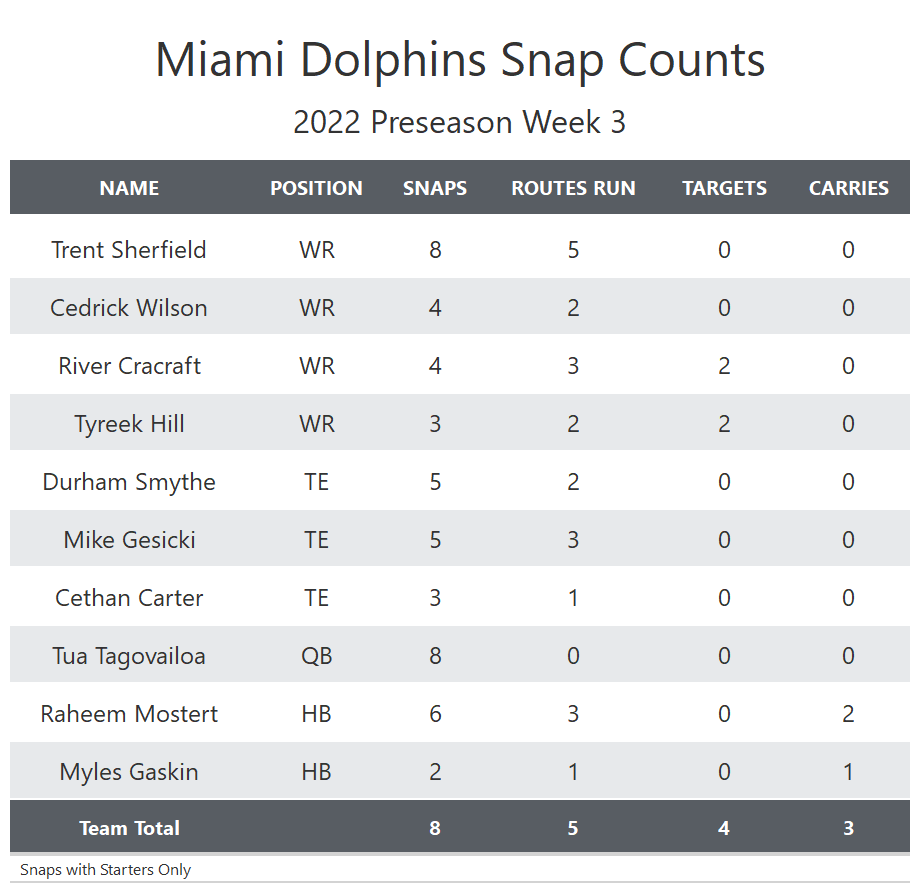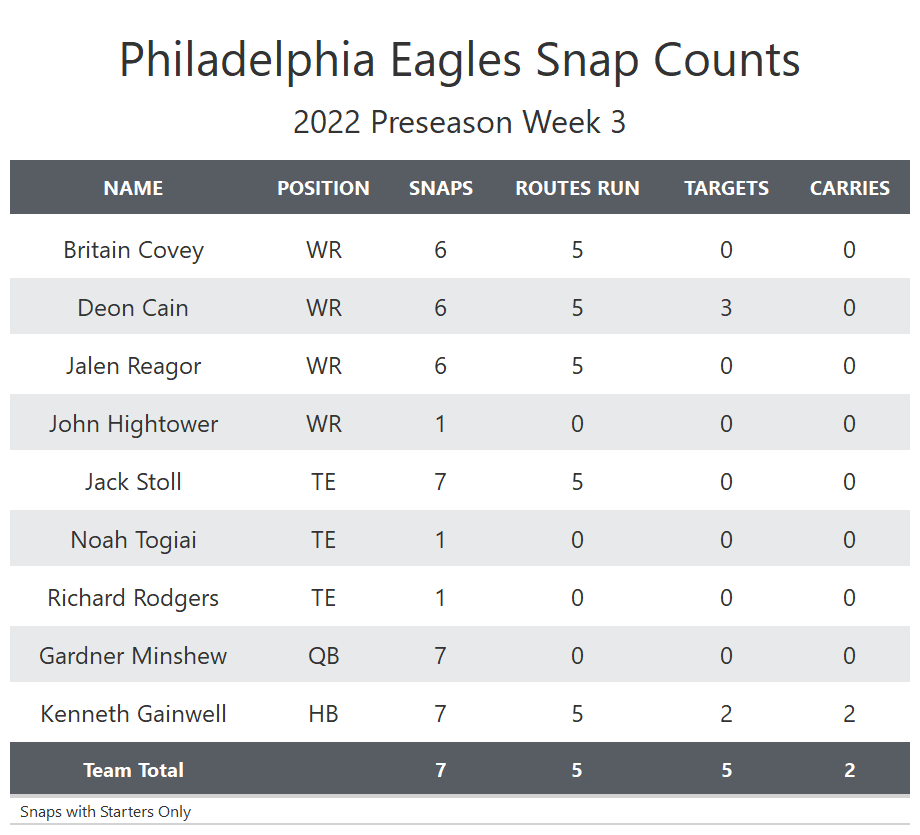 Raheem Mostert is a clear top-two back in Miami: Mostert played the majority of snaps on the Dolphins' first two drives, and then his day was done before several other Dolphins players.
Mostert and

Chase Edmonds

have yet to play in the same game, so it's unclear exactly how snaps will be distributed. Edmonds will definitely play third downs, but the two will fight for first- and second-down snaps.

Myles Gaskin

played the other snaps with the first team, as well as starting the third drive.

Salvon Ahmed

was the fourth back in the game, followed by

Sony Michel

. Michel had been the clear third on the depth chart before today. At least one of these three backs will be cut.
Trent Sherfield appears to be the Dolphins' third wide receiver: Sherfield surpassed Cedrick Wilson to start the game across from Tyreek Hill. Wilson didn't play his first offensive snaps until after Hill exited the game.
Wilson signed a three-year, $22.1 million contract, while Sherfield signed a one-year, $920,000 deal, making this preseason usage particularly alarming.

Each of the Dolphins wide receivers is capable of playing in the slot, allowing the team to use their wide receivers interchangeably.
Buyer beware of Mike Gesicki: The Dolphins veteran had seen significant playing time in previous preseason games, raising some alarm. He played in the first three drives tonight but rotated with two other tight ends.
Durham Smythe

received the most snaps in the first three drives.

Gesicki ran the most routes, but Smythe received some snaps in 11 personnel.

Smythe played every two tight end sets, while

Cethan Carter

out-snapped Gesicki as the other tight end 7-5.

Gesicki has lined up 24 times as an in-line tight end, compared to 14 snaps in the slot, four out wide and once at fullback throughout the preseason. He lined up 85% of the time in the slot or out wide last season.
Jalen Reagor's roster spot could be in jeopardy: The Eagles rested all of their starters plus a number of key backups. This included five wide receivers at the top of their depth chart.
Greg Ward

has missed the preseason with a toe injury, so Reagor is potentially fifth on the depth chart rather than sixth.

He left the game after the second drive, ahead of other players.

Kenneth Gainwell

was the only other skill player who left early, leaving after the first drive.




---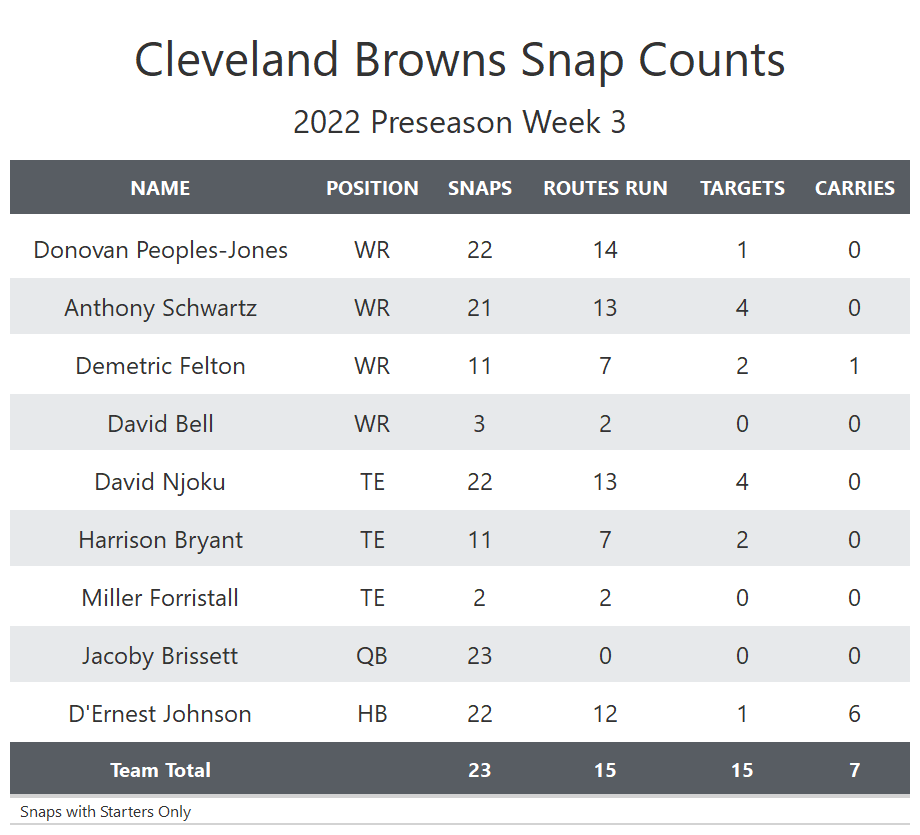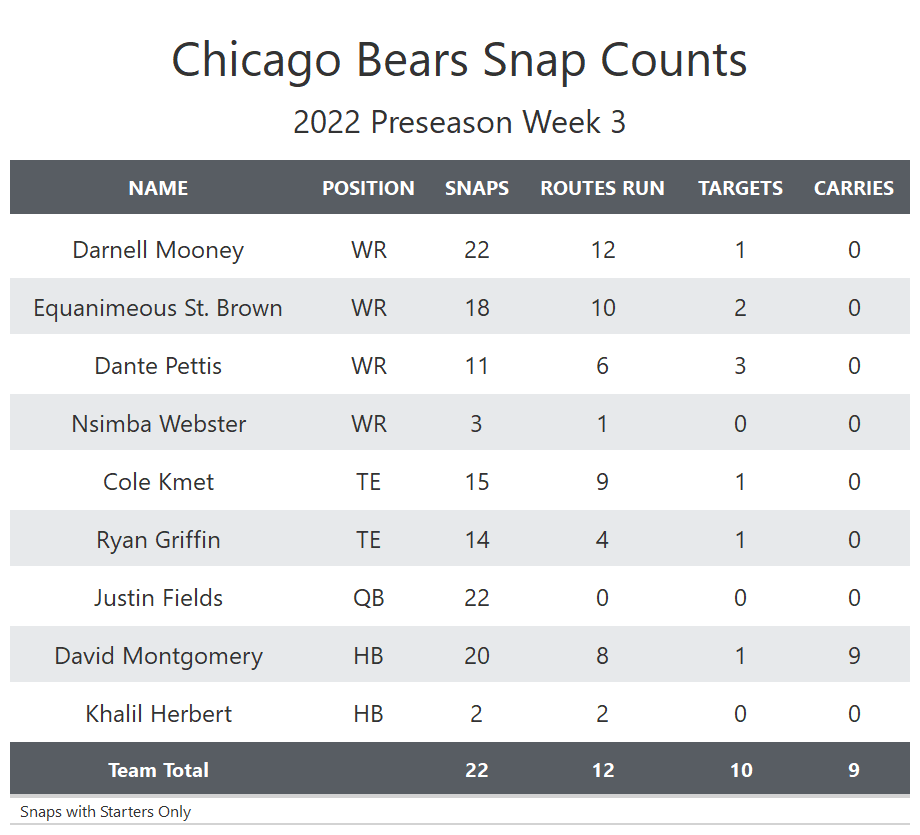 Demetric Felton is the Browns' starting slot receiver: The Browns used most of their starts, and Amari Cooper was the only notable wide receiver who had the day off. Felton was consistently the slot receiver ahead of rookie David Bell.
Bell started the game but only because the Browns started with four wide receivers, one tight end and no running back on the first play.

Felton and Bell are the only two wide receivers on the roster who have played double-digit snaps in the slot in the first half of Browns' preseason games.

Felton can be drafted in deep leagues, but the Browns' frequent two tight end usage makes their slot receivers less valuable than other teams.

Bell could eventually take over but might not have many games with multiple receptions this season.
Monitor the Browns running backs: D'Ernest Johnson played all of the snaps with the first team while rookie sensation Jerome Ford didn't see any time with the offense.
This could indicate the Browns are happy with Ford while Johnson is fighting for his roster spot. This would be surprising considering Johnson was one of the highest-graded running backs last season.

It's also possible that the Browns could trade Kareem Hunt

if they are happy with both Johnson and Ford.
Move David Montgomery up your draft board: The Bears starting back saw his first preseason action. The Bears could have moved more to a two-man backfield, similar to what this coaching staff had with the Packers. Instead, Montgomery dominated the first-team snaps.
Similarly,

Khalil Herbert

should be moved down the draft board. He remains a solid handcuff option, but it's looking less likely that he can have standalone value, at least early in the season.

Herbert saw some more work with the first team but only after Montgomery's night was done.

Herbert also played into the second half but didn't have to rotate with any other back, meaning there is still a gap between him and everyone else below him on the depth chart.
Don't trust Cole Kmet as your starting fantasy tight end: Kmet played in less than 70% of Chicago's offensive snaps over the first four drives. He never played under 70% of snaps in a game last season.
Ryan Griffin

made his preseason debut with the Bears. He joined Kmet in two tight end sets, played most of the snaps in 21 personnel and also took some snaps in 11 personnel from Kmet.

James O'Shaugnessy

also took snaps from Kmet in earlier preseason games but only played with the second string against the Browns. 

Kmet has been a high-volume, low-efficiency tight end the past two seasons. His volume of snaps will be lower this season. He will need both a higher target share and much higher efficiency to be a fantasy starter this season.




---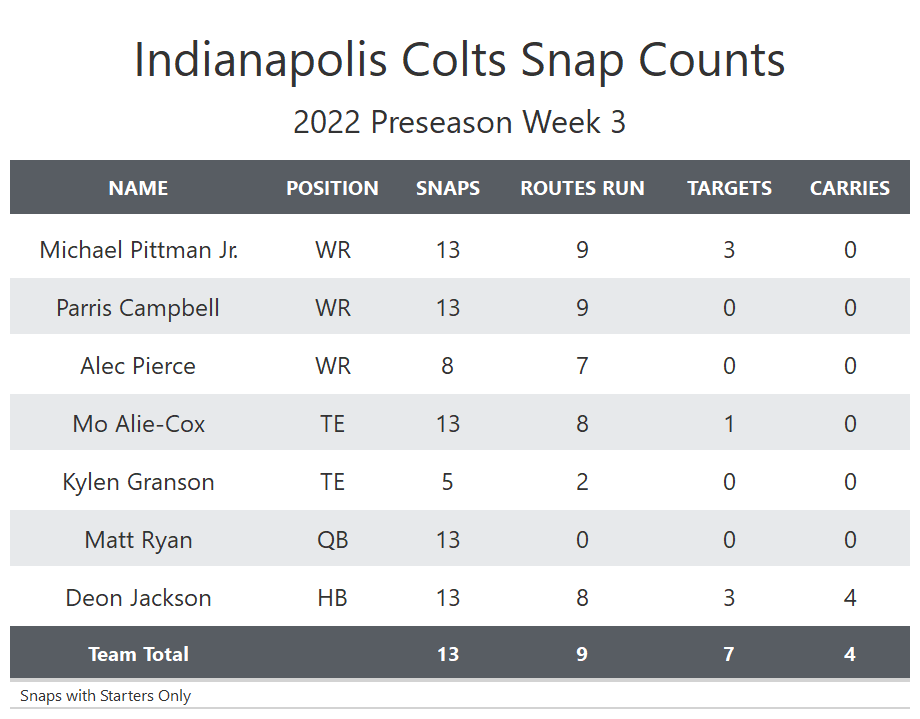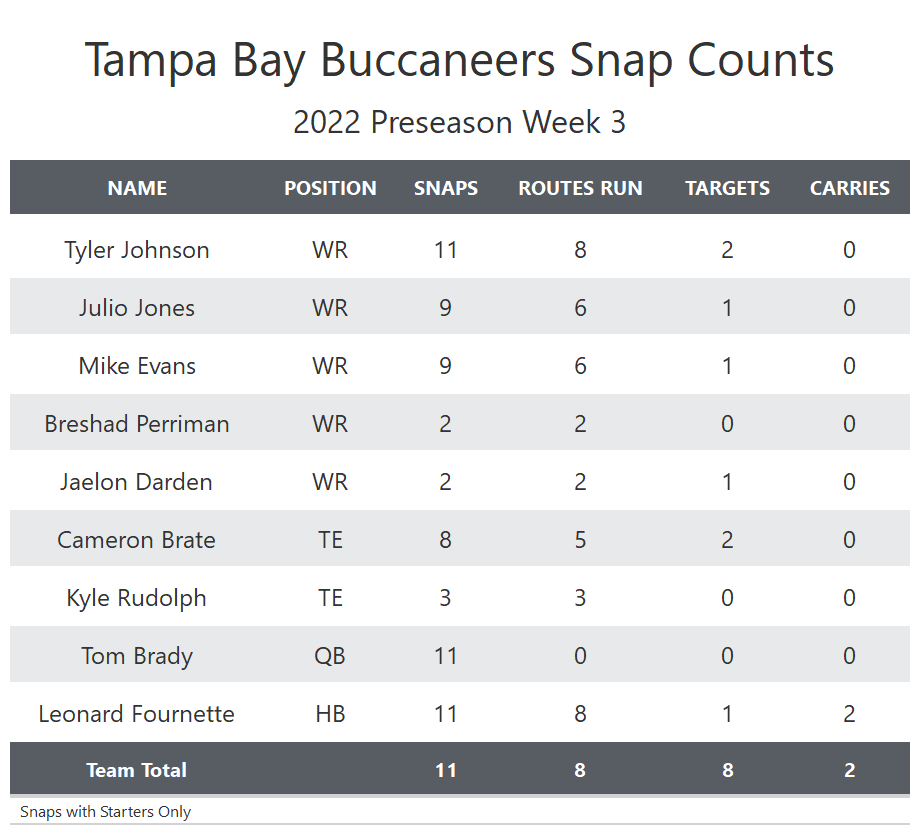 Slow the hype for Alec Pierce: Pierce had taken snaps in two wide receiver sets for the Colts last week with the starters over Parris Campbell, but the Ohio State product took those snaps over Pierce against the Buccaneers.
There is a chance Pierce can regain those snaps in the regular season, or at least split them.

Both players are worth late-round draft picks.
Monitor the Colts' tight ends: Mo Alie-Cox took every snap with the first-team offense. Typically, Indianapolis uses a three-man rotation with its tight ends, so this is a change from the norm.
The Colts used a three-man rotation with the starters in their first preseason game, as Alie-Cox rotated with

Kylen Granson

and sixth-round rookie

Andrew Ogletree

.

Ogletree suffered a season-ending ACL tear.

Alie-Cox was among the starters to rest in their second preseason game while Ogletree split time with third-round rookie

Jelani Woods

.

Woods didn't see a snap with the starters tonight, suggesting this could be a two-man rotation now. 

Alie-Cox could now be worth a late-round flier. If this carries on in Week 1, then he could be a popular waiver wire target in two weeks.
If you draft a Buccaneers tight end, draft Cameron Brate: The Buccaneers played both of their tight ends for the first time this preseason, and Brate saw a clear majority of snaps.
The Buccaneers used 11 personnel on every play with the starters, so they were never on the field at the same time.

Both players stopped playing after their first drive.

Kyle Rudolph only played on first and second downs.

This was a relatively small sample size, and we could see more of a split when the Buccaneers are more diverse in their personnel usage. It's probably best to avoid both tight ends.




---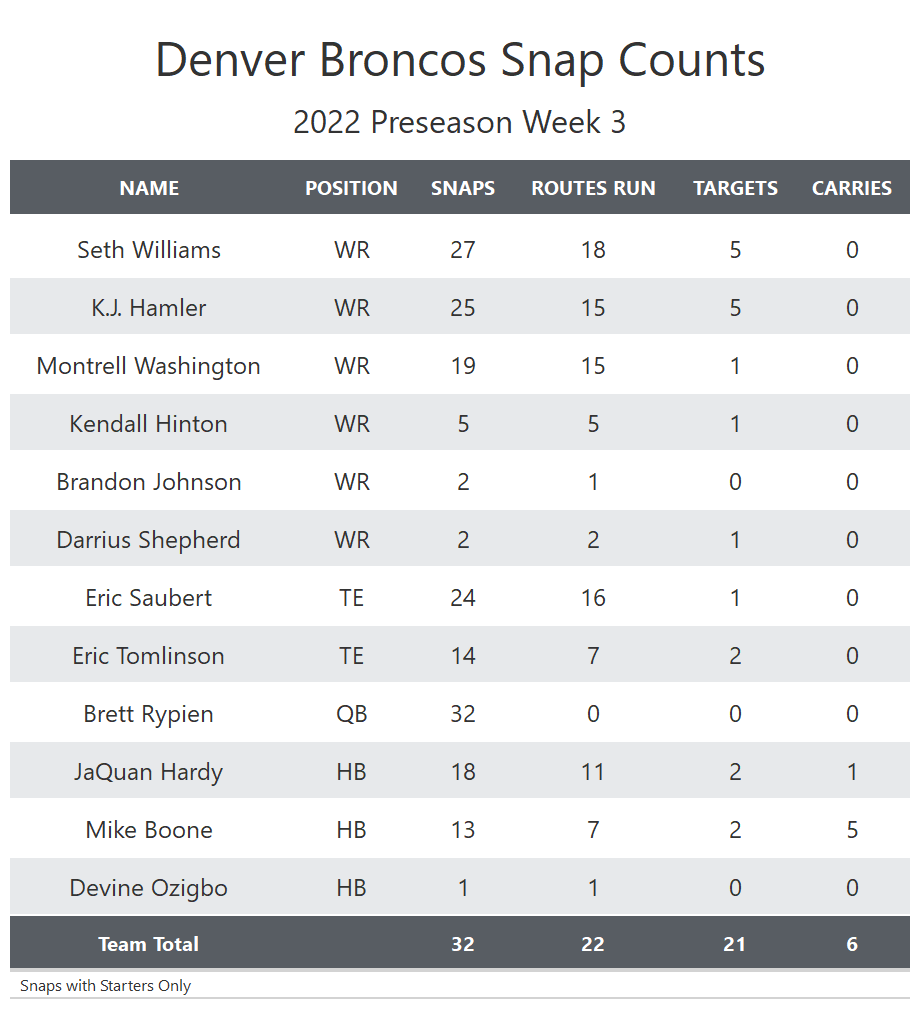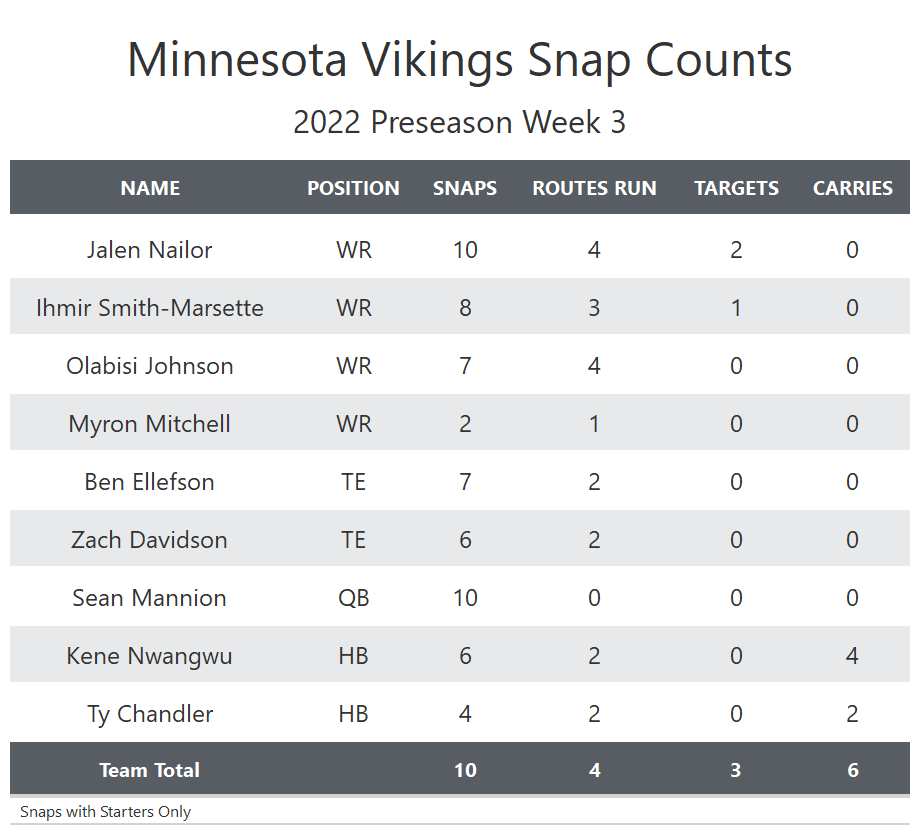 K.J. Hamler's return: Hamler saw his first preseason action after tearing his ACL and dislocating his hip last September.
The Broncos rested their starters. Hamler is expected to play in three-receiver sets this season. It's unsurprising they gave him a few reps after not playing for so long despite being considered a starter.

Hamler not only played in most plays from 11 personnel but also saw the vast majority of snaps in two-receiver sets as well.

He lined up out wide 18 times compared to seven in the slot. This likely means the Broncos will let all three of their starters see some work in the slot.

He's an exciting late-round draft option.
Albert Okwuegbunam is among the Broncos who did not play: Denver has rested its starters every preseason game. Okwuegbunam started and played into the fourth quarter in the first two but didn't play Saturday night.
This is potentially a good sign the Broncos have liked what they've seen through the first two games.

Third-round rookie

Greg Dulcich

has missed all three preseason games with a hamstring injury. The Broncos remain hopeful he is ready for Week 1.

Eric Saubert

took the snaps that Okweugbunam had been taking with the first team.

Okwuegbunam still isn't a great fantasy football option because he's unlikely to play in two tight end sets, and Dulcich could eventually take snaps from him.
Ignore the Vikings' snap counts: The Vikings rested their starters and key backups, including everyone worth drafting in fantasy leagues. The only way any of the players who played today will be worth a spot on your fantasy roster is if there are multiple injuries.
---
Table Notes
Snaps include plays called back due to penalties, including offensive holding or defensive pass interference. The other three stats have these plays removed.

Targets may differ from official NFL sources. The most likely discrepancy would be from a clear thrown-away pass, where the NFL may give the target to the nearest receiver, while this data will not.

Carries are only on designed plays. Quarterback scrambles won't count for the total number of carries in the game.