• Jaylen Warren scores a 62-yard touchdown: Warren is beginning to play more on early downs in the preseason, which could lead to more playing time in the regular season.
• Deonte Harty is the established WR3 for Buffalo: He's consistently played in three-receiver sets over the Bills' two preseason games.
• Dalton Kincaid leads the Bills in receiving early: Kincaid caught the first pass of the game but saw most of his production with the backups.
Estimated Reading Time: 5 minutes
---
PFF's fantasy football recap focuses on player usage and stats, breaking down all the vital information you need to achieve fantasy success in 2023. You can find more information on why it's essential to pay attention to the preseason here.
Check out PFF's 2023 Fantasy Draft Kit for even more content to help you dominate your league.
---
Preseason Recaps: Friday Week 2 | Thursday Week 2 | Week 1 | Hall of Fame Game
Player Profiles | Depth Charts
Rankings: PPR | Half-PPR | Standard | Superflex | Best Ball
Dynasty Rankings: PPR | Rookie | Superflex | Superflex Rookie
Position Rankings: QB | RB | WR | TE
Sleepers: Top-10 | QB | RB | WR | TE
League Winners: Top-5 | QB | RB | WR | TE
Breakouts: QB | RB | WR | TE
Position Draft Strategy: QB | RB | TE
14-Team Draft Strategy: Overall strategy
12-Team Draft Strategy: Overall strategy | Picks 1-3 | Picks 4-6 | Picks 7-9 | Picks 10-12
10-Team Draft Strategy: Overall strategy | Picks 1-3 | Picks 4-7 | Picks 8-10
---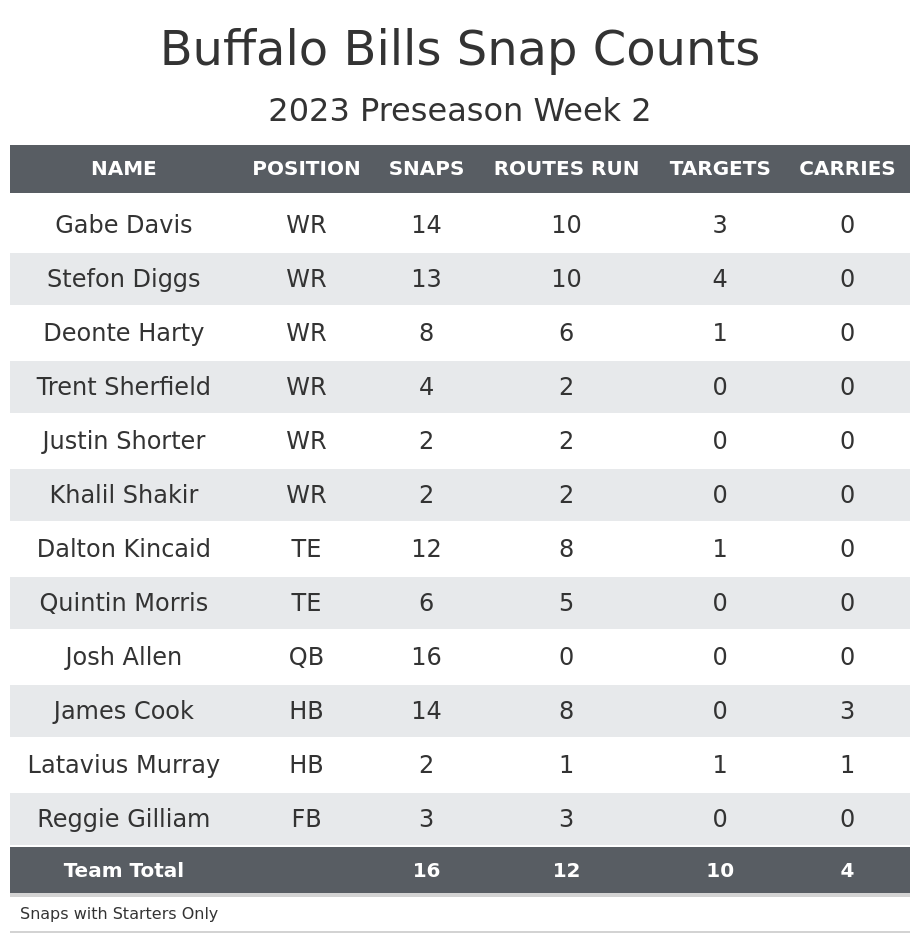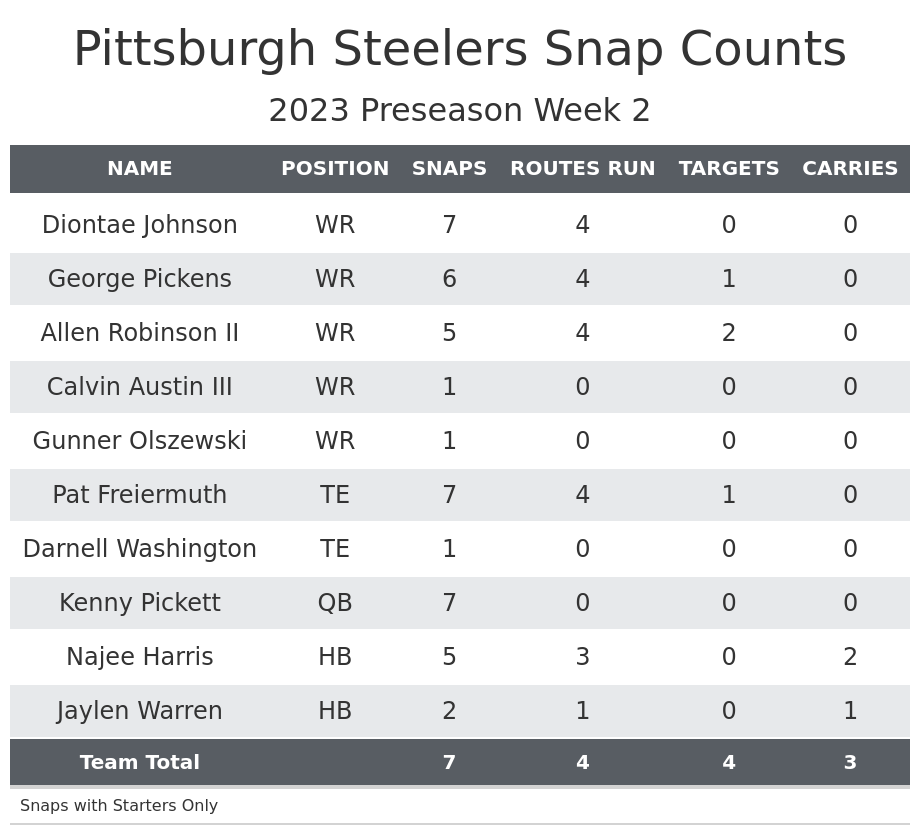 Jaylen Warren scores a 62-yard touchdown: Warren played only two offensive snaps with the starters but made one of the biggest plays of the preseason on his lone carry.
Najee Harris

started the game, similar to last week, and gained six yards on two carries.

Warren entered on the first third down, as expected, but stayed on the field for the following first-and-10 before breaking off his touchdown run.

He played only 23% of first-and-10s last season, and that number is up to 33.3% with the starters over the Steelers' first two preseason games.

It's a small sample of three drives, but it could be an indication that Warren will be more involved on early downs this season.

He could also gain more playing time on early downs as the season progresses if he continues to make big plays.

He should be one of the top late-round draft pick options, assuming his average draft position doesn't increase too much.
The James Cook hype train should continue: Cook played the vast majority of snaps with the starters for a second straight week.
The only snaps he missed occurred on the second drive after he played nine straight snaps to begin the drive. It's relatively normal for a running back to get subbed out after handling that many plays.

Cook ran the ball just three times for three yards, but we shouldn't be all that concerned due to the small sample size.

His average draft position should continue to rise. As long as it only gets a little higher, he will remain a good value.
Deonte Harty continues to be the primary slot receiver: All of the Bills' top wide receivers played in this game, and it was clear Harty was third on the depth chart.
Harty didn't play any snaps in two-wide receiver sets but played eight of 10 snaps in three-receiver sets.

The other two plays included

Stefon Diggs

lining up in the slot with

Khalil Shakir

on the outside.

There were a few plays where Harty lined up on the outside in a three-receiver set with another player lined up inside of him.

Trent Sherfield

also appears to still be the primary backup behind

Gabe Davis

and

Stefon Diggs

.

The fact that six players played with the starters isn't a great sign for Harty having fantasy value this season. But there is at least a chance, considering how important the Bills' slot receivers have been in the past.
Dalton Kincaid leads the Bills in receiving early: He caught three passes for 45 yards on four targets.
Dawson Knox

missed this game with a finger injury, so it's still early to know how much playing time Kincaid will receive this season.

Most of Kincaid's catches occurred once the second team was on the field. He caught his one target from

Josh Allen

for eight yards.

He played 90% of snaps in 11 personnel with the starters and 100% of snaps in two-tight end sets. He left the field late on the Bills' nine-play drive and whenever they went into 21 personnel.

Kincaid played one snap in the backfield, five at a traditional tight end position, six from the slot and one lined up out wide.

He remains one of the best high-upside tight ends in the league, but this game shouldn't increase his value.
Miscellaneous Notes
Allen Robinson II

continues to be the primary slot receiver for Pittsburgh. He took five snaps from the slot with the starters, compared to one for

George Pickens

and one for

Calvin Austin III

.

There was a little concern about

Pat Freiermuth

's playing time with the starters last week, but he played every snap with the starters this week, which should help ease those concerns.
Damien Harris did not play for the second straight week with a knee injury.
---
Table Notes
• Snaps include plays called back due to penalties, including offensive holding or defensive pass interference. The other three stats have these plays removed.
• Targets may differ from official NFL sources. The most likely discrepancy would be from a clear thrown-away pass, where the NFL may give the target to the nearest receiver, while this data will not.
• Carries are only on designed plays. Quarterback scrambles won't count for the total number of carries in the game.