• Zach Charbonnet surpasses DeeJay Dallas: Unsurprisingly, Charbonnet is now at the top of the Seattle Seahawks' depth charts among their healthy running backs.
• Jaxon Smith-Njigba's role expands: The rookie was utilized in more personnel groupings this week than last.
•  Rico Dowdle starts for the Dallas Cowboys: There is a close battle for someone to be Tony Pollard's backup, and Dowdle may have taken a slight lead.
Estimated Reading Time: 4 minutes
---
PFF's fantasy football recap focuses on player usage and stats, breaking down all the vital information you need to achieve fantasy success in 2023. You can find more information on why it's essential to pay attention to the preseason here.
Check out PFF's 2023 Fantasy Draft Kit for even more content to help you dominate your league.
---
Preseason Recaps: Friday Week 2 | Thursday Week 2 | Week 1 | Hall of Fame Game
Player Profiles | Depth Charts
Rankings: PPR | Half-PPR | Standard | Superflex | Best Ball
Dynasty Rankings: PPR | Rookie | Superflex | Superflex Rookie
Position Rankings: QB | RB | WR | TE
Sleepers: Top-10 | QB | RB | WR | TE
League Winners: Top-5 | QB | RB | WR | TE
Breakouts: QB | RB | WR | TE
Position Draft Strategy: QB | RB | TE
14-Team Draft Strategy: Overall strategy
12-Team Draft Strategy: Overall strategy | Picks 1-3 | Picks 4-6 | Picks 7-9 | Picks 10-12
10-Team Draft Strategy: Overall strategy | Picks 1-3 | Picks 4-7 | Picks 8-10
---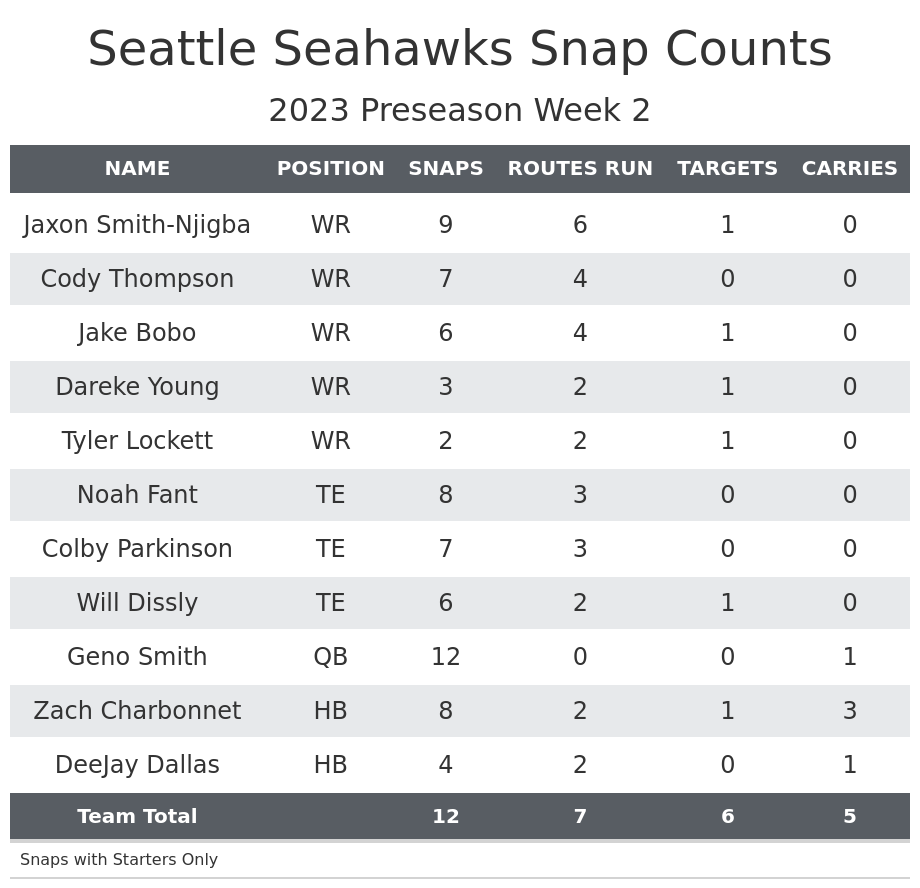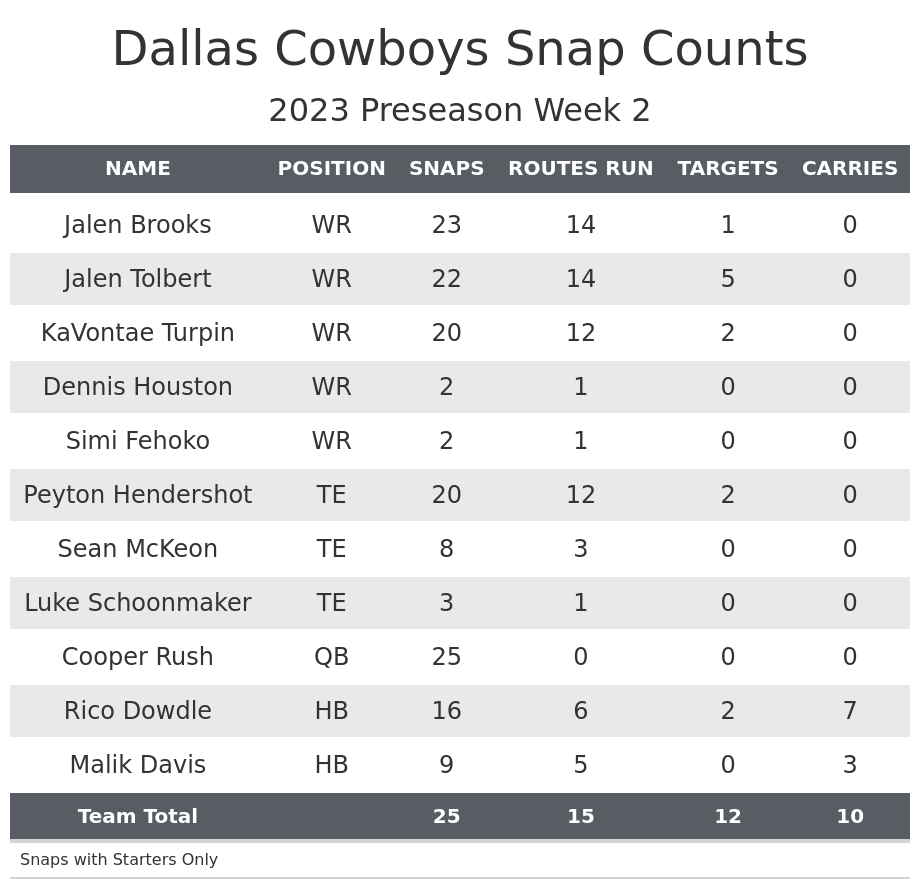 Zach Charbonnet starts for the Seahawks: DeeJay Dallas started over Charbonnet last week, but this week it was the reverse.
The second-round rookie took every snap on the first drive outside of the third-and-8 to end the drive.

The two split snaps on the second drive, with Dallas taking the majority of the snaps on the third drive after

Geno Smith

stopped playing.

Charbonnet's day was done after the third drive.

Dallas took every snap when it was third-and 5-plus.

This likely means that Dallas will still be Seattle's third-down back, at least to begin the season.

It's not surprising that Charbonnet was able to work his way up the depth chart past Dallas on early downs, but it's still a good step in the right direction for him.
Jaxon Smith-Njigba's role with the Seahawks expands: Smith-Njigba only took snaps out of 11 personnel last week but received more responsibilities in this game.
He took all seven snaps out of 11 personnel on the first three drives, which

 included two snaps with

Tyler Lockett

. The two lined up on the same side of the field for both plays, with Lockett in the slot for one and Smith-Njigba in the slot for the other.

The rookie also took 50% of snaps in 12 personnel and all four snaps at wide receiver out of 13 personnel.

The only personnel grouping he wasn't a part of was the one snap Seattle played in 21 personnel.

He stopped playing after Seattle's third offensive drive.

His increased role meant only five of his 14 snaps on the first three drives came from the slot.

He caught three passes for 58 yards in his limited time.

The increased role and great stats are a great sign for him going forward.
The Seahawks' tight end room remains unchanged: Noah Fant, Colby Parkinson and Will Dissly will continue to battle for playing time all season.
None of the tight ends ran a route on over 50% of the team's pass plays with the starters.

All three tight ends continued to play once

Geno Smith

's day was done, and Fant even played on the fourth drive late in the second quarter.

This tight end room might have the most depth in the NFL, but as long as all three are healthy, they will prevent each other from being fantasy relevant.
Rico Dowdle starts for Dallas: Malik Davis was the starter last week while the two battle for the backup role.
Davis started last week, but the two went back and forth throughout the first half of that game.

The two similarly battled throughout the first half of this game.

They both played 19 snaps in the first half and ran the ball eight times each, with Dowdle gaining slightly fewer years at 38 to 32.

Dowdle was more involved in the passing game, catching two passes for nine yards and a second-quarter touchdown.

Deuce Vaughn

remained fourth on the depth chart. He didn't play until the second half but quickly scored a 14-yard touchdown.

This remains a situation to avoid until a clear second player emerges. It's also possible there is never a clear second player, leading to all of the running backs seeing a little bit of playing time in a normal game while splitting time if Pollard ever suffers an injury.
Miscellaneous Notes
Jake Ferguson

has emerged as a tight end sleeper. He started last week and was among the starters that had the night off in this game.

Tyler Lockett

played two offensive snaps for Seattle. Typically, when a veteran only plays a snap or two, it's at the beginning of the game. In Lockett's case, it was at the end of Seattle's first drive.
---
Table Notes
• Snaps include plays called back due to penalties, including offensive holding or defensive pass interference. The other three stats have these plays removed.
• Targets may differ from official NFL sources. The most likely discrepancy would be from a clear thrown-away pass, where the NFL may give the target to the nearest receiver, while this data will not.
• Carries are only on designed plays. Quarterback scrambles won't count for the total number of carries in the game.