After recently unveiling our final quarterback and offensive line rankings for the 2020 NFL season, it's now time to do the same at wide receiver.
Below, you will find a list of the 25 highest-graded wide receivers of the 2020 regular season. Please note that just because Player X is ahead of Player Y does not mean we would take Player X over Player Y if we were building a team. This list is built solely around the regular-season PFF grade of every wide receiver who saw at least 50 targets in the 2020 season.
Adams was both the highest graded and most valuable wide receiver in the league, and it wasn't particularly close. Adams averaged 3.59 yards per route run against press coverage this season, the second-best mark we have recorded since we began tracking press data in 2012. Against single coverage overall, Adams has generated an open target at the fifth-highest rate in the league.
Sure, Jefferson was a first-round pick, but no one quite expected him to end up being the best-performing rookie of the 2020 class after Year 1. He finished the season with an elite 90.5 receiving grade that was just shy of the rookie record set by Odell Beckham Jr. in 2014 (91.2).
The most impressive aspect of his first year in the NFL ranks was his performance against single coverage, an area of concern for him coming out of LSU. But Jefferson generated more yards per target (13.2) than any other wideout in the league against single coverage this season.
Fifty players were taken ahead of Brown in the 2019 NFL Draft. Needless to say, the entire football world got the former Ole Miss receiver wrong, as Brown has been a top-10 receiver in each of his first two years in the league. He again showed off his after-the-catch ability this season, averaging 6.2 yards after the catch per reception and breaking 17 tackles on 70 catches. In total, 45.7% of those 70 catches went for at least five yards after the catch (third-highest rate among wide receivers).
Diggs had a solid five years in Minnesota, but he never came close to having a season like the one he just had in Buffalo. Diggs earned PFF grades between 78.3 and 82.6 in each of his five years as a Viking and jumped to 90.1 in his first season as a Bill. Diggs has seen single coverage at one of the highest rates in the NFL this season yet has still generated separation at the league's fourth-highest rate on those plays — it is why Diggs had eight more catches against single coverage than any other wide receiver (58).
The fact that Robinson was able to put up the numbers he did with the quarterback situation he had is quite impressive. Robinson was responsible for over half of the first downs and touchdowns generated by the Chicago Bears' wide receiver unit this year. Seventeen of his 68 first downs and touchdowns this past year stemmed from an inaccurately thrown ball, tying for the second-most in the entire league. Whether it's from Chicago or someone else, Robinson, an impending free agent, earned himself a big payday.
Thielen didn't separate at nearly the same rate we have seen from him in years past, but he was still one of the best receivers in the league. The Viking is known for his route-running and releases, and this year Thielen maintained a spot in the top five when it came to receiving grade against single coverage and against press coverage.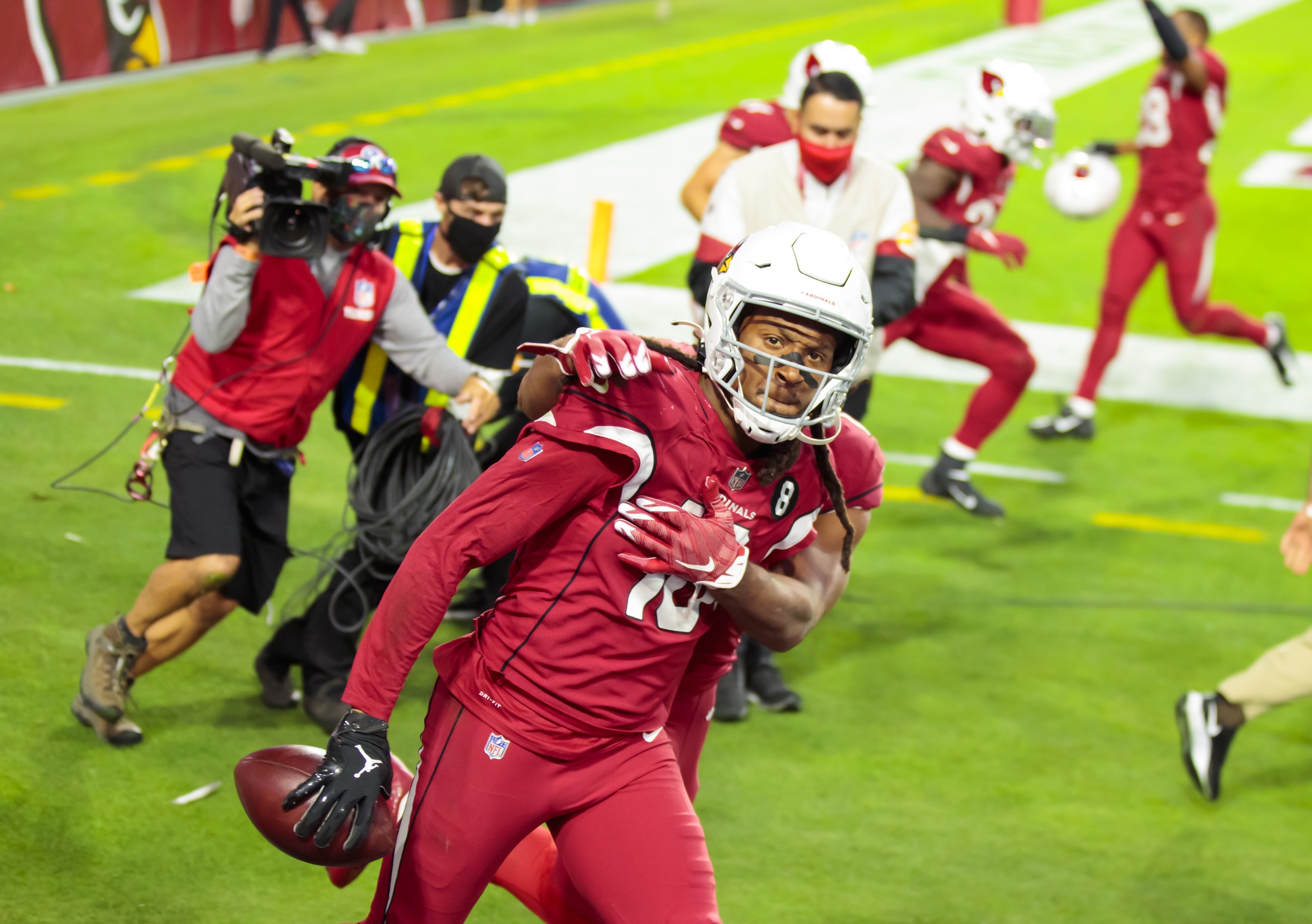 Hopkins' ball skills were on full display in his first season as a Cardinal — he was the ultimate possession receiver just as expected. While Hopkins comes in at No. 7 in PFF grade at the position, he was the second most valuable wide receiver in the league behind only Davante Adams. Nuk ended the year with just one drop on a colossal 154 targets; he also caught 13 of his 26 contested targets and was responsible for more first downs and touchdowns than anyone else in the league.
Davis had an inconsistent 2020 campaign that featured several dominant performances and several non-effective ones, but it was still without question the best season of his career. His 86.9 PFF grade was over 10 grading points higher than any of his first three seasons in the league, and his 2.58 yards per route run — fifth in the NFL — were over three-fourths higher than any other season. Davis saw a healthy dosage of downfield play-action shots courtesy of offensive coordinator Arthur Smith, so it's no surprise that he tied for the second-most 15-plus-yard receptions stemming from play-action pass attempts this year (18).
Jones was limited to only 65 targets across nine games this season, but he still managed to put up some ridiculous numbers. No receiver turned a higher rate of their targets into an explosive gain of 15 or more yards this season than Jones at 35.4% — the highest rate in the league by over six percentage points. His 86.3 PFF grade for the season made it the seventh straight year in which he ranked among the 10 highest-graded wide receivers in the game. The next longest active streak of a wide receiver ranking in the top 10 is three.
Fuller stood as the fourth-highest-graded receiver in the NFL before being suspended for the season's final four games. The Texans pass-catcher was tied for the league lead in total vertical-route catches through Week 12, with 11, and while defenses tried to slow him down with press coverage, Fuller's 3.38 yards per route run against press this season was second to only Davante Adams.
A.B. never quite made it to that same dominant level we saw from him year after year in Pittsburgh, but he still performed well for Tampa this season. Brown has caught a perfect 100% of his catchable targets as a Buccaneer so far, just the second time in the last six years a receiver has caught every single one of their catchable targets (minimum 50 targets; Tyler Lockett in 2018 was the other).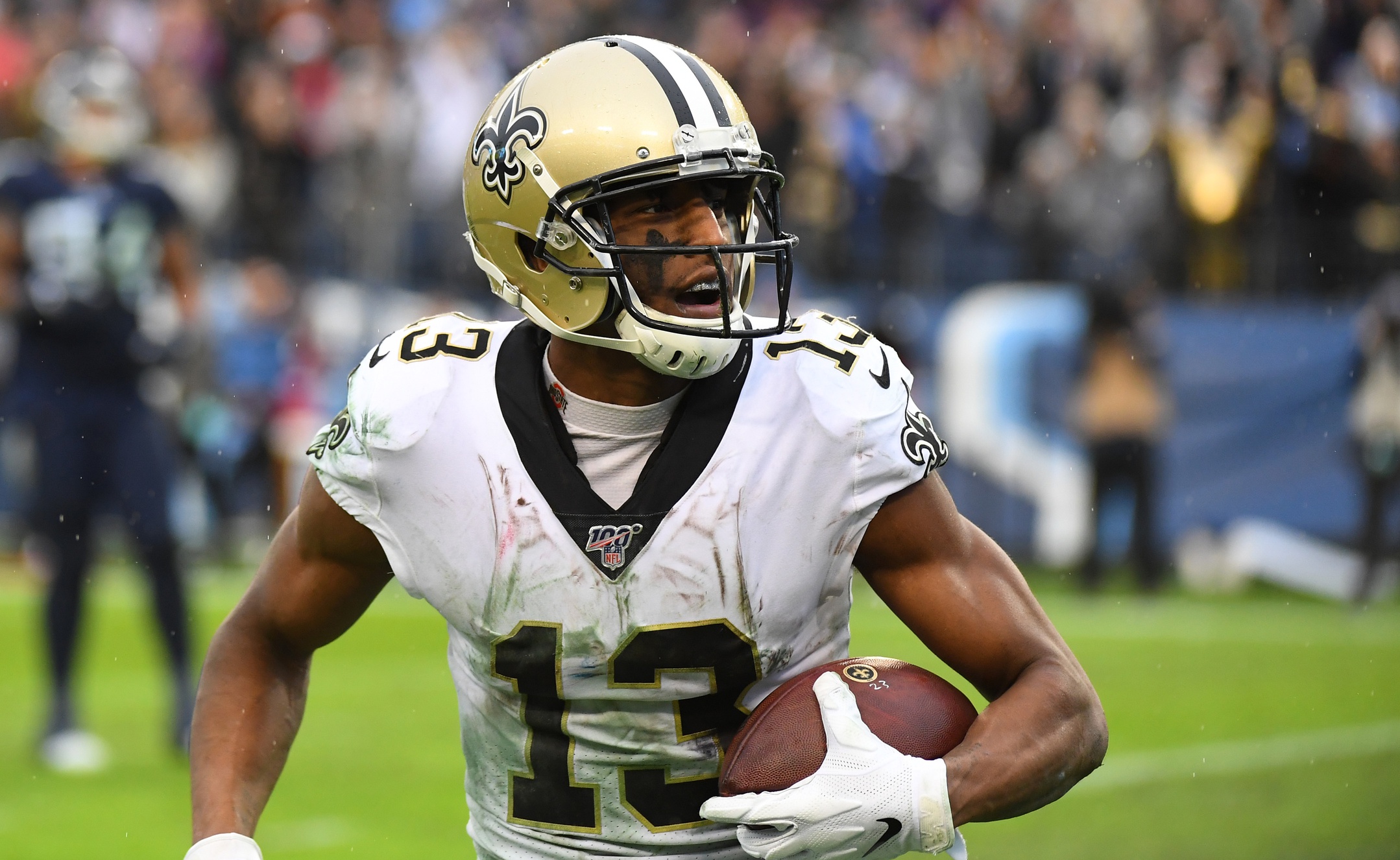 Like Julio Jones, Thomas was limited this season due to injury and saw only 54 targets in seven games. He didn't separate at a high rate, nor did he do much after the catch, but he was a monster at the catch point on contested targets, per usual. Thomas was the fifth-highest-graded receiver on contested targets this year, as he caught 11-of-15 to come away with the highest contested-catch rate in the NFL. He now ranks first in both contested catches (66) and contested-catch rate (62%) over the last four years.
Beasley was an exceptional complementary piece to Stefon Diggs this year, as he exploited holes in zone coverage from the slot all year long. No wide receiver has caught more targets through finding holes in zone this season than Beasley (35), a big reason why he's generated the NFL's highest rate of open targets.
Allen produced the eighth-lowest average depth of target among receivers (7.3) and posted the 14th-best PFF grade. He was a terrific possession receiver for Justin Herbert and the Los Angeles Chargers this season. No receiver turned more passes thrown short of the sticks into a first down (28); he also ranked fourth in contested catches (18) and eighth in drop rate (1.9%).
Ridley led all NFL wide receivers in total explosive plays of 15-plus yards generated in 2020 (40). And in terms of the percentage of targets that resulted in one of those explosive receptions, Ridley ranked second to only Julio Jones. Ridley has some excellent route-running chops, and that attribute did result in a bulk majority of those big plays, but he also held his own against tight coverage. Seven of those 40 15-plus-yard gains came when the defensive back forced tight coverage, which tied for the second-most in the NFL.
Landry had by far his best season yet as a Cleveland Brown, as his 84.1 PFF grade in the regular season was well above his 2019 (78.2) and 2018 (74.7) marks. One reason for the big swing was his performance on contested targets. Landry had been good in this area before, but he took that to a new level this year, finishing in the top five in contested-target receiving grade and contested-catch rate (70%). The veteran pass-catcher also joins Davante Adams and Justin Jefferson as the only receivers in the NFL to generate more than two yards per route run from both the slot and on the outside this year.
Hill was once again one of the league's premier deep threats, teaming up with Patrick Mahomes for six deep receiving touchdowns on which he had at least a step of separation on his coverage defender. That led the NFL this season and brought his four-year total to 22 such touchdowns (twice as many as any other receiver in that span). No receiver in the league can match Hill's ability to get behind the defense with ease.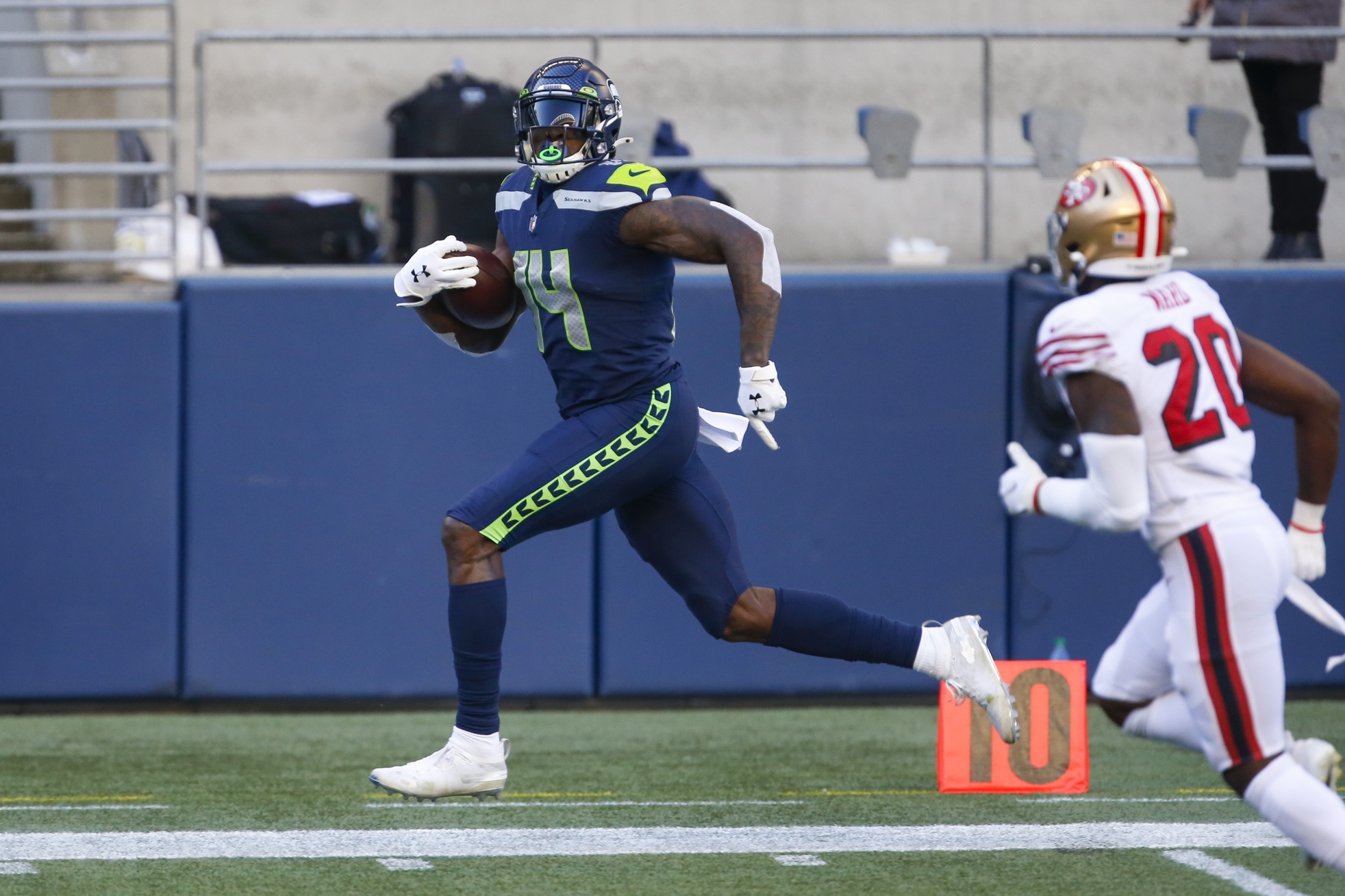 Metcalf may have run cold down the stretch — along with Russell Wilson and the entire Seattle offense — but he still managed to lead the league in deep receiving yards in the regular season with 480, all of which came against single coverage. Drops were once again an issue for Metcalf this season, and he now has 20 through his first two years in the NFL, but the countless wins downfield and on contested balls (he earned a top-10 receiving grade on such targets) sees him fall into the top 20 here.
Cooks is obviously not one who will win many battles in tight coverage, but he does win deep downfield with speed. In his first year as a Texan, that's precisely what he did. No wide receiver recorded more receptions over 20 yards downfield on which he had at least a step of separation on his coverage defender (13).
Kupp racked up a whole lot of production on horizontal routes in Sean McVay's offense this season; his 687 yards when being led across the field are the sixth-most in the league. Kupp came in second behind only A.J. Brown in both broken tackles (12) and yards after the catch per reception (6.7) on those same plays.
Aiyuk had a red-hot streak brewing, but it came to an end in Week 16 against the Arizona Cardinals in what was his final game as a rookie. He posted a poor 53.3 receiving grade, one drop and just one catch.
In his six games before that, though, Aiyuk was one of the most productive wide receivers in the league, generating 2.44 yards per route run and an 86.3 receiving grade.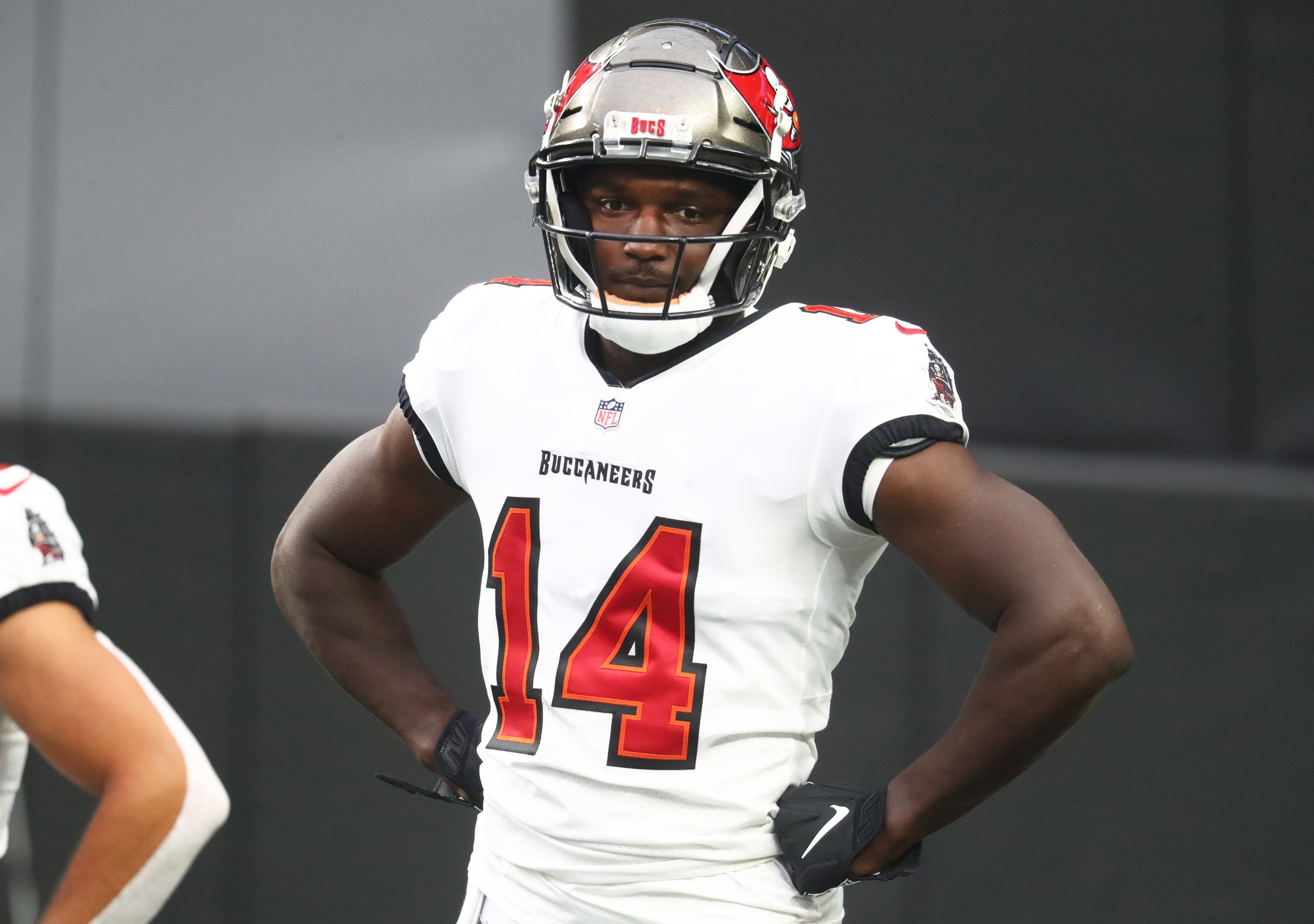 Godwin suffered through an injury-riddled 2020 campaign and took a bit of a step back from his big-time third-year breakout of 2019. His regular-season PFF grade fell from 90.7 to 79.7, the lowest of Godwin's career. Still, that was good enough to rank 22nd in the NFL. Godwin was one of the more reliable targets in the slot  — where he ran 67% of his routes — generating the highest catch rate (85.7%), second-highest passer rating when targeted (138.3) and highest contested-catch rate (caught nine of 11).
Shepard closed out his 2020 campaign with his two best games of the entire season, subsequently squeaking him into the top 25 with a 79.6 PFF grade for the year. He was one of 85 wide receivers to see at least 80 targets this season, and among that group, he was 11th in the percentage of catchable passes caught at 94.3%. Shepard hardly did anything vertically in Jason Garrett's offense, but he jumped to 16th in receiving grade on non-vertical route targets.
Moore notched 11 receptions that resulted in 30 or more yards this season, just one behind the league leader (D.K. Metcalf). Even with Teddy Bridgewater at quarterback, Moore was still able to tie for fifth in total deep receptions with 12. Seven of those 12 were contested deep grabs, the most in the entire NFL.
Meyers was sneakily one of the most productive wide receivers in the league despite putting up a goose egg in the touchdowns column due to Josh McDaniels pounding the rock in the red zone. The former UDFA generated 2.24 yards per route run, 10th at the position and second among second-year wide receivers behind only A.J. Brown.
---
More of PFF's postseason rankings