PFF grading can be a handy shorthand for fantasy football, but at its core it is still an evaluation of real-world performance. Opportunity, fluke numbers, and any number of other factors can all result in players who have wildly different fantasy outlooks than their PFF grades.
Case in point: LeGarrette Blount's 2016 season with New England. He finished as the No. 9 PPR running back despite only seven receptions, on the back of 1,161 rushing yards and a league-leading 18 rushing touchdowns. Both numbers were career-highs, with the touchdown total 11 better than his previous career-best. For that season, 62 running backs had enough carries to qualify, and of those 62, Blount's 58.7 PFF grade ranked 54th. By any player-evaluation measure, Blount wasn't very good that year — which helps explain why he barely found a job for 2017, barely found one for 2018, and has had no whisper around him this offseason — but his role in New England still lent itself to fantasy production.
Today, we're look at players whose 2018 grades are worse than their 2019 fantasy outlooks at what that might mean. (Check out Tuesday's piece on the opposite.)
Quarterback
2018 PFF grade: 58.5 (34th)
2018 fantasy point total: 168.3 (29th)
2019 PFF consensus ranking: 16th
Obviously, Jackson's fantasy point total suffers as a result of only being the starter from Week 11 on; over that stretch he was fifth in QB fantasy points. Even then, though, he only graded out 29th of 37 qualifying quarterbacks. In other words, Jackson has sky-high fantasy potential, but he's going to need to improve in a big way to show he's got anywhere near as much real-world value as he does fantasy. And that even holds true as a runner — Jackson had excellent rushing statistics, but it wasn't reflected in his grades, as his 57.0 season rushing grade ranked 33rd. Jackson has plenty of room to grow as an overall NFL player, but for now, his value is for fantasy.
2018 PFF grade: 63.0 (33rd)
2018 fantasy point total: 273.0 (15th)
2019 PFF consensus ranking: 18th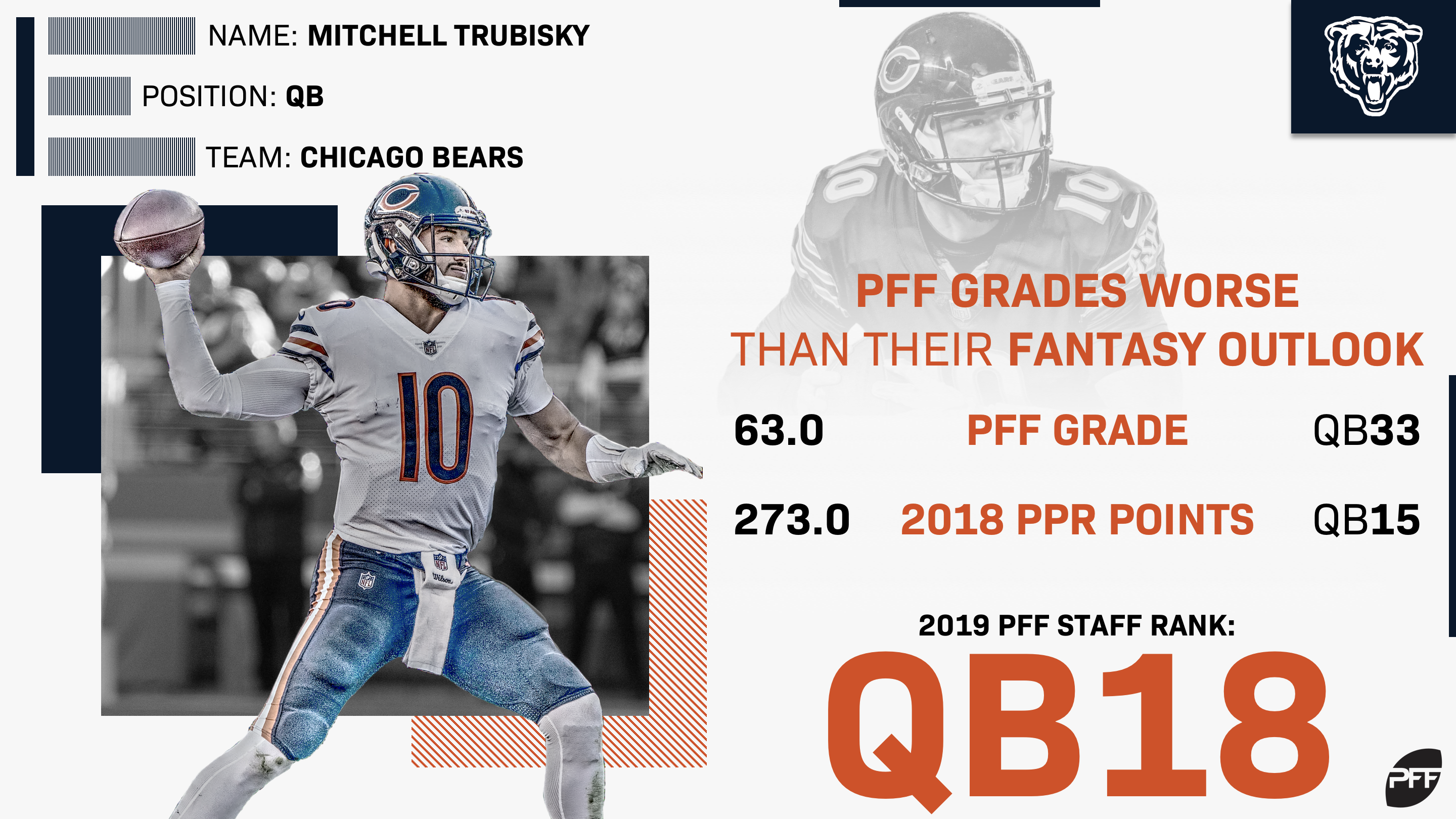 Like Jackson, Trubisky derived a lot of his fantasy value from his legs. Unlike Jackson, he showed to be completely worth it, running away (pun intended) with the top PFF rushing grade (88.1) among all quarterbacks in 2018. His passing grade, though, left a lot to be desired, a 56.5 mark that was down in the Cody Kessler/Jeff Driskel zone. The Bears return basically the same stable of weapons in 2019, save for subbing David Montgomery in for Jordan Howard, so the team's offense will depend on Trubisky making strides. Still, his load of options and rushing ability mean Trubisky should be at least worth a bench slot in fantasy.
2018 PFF grade: 65.3 (27th)
2018 fantasy point total: 222.1 (21st)
2019 PFF consensus ranking: 22nd
Allen's an interesting case. Everything about his 2018 profile would indicate he's the player Jackson maybe was expected to be — good deep passing, not much as a passer beyond that, excellent rushing. And if that's what Allen is for his career, he'll maintain good fantasy value even if he's never any great shakes for real football. But it's also not at all what we might have expected out of the rookie based on his college numbers. He ran more (and better) as a rookie than we ever might have expected coming in. Is that for real? We'll see.
Running back
2018 PFF grade: 63.9 (47th)
2018 fantasy point total: 248.6 (9th)
2019 PFF consensus ranking: 5th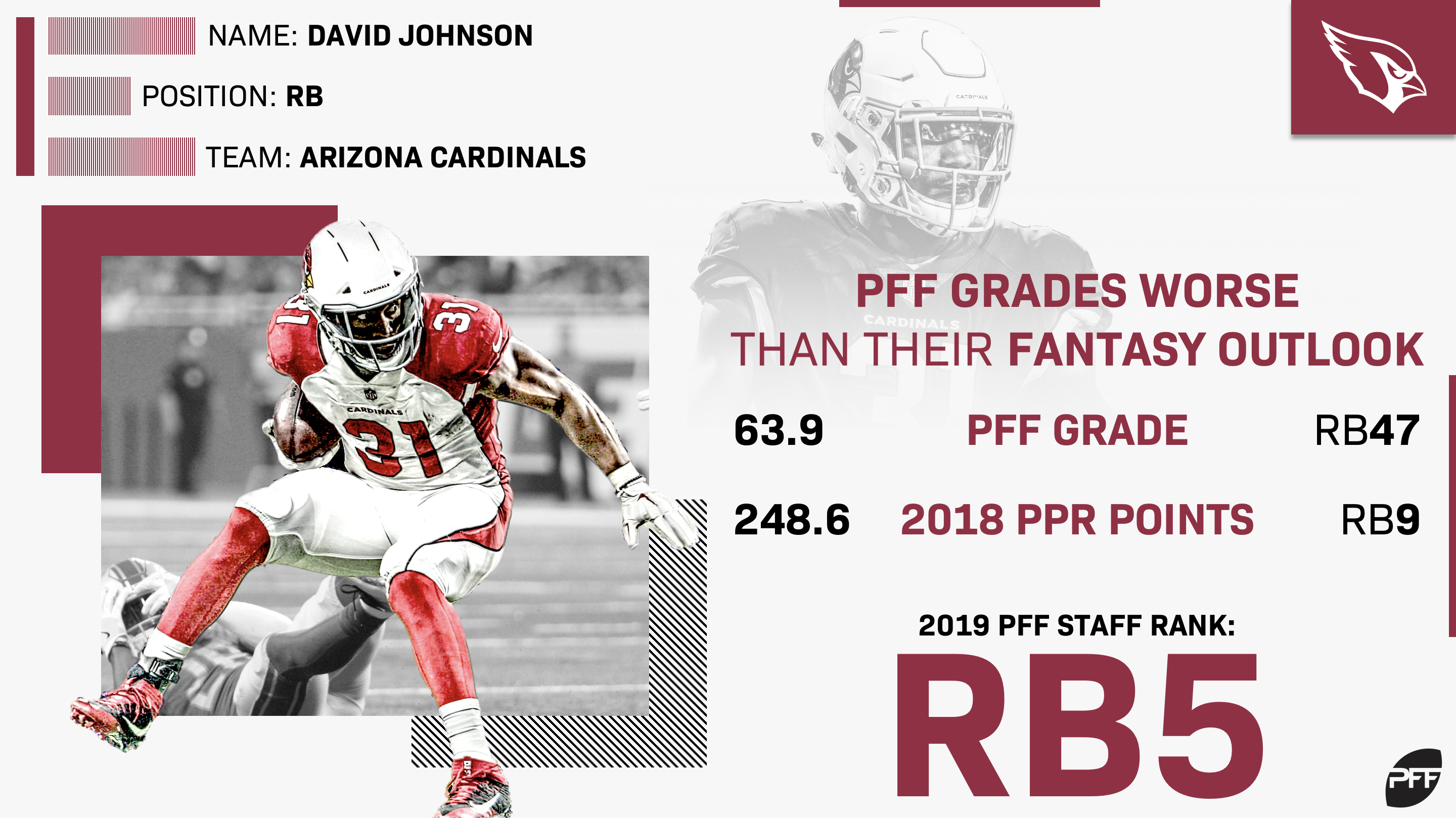 Ostensibly, PFF grading separates everything a player does from his teammates and gives a unique view at just what he did independent of all else. And it's pretty good at it. But for some players — and running back might be the best example — it's simply impossible to completely extricate the individual player from his surroundings. Johnson struggled from a grading perspective last year, and did so in part because there was no way to find an avenue to success as part of that execrable Cardinals offense. In Johnson's last full season, he had a 79.9 overall grade (90.0 as a receiver), and with an overhauled offense and new head coach in Kliff Kingsbury, there's every reason to think his grade will rise in 2019 to meet his fantasy potential.
2018 PFF grade: 65.8 (45th)
2018 fantasy point total: 208.2 (14th)
2019 PFF consensus ranking: 27th
If you're in a bar that does weird bets, you could probably win a bar bet on where Drake finished in fantasy in 2018. His reputation is that of a disappointment, a guy who struggled to hold onto a starting gig. I would bet most casual observers would have had him finishing in the late 20s instead of solidly as a high-end RB2. His grades better illustrate the disappointment and were a far cry from his 74.7 (81.3 as a runner) grade in 2017. His 2019 ranking falls between the two, showing that Drake should have more opportunity than his lackluster grade might indicate but not as much as you'd want from a No. 1 back, with the Dolphins reluctant to commit to him full-time.
Wide receiver
2018 PFF grade: 60.9 (90th)
2018 fantasy point total: 82.8 (85th)
2019 PFF consensus ranking: 43rd
Crowder looked like he could be a real fantasy factor after his second season in 2016, when he had 847 yards and 7 touchdowns as a 23-year-old, finishing as the No. 30 fantasy receiver despite having to contend with Pierre Garcon, DeSean Jackson, and Jordan Reed for targets. He's struggled to recreate that since, with only five touchdowns across two seasons and a disappointing and injury-plagued 2018 season that featured only 388 yards and 2 scores. Now with the Jets, though, Crowder should be the top slot option for high-potential young quarterback Sam Darnold, and a No. 43 ranking might be conservative.
2018 PFF grade: 64.7 (71st)
2018 fantasy point total: 62.7 (100th)
2019 PFF consensus ranking: 46th
Coutee's best game isn't even reflected in these rankings, as he caught 11-of-14 targets for 110 yards and a score (123.2 passer rating when targeted) in the Texans' Wild Card loss to the Colts. Even with that game, though, Coutee's grade only would have risen to 59th. In Coutee's healthy games, though, he averaged 17.2 PPR points per game, and he should combine with DeAndre Hopkins and Will Fuller to form one of the league's best three-headed monsters at receiver if all are healthy, and his stock is even higher if Fuller isn't all the way healed.
2018 PFF grade: Tate 70.1 (48th), Shepard 67.3 (62nd)
2018 fantasy point total: Tate 180.9 (28th), Shepard 180.5 (29th)
2019 PFF consensus ranking: Tate 34th, Shepard 41st
Tate had what can only be described as a failed tenure in Philadelphia, putting up 278 yards and one touchdown across eight games, but his grade with the Lions wasn't that much better, even if his production was. Shepard, meanwhile, struggled with Eli Manning's diminished play. Now paired in New York, we'll see if the two receivers can make the most of Manning and if the team can figure out how best to utilize both guys, but there is room for both to produce if they can work it out.
Tight end
2018 PFF grade: Olsen 67.0 (22nd), Thomas 54.0 (37th)
2018 fantasy point total: Thomas 81.3 (24th), Olsen 80.1 (25th)
2019 PFF consensus ranking: Olsen 16th, Thomas 29th
Olsen and Thomas are on different sides of the aging spectrum, with Olsen entering his 13th season and Thomas entering his second. Their respective stocks will likely come down to Olsen's health in 2019; he's had a bad two years as injury has started to catch up with the veteran (he's played a total of 16 games the last two seasons after playing a full 16 every year 2008-2016), but his points per game would have had him as a fringe TE1 last year if he had played 16. Thomas, meanwhile, had the regular struggles of a rookie tight end, but was the No. 6 fantasy tight end in Weeks 13-17 as Olsen was fully shelved.
2018 PFF grade: 59.4 (31st)
2018 fantasy point total: 130.6 (12th)
2019 PFF consensus ranking: 18th
Graham has clearly been on the decline in recent years, with his overall grade falling from 84.1 in 2016 to 66.0 in 2017 to last year's 59.4. And while his touchdown success (10 scores on 92 targets) kept him fantasy-relevant with the Seahawks in 2017, that vanished with the Packers in 2018 (2 touchdowns on 83 targets) and wiped out a huge chunk of his fantasy value. That deterioration explains why Graham's 2019 ranking sits so low, but if he can regain any of his touchdown luck, his stock could rise.