It's fair to debate the virtues of handcuffing (drafting your starting running back's backup) in fantasy football. There are pros and cons on both sides of that, with believers both ways. But it's a practice that persists. It's almost exclusively running backs, though. What about wide receivers?
Obviously, handcuffing wide receivers is a more difficult undertaking than doing so with running backs. For one thing, teams employ so many more wide receivers at a given time than running backs that it's harder to just stash someone. When James Conner went down last year, it was easy and fairly obvious to snap up Jaylen Samuels. But when Emmanuel Sanders got hurt, his work was largely divvied between Courtland Sutton, DaeSean Hamilton, and Tim Patrick, and the end result was an amalgam of disappointment that didn't help anyone in fantasy.
So receiver handcuffing is never going to have its defenders like running back handcuffing does. And it shouldn't. But for some teams, there is a reasonable name who could slide in and become a fantasy producer if even one person from the top of the depth chart gets hurt, and those few names are viable stashes in fantasy.
These are the 2019 receiver handcuff options.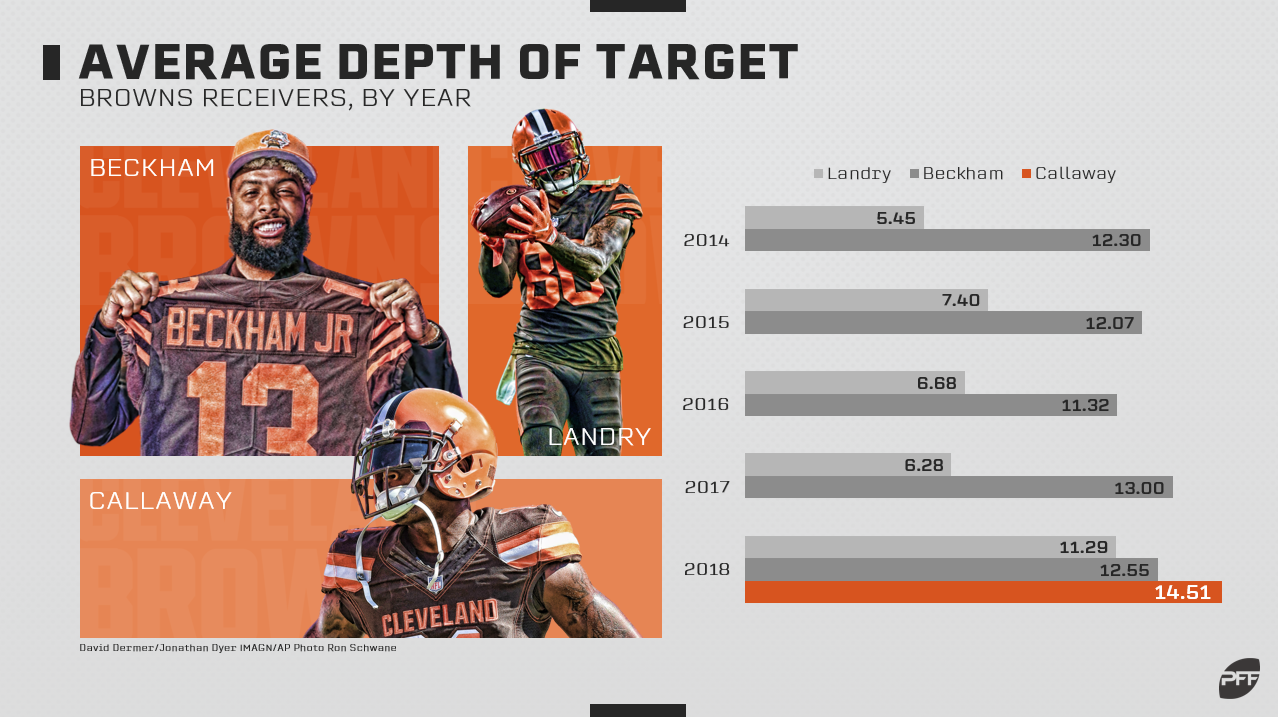 Odell Beckham Jr. has been in the league for five seasons now and played all 16 games once. His now and former teammate Jarvis Landry has played 80 of 80 possible games in that time, so it's a different world in that regard, but the two of them should combine to dominate the target share in Cleveland now that they've been paired up. Callaway is a deeper threat than either of the guys ahead of him has been so far in their respective careers (Callaway's average depth of target in 2018 was 14.5 yards; Landry's 11.3 blew away his previous career-high, while Beckham has never topped 13 yards), but he showed flashes in 2018 that he could be productive with an opportunity. If either of the top two Browns receivers goes down, Callaway is the likely beneficiary.
Our own Scott Barrett is on record as saying that Coutee could have significant fantasy value in his own right. And I like Coutee as much as anyone, but offenses that can maintain three fantasy-relevant receivers at once are rare, and DeAndre Hopkins and Will Fuller are almost certain to sit ahead of Coutee in the pecking order. Fuller, though, has played only 31 games in three seasons and has to recover from a Week 8 ACL tear, which should worry fantasy players. If Fuller can't play the full year (and/or if something happens to Hopkins), Coutee could make Barrett look very smart.
The plan when the Bengals drafted Ross two years ago was that they'd definitely have a top-of-the-line combo at receiver in the 2019 season. The only unexpected part was that the running mate to A.J. Green was supposed to be Ross, not 2018 breakout Tyler Boyd. Among 129 receivers with at least 50 targets over the last two years, Ross' 51.2 PFF receiving grade ranks a cool 129th, while Boyd rose from 828 yards over his first two years combined to 1,028 in 2018 alone. Working in Ross' favor, though, is the fact that the Bengals just brought in a new head coach in Zac Taylor who has a history (from his time with the Rams) of utilizing a three-receiver offense, and the fact that Ross is entering his third year, the same year Boyd broke out and a popular breakout year for receivers. With Green growing older and more brittle and Boyd coming off a season-ending injury himself, Ross could get a shot.
I've beaten the Reynolds drum a frustrating amount this offseason for a player I don't actually think is that good. It's really just role-related. The Rams offense is one that uses three receivers heavily. If Robert Woods, Brandin Cooks, and Cooper Kupp play all 16 games, I wouldn't count on much at all out of Reynolds. But if any of them misses time (and Kupp still has to show he has recovered from an ACL tear), Reynolds will see a boost, just as he did in the second half of 2018.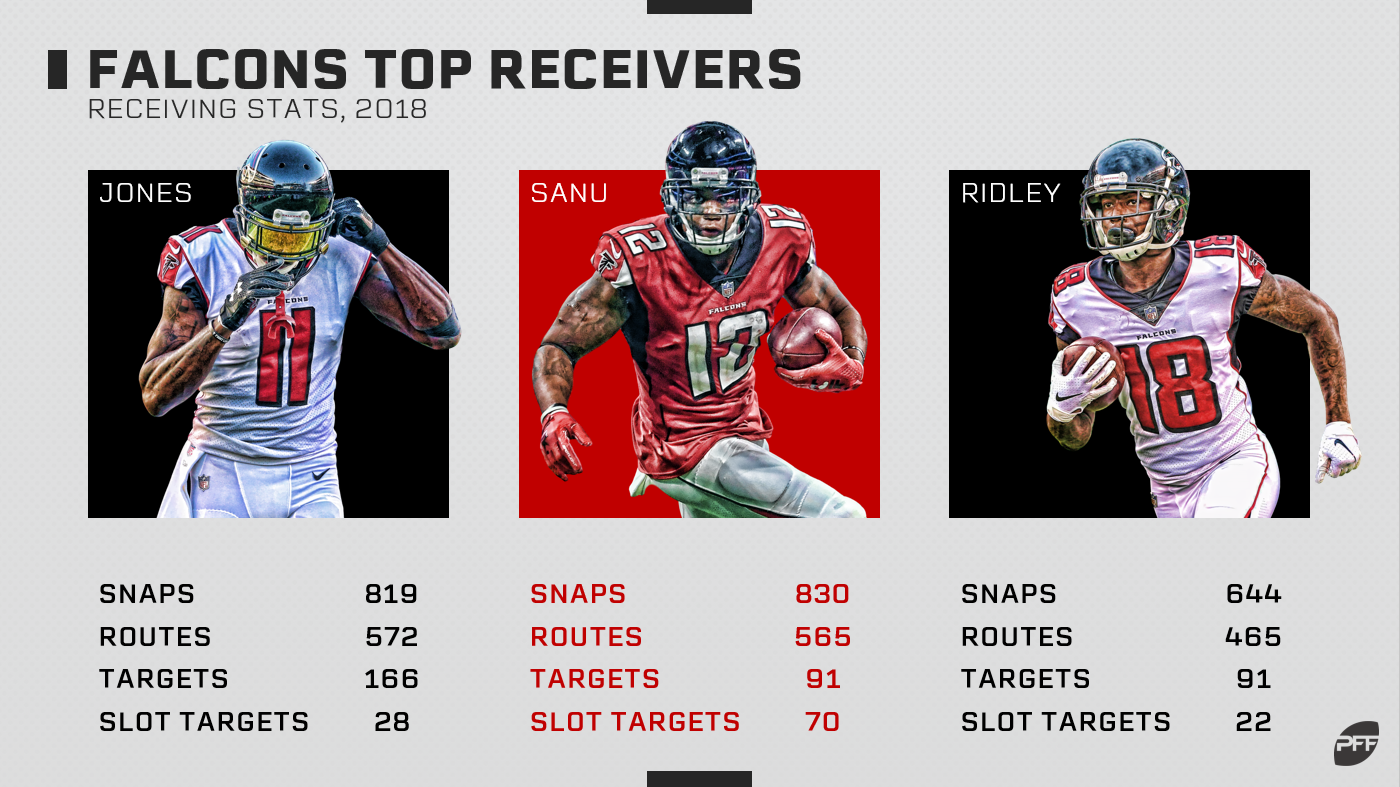 Sanu played almost 200 more snaps than Calvin Ridley last year and ran 100 more routes, though they ended the year with identical totals of 91 targets. And while Sanu is definitely more of a slot presence than Ridley (he ran 75.6% of his routes there, compared to 24.3% for Ridley), you'd expect Ridley's workload to only grow as he enters his second season, and that would likely come at the expense of Sanu. Still, Sanu will have a role in this offense as the slot weapon, and if anything happens to Ridley or Julio Jones, we know Sanu is capable of taking on a bigger role.
The Chargers had two Williamses a year ago (Mike and Tyrell), and while Tyrell is more of the field-stretcher while Mike is more of the big end-zone guy, their average depths of target (15.6 yards for Mike, 13.3 for Tyrell) were close enough that you could imagine one filling in for the other if anything had happened to either (it didn't) far better than they could fill in for the team's No. 1, Keenan Allen (with a 9.5-yard aDOT). But with Tyrell gone now, the Chargers will lean heavily on Allen and Mike Williams (and returning tight end Hunter Henry) in 2019. But the team did extend Benjamin through 2020 this offseason, and should something happen to Mike Williams, the depth chart is shallow enough that Benjamin should find himself productive.
The Raiders have overhauled their receiving corps this offseason. Gone is every 2018 receiver or tight end who saw more than 30 targets, and in are Antonio Brown, Tyrell Williams, Ryan Grant, and Nelson. Brown is the everywhere man, while Williams is the field-stretcher and Grant is more likely to be used as a slot option. Nelson? He is Williams to the nth degree, with an average depth of target over the last two years (19.3) that is 1.5 yards deeper than any other receiver in the league. Grant and Nelson won't have much to do with one another from a playing time perspective, but if anything should happen to Brown or (especially) Williams, Nelson could be an intriguing DFS and/or best ball play.
Miller, Allen Robinson and Taylor Gabriel all had average depths of target between 10.9 and 12.6 yards in 2018. The each saw between 15 and 24% of their targets from the slot, averaged between 10 and 14 yards per reception, and scored between 0.19 and 0.21 PPR points per snap played. On the other hand, Robinson saw 94 targets, Gabriel 91, and Miller 54, while on the other hand, Robinson scored 4 touchdowns, Gabriel 2, and Miller 7. It's not hard to see a reason Miller's touchdown success might fall off in his second year, but assuming health, his playing time should increase. And with all three used somewhat similarly, if anything should happen to either Robinson or Gabriel, Miller could see a jump.