PFF grading can be a handy shorthand for fantasy football, but at its core it is still an evaluation of real-world performance. Opportunity, fluke numbers, and any number of other factors can all result in players who have wildly different fantasy outlooks than their PFF grades.
Case in point: LeGarrette Blount's 2016 season with New England. He finished as the No. 9 PPR running back despite only seven receptions, on the back of 1,161 rushing yards and a league-leading 18 rushing touchdowns. Both numbers were career-highs, with the touchdown total 11 better than his previous career-best. For that season, 62 running backs had enough carries to qualify, and of those 62, Blount's 58.7 PFF grade ranked 54th. By any player-evaluation measure, Blount wasn't very good that year — which helps explain why he barely found a job for 2017, barely found one for 2018, and has had no whisper around him this offseason — but his role in New England still lent itself to fantasy production.
Today, we're look at players whose 2018 grades are better than their 2019 fantasy outlooks at what that might mean. Wednesday, we'll look at the inverse.
Quarterback
2018 PFF grade: 90.8 (4th)
2018 fantasy point total: 289.0 (14th)
2019 PFF consensus ranking: 20th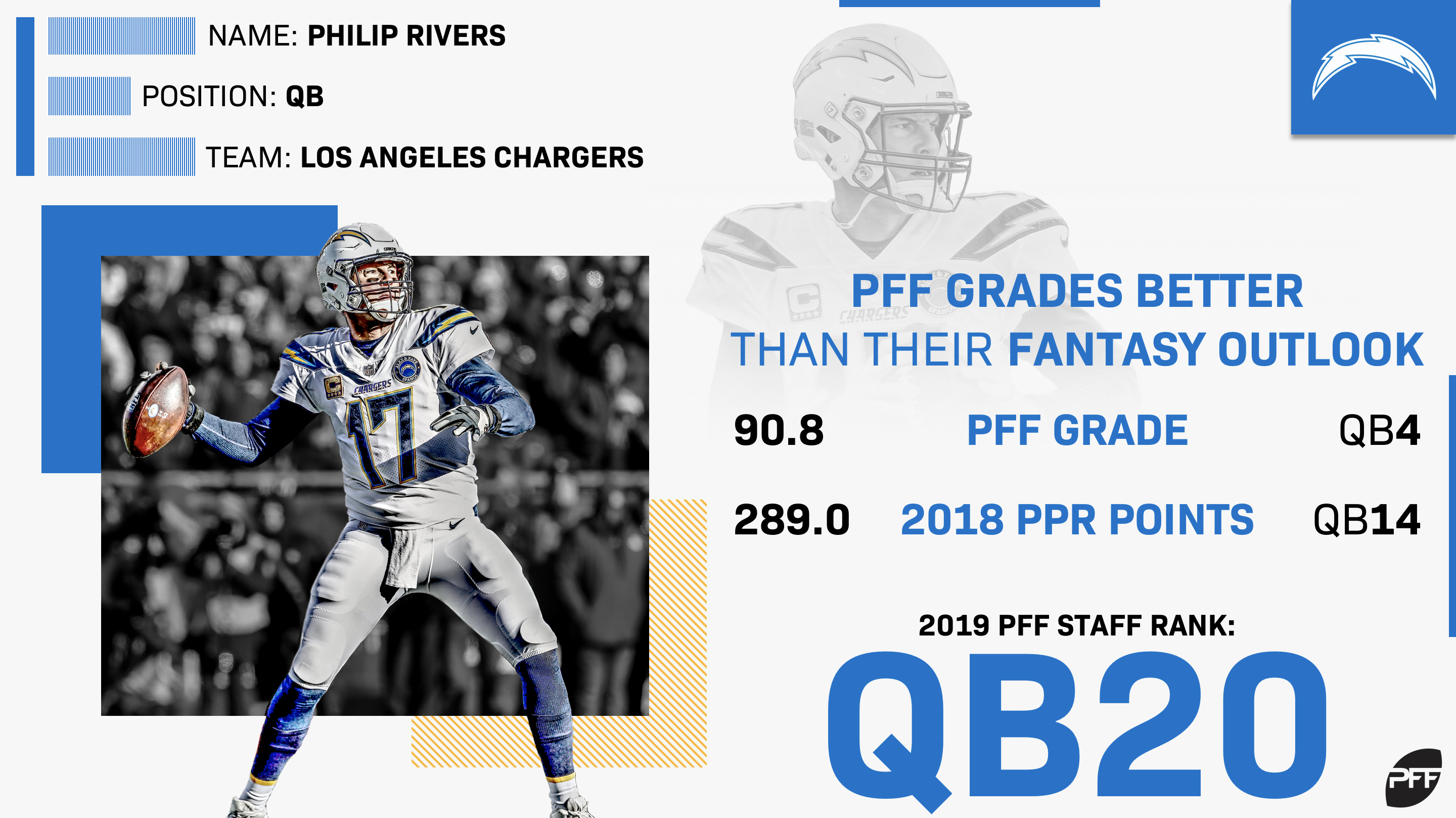 Rivers just put up his best overall PFF grade since 2010, improving his grade by 10 point over 2018 and 20 over 2016. He would have been a bona fide MVP candidate in a year that hadn't included the Patrick Mahomes/Drew Brees years. He equaled his best passer rating, threw for his third-most touchdowns, and put up his best yards per attempt since that 2010 season. Despite that, Rivers finished only 14th in fantasy points, and although he was within 20 points of seventh place, our rankers have him barely inside the top-20 for 2019. The reason? Lack of upside. Rivers contributes essentially nothing on the ground — he hasn't scored a rushing touchdown since 2011, has only topped 100 rushing yards in a season once (2014), and has 580 total rushing yards in 15 seasons — and has never reached 35 touchdowns passing scores in a season. Not many quarterbacks are safer for 4,000 yards and 25 touchdowns, but if you need any sort of ceiling, Rivers isn't your guy.
2018 PFF grade: 90.7 (5th)
2018 fantasy point total: 294.7 (12th)
2019 PFF consensus ranking: 17th
Contrary to Rivers, Brady's 2018 grade was actually his worst since 2014, as he's been playing at an other-worldly level in recent years (his combined grade over the last four years is the best at any position by a healthy amount). But everything else about Brady's current profile aligns with Rivers' — he's safe for 4,000-plus yards (he's topped it in every full season since 2010, 25-plus touchdowns (every year since 2009), and virtually no rushing contribution (hasn't topped 70 yards in a season since 2011) but lacks the ceiling of the quarterbacks ranked higher. Add in the fact that Brady turns 42 in August and his age has to catch up to him eventually, and it's easy to understand why our rankers are skeptical of him continuing to exist at the top of the heap.
Running back
2018 PFF grade: 87.0 (2nd)
2018 fantasy point total: 202.8 (16th)
2019 PFF consensus ranking: 18th
Henry's season — from both a fantasy perspective and a grades one — was really elevated by his last-month hot stretch. Entering Week 14, he was 39th in PPR points, 23rd in PFF rushing grade. His inconsistency is a scare mark on his 2019 outlook, especially considering Dion Lewis is still around. And of course, Henry is the anti-PPR back, which is always going to limit his upside.
2018 PFF grade: 85.3 (5th)
2018 fantasy point total: 205.4 (15th)
2019 PFF consensus ranking: 24th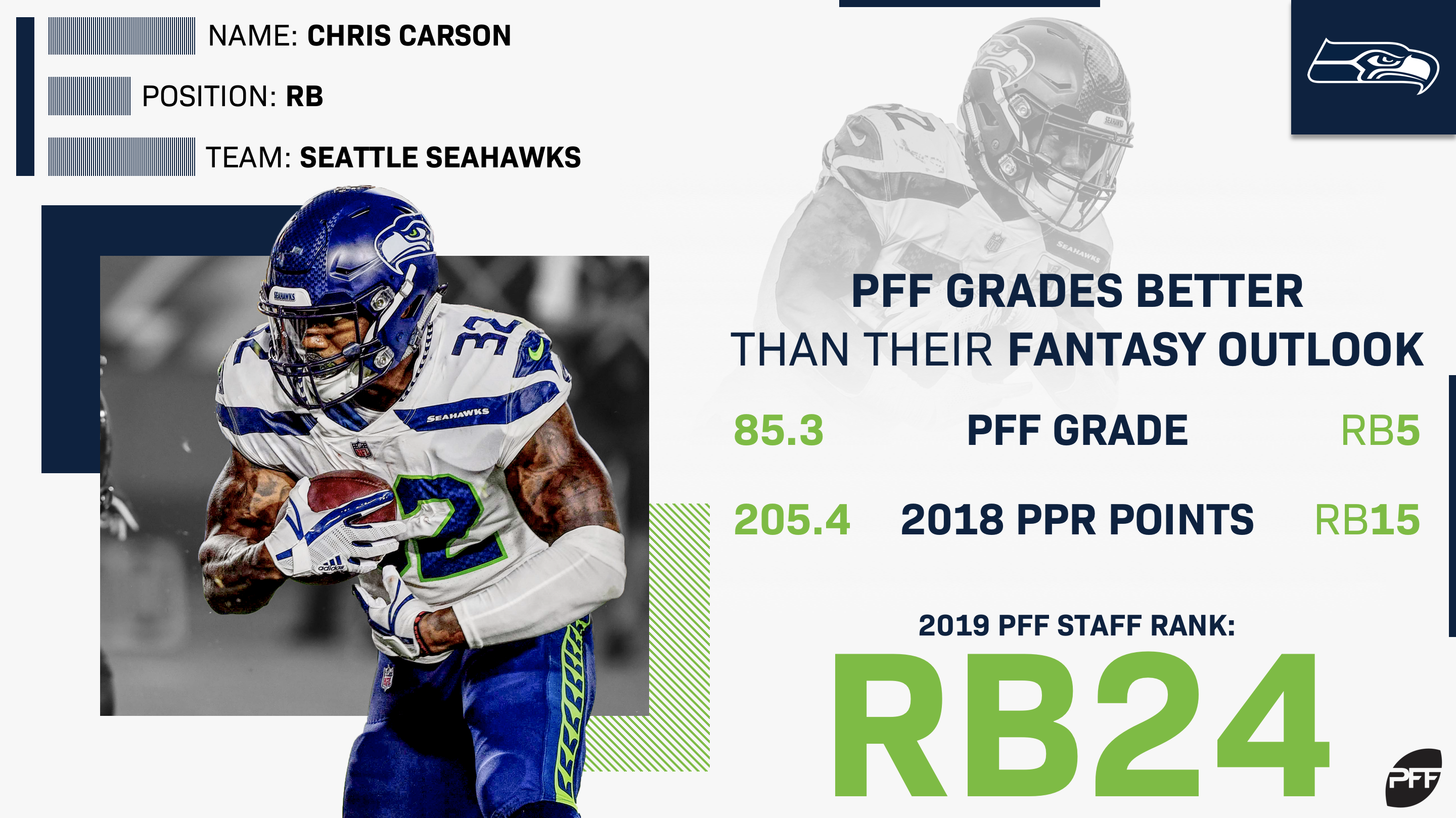 Despite topping 1,000 rushing yards in 2018 and leading either the first- or second-run-heaviest offense in the league in 2019, Carson only ranks as a low-end RB2 or flex option due in large part to one thing: Competition. Carson commanded nearly 60% of the Seahawks' backfield carries in 2018 in games he was active, and even with Mike Davis departing in free agency, Carson could see his work drop if 2018 rookie Rashaad Penny gets more to do in 2019, as expected. Add to that Carson's lack of heavy contribution in the receiving game — Carson has 27 career receptions in 18 career games — and his excellent skills as a ball-carrier just don't translate to upper-echelon fantasy performance.
2018 PFF grade: 85.1 (6th)
2018 fantasy point total: 170.8 (25th)
2019 PFF consensus ranking: 34th
Obviously, Ekeler is behind Melvin Gordon (who ranked third in PFF grades in 2018) on the Chargers depth chart, and that's fair. So this isn't as much about why Ekeler is lower-ranked than his grade would indicate (that answer's obvious) as it is about an appreciation of Ekeler's performance across his first two seasons. He went undrafted and without a combine invite in 2017 and signed for a pittance with the Chargers and has rewarded that contract with the fourth-highest PFF running back grade over the last two years (86.2), behind only Alvin Kamara, Henry, and Kareem Hunt. It remains to be seen whether Ekeler could be a bell cow back if something were to happen to Gordon, but he's already returned value on what it cost the Chargers to acquire him.
Wide receiver
2018 PFF grade: Green 85.2 (11th), Boyd 84.6 (12th)
2018 fantasy point total: Green 151.4 (42nd), Boyd 221.1 (15th)
2019 PFF consensus ranking: Green 11th, Boyd 24th
Clearly, Green isn't ranked anywhere below his PFF grade — it's in fact the exact same. But taken as a unit, the Bengals' top two receivers will have a tough time returning the value their grades appear to offer. If Green comes back and is vintage A.J. Green, there might not be enough offense in the Bengals system to support Boyd. If Green can't show he's healthy, or if Boyd surpasses him on the totem pole, then Green might not have the fantasy value we're used to. Either way, one of them is likely to fall short of what we'd expect out of their grades.
2018 PFF grade: 83.0 (14th)
2018 fantasy point total: 96.7 (77th)
2019 PFF consensus ranking: 64th
Wilson's fantasy numbers look much better on a points-per-game basis, pulling him up to 24th after he missed nine games with a hip injury. He had two monster games (155 receiving yards and two touchdowns in Week 6; 74 receiving yards, 1 receiving touchdown, and 1 52-yard touchdown pass in Week 3) with under 200 yards and one score in his other five games, but Wilson did put up an incredible 13.3 yards after the catch per reception in his time on the field, 5.4 yards better than any other receiver in the league. That level of performance, combined with the Dolphins bottoming out at almost every position and massive questions surrounding quarterbacks Josh Rosen and Ryan Fitzpatrick, will keep Wilson's fantasy stock low.
Tight end
2018 PFF grade: 82.5 (4th)
2018 fantasy point total: 82.6 (22nd)
2019 PFF consensus ranking: 32nd
When he was targeted in 2018, Everett was fine, generating a 99.3 passer rating when targeted and going for a first down on more than half of his receptions (17 of 33). That said, he wasn't targeted much, with only 3.0 target per game in a Rams offense that focused more on its receivers than it did on its tight ends. And there's every reason to expect that to continue in 2019, with few changes in personnel on the Los Angeles offense, which is why Everett's fantasy stock is essentially nonexistent.
2018 PFF grade: 75.7 (7th)
2018 fantasy point total: 107.2 (17th)
2019 PFF consensus ranking: 20th
Andrews was a pleasant surprise as a rookie, with 552 yards and 3 touchdowns that aren't that impressive in a vacuum but are nice to see from a rookie tight end. Still, you could argue he's going to have a hard time equaling that in 2019, let alone coming anywhere near his overall grade ranking, simply because of a lack of opportunity. Andrews is on a Ravens team that could run away with the title of run-heaviest team in 2019 under Lamar Jackson, and with Marquise Brown and Miles Boykin added to the depth chart and Hayden Hurst expected to be healthy for the full year, Andrews could struggle to get enough targets to be a big fantasy contributor.