Pro Football Focus is here to break down the most efficient fantasy football players leading into Week 4 of the 2018 NFL season. This article breaks down which running backs, wide receivers, and tight ends have the best matchups of the week.
To help you understand which players have been making the most of their opportunities from a fantasy perspective — and which teams are giving up the most points — we're here to bring you the goods.
This weekly post highlights:
RBs in fantasy points per touch
WRs in fantasy points per target
TEs in fantasy points per target
Defenses that give up the most per-opportunity points to RBs, WRs, and TEs
Here are your leaders on a per-touch and per-target basis entering Week 4.
Running backs
Top RBs in Fantasy Points Per Touch

Player
Touches
FP
FP/T
James White
27
45.1
1.67
Javorius Allen
29
47.2
1.63
Austin Ekeler
31
46.5
1.50
Chris Thompson
35
49.8
1.42
Theo Riddick
21
28.8
1.37
Alvin Kamara
67
91
1.36
Jalen Richard
22
29.1
1.32
Melvin Gordon III
56
72.6
1.30
Jay Ajayi
23
27.9
1.21
Matt Breida
39
45.7
1.17
Isaiah Crowell
42
47.2
1.12
Ty Montgomery
20
22.2
1.11
Todd Gurley
73
78.6
1.08
Nyheim Hines
27
29
1.07
Wendell Smallwood
21
22.1
1.05
Giovani Bernard
29
29.7
1.02
Saquon Barkley
67
68.3
1.02
James Conner
68
68.1
1.00
Tarik Cohen
21
20.4
0.97
Christian McCaffrey
68
64.8
0.95
(Min. 20 touches)
James White isn't quite as under-the-radar as he has been in previous years, but he still doesn't get the level of attention he should. Sitting at RB15 through three weeks, White ranks first in fantasy points per touch, with 1.67. White is an every-week starter in PPR leagues.
Matt Breida ranks 10th among qualifying running back with 1.17 FP/T, and while the season-ending injury to Jimmy Garoppolo is a blow to San Francisco's scoring upside, it may not be the worst thing for Breida's value in PPR leagues. As our own Scott Barrett noted, 49ers' backup QB C.J. Beathard targeted running backs more often last year than any other quarterback in the past 10 years. He also led quarterbacks in running back targets this preseason.
Left: No quarterback targeted running backs more frequently this past decade than 2017 C.J. Beathard.

RIght: No quarterback targeted running backs more frequently this preseason than C.J. Beathard. pic.twitter.com/o9vDkUY5SQ

— Scott Barrett (@ScottBarrettDFB) September 25, 2018
Giovani Bernard ranks 16th with a strong 1.02 FP/T through three weeks, further indicating that he should be in starting lineups for as long as Joe Mixon is sidelined. Bernard was the No. 7 running back in Week 3, and if Mixon sits again in Week 4, Bernard has the legitimate potential to finish the week as the top-scoring running back. Cincinnati's Week 4 opponent, the Falcons, have given up the fifth-most FP/T to opposing running backs, including a league-high 34 receptions ceded to the position.
James Conner has not just been good because he's filling he's assuming the high-volume Le'Veon Bell role. Conner has been highly efficient with his touches in his own right. Among running backs with 50 touches, he ranks behind only Alvin Kamara, Melvin Gordon, Todd Gurley, and Saquon Barkley. Not bad company. Conner does have a tough divisional matchup against the Ravens (third-fewest FP/T ceded to RBs) this week, though, so even though his volume makes him starter-worthy for your fantasy squad, this might be the first week he isn't viewed as a bona fide RB1.
Wide receivers
Top WRs in Fantasy Points Per Target

Player
Targets
FP
PPT
DeSean Jackson
14
61.2
4.37
Calvin Ridley
15
56
3.73
Tyreek Hill
18
63
3.50
Kenny Stills
13
45.4
3.49
Mike Williams
14
47.9
3.42
Tyler Lockett
15
49.6
3.31
Albert Wilson
11
34.2
3.11
Jakeem Grant
12
34.5
2.88
Geronimo Allison
17
45.9
2.70
Tyler Boyd
20
51.9
2.60
Mike Evans
30
77.7
2.59
Will Fuller V
18
46.4
2.58
Cooper Kupp
18
45.6
2.53
Chris Godwin
19
48.1
2.53
A.J. Green
25
61.9
2.48
Jordy Nelson
16
39.6
2.48
Dede Westbrook
14
34.3
2.45
Michael Thomas
40
95.8
2.40
Emmanuel Sanders
22
50.8
2.31
Chris Hogan
12
27.4
2.28
(Min. 10 targets)
Calvin Ridley quietly appeared in the top 20 in terms of fantasy points per target (PPT) last week, and the matchup against the Saints was ideal (they rank last in fantasy PPT given up to enemy receivers), so Ridley's huge game shouldn't have come as a shock. The Week 4 tilt against the Bengals will be a lot harder, though: Cincinnati has given up the third-fewest PPT to opposing receivers. This may not be the week to chase Ridley's points.
Geronimo Allison is the No. 26 fantasy receiver on the year while commanding a healthy — albeit fourth in line — 15.6 percent target share in Green Bay's offense. Allison ranks ninth among receivers in PPT this year and he leads Green Bay with 209 passing yards. Allison is emerging as Green Bay's deep threat: his 13.4-yard average depth of target is first on the team (min. three targets). His Week 4 matchup against the Bills is unimposing, and Allison should be viewed as a strong flex option moving forward.
Los Angeles Chargers wideout Mike Williams is turning heads after three straight strong games to begin the year (5-81-0 Week 1 against the Chiefs; 2-27-1 Week 2 against the Bills; 4-81-2 Week 3 against the Rams). Williams has a deep aDOT (15.9 yards) coupled with a high catch rate (79 percent) plus red-zone and end-zone looks. Williams is a viable flex option in Week 4 against the 49ers, who have given up the ninth-most fantasy points to opposing receivers on the year, including five touchdowns to the position in three weeks.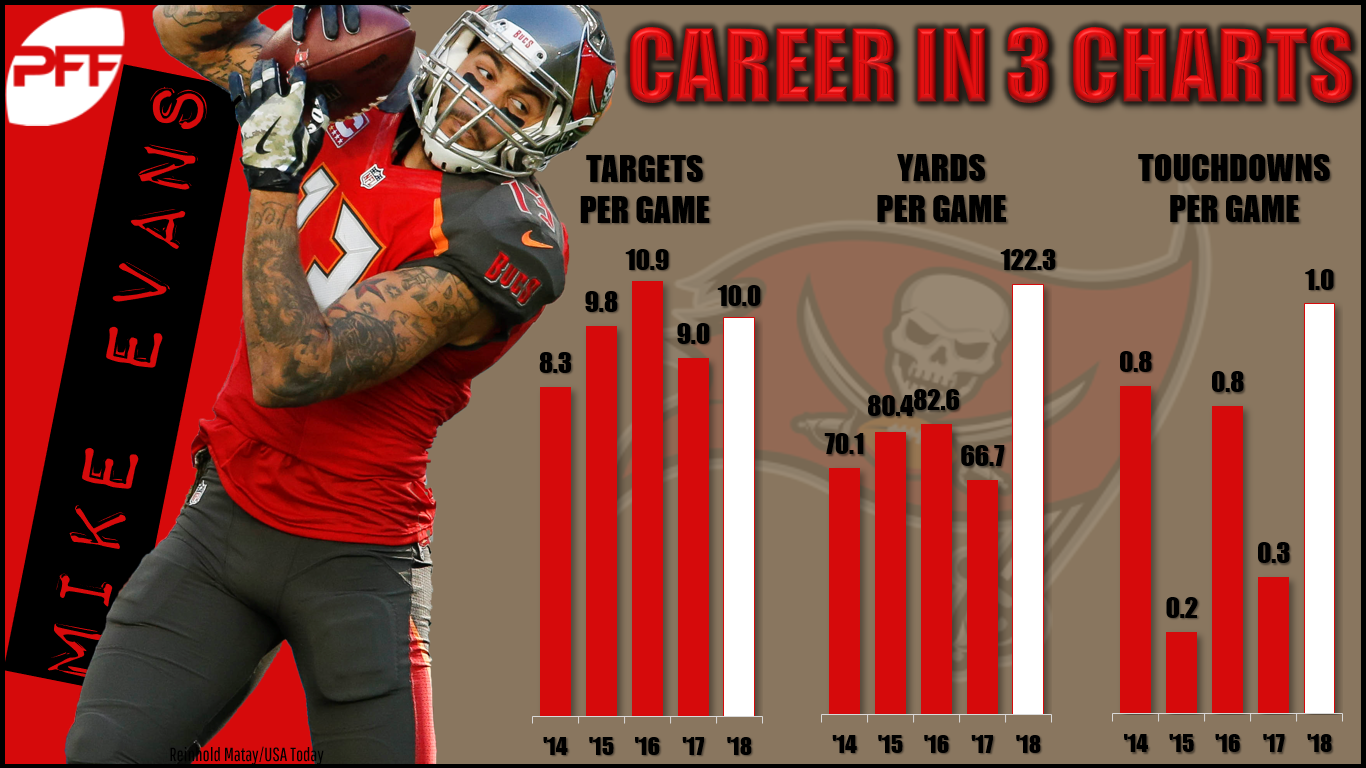 Mike Evans, the top wideout rebound candidate heading into 2018, is off to a hot start. Evans has a touchdown in three straight games (he had just five all of last year) and is on pace for 123 receptions, 1,957 yards, and 16 touchdowns. As Tampa Bay's overall offense slows (they won't throw for 400-plus yards every week), Evans won't reach those heights, but it's clear that he is in store for a huge season. Up next for Evans and the Bucs are the Chicago Bears, who have given up the fourth-most fantasy points to opposing receiver so far this year.
Tight ends
Top TEs in Fantasy Points Per Target

Player
Targets
FP
PPT
Vance McDonald
8
26.8
3.35
Jesse James
11
35.5
3.23
Will Dissly
11
34.1
3.10
O.J. Howard
14
39.2
2.80
Kyle Rudolph
15
38.1
2.54
Travis Kelce
21
50.9
2.42
Mark Andrews
11
24.7
2.25
Rob Gronkowski
17
37.9
2.23
Dallas Goedert
10
21.7
2.17
Jordan Reed
17
36.8
2.16
Austin Hooper
13
27.6
2.12
Evan Engram
13
26.4
2.03
Jason Croom
8
16.1
2.01
Jared Cook
22
44
2.00
Benjamin Watson
14
25.4
1.81
Tyler Eifert
14
25.1
1.79
Eric Ebron
20
35
1.75
Trey Burton
14
24
1.71
Austin Seferian-Jenkins
13
21.6
1.66
George Kittle
20
31.1
1.56
(Min. 8 targets)
Two Pittsburgh tight ends sit atop the list in fantasy PPT. Either Jesse James or Vance McDonald can have a huge game any given week (James went 5-138-1 in Week 2 before McDonald went 4-112-1 in Week 3) — the challenge will be figuring out which one will shine on a week-to-week basis. They are high-upside dart throws.
O.J. Howard is having himself a Year 2 breakout. He currently sits as TE4 on the year with 11 catches, 222 yards, and a score through three weeks. His 12.4-yard aDOT ranks fourth among tight ends who have at least 10 targets, indicating that Howard's targets are high value in and of themselves. Howard has out-snapped Cameron Brate 136 to 69 and has run more pass routes as well (68 to 55). The Bears, his Week 4 opponent, rank bottom-half in PPT ceded to tight ends.
On the other side of the ball in that Bears/Bucs tilt is Trey Burton, who ranks in the top 20 with 1.71 PPT. Tampa Bay has given up the eighth-most fantasy PPT to opposing tight ends, so this sets up well for Burton, who is third in Chicago in terms of target share (13.9 percent).
If you're looking for a punt, Will Dissly has a chance to deliver again in Week 4. He hasn't been a target monster (just 11 looks), but he is tied for third on the team in terms of target share, and his Week 4 opponent, the Cardinals, have given up the third-most fantasy PPT to opposing tight ends on the year. Dissly ranks third at the position with 3.10 PPT.
The best matchups
Below is a list showing how each team fares on a per-touch or per-target basis. This list will be updated weekly and can be used to identify strong matchups.
Fantasy Points Per Touch and Points Per Target Given Up
Team
RB: FP/T
WR: PPT
TE: PPT
ARZ
1.02 (27)
1.63 (9)
2.59 (30)
ATL
1.06 (28)
1.97 (21)
1.26 (3)
BLT
0.63 (3)
1.63 (8)
1.31 (6)
BUF
1.29 (32)
1.92 (18)
1.89 (18)
CAR
0.92 (23)
1.81 (15)
2.48 (27)
CHI
0.61 (2)
2.17 (29)
1.89 (19)
CIN
0.85 (15)
1.52 (3)
1.96 (20)
CLV
0.84 (14)
1.62 (7)
1.31 (5)
DAL
0.76 (10)
1.68 (12)
2.00 (22)
DEN
0.89 (20)
1.98 (22)
2.51 (28)
DET
1.10 (29)
2.04 (25)
2.06 (24)
GB
0.87 (18)
2.25 (30)
1.72 (16)
HST
0.67 (6)
1.95 (19)
3.19 (32)
IND
0.96 (25)
1.77 (14)
1.77 (17)
JAX
0.72 (9)
1.65 (10)
1.28 (4)
KC
1.25 (30)
1.59 (5)
2.51 (29)
LAC
0.87 (17)
2.79 (31)
1.11 (1)
LAR
0.95 (24)
1.60 (6)
1.70 (13)
MIA
0.91 (22)
1.47 (1)
1.40 (8)
MIN
0.56 (1)
1.49 (2)
2.01 (23)
NE
0.82 (12)
1.98 (23)
1.59 (11)
NO
0.64 (5)
3.11 (32)
1.43 (9)
NYG
0.89 (21)
1.97 (20)
1.47 (10)
NYJ
0.88 (19)
1.54 (4)
1.97 (21)
OAK
0.84 (13)
2.03 (24)
1.71 (14)
PHI
0.70 (8)
1.85 (17)
1.62 (12)
PIT
0.68 (7)
2.13 (28)
2.21 (26)
SEA
0.76 (11)
1.69 (13)
1.71 (15)
SF
0.86 (16)
1.82 (16)
2.78 (31)
TB
1.29 (31)
2.12 (27)
2.20 (25)
TEN
0.64 (4)
2.08 (26)
1.16 (2)
WAS
0.98 (26)
1.68 (11)
1.36 (7)