With just two weeks in the books, we're starting to get a clearer picture of the 2018 NFL season. Two games aren't quite enough to make full-fledged judgments about any specific player or team, but we're getting there.
To help you understand which players have been making the most of their opportunities from a fantasy perspective — and which teams are giving up the most points — we're here to bring you the goods.
This weekly post highlights:
RBs in fantasy points per touch
WRs in fantasy points per target
TEs in fantasy points per target
Defenses that give up the most per-opportunity points to RBs, WRs, and TEs
Here are your leaders on a per-touch and per-target basis through two weeks.
Running backs
Top RBs in Fantasy Points Per Touch
Player
Touches
FP
FP/T
Alvin Kamara
36
57
1.58
James White
20
31
1.55
Austin Ekeler
24
36.4
1.52
Javorius Allen
20
29.6
1.48
Melvin Gordon III
39
56.2
1.44
Corey Clement
16
22.1
1.38
Theo Riddick
18
22.2
1.23
Jay Ajayi
23
27.9
1.21
Matt Breida
26
31
1.19
Isaiah Crowell
24
28.1
1.17
Nyheim Hines
17
19.7
1.16
Todd Gurley
45
52
1.16
Bilal Powell
23
26.5
1.15
Christian McCaffrey
38
43.4
1.14
James Conner
48
53.6
1.12
Jalen Richard
16
17.2
1.08
Alex Collins
20
20.9
1.05
Saquon Barkley
45
45.6
1.01
Phillip Lindsay
32
30.3
0.95
Tevin Coleman
30
28
0.93
(Min. 15 touches)
Through two weeks, James White is the No. 12 running back in PPR leagues and he currently ranks second in fantasy points per touch. It's not insane to think a player like White could go the entire season as a high-end RB2 in fantasy. Last year, Duke Johnson squeaked in as a top-12 running back option in PPR leagues filling a similar role. White has seen 16 targets, first among New England players so far this year. The Patriots draw the Lions in Week 3, who have given up the fourth-most FP/T to opposing running backs so far this year.
Javorius Allen is one of the most underrated players in fantasy. He was free during fantasy drafts, and he remains on many waiver wires. However, he has two valuable roles in Baltimore's offense: He's the team's goal-line back and their pass-catching specialist.
Phillip Lindsay has been one of the hottest waiver adds to start the year. All eyes were on Royce Freeman versus Devontae Booker, but through two weeks, Lindsay leads the team's backfield in carries, yards, yards per carry, targets, and receptions. Lindsay has a tough outing in Week 3 against the Ravens, who currently rank first in FP/T given up to opposing running backs. It might be a time to buy on Lindsay.
Wide receivers
Top WRs in Fantasy Points Per Target
Player
Targets
FP
PPT
DeSean Jackson
9
54.5
6.06
Tyreek Hill
14
55.9
3.99
Kenny Stills
8
30.3
3.79
Tyler Lockett
10
31.9
3.19
A.J. Green
17
51.1
3.01
Keelan Cole
11
33
3.00
Mike Williams
8
23.8
2.98
Chris Godwin
10
29.7
2.97
Will Fuller V
9
25.3
2.81
Robby Anderson
6
16.8
2.80
Emmanuel Sanders
15
42
2.80
Stefon Diggs
17
47.1
2.77
Mike Evans
19
52
2.74
Chris Hogan
8
21.3
2.66
Dante Pettis
7
18.6
2.66
Dede Westbrook
11
28.4
2.58
John Brown
13
32.6
2.51
Michael Thomas
30
72.9
2.43
Randall Cobb
15
36.2
2.41
Calvin Ridley
7
16.4
2.34
(Min. 6 targets)
Seattle has been a low-volume passing offense that distributes looks evenly — Brandon Marshall currently leads the team with 12 targets — but Tyler Lockett has been making the most of his opportunities. Lockett has caught eight of 10 targets for 119 yards and two scores this year, and he currently ranks fourth among qualifying receivers in fantasy PPT. With a high average depth of target (16.8), Lockett should continue to see high-value targets.
Keelan Cole's stupid-good catch in Week 2 was the highlight of an extremely productive day. Through two weeks, Cole leads the Jaguars in receptions (10) and yards and he ranks sixth among all qualifying receivers in fantasy PPT. Cole's Week 3 opponent, the Titans, have given up the sixth-most fantasy PPT to enemy receivers.
Tampa Bay's Chris Godwin is flying somewhat under the radar because his teammates DeSean Jackson and Mike Evans keep making the highlight-reel plays, but Godwin has been extremely productive with his opportunities through two weeks (which is also an extension of his strong preseason). Godwin has caught eight of 10 targets for 97 yards and two scores (one in each game) and he ranks top-10 in fantasy PPT. Godwin (41) has actually run more routes than Jackson (36) so far this year.
Maybe it's time we accepted Will Fuller as legit. He didn't play in Week 1, but his strong Week 2 performance places him in the top 10 in terms of fantasy PPT. Check out his stats in games with Deshaun Watson: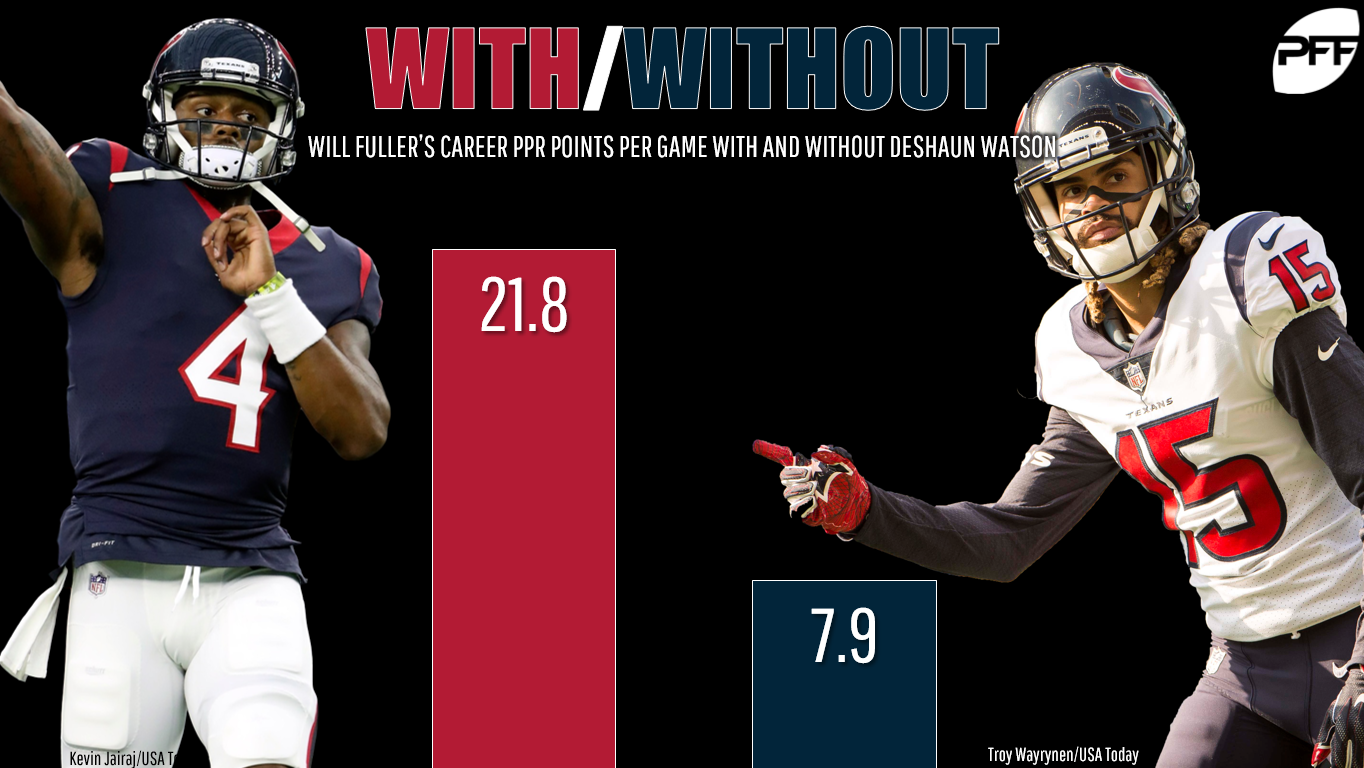 #Texans WR Will Fuller in 5 career games with Deshaun Watson:

8/113/1
5/125/2
2/62/1
2/57/2
4/35/2

— Evan Silva (@evansilva) September 18, 2018
Tight ends
Top TEs in Fantasy Points Per Target
Player
Targets
FP
PPT
O.J. Howard
6
26
4.33
Jesse James
10
33.8
3.38
Will Dissly
10
32.7
3.27
Eric Ebron
9
26.7
2.97
Travis Kelce
12
31.5
2.63
Kyle Rudolph
9
22.3
2.48
Austin Hooper
9
22.3
2.48
Rob Gronkowski
12
28.8
2.40
Jordan Reed
11
26.3
2.39
Jared Cook
16
35.9
2.24
Virgil Green
6
12.6
2.10
Austin Seferian-Jenkins
8
16.8
2.10
Mark Andrews
8
16.8
2.10
Maxx Williams
6
12.3
2.05
Evan Engram
12
23.5
1.96
C.J. Uzomah
5
8.9
1.78
Jake Butt
8
13.7
1.71
Tyler Eifert
7
11.7
1.67
Benjamin Watson
8
13.3
1.66
Joshua Perkins
6
9.7
1.62
(Min. 5 targets)
Travis Kelce bounced back in a big way in Week 2, and he now ranks fifth in fantasy PPT. He'll keep it rolling against the San Francisco 49ers in Week 3, who have given up the most fantasy PPT to enemy tight ends so far this year. (Note: this is a small sample size bias, as the 49ers have given up just five receptions to tight ends this year, but two of them went for touchdowns; it bodes well for Kelce's touchdown potential this week, at least.)
Will Dissly's 10 targets are tied for 12th-most at the tight end position, his 147 yards are fourth, and his two touchdowns are tied for first. In Seattle, Dissly is tied for the team lead in red-zone targets and end-zone targets. It's still too early to make a strong call on Dissly, but he's certainly trending in the right direction. He gets another chance to prove himself in Week 3 against the Cowboys, who have given up the eighth-most fantasy PPT to opposing tight ends this year.
The Denver Broncos struggled against tight ends last year, and they are off to a rough start again in 2018, having given up the sixth-most fantasy PPT to the position. The Baltimore Ravens draw the Broncos in Week 3. The Ravens have a tight-end-by-committee going this year, with Mark Andrews (8), Maxx Williams (6), and Nick Boyle (8) all seeing a relatively even amount of work. Andrews and Williams both rank in the top 15 among tight ends in PPT so far this year. They could be viable streaming options in Week 3.
The best matchups
Below is a list showing how each team fares on a per-touch or per-target basis. This list will be updated weekly and can be used to identify strong matchups.
Fantasy Points Per Touch and Points Per Target Allowed
Team
RB: FP/T
WR: PPT
TE: PPT
ARZ
1.13 (28)
1.93 (21)
2.97 (31)
ATL
1.09 (27)
1.78 (15)
0.89 (2)
BLT
0.50 (1)
1.60 (8)
1.47 (9)
BUF
1.28 (30)
2.73 (31)
1.64 (13)
CAR
0.84 (15)
1.88 (18)
2.37 (26)
CHI
0.51 (2)
2.47 (28)
1.69 (14)
CIN
0.92 (23)
1.51 (5)
2.07 (21)
CLV
0.85 (16)
1.73 (12)
1.54 (12)
DAL
0.89 (20)
1.27 (3)
2.30 (25)
DEN
0.74 (10)
2.20 (25)
2.67 (27)
DET
1.13 (29)
2.68 (29)
2.18 (23)
GB
0.82 (13)
2.09 (23)
1.38 (6)
HST
0.58 (6)
1.71 (11)
2.88 (29)
IND
1.06 (26)
1.83 (17)
1.99 (19)
JAX
0.89 (21)
1.81 (16)
1.26 (4)
KC
1.40 (31)
1.55 (6)
2.93 (30)
LAC
0.82 (14)
2.73 (30)
0.91 (3)
LAR
0.88 (18)
1.04 (1)
1.75 (18)
MIA
0.91 (22)
1.19 (2)
1.42 (8)
MIN
0.51 (3)
1.57 (7)
1.72 (17)
NE
0.89 (19)
1.92 (20)
1.71 (16)
NO
0.54 (4)
2.92 (32)
1.41 (7)
NYG
0.86 (17)
1.89 (19)
0.69 (1)
NYJ
0.81 (12)
1.67 (10)
2.02 (20)
OAK
0.97 (25)
1.31 (4)
1.48 (10)
PHI
0.69 (8)
1.97 (22)
2.67 (27)
PIT
0.67 (7)
2.34 (26)
2.28 (24)
SEA
0.73 (9)
1.74 (13)
2.16 (22)
SF
0.77 (11)
1.75 (14)
3.73 (32)
TB
1.57 (32)
2.14 (24)
1.71 (15)
TEN
0.57 (5)
2.36 (27)
1.52 (11)
WAS
0.96 (24)
1.62 (9)
1.37 (5)