• Amon-Ra St. Brown leads the Lions: The Lions' receiving corps was the healthiest it has been in months, but that didn't stop St. Brown from recording his third 100-yard game of the season.
• Isaiah McKenzie's best game of the season: He scored his fourth touchdown of the year and gained over 100 yards for the first time this season.
• Michael Gallup moves up the Cowboys' depth chart: Gallup surpassed Noah Brown for the second spot on the Dallas depth chart.
Estimated reading time: 7 minutes
---
PFF's fantasy football recap focuses on player usage and stats, breaking down all the vital information you need to achieve fantasy success in 2022.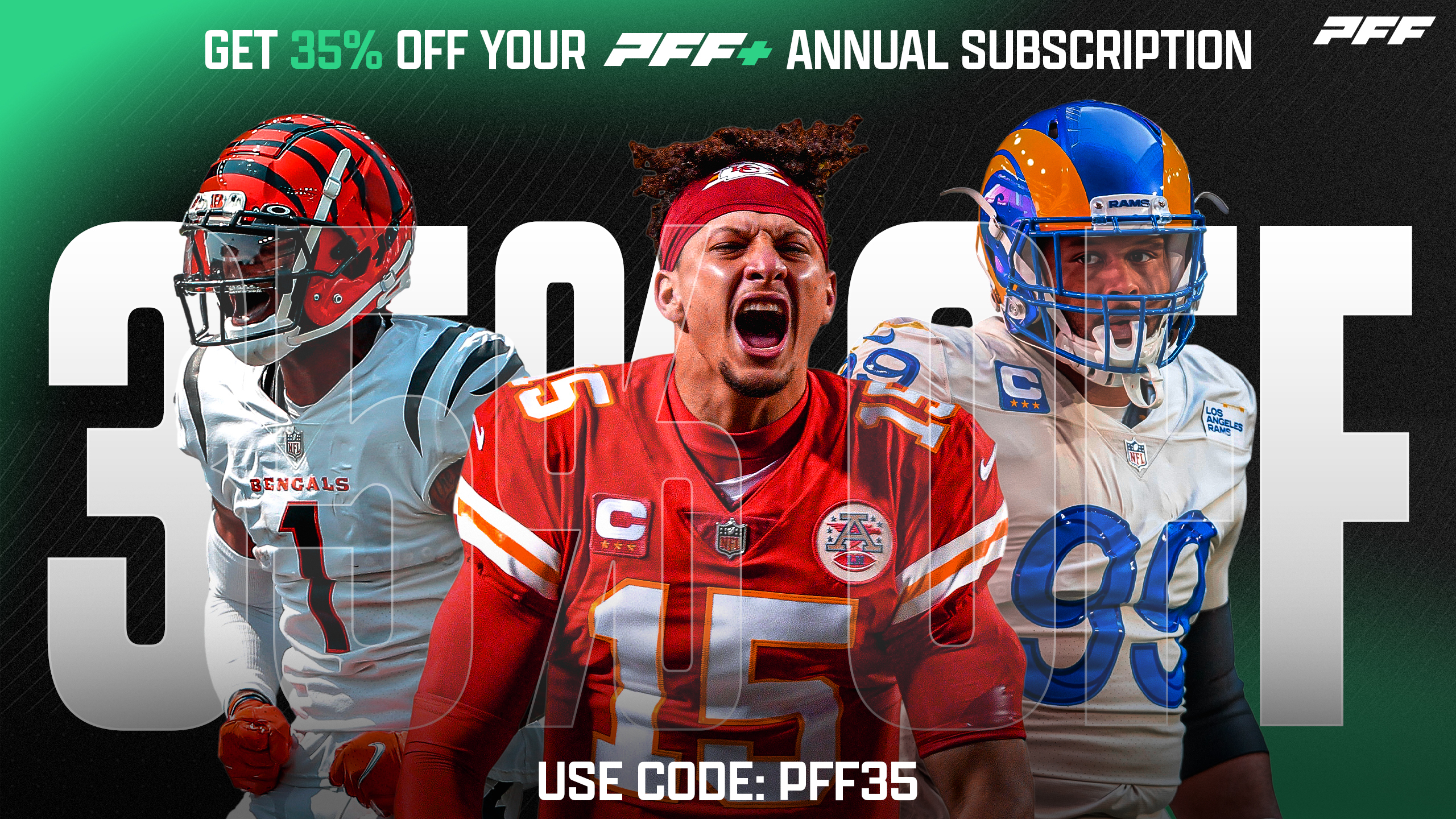 Amon-Ra St. Brown:

9 receptions, 122 yards

, 1 touchdown;

 1 carry, 7 rushing yards

Isaiah McKenzie: 6 receptions, 96 yards, 1 touchdown; 2 carries, 7 rushing yards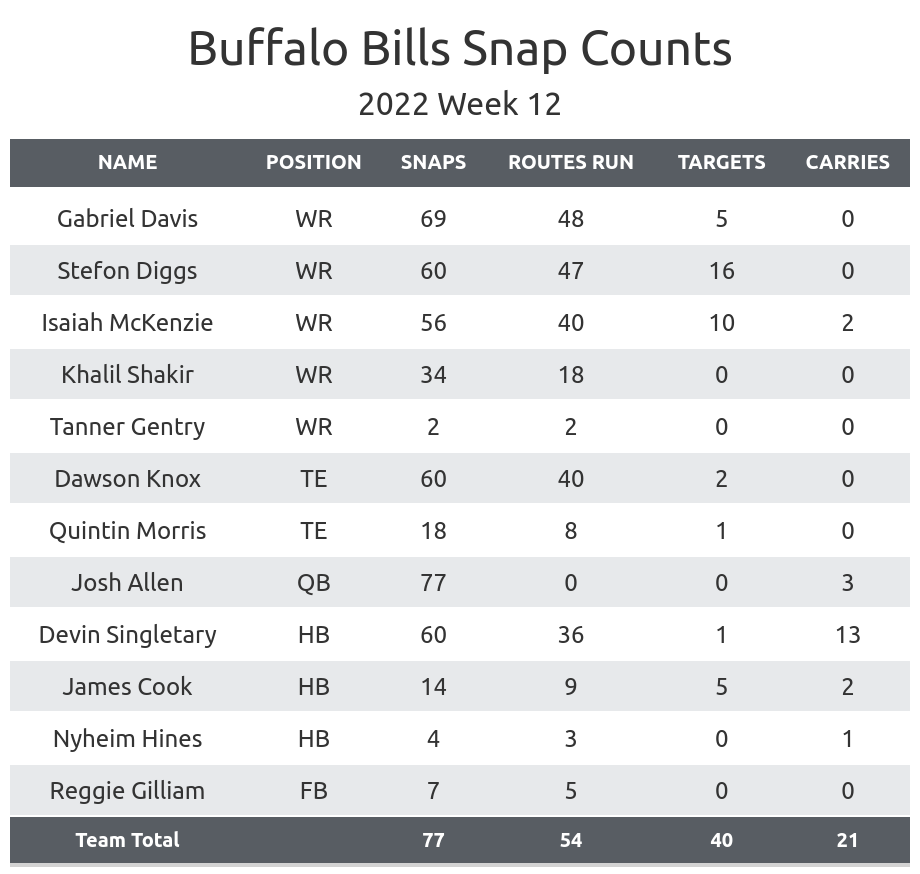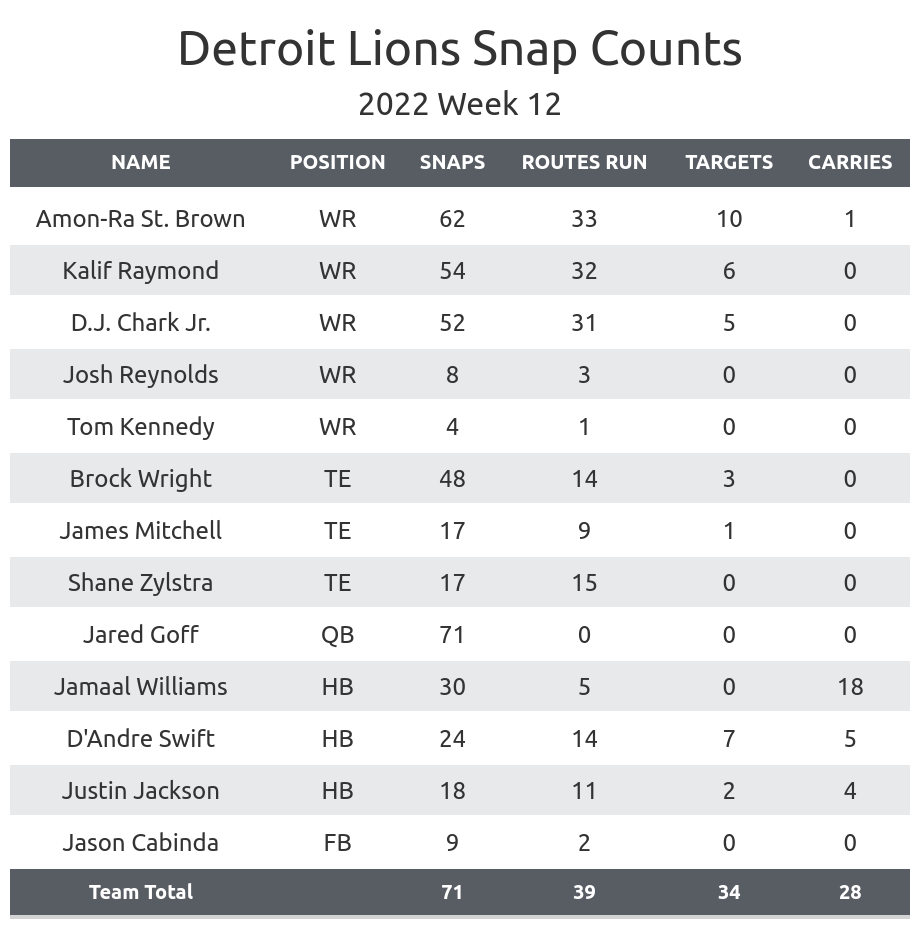 The Lions are getting healthier at wide receiver: The Lions had their top-three veteran wide receivers active for the first time since September.
D.J. Chark

returned to the Lions lineup last week after suffering an ankle injury in Week 3. He played two or three snaps per quarter a week ago.

Chark was on the field much more regularly against the Bills, consistently playing in three-receiver sets and sometimes in two-receiver sets.

Josh Reynolds

suffered a back injury in Week 8. He was limited in practice all week and was questionable coming into the game.

The Lions largely restricted him to single-receiver sets, which left him run-blocking more often than not.

Kalif Raymond

remained the No. 2 receiver behind Amon-Ra St. Brown.

Raymond finished second on the team in receiving yards but will likely see a reduction in snaps next week if Reynolds is healthier.

Jameson Williams

was added to the injured reserve/designated to return list earlier in the week. He could be ready to play as soon as next week, which might limit the workload of receivers not named

Amon-Ra St. Brown

.

Williams can be picked up off the waiver wire as a lottery ticket, but Chark and Reynolds should be avoided due to their health and Williams' potential emergence.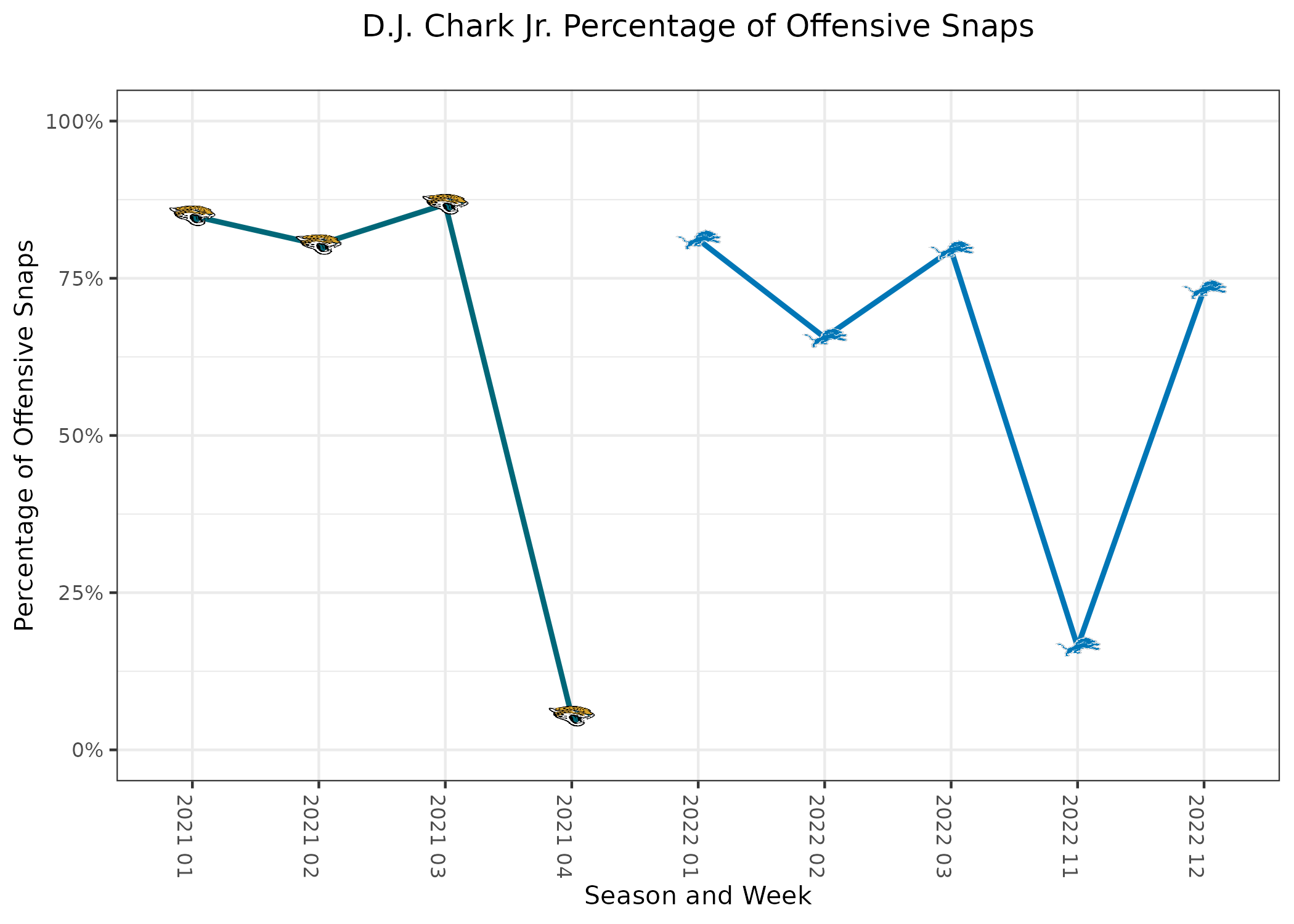 D'Andre Swift slowly trending up: Swift still isn't playing as much as expected, but his playing time is trending in the right direction even if his touches aren't.
Justin Jackson

had played more snaps than Swift from Week 9-10, and he handled more carries and more pass plays.

Swift's playing time was up in this game because he was more consistently on the field on third downs. Last week, all three running backs took multiple snaps on third and long.

He was close to scoring on a number of plays.

His increased snaps mostly came at the expense of Jackson.

Jamaal Williams

' role in the offense remained the same.

Swift has been a touchdown-dependent player since Week 1.

The Lions'

schedule over the next five games is relatively favorable

for their running backs, so it's probably still too early to give up on Swift.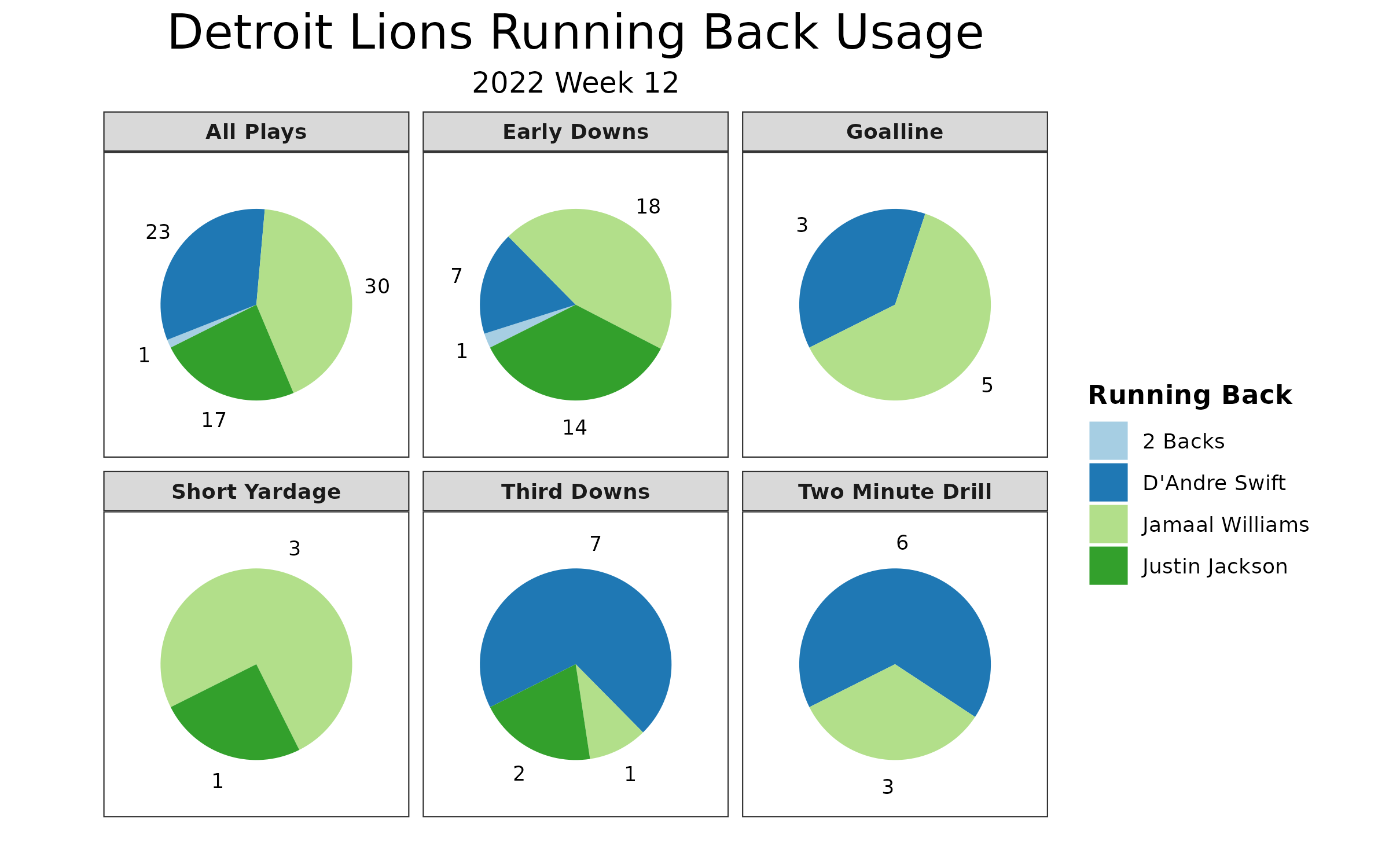 Drop Nyheim Hines: Hines played his fourth game with the Bills, but he has barely made an impact on offense.
He played four snaps in the first quarter but then didn't take another snap on offense.

Coach McDermott has been

happy with Hines on special teams

 but didn't seem particularly optimistic about getting him more involved on offense.

There is still a chance Hines gets more involved in the offense, but that might be seeing 15-25 snaps a game. It seems unlikely that he'll play enough snaps to be a fantasy starter.

Even if

Devin Singletary

were to get injured, it seems

James Cook

would be the primary running back.

It's also worth noting Cook's playing time remained similar to recent weeks, and his touches went down rather than up despite his 86 rushing yards on Sunday.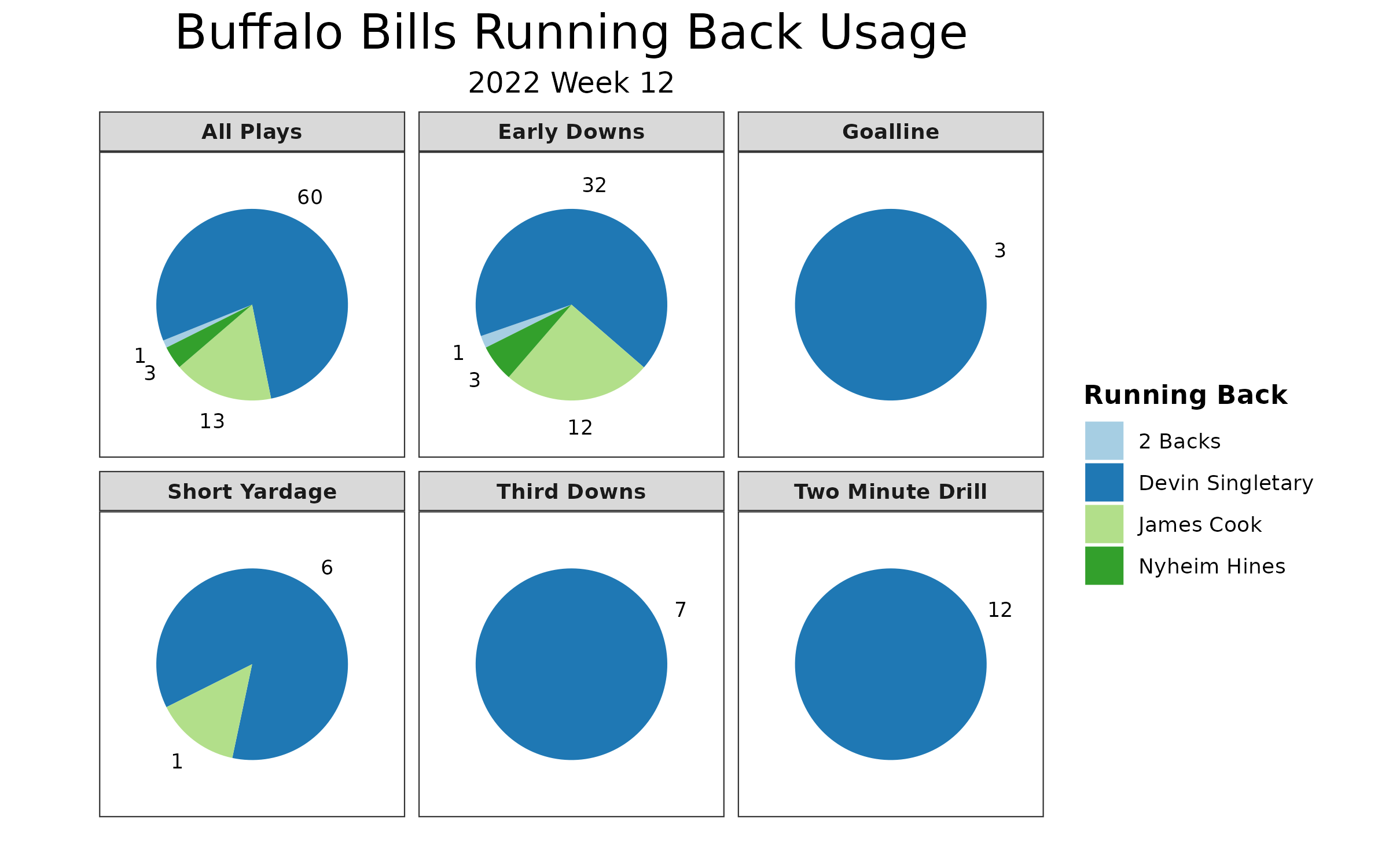 Isaiah McKenzie's big game: McKenzie was the most dominant receiver for the Bills against the Lions, and there is a wide range of outcomes for McKenzie over the next five games.
He was consistently rotating in and out of three-receiver sets, with

Khalil Shakir

also seeing significant work from the slot.

Shakir is playing more in general, as he's also the primary backup on the outside with

Jake Kumerow

on injured reserve.

McKenzie averaged 0.37 PPR points per route against man defense heading into the game compared to 0.17 against zone.

The Lions had played man coverage at the fifth-highest rate in the league heading into this game.

Typically, the low snaps and good matchup would mean McKenzie will decline, but the Patriots face the Patriots and Dolphins in two of their next three games. They rank third and second, respectively, in how often they use man defense.

His only other game this season with 50 or more receiving yards came against Miami in Week 3.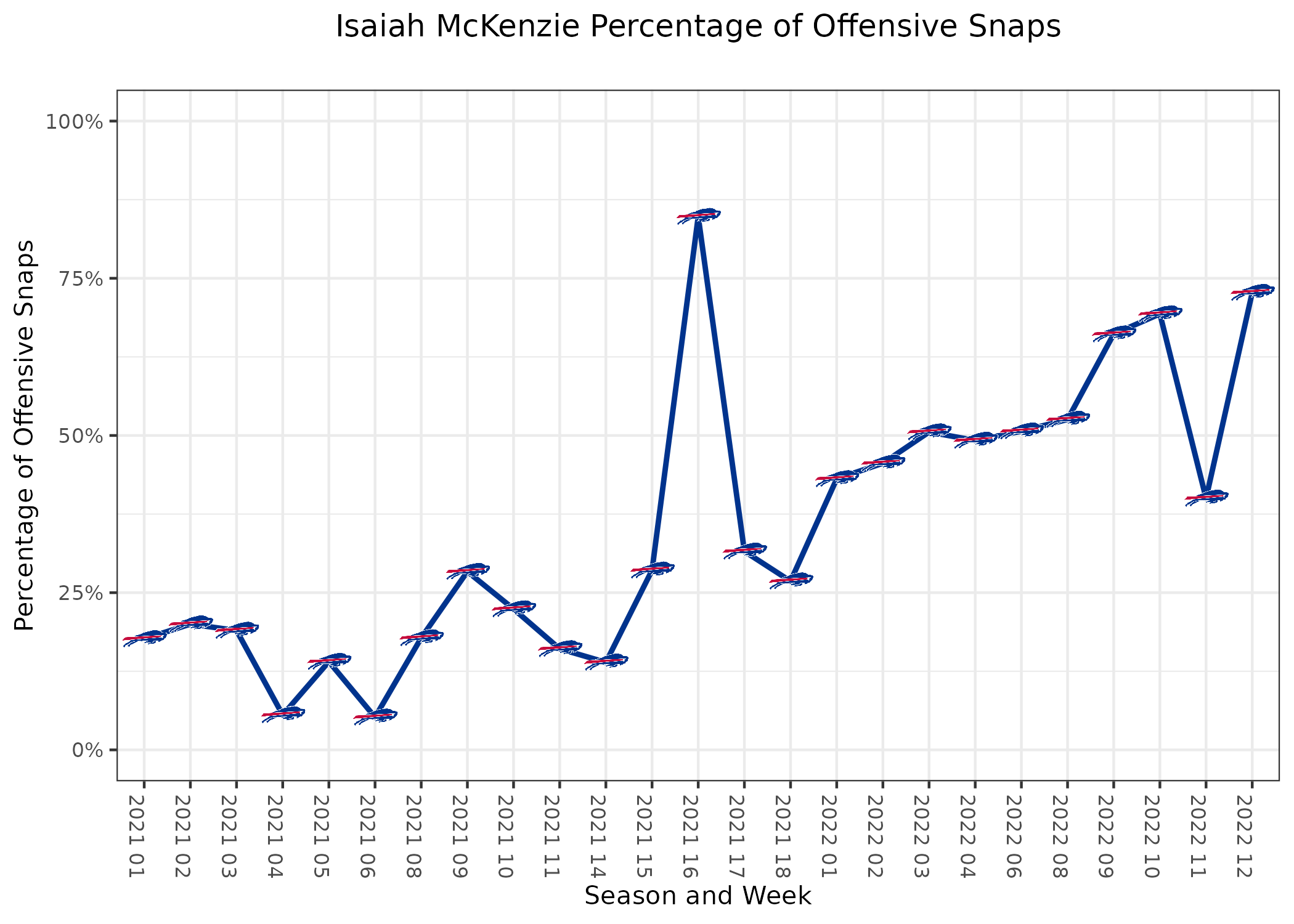 ---
• Dalton Schultz: 4 receptions, 31 yards, 2 touchdowns
• Ezekiel Elliott: 16 carries, 91 yards, 1 touchdown, 1 reception, 3 receiving yards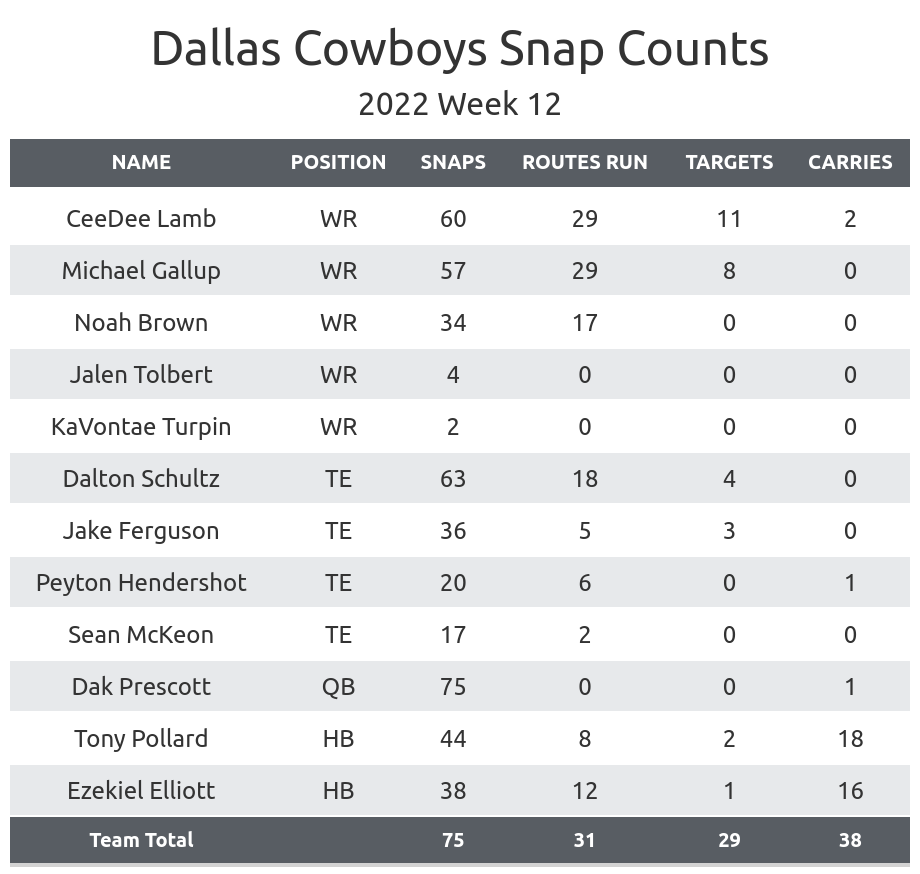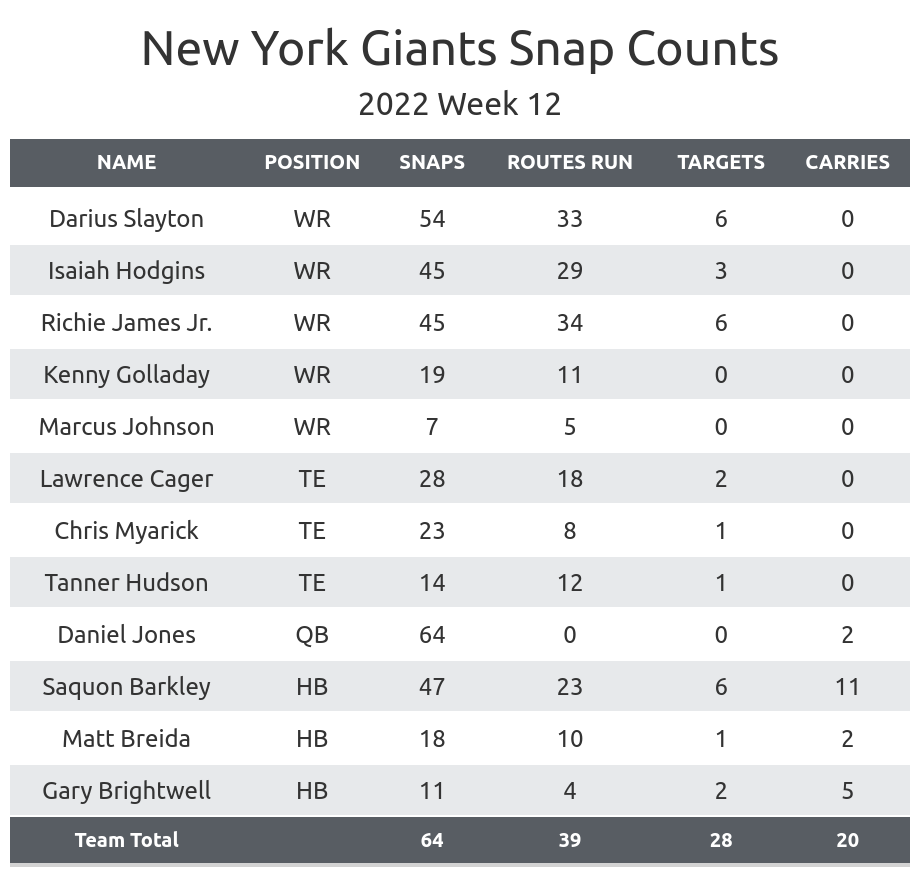 Michael Gallup moves up the Cowboys' depth chart: Gallup surpassed Noah Brown for the second spot on the Dallas depth chart.
Brown had played 318 snaps in the six games both Gallup and Brown played this season prior to today, compared to 276 for Gallup.

The gap was 66 to 28 over 91 snaps out of 12 personnel.

Gallup was on the field for the vast majority of snaps in 12 personnel today, leading him to have a large lead over Brown in offensive snaps.

He caught five passes thrown his way for 63 yards. It was his first time surpassing 50 receiving yards on the season.

The Cowboys' next two games are against the Colts and Texans. Both teams rank in the top four in preventing fantasy points to wide receivers.

Gallup could be a factor in the fantasy playoffs, assuming the team doesn't sign

Odell Beckham Jr.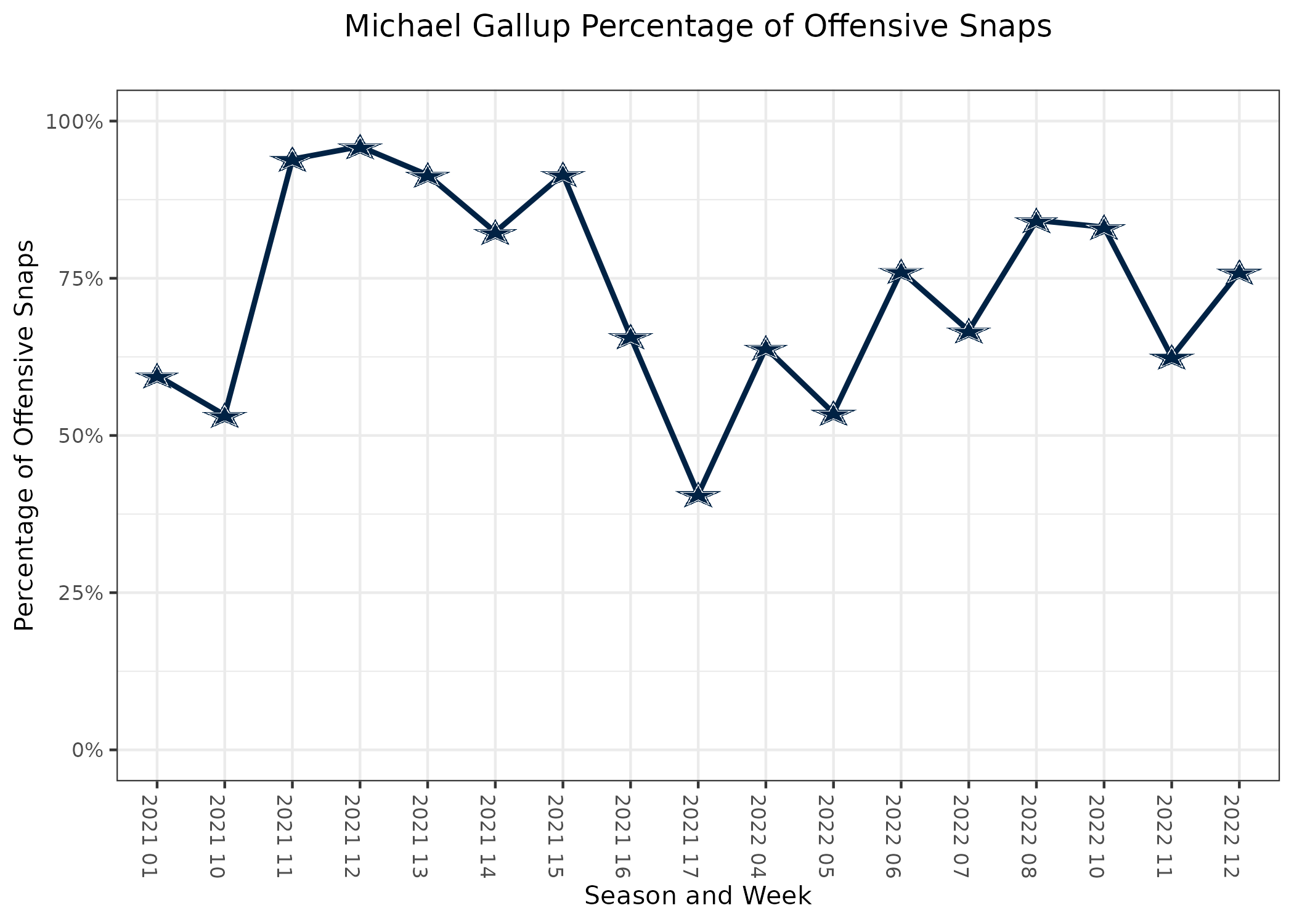 Ezekiel Elliott outshines Tony Pollard: Pollard had gained 464 yards and six touchdowns over the past three weeks while Elliott wasn't 100%, but Elliott was the more impressive runner today.
Elliott dominated snaps over the first two drives, but Pollard not only caught up but took a lead by halftime.

Elliott ended up with fewer carries but more rushing yards, which is typically the opposite of what happens between the two backs.

Neither back did much in the passing game, but the Giants' defense tends to stop running backs from gaining too many receiving yards.

It wouldn't be at all surprising if we go back to a world where Elliott sees more carries but Pollard still gets worked in significantly.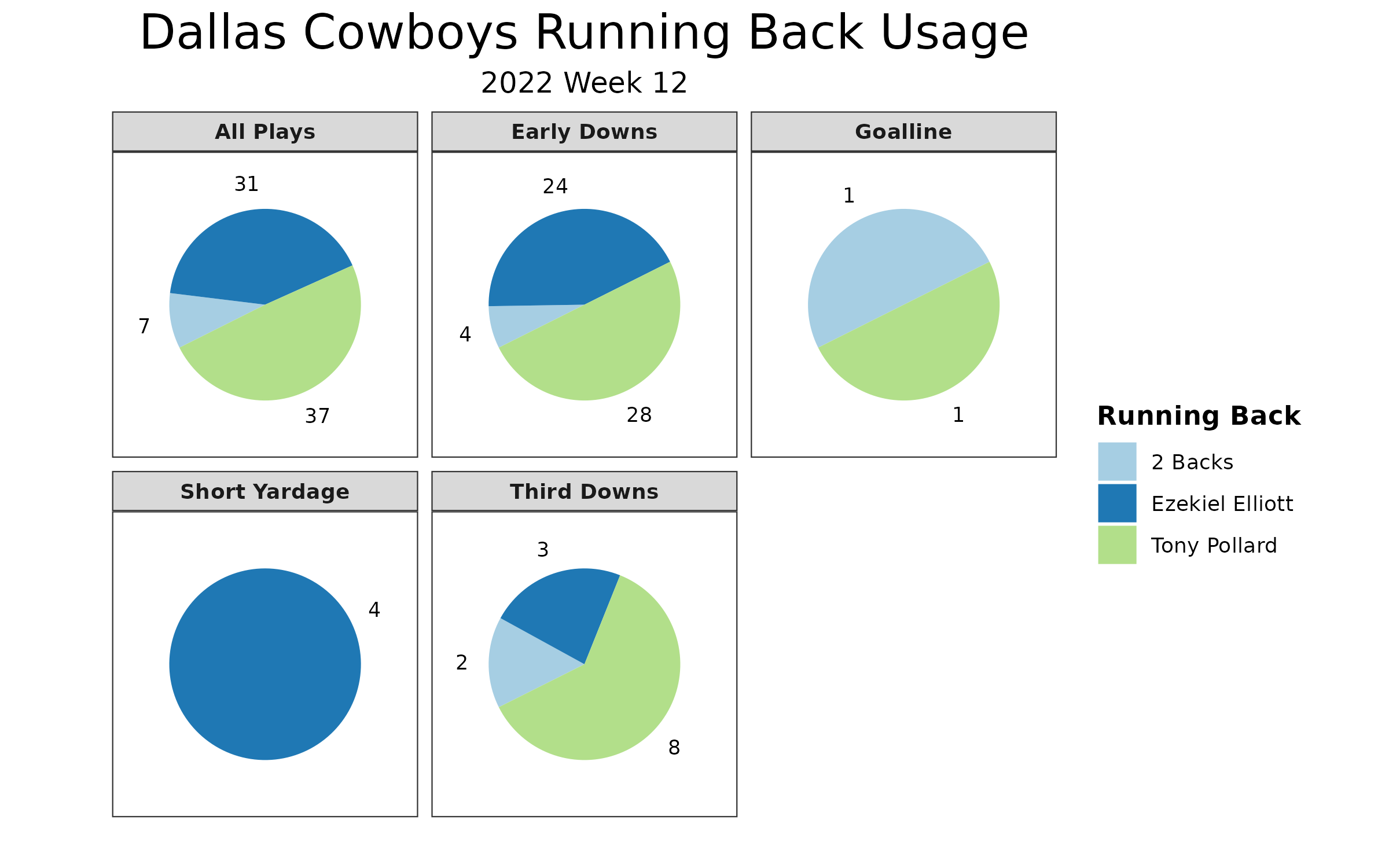 The Giants' ever-evolving receiving room: The Giants' receivers have constantly been changing this season, and there were more changes in this game.
Isaiah Hodgins

and

Kenny Golladay

have spent the past few weeks competing for one spot. Hodgins had a slight lead in snaps over Golladay last week and extended that lead this week.

Both players would likely lose significant playing time if

Odell Beckham Jr.

signs with the team.

Richie James Jr.

took over the slot receiving role in three-receiver sets for

Wan'Dale Robinson

. This was as expected, and a role James had earlier in the season when Robinson was out. He will likely keep this spot for the rest of the season.

Lawrence Cager

had largely taken over the tight end role for New York in recent weeks. He both lost some snaps to

Chris Myarick

on early downs while also taking a few more snaps from

Tanner Hudson

on third downs.

Hudson still took all of the snaps in the two-minute drill, which took away several of his receiving opportunities.

All of these players are ones to avoid, as

Darius Slayton

is the only one with a full-time role and was the clear leader on the team in receiving yards.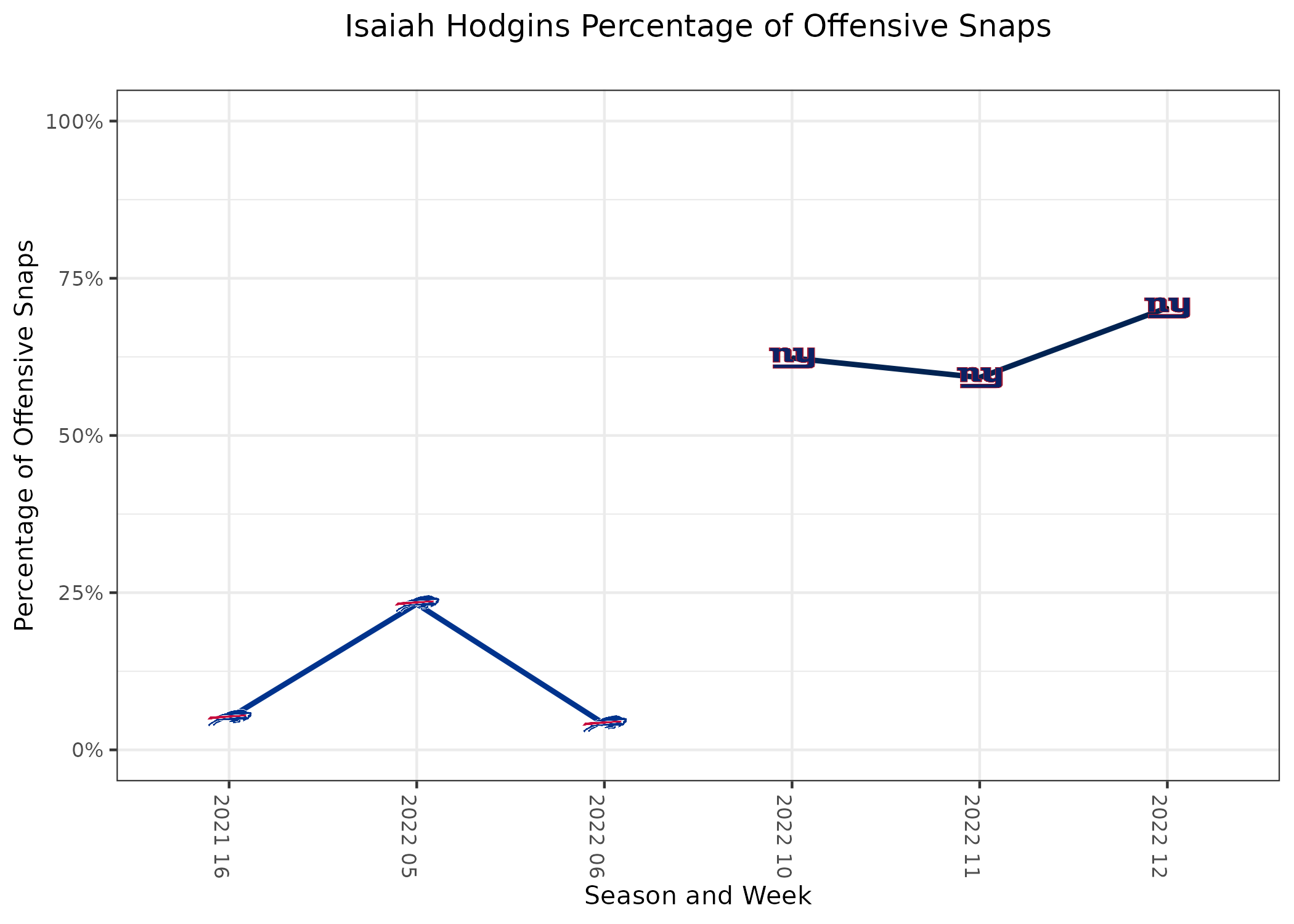 ---
• Justin Jefferson: 9 receptions, 139 yards, 1 touchdown; 1 pass attempt, 1 pass completion, 11 passing yards
• Adam Thielen: 9 receptions, 61 yards, 1 touchdown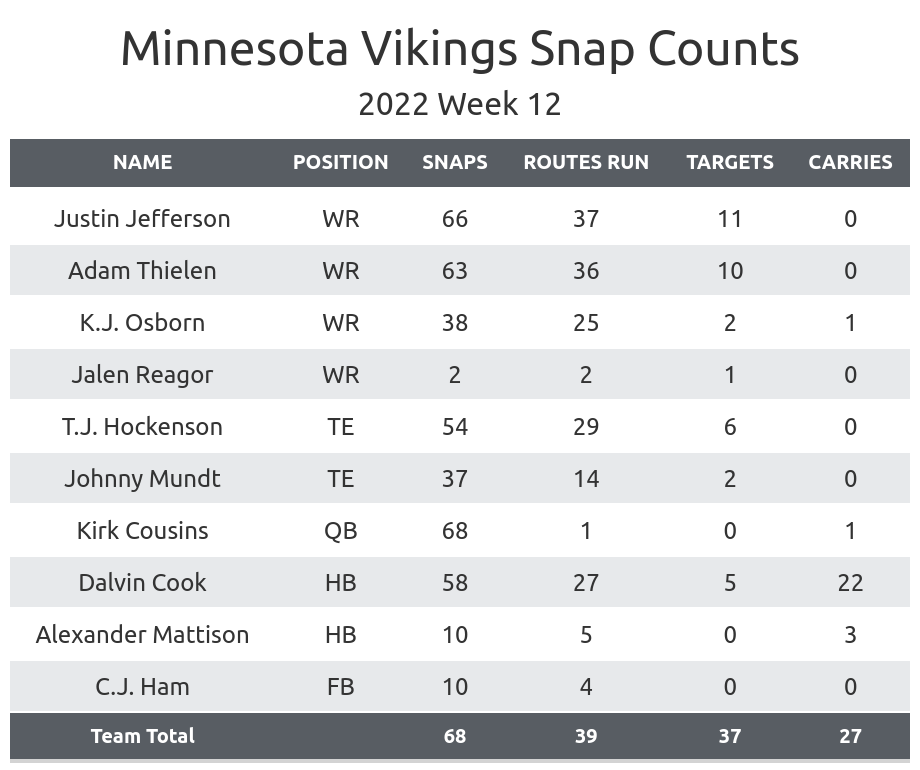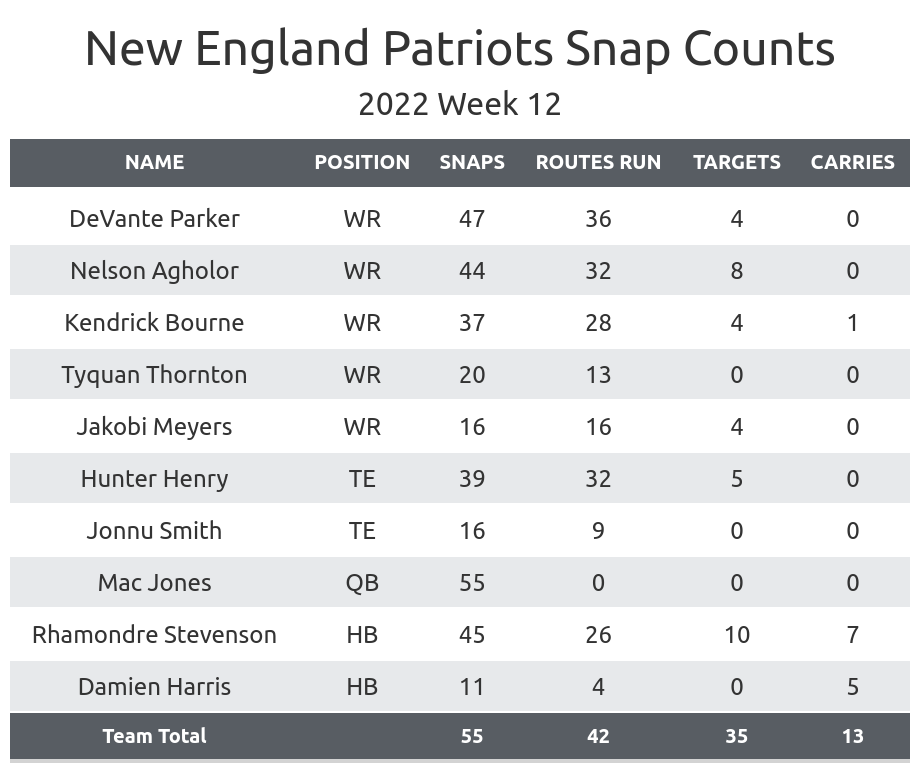 Monitor the health of the Patriots' wide receivers: Jakobi Meyers suffered a shoulder injury on the first play of the game. He returned shortly before halftime but didn't seem 100%.
Meyers started the game along with

DeVante Parker

and

Tyquan Thornton

. This was the third start of Thornton's career and his first start since Week 9.

Nelson Agholor

took Meyers' place as the starter and primary slot receiver for most of the game.

Meyers returned for the last drive of the first half but was used very sparingly in the second half. He mostly played on a few third downs and at the end of the game.

Agholor stayed on the ground for an extended period of time after the two-minute warning when he took a hit to the back. He was able to walk off the field on his own, but that is a situation worth monitoring.

Agholor would be the wideout to target off waivers if Meyers misses time, as he would be the one taking Meyers' usual targets. 

Parker seemed to be dealing with an injury on the second drive, resulting in

Kendrick Bourne

taking his place. Parker hadn't played a fully healthy game since Week 7.

Parker was back by the third drive. Bourne started rotating with Thornton at this point and ended up playing more than Thornton over the rest of the game.

Now that Parker seems to be healthy again, he is also a waiver wire target. His role in the offense is secure, and he led the team in receiving yards.

Bourne and Thornton should be left on the waiver wire, as they will likely share snaps the rest of the season, even if Meyers misses time.

The Patriots' schedule is a little above average for wide receivers for the rest of the season, with mostly average matchups remaining.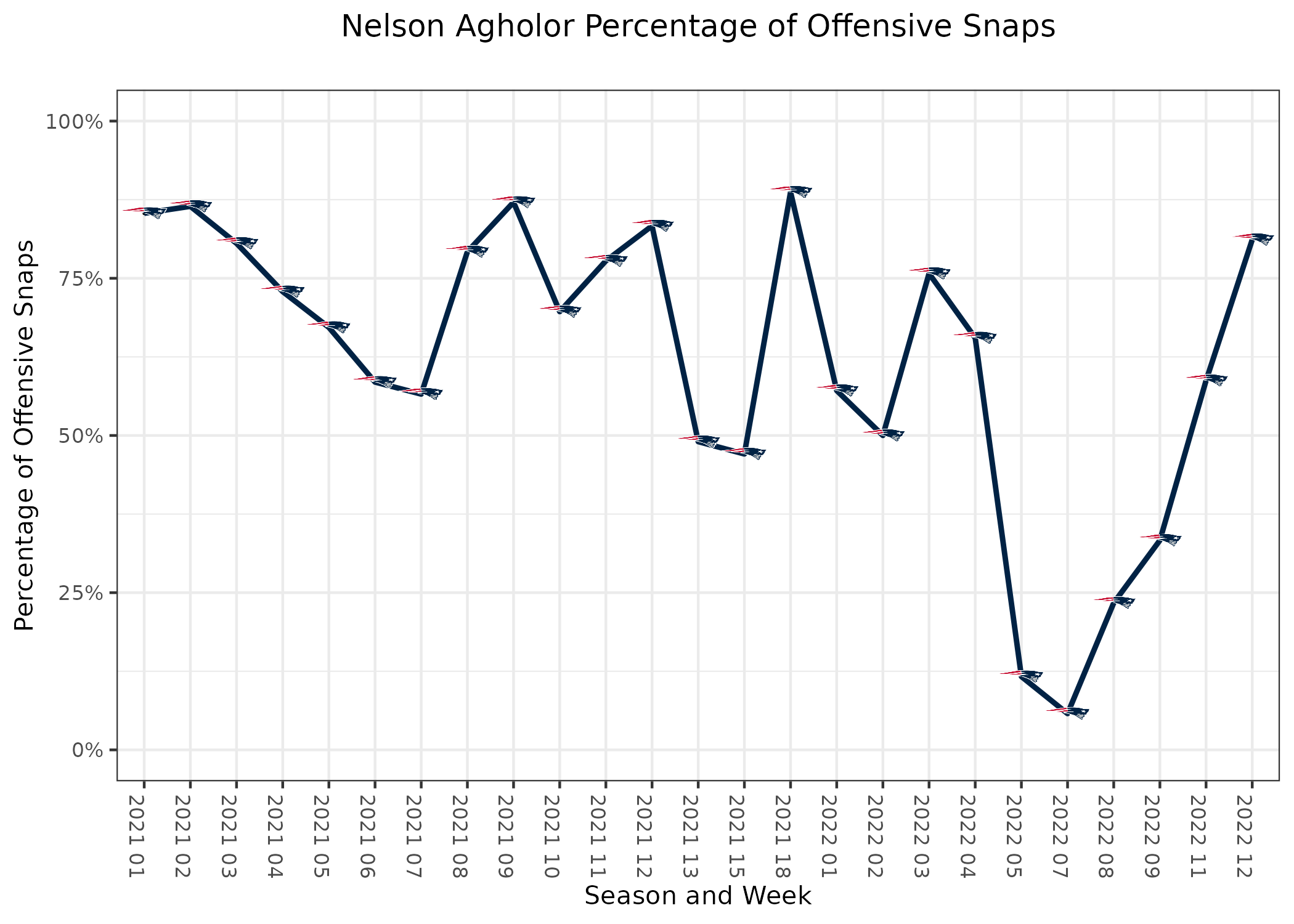 Monitor Damien Harris' health: Harris suffered a thigh injury early in the third quarter and didn't return. He spent a lot of time in the blue medical tent before limping to the locker room.
The Patriots started the game following the same patterns as in recent weeks. Harris took the first and third drives, and

Rhamondre Stevenson

took the second and fourth, as well as all the third downs.

Stevenson took the fifth drive, too, as it was the two-minute drill.

Harris started the second half but was injured on the third play of the drive.

Stevenson took every snap over the rest of the game.

Stevenson is already a must-start in his current role but would have even more potential if Harris misses time.

The Patriots have the

second-most difficult schedule remaining

. A healthy Harris would have value in a game where New England can maintain a lead, but there are only two games left where that is a likely game script. 

If Harris is expected to miss two or three weeks, he can be dropped from fantasy rosters.
Examining T.J. Hockenson's low route number: Hockenson scored a touchdown for the Vikings, but his playing time has declined slightly.
Hockenson had played 100% of two-tight end sets, 96.4% of snaps in 11 personnel and 0% of snaps in 21 personnel in his first two weeks as a Viking.

Those trends largely continued last week, except in the fourth quarter when Minnesota put backups in.

The trends mostly continued against the Patriots, though

Johnny Mundt

took more snaps in 11 personnel in normal situations than he had the last few weeks.

The Vikings passed the ball more out of 21 personnel than usual, which is the personnel grouping Hockenson is off the field for.

Minnesota also asked Hockenson to pass block a little more often than usual.

The last two points are unlikely to continue. It's worth monitoring if Mundt continues to take a few snaps out of 11 personnel and if that number increases or decreases.

Hockenson is still a must-start if he sees 80% of snaps out of 11 personnel and all two-tight end sets. It would really start being concerning if that falls to 60-70% or if he's specifically off the field for third downs. Both of those seem unlikely.

The Vikings have the

easiest schedule remaining for tight ends

according to our strength of schedule tool.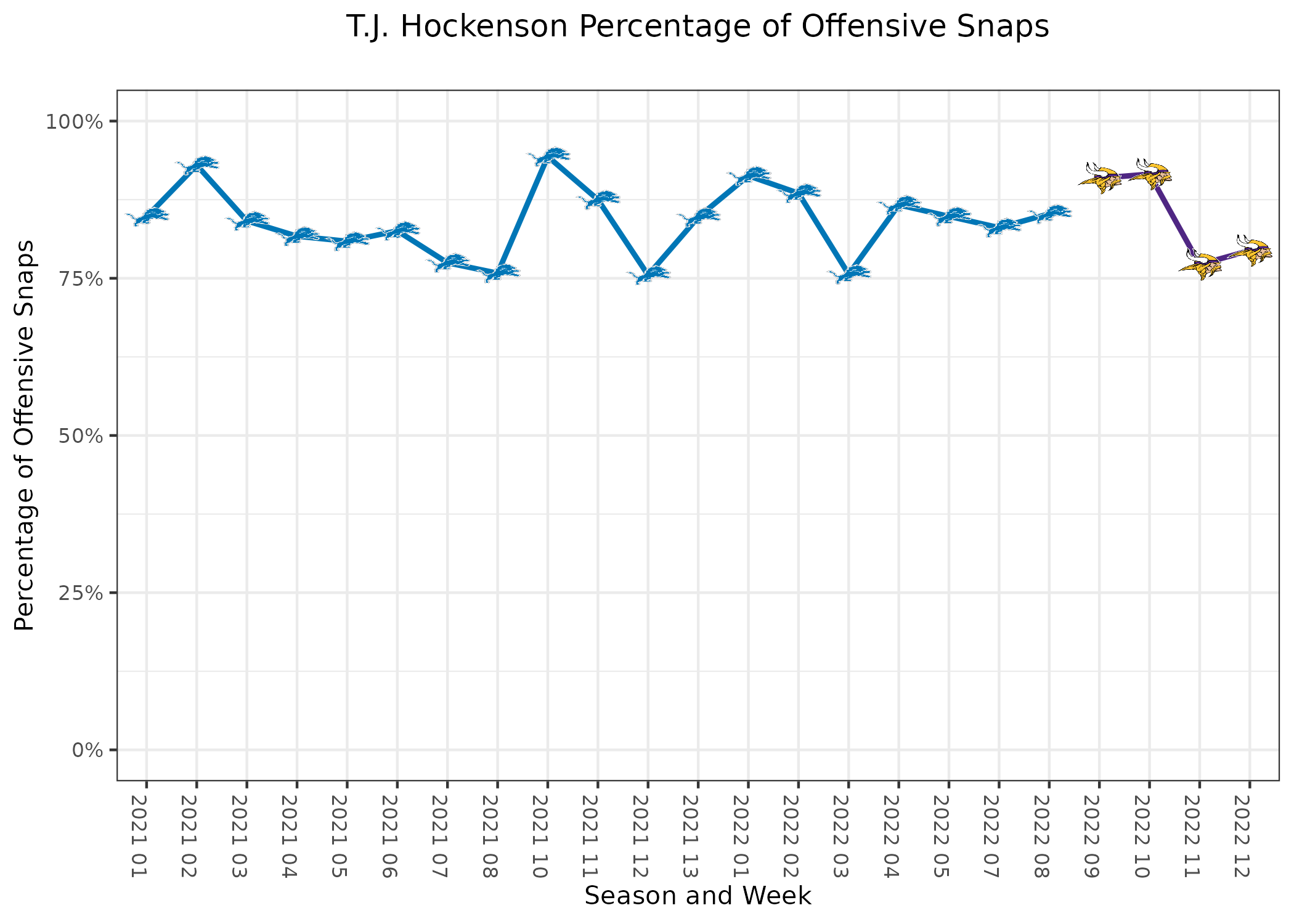 ---
Table Notes
• Snaps include plays called back due to penalties, including offensive holding or defensive pass interference. The other three stats have these plays removed.
• Targets may differ from official NFL sources. The most likely discrepancy would be from a clear thrown-away pass, where the NFL may give the target to the nearest receiver, while this data will not.
• Carries are only on designed plays. Quarterback scrambles won't count for the total number of carries in the game.