Super Bowl 55 is now just four days away, and the clash between Tom Brady and the Tampa Bay Buccaneers and Patrick Mahomes and the Kansas City Chiefs has all the makings of an all-timer.
With the clock ticking down, what better way to mark the 55th Super Bowl than by presenting the 55 things you need to know ahead of kickoff in Raymond James Stadium? So sit back, relax, and let PFF prepare you for the biggest game of the 2020 NFL season.
1. Playoff Mahomes is already a growing legend
Patrick Mahomes has now played in seven playoff games since seizing the starting job back in 2018. The results have been as follows:
31-13 victory over the Colts
37-31 loss to the Patriots in a game that would've been over had Dee Ford not lined up offsides on a game-sealing interception
51-31 victory over the Texans
35-24 victory over the Titans
31-20 victory over the 49ers
22-17 victory over the Browns in a game that the Chiefs led 19-10 before Mahomes suffered a concussion
38-24 victory over the Bills
The 25-year-old prodigy is PFF's highest-graded QB among 21 signal-callers with 25 dropbacks over the past three postseasons. A second Super Bowl W would already put Mahomes on a short list of multi-time winners with Tom Brady, Joe Montana, Terry Bradshaw, John Elway, Troy Aikman, Roger Staubach, Bob Griese, Ben Roethlisberger, Peyton Manning, Eli Manning, Bart Starr and Jim Plunkett.
---
2. We've never seen a specific coverage really slow down this group
To this day it remains unclear how exactly to slow down Mahomes and company. Since 2018 we've seen them dominate against essentially every notable coverage scheme:
2 man: +0.55 EPA per pass (No. 3 in the league)
Cover 0: +0.192 (No. 9)
Cover 1: +0.311 (No. 1)
Cover 2: +0.26 (No. 5)
Cover 3: +0.338 (No. 1)
Quarters: +0.261 (No. 3)
Cover 6: +0.235 (No. 5)
Red zone: +0.27 (No. 7)
Sheesh. Also note that the one coverage that has made them look somewhat mortal, Cover-0, carries the second-lowest frequency of our sample. Attempting to force Mahomes into getting rid of the ball quickly has been somewhat promising in this small sample; just realize this high-risk/high-reward coverage has been used sparingly against the Chiefs (and everyone else) for a reason.
---
3. Mahomes' passing prop total rests at a rather absurd 325.5 passing yards
Clearly the Chiefs are capable of putting up numbers against just about anybody, however the prop market might be reaching just a tad on this number. Mahomes surpassed 325 yards in just seven of 17 games (41%) this season, five of 17 games (29%) last season and six of 18 games (33%) back in 2018. I understand betting the under isn't the most fun thing in the world, but this line is a bit too high — particularly if you can get it at close to even odds.
---
4. Mahomes loves Kansas City
Duh, I know. HEAR ME OUT. You can bet on who the Super Bowl MVP will mention first in his speech, and City (+650) is well behind Teammates (-150), God Or Jesus (+210) and Family Or Family Member (+550).
All of those aforementioned things are cool and worthy of being thanked, but last year Mahomes ended his speech with "Thank you Kansas City we did it!" after answering some questions about the game.
Is it a reach? Absolutely. Could this make for an electric post-game sweat? You bet.
We haven't seen Mahomes lose by more than eight points in nearly half a decade
The last time: November 19, 2016… against Iowa State. Truly no lead is safe against this Chiefs offense.
---
5. Tyreek Hill balled the hell out back in Week 12
It took Hill just 15 minutes to convert seven targets into seven receptions for 203 yards and two scores. He wound up hanging an 8-204-3 line on Buccaneers No. 1 CB Carlton Davis, who had next to zero success shadowing the Chiefs' speedy No. 1 WR. Note that Davis otherwise largely shut down the likes of Michael Thomas (2-9-0, 3-33-0, 0-0-0), Allen Robinson (8-62-0), Davante Adams (3-33-0, 4-31-1) and D.J. Moore (2-55-0) throughout the season.
All in all, Hill caught 13 of 15 targets for 269 yards and a trio of scores during the Chiefs' 27-24 victory over the Bucs. This was thanks in large part to the defense's inability to send Davis safety help in a timely manner, but Travis Kelce catching all eight of his targets for 82 scoreless yards demonstrates the reality that just about nothing went right for this secondary back on Nov. 29.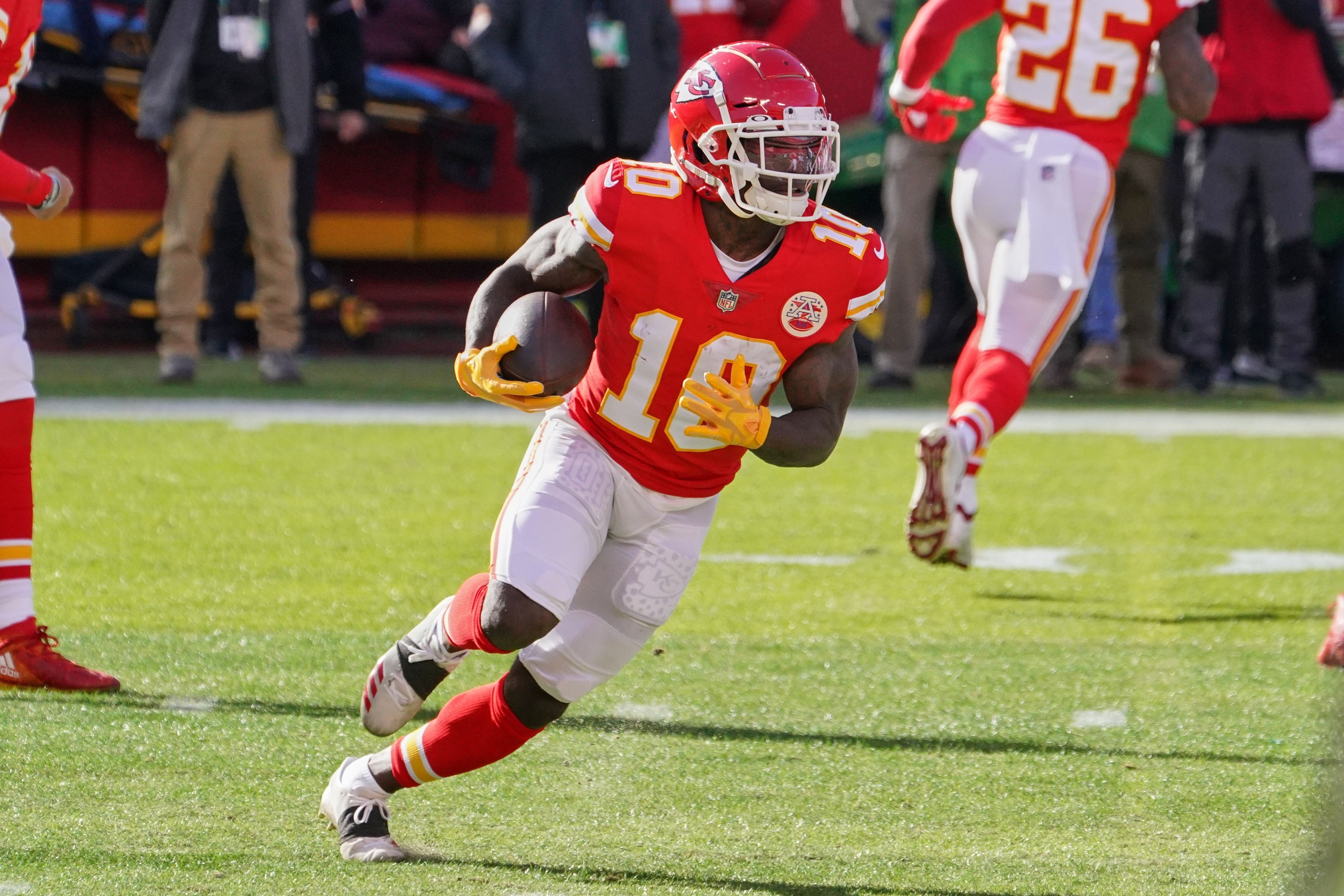 7. To be fair it's basically impossible to shut down the artist known as Ty-freak
Hill unsurprisingly owns the Next-Gen Stats record for fastest speed reached by a ball carrier at 23.24 miles per hour, but he's far more than just a field-stretching talent. Since entering the NFL, Hill ranks as a top-10 WR in PFF receiving grade (92.3, No. 6), receiving yards (5,391, No. 7), receiving TDs (47, No. 2) and yards per route run (2.35, No. 5) among 156 players at the position with at least 100 targets.
Of course, Hill has impacted the game in more ways than by just catching the ball. He returned four punts as well as one kick to the house during his first three years in the league and to this day provides plenty of juice as a rusher. Overall, nobody has averaged more yards per carry than Hill (7.4) among 225 players with at least 50 rush attempts since 2016.
Tyreek Hill is the best running back on the Chiefs pic.twitter.com/c8PKJ50DO9

— Ian Hartitz (@Ihartitz) January 19, 2021
Obviously Mahomes is the engine of the Chiefs offense, but Hill is the key that unlocks the best version of the unit.
---
8. The same sentiment is true for all-world tight end Travis Kelce
I put together 20 stats that help show how Travis Kelce is one of the best players ever to play the TE position. My favorites:
Kelce's average of 2.54 yards per route run from the slot or out wide ranks fourth among all players with at least 100 such targets since 2018.
Kelce has a league-high 126 receptions of at least 15 yards over the past three seasons.
Kelce has caught at least eight passes in 11 games this season — tied for the third-highest mark in NFL history.
Kelce has posted a PFF receiving grade of 94.5 against single coverage over the past three seasons — the fifth-highest mark in the league.
Literally nobody has posted a higher PFF receiving grade than Kelce (97.6) against zone coverage since 2018.


---
9. The Chiefs truly possess the NFL's premier one-two receiving duo
Yes, Mahomes has the sort of arm talent to make any throw on the field. Also yes, Hill usually makes things fairly easy for his QB: Nobody has been considered open or wide-open more than Hill (31) on targets thrown 20-plus yards downfield over the past three seasons (including playoffs). No other receiver has even 25 such targets.
This sort of elite field-stretching threat has made dealing with Kelce in the underneath and intermediate areas of the field borderline impossible. It's not like he's making a living on feasting against linebackers and safeties; even true No. 1 corners have had problems containing the Chiefs' stud tight end.
The fact Travis Kelce can make true No. 1 corners look this silly is absolute madnesspic.twitter.com/q3qlvxih5M

— Ian Hartitz (@Ihartitz) January 29, 2021
This Chiefs offense combines a 1) QB capable of making any throw on the field, 2) WR with the sort of game-changing speed to demand help down the field, and 3) TE capable of winning against just about anybody in single coverage. So far the result has been one of the most consistently dominant aerial attacks that football has ever seen.
10. Mecole Hardman's speed is a bit of an X-factor
Obviously, the Chiefs run most of their offense through Hill and Kelce, but Hardman has been coming on strong in recent weeks thanks to some extra opportunities. Sure, his muffed punt in the first quarter of the Chiefs' AFC Championship win over the Bills was hardly ideal, but the second-year speedster quickly rebounded with an electric 50-yard run that saw him reach a top speed of 21.52 MPH — the fastest speed reached by a ball carrier this postseason (per Next Gen Stats).
Hardman isn't even the fastest player on his own team, but his added presence over the past few weeks has made this offense even more absurd. The potential return of Sammy Watkins (calf) would likely relegate Hardman to his usual No. 4 WR role for the Super Bowl. Still, the departure of the Lizard King in 2021 could finally lead to the sort of enhanced role that Hardman has earned. Overall, only Justin Jefferson (11.6) and A.J. Brown (11.3) have averaged more yards per target than Hardman (10.7) among 122 players with 100-plus targets over the past two seasons (including playoffs).
---
11. The Chiefs have an overwhelming amount of high-end talent *and* fantastic coaching
It's already tough enough to contain this offense due to their typical advantages in the speed and ability departments; things become borderline impossible when the Chiefs deploy their weapons all over the field.
Take Hill, who has lined up pretty much everywhere over the course of the season:
Backfield: 16 snaps
Inline: 16
Left slot: 290
Right slot: 268
Left wide: 218
Right wide: 206
Further complicating matters, there has been pre-snap motion of some sort on 57% of Hill's snaps this season. As a whole, the Chiefs were one of just four teams to utilize motion on at least 60% of their snaps in 2020.
They've regularly ranked among the league's most-RPO heavy teams since adding Hill, particularly since turning things over to Mahomes and promoting Eric Bieniemy to offensive coordinator in 2018:
2016: 6.7% RPO rate (No. 4 in the NFL)
2017: 17.1% (No. 1)
2018: 25% (No. 1)
2019: 20.2% (No. 1)
2020: 21.1% (No. 1)
The Chiefs have Patrick fooking Mahomes; it's unclear if defenses would have much success stopping this offense even if the scheme was on the simplistic side of things. Alas, we might never know, because Reid and company consistently do everything in their power to create an advantage for their playmakers.
---
12. It's shocking how easy things can be for this offense at times
Sometimes it's fair to wonder whether it's even humanly possible to shut down this offense. I mean, what in the hell were the Browns supposed to do here on third-and-2 against this Jedi mind-trick of a play? They seemingly managed to account for everyone despite all the pre-snap ruckus, but eventually were faced with the always-difficult task of trying to get Hill to the ground in space. The result: first down.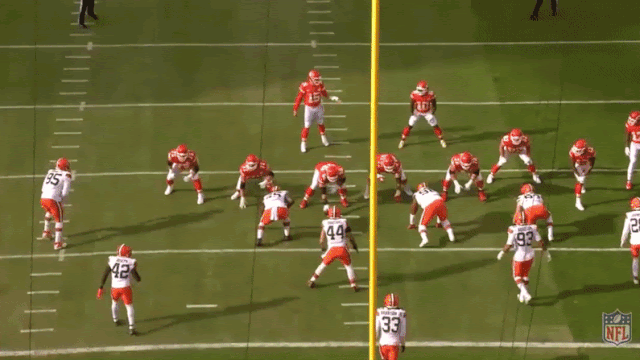 ---
13. Big potential problem: this Chiefs offensive line is banged up at the moment
This unit is painfully thin and is essentially down four starters:
Their starting offensive line consists of LT Mike Remmers (before the AFC Championship hadn't played the position since 2016), LG Nick Allegretti (2019 seventh-round pick), C Austin Reiter (2015 seventh-round pick), RG Stefan Wisniewski (released by the Steelers in November) and RT Andrew Wylie (2018 undrafted free agent).
This isn't to say the unit is incompetent; just realize the bulk of the team's resources are either 1.) injured, or 2.) devoted elsewhere.
---
14. Unfortunately, COVID didn't take the Super Bowl off
Chiefs backup center Daniel Kilgore and WR Demarcus Robinson were placed on the Reserve/COVID-19 list due to close contact. The good news is NFL Network's Ian Rapoport reports that neither player is a positive case. If they keep testing negative, both should play in the Super Bowl.
---
15. This Buccaneers defense needs to continue to wreak havoc at the line of scrimmage to slow down Mahomes and company
Tampa Bay's best chance at limiting this passing attack is to make life miserable for Mahomes. He completed seven of 15 pressured attempts against this defense for 109 yards with one touchdown and a lost fumble back in Week 12.
This isn't to say Mahomes can't handle the heat: Only Justin Herbert (80.7) had a higher PFF passing grade than Mahomes (74.5) among 47 QBs with at least 25 pressured dropbacks this season.
Still, every signal-caller is objectively worse when under duress, and the Buccaneers have consistently made themselves at home in opponents' backfields. Overall, only the Steelers (54%) posted a better havoc rate than the Buccaneers (51%) in 2020.
Note that havoc is calculated by: (TFL and no gain + FF + INTs + batted pass and deflections + pressures) / plays.
---
16. Inability to get pressure on Mahomes could expose more than one Buccaneers defender
Things could get ugly in a hurry if the Buccaneers don't manage to have their way with the Chiefs' banged-up offensive line. Nobody faced more pass attempts with at least eight defenders in the box than the Buccaneers (46%), as they've routinely sacrificed extra help in the secondary to help build the league's best run defense.
To be fair, they've actually been fine most of the time when unable to get pressure, ranking third and seventh in explosive pass-play rate and yards per attempt allowed when opposing QBs have at least three seconds to throw. The problem, as the Bucs found out in Week 12, is that holding up in coverage is far harder when you're facing an offense this good.
---
17. There isn't a better defense at shutting down the run than Tampa Bay
The Buccaneers faced the ninth-most run plays in the league with at least eight defenders in the box; they've generally devoted extra resources to the front-seven in order to limit the opposition's rushing attack. This has helped foster the league's single-best defense against the run:
Rush yards after contact allowed per attempt: 2.5 (No. 5)
Rush yards before contact allowed per attempt: 0.9 (No. 1)
Rush yards allowed per attempt: 3.7 (No. 1)
Explosive run-play rate allowed: 10.7% (No. 8)
Rush TDs allowed: 12 (tied for No. 1)
The defensive line deserves a ton of credit, but this level of excellence wouldn't be possible without the help of fellow notable prime performers LB Lavonte David (PFF's No. 2 highest-graded LB against the run) and S Antoine Winfield (No. 2 highest-graded S).
---
Dalvin Cook (22-102-1) is the only player to clear the century mark on the ground against this defense. Things didn't go particularly smoothly for Clyde Edwards-Helaire (11-37-0) back in Week 12, although the rookie generally demonstrated solid enough tackle-breaking ability. Overall, CEH ranked 14th and 25th in missed tackles forced per carry and yards after contact per attempt among 52 players with at least 100 rush attempts.
And then we have Williams, who was far more efficient during the AFC Championship and could again be leaned on with CEH operating at less than 100%. Credit to Williams for making the most of his opportunities during this playoff run; just realize the Chiefs probably won't ask him to run into loaded boxes with much regularity. Somehow Kansas City called just 20 runs in 70 plays back in Week 12 despite holding a two-score lead for nearly the entire game.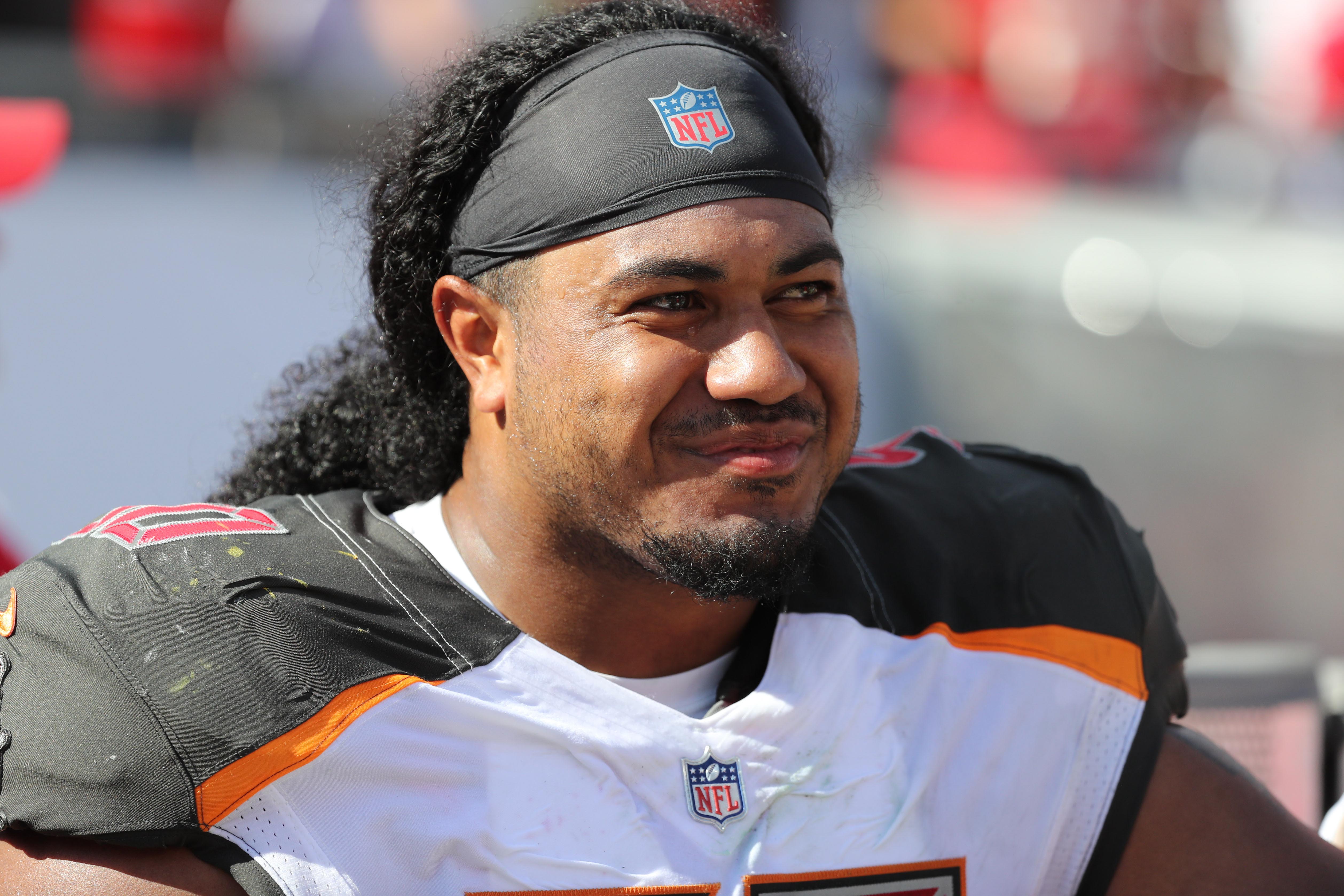 19. Don't discount the return of Vita Vea
Things could be especially tough for the Chiefs' banged-up offensive line with DT Vita Vea (leg) available this time around. The impact of Vea's return can't be overstated: Only Aaron Donald (94.5) and Chris Jones (90.3) posted a better PFF grade than Vea (90.1) among 137 qualified interior defenders this season.
---
20. Bucs rookie Antoine Winfield Jr. also deserves plenty of attention
The Buccaneers have deployed their talented rookie safety all over the field this season:
Free safety: 797 snaps
Box safety: 199
Slot corner: 120
Defensive line: 41
Wide corner: 12
Winfield has racked up nine pressures, three sacks, forced three fumbles and an interception. Expect Mahomes to have a good idea where the 22-year-old talent is lined up before just about every play — that is, as long as Winfield manages to suit up despite dealing with an ankle injury.
---
21. Let's face it: Tom Brady and company are going to have to put up some serious points to take home the W
Mahomes has accounted for 21 total scores and just two interceptions in his seven career playoff games, regularly making the impossible seem too easy thanks to his limitless arm strength and penchant for creating magic once plays breaks down.
It's not like the Chiefs' offense has fallen asleep on the rare occasions when Mahomes has struggled:
2018 Week 6 vs. Patriots: 43-40
2018 Week 11 vs. Rams: 54-51
2018 Week 15 vs. Chargers: 29-28
2018 Week 16 vs. Seahawks: 38-31
2018 AFC Championship vs. Patriots: 37-31
2019 Week 5 vs. Colts: 19-13
2019 Week 6 vs. Texans: 31-24
2019 Week 10 vs. Titans: 35-32
2020 Week 5 vs. Raiders: 40-32
Note that Hill didn't suit up in the Chiefs' 13-point performance against the Colts and was limited to just 51% of the snaps the following week.
TL;DR: Opponents typically need to score at least 30 points against the Chiefs to have a chance at bringing home a victory.
---
22. TB12 mostly had his way with this secondary back in Week 12 after a slow start
The Buccaneers started the game off with four punts and just one first down on their first four drives. They went on to score 24 points on their next seven drives, but the Chiefs were a bit lucky to get away with just that:
Drive five: 7 plays, 86 yards, TD
Drive six: kneel to end the half
Drive seven: 8 plays, 67 yards, field goal
Drive eight: 4 plays, 39 yards, interception on underthrown deep ball
Drive nine: 4 plays, 44 yards, interception on pass batted at line of scrimmage
Drive 10: 8 plays, 75 yards, TD
Drive 11: 10 plays, 73 yards, TD
Both of the picks were Brady's fault; just realize his 345 yards were the second-most allowed by the Chiefs all season, and he was one of just four signal-callers to throw three touchdowns against this defense.
---
23. Things have generally been going well for Brady in the playoffs, but it hasn't been a masterpiece
Brady hasn't been spectacular during the Buccaneers' Super Bowl run, completing just 55% of his passes and posting a seven to three touchdown to interception ratio during the team's three wins. Of course, this has hardly been all his fault. Buccaneers players have dropped a postseason-high 12 passes. No other quarterback has had to deal with more than eight drops over the past three weeks.
The only true issue Brady has run into is performance under pressure. He's completed just six of 21 passes when not kept clean this postseason. However, reduced performance under pressure is true for any quarterback. Brady still holds PFF's second-highest passing grade under pressure over the past three weeks. Regardless of how the Super Bowl plays out, it's safe to say at this point that Brady was anything but the problem for the 2019 Patriots.
---
24. Brady's deep ball remains b-e-a-utiful
The six-time Super Bowl champion has more knowledge of the game in his pinky than I or any of you reading this will obtain throughout our entire lifetimes; the most pleasant surprise from Brady has been his ability to continue to throw a catchable deep ball. Overall, Brady has racked up nine big-time throws on passes thrown at least 20 yards downfield this postseason. No other quarterback has more than five such passes.
Feel free to punch your friend if they unironically say Brady has a noodle arm.
43 years of age and Tom Brady is still making it look easy pic.twitter.com/Cc8yZ5ERDI

— Ian Hartitz (@Ihartitz) January 18, 2021
---
25. There might be some value in the TB12 rush attempt prop market
PFF's Eric Eager and George Chahrouri released a great article with their favorite player prop bets for Super Bowl LV.
Two bets caught their eyes when it comes to Brady's rushing ability:
A.) Brady under 2.5 carries (-120): "Brady has eight sneak attempts and four scrambles this season. As an underdog, it would be hard to imagine this game ending anticlimactically with a full set of kneel-downs. You might get a high-leverage sneak attempt or even two — like what happened in the divisional-round win in New Orleans — but odds are that Brady will leave the runs that go nowhere to Leonard Fournette and Ronald Jones."
B.) Brady over 0.5 rushing yards (+155): "Speaking of sneaks … who would you rather have with the ball in their hands with one yard to go in the Super Bowl: Tom Brady, who has played in 10 of them, or the Bucs' running backs, who have played in zero?"
---
26. So yeah … Tom Brady isn't washed
PFF analyst Andrew Erickson has you covered with how Brady went from supposedly washed up to back in the Super Bowl in just one years time. Obviously, the improved supporting cast has had plenty to do with the rebound, but Erickson's point that Brady has dominated on play-action opportunities looms large against a Chiefs defense that ranks 21st in touchdown rate allowed on play-action passes.
---
27. The Bucs have a fever and the only prescription is more playoff Lenny
The idea that Leonard Fournette had simply been saving his powers for the playoffs is at best comical and at worst stupid. We all know by now that running backs are more dependent on their teammates' performance than any other position, and enhanced production is almost entirely tied to volume.
With that said, playoff Lenny has come to play. Fournette racked up 313 total yards and a trio of scores over the past three weeks, showing off a combination of power and elusiveness that made the former LSU star one of the most-hyped recruits of all time back in the day.
PLAYOFF LENNY pic.twitter.com/1s1LlDcCpS

— Ian Hartitz (@Ihartitz) January 25, 2021
Playoff Lenny has been 1) balling, and 2) fun to watch. It remains to be seen who he'll be suiting up for come Week 1 next season. Either way, keep the fourth-year back's name out of any slanderous offseason debates centered around some of the game's least-efficient running backs; he's earned it.
---
28. Bruce Arians' motto might be "No risk it, no biscuit," but this doesn't mean the man also won't #EstablishTheRun
The Buccaneers have run the ball on first-and-10 on 52.1% of their chances this season — the seventh-highest mark in the league. I know it's trendy to throw a fit every time a team even thinks about not passing the ball, but the reality that the Bucs haven't even been good when attempting to start off a new set of downs with a run is even more maddening than usual. Overall, they rank 25th and 27th in yards per carry and explosive run-play rate, respectively, on first-and-10.
The Chiefs rank dead least in run-play rate (27.4%) in the first half. They show up to the stadium with the intent of throwing all over you and attempt to do so in a hurry.
As Ferris Bueller once said, "Life moves pretty fast. If you don't stop and look around once in a while you could miss it." In this case, life is the Chiefs, and the Buccaneers are going to miss competing with them if they don't make more of an effort to throw the ball in early-down situations.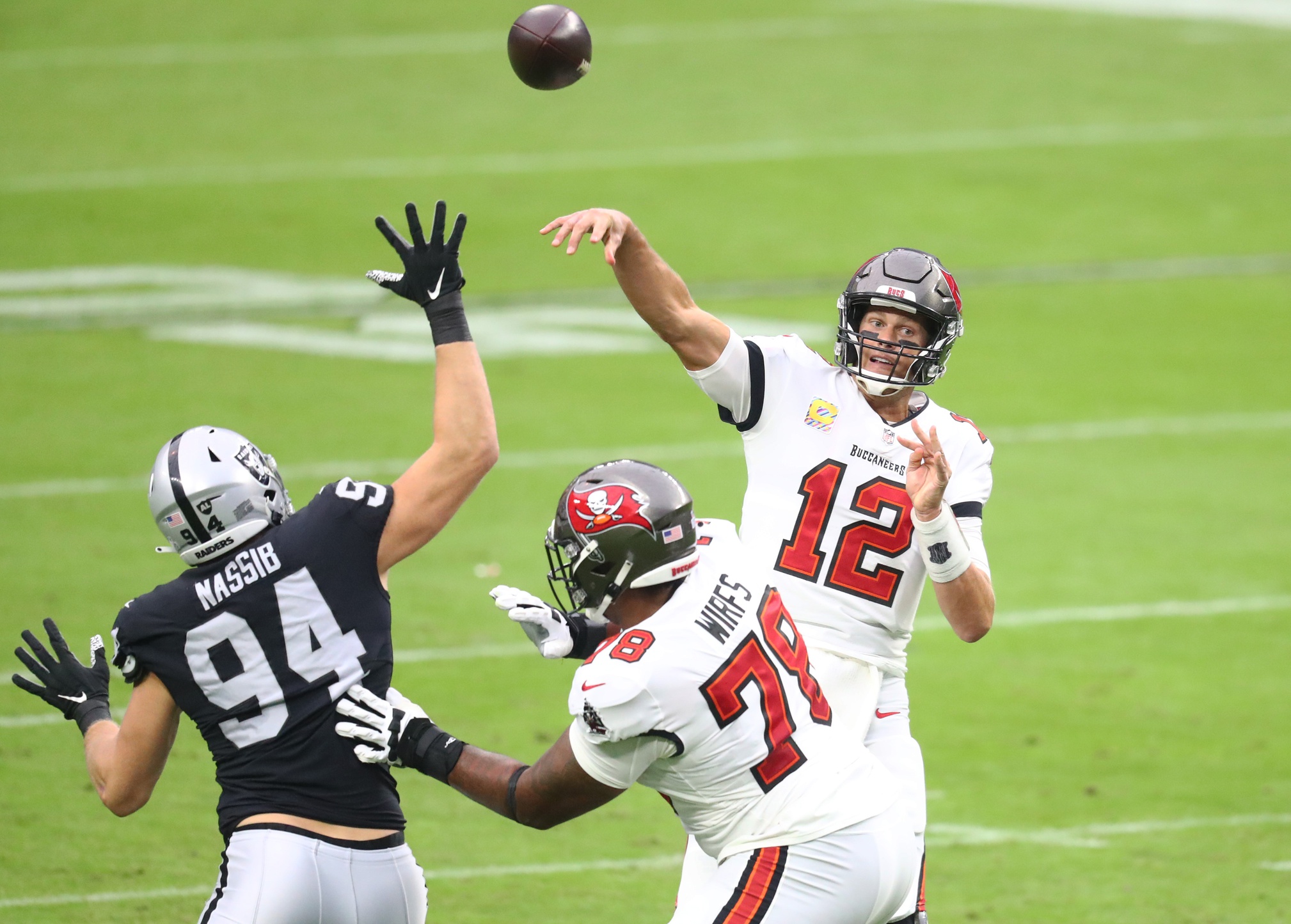 29. The Buccaneers' offensive line has the potential to dominate
Yes, Brady is assuredly not washed. Also yes, the Buccaneers have plenty of skill-position talent. Also, also yes, this offensive line is more than capable of holding up its end of the bargain.
The Chiefs' 12th-ranked pass rush in pressure rate is hardly a pushover; just realize they'll need to bring their A-game to control the line of scrimmage this week.
---
30. Mike Evans is arguably the NFL's single most explosive playmaker
I crafted the following formula to give us a baseline idea of each player's explosiveness and ability to create big plays:
Playmaker rate: ((15 yard rushes * 3) + (20 yard receptions * 3) + (TDs * 6) + (forced missed tackles)) / (targets + rush attempts)
Among 153 players who had at least 50 touches this season, none posted a better playmaker rate than the Buccaneers' No. 1 wideout.
Evans isn't the twitchiest receiver with the ball in his hands, but his YAC-heavy score against the Rams demonstrated the reality that the 6-foot-5, 230-pound monster is still a handful for any defensive back to get to the ground. Throw in Evans' nearly unparalleled ability to win 50-50 balls, and he deserves to be treated as public enemy No. 1 by the Chiefs.
---
31. Seriously, Brady and Evans inside the 10-yard line are absurd
Evans has been targeted 15 times inside the 10-yard line this season. The results:
10 receptions
10 TDs
1 drop
Only Davante Adams (15) and Adam Thielen (10) also racked up double-digit scores this close to the end zone. The Chiefs don't boast the league's smallest corners in Charvarius Ward (6-foot-1 and 200-pounds), Bashaud Breeland (5-foot-11 and 195-pounds) and L'Jarius Sneed (6-foot-1 and 193-pounds), but just about anybody is overmatched when it comes to squaring off with Evans in the red zone.
---
32. Chris Godwin has a case of the dropsies
The Buccaneers' stud slot receiver has been struggling with his hands recently, dropping seven passes during the team's three playoff wins. For context, Godwin dropped just six passes during the 2017-2020 seasons combined.
It's not like Godwin hasn't made some huge plays over the past month. His contested catch deep down the middle of the field against the Packers was one of the better snags of the entire postseason.
Obviously, these newfound issues would be welcomed by the Chiefs, who have already benefited plenty from their opponents' butterfingers this season. Overall, the Chiefs defense has faced the league's fifth-highest rate of dropped passes (including playoffs).
---
33. With or without Antonio Brown, Tampa Bay has auxiliary weapons everywhere
The artist known as Mr. Big Chest seems to be on the doubtful side of things with a knee injury, meaning the Buccaneers might have to lean on some of their complementary options behind Godwin and Evans. Luckily for Brady, there are two more-than-competent options expected to help pick up the slack:
Scotty Miller: His massive end-of-the-half touchdown in the NFC Championship game was another example of him causing problems for opposing secondaries down the field. Overall, Miller has caught eight of his nine catchable passes thrown at least 20 yards downfield this season for 312 yards and three scores. It must be nice to have a No. 4 receiver capable of running 40 yards in 4.36 seconds.
Tyler Johnson: The Buccaneers' 2020 fifth-round pick has just 20 targets all season but has shown off some soft hands along the way. He figures to have a bigger role in 2021 if Godwin ultimately takes his talents elsewhere. Note that Johnson (29% snaps) worked well behind Miller (43%) in the NFC Championship game.
---
34. You can save 25% off any PFF subscription with Promo Code: SUPERBOWL25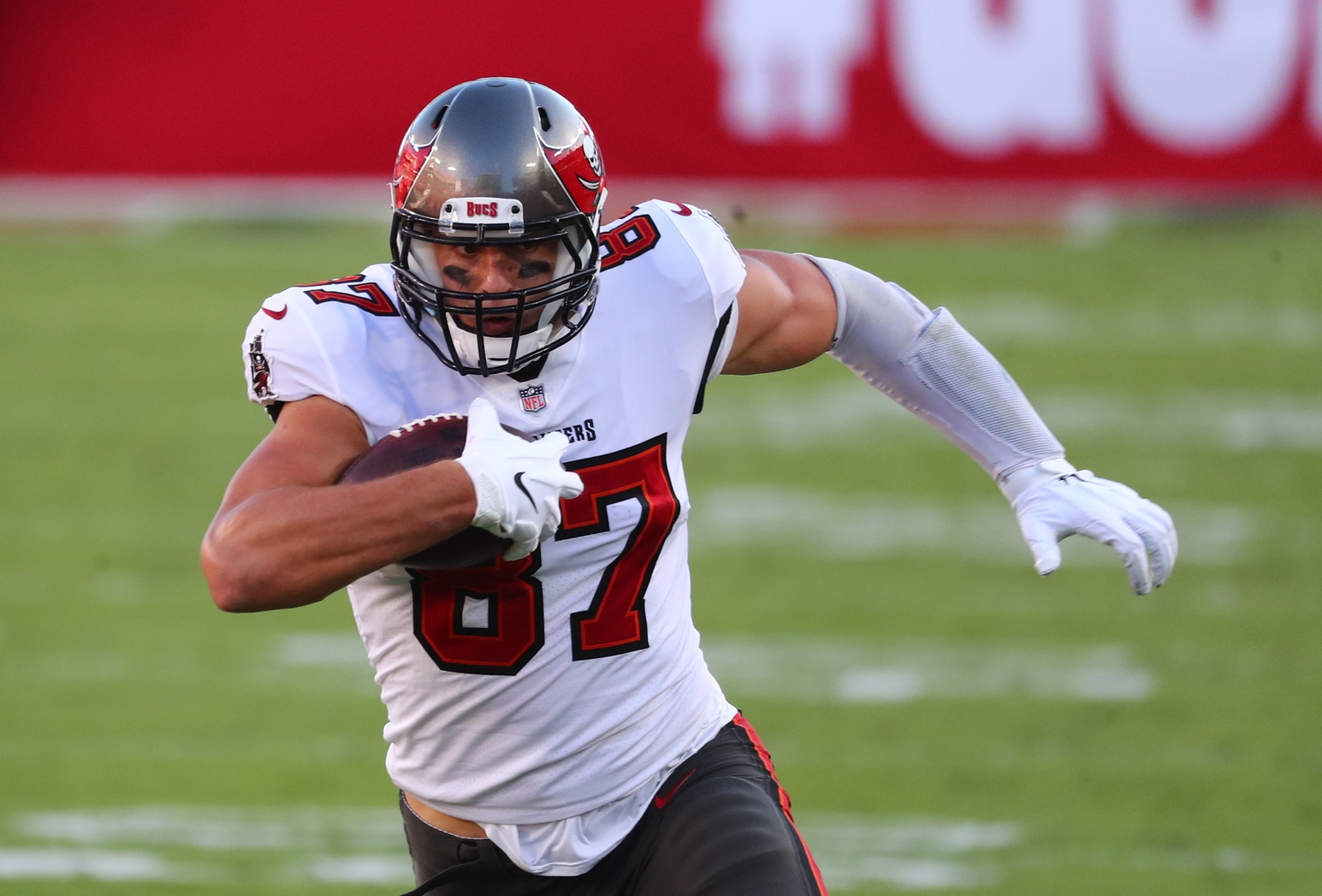 35. There's an unlikely new leader in the Buccaneers' tight end room
The Buccaneers have utilized plenty of two-tight end sets in recent weeks between Rob Gronkowski and Cameron Brate. Credit to Gronk for getting loose on a 29-yard screen in the NFC Championship game, but he's posted a pedestrian 2-43-0 receiving line on seven playoff targets.
Enter Brate, who hung 4-80-0, 4-50-0 and 3-19-1 receiving lines against the Football Team, the Saints and the Packers. He has seamlessly transitioned his red-zone excellence into the 2020-21 version of this Buccaneers offense and has been fantastic insurance for O.J. Howard (Achilles, IR).
Gronk continues to see far more snaps than Brate, although the latter player is perhaps better positioned to find his way to the end zone and/or surpass his receiving props.
---
36. Continuing to take care of the football is more vital than ever for TB12 this week
Learning Bruce Arians' system isn't easy. There are plenty of highs in the "no risk it, no biscuit" attack, but ultimately, each of Jameis Winston, Andrew Luck and Carson Palmer racked up 40 (!!!) turnover-worthy plays in their first seasons with Arians.
As for Brady? He has just 15 turnover-worthy plays in 19 games. Madness. This rate is easily the best in the league among 44 signal-callers with at least 100 dropbacks (including playoffs):
37. This Chiefs defense knows how to create negative plays
The league's 12th-ranked defense in pressure rate, Kansas City has generally made life difficult for opposing quarterbacks. This is thanks in large part to the performance of stud interior defender Chris Jones — PFF's second-highest graded pass rusher among 139 qualified players at the position.
The Chiefs rank fifth and 13th in explosive run and pass play rate allowed, respectively. This is a bend-don't-break unit that might not completely shut down an opposing offense, but the group has the ability to stall drives in a hurry thanks to its ability to get after the quarterback.
38. Be wary of where the Honey Badger lines up
Having a stud like Tyrann Mathieu to function as the secondary's backbone has certainly helped this Steve Spagnuolo defense find its footing as a top-10 scoring unit.
There arguably isn't a more versatile safety in today's game.
Slot corner: 403 snaps
Box safety: 363
Free safety: 275
Defensive line: 56
Wide corner: 21
The ball-hawking eighth-year veteran has racked up eight pressures and picked off a position-high six passes this season. Mathieu intercepted one pass in the first matchup between these teams, and he caused another with help from a QB pressure. Don't be surprised if/when he again makes a large impact this time around.
---
39. Pressure is the key to disrupting any QB, and Brady isn't an exception
Obviously, any signal-caller would prefer not to be under duress; the problem is that TB12 experiences a larger drop-off than most when pressured. The following quarterbacks had the largest dropoff in yards per attempt when pressured vs. when kept clean this season among 39 qualified players (including playoffs):
Not great, Tom. Somehow the 43-year-old G.O.A.T. continues to shred defenses when given time, but the man has looked more mortal than ever when forced to operate under duress.
---
40. There are several competent returners available
The following players have the potential to handle return duties of some sort this weekend.
Mecole Hardman: Has one career punt and kick return TD apiece. The speedy second-year WR ranks 26th and 14th, respectively, in yards per punt and kick return over the past two seasons, but he truly possesses home-run ability any time he touches the ball.
Byron Pringle: The only man of the group with a kick return TD to his name in 2020, Pringle low-key has racked up eight targets during the Chiefs' playoff run and has the jets to make the most out of kick-return opportunities.
Tyreek Hill: Hasn't returned a kick yet in the 2020 playoffs, but the Chiefs have used their No. 1 playmaker in high-leverage situations in the past. Having a proven returning talent like Hardman makes it easier to rest Hill in these situations, but don't be surprised if No. 10 is back deep with the game on the line and the punter on the field.
Jaydon Mickens: The Buccaneers' primary kick and punt returner is a great tournament stacking partner with the Tampa Bay D/ST in DFS contests in hopes of getting the elusive double-dip TD. Mickens seemed close to breaking one in the NFC championship, setting up the offense with field position at their own 45-, 34-, 27-, 24- and 17-yard lines on his five kick returns.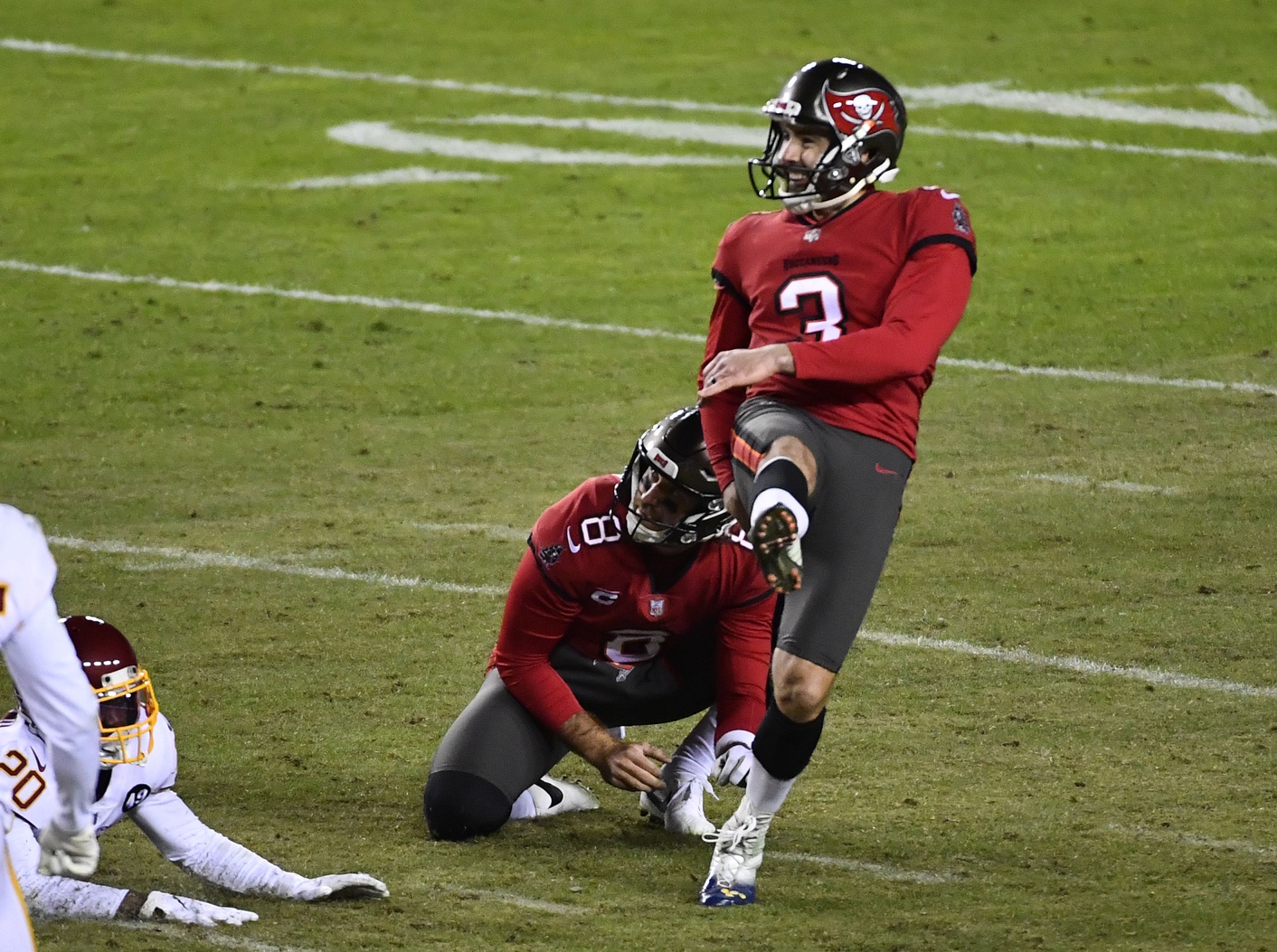 41. We're dealing with two good kickers here
I hate kickers. They make fantasy and real-life football alike more boring and tougher to explain to newbies. Still, even I can't hate on the reality that both the Buccaneers and Chiefs carry a plenty solid placekicker into this game.
Ryan Succop: 36-for-39 field goals (92%); 60-for-66 extra points (91%)
Harrison Butker: 29-for-32 field goals (91%); 54-for-61 extra points (89%)
---
Betting begins on the National Anthem
The over/under rests at 1:59. I am betting the under for the following reasons:
Co-singer Eric Church previously vowed to never sing this song due to the vocal challenge. Does that sound like someone who will be holding out notes to you?
Fellow co-singer Jazmine Sullivan clocked out at a smooth 1:38 in a 2016 NHL game.
The last three national anthems have come in at 1:53 or under.
It's a little bit awkward holding out a stopwatch during the national anthem, but your friends and family get used to it eventually. Trust me.
---
43. There might be a betting edge to be had on the coin flip
Seriously. Credit to A+ Twitter follows Hayden Winks and Jack Miller for putting this together, but basically:
Both the Chiefs and Buccaneers at -120 to receive the opening kickoff.
The Buccaneers have elected to receive the first half kickoff recently, while the Chiefs typically defer to the second half.
The Chiefs are -2500 to defer if they win the toss; the Bucs are at -225.
The implied odds for the Bucs to receive is thus -208 despite the line being shopped much closer to even.
Bet the Buccaneers to receive the opening kickoff or forever hold your peace.
---
44. Oh yes, you can also bet on what color Gatorade will get dumped on the coach
Orange is the favorite in large part because it's the color the Chiefs used last season. The full odds are as follows:
Orange +145
Clear +285
Red/Pink +300
Yellow/Green/Lime +330
Blue +675
Purple +750
Hell, the Buccaneers also have orange in their color scheme, meaning both teams could feasibly have some orange drank in their respective coolers.
---
45. Super Bowl MVPs are usually a quarterback
The winning signal-caller has taken home the Super Bowl MVP in all but three of the last 11 championships. Credit to LB Malcolm Smith, WR Julian Edelman and edge Von Miller for their respective big-time performances, although it'd be surprising to see either the Chiefs or Buccaneers win and not have their QB take home the hardware. Reminder: Damien Williams racked up 133 total yards and a pair of scores last season, and it still wasn't enough.
I'd rather bet on Mahomes (-120) or Brady (+200) to win Super Bowl MVP than bet either moneyline. Particularly in a matchup featuring a rather absurd 56-point game total, expect one of these all-time greats to be giving a speech shortly after the game concludes.
---
46. There are bargains to be had in DraftKings Showdown contests
There are several viable players priced below $3,000 worthy of consideration this week, assuming that Sammy Watkins (calf) returns to action as expected:
Ronald Jones II ($2,200): Nothing against the artist known as Playoff Lenny but: huh? RoJo racked up 23 total carries in his two playoff games and figures to be healthier than he's been in a while after having a bye week to get right. Clearly, Fournette won't be pushed aside, but realize the pricing discrepancy is far too wide for a situation shaping up as a true two-RB committee.
Tyler Johnson ($1,200): Scotty Miller figures to draw enhanced ownership and should play more snaps. Still, neither player is expected to see more than three targets, meaning we shouldn't be afraid to embrace the uncertainty with the cheaper and lower-owned option.
Jaydon Mickens ($200): You need to stack Mickens with the Buccaneers D/ST if you're brave enough to do so; he hasn't played more than three offensive snaps in a game since Week 8. It's a gamble, but Mickens is a viable punt play thanks to his status as 1.) the Buccaneers' full-time punt and kick returner, and 2.) No. 5 WR who could see enhanced snaps if an injury occurs.
---
47. Don't be afraid to get quirky in large DFS tournaments
One-game slates lend themselves to madness due to the nature of dealing with just 60 minutes of action. I find myself centering cash-game lineups around Mike Evans or Chris Godwin in the captain spot to squeeze in the Chiefs' passing attack with RoJo and Johnson. Still, backup signal-callers and complementary receivers are viable options in tournament settings that foster a "first or last" mindset.
My biggest piece of advice for those participating in large-field GPPs is to not worry about filling the salary cap. Chalkier lineups tend to use up most of the available money; we can get contrarian by merely ignoring the pricing.
---
48. True life: I love to bet the over on "How many players will have a passing attempt?"
The line rests at 2.5. The Buccaneers haven't asked anyone other than Brady to throw a pass this season, but Kelce, Watkins and punter Tommy Townsend have each registered an attempt. We can win this bet with a trick play on offense or special teams, while even a brief injury to either starting QB could also result in a win.
Yes, this is risky. Also yes, the pure joy you'll feel when a non-QB cocks his arm back to pass will be unrivaled. It most likely won't be pretty but always know we have a very willing potential participant in Kelce.
Lmao pic.twitter.com/FcozmoLzok

— Ian Hartitz (@Ihartitz) January 29, 2021
---
49. Predicting who will score the first touchdown is hard, but so was getting a man on the moon
We discussed in point No. 43 how the Buccaneers are the favorites to start with the ball, so I'm inclined to back Evans (+1000) — or dare I say Brate (+1900) — to make the first trip to the end zone. Kelce (+600) and Hill (+650) deserve to be the favorites, although perhaps Mahomes (+1800) can get the job done now that his foot is reportedly feeling closer to 100%.
---
50. There's some clear DFS value when looking at price compared to PFF rank
PFF software engineer & senior fantasy analyst Nathan Jahnke has you covered with his Super Bowl ranks.
---
51. It's possible to talk about this matchup all day
Check out the Wednesday edition of The PFF Fantasy Football Podcast for a full breakdown from myself and PFF analyst Andrew Erickson.
---
52. Maybe listen to the extra smart people when it comes to prop bets
Check out the Friday edition of The PFF Fantasy Football Podcast for some best-bets talk and more with resident PFF VP of research and development Eric Eager.
---
53. My pick: Chiefs 31, Buccaneers 21
The Buccaneers have enough stalwarts across the defensive line to make life difficult for this banged-up Chiefs offensive line, but ultimately Mahomes is the X-factor that should be more capable than ever of escaping pressure after having an extra week to rest his ailing foot. Great offense beats great defense in the year 2021, and I'm more confident in the Chiefs consistently finding a way to move the ball compared to the Brady bunch.
---
By a hair. It's truly close at -3. See for yourself.
---
55. If you like the Chiefs, PointsBet might be the spot for you
As Rotoworld's John Daigle pointed out on the 1/29 edition of The PFF Fantasy Football Podcast: you can bet on the Chiefs at -3 on PointsBet.com with the stipulation that your bet will multiply based on how close the final score is to the spread. Say you bet $100 and the Chiefs:
Lose by 3: You'd lose $700 since that's -$600 in addition to your original wager.
Win by 9: You'd win $700 since that's +$600 in addition to your original wager.
We have roughly a half-decade of evidence supporting the idea that Mahomes is nearly impossible to beat by more than one score; the 2020 Buccaneers lost by 35, 11, 3 and 3 in their four hiccups. If you think the Chiefs have a chance to blow TB12 and company out of the water, this might be the best bet for you.
---
Related: Super Bowl 55 Preview: DFS advice, betting tips and matchups to watch | Fantasy Football: Starts and DFS picks based on high-value opportunities ahead of Super Bowl 55 | DraftKings Showdown: Kansas City Chiefs vs. Tampa Bay Buccaneers Super Bowl 55 | Super Bowl 55 Trench Matchups: The Bucs have the advantage over a hampered Chiefs offensive line, but will it be enough? | NFL Betting 2020: Favorite player prop bets for Super Bowl 55 | Super Bowl 55 early spread picks for the 2020 NFL season